Getty Images/Maria Stavreva
Whether you're leaving a job involuntarily, departing for something new, or just want to prepare for the unknown, it is smart to understand all your options regarding your 401k.
Leave It Where It Is
401k plans differ based on the employer, but most will give you the option to leave your 401k where it is even when you don't work for them anymore.
Depending on the 401k's money options, your money might be better off in the investments at your old job than moving it elsewhere. If you are happy with the investment options in the existing 401k, but not necessarily with your other options, it may be best to stay put. I personally did this with an ex-employer's 401k, because I was happy with the expense ratios and investments they offered.
Larger employers tend to offer 401k programs at lower fees. Compare any fees from your previous employer's 401k plan to whichever vehicles you are considering transferring to first. To do so, check the expense ratios of the mutual funds offered in both plans.
Depending on how much money is in your 401k at the time you leave, it may not be a good idea to leave it and do nothing. Often, accounts with balances of $5,000 or less may be closed automatically. If this happens, the employer may end up sending you a lump sum check, or deposit the money into an IRA in your name. It's best to check with your employer first.
Know that you won't be able to make more contributions to the existing 401k once your employment ends. Withdrawal options are also limited. 401k benefits, such as retirement loans, are usually not allowed once you are no longer actively participating in the plan.
Roll It into a 401k with Your New Employer
Simplicity is the key to easy 401k management. The standard routine for 401ks when you switch jobs is to roll it into your new employer's retirement plan.
Having just one 401k to manage can be beneficial if you don't continuously dedicate time to review all your accounts. However, as we mentioned before, you should closely compare expenses and investment options before making that decision.
Roll It into an Individual Retirement Account (IRA)
You also have the option to roll over the funds from your 401k into an IRA account with a bank or brokerage firm, where your money will continue to grow tax-deferred.
One possible benefit of an IRA rollover is the plethora of investment options available to you. Many 401ks are limited to just a handful of mutual funds and bonds, whereas IRAs give you more choices.
Likewise, many 401ks limit the number of times in a year you can make investment changes (known as portfolio rebalancing). With IRA accounts, you're not limited to a select amount of times you can make such changes, giving you more freedom and flexibility with an IRA.
Many brokerages and banks are known for giving out incentives to new customers — and there's no shortage of handouts when it comes to opening a new IRA with them. You may be able to snag yourself a bonus while gaining more control over your retirement money.
As promising as IRA rollovers can be, it's not always going to be the best option for 401k funds. For example, let's say you've left a job for another and you're debating moving your previous 401k into an IRA or your new employer's plan. Always take into consideration employer matching contributions. Most employer's 401k programs will contribute a certain percentage or match what you put into the account. For example, let's say the program will match up to 6% of your contributions, and you contribute 6% of your salary that year which ends up being $3,000. With the employer matching contributions, you end up gaining another $3,000 for the year. If you choose the IRA, you could possibly miss out on a ton of money.
Take the Money
You always have the option to simply close out your 401k when you leave your job, but this is almost always a bad choice.
If you decide to take the cash when you aren't 59 ½ or older, then you will end up paying an excessive amount of taxes along with penalty fees that are usually around 10%.
Your Next Steps
Once you have decided which rollover option to take, your first step is to set up the new account. When the account is opened, the new provider will provide you with instructions to transfer the money. Usually, this means you are in charge of contacting the former employer's plan administration and letting them know you need to make a direct rollover.
<
Casinos are rarely as lavish or exciting as the movies make them out to be.
Movies like Ocean's 11, Casino, Rounders, and James Bond make it seem like an exhilarating experience. Growing up on such movies tainted my first experience gambling in a casino. I walked in thinking I was about to have hours of fun on my $100 budget.
Instead, I lost it all on the slots in about 10 minutes. Ouch!
We've put together some best practices and tips to give you a better understanding and increased chances to win while making the most of your first casino experience. Whether you're in Vegas, playing video poker in a bar, or online gambling via an online casino, we've got you covered.

Before you go
Budget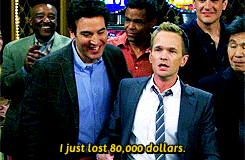 Giphy
Set your budget for the amount of money you can spend before you go, and stick to it. If you cannot afford to lose the money you bring, then you shouldn't be gambling. We recommend you leave your credit and debit cards at home, if possible, so as not to be tempted to play more money.

Research
The most important thing to understand before you even set foot inside the casino is this: The house always has the advantage.
Your chances of walking out richer are very low. But, by playing smart and doing your homework beforehand, you can raise your chances of getting ahead.
While it's best you learn how to play the games at home before going to the casino, it's possible to walk in and play any game without having any prior knowledge of how it works. You can approach tables and let the dealer know you want to play but don't know how, and they will instruct you on the basics to play.
However, as proper etiquette, it is best to try this at the least crowded table so as not to disrupt current players.
Rules
It's no fun getting yelled at by a pit boss or dealer for doing something wrong. And because of cheating, the rules in casinos can be strict.
Never take your phone out when playing a table.
Never sit at a table unless you are playing.
When it comes to your chips, never touch them once they are on the tablet; and likewise, don't touch your chip earnings until the dealer is done handing them all to you.
When tipping, always do so in chips, never cash.
It's customary to tip on each win and then again when you leave the table.
Rewards Programs
Many casinos have incentive/rewards programs you can join and are often free. They offer things such as bonus chips, free plays, vouchers for dining or hotels, and so on. It's always best practice to check out the website of the casino you plan to visit beforehand to see if they offer any incentives.
Slots Tips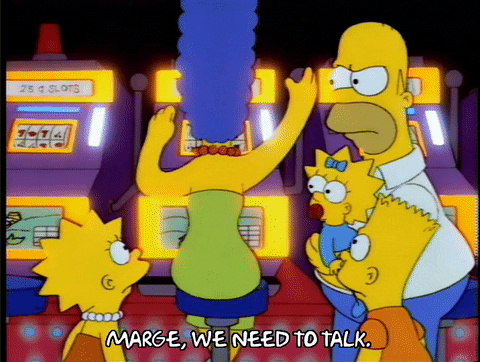 Giphy
Although the slot machines are the easiest and most popular games to play at casinos, they have the highest house edge (the casino's advantage to each game).
Slot machines usually have a typical house edge of anywhere as low as 2% and as high as 15%.
The good news for beginners: everyone has the same chance of winning, so there's zero skill required to play. However, having a better understanding of the types of slots and strategies used may help you walk away happy.

It can be overwhelming walking into a casino and seeing hundreds of different brightly lit flashing slot machines all around you. Which one do you choose? Is one better than the other?
To start, it's good to know the different types of slot machines found in a casino. They are the classic three-line slots, five real slots with multiple pay lines, and progressive slots. With progressive slots, the jackpot continuously grows until someone hits it, similar to the lottery. An important takeaway from progressive slots is to make sure you are betting enough to hit the jackpot, as some of them may have minimum bets that can never win the jackpot.
Each slot type has its advantages. If you are simply looking for the highest payout chance, progressive slots are best; however, they have a higher house edge. You're more likely to lose your bankroll (budgeted gambling money) quickly on a progressive slot. If you're looking to sit and enjoy your time at the slots, a three-line or five-line is best.
If you're short on cash or want to play without risking high loses, try out the penny slots (meaning you only need to spend $0.01 to spin each time) at casinos. Some casinos even offer free spins.
Tables Games
Table games are the livelihood of any casino. Although many table game options can be found within casinos, roulette, blackjack, craps, and baccarat are considered the best starter games because of their low house edge. This is where experienced gamblers hunt for big winnings.
Roulette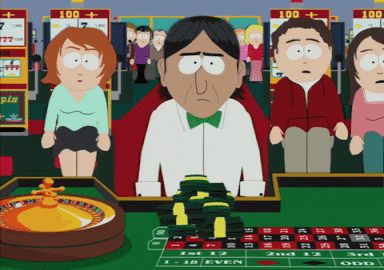 Giphy
Roulette is one of the oldest and most popular casino games that is quick to learn and requires no skill. Understanding odds and probabilities are vital to playing well at the roulette wheel. There are two types of bets to place in roulette: inside bets and outside bets.

Inside bets are wagers on specific numbers on the table. The odds of winning on an inside bet single number are only 2.7%. To increase your chances, you can split your bet anywhere up to six corresponding numbers on the board.
Outside bets include betting on even/odd numbers, red/black, high/low, dozens, and columns. The lowest risk comes with betting either even/odd or red/black, but this type of bet comes with a lower payout.
Other than understanding odds and probabilities, casino experts always advise playing at a European roulette table over an American roulette table, if possible.
Your chances of winning on a European table are higher than at its American counterpart, because American roulette has an extra slot number.
Blackjack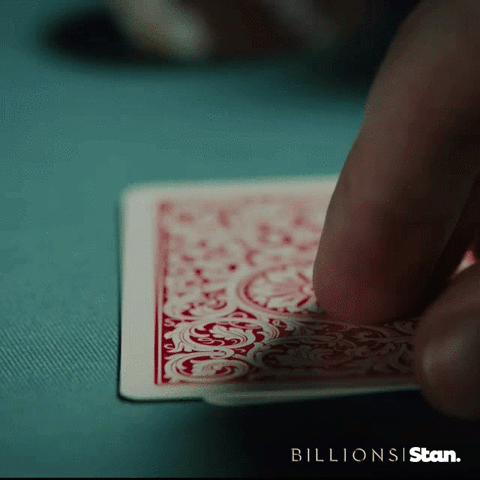 Giphy
Blackjack is widely considered a good starting point for beginners at card games. It's important to understand when you should hit, stand, split, or double down to get the most out of the game. To start, you should always play tables that have 3:2 payouts over the 6:5 payout tables. It's never wise to take the insurance side bet, split tens, or hit on or after 17. Doubling down, which is doubling your bet in the middle of the hand, can be a wise move if your cards total 11 and the dealer has a 6 or less when you have a soft (card plus an ace) 16,17, or 18, or a hard (no ace) 9 or 10. It's not recommended to double down, however, if the dealer is holding an ace.

Craps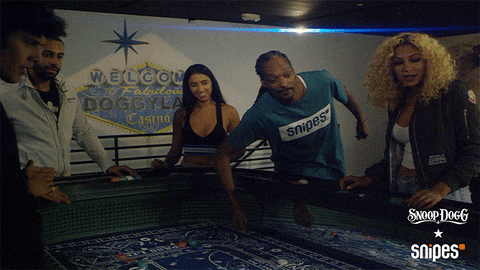 Giphy
Craps is a popular dice game played at the casino that is also easy to learn. The best strategies for beginners are the pass/don't pass and come/don't come strategy. The pass or come will give you the lowest risk.

Baccarat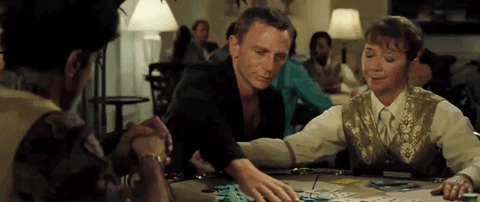 Giphy
Baccarat is mainly a game of luck with a little strategy, but it has a fairly low house edge. One aspect that makes this game a good starting point for beginners is that you only have three betting options.
You can bet on the banker winning, the player winning, or a tie.
The house edge is highest on tie bets, so it's recommended never to bet this way.
Statistics show that the banker has the higher odds of winning, so even though a bet on the banker takes a small commission of your winnings, it's still best to bet on the banker.

Poker Games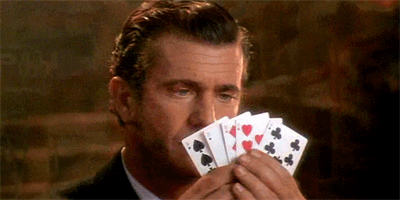 Giphy
Poker games can often intimidate first-timers at the casino, but in all probability, you're not going to be playing against poker stars like you would see on ESPN. You are more likely to be playing against beginners just like yourself. With some understanding of the different poker games and basic tips, you can better your chances of winning at poker games.

Look for tables with stakes/buy-ins that correspond to your bankroll. It wouldn't make much sense to enter a table with high stakes and buy-ins if you don't have a high budget.
A great betting strategy is to start conservative and not to bluff. That way you play it safe at first, and if you make it far, you can start being riskier and have better chances at bluffing. It's also important to study your opponents and learn their betting tendencies.
The Bottom Line

Giphy
It's most important to understand one key aspect to gamble at any casino: The house always has the advantage. If you can manage your budget and understand your odds of winning at each game, then you have a better chance of walking away with cash. But more importantly, it's vital to know that hot streaks don't last.
In the words of Kenny Rogers, "You've got to know when to hold'em, know when to fold'em, know when to talk away, know when to run."

After years of talk, the world's most familiar digital payment platform, Paypal, is finally embracing cryptocurrency as a form of accepted currencies for all its US users.
Bitcoin, Ethereum, Bitcoin Cash, and Litecoin will be the cryptocurrencies accepted by PayPal. "The shift to digital forms of currencies is inevitable," said Dan Schulman, president, and CEO of PayPal in an October 21st press release.
Experts in the crypto world have often linked the volatility and shortcomings of cryptocurrencies to its lack of accessibility in markets, so this new acceptance on part of Paypal might just be what's needed to propel cryptocurrency use into the mainstream economy. Paypal will develop complementary cryptocurrency educational resources on its website.
Currently, you can get on the waitlist to trade cryptocurrency on PayPal, as it's not officially tradable yet. Beginning sometime early next year, users will be able to not only buy and sell the currency but also use it to make purchases to any of Paypal's 26 million merchants.
What Is Cryptocurrency?
You may have heard the words "cryptocurrency" or "Bitcoin" before; you may even know what they are. Pop culture has long depicted futures in which money has gone completely digital. With the growing acknowledgment of cryptocurrency, that future may not be far away.
The Dutch bank ING released an extensive survey about cryptocurrency, in September, revealing that while almost three-quarters (74%) of people know that cryptocurrency is a type of digital money, nearly the same amount of (73%) incorrectly identified the governing body for cryptocurrency, or said they did not know how it worked.
Cryptocurrency is a type of digital currency secured by cryptography technology that makes it nearly impossible to counterfeit. Cryptocurrency is not controlled by any government or entity, and the middle man (AKA the bank) is cut out of the equation.
How Does It Work?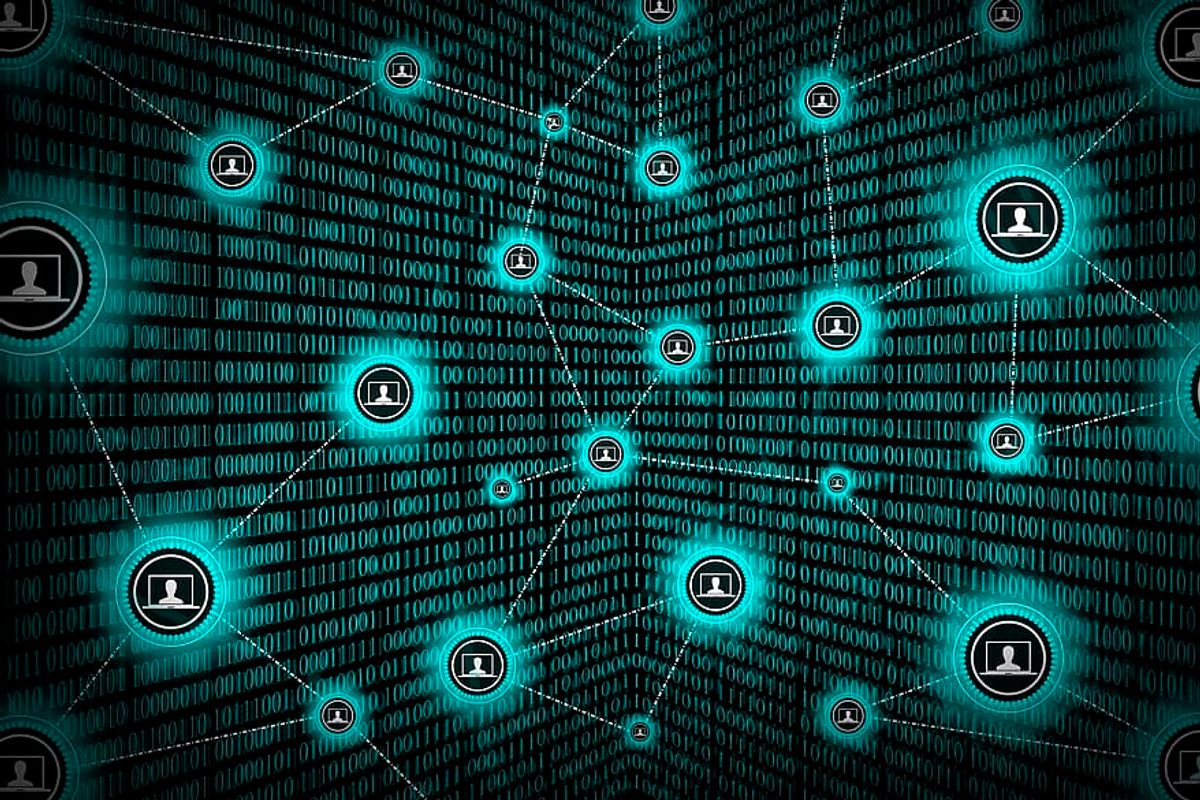 Cryptocurrencies allow you to make secure transfers online which are denominated in terms of tokens. Behind the scenes, the network shares a blockchain (digital ledger) that records all transactions.
How Can I Use Cryptocurrency?
In order to buy cryptocurrency, you need an online application, known as a "wallet" to digitally store it in. This can be done through an app such as the Bitcoin Wallet, or through a free investment app such as Robinhood.
You can use your cryptocurrency to buy goods or services from many retailers and merchants that accept cryptocurrency, transfer it directly to other cryptocurrency users, or exchange it for other digital or paper currencies.
Cryptocurrency can also be earned through
mining
, which is often referred to as the process of digitally mining for gold.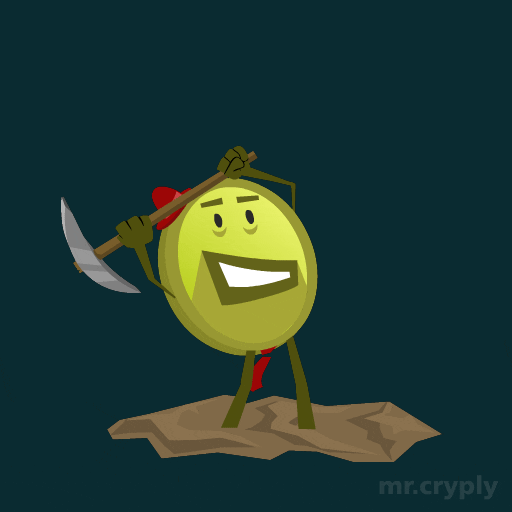 Money Work GIF by Mr.CryplyGiphy
Types of Cryptocurrency

Bitcoin was the first of its kind and is still the most popular cryptocurrency used today. Other alternative cryptocurrencies have come out since, including the Litecoin and Ethereum.
Bitcoin
The original Bitcoin code was developed in 2009 by the individual or group known by the anonymous pseudonym, Satoshi Nakamoto. Bitcoin is not owned by any individual or company. All users are able to use and develop the bitcoin software.
Today, Bitcoin is split into two different cryptocurrencies: the original Bitcoin (BTC) and Bitcoin Cash (BCH). The main difference between the two is that the latter was created to increase the speed of transaction processing. Some experts worry about the security of the newer Bitcoin cash, as the program doesn't necessarily follow the guidelines in programming set out by Nakamoto. As it is, Bitcoin still remains the most widely used of the two.
Cryptocurrency Benefits
Since cryptocurrency operates in a decentralized manner, cutting out the middleman in currency transactions (AKA the bank) can have many benefits.
Cryptocurrency transactions are instant and direct, unlike transfers that need to run through banks and can sometimes take days to process.
Cutting out the need for the bank reduces inflation and reduces fees.
Transactions are not limited by time, location, or bank holidays.
More secure transactions from cryptographic technology.
Cryptocurrency allows much clearer transparency since the data stored in the blockchains are available for anyone to view.
Cryptocurrency Disadvantages
The inability to make payments with cryptocurrency.
Cryptocurrency is unregulated, which makes it an attractive means of illegal activity and overall is considered a high-risk investment.
Cryptocurrency does not hold any intrinsic value-such as that of fiat currency backed by gold or a governing body. Berkshire Hathaway's billion-dollar CEO, Warren Buffet, is a longtime opposer of cryptocurrency. In an interview withCNBC, Buffet said that he would never invest in cryptocurrency because he believes it holds no value.
What's Next?
According to a 2019 survey, only 10% of people understand cryptocurrency. However, it does have backing from the SpaceX and Tesla founder, Elon Musk, who sees potential in Bitcoin. The future of cryptocurrency heavily relies on its ability to further reach into the retail economy.

With nearly 14 million Americans currently looking for work, giving your resume an update has never sounded better! We have cultivated a list of the most coveted and in-demand job skills you should focus on developing as you prepare for a changing COVID influenced world.
Employers look for employees who possess both hard and soft skills. Hard skills are those that involve technical knowledge, while soft skills deal with personality traits.
Digital Hard Skills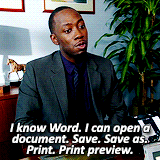 skills GIFGiphy
The global workforce was already amidst a technological revolution, but when COVID took the reins, the skill sets needed for digital work priority seemingly overnight.

According to LinkedIn, data literacy–which is the ability not only to read and understand data but also to apply that data in a meaningful way–is the most important skill set businesses look to attain. Special skill sets in statistics and probability are a great asset to any job in the data field.
Computer programming is now, more than ever, becoming a job skill that employers desire. But you don't have to have a programming degree to pick up some basic coding skills that might help you go far. Codecademy offers free basic beginner classes that teach you how to code from the comfort of your home.
Having proficiency in computer programming languages can also get your resume noticed. According to Indeed, Python is the highest demanded program language for jobs right now. Blockchain technology, a job skill that has never even appeared on LinkedIn's top skill demands before this year, debuted as the highest demanded skill for 2020. The up-and-coming Blockchain technology, which is generally associated with cryptocurrency, is now being sought for use by businesses who are looking for innovative ways to implement new technologies.
Similarly, jobs dealing with artificial intelligence have shown the highest rate of increase in any industry in the United States this past year. Proficiency in developing algorithms and robotics can get your resume noticed fast.
Finally, affiliate marketing has been one of the fastest-growing marketing sectors that businesses are developing. Business spending on affiliate marketing grew from $4.2 billion to $6.8 billion annually between 2015 and 2020. Practice and understanding of search engine optimization (SEO) and search engine marketing (SEM) are crucial job skills that can help you grow a business online. And if you have no experience with SEO, learning about it can be done for free and easily through sites such as Moz or Yoast. Familiarity with online analytics such as Google and Adobe analytics will also help your resume get it noticed.
High Demand Soft Skills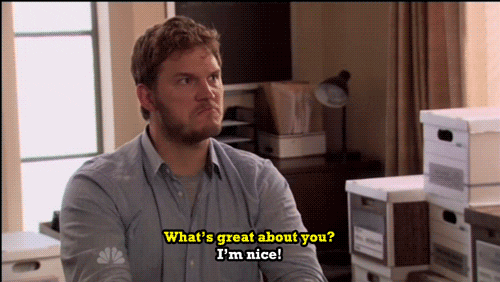 resume GIFGiphy
Cognitive Skills
Employers have always desired some level of cognitive skill from employees. Logic and reasoning are important in a world where it seems easier to find fake news and misrepresented data, and being able to objectively sort through what is credible and what is not is a coveted job skill in today's world.
Adaptability and Resilience Skills
The baby boomer generation was accustomed to holding lifelong jobs, often having the same workplace and requirements throughout an entire career. In today's world, the majority of millennials prefer–or are forced into–job-hopping, so being willing to adjust to change in an increasingly changing workforce will get you far.
Leadership Skills
With jobs shifting to remote work-at-home settings, leadership skills will become a top job skill throughout the workforce. People who show self-management are more likely to adapt to working from home and are capable of engaging fellow teammates more effectively.
Creativity Skills
Artists who make a career out of their passions have long felt undervalued at what they do. But if recent closures and shutdowns have trained the job market's interests on anything good, it's been creativity, as businesses have all been forced to think outside of the box.