Entering your 20s means you'll quickly need to learn how to navigate the world of personal finances, much of which you probably didn't learn in college or high school courses.
Without any previous lessons on finances, it can be challenging to know where to start. Follow this guide as we outline the financial decisions you'll need to make in your 20s.
Setting a Budget
The first step to being a fiscally responsible young adult is setting a budget. Your budget will determine many future financial decisions, from where you can live to what splurges you can make. Look at the expenses you currently owe every month and your projected income to determine how much you should be spending on bills, daily expenses, etc.
Tackling Debt
Getting rid of your debt as early as possible is a critical step for newly independent 20-year-olds. However, some may not be able to get rid of debt as soon as they hope. Once again, look at your budget, then decide if you'd like to put more toward tackling debt now or pay your loans as they come.
Getting Coverage
While you may be able to hold onto your parents' insurance until 26, you'll have to choose your own plans sooner or later. From health insurance to renter's and car insurance, you shouldn't skip an opportunity to cover yourself in the case of an accident. Find a provider and plan you're comfortable with, and get your coverage as soon as possible.
Saving for a Rainy Day
Navigating how to save is another critical financial decision you'll have to make in your 20s. Living paycheck to paycheck is not a sustainable course of action. Even putting a small portion of your wages into a savings account can make a big difference—especially if an emergency you didn't prepare for occurs.
Starting To Invest
Investing is a scary topic for young adults, but it's a great way to build wealth. Starting to invest as a young adult will set you up for success on your long-term financial plan. However, be sure to conduct research before jumping into the market to decide when, where, and how much you'd like to invest.
Your 20s are an optimal time to learn and grow. One area of life you'll undoubtedly learn a lot about is managing finances. Use this guide to help you get started on the path to becoming a fiscally responsible adult.
When you're evaluating the benefits of one credit card over another, you have a lot of different factors to consider, including fees, rewards, and interest rates. But does the type of credit card you choose matter at all? Is there any real difference between a Visa and a Discover card with the exact same terms?
There are four major credit card networks in the US: Visa, Mastercard, Discover, and American Express. These companies offer a network of infrastructure that allows merchants to swipe your card and then collect the money from your card issuer. They also set the fees that the merchant must pay to use the network – that's right, every time you swipe your card, the merchant must pay for the privilege of allowing you to do so.
Network Fees
The fees that your merchant pays, also known as interchange fees, are not static; Visa and Mastercard adjust their rates twice a year. Different types of businesses also pay different rates, and they may have different fees for different tiers of credit cards and debit cards. For instance, a Visa debit card transaction at a grocery store may have a smaller interchange fee associated with it than a restaurant even if the transactions themselves cost the same amount.
Online shopping is usually more expensive for the retailer because swiping a card is typically cheaper than typing in your card number on a website.

Of the four major credit card networks in the US, Visa usually has the lowest processing fees. American Express often has higher fees.
| | |
| --- | --- |
| Network | Average Credit Card Processing Fee |
| Mastercard | 1.55% - 2.6% |
| Visa | 1.43% - 2.4% |
| Discover | 1.56% - 2.3% |
| American Express | 2.5% - 3.5% |
These are on top of any additional fees that the credit card networks may charge such as charge-back fees, terminal rental fees, and IRS reporting fees. These fees are paid by the merchants, but they also affect you as a consumer. American Express almost always has higher fees than Visa, Mastercard and Discover, which is why you're more likely to encounter a merchant that won't accept it. If you're in the market for a new credit card, you may want to make sure you have a Visa or Mastercard as a backup instead of only having Discover or American Express, as Visa and Mastercard were accepted at 10.7 million locations in the US at the end of 2019, compared to 10.6 million for Discover or AMEX. Costco is one merchant that only accepts Visa, and those without a Visa card may be out of luck.
Issuers vs. Networks
Pull out the credit card in your wallet and take a look at it. Chances are, if it's a Visa or Mastercard, you'll see their logo as well as the logo of the bank that issued it. That's because Visa and Mastercard are card networks, but do not actually issue the cards themselves. They merely facilitate payments between the merchant and the bank that issued the card.
On the other hand, Discover and American Express both process transactions and issue cards. As with the fees, this may not have a big impact on you as the cardholder. However, it does mean that you can't take advantage of having a card linked to your bank. if you are interested in building a deeper relationship with your bank to get better interest rates or have everything consolidated into one app, Discover and American Express may not be the strongest options.
When picking your next credit card, consider the array of cards that you already have, and ask yourself if you are interested in diversifying the different networks that you may be able to use if one retailer does not accept a certain type of card. However, as most of the practical differences are behind the scenes and don't affect you, your considerations should be given to the different types of rewards you can get through the card and the fees you will pay before you worry about which card network you might want to use.
From Your Site Articles
Related Articles Around the Web
Tesla's ups and downs have been a roller coaster for investors over the last few years, but Monday's announcement that the company will be added to the S&P 500 should grab everyone's attention.
Tesla met the criteria to join the exclusive club representing some of the most valuable public companies in the US back in September. Despite the delayed addition, the S&P Selection Committee will include the company in the benchmark index starting Monday, December 21st.
There is currently over $11 trillion in assets benchmarked to the S&P 500, including $4.6 trillion in indexed funds. With Tesla's addition, these funds will have to buy Tesla stock and include it in their portfolios. Passive funds are expected to purchase around 95 million shares while active fund managers will need to purchase 30 million on top of that. That's over $50 billion dollars flowing into Tesla stock as portfolios are rebalanced.
If you've been holding onto Tesla stock, this is great news for you as there is going to be much more demand from institutional investors forced to buy the stock. If you've been looking for the right time to sell, you're going to have a lot of eager buyers this December. The stock's jump in price after the announcement is a testament to how much value the increased demand is expected to create.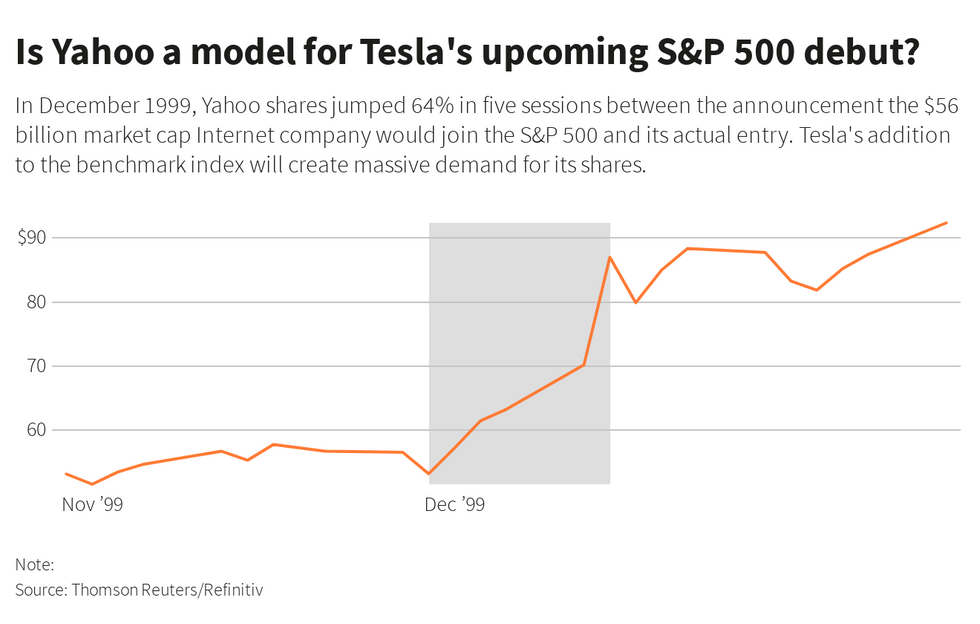 Reuters
Even if you don't hold any Tesla stock, this will affect you too. Tesla is going to be one of the largest companies ever added to the index, and that $50 billion dollars is going to have to come from somewhere. All those investment funds indexed to the S&P 500 need to sell shares of other companies in order to buy Tesla to ensure their portfolios reflect the car company's portion of the index. This trade is expected to be so large that the S&P Dow Jones Indices is soliciting feedback as to whether Tesla should be added all at once or in two tranches to give investors more time to balance portfolios.

If you are invested in a fund that tracks the S&P, you might be excited that you are finally going to get a piece of some of the action. Come December 21st, many investors who have kept their money index funds will find themselves owning Tesla shares. If the stock continues on its upward trajectory, this is great news. However, some investors have accused Tesla stock of being a bubble and adding it at an inflated price may open investors to losses should the share price drop in the future.

From Your Site Articles
Related Articles Around the Web
Helping Americans achieve financial independence through better access to capital!
Here at PayPath, we are always looking for new ways to stay ahead of the game! Recently, we stumbled across a new company with an interesting model that has revolutionized the process of obtaining home equity loans.
If you have been down this road before, you know exactly how nerve-wracking the process can be and how long it can take to complete. So before you make any major, life-changing decisions, take 5 minutes to check out Button Finance and what they have to offer.
What Is Button Finance?

Button Finance, an innovative New York-based Fintech, launched its first product, Button Home Equity Loans. Button enables homeowners to borrow against their home equity through a hassle-free online process that delivers quick decisions and funding in as little as 5 days.
American homeowners have record levels of home equity, and limited avenues to monetize it. Mortgage cash-out refinancings are becoming more difficult, while personal loans are prohibitively expensive. Button Finance lets borrowers tap into their home equity by providing highly competitive and customized interest rates using its state-of-the-art underwriting engine.
"Americans have a debt problem, and frequently resort to high-cost borrowing options like credit cards and personal loans", said Jason Harris, CEO of Button Finance. "Button's Home Equity Loans will empower borrowers to harness the value of their home equity to pay down high-interest debt, or to make value-enhancing renovations to their homes."
How Does It Work?

Button Finance's class-leading technology eliminates many of the frustrations associated with a typical mortgage application. With a paperless application and digital document delivery, Button Finance has streamlined the mortgage application and underwriting process. A dedicated customer service team helps borrowers close their loans in record time.
Adam Nagin, a partner at the mortgage financing and debt acquisition company L&L Capital Partners, noted how Button Finance's customer support team helped him secure an SBA loan. "Button Finance's team guided us through the PPP application process and found me a lender when nobody was picking up the phone, I'm excited about their new home equity product and expect big things from their team."
Check out Button Finance today to see if it is the answer you have been looking for!