Oh, how far we've come!

Women's History Month is here. What a pertinent reminder of how far women have come in society — but this far is far from far enough. From the pay gap to daily microaggressions, it's still obvious that women are treated as lesser-than in society. This is especially clear when you look at how few female-founded businesses there are.
According to Rolling Stone, it's crucial to support female-owned businesses. They report: "While it is true that the different experiences and backgrounds that women and men have undoubtedly affect business approaches, this is actually a good thing. A business with diverse perspectives is an innovative business that can actually push the boundaries of industries." Like with any other social justice cause, uplifting marginalized folks is good for everyone involved. We all benefit from the increased, diverse worldviews brought about by representation.
The article continues: "Having a gender-diverse business yields better consumer insight, and in turn, a more profitable business. Back in 2015, McKinsey & Company found businesses that were more gender-diverse were likely to outperform approximately 15 percent above the industry median. Years later in 2020, they found that the percentage had increased to 25 percent."
Therefore, even if we aren't focused on all the social and political reasons to uplift female entrepreneurs, it's better for everyone's bottom line if we do.
Yet, despite this oft-proven reality, archaic stereotypes and oppressive systems stand in the way of progress in every sector. An article in Business News Daily outlines some of the obstacles women face as entrepreneurs. The number one hurdle they face? Social expectations.
The article advises that in order to beat this imposter syndrome, female founders should stick to their guns rather than trying to conform. "Women may feel as though they need to adopt a stereotypically "male" attitude toward business: competitive, aggressive, and sometimes harsh. But successful female CEOs believe that remaining true to yourself and finding your own voice are the keys to rising above preconceived expectations."
But often, women are told their lack of professional advancement is their fault. You're too shy. You're not assertive enough. You need to ask for what you want. Otherwise, how do you expect to get it?
However, despite this refrain, it's actually not their own fault. This scapegoating convinces ambitious women that if their careers are stifled, it's their fault. This causes imposter syndrome, lack of representation, and real industry consequences.
According to BND, "Raising capital is even more difficult for women-owned businesses. A 2014 Babson College report found that less than 3% of companies with venture capital funding had female CEOs … venture capitalists tend to invest in startups run by people of their own 'tribe.'"
Other things that get in the way of women climbing the ladder to success include: struggling to be taken seriously, owning their accomplishments, building a support network, balancing business and family life, and coping with the fear of failure.
These are real, tangible barriers that most female entrepreneurs face. The women who have succeeded should be celebrated — and this month is the perfect one to do so. Luckily for us, we can vote with our dollars, supporting the businesses we love so that there can be more like-minded companies out there in the world.
Here are some of my favorite female-owned brands to shop during Women's History Month:
<
It's easy to dish out what you might think is great financial advice if you're from the boomer generation — the most recent generation to accumulate copious amounts of wealth compared to others.
But does the financial advice of this aging generation still hold up today?
Older generation financial advisors such as Suze Orman and Dave Ramsay have been dishing out financial advice for a long time - but their words of wisdom are unrealistic in today's world.
Many believe the American dream is dead, and in many ways this is true. So it may be time to take part in the adolescent practice of "ignoring our parents" and ditch the financial advice of boomers — especially if that advice sounds something like this:
"Pay your mortgage off as soon as possible"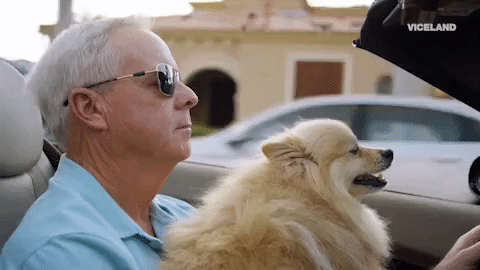 Baby Boomer GIF by MOST EXPENSIVEST Giphy
For most boomers, paying off their mortgage as soon as feasible was sound advice at some point, but that's probably not the case today. Mortgage rates in the '80s and '90s were well over 10%, but the average rate in the past decade hasn't even gone above 5%.

It makes much more sense in today's world for homeowners with low-interest rates to consider investing that extra money or paying on higher interest debt.
"Don't discuss your finances with others"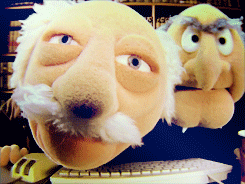 Statler And Waldorf Internet GIF Giphy
Americans have always been discreet about money, and it has long been taboo to discuss finances with others, especially in the workplace.

"How much do you make" is often interpreted as "how much is your worth," and the correlation of pay and a person's value makes it awkward for many to discuss their finances. However, the norm of keeping one's salary secret has only led to an increased wage gap in America.
There is no reason that sharing salary information with coworkers shouldn't happen. After all, it may just land you a higher salary. And if you're ever told by an employer not to discuss salary with co-workers, you can refer them to the National Labor Relations Act of 1935, which makes it unlawful for private sector employers to prohibit employees from discussing their pay.
"Get a college degree if you want to make good money"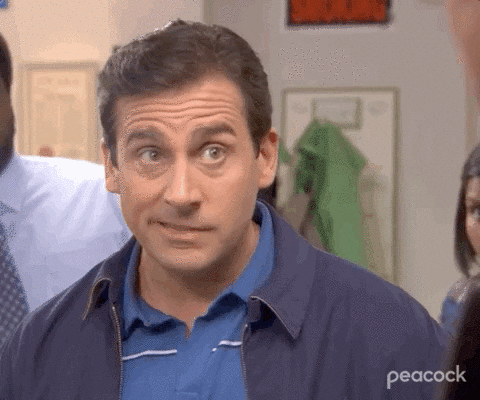 Season 4 Michael GIF by The Office Giphy
College isn't always a good investment anymore. With the college wealth premium — that is, the additional income earned by a family whose head of household has a college degree compared to that of a similar family head of household who does not have a degree — has been on a steady decline over recent decades, proving that college degrees don't necessarily ensure higher pay anymore.
The average cost of college has risen 3009% since the 1960's.
College was a completely different ball game when the majority of baby boomers attended. In 1970, the average college tuition came to what would now be $1,653. Today, that number is closer to $25,000.
To further debunk the myth that a degree amounts to more wealth, the skyrocketing price to attend college alone can often make a degree a bad investment. Many boomers were able to pay for entire degrees with the money made at part time jobs. With the average modern college student accumulating upwards of $40,000 in debt, the days of being able to pay for college with your own income are long gone for most individuals.
"Stay loyal to your job, and you will be rewarded"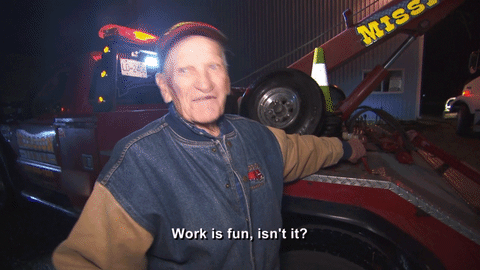 Work Hard Hang In There GIF by Discovery Canada Giphy
According to a Linkedin study, boomers report being significantly more satisfied and loyal to their employers than Gen X and Millennials; but a look at the change in the workplace might unveil the reasons why younger generations are more likely to switch jobs.

Pension plans, or retirement plans in which an employer makes contributions set aside for employees to collect after they retire are almost entirely a thing of the past. With this type of plan, often referred to as defined benefit plans, the employer is the sole contributor to the retirement accounts, unlike the common retirement plans today such as 401ks, in which the employee themselves must make contributions. Today, only about 4% of private-sector employers offer pensions to their employees.
Along with diminishing retirement incentives, the lack of benefits and rising costs of employer-sponsored healthcare also play a factor into job loyalty. Since 1998, the percent of workers offered employer-sponsored coverage has been on the decline.
"Homeownership is the path to wealth"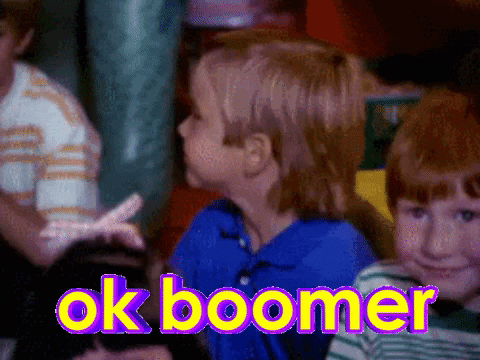 Boomers GIF by MOODMAN Giphy
Any boomer will tell you that the first thing to invest in is homeownership. In fact, the baby boomer generation believed in this advice so much that they now own more than 80% of housing wealth in the US.
A recent study found that from 1983 to 2013, housing wealth increased almost entirely within the baby boomer and older generations. Urban boomers have highly influenced the increase of homeownership pricing due in large part to restricting housing supplies. For example, most neighborhood councils and homeowners associations are made up of boomers, who impose strict building requirements that raise the prices of homes and make affordable housing scarce.
Younger generations are left with few options, either having to often take out mortgages they truly can't afford, or continue to rent. And if the 2008 crash taught us anything, homeownership can be a very risky investment.
Entering your 20s means you'll quickly need to learn how to navigate the world of personal finances, much of which you probably didn't learn in college or high school courses.
Without any previous lessons on finances, it can be challenging to know where to start. Follow this guide as we outline the financial decisions you'll need to make in your 20s.
Setting a Budget
The first step to being a fiscally responsible young adult is setting a budget. Your budget will determine many future financial decisions, from where you can live to what splurges you can make. Look at the expenses you currently owe every month and your projected income to determine how much you should be spending on bills, daily expenses, etc.
Tackling Debt
Getting rid of your debt as early as possible is a critical step for newly independent 20-year-olds. However, some may not be able to get rid of debt as soon as they hope. Once again, look at your budget, then decide if you'd like to put more toward tackling debt now or pay your loans as they come.
Getting Coverage
While you may be able to hold onto your parents' insurance until 26, you'll have to choose your own plans sooner or later. From health insurance to renter's and car insurance, you shouldn't skip an opportunity to cover yourself in the case of an accident. Find a provider and plan you're comfortable with, and get your coverage as soon as possible.
Saving for a Rainy Day
Navigating how to save is another critical financial decision you'll have to make in your 20s. Living paycheck to paycheck is not a sustainable course of action. Even putting a small portion of your wages into a savings account can make a big difference—especially if an emergency you didn't prepare for occurs.
Starting To Invest
Investing is a scary topic for young adults, but it's a great way to build wealth. Starting to invest as a young adult will set you up for success on your long-term financial plan. However, be sure to conduct research before jumping into the market to decide when, where, and how much you'd like to invest.
Your 20s are an optimal time to learn and grow. One area of life you'll undoubtedly learn a lot about is managing finances. Use this guide to help you get started on the path to becoming a fiscally responsible adult.
When you're evaluating the benefits of one credit card over another, you have a lot of different factors to consider, including fees, rewards, and interest rates. But does the type of credit card you choose matter at all? Is there any real difference between a Visa and a Discover card with the exact same terms?
There are four major credit card networks in the US: Visa, Mastercard, Discover, and American Express. These companies offer a network of infrastructure that allows merchants to swipe your card and then collect the money from your card issuer. They also set the fees that the merchant must pay to use the network – that's right, every time you swipe your card, the merchant must pay for the privilege of allowing you to do so.
Network Fees
The fees that your merchant pays, also known as interchange fees, are not static; Visa and Mastercard adjust their rates twice a year. Different types of businesses also pay different rates, and they may have different fees for different tiers of credit cards and debit cards. For instance, a Visa debit card transaction at a grocery store may have a smaller interchange fee associated with it than a restaurant even if the transactions themselves cost the same amount.
Online shopping is usually more expensive for the retailer because swiping a card is typically cheaper than typing in your card number on a website.

Of the four major credit card networks in the US, Visa usually has the lowest processing fees. American Express often has higher fees.
| | |
| --- | --- |
| Network | Average Credit Card Processing Fee |
| Mastercard | 1.55% - 2.6% |
| Visa | 1.43% - 2.4% |
| Discover | 1.56% - 2.3% |
| American Express | 2.5% - 3.5% |
These are on top of any additional fees that the credit card networks may charge such as charge-back fees, terminal rental fees, and IRS reporting fees. These fees are paid by the merchants, but they also affect you as a consumer. American Express almost always has higher fees than Visa, Mastercard and Discover, which is why you're more likely to encounter a merchant that won't accept it. If you're in the market for a new credit card, you may want to make sure you have a Visa or Mastercard as a backup instead of only having Discover or American Express, as Visa and Mastercard were accepted at 10.7 million locations in the US at the end of 2019, compared to 10.6 million for Discover or AMEX. Costco is one merchant that only accepts Visa, and those without a Visa card may be out of luck.
Issuers vs. Networks
Pull out the credit card in your wallet and take a look at it. Chances are, if it's a Visa or Mastercard, you'll see their logo as well as the logo of the bank that issued it. That's because Visa and Mastercard are card networks, but do not actually issue the cards themselves. They merely facilitate payments between the merchant and the bank that issued the card.
On the other hand, Discover and American Express both process transactions and issue cards. As with the fees, this may not have a big impact on you as the cardholder. However, it does mean that you can't take advantage of having a card linked to your bank. if you are interested in building a deeper relationship with your bank to get better interest rates or have everything consolidated into one app, Discover and American Express may not be the strongest options.
When picking your next credit card, consider the array of cards that you already have, and ask yourself if you are interested in diversifying the different networks that you may be able to use if one retailer does not accept a certain type of card. However, as most of the practical differences are behind the scenes and don't affect you, your considerations should be given to the different types of rewards you can get through the card and the fees you will pay before you worry about which card network you might want to use.
From Your Site Articles
Related Articles Around the Web