A record number of Americans have applied for unemployment benefits in the wake of the coronavirus pandemic. So many, in fact, that there has been a 3000% jump in jobless claims since early March. Unfortunately, the situation is likely to only get worse. According to Citi economist Andrew Hollenhorst, "Further job loss expected in coming weeks is very likely to push unemployment above 10%, even taking account of a potential steep decline in the labor force participation rate, as some displaced workers are neither furloughed nor looking for work."
Of course, if you've been outright fired from your job, you can at least take comfort in the fact that you face a relatively straightforward process for applying for unemployment. But what if you've been furloughed? What do you do now?
What is a furlough?
Furlough's have become increasingly common as the pandemic has continued to devastate the American job market. In short, a furlough is when an employee is put on an unpaid leave from work for an indefinite amount of time. According to the Office for Personnel Management, there are two types of furlough:
"An administrative furlough is a planned event by an agency which is designed to absorb reductions necessitated by downsizing, reduced funding, lack of work, or any budget situation other than a lapse in appropriations. Furloughs that would potentially result from sequestration would generally be considered administrative furloughs."
"A shutdown furlough (also called an emergency furlough) occurs when there is a lapse in appropriations, and can occur at the beginning of a fiscal year, if no funds have been appropriated for that year, or upon expiration of a continuing resolution, if a new continuing resolution or appropriations law is not passed. In a shutdown furlough, an affected agency would have to shut down any activities funded by annual appropriations that are not excepted by law. Typically, an agency will have very little to no lead time to plan and implement a shutdown furlough."
A furlough is, by its nature, temporary, but that doesn't mean that you can count on getting your job back. Many private and public companies have furloughed employees as a cost saving measure in hopes of weathering the economic turmoil of COVID-19 and hiring back furloughed employees as soon as possible, but as economies grind to a halt across the world, it becomes more and more likely that furlough will turn to permanent termination for many workers. As Jie Feng, an assistant professor in the Rutgers School of Management and Labor Relations told the Society for Human Resource Management, "Unlike layoffs, furloughs reduce labor costs without adding new costs such as severance packages and outplacement services." That means that, unfortunately, your company may just be putting off termination in order to avoid the costs associated with it.
While you likely still have healthcare as a furloughed employee, its not a guarantee, so its worth verifying with your specific company what benefits you retain during your leave.

Do I qualify for unemployment if I've been furloughed?
While you wait to see how long your furlough lasts, you can at least take comfort knowing that you probably qualify for unemployment benefits, particularly as they've been expanded under the $2 trillion coronavirus relief package. Usually, it wouldn't be a guarantee that furloughed workers would qualify for unemployment (it depends on the state you live in) but thanks to the new relief packaged, anyone who was furloughed due to the coronavirus outbreak qualifies for unemployment insurance. Additionally, unlike filing for unemployment because you've lost your job, furloughed employees do not have to prove they lost their jobs. Keep in mind that if you're on paid leave or are able to work from home, you won't qualify for the updated unemployment benefits.
According to CNET, you are likely eligible for additional unemployment under the new package if: "you're a part-time or self-employed worker, as well as if you're already unemployed or can't work because of COVID-19."
You are also eligible if:
You were set to start a new job and can't because of the outbreak
You collect veteran or Social Security benefits
Your job closed due to the coronavirus (for instance, restaurants or businesses deemed "nonessential")
You're not working because you have to care for children or other family members who would otherwise attend school or another facility
So, how much money will I get?
While the total sum of the unemployment money you receive will depend on your state's unemployment plan, the new federal relief package will give you an extra $600 a week on top of whatever you get through your state. It will also cover you for an extra 13 weeks in addition to whatever amount of time your state unemployment program covers. Most states unemployment benefits are upwards of 26 weeks, meaning you're likely to be covered for around 39 weeks. How much money you'll receive is entirely dependent on your state, for example, California residents get $450 a week so the extra $600 would put their weekly benefits at more than $1,000, but Florida residents get a max of $275 per week, putting their total unemployment at a maximum amount of $875.
How do I apply?
There is no way to apply for unemployment via the federal government, so you'll have to find the specific process for your state. Luckily, you can apply immediately. You used to have to wait at least a week to receive benefits, but thanks to the stimulus package you can now expect a more immediate turnaround time. While some states have waived the waiting period, others might still have one implemented. To find out what your state's unemployment program looks like, refer to the table on this site or select your state on this page.
pixabay.com
If you're savvy when it comes to apps but could use some direction in your investing game, combine the two and go from investing newbie to knowledgeable with tips you can tap into. Entering into the world of investing can be daunting, so invest your time before you invest your hard-earned dough. These 5 apps for investing beginners will lead you in the right direction. Invest with the best!
MoneyLion Plus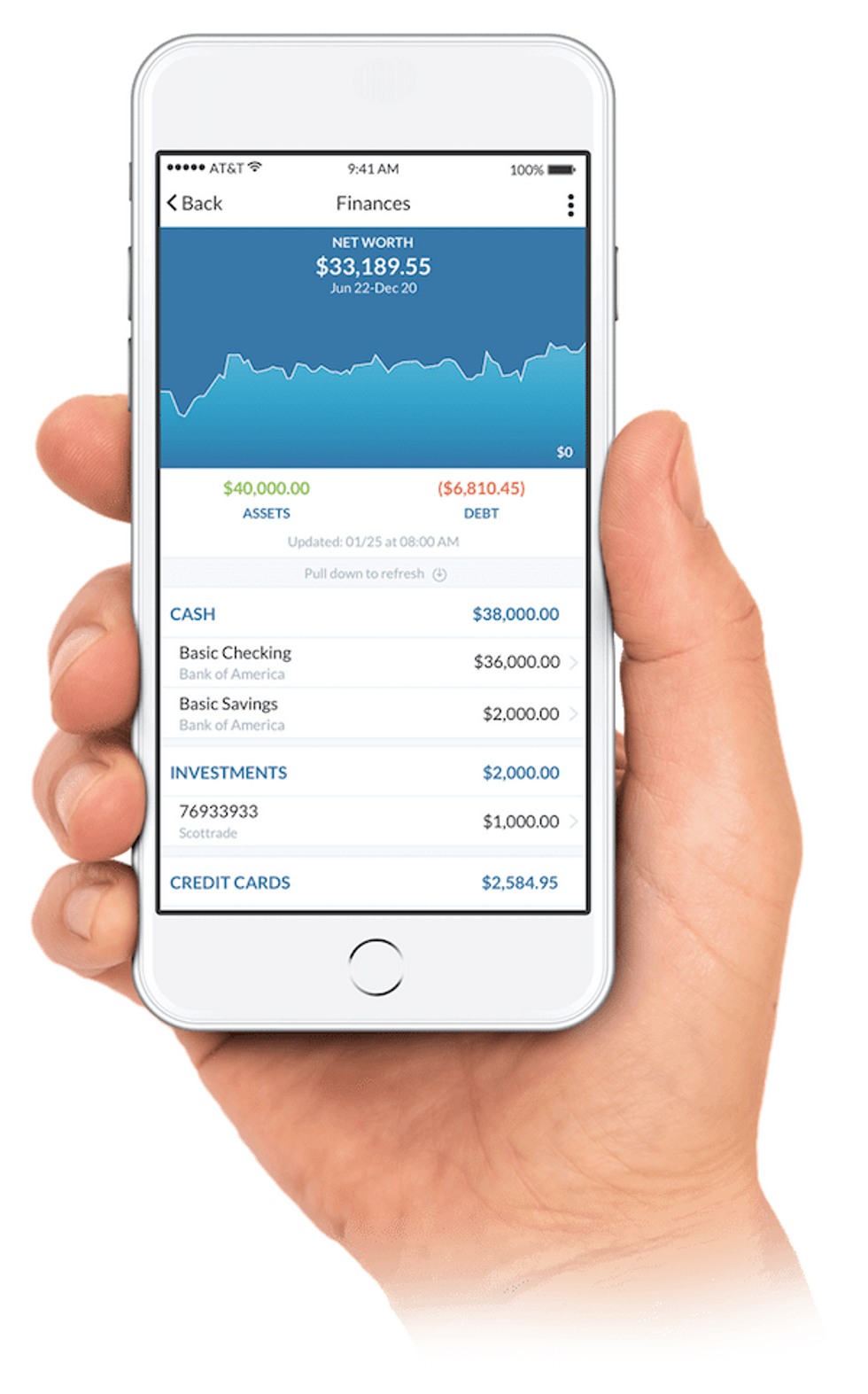 MoneyLion PlusVia crowdfundinsider.com
MoneyLion Plus is an app that is designed to help you borrow, save, reduce debt, invest, and earn. You'll learn the basics of landing a loan, keep up to date on your credit score as you monitor your credit history and charges, and have a neat place to store all your financial information securely. With personalized financial advice and a guided investing plan, you will begin to develop your investment portfolio and allocation. Step by step, you will become tuned in to how investing works and what works for you. And now's a great time to improve your investing know-how with MoneyLion Plus. According to Tech Crunch, "The latest version of the MoneyLion Plus app has an updated user interface to make things easier to navigate and provide faster access to the information. With its new UI, MoneyLion's home navigation now shows swipe-able cards to provide up-to-date information, recommendations and personalized advice." For $29 per month, this app will pay for itself… and then some.
Robinhood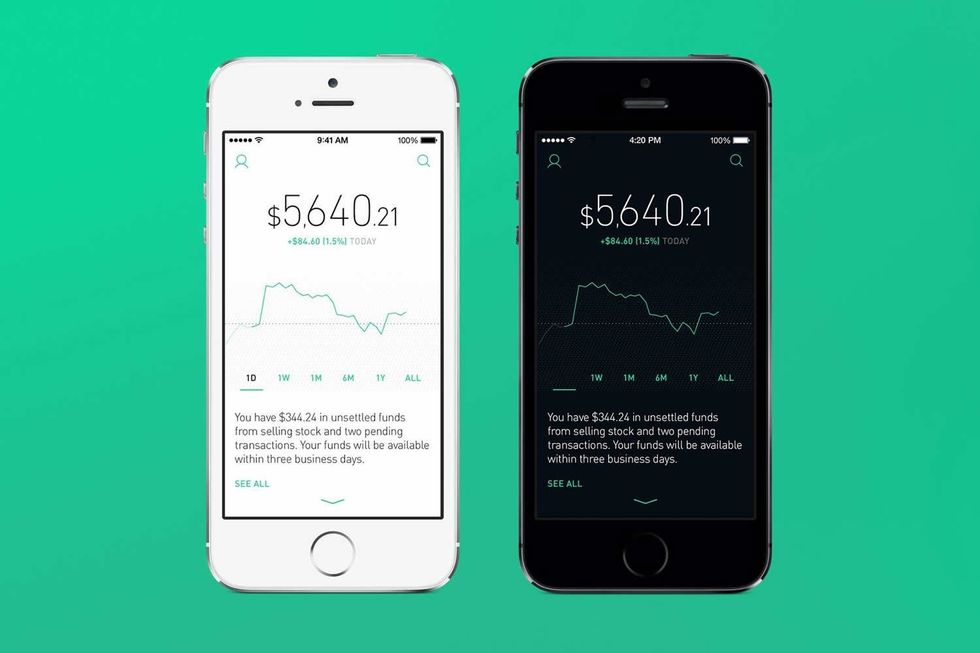 RobinhoodVia thefinancegenie.com
Learn the ins and outs of the stock market for free with the aid of Robinhood app. The app leads you step by step as you build your portfolio from scratch. Invest in stocks, options, and ETFs (exchange-traded funds). Their mission? "To democratize America's financial system. Invest in stocks, ETFs, options, and cryptocurrencies commission-free." Make instant deposits with no wait time. You can boost your account by opting for Robinhood Gold. According to Business Insider, this account, "gives you access to extra buying power, larger instant deposits, and extended trading hours." Robinhood is easy-to-navigate helping you see market data clearly for making wise investment choices. As per The Finance Genie, "It's fast and streamlined so you can instantly verify your bank account and check on your investments or make trades with only a few taps." There is no account minimum to start, so what are you waiting for?
Stash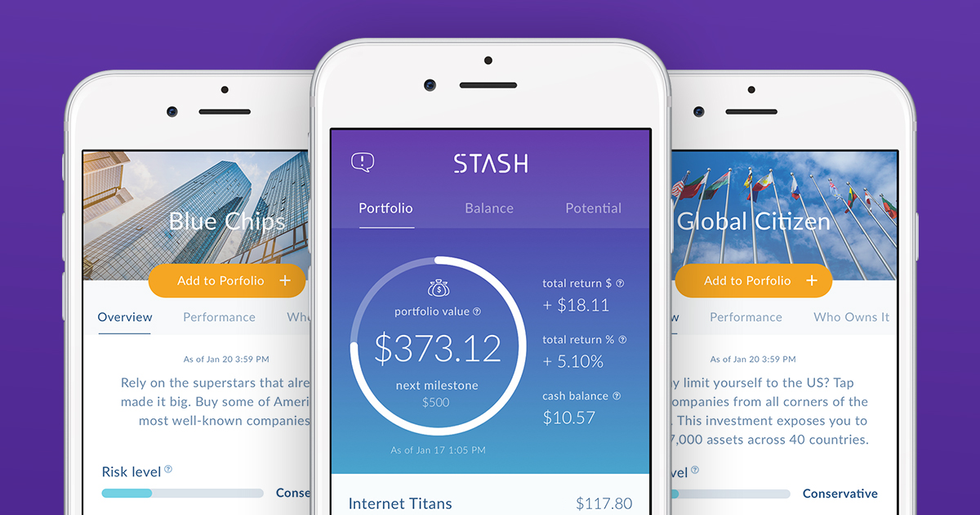 StashVia stashinvest.com
If you've got five bucks, you can begin your introduction to investing with Stash, an SEC registered investment adviser. Sign up is simple as you fill out your profile, and you will instantly gain access to 30+ investment options along with customized advice from your Stash Coach to help you set up your portfolio. All investments on the Stash app are carefully selected by their team. Everything is broken down and easy to digest, without unfamiliar terminology or confusion to trip you up. Their selection of ETFs is broken down by interest (activist, techie, globetrotter, trendsetter, etc.), so you can invest in companies that matter most to you. Stash's mission, "We believe everyone should have access to financial education, technology, and services that help them achieve their life goals," only furthers your faith in the Stash app and the knowledgeable team behind it.
Acorns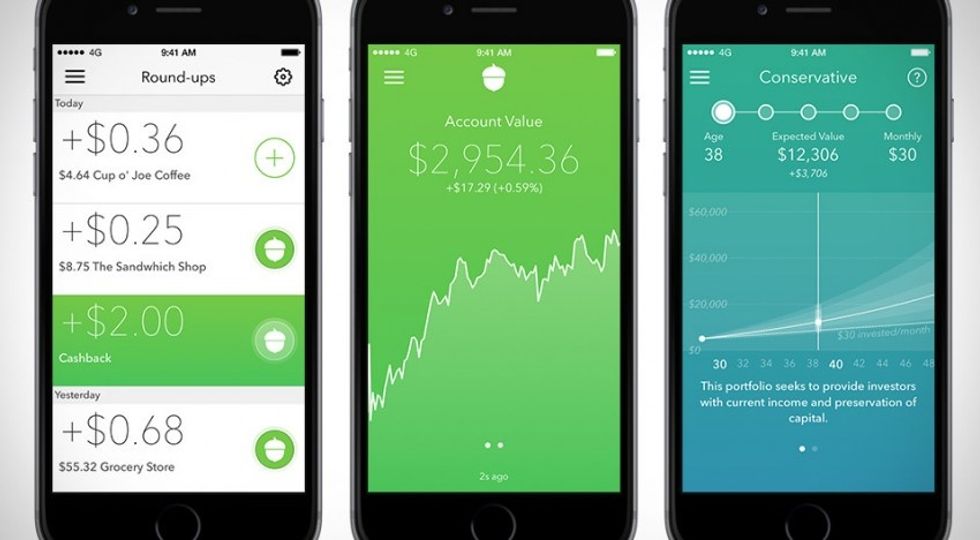 Acorns Via bankers-anonymous.com
Acorns is great for beginners or anyone who wants to start investing now, even if they don't have much money at the get-go. Just $1 per month will get you on your way. Acorns' micro-investing platform is a three-step entry process – connect your banking/credit card(s), make purchases as usual, and the app will start investing your spare change left over as they round up your purchases to the dollar. 7,000 stocks and bonds are available for investing, to "improve your return while reducing risk." You'll create a portfolio designed in part by a Nobel Prize-winning economist to manage your investments in an organized and professional manner. With the app comes Grow Magazine, so you can continue to learn more about investing as you delve deeper into the financial world. CNBC calls Acorn, "The new millennial investing strategy." With investors including PayPal and Ashton Kutcher, Acorn is on to something.
Wealthfront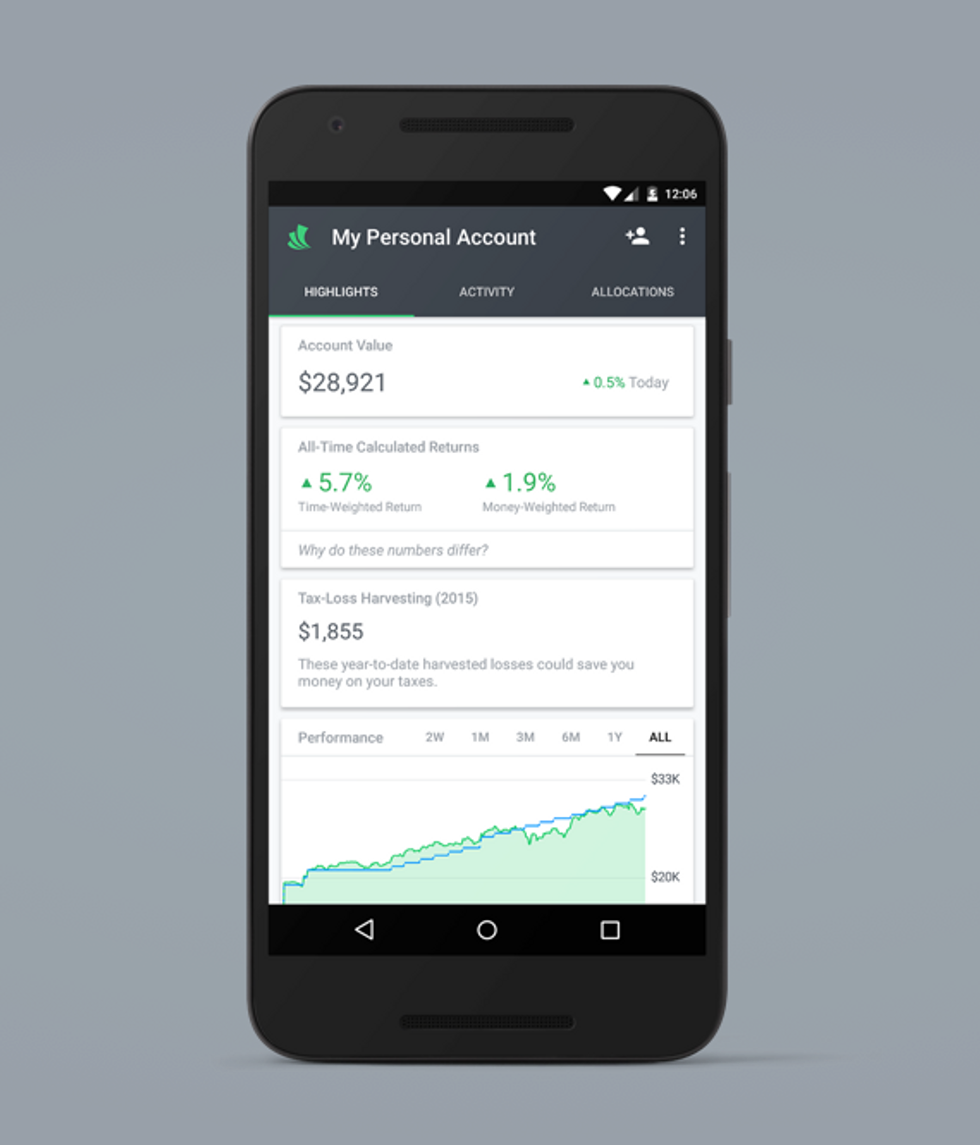 Wealthfront Via blogwealthfront.com
Connect your financial accounts to the Wealthfront app and fill out a questionnaire, and let their expert software analyze your info to help you make the most of your finances by investing intelligently into one of their 20 portfolios. They will design a personalized plan to help you achieve your investing goals with a diversified plan from the ground up. With just a .25% annual advisory fee for accounts with a $10,000+ balance (otherwise free), you will spend a little to gain a lot. According to NerdWallet, "Wealthfront offers the kind of holistic financial advice and automated investment management that appeals to new and experienced investors alike." With access to U.S. and foreign stocks, bonds, real estate, securities, etc., Wealthfront has a mix of options to help you invest strategically and successfully.
Invest your money the modern way with app-telligence!
Blinq Blog
Unless you're Mackenzie Bezos or ex-husband Jeff, chances are you budget your money. You know how much of your monthly income you want to spend on groceries, rent, and leisure, and maybe you even put a portion of each paycheck in savings. But what about budgeting for a specific goal? Is it a short term or long term goal? What are the best tools for both?
Identify Your Financial Goals
Your first step should be identifying the kind of financial goal you're trying to reach. Some examples of short term goals are things like: payments toward rent, insurance or student loans, expensive personal items (new car, new fur coat etc.), travel, a wedding or other event, and home repairs/remodels. These goals are more immediate expenses that you will pay in a matter of months and often require a set amount of money up front. In contrast, long term goals are less likely to have a set amount and more likely to be things that you'd like to continue to expand indefinitely, such as retirement funds or college funds. (Of course, things like paying off a loan or a house are a combination of long and short term goals, since a single loan payment falls under short term goals, while paying off the entirety of a loan is more likely to be a long term goal).
Prioritize Your Financial Goals
The next step is prioritizing your goals. As Nerd Wallet puts it, "Work your goals around your usual expenses, focusing on needs like food and shelter first. Emergency and retirement funds are also high priority; contribute to these funds and pay off debt next. Then you can decide how to allocate the rest of your money toward your wants and other savings goals." Essentially, if you only have a small amount of leftover money each month, you shouldn't put it all towards buying a boat if you have student loans to pay off.
How to Create Your Budget
First, if you don't already have one, budget your necessary monthly expenses as precisely as possible. These necessary expenses include paying for food, living expenses, transportation, and recreation. Try to work out how much you spend on these things in an average month, and then consider if there are any areas you could cut down without great personal cost, such as eating out one less time a week. Once you have this basic budget established, create a timeline for your short and long term goals. To do this, you can use this 50/30/20 budget calculator to determine where exactly your money should go.
After you have a plan laid out, all that's left is actually sticking to the budget you created for yourself, and then you can watch your goals get closer and closer to fruition!
Church Executive
Amidst the longest government shutdown in history, more federal employees are going without deserved pay than ever before. But even a functioning government can't guarantee that an employer will pay its employees on time. Payroll is a federally (and in many cases, state) regulated process with defined rights and restrictions. However, there's just enough leeway in the law for employers to try to skirt around workers' rights.
Don't be mistaken; here's a rundown of what to do if your employer doesn't pay you on time.
1. Be firm: You're legally entitled to be paid "promptly"
Federal laws don't regulate how often employers are required to issue paychecks. Almost all state laws dictate whether employees are paid on a weekly, biweekly, semimonthly, or monthly basis (exceptions include Alabama and South Carolina), but the government's Fair Labor Standards Act clearly states that workers must be paid "promptly." The law doesn't prescribe a specific measurement of time, but specifies that employers must issue either cash or a "negotiable instrument" (like a check) by the soonest pay period possible. In addition, no portion of an employee's pay may be forcibly withheld without cause.
Address the issue with your employer in writing, using any and all available channels to lodge formal complaints and obtain documentation of any violations of federal law. If your employer refuses, you could bring the issue to your state's labor agency.
2. Record everything
Like all legal matters, documentation provides irrefutable evidence. Lawyers and third parties can draw from all documents detailing the payment agreement between employers and their employees to enforce federal laws. Whether or not an employee is worried about losing pay, every laborer should keep their own records, especially the dates of any missed pay days or other payment violations.
3. Contact U.S. Department of Labor
If an employer has violated a worker's right to be paid on time, then depending on one's state, the employee should contact the state labor division or the federal Wage and Hour Division. The Fair Labor Standards Act is upheld by these departments, which enforce a range of laws that regulate everything from how records are kept to how withholdings must be itemized on pay stubs. These departments will also hold employers accountable to laws forbidding them from changing pay rate without notice, docking pay, or withholding pay.
4. You have the right to back pay
If an employer delays payment or underpays an employee, that laborer is entitled to back pay in the amount of the owed difference. If an employer refuses, the worker has the right to file a private suit in small claims court for back wages, in addition to court costs and attorney's fees. The Fair Labor Standards Act even enables the Secretary of Labor to sue on the employee's behalf.
5. Use emergency funds
Of course, having money put away is a luxury if you're able to earn disposable income. An employer not paying on time is only one instance in which
emergency funds are necessary
in order to stabilize your home and food security. For those who aren't able to accrue personal savings, there are
hardship withdrawals
, an option to take funds from employer-sponsored retirement plans (like 401(k)s, 403(b)s, or 457 plans) without paying a penalty. Some plans offer this option in instances of "immediate and heavy financial need." Depending on your plan and your employer's restrictions, the amount you're allowed to withdrawal will vary. Check with your plan administrator to apply for a hardship withdrawal.
Meg Hanson is a Brooklyn-based writer, teacher, and jaywalker. Find Meg at her website and on Twitter @megsoyung.