What would get you into the office? Free lunch? A gym membership? Permission to hang out with your dog? Some employers are trying just that.

The rising trend of pet-friendly offices is part of the effort to incentivize employees to come back to work in person. Many companies completely embraced the remote-friendly convenience of WFH. Digital nomad culture emerged and "second cities" arose when people exited New York, San Francisco, and LA, and headed to Denver, Austin, Charlotte, Nashville, and Raleigh.
But now, employees and employers have a choice to make. The question now is: to return or not to return to the office? This is no longer about forcing employees to commute. Post The Great Resignation, employees feel more empowered to leave in-person positions and seek out remote jobs. So if offices want people to return, they've got to do a ton to entice their employees.
Some huge companies with giant operating budgets are not worried. With major perks like shiny facilities and full-service food bars, they feel comfortable requiring in-office work days — even if it's for a hybrid week. But the solution might be simpler: pet-friendly workplaces.
The Allure of Pet-Friendly Offices
According to the Washington Post, pet-friendly workplaces are becoming a common solution to improve employee morale and appease the rising number of pandemic pet owners. "As offices start reopening and thousands of workers are being called back for the first time in two years, some companies are allowing employees to bring their pets. About 23 million American households adopted a pet during the pandemic, according to the American Society for the Prevention of Cruelty to Animals. Many workers say they find pet-friendly environments an important perk for their new furry family members. A recent survey conducted by Banfield Pet Hospital, owned by Mars Inc., showed that 57 percent of the 1,500 pet owners polled said they would be happiest returning to a pet-friendly workplace. Half of the 500 top executives surveyed said they are planning to allow pets at the office. Tech companies including Google, Amazon, and Uber plan to continue to allow dogs at their offices, even with their flexible office policies."
With so many people adopting and fostering since the pandemic, becoming a pet parent is a trend. And to welcome these new additions into people's lives, it makes sense for some workplaces to welcome them into the office.
After spending unlimited amounts of time at home, many pets grew greatly attached to their "parents" — and pet-parents feel the same about their pets. Rather than keeping them locked in the house while their caretakers head off to work, this is a mutually beneficial solution to the current separation anxiety faced by pets.
Pets have also been shown to boost happiness in pet owners. According to heart.org, "Studies show that dogs reduce stress, anxiety, and depression; ease loneliness; encourage exercise and improve your overall health. For example, people with dogs tend to have lower blood pressure and are less likely to develop heart disease. Just playing with a dog has been shown to raise levels of the feel-good brain chemicals oxytocin and dopamine, creating positive feelings and bonding for both the person and their pet." Most likely, this might have a similar effect on people who bond with animals at work that don't even belong to them, lending an overall mood boost to the office.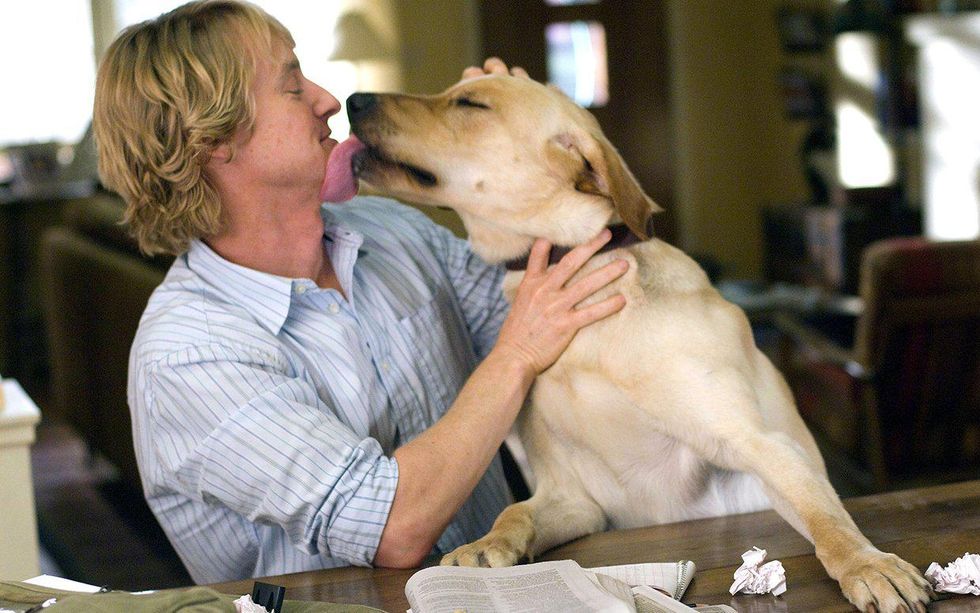 The controversy behind pet-friendly workplaces
However, not everyone is as enthusiastic about the prospect. Some would rather keep the office separate from their personal lives. Some are allergic to pets. And some people simply don't like animals.
Offices considering pet-friendly policies are weighing the pros and cons to keep everyone happy. According to the Washington Post, clear guidelines and communication can increase the chances of success.
"Before making the jump, pet experts say that leaders should first understand whether their employees have interest in, or strong feelings against, having a pet-friendly office. Doing an anonymous survey may allow employees to freely share thoughts on the matter."
Overall, the key to a policy like this is flexibility. "Be ready to adjust: Above all, pet-friendly offices should be ready to listen and adjust their policies as they go. What works for one office may not work for another, but experts say proper planning can lessen much of the burden."
Ensure your office is actually suited to the pets you want to welcome. "A well-developed pet-friendly office should be both safe and welcoming to pets. That means companies should consider blocking off areas that could be dangerous to pets as well as making sure pets have access to clean water, food, and places to rest."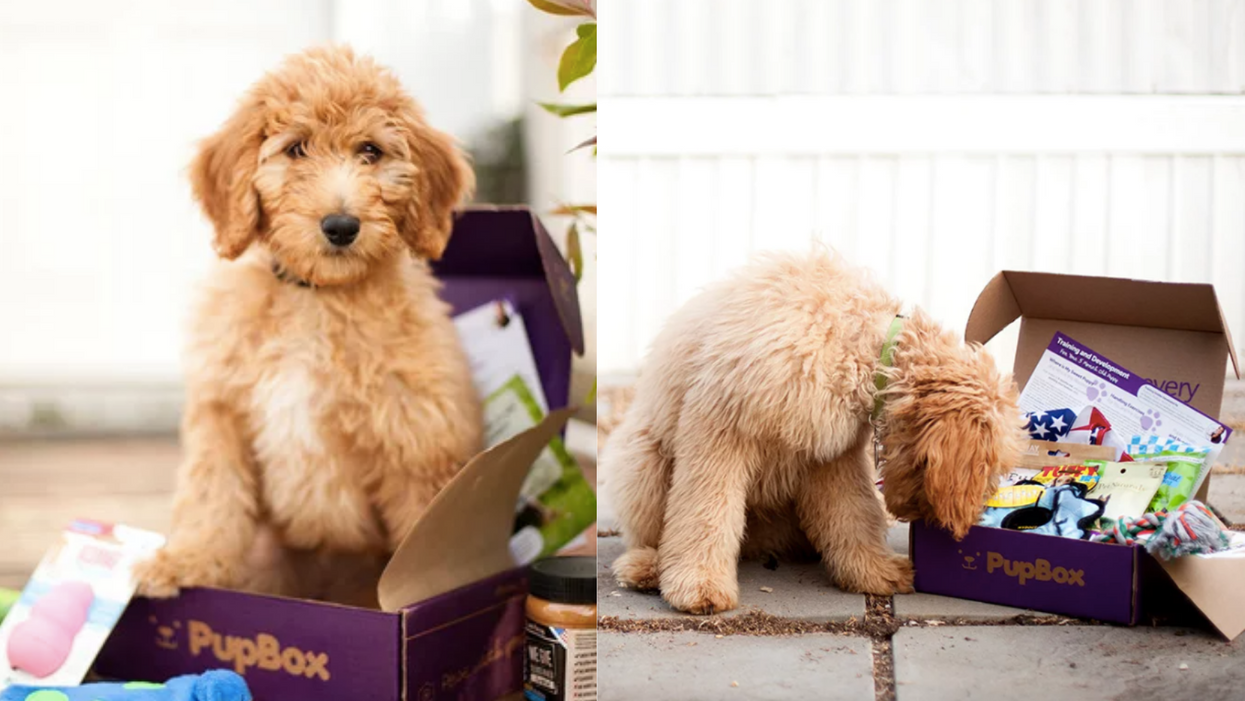 No matter where your pet spends their time, they deserve a bag of treats and toys to make them feel loved and keep them entertained. With Pupbox', never run out of new treats for your pets. Pupbox is a subscription box that sends personalized monthly boxes packed with dog treats, chews, toys, and tips customized to your dog to help you navigate the challenges and celebrate the joys of every stage of your pup's life.
Pupbox is a monthly puppy box packed with all the toys, treats, accessories, and training info you need to be the best parent pawsible – sorry, couldn't help myself! Everything's tested by real dogs and pupstomized to grow with your pup, making sure they always have everything – at just the right time.
For your pet's optimal health and happiness, give them tasty training treats that meet Petco's high nutritional standards. Pupbox's teething toys, plush toys, heavy chewers, rope toys, interactive toys, and tough toys are all included and will keep your pup motivated and focused on exciting lessons and games that will grow with your dog!
<
When people think of gifting, they tend to think of the winter holiday season.

Suddenly, every store offers gift wrapping and the internet is a cornucopia of gift guides. I get super into it, making lists — like Santa himself — of who's getting gifts r and who's getting nuffin because they scorned me last time around. Black Friday and the winter sale season have trained me well - I'm now in the groove of saving in advance, prepping my budget, and keeping an eye out for major sales.
But with all that anticipation in winter, there's almost nothing of the sort in spring. And, after going through my spending last year, I realized why I felt like all my money was going down the drain from April to June: this is a holiday-filled season too!
At first, I blamed it on hot-girl summer — and maybe in part, this was the case. Buying new clothes to refresh my stale pandemic wardrobe, and admittedly getting carried away with my post-vax excitement for going/doing/seeing everything all took hits at my budget.
In the future, I'll make sure to prep more for summer because every year brings new exciting things to spend money on – especially outside.. Plus, as travel becomes more and more seamless with fewer restrictions, having a "summer buffer" will let me dip into my savings for trips that may come, not into my credit card balance.
I told myself I'd make those financial decisions for the summer, but it wasn't just the summer. The whole spring was a financial pit and I didn't completely understand why. After all, isn't spring for cleaning, decluttering, and even making money by ditching things that aren't serving you? Why then, did I keep watching my accounts get drained?
The answer is gifts. From Easter in April, Mother's Day in May, Father's Day in June, and more, spring is a parade of little holidays that sneak up on you with their obligatory gifting. And it doesn't even end there for me – I have a ton of friends' birthdays during these months! With Tauruses being known for their materialism (or maybe that's just the ones I know), I always splurge on their presents. This leaves me with an empty checking account … kind of by surprise.
In the winter, I prep and save and budget. In the spring, I scramble and overspend. But not this year. This year, I'm very aware that it's gifting season and I am planning accordingly.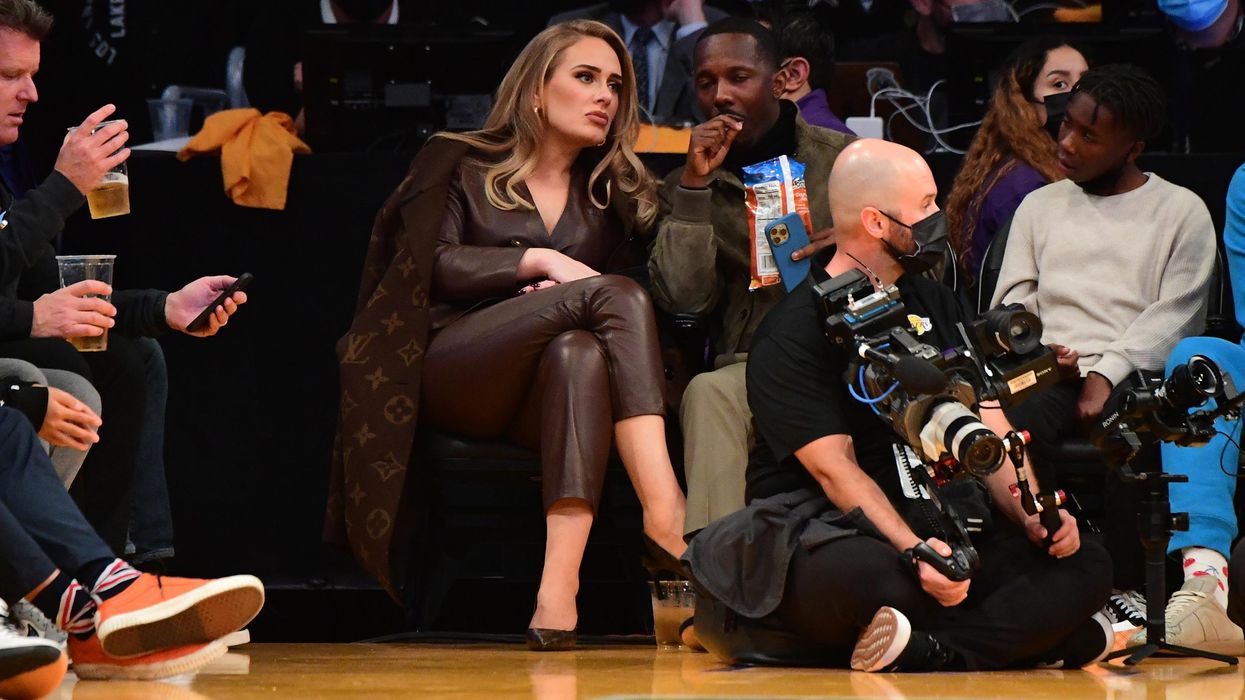 Adele, a Taurus, courtside in all designer. See what I mean? Does she LOOK easy to impress? No, this is why I'm broke
How to Save For Short Term Goals Using Sinking Funds
According to personal finance blogs, one of the keys to saving enough for seasons like this is starting early. Establishing what is known as "sinking funds" is the most efficient way to consistently save for short-term goals. From everything to impending vacations to holiday gifts, sinking funds let you start planning early and reinforce good spending habits. No longer will you be surprised by recurring bills or how much a vacation really costs – the money will be saved, waiting for you to enjoy.
TIME defines sinking funds as a special kind of savings account. "A sinking fund functions similar to a savings account, but with a purpose and approach all its own," says TIME. "A sinking fund is money you set aside for a specific upcoming expense. Unlike a general savings account or emergency fund, a sinking fund has a clear purpose attached to it — whether it's to save for a vacation, down payment on a home, or a big-ticket splurge. The financial educator Haley Sacks has a sinking account just for astrologists. If you have a big expense coming up, you might consider creating a sinking fund to take the stress out of saving for it."
I'm taking notes — and even considering starting my own astrology sinking fund — and I already made one for "Spring Surprises." For any savings goal, keeping a separate savings account apart from your checking account is the first step to making sure you're actually contributing to it. Seeing that number get closer to your goal is great motivation. For sinking funds, I make many different savings accounts, all with specific names according to the goal. I even add the goal amount and the month it's "due" to the account name so I know when each is coming up. This gets me excited to see the fruits of my labor and keep contributing consistently. It also makes it easier to budget for my sinking funds each month with a dedicated amount.
Sinking funds are great cash flow tools that keep you in control of your purchases. According to Clever Girl Finance, a popular personal finance blog for women: "When you don't have a sinking fund, you may be forced to make these purchases through another source of funds, i.e., your emergency fund, your savings account, or your credit card. A sinking fund helps you to plan for large purchases. It also helps you stay on track with your savings goals, keeps your debt low, and allows you to make purchases freely without feeling the pinch."
This added security lets you spend money on gifts guilt-free. Once it's in your sinking fund, you can spend it for its allocated purpose without having to worry about other expenses or going into debt. You've planned for this. And now you can be generous without the unexpected stress of draining your checking or even your own spending money.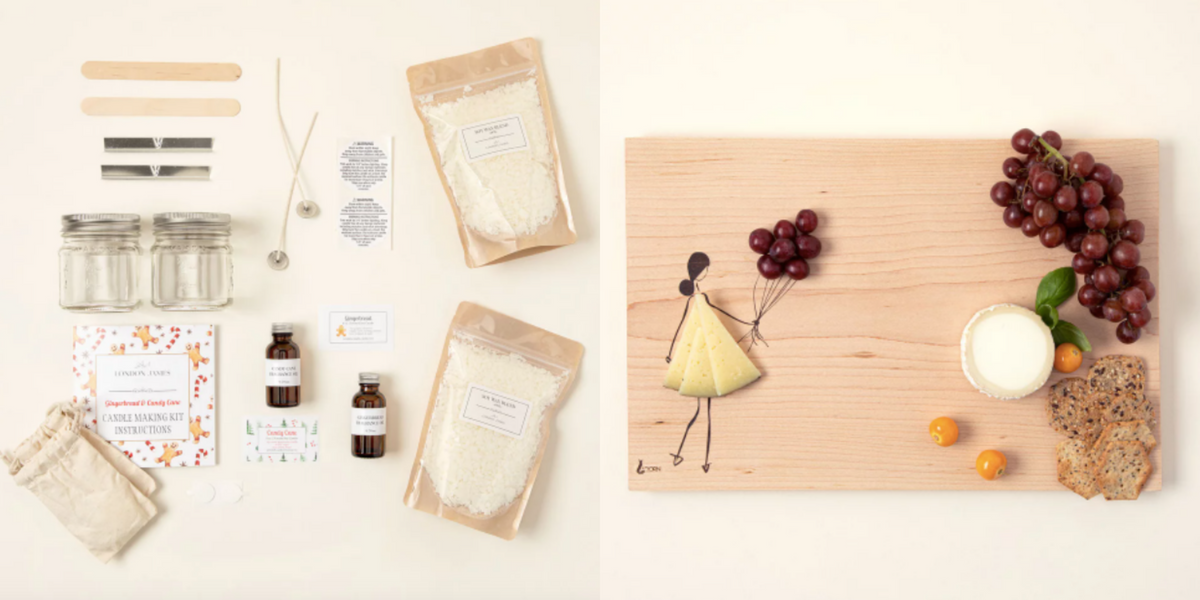 What to Buy This Spring
With all the little holidays that accumulate during the season, it can be easy to be surprised by them. Sinking funds take care of the financials, but an extra step of planning never hurts. Figuring out what you actually want to buy in advance lets you track prices and take advantage of sales, rather than buying whatever marked-up mother's day bouquet you come across last minute.
Be the best gifter of the season by simply being prepared. You can find unique gifts for all your loved ones on Uncommon Goods.
Uncommon Goods is your new one-stop-shop for all your gifting needs. Instead of buying the common and cliché, you can find the best array of bespoke, artisanal, and handcrafted gifts for everyone in your life.
Everything on Uncommon Goods is "all out of the ordinary." From highly specific and aesthetically pleasing tools for niches like gardening to crowd-pleasers like mimosa-makers or beer lovers' gift sets, Uncommon Goods has something for everyone.
As well as offering"Uncommon Goods", they're also doing good through their new initiative supporting Ukrainian refugees. According to their website: "To aid Ukrainian refugees, Uncommon Goods is doubling our Better to Give a donation to the International Rescue Committee. Choose IRC at checkout and we'll donate $2. If you're a Perks member, we'll donate $4."
Never spiral out of control when spring comes again. Make a smart purchase decision for you, your lucky giftee, and Ukrainian refugees by choosing Uncommon Goods for all your gifts this season.
Oh, how far we've come!

Women's History Month is here. What a pertinent reminder of how far women have come in society — but this far is far from far enough. From the pay gap to daily microaggressions, it's still obvious that women are treated as lesser-than in society. This is especially clear when you look at how few female-founded businesses there are.
According to Rolling Stone, it's crucial to support female-owned businesses. They report: "While it is true that the different experiences and backgrounds that women and men have undoubtedly affect business approaches, this is actually a good thing. A business with diverse perspectives is an innovative business that can actually push the boundaries of industries." Like with any other social justice cause, uplifting marginalized folks is good for everyone involved. We all benefit from the increased, diverse worldviews brought about by representation.
The article continues: "Having a gender-diverse business yields better consumer insight, and in turn, a more profitable business. Back in 2015, McKinsey & Company found businesses that were more gender-diverse were likely to outperform approximately 15 percent above the industry median. Years later in 2020, they found that the percentage had increased to 25 percent."
Therefore, even if we aren't focused on all the social and political reasons to uplift female entrepreneurs, it's better for everyone's bottom line if we do.
Yet, despite this oft-proven reality, archaic stereotypes and oppressive systems stand in the way of progress in every sector. An article in Business News Daily outlines some of the obstacles women face as entrepreneurs. The number one hurdle they face? Social expectations.
The article advises that in order to beat this imposter syndrome, female founders should stick to their guns rather than trying to conform. "Women may feel as though they need to adopt a stereotypically "male" attitude toward business: competitive, aggressive, and sometimes harsh. But successful female CEOs believe that remaining true to yourself and finding your own voice are the keys to rising above preconceived expectations."
But often, women are told their lack of professional advancement is their fault. You're too shy. You're not assertive enough. You need to ask for what you want. Otherwise, how do you expect to get it?
However, despite this refrain, it's actually not their own fault. This scapegoating convinces ambitious women that if their careers are stifled, it's their fault. This causes imposter syndrome, lack of representation, and real industry consequences.
According to BND, "Raising capital is even more difficult for women-owned businesses. A 2014 Babson College report found that less than 3% of companies with venture capital funding had female CEOs … venture capitalists tend to invest in startups run by people of their own 'tribe.'"
Other things that get in the way of women climbing the ladder to success include: struggling to be taken seriously, owning their accomplishments, building a support network, balancing business and family life, and coping with the fear of failure.
These are real, tangible barriers that most female entrepreneurs face. The women who have succeeded should be celebrated — and this month is the perfect one to do so. Luckily for us, we can vote with our dollars, supporting the businesses we love so that there can be more like-minded companies out there in the world.
Here are some of my favorite female-owned brands to shop during Women's History Month:
Everyone knows we need to save our money. Some of us might even believe we make savvy financial decisions when we skip the occasional impulse buy, or pat ourselves on the back when we refrain from buying yet another pair of ripped blue jeans.

For many, the reason they can't save money is they're too afraid to face their finances. We worry that we'll never be good savers and live in fear of our bank balances. There's a culture of shame surrounding what "they" label "stupid" money decisions. Not to mention the constant anxiety about not saving enough. All this creates a negative feedback loop that inhibits people from learning about their money habits.
This shame is the prevailing narrative surrounding money advice. Far too many money experts are older white males — wagging their fingers at pesky Millennials and self-centered Gen Zers, making idiotic decisions and not buying houses.
Yet younger generations are saddled with outrageous debt. As inflation rates and housing markets rise — that outdated American dream of the Colonial house and picket fence becomes absolutely unattainable. So, when it feels like there's no goal in sight, it's tempting to take the nihilistic approach and spend-spend-spend rather than saving. Don't forget, these generations are coming of age in the "YOLO" era.
In authors Emma Pattee and Stefanie O'Connell's CNBC article "Personal finance advice relies on shame; what if we tried empathy?" They say: "From the over-simplified math of David Bach's "The Latte Factor," to Dave Ramsey's condemnation of nearly all debt, to the media's obsession with extreme frugality and early retirement, the message is clear: If you're struggling financially, you only have yourself to blame. In this mythology, only once an individual takes full responsibility for their situation, will they be able to make the so-called right choices in order to achieve financial prosperity."
You can't simply put on a Joe Rogan podcast and magically change your life. Let's just get to the point and actually speak about the main thing keeping people down: capitalism. So until we get rid of that, inequality will persist and the small-minded powers that be will blame the people suffering from it and for it.
However, it's not all revolution or Rogan. There is a middle ground. By overcoming your fears you'll be better equipped to take a peek at your finances and address the issues that are buried there. Rather than restricting yourself by a word like budget, try the term spending plan. It combines the thrill of spending with the intelligence of a plan. With this new term and ideology to hand, perhaps you'll be able to set aside your money to save.
A spending plan isn't intimidating — especially with the help of apps like Meet Cleo, which keep it real and keep you on track. By doing what a good friend would, the Meet Cleo finance app will help you to face the numbers and actually do something with them. You don't have to make a mortgage your goal, but socking the money away can't hurt.
Here are 6 ways you can shave down those numbers on your spreadsheet and cut costs:
Rent
No, I won't be plugging the house hacking trend here — wannabe millionaire landlords exploiting the lack of affordable housing is not a fun investment strategy for me. However, rent is usually people's biggest expense. If you can reduce this, it goes a long way to helping you save.
A lot of people don't know that you can negotiate your rent. Instead of meekly accepting the price offered, you can present your landlord with a figure that works better for you. In a competitive housing market, this will be less effective. But some buildings offer incentives like a few months free. See if you can snag one of these deals. If your lease is almost up, try to renegotiate your rent. It costs landlords a lot to move you out and identify a replacement tenant when it would be cheaper to keep you. Give it a try. What do you have to lose but a couple of hundred dollars shaved off your living expenses.
Groceries
After rent, food is our second-largest expense. Between groceries and eating out — we'll get to that — what we eat plays a huge factor in how we spend. While many people will tell you to head to Costco or Walmart to shop in bulk, take a breath and consider your shopping needs. Bigger isn't always better when you buy more than you can eat because you think you're getting a deal. It's clear that bulk shopping isn't the answer for everyone. Shop smarter, not bigger. Go to the grocery store with a list and stick to it. To keep it interesting, maybe allow yourself one spontaneous buy, but trust me. Lists are law.
Eating Out
Like with grocery shopping, the key to curbing impulse shopping is allowing room in your spending plan for small indulgences. Allow for dinner out or delivery once or twice a week, then no more. That way, you'll eat all the weekly groceries and truly savor those meals out. Two birds, one stone.
You Guessed It … The Latte
Joe Rogan and Co. will tell you that the daily Starbucks run is ruining your life. However, if there's room for it in your spending plan, go ahead and keep your Starbs if it really lifts your day. For some, taking a walk to their local coffee shop is all that kept them going during the pandemic — and even now. But if hitting your local cafe is a mindless habit that you don't value, sure, replace it with coffee at home. The key is intentionality, not punishment. Keep your small indulgences within the parameters of your spending plan.
Clothes
Do you have a wardrobe full of clothes but still feel like there's nothing you can wear? That means your clothes aren't following the rules of intentionality, as outlined above. Instead of hopping on microtrends and buying everything on the sale rack, take your time and consider how it will fit into your daily life before purchasing.
Subscriptions
Challenge to you right now: list everything you think you're subscribed to right now. Then go through your credit card statements and itemize all the actual subscriptions. I guarantee you'll find some you've totally forgotten about. Unsubscribe to them immediately. Too often, we forget what we signed up for and end up paying for it months or even years after the free trial is over. Then check through what's left. Do you need every single streaming service? Do you need every single app? Your screentime and your savings will thank you.