Casinos are rarely as lavish or exciting as the movies make them out to be.
Movies like Ocean's 11, Casino, Rounders, and James Bond make it seem like an exhilarating experience. Growing up on such movies tainted my first experience gambling in a casino. I walked in thinking I was about to have hours of fun on my $100 budget.
Instead, I lost it all on the slots in about 10 minutes. Ouch!
We've put together some best practices and tips to give you a better understanding and increased chances to win while making the most of your first casino experience. Whether you're in Vegas, playing video poker in a bar, or online gambling via an online casino, we've got you covered.

Before you go
Budget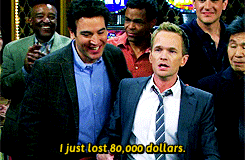 Giphy
Set your budget for the amount of money you can spend before you go, and stick to it. If you cannot afford to lose the money you bring, then you shouldn't be gambling. We recommend you leave your credit and debit cards at home, if possible, so as not to be tempted to play more money.

Research
The most important thing to understand before you even set foot inside the casino is this: The house always has the advantage.
Your chances of walking out richer are very low. But, by playing smart and doing your homework beforehand, you can raise your chances of getting ahead.
While it's best you learn how to play the games at home before going to the casino, it's possible to walk in and play any game without having any prior knowledge of how it works. You can approach tables and let the dealer know you want to play but don't know how, and they will instruct you on the basics to play.
However, as proper etiquette, it is best to try this at the least crowded table so as not to disrupt current players.
Rules
It's no fun getting yelled at by a pit boss or dealer for doing something wrong. And because of cheating, the rules in casinos can be strict.
Never take your phone out when playing a table.
Never sit at a table unless you are playing.
When it comes to your chips, never touch them once they are on the tablet; and likewise, don't touch your chip earnings until the dealer is done handing them all to you.
When tipping, always do so in chips, never cash.
It's customary to tip on each win and then again when you leave the table.
Rewards Programs
Many casinos have incentive/rewards programs you can join and are often free. They offer things such as bonus chips, free plays, vouchers for dining or hotels, and so on. It's always best practice to check out the website of the casino you plan to visit beforehand to see if they offer any incentives.
Slots Tips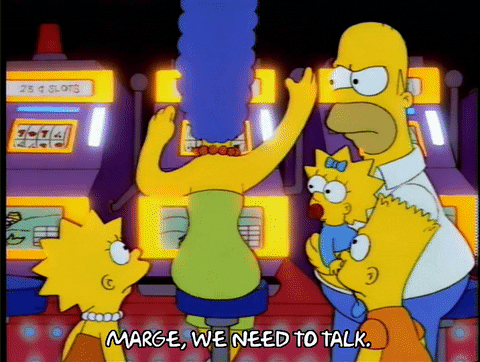 Giphy
Although the slot machines are the easiest and most popular games to play at casinos, they have the highest house edge (the casino's advantage to each game).
Slot machines usually have a typical house edge of anywhere as low as 2% and as high as 15%.
The good news for beginners: everyone has the same chance of winning, so there's zero skill required to play. However, having a better understanding of the types of slots and strategies used may help you walk away happy.

It can be overwhelming walking into a casino and seeing hundreds of different brightly lit flashing slot machines all around you. Which one do you choose? Is one better than the other?
To start, it's good to know the different types of slot machines found in a casino. They are the classic three-line slots, five real slots with multiple pay lines, and progressive slots. With progressive slots, the jackpot continuously grows until someone hits it, similar to the lottery. An important takeaway from progressive slots is to make sure you are betting enough to hit the jackpot, as some of them may have minimum bets that can never win the jackpot.
Each slot type has its advantages. If you are simply looking for the highest payout chance, progressive slots are best; however, they have a higher house edge. You're more likely to lose your bankroll (budgeted gambling money) quickly on a progressive slot. If you're looking to sit and enjoy your time at the slots, a three-line or five-line is best.
If you're short on cash or want to play without risking high loses, try out the penny slots (meaning you only need to spend $0.01 to spin each time) at casinos. Some casinos even offer free spins.
Tables Games
Table games are the livelihood of any casino. Although many table game options can be found within casinos, roulette, blackjack, craps, and baccarat are considered the best starter games because of their low house edge. This is where experienced gamblers hunt for big winnings.
Roulette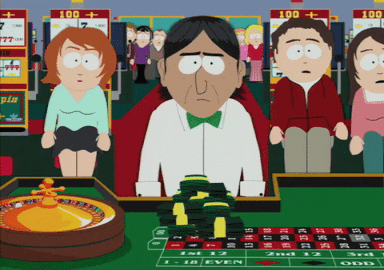 Giphy
Roulette is one of the oldest and most popular casino games that is quick to learn and requires no skill. Understanding odds and probabilities are vital to playing well at the roulette wheel. There are two types of bets to place in roulette: inside bets and outside bets.

Inside bets are wagers on specific numbers on the table. The odds of winning on an inside bet single number are only 2.7%. To increase your chances, you can split your bet anywhere up to six corresponding numbers on the board.
Outside bets include betting on even/odd numbers, red/black, high/low, dozens, and columns. The lowest risk comes with betting either even/odd or red/black, but this type of bet comes with a lower payout.
Other than understanding odds and probabilities, casino experts always advise playing at a European roulette table over an American roulette table, if possible.
Your chances of winning on a European table are higher than at its American counterpart, because American roulette has an extra slot number.
Blackjack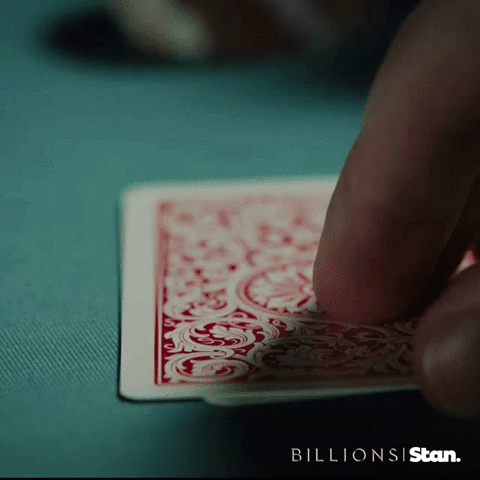 Giphy
Blackjack is widely considered a good starting point for beginners at card games. It's important to understand when you should hit, stand, split, or double down to get the most out of the game. To start, you should always play tables that have 3:2 payouts over the 6:5 payout tables. It's never wise to take the insurance side bet, split tens, or hit on or after 17. Doubling down, which is doubling your bet in the middle of the hand, can be a wise move if your cards total 11 and the dealer has a 6 or less when you have a soft (card plus an ace) 16,17, or 18, or a hard (no ace) 9 or 10. It's not recommended to double down, however, if the dealer is holding an ace.

Craps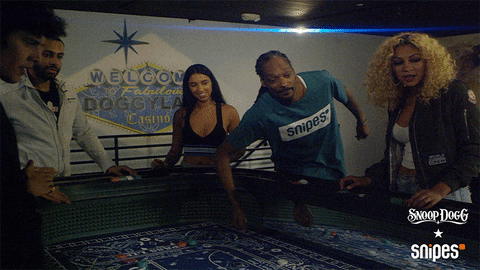 Giphy
Craps is a popular dice game played at the casino that is also easy to learn. The best strategies for beginners are the pass/don't pass and come/don't come strategy. The pass or come will give you the lowest risk.

Baccarat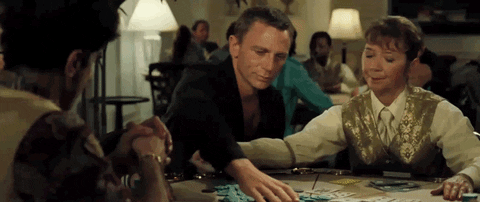 Giphy
Baccarat is mainly a game of luck with a little strategy, but it has a fairly low house edge. One aspect that makes this game a good starting point for beginners is that you only have three betting options.
You can bet on the banker winning, the player winning, or a tie.
The house edge is highest on tie bets, so it's recommended never to bet this way.
Statistics show that the banker has the higher odds of winning, so even though a bet on the banker takes a small commission of your winnings, it's still best to bet on the banker.

Poker Games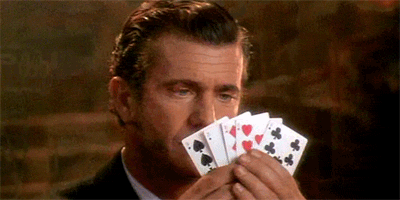 Giphy
Poker games can often intimidate first-timers at the casino, but in all probability, you're not going to be playing against poker stars like you would see on ESPN. You are more likely to be playing against beginners just like yourself. With some understanding of the different poker games and basic tips, you can better your chances of winning at poker games.

Look for tables with stakes/buy-ins that correspond to your bankroll. It wouldn't make much sense to enter a table with high stakes and buy-ins if you don't have a high budget.
A great betting strategy is to start conservative and not to bluff. That way you play it safe at first, and if you make it far, you can start being riskier and have better chances at bluffing. It's also important to study your opponents and learn their betting tendencies.
The Bottom Line

Giphy
It's most important to understand one key aspect to gamble at any casino: The house always has the advantage. If you can manage your budget and understand your odds of winning at each game, then you have a better chance of walking away with cash. But more importantly, it's vital to know that hot streaks don't last.
In the words of Kenny Rogers, "You've got to know when to hold'em, know when to fold'em, know when to talk away, know when to run."

via Tiffany & Co.
When the new Tiffany's campaign was unveiled, reactions were mixed.

Tiffany's, the iconic jewelry brand which does not (despite what some might be misled to believe) in fact serve breakfast, featured Jay Z, Beyoncé, and a rare Basquiat painting in their recent campaign.
The aesthetics were undeniably luxe and historic. The campaign showcased the rarely-seen Basquiat painting Equals Pi (1982), which the brand acquired for the background's proximity to its distinctive Tiffany blue. Also notably historic is that Beyoncé was the first Black woman to wear the 128.54 carat Tiffany Diamond.

Before Beyoncé, the only other stars to wear the yellow diamond were Mary Whitehouse, wife of American diplomat Edwin Sheldon Whitehouse, Hollywood icon Audrey Hepburn, and singer Lady Gaga.
"Beyoncé and Jay-Z are the epitome of the modern love story …. Love is the diamond that the jewelry and art decorate," said the press release accompanying the campaign.
The campaign, titled "About Love," is stunning and has both classic and contemporary references. The image of the couple posing in front of high art recalled the iconic stills from their "APESHIT" music video, for which they famously rented out the Louvre and posed in front of the Mona Lisa.
THE CARTERS - APESHIT (Official Video) www.youtube.com
Their "APESHIT" photo made a giant cultural impact for its juxtaposition of Western beauty and Blackness. Tiffany's campaign seemed to have similar goals — showcasing Beyoncé and Jay Z as the peak of luxury, this time juxtaposing the Basquiat and the Tiffany diamond.

As a Black couple, their appearance in such a luxury campaign was a big move for representation, but in a post 2020 landscape, there was an outcry of criticism.
Despite the aesthetic beauty of the image, the high capitalist undertones didn't sit right with some on the internet — largely younger demographics. Though this campaign was an effort by Tiffany's to appeal to younger audiences and make the brand feel more relevant, Twitter's verdict was clear: a blood diamond wasn't the way to go.
The diamond, which was mined in South Africa in 1877, comes from origins laden in the implications of colonialism. The practice of mining in South Africa at the time was exploitative and destructive, eschewing the livelihoods and safety of African miners and their communities for... what? Money? So Tiffany could try to sell us some dream of affluence using Black celebrities as to "Blackwash" the history behind their treasured piece?
The Washington Post also had some choice words, saying: "Its campaign does not celebrate Black liberation — it elevates a painful symbol of colonialism. It presents an ostentatious display of wealth as a sign of progress in an age when Black Americans possess just 4 percent of the United States's total household wealth. If Black success is defined by being paid to wear White people's large colonial diamonds, then we are truly still in the sunken place."
Alongside the campaign, Tiffany & Co have promised to donate $2 million to HBCUs to fund scholarships and internships. But this measly amount (considering the multi-billion dollar net worth behind LVMH) is not enough to cover up that, despite their performative efforts to promote "diversity," Tiffany's is entrenched in a colonial history that neither beauty nor Beyonce can make us ignore.
While Black representation has been increasing over the past few years, the question of how we are represented is starting to be considered with more nuance. And as we examine the structures of wealth and hierarchical values, many people are starting to ask whether these should be the standards we aspire to anymore.
Jay Z and Beyoncé have come under fire before for their promotion of Black Capitalist values — which the kids don't seem to want. Jay Z especially seems invested in the trappings of traditional (read: white) success and wealth. His cannabis line recently unveiled a campaign based on the work Slim Aarons — which was famously focused on "attractive people doing attractive things in attractive places" — and its unashamed opulence raised some eyebrows.
Images like this aren't as revolutionary as they once might have been since they reinforce the status quo and tell marginalized people to reach for the same luxuries and lifestyles deemed aspirational by the people who have oppressed them.
Anti-capitalist theory has been around as long as capitalism has, but younger generations are more likely to question the status quo — even when it comes packed with Basquiat and Beyoncé.
The conversation about the Tiffany campaign is indicative of how Gen Z thinks differently about money and what it means to them. They are less likely to be seduced by the luster of the aspirational, and more receptive to relatability.
This is why apps like Cleo have been on the rise. Cleo is a budgeting and personal finance app which makes money feel less inaccessible and makes engaging in personal finance relatable and easy.
No more does financial literacy seem restricted to the pretentious or the elite — we get it, finance bros; you love capitalism. With Cleo, understanding your money is something that can align users with their values.
And those values don't look like blood diamonds or corporate pandering.