On Wednesday morning, Venmo and the hashtag #VenmoItForward were trending on Twitter.

The payment app started their #VenmoItForward promotion last year, dropping $20 in the accounts of 30,000 Venmo users who had recently given money to charitable causes, with the express intention that these generous people would use the added funds for more good. As far as corporate marketing ploys go, it was a solid way to encourage good behavior at a time when people were using the app more for supporting worthy causes than for splitting brunch bills.
That's not to say that it was an altruistic move — nothing a massive corporation does ever is. It was another example of a company using a veneer of generosity for self-promotion, like the Super Bowl ad that cost Budweiser millions so they could brag about giving away a fraction of that amount to charity.
#VenmoItForward was even a finalist for a Shorty digital marketing Award for social good. But now that the trashfire of 2020 is finally dying down and we're all getting used to living in the smoldering ruins, it's time for Venmo to abandon that veneer and the original meaning of #VenmoItForward, and just start tempting people with cash giveaways to use their app.
Hey! @Venmo, please fix your terrible privacy settings. In the meantime, here's how to fix them yourself. https://t.co/U4LBHB1zmy

— Mozilla (@Mozilla) 1623856681.0
Does the idea of making your financial activity available for public consumption as a form of "social media" creep you out? Well... what if we offered you and your "VFF" — that's Venmo Friend Forever, for the uninitiated — $500 dollars each!

That's the promotion Venmo decided to run on Wednesday. In exchange for downloading their app, following them on Twitter, retweeting the post, and tagging "the friend you Venmo the most" — nevermind giving them free advertising, plus a bunch of your data, which that they promise to use responsibly (wink) — they're giving away $10,000 in $100, $250, and $500 increments to pairs of financial buds!
No shame to anyone who jumps on the offer, but maybe Venmo's parent company, Paypal, could do more good by just paying a reasonable rate of taxes on the $900 million in revenue Venmo is projected to make as a financial middleman in 2021. Still, whichever marketing executive came up with this incredibly cheap ploy for social media engagement definitely earned their $500,000 bonus...
Related Articles Around the Web
<
Last July the "Dogecoin Challenge" was trending on TikTok.
The intricate rules of the "challenge" involved TikTok users buying Dogecoin, then posting about it...that's it. And the stated goal of this challenge was to push the joke cryptocurrency — based on a meme from 2013 — to a value of one dollar.
Given the fact that there are currently around 113 billion DOGE in circulation — compared to less than 20 million Bitcoin — and that the value, even after doubling, remained a fraction of a penny, this goal was actually quite lofty. So lofty, in fact, that I didn't take it seriously.
In an article I wrote at the time, I argued that the whole weird story was best understood as a joke. That the $1 price target was "an unlikely — and probably not that serious — goal."
I even joked that it was part of an effort to make Baby Boomers so confused and alienated that their brains would melt. It was a silly meme built on a silly meme, and the idea that anyone was actually trying to get buy-a-boat rich off of Dogecoin seemed like a stretch.
Anonymous investor is Dogecoin's first billionaire www.youtube.com
That was before Gamestop and WallStreetBets proved the strength of the meme economy in January, helping to drive the value of Dogecoin past 1 cent, then five cents, then 10 cents... And now Dogecoin is proving that strength once again.
This morning the value of a single Doge in the coin marketplace exceeded 60 cents per DOGE — more than 200 times its value a year ago — putting the total value of circulating Doge at nearly $70 billion.
To put this in perspective, the global market for leisure boats was around $41 billion in 2020. So, not only can Dogecoin investors buy boats, they could theoretically buy all the boats, with enough left over to buy several thousand private islands to go visit on those boats.
I still cant believe I just watched this happen🤯🚀🚀🚀🚀🚀🚀🚀 #dogecoin #doge #Robinhood #dogefather #DogecoinRise https://t.co/teWL3E29UV

— Limitless (@Limitless) 1620137244.0
The price of a DOGE has fluctuated since then but remains above 50 cents at the time of writing, and it seems increasingly doubtful that it won't continue to rise. And with Tesla CEO/Dogefather Elon Musk set to host SNL for some reason, it seems doubtless that the aggressive upward trend of Dogecoin will continue, at least long enough to reach $1.

Hell, it could pass that by the time I finish writing this sentence. It could be at $10 by Saturday. If Elon Musk says, "Such Crypto. Much wow" on Saturday Night Live, Dogecoin could be the de facto global currency by June — with a loaf of bread selling for 0.001 DOGE.
To put it simply, I was wrong about Dogecoin. I was so patently wrong that I've lost all concept of reality, and I genuinely don't know what to think anymore.
Is money even real? And if it's all a weird shared delusion, why is it so important? Why are we forced to slave away for scraps of fantasy paper that will soon be replaced by a digitally-gilded image of an aging Shiba Inu?
Why is survival dependent on the arbitrary value ascribed to drawings of dead presidents and old masonic memes of pyramids with eyes? Why not update it with a meme that embraces chaos and absurdity?

I am ready for it now. Now that I have loosed my grip on the "sanity" that told me people would never invest tens of billions of real, need-'em-to-live bucks in a stale joke, I can embrace my inner boomer, allow my brain to melt in contact with a culture it no longer comprehends, and invest my life savings in Dogecoin.
Why not? There's nothing to lose but the last frayed tendrils of coherent thought tying me to a dying reality. #HODLer #ToTheMoon.
There is no truth anymore. There is only DOGE.
In the tale of how the cult-of-personality (rumored to be played by Jared Leto in an upcoming film adaptation) created the coworking empire and subsequently caused its downfall, WeWork: or The Making and Breaking of a $47 Billion Unicorn interviews employees of the company who were there from the beginning to pinpoint what went right that led to the inescapability of WeWork a few years ago, and what went so horribly wrong.
WeWork went from being valued at $47 billion to collapsing in a matter of months, largely because of the unchecked whims of Adam Neumann, who expanded without consideration of cost, and because of the the false promises made by the company's mission and its overinflated value.
WeWork: Or the Making and Breaking of a $47 Billion Unicorn • Official Trailer - A Hulu Original www.youtube.com
Above all, the documentary exposes the hollowness of value-driven corporations, and exposes how WeWork used its message of community to fuel the ambitions of those at the top. It also reveals how much of the company fell prey to its idealization of the rat race of hustle culture for very little reward.

So much of the documentary was surprising — the extent to which people bought into their brand's message, the internal cultish loyalty to Adam as the leader — and almost all of it seems, from the outside, insane. Startups are notoriously fickle, but WeWork's meteoric rise and fall was so catastrophic that it makes sense that there was more to its implosion than meets the eye.
The common lore of its downfall focuses on the loss of its major investor, SoftBank, alongside its reckless spending combined with its ambitious growth, but The Making and Breaking of a $47 Billion Unicorn shows how much was wrong at the core of WeWork and its culture from the start.
Critics of hustle culture and corporate activism (read: us) are not surprised by this capitalist Wizard of Oz story. Here are some of the wildest, most warped aspects of the WeWork documentary, which make us wonder how the employees on the inside didn't recognize their unicorn as an overinflated bubble waiting to burst.
Overall, the documentary was an elegy to an "era of easy money and no rules," according to Bloomberg Quicktake. Neumann reaped the benefits of a time when innovative tech startups were hailed as the new frontier, real estate was changing, and co-working was still just an idea.
However, his massive success came with a God complex which was eventually his downfall, all at the expense of the people he had made believe in him.
Art Installation N°1 by Carlos Marcial. Rhett Dashwood / YouTube
If you're keeping tabs on the art and tech worlds, you've probably been hearing whispers about "NFTs" for the past month. Just over the past week they've entered the mainstream lexicon.
Twitter founder Jack Dorsey made the news for selling his first ever tweet. The app has been teasing paid subscription models and newsletter-like features, but tweets for sale is "the next frontier."
The 2006 tweet went up for auction as an NFT, and the current bid is $2.5 Million. But what does it mean to own that? Why would anyone want to? And what even is an NFT?
What does NFT stand for?
NFT stands for "non-fungible token." Essentially, it's like a proof of ownership sticker for something that exists on the internet. The NFT is a piece of code that acts like a watermark or a signature — if you own an NFT, you own the rights to that little piece of the internet. Because ownership is embedded into unique code on a blockchain, NFTs are impossible to make fakes of or replicate. The digital asset can be screenshotted or replicated, but the ownership cannot.
An NFT is different from a "fungible token," like a Bitcoin. The main distinction is that fungible tokens are interchangeable. They each have a 1:1 value with each other, but NFTs do not. So while one Bitcoin has the same exact value as another, an NFT of a random Popdust tweet does not have the same value of Jack Dorsey's inaugural tweet.
Talk of NFTs is often intertwined with cryptocurrency jargon, but they are not only the realm of Bitcoin bros. Unlike other forms of cryptocurrency, you don't need to know the specific ins and outs of the market in order to purchase an NFT — making NFTs accessible to those of us who have yet to hop onto Bitcoin, Ethereum, or even Dogecoin.
What Can Be an NFT?
Any digital asset can become an NFT. From a tweet to a gif to digital art, anything that exists on the internet can now be officially owned. NFTs have been around for a while, but only recently have they taken off as a way for digital creators to sell "official" versions of their content.
Anyone can screenshot a tweet or repost an Instagram meme, but NFTs allow consumers to own the rights to trade, sell, or keep and collect them. While digital art and internet ephemera are most ubiquitous as NFTs, the market is growing for more traditional collection fodder to be sold in this new format.
Digital art is now being sold like fine art, and baseball cards are no longer the realm of middle school lunch tables. As the market grows, so does the scale. While an NFT gif can go for around $5,000, recent digital sales have been making headlines for reaching millions and tens of millions.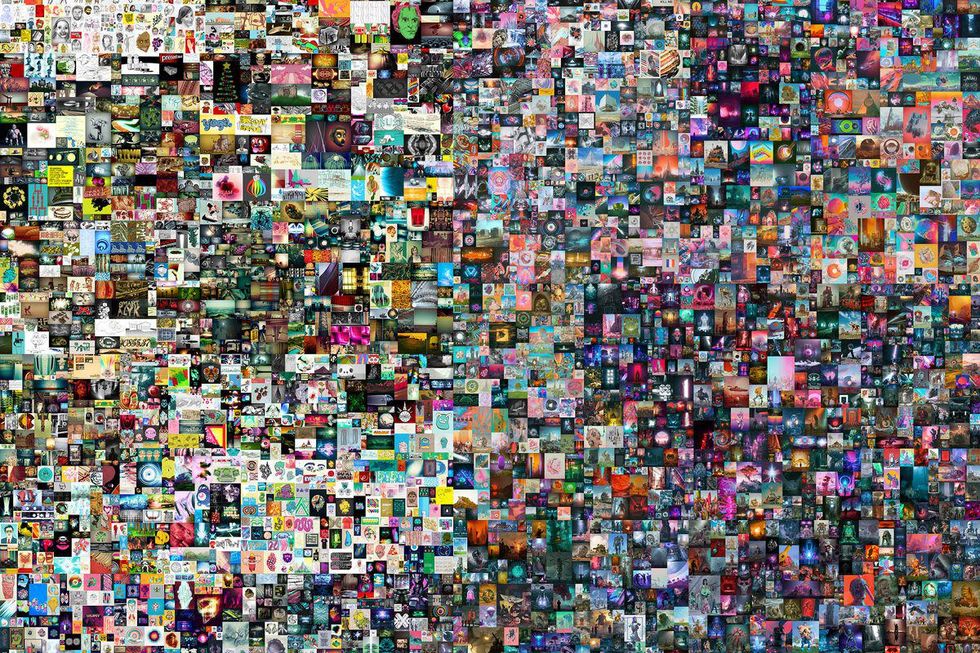 "Everydays - The First 5000 Days" by Beeple was sold by Christie's as an NFT for $69M
Why Are People Talking About Them?

While Dorsey is not the first to rack up millions for selling digital ephemera, his tweet auction has propelled the market into the headlines. The hype surrounding the NFT market is similar to the recent astronomical trajectory of cryptocurrency and has even been compared to the GameStop saga.
In one way, NFTs are similar to investments like fine art and rare collectibles. And the traditional auction world is taking notice. Digital artist Beeple, who has been creating Everydays for 13 years and amassed millions of social media followers, is finally getting payout for the work he has been doing for free. Internationally renowned auction house Christie's launched its first ever digital-only auction with a Beeple NFT.
It sold for $69 Million.

While the astronomical prices may be driven by hype, the future of NFTs is becoming undeniable.
What's the Future of NFTs?
NFTs are changing the way artists and digital creators interact with followers and get paid. Soon we'll be seeing branded NFTs collected like Jordans or even NFTs to replace tour merch. Music NFTs are already making waves, too.
They're also changing the way we think about investing. Instead of investing in the stock market or in the traditional collectibles, internet fodder can now appreciate in value. And because so many NFT platforms serve crypto users, investors can watch the value of their items and their crypto rise separately to compound their earnings.
However, the unregulated world of NFTs is rising without anyone keeping vigilant watch. The murky waters of internet ownership that NFTs ostensibly solve get muddied when people are stealing art to turn into NFTs in the first place.
And while NFTs are purportedly decentralizing and democratizing art dealing and trading, the reality seems like the people benefitting are already rich and looking to get richer.