Long gone are the days when the majority of Americans dreamed about owning a home with a white picket fence.
The traditional American Dream may be on its deathbed, but that doesn't mean a core component of the vision can't survive. It simply takes a diverse perspective. People can still believe they can attain their own vision of success in society with hard work, knowledge, and risk-taking. Investing in today's American Dream may literally mean investing money in our modern economy, starting with our infrastructure.
Real estate investing in particular is a lucrative method that can boost income and secure a better financial future for many. There's always risk involved, but the payoffs can far outweigh the uncertainty. Selecting solid financial investments is about confidence and competence. If you're looking for some advice on this kind of investment, here are a few savvy tips for new real estate investors.
Stick To a Specific Strategy or Niche
Real estate is a challenging sphere of the business world, one that requires several key skills: groundwork knowledge, networking, perseverance, and organization. True knowledge of the real estate market will come with time and experience, but it's a smart idea to select one area of the market and stick to it. This is the best way to attain in-depth familiarity with your specific niche.
First, choose a geographical area close by and then a niche strategy within it, such as house flips, rental rehabs, or residential or commercial properties. By doing so, you can become aware of current inner working conditions in the market and you'll have a better idea of how these trends may change in the future.
Be Vigilant About Viable Financing Options
While it takes money to make money, you don't have to use all your own money. A common misconception about real estate investing is that you must be wealthy to start off. This isn't straight fact, however. A majority of people can test the waters of real estate investing without a lot of initial cash in their pocket.
Aside from traditional financing options from banks and institutions, private lending options can be worthy solutions. Hard money lenders are popular, reasonable choices, and they tend to have fewer qualification requirements upfront. However, be sure to strategically choose a hard money lender to find the best possible fit.
Master the Art of Finding Good Deals
There may be hundreds of thousands of available properties for sale on the current market, but the bulk of them will never amount to the final money-making result you desire. Another great tip for new real estate investors is to use good math to estimate profit. Taking risks is part of the process, but you have the ability to analyze properties and use networking sources to find the greatest deal. You can't win every deal, but you can steadily work towards a thriving financial future.
There's an unfortunate trend nowadays where people who don't really have the luxury of excess money spend what they do have on things they don't need. This isn't completely the fault of those people; saving is hard. If you believe your money isn't really working for you, there are a few things you should reexamine. Here are some of the common things people spend too much money on.
Groceries
As an unavoidable part of living, many people don't put too much thought into how much they spend on groceries. If you're strapped for cash, you shouldn't frequent the more expensive grocery stores. Instead, try to focus on buying in bulk. While this may seem more expensive in the moment, the long-run savings you'll make by buying in bulk will actually end up saving you money.
Clothing
If you're always buying brand-new clothes from department stores, you are not working with your clothing budget at all. There are plenty of secondhand and thrift stores that you can get clothes from, often the same quality at much better prices. You don't have to give up your shopping trips, you just need to adjust where you're buying from.
Eating Out
Many of us treat going out to eat as the norm for most of our meals. However, you should try to rethink this. Takeout and delivery are great, but restaurants charge extra for the convenience that they bring to the table. To go along with buying in bulk as we said above, flex your cooking muscles a few more times a week and you'll have much more money in your pocket.
Gym Memberships
There's nothing wrong with paying for a gym membership, as getting equipment for your home can also be cost prohibitive. However, there are different levels of gym memberships. If you are subscribed to a gym that offers saunas, massages, hot tubs, and steam rooms but never use those services, you are letting your money slip away with every month that goes by.
Coffee
You can't talk about things people spend too much money on without mentioning coffee. If you are someone that gets coffee on your way to work every day, you are flushing money down the drain. Unless you're just desperate for a sugar high, buying and making coffee at home is a much more cost-effective way to get your early morning caffeine.
Cable Television
Let's face it, when was the last time you really watched cable television? If you're like many, you're much more focused on streaming services for your viewing pleasures. Don't pay for something you never use. Drop the cable subscription and you probably won't even notice it being gone, but your wallet probably will.
Related Articles Around the Web
After years of talk, the world's most familiar digital payment platform, Paypal, is finally embracing cryptocurrency as a form of accepted currencies for all its US users.
Bitcoin, Ethereum, Bitcoin Cash, and Litecoin will be the cryptocurrencies accepted by PayPal. "The shift to digital forms of currencies is inevitable," said Dan Schulman, president, and CEO of PayPal in an October 21st press release.
Experts in the crypto world have often linked the volatility and shortcomings of cryptocurrencies to its lack of accessibility in markets, so this new acceptance on part of Paypal might just be what's needed to propel cryptocurrency use into the mainstream economy. Paypal will develop complementary cryptocurrency educational resources on its website.
Currently, you can get on the waitlist to trade cryptocurrency on PayPal, as it's not officially tradable yet. Beginning sometime early next year, users will be able to not only buy and sell the currency but also use it to make purchases to any of Paypal's 26 million merchants.
What Is Cryptocurrency?
You may have heard the words "cryptocurrency" or "Bitcoin" before; you may even know what they are. Pop culture has long depicted futures in which money has gone completely digital. With the growing acknowledgment of cryptocurrency, that future may not be far away.
The Dutch bank ING released an extensive survey about cryptocurrency, in September, revealing that while almost three-quarters (74%) of people know that cryptocurrency is a type of digital money, nearly the same amount of (73%) incorrectly identified the governing body for cryptocurrency, or said they did not know how it worked.
Cryptocurrency is a type of digital currency secured by cryptography technology that makes it nearly impossible to counterfeit. Cryptocurrency is not controlled by any government or entity, and the middle man (AKA the bank) is cut out of the equation.
How Does It Work?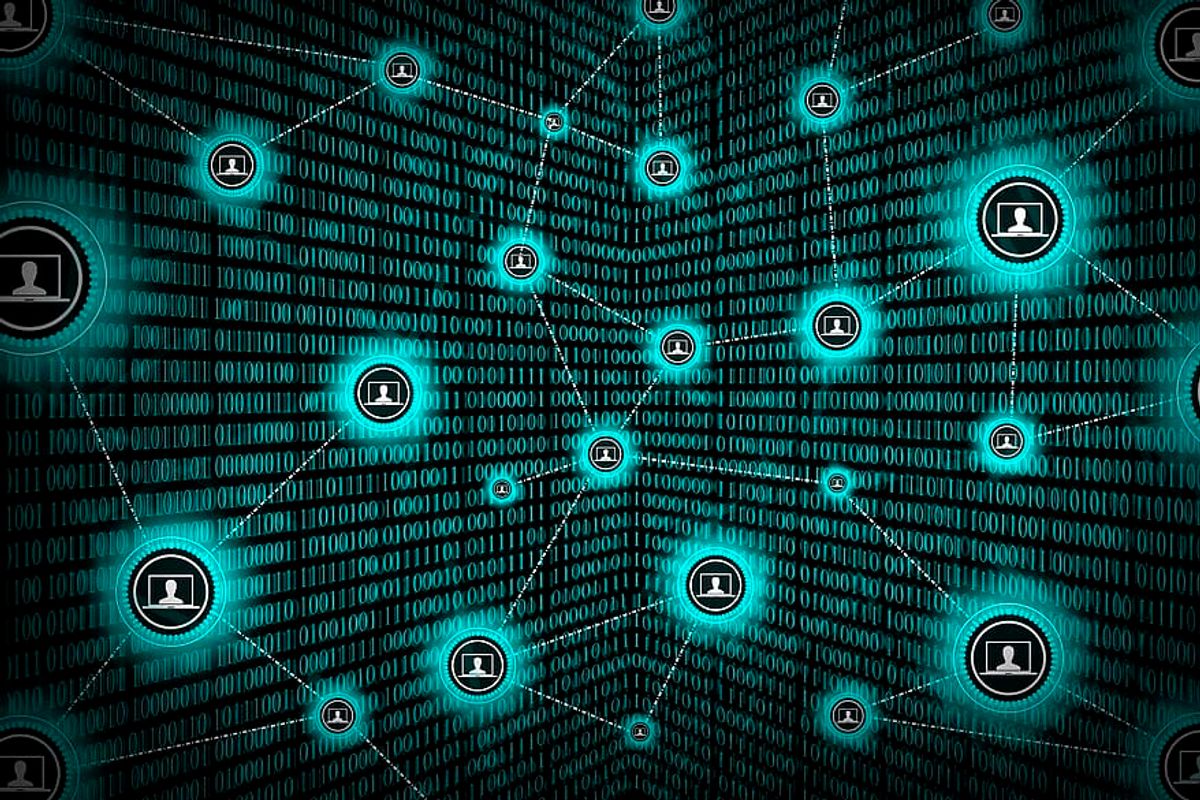 Cryptocurrencies allow you to make secure transfers online which are denominated in terms of tokens. Behind the scenes, the network shares a blockchain (digital ledger) that records all transactions.
How Can I Use Cryptocurrency?
In order to buy cryptocurrency, you need an online application, known as a "wallet" to digitally store it in. This can be done through an app such as the Bitcoin Wallet, or through a free investment app such as Robinhood.
You can use your cryptocurrency to buy goods or services from many retailers and merchants that accept cryptocurrency, transfer it directly to other cryptocurrency users, or exchange it for other digital or paper currencies.
Cryptocurrency can also be earned through
mining
, which is often referred to as the process of digitally mining for gold.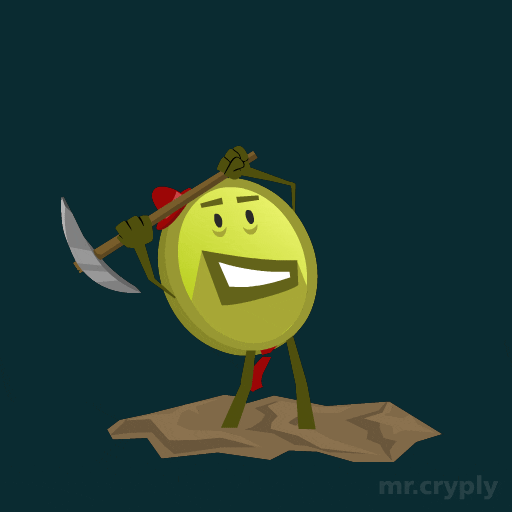 Money Work GIF by Mr.Cryply Giphy
Types of Cryptocurrency

Bitcoin was the first of its kind and is still the most popular cryptocurrency used today. Other alternative cryptocurrencies have come out since, including the Litecoin and Ethereum.
Bitcoin
The original Bitcoin code was developed in 2009 by the individual or group known by the anonymous pseudonym, Satoshi Nakamoto. Bitcoin is not owned by any individual or company. All users are able to use and develop the bitcoin software.
Today, Bitcoin is split into two different cryptocurrencies: the original Bitcoin (BTC) and Bitcoin Cash (BCH). The main difference between the two is that the latter was created to increase the speed of transaction processing. Some experts worry about the security of the newer Bitcoin cash, as the program doesn't necessarily follow the guidelines in programming set out by Nakamoto. As it is, Bitcoin still remains the most widely used of the two.
Cryptocurrency Benefits
Since cryptocurrency operates in a decentralized manner, cutting out the middleman in currency transactions (AKA the bank) can have many benefits.
Cryptocurrency transactions are instant and direct, unlike transfers that need to run through banks and can sometimes take days to process.
Cutting out the need for the bank reduces inflation and reduces fees.
Transactions are not limited by time, location, or bank holidays.
More secure transactions from cryptographic technology.
Cryptocurrency allows much clearer transparency since the data stored in the blockchains are available for anyone to view.
Cryptocurrency Disadvantages
The inability to make payments with cryptocurrency.
Cryptocurrency is unregulated, which makes it an attractive means of illegal activity and overall is considered a high-risk investment.
Cryptocurrency does not hold any intrinsic value-such as that of fiat currency backed by gold or a governing body. Berkshire Hathaway's billion-dollar CEO, Warren Buffet, is a longtime opposer of cryptocurrency. In an interview with CNBC, Buffet said that he would never invest in cryptocurrency because he believes it holds no value.
What's Next?
According to a 2019 survey, only 10% of people understand cryptocurrency. However, it does have backing from the SpaceX and Tesla founder, Elon Musk, who sees potential in Bitcoin. The future of cryptocurrency heavily relies on its ability to further reach into the retail economy.

From Your Site Articles
Related Articles Around the Web
The National Financial Educators Council (NFEC) surveyed young adults in 2017 and asked them what high school level course would benefit their lives the most.
The majority responded that money management was the course that would be most beneficial.
With personal debt is at its highest record and COVID-19 threatening to have the hardest economic effects on youth, understanding money and finances is an important life lesson that should be taught to children at a young age.
The following is a list of the best financial literacy lessons and tips to teach children throughout different life stages.
Younger Children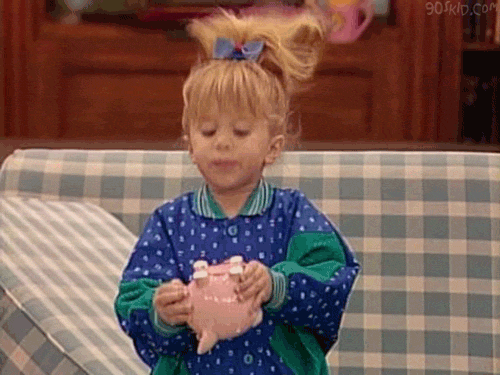 paying full house GIF Giphy
A 2013 University of Cambridge study stated that by the time children are just 7 years old, they have already formed money habits. While toddlers are still too young to be taught the value of money, it's never too early to introduce money and spending to them. Here are some great ways to introduce money to young children.

Get them their first piggy bank. Clear piggy banks work best so that the child can visually see their money grow. If you would like to take it further, give your child two separate piggy banks—one for spending and one for saving.
Encourage play money. While getting familiar with money is important at a young age, you don't necessarily want your child handling dirty money. Investing in a money play set and teaching money lessons through play is a great way to introduce money to children—because what toddler doesn't love to play store?
Children learn by example, and setting a good financial example for your younger children to follow is important.
Open a joint savings account with them. I am an avid believer in parents holding at least two types of saving vehicles for their children—one that the parent can fully control and one for the child to be on jointly. When the time is right for you and your child to open the account, make it a fun and exciting event for them. This is a great opportunity to get them familiar with banks and depositing money.
Check for educational games and apps that have money learning games. Savings Spree is great for kids and well worth the $5 price.
Elementary/Middle School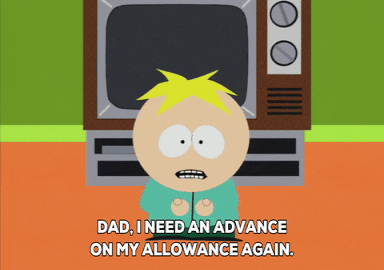 money talking GIF by South Park Giphy
By now most children know financial basics, such as the different denominations, but keeping up with their financial learning at this stage in life can be crucial. Here are some tools and tips to help your child navigate through the beginning steps of learning what it means to control their own finances.

Don't simply give your kids allowances—instead, teach them about earning money by assigning chores and rewards. iAllownce is a great resource and management tool to create chores, automated payouts, and rewards that can be synced to children's devices in your household.
Gift your child a stock that has meaning to them. Giving a kid a piece of paper and telling them they own a share of stock isn't that exciting. But perhaps presenting it to them as they are now the proud owner of stock—and in turn, a part of the company itself—may be a little more satisfying, especially if it's coming from a company they are familiar with and has meaning to them (i.e. Disney). This is a great way to introduce kids into the world of investments and stocks.
Teach lessons about value in goods and opportunity costs. If your child only has enough money to buy one of the two things they want, talk it over with them. Have them figure out the value of each item by comparing costs, longevity, and desire; this will show them that if they choose one thing, they can't have the other (the opportunity cost). Likewise, encouraging kids to think a purchase over for a day before making decisions instills strong values that will prevent them from making impulse buys as adults.
Teenagers/Young Adults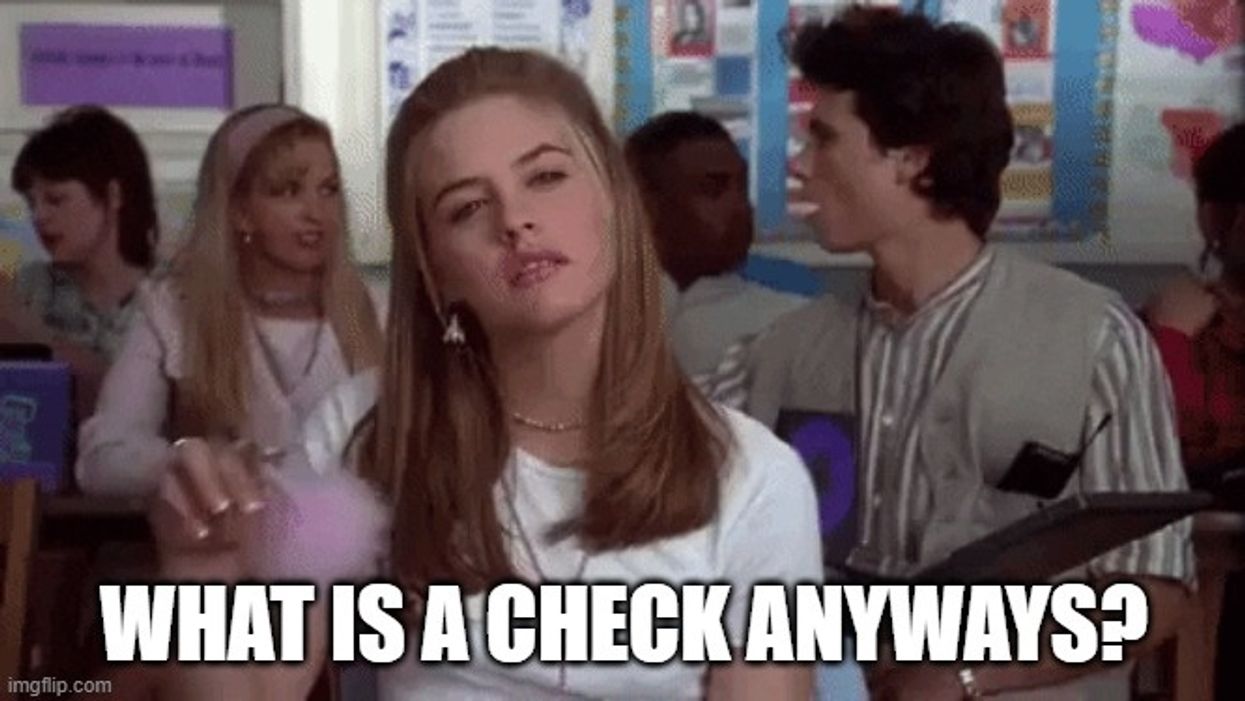 Do not depend on your child's school to teach them financial literacy, as less than half of states require high school students to take a personal finance course. High school years are the perfect time to develop your kid's financial freedom so they are prepared to make smart choices when out on their own.

Let your child earn a paycheck other than a chore allowance, whether through a job or by pursuing their own business entrepreneurship such as an Etsy shop. Your child's first paycheck can be a great lesson on taxes.
The most important thing you can teach your teen is how to keep a checkbook ledger, as well as how to fill out a check and a deposit slip. In my time working at a bank, the majority of teens and younger adults I encountered had almost no prior knowledge about basic banking transactions. While the argument against keeping up with such tasks is that banking is now mostly online, there is no direct way to keep exact track of your account balances without some sort of ledger entry. Card swipe and electronic transfers have become nearly instant ways of making transactions on checking accounts—but not everything instantly goes through your account.
Help teens set long term savings goals and encourage them to always put a percentage of their income into savings. One great savings incentive is to set up a savings match with them. I once had a banking customer that told her children she would match whatever they put into their savings account by the time they graduated.
Teach them healthy credit card habits. It's important for teenagers to learn the dangers of credit card spending, but I am an adamant believer that every parent should help their child get a first time credit card at the age of 18 to instill good credit habits.
Help them create a budget. Sit down with them and together figure out their monthly income. If they have any monthly expenses (gas, cell phone, etc.) subtract that from their monthly income to figure out how much money they have left for spending and saving.