Trying to save money can be overwhelming.
It's difficult to navigate which expenses of your daily routine can be eliminated for financial gain and which are necessities. Many people believe that in order to accumulate savings, sacrifices must be made. And while simple sacrifices such as minimizing your takeout purchases and online shopping habits may be necessary, there are ways to save that still allow you to live a comfortable lifestyle. Consider the following lifestyle changes that will help you save money so you can start striving toward your financial goals.
Establish a Budget
Just like anything else you hope to succeed at, saving money requires active effort. Create a budget based on your monthly income. Evaluate your typical expenses and set minor goals to help you stick to an intended budget.
If you're looking for budget guidance, try the 50-20-30 rule. This rule segments your income by percentages: 50 percent of income toward essentials like groceries and rent, 20 percent toward savings, and 30 percent toward fun, lifestyle expenses.
Know Your Tax Breaks
You don't have to be a tax savant to score a better tax deduction. Filing your taxes meticulously can save you trouble down the line and ensure you're getting the best outcome. Get familiar with the standard deductions and whether you're eligible for a larger one.
If you plan on donating this year, be sure to keep track. It turns out, giving back might be the first step to getting back! You can score a greater tax break with sizable donations and adequate documentation. Creating a charitable giving plan will help you manage your budget and your donation endeavors.
Adopt the 30-Day Rule
Looking to make a large purchase? Give yourself 30 days to reflect on whether you truly need the costly item. Construct a list of pros and cons to determine its necessity. Once 30 days have passed, consider again if you're ready to make the steep purchase. If you still feel it's necessary, then go for it!
Maintain Your Home and Car
Some lifestyle changes that will help you save money in the long run require initial minor investments. Proper home and car care can add up, but ultimately, they'll prevent you from having to make hefty damage fees in the future. A few things you can do to ensure the longevity of your home and vehicle include:
Enlist arborists to verify the sturdiness of tress surrounding your home.
Upgrade your home's siding, as necessary. Check your home's exterior for signs of excessive weathering.
Clean out gutters to prevent roof damage.
Perform auto-detailing tasks on your car frequently, providing a new coat of paint when needed.
Change tires and auto liquids as recommended by professionals and in the vehicle's manual.
With another stimulus check in your pocket, spending the money on anything you want may seem tempting.
However, it's important to consider your responsibilities and to think about how to make the most of your stimulus check rather than spending it recklessly. Take your budget, your monthly expenses, your family, and your future into consideration and spend the money wisely.
Don't Buy Things with Recurring Costs
Just because you have extra spending money now doesn't necessarily mean you can afford new items with monthly payments, such as a new car. Unless the stimulus check helps you put a down payment on something to lower your monthly payments enough to fit into your normal budget, don't spend money on it. If you can't afford the monthly payments after using the stimulus money, you may put yourself in more debt than the item is worth.
Purchase and Pay Off the Necessities First
You may not get enough money in your stimulus check to pay back all the costs you've accrued during the course of the pandemic, but you should at least try to put a small dent in them. Put aside some money for things such as rent and utilities, but make sure to keep some for living essentials, such as groceries.
Unfortunately, the stimulus check probably doesn't offer enough money to allow you to change a low-budget living situation; for now, continue living as you have been until your financial situation changes permanently.
Consider Your Student Loans
Currently, federal student loans are on an administrative forbearance. However, as the new year begins, the lifting of the forbearance nears and your usual student loan payments may resume.
If you can afford it, consider setting aside the stimulus check for student loan repayments. Keep an eye on what your student loan lender decides to do with their loans, whether it's the government or a private lender. The news may inform you of whether your student loans can accept your stimulus check or not.
Even if the student loan administrative forbearance continues, it's wise to set aside money to pay off some of the debt while the interest rate is 0%. If you can afford to pay off your outstanding interest or student debt and still afford your living expenses, there's no better time than the present to tackle a small portion of your student debt.
Put the Money into Savings
Sometimes the wisest thing you can do with money is nothing at all. As long as you can afford your daily expenses, making the most of your stimulus check may involve saving it for a future emergency. You can take the check back out of your savings and use it on whatever you want after the looming threat of disaster has passed—once you're in a more stable situation, you'll be able to make a wiser financial decision.
From Your Site Articles
Related Articles Around the Web
Everyone likes saving money—especially homeowners.
People who own homes juggle a lot of payments, from utility bills and homeowner's insurance to mortgages and maintenance costs. At times, these constant expenses can become a bit overwhelming, so a homeowner may want to ease the financial burden of owning a home in any way they can.
If you're interested in decreasing your monthly expenses, consider these three effective ways homeowners can save money.
Choose an HVAC System With a High SEER Rating
One of the largest consumers of energy in a household is the HVAC system—especially if the system isn't efficient. As such, homeowners may be able to significantly cut down on their energy bills by investing in a more energy-efficient system.
An easy way to determine if an HVAC system is efficient is by looking at its SEER rating. SEER stands for "seasonal energy efficiency ratio" and represents the HVAC system's average heating or cooling output divided by the average energy that the unit consumes in watts per hour. Most units have a SEER rating that ranges between 13 and 23. By opting for an HVAC system with a higher SEER rating, you can ultimately save a significant chunk of change on your monthly electric bill.
Make an Effort to Maintain Appliances
Another way that homeowners can save money is by taking the time to maintain their appliances. When a large appliance gives out or wears out prematurely, homeowners often end up with a bill of hundreds or even thousands of dollars, depending on the system. Instead of having to drop a huge chunk of cash at a moment's notice, it's better to practice regular maintenance on the appliances in one's home.
Examples of maintenance tasks that all homeowners should do to keep their appliances in good working condition include:
Changing AC and heating system filters
Cleaning fridge coils and rubber gaskets
Cleaning the dryer vent
Tightening washing machine lines
Flushing and cleaning the hot water heater
Changing the water filter
Seal Up Your Home
As previously stated, heating and cooling one's home consumes a lot of energy. However, if your home has a lot of cracks and gaps in it, the hot or cool air from your HVAC system will just slip right out. As a result, your HVAC system will need to work even harder, and your energy bill will climb even higher.
To decrease your monthly energy bill, try sealing up your home as much as possible. Examples of ways to prevent airflow into and out of your home include improving its insulation, sealing any cracks or holes, adding weather stripping to doors, and caulking gaps around windows.
It's that time of the year again.
The middle of August—better known to parents as back to school shopping season. Back to school shopping is one of the busiest shopping seasons of the year—and even though there is still plenty of uncertainty surrounding the coming school year due to the coronavirus pandemic, one thing is sure—school must go on!
The National Retail Federation, which has been conducting back to school surveys since 2003, estimated that families with kids in grades K-12 will spend an average of nearly $800 this year in school supplies.
Back to school spending trends have been growing at a faster rate than inflation for many years now. As the number of underfunded schools across America continues to rise, parents are asked to supply more items themselves each school year.
If you're one of the many parents sitting at home with a long list (or maybe no list), confused about where to start and dreading the cost of back to school shopping, we've rounded up 15 tips to help you save more money this year on back to school supplies.
1. Check Your Home
Always shop your home first! You might be surprised at how many items on the school supply list you already have in your house. You might get lucky and find all the notebook paper you could ever need stashed away in a closet, long forgotten about until now! The point is—check your house for what you need before you even think about shopping.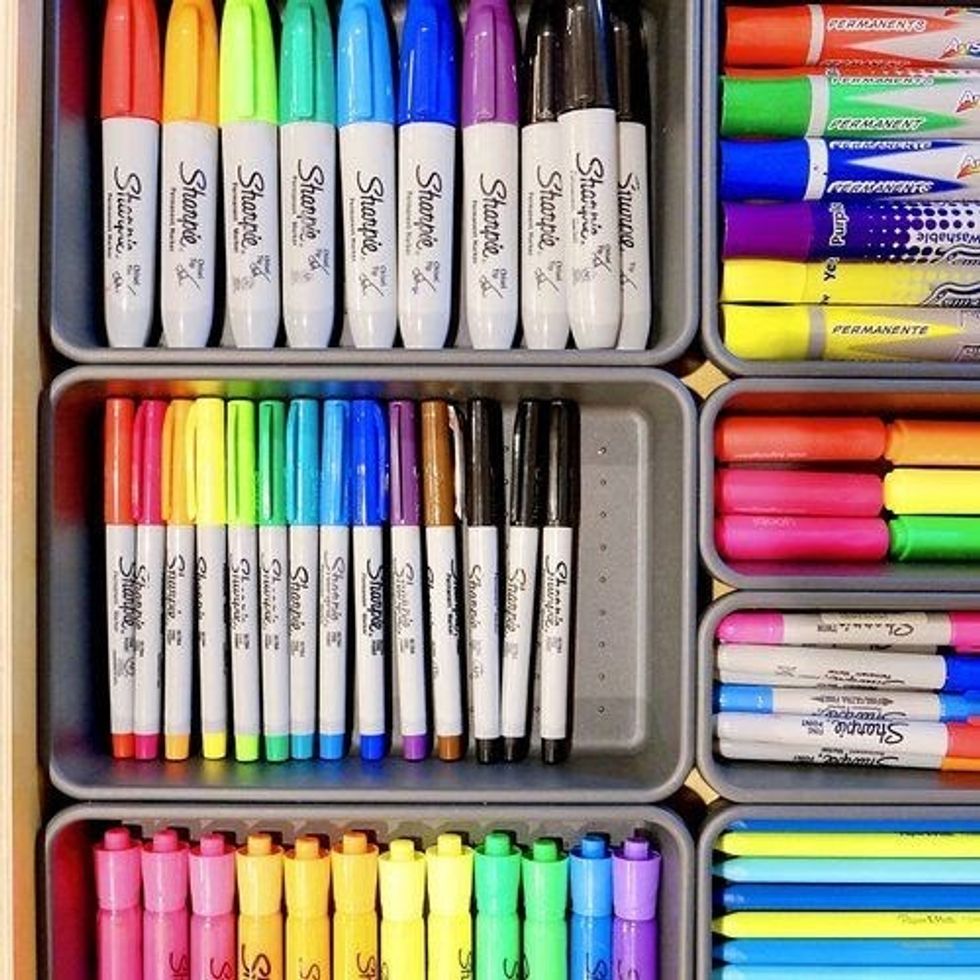 Image/ Pinterest
2. Know When to Shop
The best time to shop is early...or late. Retailers start putting back to school displays out with incentive sales as early as late June. However, prices also decrease as schools open and stores try to sell off the remaining inventory. Typically, kids won't need everything on the first day. Check with the teacher and see when things are required. Buying those supplies the day after your child's school starts could save you a surprising amount.
3. The Power of a Dollar
Shop the dollar store first. The Dollar Tree has basic supplies such as paper, binders, posters, and index cards that are priced significantly lower and yet are just as good quality as other retailers. After the dollar stores, Target Dollar Spots and the online bullseye playground have great back to school deals.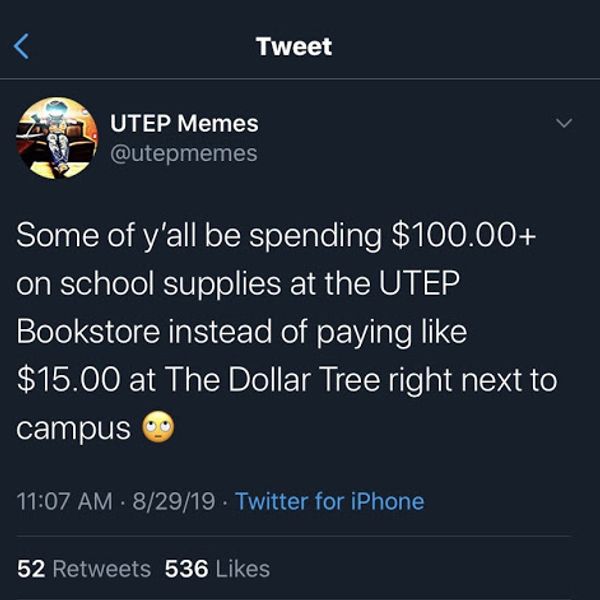 4. Check Store's Loss Leaders
These are the store's spotlight sale items that are sold at such low prices, they result in a loss for the retailer. If a store's loss leader item is something you need—you aren't likely to find a better deal than that!
5. Swap Supplies
Join or start a Facebook group in your community for school supply swaps. Lots of groups offer the option to buy and sell the items, or even to make trades or donations.
6. Pre-Owned Goods
If you're shopping for electronics, consider buying refurbished or second-hand items. Amazon Renewed offers pre-owned, professionally inspected, and tested electronics at a notably lower price than brand new products. Even better, they offer a 90-day full refund policy. Apple, Best Buy, and Overstock also have similar second-hand sites with discounted items.
7. Only Buy One "Back to School" Outfit...to Start
Don't buy a new wardrobe before school starts. If there is nothing your child(ren) needs right away, try just buying them one brand new outfit, so they still get to experience the sensation of the "first day of school outfit." Fall clothes coincidentally hit retailers' shelves in August and generally remain priced high for a while. Hold off on buying fall and winter wardrobes until late September through the beginning of October to see steep price cuts.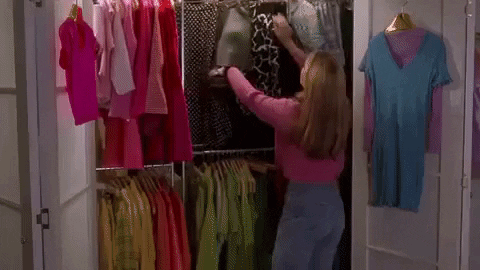 clueless movie GIF Giphy
8. Check Sales for Uniforms
If school uniforms are a requirement, check The Gap, Old Navy, and Target for some great sales on new uniforms. When shopping for pre-owned uniforms, some schools offer uniform exchanges and can provide free donated uniforms.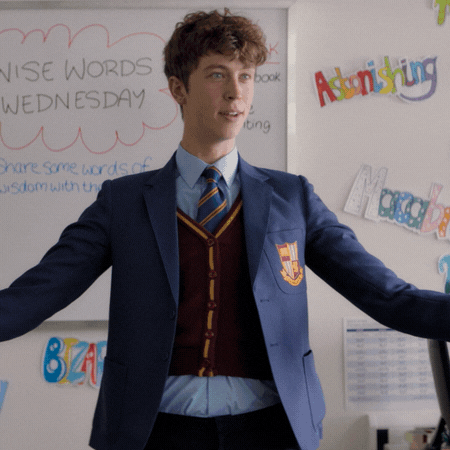 aqui estoy the kid who would be king GIF by 20th Century Fox Giphy
9. Check Donations
If you're struggling to afford items, check with charitable organizations. The Salvation Army has the "stuff the bus" donation system, which gives out school supplies to children in their communities. United Way, Red Cross, The Boy's and Girl's Club, and the YMCA all offer similar donations as well.
10. Check Price Trends
Shop camel camel camel before purchasing on Amazon. Their website allows you to search Amazon product price trends and see if you are getting a deal or not.
11. Check Apps
If you want to make sure you're getting the best prices when shopping, download ShopSavvy and scan the item's barcode to see if there's a better price.
12. Prioritize
Start with the big-ticket items. If you simply don't have the time to shop around for the best price on every little thing on the list, prioritize researching the most expensive items on the list to get a savings boost.
13. Reduced Sales Tax
Check to see if your state offers a sales tax holiday.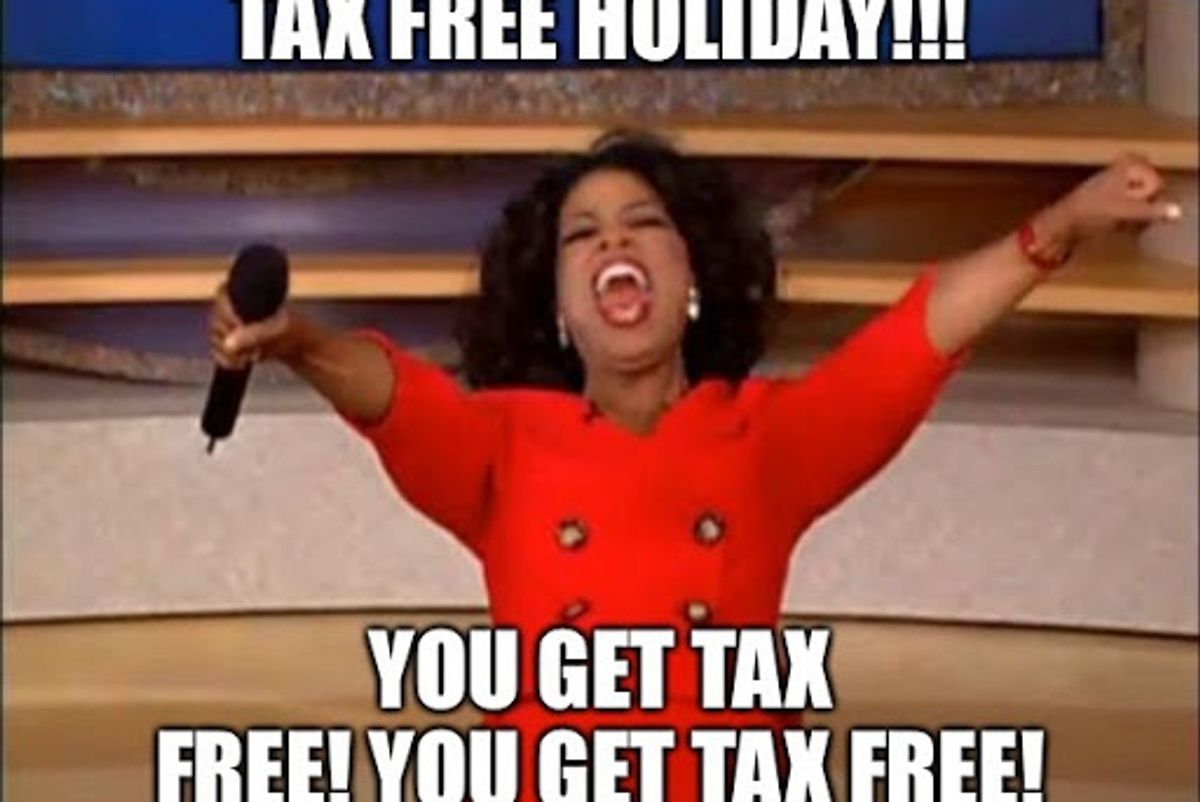 14. Contact the School
Contact your school if you can't afford something. Many schools offer electronics, internet service payment assistance, or free supplies to children in need.
15. Leave the Kids at Home
Leave the kids at home when shopping. Trust me on this one—you can save so much this way! And if your kid is really insistent on having an expensive name-brand backpack this year, there's nothing wrong with making them chip in for the cost.