There's an unfortunate trend nowadays where people who don't really have the luxury of excess money spend what they do have on things they don't need. This isn't completely the fault of those people; saving is hard. If you believe your money isn't really working for you, there are a few things you should reexamine. Here are some of the common things people spend too much money on.
Groceries
As an unavoidable part of living, many people don't put too much thought into how much they spend on groceries. If you're strapped for cash, you shouldn't frequent the more expensive grocery stores. Instead, try to focus on buying in bulk. While this may seem more expensive in the moment, the long-run savings you'll make by buying in bulk will actually end up saving you money.
Clothing
If you're always buying brand-new clothes from department stores, you are not working with your clothing budget at all. There are plenty of secondhand and thrift stores that you can get clothes from, often the same quality at much better prices. You don't have to give up your shopping trips, you just need to adjust where you're buying from.
Eating Out
Many of us treat going out to eat as the norm for most of our meals. However, you should try to rethink this. Takeout and delivery are great, but restaurants charge extra for the convenience that they bring to the table. To go along with buying in bulk as we said above, flex your cooking muscles a few more times a week and you'll have much more money in your pocket.
Gym Memberships
There's nothing wrong with paying for a gym membership, as getting equipment for your home can also be cost prohibitive. However, there are different levels of gym memberships. If you are subscribed to a gym that offers saunas, massages, hot tubs, and steam rooms but never use those services, you are letting your money slip away with every month that goes by.
Coffee
You can't talk about things people spend too much money on without mentioning coffee. If you are someone that gets coffee on your way to work every day, you are flushing money down the drain. Unless you're just desperate for a sugar high, buying and making coffee at home is a much more cost-effective way to get your early morning caffeine.
Cable Television
Let's face it, when was the last time you really watched cable television? If you're like many, you're much more focused on streaming services for your viewing pleasures. Don't pay for something you never use. Drop the cable subscription and you probably won't even notice it being gone, but your wallet probably will.
Related Articles Around the Web
Frugal gifting often gets a bad reputation. However, this shopping method does not make you cheap — it makes you practical. Frugal gifts often avoid waste and overspending and can be just as meaningful (if not more so) as any other present.
With the National Retail Federation predicting each consumer this holiday season to spend upwards of $1,000 on holiday gifts amidst an economic recession —this year might be the perfect time to reconsider your spending budget. We've formulated the ultimate list of frugal gift-giving ideas to get you started.
Baked Goods
Cookie exchanges have become a tradition throughout America — so there's no reason gifting homemade food can't also be an acceptable gift during the holidays. Gifting someone with homemade food not only saves you money but, more importantly, shows you took the time and care to make something and that it has the most important ingredient in any recipe: love.

Try this: Fill mason jars with everything needed to make cookies, pancakes, or hot cocoa and decorate with some festive swag.
Experiences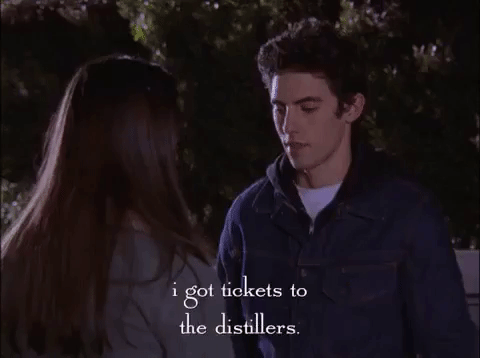 Giphy
A few years ago, my aunt gifted my children season passes to our local zoo. It was the best gift I never knew my children were missing. Gifting experiences, rather than material possessions, is a great example of frugal gift-giving. Some examples are season pass admissions to museums or zoos, even tickets, movie passes, and much more.

Try this: Admission to zoos or museums, event tickets, or movie passes.
Donations to Charity
A sure-fire way to feel frugal about your spending this holiday season, a charity donation in lieu of gifts is something almost everyone can appreciate. Make it personal by specifying donations to charities near and dear to the gift recipient.
Try this: Given the current health environment throughout the country, donating to Doctors Without Borders, the nonprofit organization that provides medical aid where it's needed most.
Regifting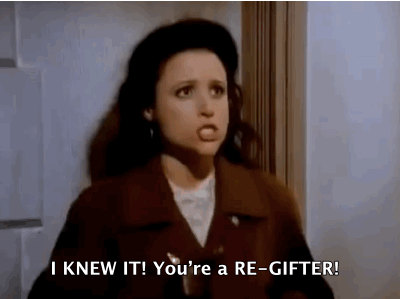 The regifter has long been given a bad name, such as in the famous Seinfeld regifter episode. But there's nothing wrong with passing along something pre-owned that someone else can use.

Try this: Everyone loves candles, and there is a good chance you have an unburnt candle somewhere in the house.
Socks and Underwear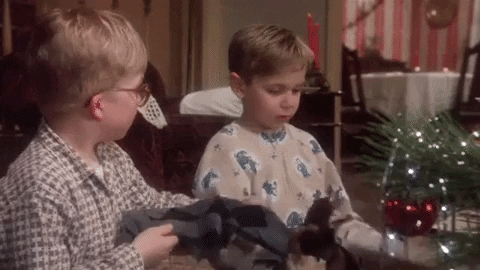 Giphy
It was ingrained in my brain throughout my adolescence that getting socks or underwear for Christmas was the worst possible gift. I have come to realize, however, that these essentials are probably one of my favorite gifts to receive, as it's something I always need and rarely take the time to buy myself.

Try this: If you want to impress them with your undergarment shopping abilities, impress them with a new pair of socks or underwear from MeUndies.
Subscription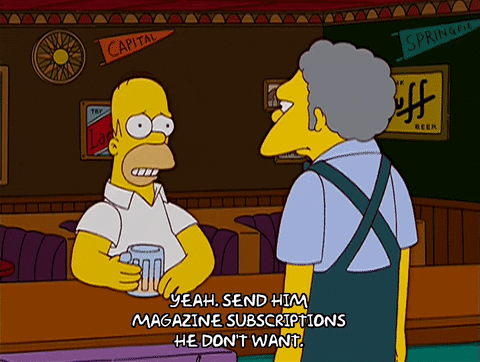 Giphy
The gift that keeps on giving, a subscription gift is something to be enjoyed long after Christmas. From books and magazines to streaming subscriptions, it's easy to find a subscription service tailored perfectly for every person on your list.

Try this: For the coffee lover, try a subscription to Trade Coffee.
Grocery Store Gift Card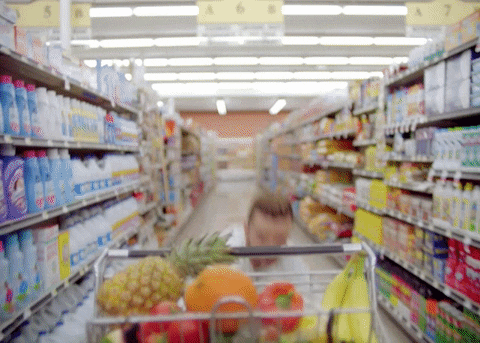 Giphy
No one has ever been mad about receiving a grocery store gift card for a present. To save money, check local grocery stores that might have gift card specials.

Gift Your Time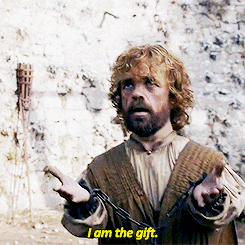 Giphy
As Benjamin Franklin put it in 1747, "Lost time is never found again." Since our time is such a valuable gift, it is the perfect way to show your friends and family you care.

Try this: For the friend that cooks dinner for the family every night, give them a voucher to make them a full course meal so they get a break one night.
Gifts from the Garden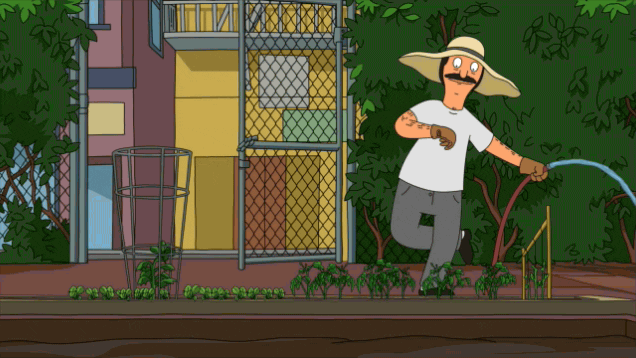 Giphy
As people spend more time at home this year, more people are turning to gardening from home, and there's no better time to turn your outdoor garden or plants from the store into a frugal gift this holiday season.

Try this: These mason jar wall planters are perfect for the DIY enthusiast to recreate and would look amazing on a kitchen wall holding cooking herbs.
After its precipitous fall in February of 2020, the government took major steps to stabilize it.
By Monday, November 16th, the Dow had surpassed all previous records, closing at 29,950. Meanwhile, the national death rate as a result of COVID-19 was rising toward its horrifying January peak. Meanwhile, working Americans continued to struggle and suffer, wasting their gas money waiting in endless lines for limited supplies of free food.
If you, like nearly half of U.S. adults, don't own any stock at all, the numbers above are essentially meaningless. Even for most of the people who are invested in the stock market, their investment isn't substantial enough to make up for issues like widespread underemployment.

And yet, the Federal Reserve has poured $4 trillion into maintaining the stability of investment markets and ensuring that the Dow, the S&P 500 and various other numbers on charts that seem increasingly disconnected from reality move in the right direction. Why is that?
The answer to that question is complicated, but it is closely linked to the reason why President Joe Biden has been on the receiving end of a lot of scrutiny and pushback on the topic of student loan forgiveness — and why he hasn't already taken steps to cancel some or all of student debt already.

Recently the amount of student loan debt in the United States surpassed $1.7 trillion. That amount has more than tripled in the last 15 years, with around 45 million Americans currently holding some amount of student loan debt, and an average burden in excess of $30,000.
Most of that debt is nearly impossible to discharge through the standard bankruptcy process. And the fact that most of that burden falls on young people — whose careers are less established and who face generational declines in wages and wealth — exacerbates the impact of that debt. It's a major factor in the worrying declines in rates of home ownership, marriage, and birth rate among millennials.
It is widely acknowledged that the cost of higher education has ballooned out of control while it has increasingly been pushed as a necessary step on the path to prosperity. Underlying this problem is the fact that — unlike many developed nations — our federal government doesn't offer affordable public universities or fund education in fields like medicine and engineering where we always need more skilled professionals.
Why Is College So Expensive in America? | Making Cents | NowThis www.youtube.com
Instead we offer government-backed loans and guarantees that incentivize institutions to invest in administrative bloat and in expensive development projects to enhance their prestige and entice prospective students with unnecessary luxuries. Teenagers instilled with little sense of the financial commitments — but an unwavering belief in the necessity of college — have become cash cows.
The system as it stands is clearly broken, and whatever other reforms are called for, the resulting debt crisis is interfering with the spending power and attainment of an entire generation. In the context of a pandemic that has affected the livelihoods of so many, it would seem like an uncontroversial act for the government to alleviate some of that burden of student debt.

And for the most part, it is. Opinion polling shows that the notion of providing some amount of student loan forgiveness is broadly popular across partisan lines.
The exception is among the pundit class — and the wealthy donors they represent. Because, while various political figures — including Democratic Senators Chuck Schumer and Elizabeth Warren — have urged Joe Biden to make student loan forgiveness an early focus of his presidency, others in politics and the news media have done their best to push back.
At the moment, a forbearance measure laid out in the CARES act has been extended through the remainder of 2020 — allowing those with federal student loans to defer payments for the time being. But further action being proposed would include forgiveness for debt owed to private companies.

Among the wide range of suggestions are legislation to provide $10,000 of debt forgiveness for individuals meeting certain restrictive criteria and $50,000 of automatic forgiveness for all student debt holders — which Joe Biden could theoretically have delivered through an executive order as soon as he took office.
In either case, some would still be left with large burdens of debt, and some would likely be hit with unmanageable tax bills — as debt forgiveness is considered a form of income. But the debate has not largely involved addressing those shortcomings. Rather, many have questioned whether we should be considering these proposals at all.
The objections tend to fall into three categories: It wouldn't help the right people, it wouldn't stimulate the economy as much as other measures, and "I paid off my student loans, so why shouldn't they?"
The last is patently asinine, and should be ignored or mocked as it applies equally to any form of progress — "My face healed after smashing against the dashboard, so why should we add airbags now?" If the people espousing this perspective want to be acknowledged for their fiscal responsibility, here's the entirety of the praise they deserve: Good for you.
The fact remains that many people are not able to pay off their student loan debts, which can have a ruinous effect on their credit rating, affecting everything from interest rates on other loans to — in a cruel twist — their employment prospects. There is a disturbing potential for an accelerating debt cycle that becomes impossible to escape.
Even for those who are able to pay off their debts may feel pressured by the monthly payments to accept employment that they otherwise wouldn't — contributing to an imbalance in the employee-employer relationship that could further suppress wages. In short, it's bad.

So while it's valid to point out that there are others in the economy more in need than college graduates, we can't ignore the reality of the student debt crisis. Along with other important measures — further extension and expansion of unemployment benefits, rent subsidies, and direct payments to make it easier for people to stay home — student loan forgiveness should be considered an essential part of COVID relief.
Which leaves only one complaint left: It wouldn't do enough to stimulate the economy.
The basic issue is that the benefit of debt forgiveness is spread out over years or decades of remaining loan payments. And because it would also contribute to recipient's tax burdens, there is a concern that much of the cost of debt relief would not result in short term increases in consumer spending — the kind that spurs quick economic growth.
While that's worth being aware of, doesn't this objection have its priorities reversed? Isn't the entire purpose of a strong economy to improve people's lives? So why are we unwilling to improve people's lives unless it primarily contributes to short term economic growth?

Clearly our entire system has embraced this inverted way of thinking. That's why it can pass almost without notice when the Federal Reserve spends $4 trillion to prop up investment markets.
We happily spend that amount on measures that only directly benefit the wealthy, and yet — when it's suggested that we should spend a fraction of that on a popular policy that could improve the lives of 45 million Americans — it becomes a point of great contention.
We all seem to have forgotten the essential truth that the economy is meant to serve us — not the other way around.
With the election of Joe Biden to the Presidency, you're probably here seeking to understand how much your taxes are going to go up.
The answer: most people will see no tax increases.
The tax plan that Joe Biden has rolled out is targeted at individuals making more than $400,000 a year, less than 1% of the population of the US. If you (like me) are not one of these lucky individuals, then it's very-likely that nothing in this article is going to apply to you.
But, for argument's sake, let's hop in the Model S, drive over to the penthouse, and analyze what Biden's tax code plans mean for you.
If you make over $400,000 a year
First, Biden is going to impose a 12.4% tax on incomes over $400,000 to fund Social Security, split evenly between employers and employees. This is a new tax, because Social Security taxes in the past have been capped on income at or below $137,700.
People who made over $137,700 had a tax break where they didn't have to pay into Social Security for all of their income. Biden's tax plan still allows people making over $137,700 to not pay the Social Security payroll tax for income above that amount as long as they make under $400,000.
When your income exceeds $400,000, you then have to start paying the tax again. This creates an interesting tax structure where people's income at the very bottom and the very top of their income is being taxed for Social Security, but income in the middle is not.
Second, while Biden is likely to keep many of changes from the Tax Cuts and Jobs Act, he has stated that he is going to revert the marginal tax rate for individual incomes above $400,000 from 37% back to the previous 39.6%. As with the Social Security tax, this does not kick in unless your income goes above $400,000.
Individuals making above $400,000 will also have their incomes above $400,000 see itemized deductions capped at 28%. That means if your income is over $400,000 and your tax rate is over 28%, you have less options for itemizing your deductions to get a lower tax rate.
Some business owners have benefitted from deducting up to 20% of their business income as well as 20% of the dividends from qualifying Real Estate Investment Trusts (REITs) on their taxes. Biden is proposing phasing that out for incomes above – drumroll - $400,000.
But what if you're not just making $400,000 a year? What if you are making even more than $400,000 a year? What if you earn over $1 million a year? That's when Biden's really going to hit you where it hurts – your investments.
Most people pay taxes on what's called "earned income," referring to things like your salary at your job. The tax rates for that range from 10% to 37%, depending on how much you make. If you make money from investments instead, that's a whole different story.
If you buy an investment and sell it for a profit within one year of purchase, you would pay your normal income tax on any profit you make. But if you hold the investment for longer than a year, you pay a reduced tax rate between 0% and 20%, depending on your income.
If you make over $200,000 ($250,000 for married couples), you would also pay a 3.8% tax on net investment income. What Biden is proposing is taxing any income over $1 million the same regardless of it comes from your salary or your long-term investments.
The wealthiest people in the US have seen a large amount of their income come from investments, and this measure would keep the wealthiest Americans from paying less in taxes than average working people just because the money comes from holding stocks or real estate instead of a traditional job.
If you make under $400,000 a year
Let's say that you, like more than 99% of Americans, do not make $400,000 a year. Does this mean Biden's tax plan will not affect you at all? There's actually a decent chance you might see some changes to your taxes.
Biden is proposing bringing back the First-Time Homebuyers' Tax Credit, originally created to help the housing market during the Great Recession, and provide up to $15,000 for first-time homebuyers. With interest rates at historic lows, this may be another incentive for you to consider dipping your toes into the real estate game and becoming a homeowner.
Biden is also proposing expanding the Child and Dependent Care Tax Credit from $3,000 up to $8,000 for one dependent and $16,000 if you have multiple dependents. The maximum reimbursement rate would also adjust from 35% to 50%. If you have kids or other dependents, this may reduce how much you pay in taxes by giving you a child tax credit the money you spend to support your family.
Biden also has a few very targeted tax cuts and tax benefits that will apply to a much smaller group of people. One is expanding the Earned Income Tax Credit (a tax credit for low-income people who are very close to the poverty line) and allowing people over the age of 65 to also claim the credit even if they do not have dependent children.
He would also provide a refundable low-income renter's credit, reinstate tax credits for the purchase of electric vehicles and improvements to your home to make them more energy-efficient, as well as exempt forgiven student loans from taxable income. These may not apply to as wide a group of people, but if you're older, a renter, looking to live a more green lifestyle, or seeking forgiveness for student loans, Biden's tax proposals can have you looking at a smaller tax bill.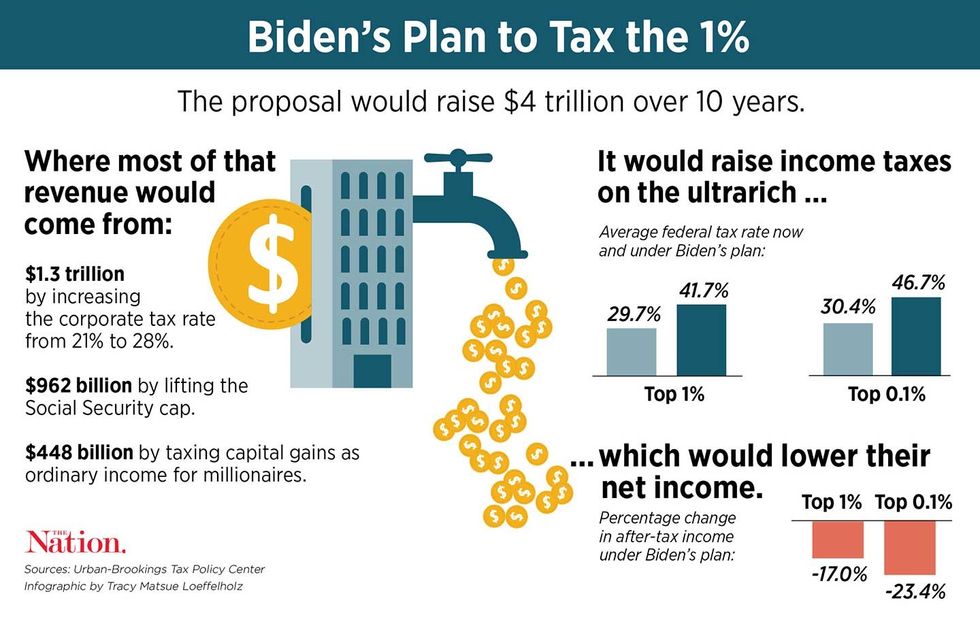 Biden's plans for inheritances
At first glance, it looks like everyone making more than $400,000 a year will pay higher taxes and everyone else will pay less taxes than they currently do. However, there is a part of Biden's tax plan that may have an impact on you even if you are lower income – if you have a rich family.
The Tax Cuts and Jobs Act raised the threshold at which estate taxes are paid and lowered how much they have to pay in taxes. If you stand to inherit an estate worth $11.6 million dollars today ($23 million if you are a married couple), right now you don't pay taxes on it.
If you inherit more than that, you would pay a top rate of 40% tax. Biden is proposing lowering the threshold where the tax would kick in back down to $3.5 million ($7 million for married couples) and raising the tax rate back to 45%. This will affect roughly 0.3% of estates. If you are in the 99.7%, you do not need to worry about the Biden inheritance policy.
Now, the next part is closing an inheritance loophole called the "stepped-up basis" loophole. Right now, when an heir inherits an asset, they only pay taxes on the gain in value of the asset from the time that they inherited it.
Let's say your parents bought $100 worth of stocks decades ago and today those stocks are worth $10,000. If your parents passed away and left you the stocks, you would be allowed to sell them immediately and not pay any taxes.
If you held the stock and the price rose to $12,000, you would only pay taxes on the $2,000 in value the stocks gained since you inherited it. This because the initial value of the stocks would be "stepped-up" to the value at the time you inherited it rather than the value at the time your parents bought it.
This loophole has allowed the very wealthy to leave very valuable assets to their children without needing to pay taxes and allowed generations to pass large fortunes to their children. Biden has proposed closing this loophole and not stepping-up the value of an asset when it is inherited; taxes will instead be paid on the value of the asset from when it was first purchased.
This part of the plan has yet to be fully fleshed-out by Biden, but it appears to be modelled after a proposal from the Obama administration. That plan allowed an exclusion of $100,000 per person (rising with inflation) and excluding $250,000 for primary residences ($500,000 for couples). It also allowed a 15-year payment period and tax deferrals for family-owned small businesses. Biden may roll out similar provisions once he rolls his tax plan out before congress.
Does any of the Biden tax policy outlines even matter?
Maybe?
Biden has presented something of a wish list for his tax plan, but that doesn't mean he can wave a magic wand on January 20th and put it into place. This plan will require significant negotiations in Congress, and if Republicans retain a Senate majority, they may refuse to even allow a bill to have a hearing. Ultimately, Biden's tax proposals may change significantly as they work their way through Congress and if they are not able to garner enough support, they may never come into effect.
From Your Site Articles
Related Articles Around the Web