After years of talk, the world's most familiar digital payment platform, Paypal, is finally embracing cryptocurrency as a form of accepted currencies for all its US users.
Bitcoin, Ethereum, Bitcoin Cash, and Litecoin will be the cryptocurrencies accepted by PayPal. "The shift to digital forms of currencies is inevitable," said Dan Schulman, president, and CEO of PayPal in an October 21st press release.
Experts in the crypto world have often linked the volatility and shortcomings of cryptocurrencies to its lack of accessibility in markets, so this new acceptance on part of Paypal might just be what's needed to propel cryptocurrency use into the mainstream economy. Paypal will develop complementary cryptocurrency educational resources on its website.
---
Currently, you can get on the waitlist to trade cryptocurrency on PayPal, as it's not officially tradable yet. Beginning sometime early next year, users will be able to not only buy and sell the currency but also use it to make purchases to any of Paypal's 26 million merchants.
What Is Cryptocurrency?
You may have heard the words "cryptocurrency" or "Bitcoin" before; you may even know what they are. Pop culture has long depicted futures in which money has gone completely digital. With the growing acknowledgment of cryptocurrency, that future may not be far away.
The Dutch bank ING released an extensive survey about cryptocurrency, in September, revealing that while almost three-quarters (74%) of people know that cryptocurrency is a type of digital money, nearly the same amount of (73%) incorrectly identified the governing body for cryptocurrency, or said they did not know how it worked.
Cryptocurrency is a type of digital currency secured by cryptography technology that makes it nearly impossible to counterfeit. Cryptocurrency is not controlled by any government or entity, and the middle man (AKA the bank) is cut out of the equation.
How Does It Work?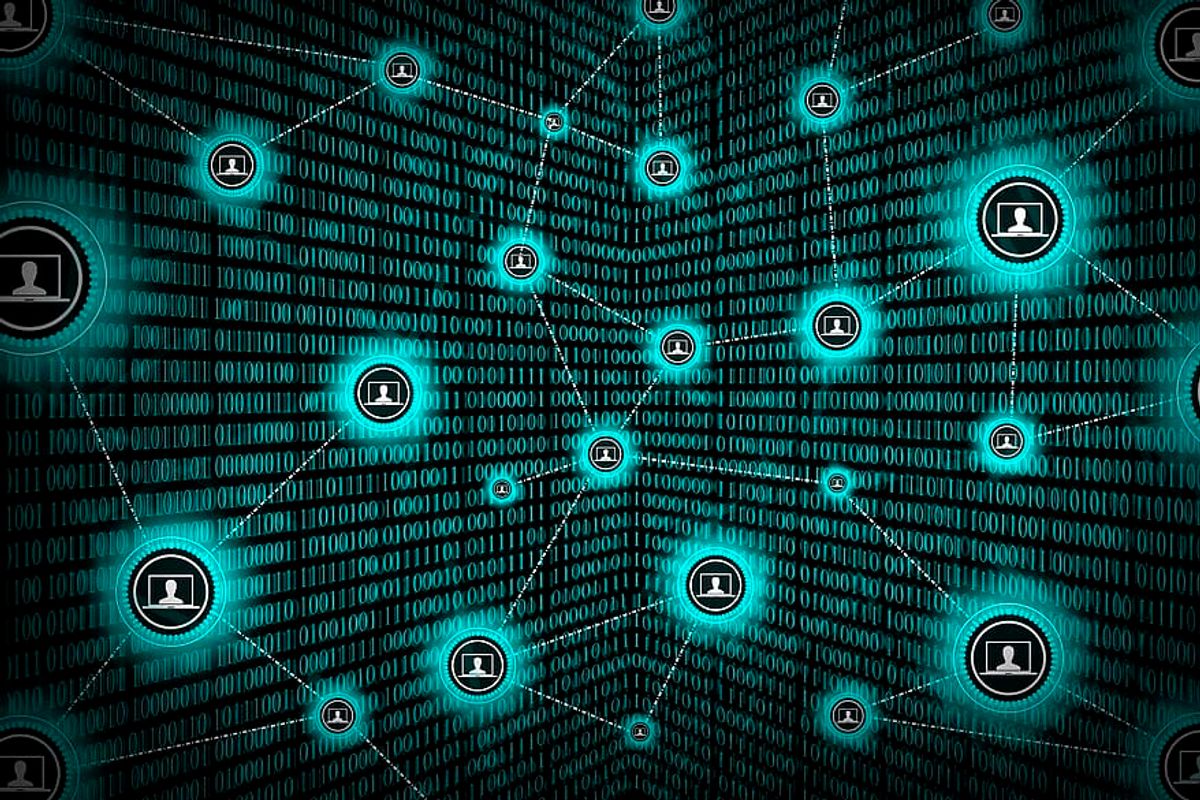 Cryptocurrencies allow you to make secure transfers online which are denominated in terms of tokens. Behind the scenes, the network shares a blockchain (digital ledger) that records all transactions.
How Can I Use Cryptocurrency?
In order to buy cryptocurrency, you need an online application, known as a "wallet" to digitally store it in. This can be done through an app such as the Bitcoin Wallet, or through a free investment app such as Robinhood.
You can use your cryptocurrency to buy goods or services from many retailers and merchants that accept cryptocurrency, transfer it directly to other cryptocurrency users, or exchange it for other digital or paper currencies.
Cryptocurrency can also be earned through
mining
, which is often referred to as the process of digitally mining for gold.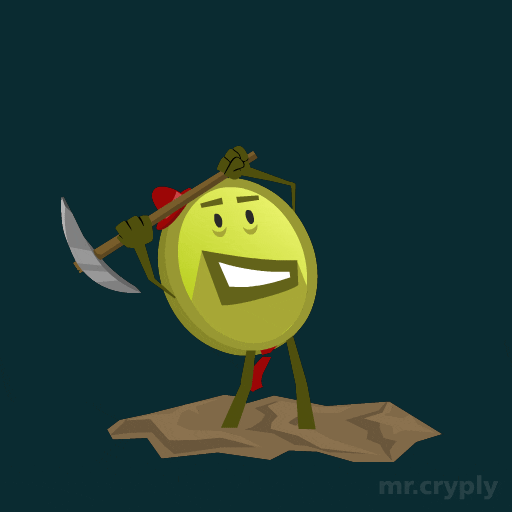 Money Work GIF by Mr.Cryply Giphy
Types of Cryptocurrency

Bitcoin was the first of its kind and is still the most popular cryptocurrency used today. Other alternative cryptocurrencies have come out since, including the Litecoin and Ethereum.
Bitcoin
The original Bitcoin code was developed in 2009 by the individual or group known by the anonymous pseudonym, Satoshi Nakamoto. Bitcoin is not owned by any individual or company. All users are able to use and develop the bitcoin software.
Today, Bitcoin is split into two different cryptocurrencies: the original Bitcoin (BTC) and Bitcoin Cash (BCH). The main difference between the two is that the latter was created to increase the speed of transaction processing. Some experts worry about the security of the newer Bitcoin cash, as the program doesn't necessarily follow the guidelines in programming set out by Nakamoto. As it is, Bitcoin still remains the most widely used of the two.
Cryptocurrency Benefits
Since cryptocurrency operates in a decentralized manner, cutting out the middleman in currency transactions (AKA the bank) can have many benefits.
Cryptocurrency transactions are instant and direct, unlike transfers that need to run through banks and can sometimes take days to process.
Cutting out the need for the bank reduces inflation and reduces fees.
Transactions are not limited by time, location, or bank holidays.
More secure transactions from cryptographic technology.
Cryptocurrency allows much clearer transparency since the data stored in the blockchains are available for anyone to view.
Cryptocurrency Disadvantages
The inability to make payments with cryptocurrency.
Cryptocurrency is unregulated, which makes it an attractive means of illegal activity and overall is considered a high-risk investment.
Cryptocurrency does not hold any intrinsic value-such as that of fiat currency backed by gold or a governing body. Berkshire Hathaway's billion-dollar CEO, Warren Buffet, is a longtime opposer of cryptocurrency. In an interview with CNBC, Buffet said that he would never invest in cryptocurrency because he believes it holds no value.
What's Next?
According to a 2019 survey, only 10% of people understand cryptocurrency. However, it does have backing from the SpaceX and Tesla founder, Elon Musk, who sees potential in Bitcoin. The future of cryptocurrency heavily relies on its ability to further reach into the retail economy.

From Your Site Articles
Related Articles Around the Web
via Cleo
Ah yes, 'tis finally the giving season!

As someone whose love-language is gift giving, I relish most opportunities to spoil my friends with sweet tokens of appreciation. I am the queen of spontaneous gifts. When I'm puttering around the city, doing my silly little tasks, I always perk up when I find some small trinket that I can give my friends.
Nothing says "I love you" more than saying, "hey, this reminded me of you." And then handing them a nod to a past conversation, or a memory we share. So, sorry to my friends for cluttering your houses with sentimental junk, but I'm even more apologetic for my fatal flaw: when it comes to the holidays … I always draw a blank!
To me, organic gifting is much more genuine than holiday gifting. Yet, if I were to use that as an excuse for turning up empty-handed to every single holiday party this season. I fear I'd start the new year off with fewer friends. And, as someone who loves to receive gifts just as much, I don't want to chance burning bridges that might hold presents on the other side.
So, when the holiday season arrives, I spend far too much of my precious time strategizing my gifts for my friends.
Often, when I draw a blank, I end up splurging on expensive gifts — a luxury candle, a decadent face oil, a classy bottle of perfume. Sure, these opulent gifts are a cop out, but they're guaranteed successes. Upon opening a package containing their favorite, overpriced indulgence who wouldn't smile?
Due to my holiday default, I'm forced to do some serious budget planning to accommodate my lavish spending. Or, more often, I go spectacularly over-budget.
However, this year, I must make a change. After my summer of post-vax hedonism that granted justification to spend more money than I'd ever dare, my holiday budget's looking pretty lean.
After sitting myself down and giving myself a strict talking to about prioritizing my savings, I've come up with some tips on how to save money around the holidays:
Review your budget
The amount of money we think we spend and the money we actually spend are two very different numbers. Grab a drink, pull out your bank statements, it's time to get to the bottom of your spending.
Take a look at two or three months and categorize your purchases. Which ones were intentional? Which ones were emotional? And how many times did you go to the coffee shop just to feel something and leave with a $10 latte and pastry? Once the truth is laid out in front of you, it's easy to see where you're bleeding money.
For me, it's coffee shops and boutique clothing stores I discover during jaunts around trendy neighborhoods. Whatever your vices are, do your best to become aware of them.
Budgeting apps like Cleo have helped me curb my impulse spending a ton! Cleo talks to me like a friend would — a friend who is not afraid to tell me no and call me out on my overspending. We all need a friend like Cleo, so download the app and watch your budget change overnight.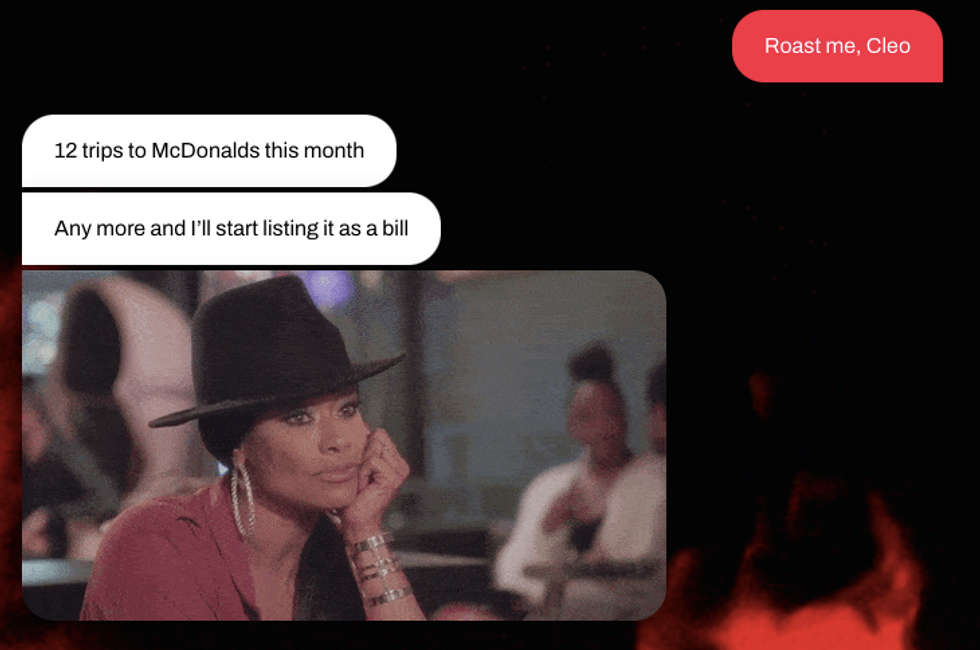 via Cleo App
Cut out what you don't need
It's all well and good to glance at your spending, but the next step is brutal: get honest with yourself about the purchases you could have gone without. But this isn't about deprivation, it's prioritization. What can you relinquish now to ensure you have a great holiday season later?
Cringing at past impulse buys I've made, I vowed to avoid my typical temptations, since I couldn't resist them. I know I'm easily lured into charming little storefronts downtown. So I took new routes home, avoiding the streets where all the cool clothes lie, waiting for me to cave.
I'm sure, in good time, I'll be back. But that's a problem for 2022-me. Until then, we just have to hold out for less than two months, get the gifts our friends deserve, and then it's back to regularly scheduled planning.
Make a spending plan
Saving without a plan usually leads to spending. As you narrow down what you can afford, figure out what you want to buy. I like to split it into categories: larger expenses vs. affordable picks.
Here's the fun part: shopping around. Sometimes I only have a general idea of what I want to buy, and sometimes I have specifics in mind. Either way, I love to shop around for a deal.
When it comes to saving money, research is paramount. Various vendors might have different prices, promotional codes, or sales. A quick Google search can often save you 10% or more, so don't take the first price you see as gospel.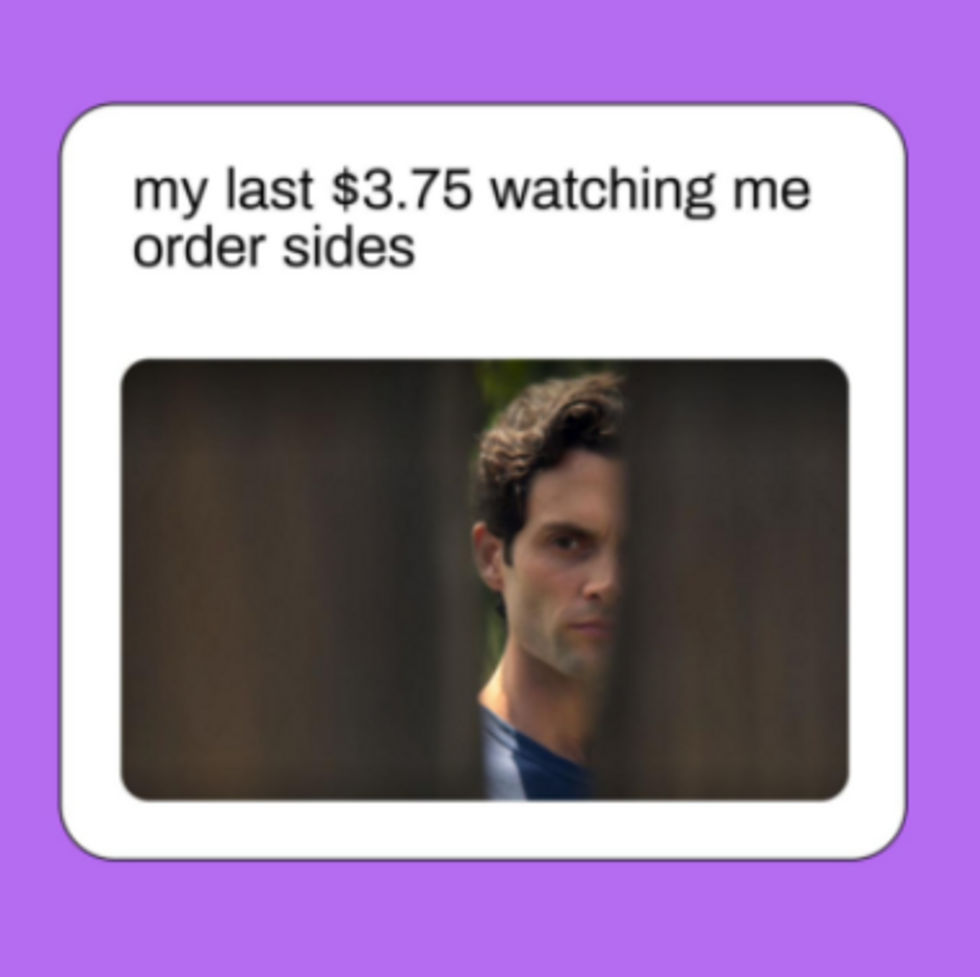 via Cleo App
After finding the best price, I can budget for what I'm going to buy and when. Which takes me to ….
Take advantage of sales … strategically
The holiday season brings with it the promise of big, blowout sales. But, if you're not careful, you can end up spending more money during a sale — which is precisely the stores' intention.
Don't fall victim to the allure of those big, red "SALE" stickers. Instead, plot out how to take advantage of a number of sales for different products. Adding those sale prices to your spending plan will keep you focused and on track, instead of buying frivolous items no one will ever use just because the prices are slashed.
Saving money over the holidays doesn't mean you have to make a Scrooge of yourself. You can still gift and gift well, just more intelligently. Spending with intention is key to savings, while investing thoughtfully into your relationships.
Apps like Cleo can help you keep your finances on track without feeling overwhelming. With one download, you could be on your way to mega-savings.
Happy gifting!