There's an unfortunate trend nowadays where people who don't really have the luxury of excess money spend what they do have on things they don't need. This isn't completely the fault of those people; saving is hard. If you believe your money isn't really working for you, there are a few things you should reexamine. Here are some of the common things people spend too much money on.
Groceries
As an unavoidable part of living, many people don't put too much thought into how much they spend on groceries. If you're strapped for cash, you shouldn't frequent the more expensive grocery stores. Instead, try to focus on buying in bulk. While this may seem more expensive in the moment, the long-run savings you'll make by buying in bulk will actually end up saving you money.
Clothing
If you're always buying brand-new clothes from department stores, you are not working with your clothing budget at all. There are plenty of secondhand and thrift stores that you can get clothes from, often the same quality at much better prices. You don't have to give up your shopping trips, you just need to adjust where you're buying from.
Eating Out
Many of us treat going out to eat as the norm for most of our meals. However, you should try to rethink this. Takeout and delivery are great, but restaurants charge extra for the convenience that they bring to the table. To go along with buying in bulk as we said above, flex your cooking muscles a few more times a week and you'll have much more money in your pocket.
Gym Memberships
There's nothing wrong with paying for a gym membership, as getting equipment for your home can also be cost prohibitive. However, there are different levels of gym memberships. If you are subscribed to a gym that offers saunas, massages, hot tubs, and steam rooms but never use those services, you are letting your money slip away with every month that goes by.
Coffee
You can't talk about things people spend too much money on without mentioning coffee. If you are someone that gets coffee on your way to work every day, you are flushing money down the drain. Unless you're just desperate for a sugar high, buying and making coffee at home is a much more cost-effective way to get your early morning caffeine.
Cable Television
Let's face it, when was the last time you really watched cable television? If you're like many, you're much more focused on streaming services for your viewing pleasures. Don't pay for something you never use. Drop the cable subscription and you probably won't even notice it being gone, but your wallet probably will.
Related Articles Around the Web
If there's one essential item you could upgrade, what would it be?
For us, the choice is clear: our wallets. They carry ID, credit cards, insurance cards - so much vital information entrusted to such a small accessory. It's time to level up.
Our editors have been searching for the brand that brings the most functionality to wallets while still maintaining exceptional style. The clear winner is Ekster. Their wallets have the necessary functions and features for the modern man all packed in one sleek design.
Here are 3 reasons why we're switching to Ekster:
1. So many features
Ekster's cardholders will revolutionize your day-to-day. With a quick access button, you can store 10+ cards in one place and get to them easily while on-the-go. Where there are credit cards there must be protection, which is why we love the RFID blocking layer that keeps your data safe from skimmers.
For the cash carriers out there, Ekster's thought of you, too. Utilize the multipurpose strap to hold some bills, extra business cards, or both. The best part is, these wallets come with worldwide tracking cards so if ever lost, you can skip the panic and pinpoint where your wallet is in a matter of minutes. It's also solar-powered and the two-way ringing lets you call your wallet from your phone or vice-versa. This is top-of-the-line tracking at your fingertips.
2. Quality materials
Ekster builds their products to last. Their Aluminum Cardholder is made with space-grade aluminum, so you can count on it for the long haul. Protect your money with the highest quality barrier between it and the world.
More into a classic look? Ekster's Senate Cardholder is made of premium Italian leather that's sustainably sourced. You get all the modern features while still staying true to your style.
3. Sleek design
We've all seen the chunky wallet that's bursting at the seams, completely overpacked and worn out. Ekster will never be that wallet. This "less-is-more" design holds what you need, and keeps things compact with their streamlined 0.29" design. These wallets are slim - simply slide them in your pocket and head out the door.
Plus, choose from 5 colors for the Aluminum Cardholder and 7 for the Senate Cardholder. Whatever your look, there's an Ekster match for you. Not ready to switch to a cardholder just yet? Ekster has updated traditional wallet styles with their Parliament Wallet and Modular Bifold (and we suggest checking out their iPhone cases too!).
There's no better option for design, function, and exquisite style. Take your day to the next level with these useful, innovative features meant to make life easier.
Trust us, once you live with Ekster, you can't live without it.
LIMITED TIME ONLY: Ekster Is Having A Huge Sale! Shop Now for Up To 15% Off Your Purchase At Checkout!
B2B companies invested over $6Bn in 2020 on digital marketing campaigns. While that pales in comparison with the nearly $15Bn spent on trade shows, the trend towards digital and performance-based marketing by Business-to-Business (B2B) players is rapidly accelerating.

This is partially due to the impact of the global pandemic, which has placed severe restrictions on travel and trade show opportunities. But it's primarily the result of improved performance and accountability tools now available to B2B marketers.
"B2B marketing is a completely different animal than consumer-facing advertising," says Andrew Gill Smith, SVP of Strategic Partnerships with GeistM, the fastest growing Martech platform in the US. "The conversion funnel for B2B has to be highly elastic in order to account for wide variations in customer lifetime values. We have telecommunications equipment clients who have deals ranging from $25,000 all the way up to $5,000,000. It also has to be extraordinarily efficient, meaning it has to drive to calls, leads, and sales quickly. B2B is all about performance. Most players don't have time for fru-fru 'soft' metrics like brand awareness or abstract, top-of-the-funnel concepts."
For most B2B players, digital marketing is a necessary evil. It begins and ends with Search Engine Marketing (SEM). Many companies rely on local or part-time "consultants" to perform this essential function, and as a result, are missing out on tremendous growth opportunities. GeistM recommends that B2B marketers budget at least $5,000 per month to generate consistent, optimal results.
The biggest mistake most B2B marketers make starts at the top of their funnel, specifically the way they set up their keyword campaigns. The traditional setup, detailed below, assigns multiple messages to multiple keywords or "ad groups."
Traditional Setup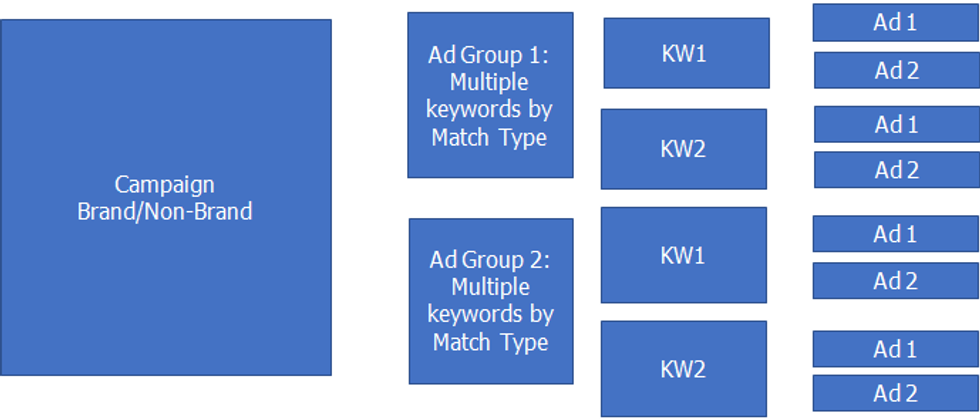 This works well enough, but it also leads to lower quality scores, meaning that the company's pages are less likely to show up in paid search results. This means higher costs-per-clicks and, ultimately, higher customer acquisition costs.

GeistM has pioneered the use of Single Keyword Ad Groups (SKAGs), which requires a completely different campaign architecture: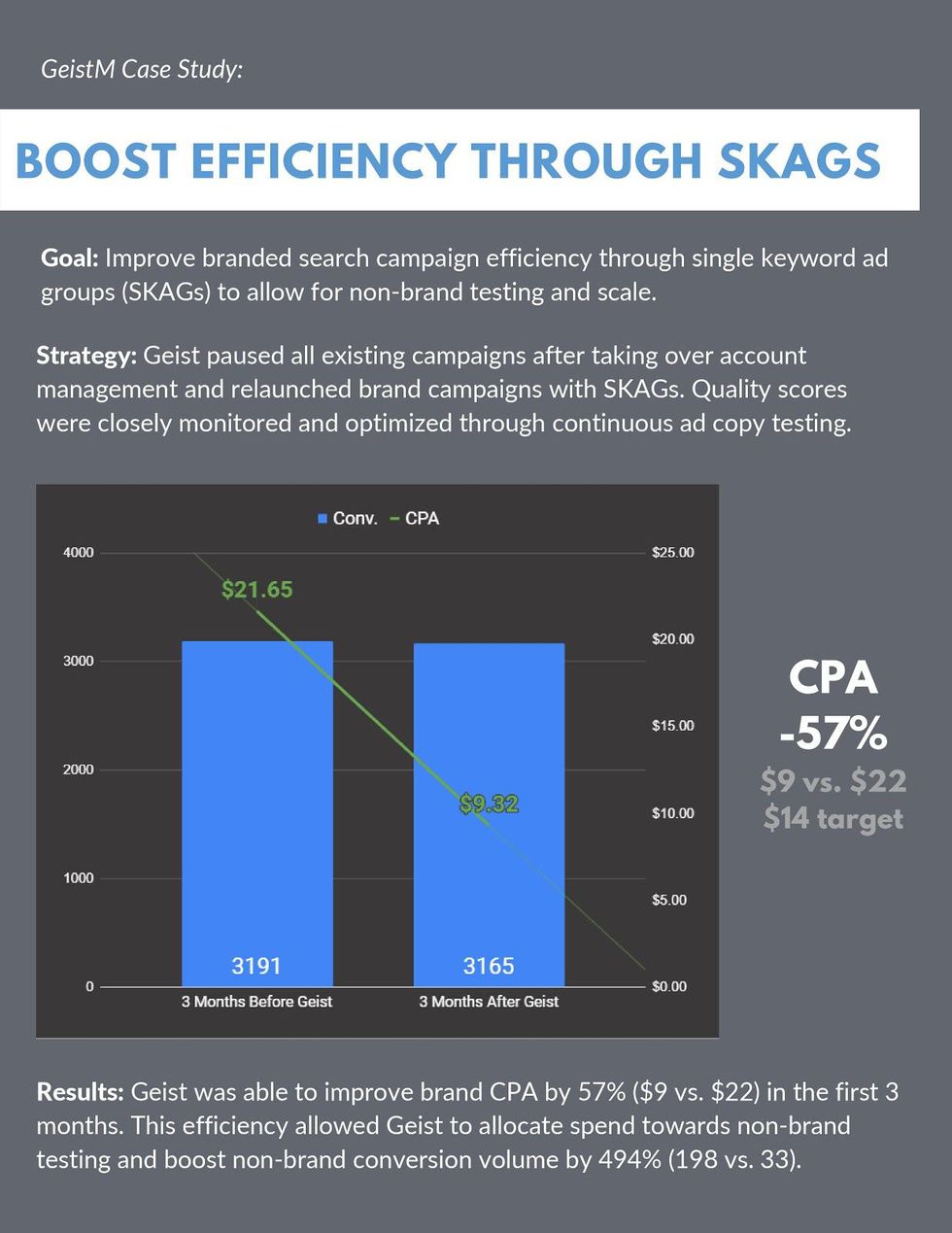 "As a result, they aren't maximizing their ROI on their digital marketing spend."
Rather than sending prospects to a website or a company-hosted landing page, the better approach is to run them through a filter of 3rd party content. This content needs to be carefully calibrated to deliver the company's value propositions and points of differentiation. It must be purpose-built for optimization.

"The advantage of passing prospects through a content filter is that you get the positive benefits of social validation while still maintaining control over the messaging. You're getting educated customers who are truly ready to make a purchase decision after reading your content."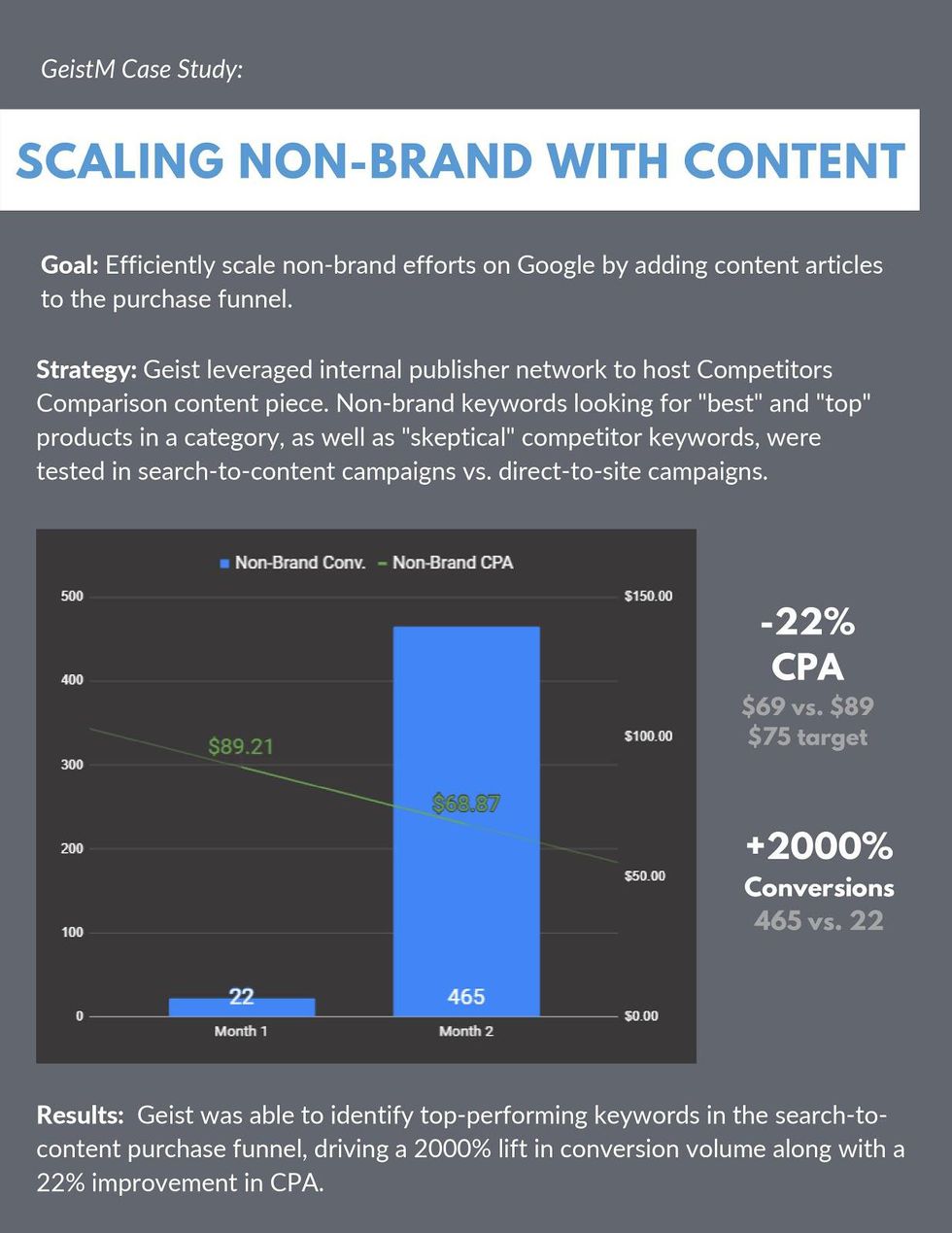 GeistM recently produced another case study showing how the content filter approach within SEM campaigns increased conversions by 2000% while lowering CPAs.

By fusing a modern SEM strategy with high quality, non-branded content, B2B players can stand out from the crowd and escape the "race to the bottom" of price-based competition.
If you're interested in learning more about how GeistM can help your B2B business implement these strategies, visit their website.
Frugal gifting often gets a bad reputation. However, this shopping method does not make you cheap — it makes you practical. Frugal gifts often avoid waste and overspending and can be just as meaningful (if not more so) as any other present.
With the National Retail Federation predicting each consumer this holiday season to spend upwards of $1,000 on holiday gifts amidst an economic recession —this year might be the perfect time to reconsider your spending budget. We've formulated the ultimate list of frugal gift-giving ideas to get you started.
<h2>Baked Goods</h2><p>Cookie exchanges have become a tradition throughout America — so there's no reason gifting homemade food can't also be an acceptable gift during the holidays. Gifting someone with homemade food not only saves you money but, more importantly, shows you took the time and care to make something and that it has the most important ingredient in any recipe: love.<br></p><p><div id="ezoic-pub-ad-placeholder-131" style="width: 100%;"><!-- /10937338/Paypath/post-page-in-content-2 --> <div id="adslot" style="text-align: center;"><script>moreContentIC2()</script></div></div> <!-- End Ezoic - In-Content 2 - long_content --></p><p><strong>Try this: </strong>Fill mason jars with everything needed to make cookies, pancakes, or hot cocoa and decorate with some festive swag.</p><h2>Experiences </h2><p class="shortcode-media shortcode-media-rebelmouse-image"> <a href="https://media4.giphy.com/media/3ofT5LSchACd3OoG4w/giphy.gif?cid=2fb0ca76wlimklz0cl2ibg4x8uxilwk20mpn4g58o59evupx&amp;rid=giphy.gif" target="_blank"><img class="rm-lazyloadable-image rm-shortcode" type="lazy-image" data-runner-src="https://assets.rebelmouse.io/eyJhbGciOiJIUzI1NiIsInR5cCI6IkpXVCJ9.eyJpbWFnZSI6Imh0dHBzOi8vYXNzZXRzLnJibC5tcy8yNDk1ODMwMC9vcmlnaW4uZ2lmIiwiZXhwaXJlc19hdCI6MTY2MjQzNjMzMX0.DzXq6FlFiGy0vs1cQkhoKTRcZ56xJzS5vJ09KXaVIU4/img.gif?width=980" id="d5752" width="480" height="358" data-rm-shortcode-id="90ad2d5dba1269c65328ccb68a9f49fd" data-rm-shortcode-name="rebelmouse-image" alt="Jess and Rory in Gilmore Girls"></a> <small class="image-media media-photo-credit" placeholder="Add Photo Credit..."> <a href="https://giphy.com/gifs/gilmoregirls-netflix-gilmore-girls-3ofT5LSchACd3OoG4w" target="_blank">Giphy</a> </small> </p><p>A few years ago, my aunt gifted my children season passes to our local zoo. It was the best gift I never knew my children were missing. Gifting experiences, rather than material possessions, is a great example of frugal gift-giving. Some examples are season pass admissions to museums or zoos, even tickets, movie passes, and much more.<br></p><p><strong>Try this: </strong>Admission to zoos or museums, event tickets, or movie passes.</p><h2>Donations to Charity</h2><p>A sure-fire way to feel frugal about your spending this holiday season, a charity donation in lieu of gifts is something almost everyone can appreciate. Make it personal by specifying donations to charities near and dear to the gift recipient.</p><p><strong>Try this:</strong> Given the current health environment throughout the country, donating to <a href="https://donate.doctorswithoutborders.org/onetime.cfm" rel="noopener noreferrer" target="_blank">Doctors Without Borders</a>, the nonprofit organization that provides medical aid where it's needed most.</p><p><div id="ezoic-pub-ad-placeholder-133" style="width: 100%;"><!-- /10937338/Paypath/post-page-in-content-3 --> <div id="adslot" style="text-align: center;"><script>moreContentIC3()</script></div></div> <!-- End Ezoic - In-Content 3 - longer_content --></p><h2>Regifting</h2><p class="shortcode-media shortcode-media-rebelmouse-image"> <img class="rm-lazyloadable-image rm-shortcode" type="lazy-image" data-runner-src="https://assets.rebelmouse.io/eyJhbGciOiJIUzI1NiIsInR5cCI6IkpXVCJ9.eyJpbWFnZSI6Imh0dHBzOi8vYXNzZXRzLnJibC5tcy8yNDk1ODMwNi9vcmlnaW4uZ2lmIiwiZXhwaXJlc19hdCI6MTY2ODQ4MjA1OX0.Qmfe4WDJQkklBbHLaSUE-7LYp7nqrb2U6YxHfXhzBsc/img.gif?width=980" id="93d30" width="400" height="299" data-rm-shortcode-id="426cbcdd6c6ceb3d87c480adc4a00bfa" data-rm-shortcode-name="rebelmouse-image" alt="Seinfeld regifter"> </p><p>The regifter has long been given a bad name, such as in the famous <a href="https://m.youtube.com/watch?v=0a0EPfIZsow" target="_blank"><em>Seinfeld</em></a> regifter episode. But there's nothing wrong with passing along something pre-owned that someone else can use.<br></p><p><strong>Try this:</strong> Everyone loves candles, and there is a good chance you have an unburnt candle somewhere in the house.</p><h2>Socks and Underwear</h2><p class="shortcode-media shortcode-media-rebelmouse-image"> <a href="https://media1.giphy.com/media/3ohA2JgygJieWlLOh2/giphy.gif?cid=2fb0ca768s5u84ekgyskenrzch2rl9xq1x826bpi6i1fxyrp&amp;rid=giphy.gif" target="_blank"><img class="rm-lazyloadable-image rm-shortcode" type="lazy-image" data-runner-src="https://assets.rebelmouse.io/eyJhbGciOiJIUzI1NiIsInR5cCI6IkpXVCJ9.eyJpbWFnZSI6Imh0dHBzOi8vYXNzZXRzLnJibC5tcy8yNDk1ODMxNS9vcmlnaW4uZ2lmIiwiZXhwaXJlc19hdCI6MTYxODc3MTMyNn0.pwh5FOUamiRIUneCf5nTZy0tIs3RC6X-bfGOoHNJwlo/img.gif?width=980" id="3a597" width="480" height="270" data-rm-shortcode-id="497789d6f34673d12ee9d79ff6e6f2c4" data-rm-shortcode-name="rebelmouse-image" alt=""></a> <small class="image-media media-photo-credit" placeholder="Add Photo Credit..."> <a href="https://giphy.com/gifs/filmeditor-christmas-movies-a-story-3ohA2JgygJieWlLOh2" target="_blank">Giphy</a> </small> </p><p>It was ingrained in my brain throughout my adolescence that getting socks or underwear for Christmas was the worst possible gift. I have come to realize, however, that these essentials are probably one of my favorite gifts to receive, as it's something I always need and rarely take the time to buy myself.<br></p><p><span></span><strong>Try this:</strong> If you want to impress them with your undergarment shopping abilities, impress them with a new pair of socks or underwear from <a href="https://www.meundies.com/collections/holiday-gift-guide" target="_blank">MeUndies</a>.</p><h2>Subscription</h2><p class="shortcode-media shortcode-media-rebelmouse-image"> <a href="https://media2.giphy.com/media/l2Je8Me69YEv6Qm7m/giphy.gif?cid=2fb0ca76ngvu3v0rtuzxffqouz8jbsdfjhuo9czya3vhi0bt&amp;rid=giphy.gif" target="_blank"><img class="rm-lazyloadable-image rm-shortcode" type="lazy-image" data-runner-src="https://assets.rebelmouse.io/eyJhbGciOiJIUzI1NiIsInR5cCI6IkpXVCJ9.eyJpbWFnZSI6Imh0dHBzOi8vYXNzZXRzLnJibC5tcy8yNDk1ODM0Ni9vcmlnaW4uZ2lmIiwiZXhwaXJlc19hdCI6MTY2NDI4ODQxM30.il3VG1r3M4qoWBTK4KqzA_p0Y6MDat2zUP61_FrukuY/img.gif?width=980" id="085f1" width="480" height="362" data-rm-shortcode-id="53fbba5b28dcf27be11f93189a09e48b" data-rm-shortcode-name="rebelmouse-image" alt="the simpsons"></a> <small class="image-media media-photo-credit" placeholder="Add Photo Credit..."> <a href="https://giphy.com/gifs/season-14-the-simpsons-14x10-l2Je8Me69YEv6Qm7m" target="_blank">Giphy</a> </small> </p><p>The gift that keeps on giving, a subscription gift is something to be enjoyed long after Christmas. From books and magazines to streaming subscriptions, it's easy to find a subscription service tailored perfectly for every person on your list.<br></p><p><strong>Try this:</strong> For the coffee lover, try a subscription to <a href="https://www.drinktrade.com/subscribe?clickid=W87TxOzB3xyLW-iwUx0Mo385UkE1aSRZ2xraT40&amp;irgwc=1&amp;utm_medium=affiliate&amp;utm_campaign=New%20York%20Media&amp;sharedid=&amp;adid=571223&amp;gwlurl=https%3A%2F%2Fwww.drinktrade.com%2Fsubscribe%3Fclickid%3DW87TxOzB3xyLW-iwUx0Mo385UkE1aSRZ2xraT40%26irgwc%3D1%26utm_medium%3Daffiliate%26utm_campaign%3DNew%2520York%2520Media%26sharedid%3D%26adid%3D571223&amp;iradname=Online%20Tracking%20Link&amp;irmpname=New%20York%20Media&amp;irmptype=mediapartner" target="_blank">Trade Coffee</a>.</p><h2>Grocery Store Gift Card</h2><p class="shortcode-media shortcode-media-rebelmouse-image"> <a href="https://media2.giphy.com/media/3oEjHVJtaC1T1w4Be8/giphy.gif?cid=2fb0ca76x42jcinf6xp2vfdo8t52ct2e1fkbkvtuixtfcmt7&amp;rid=giphy.gif" target="_blank"><img class="rm-lazyloadable-image rm-shortcode" type="lazy-image" data-runner-src="https://assets.rebelmouse.io/eyJhbGciOiJIUzI1NiIsInR5cCI6IkpXVCJ9.eyJpbWFnZSI6Imh0dHBzOi8vYXNzZXRzLnJibC5tcy8yNDk1ODM2Mi9vcmlnaW4uZ2lmIiwiZXhwaXJlc19hdCI6MTY1NTU3NTIwOX0.cMdeCxX3AWd1_WhE-JJD1dT9NT2i8fazSmTkXJp9pIs/img.gif?width=980" id="ca237" width="480" height="343" data-rm-shortcode-id="2a8785c97dfa785c4d5f4549adca27f8" data-rm-shortcode-name="rebelmouse-image"></a> <small class="image-media media-photo-credit" placeholder="Add Photo Credit..."> <a href="https://giphy.com/gifs/michaelbruno-music-video-justin-timberlake-cantstopthefeeling-3oEjHVJtaC1T1w4Be8" target="_blank">Giphy</a> </small> </p><p>No one has ever been mad about receiving a grocery store gift card for a present. To save money, check local grocery stores that might have gift card specials.<br></p><h2>Gift Your Time</h2><p class="shortcode-media shortcode-media-rebelmouse-image"> <a href="https://media3.giphy.com/media/lz0fR8nwQfbq/giphy.gif?cid=2fb0ca767izsga83iyvjeicfxj8ovtkkcafcbcm8ac98hyx7&amp;rid=giphy.gif" target="_blank"><img class="rm-lazyloadable-image rm-shortcode" type="lazy-image" data-runner-src="https://assets.rebelmouse.io/eyJhbGciOiJIUzI1NiIsInR5cCI6IkpXVCJ9.eyJpbWFnZSI6Imh0dHBzOi8vYXNzZXRzLnJibC5tcy8yNDk1ODM2Ni9vcmlnaW4uZ2lmIiwiZXhwaXJlc19hdCI6MTYzODM5OTQ0Nn0.Qmst7orgx0jNvSgx5W_2kI3vfAUbCQ0nlyo-FSM5mAk/img.gif?width=980" id="7cc01" width="245" height="245" data-rm-shortcode-id="30da26e31f0c016220804e72c99eeeb3" data-rm-shortcode-name="rebelmouse-image" alt="tyrrian"></a> <small class="image-media media-photo-credit" placeholder="Add Photo Credit..."> <a href="https://giphy.com/gifs/daenerys-targaryen-tyrion-lannister-stormborn-lz0fR8nwQfbq" target="_blank">Giphy</a> </small> </p><p>As <a href="https://www.fi.edu/benjamin-franklin/famous-quotes" target="_blank">Benjamin Franklin</a> put it in 1747, "Lost time is never found again." Since our time is such a valuable gift, it is the perfect way to show your friends and family you care.<br></p><p><strong>Try this:</strong> For the friend that cooks dinner for the family every night, give them a voucher to make them a full course meal so they get a break one night.</p><h2>Gifts from the Garden</h2><p class="shortcode-media shortcode-media-rebelmouse-image"> <a href="https://media2.giphy.com/media/3oz8y07ua4tO49cr3G/giphy.gif?cid=2fb0ca762xu8e7dyit8reowfyysa1cepthdmufyb8c5a6sfj&amp;rid=giphy.gif" target="_blank"><img class="rm-lazyloadable-image rm-shortcode" type="lazy-image" data-runner-src="https://assets.rebelmouse.io/eyJhbGciOiJIUzI1NiIsInR5cCI6IkpXVCJ9.eyJpbWFnZSI6Imh0dHBzOi8vYXNzZXRzLnJibC5tcy8yNDk1ODM3NC9vcmlnaW4uZ2lmIiwiZXhwaXJlc19hdCI6MTY3NDUyNzE4MH0.Vqg00AEwPdJCRQtF8k2jdwOCnCkItq9SustwAwRY1-I/img.gif?width=980" id="1c21c" width="636" height="358" data-rm-shortcode-id="e8fcd91c8574d45a2f8b0da6b8815a24" data-rm-shortcode-name="rebelmouse-image" alt="Bob's Burgers"></a> <small class="image-media media-photo-credit" placeholder="Add Photo Credit..."> <a href="https://giphy.com/gifs/bobs-burgers-dance-dancing-3oz8y07ua4tO49cr3G" target="_blank">Giphy</a> </small> </p><p>As people spend more time at home this year, more people are turning to gardening from home, and there's no better time to turn your outdoor garden or plants from the store into a frugal gift this holiday season.<br></p><p><strong>Try this:</strong> These <a href="https://www.notjustahousewife.net/mason-jar-wall-planter/" target="_blank">mason jar wall planters</a> are perfect for the DIY enthusiast to recreate and would look amazing on a kitchen wall holding cooking herbs.</p>