Trip Advisor
As much as living in major U.S. cities is glorified in TV and film, the reality can be untenable for most American families. Depending on on one's marital status, health care, child care, transportation, and needs for every day sustenance, some cities are twice as expensive as others just to satisfy basic living necessities. Experts used MIT's living wage calculator to assess the minimum income required to live in these 10 major cities. The calculations are based on a family of two adults and one child, and they don't include any leftover funds for dining out at restaurants, taking vacations, or adding to savings. Additionally, banking experts used the 50-30-20 rule (50% necessities, 20% savings, 30% disposable income) to assess what incomes are necessary to live comfortably in these major cities, including perks like dining out and putting money aside for the future.
1. New York
Living wage: $67,817
Living comfortably: $99,667
The Big Apple certainly has one of the highest rents in the country, averaging $2,295 a month. Groceries and healthcare also contribute to a high cost of living.
2. Los Angeles
Living wage: $65,963
Living comfortably: $87,260
With rent averaging $2,050 a month, property costs consistently present a challenge for affordable living. There's currently a $51,538 difference between median income and what's needed to I've comfortably.
3. Chicago
Living wage $59,215
Living comfortably: $76,086
Chicago's sprawling public transit system gives the city the second-lowest transportation costs among the 50 most populated cities in the U.S.
4. Boston
Living wage: $55,777
Living comfortably: $88,967
With rent averaging $2,100 a month, property and food costs are especially high in Boston. However, the city has one of the lowest annual transportation costs.
5. Atlanta
Living wage: $50,049
Living comfortably: $76,049
Atlanta's recent tech boom is also driving up costs of living. Unfortunately, this means there's about a $26,651 difference between median household income and the minimum salary to "live comfortably."
6. Philadelphia
Living wage: $55,600
Live comfortably: $73,005
Housing is the most expensive aspect of living in Philadelphia, with the median cost of a home averaging $147,000.
7. Denver
Living wage: $56,258
Live comfortably: $77,562
Not too long ago Denver was considered the fastest growing city in the U.S, which drove the cost of living higher. Now the difference between median income and a comfortable salary is still over $20,000.
8. Austin
Living wage: $54,638
Live comfortably: $73,163
Between 2017 and 2018, Austin's booming popularity sparked a large spike in cost of living. Transportation costs and healthcare are particularly expensive.
9. San Francisco
Living wage: $78,386
Live comfortably: $123,268
Out of the 50 most populated U.S. cities, San Francisco is the most expensive. With an average cost of $3,300 per month for rent, that's almost $40,000 a year for property alone.
10. Portland
Living wage: $58,423
Live comfortably: $79,397
After a recent explosion in popularity, the cost of living in Portland has risen with higher rent and property costs. Additionally, transportation is particularly expensive to get around the sprawling city.
When you're contemplating re-locating or settling down for the first time, the cost of living you should budget for can vary wildly depending on your family size, your vocation, and your needs. Consider your health care costs, means of transportation, and whether you plan to rent or own before you commit to a new city.
Consolidated Credit
Sometimes your spending spirals out of control. Once you realize that you've lost control of your debt, you need a plan of action to get your finances back on track. No matter what situation you're in, the relief of a debt-free life is a feasible goal. Take these simple steps to assess and then improve your personal finances.
Be Realistic
If you've been burying your head in the sand, it's time to face facts. "A lot of people will say they've got a certain amount of debt — $9,000, let's say — when in reality, it's $11,000 or $14,000," Cate Williams, Vice President of Financial Literacy for Money Management International, told CreditCards.com. She's right, of course; it's impossible to hit your target if you don't know what you're aiming for.
Action step: Write down your debts, including the interest rate, on every card you have.
Pick Up the Phone
Speaking of those interest rates, getting them lowered can be as simple as picking up the phone. Get on the horn, as they say, and ask nicely. Even a reduction by a point or two can earn you big savings.
Action step: Here's a script for exactly what to stay on the phone with credit card customer service.
Pick Your Strategy
Paying off credit card debt is not a game of chance. You'll need a strategy to lessen the financial burden you're carrying month to month. What are your options? Think of snow:
The Avalanche Method: You pay off your highest interest card first, erasing your debt as quickly and efficiently as possible. With this method, you'll save hundreds or even thousands on interest charges in the long run. The downside is that it's arguably the most painful to execute. Action step: Make minimum payments on all of your cards except the one with the highest APR. For the card account with the highest APR, pay as much as you can afford. When that card is paid off, apply that same amount to the card with the next highest interest rate.
The Snowball Method: What the avalanche saves you in money, the snowball saves you in morale. What this method offers is a psychological advantage. If paying off the smallest balance first will give you the confidence and headwind to carry out your debt payments, then this method may be for you. Action step: Make the minimum payments on all your accounts except the one with the smallest balance. For the card with the lowest balance, pay as much as you can afford. When that card is down to zero, repeat the process by paying the same amount to the card with the next-lowest balance.
The Blizzard Method: You combine the best of both strategies by paying off the smallest balance first and then moving on to wipe out the highest-interest balance next. Combine the best of both, and you've got a blizzard.
"The avalanche saves the most money, but some folks prefer a quick win with the snowball method," Beverly Harzog, author of The Debt Escape Plan, tells Credit Karma. "The blizzard combines both — you get the emotional boost and then you can save money by using the avalanche."
Transfer Your Debt to a 0% Interest Card
You may be able to tackle your debt with no interest at all by transferring a high-interest debt to a single card using a balance transfer. Many balance transfer cards allow you to pay 0 percent interest on your balance for a set amount of time, allowing you to pay more toward your principal and reduce the overall amount of time it'll take you to wipe out your debt.
Action step: Check out NerdWallet to see what the current best cards are.
Make a Budget
You need to figure out where your money is going — aka how you got into debt in the first place. Harzog, who paid off more than $20,000 of her credit card debt, says it takes persistence, self-discipline, and "a darned good budget."
Action step: Sign up for Mint.com or You Need a Budget to help you assess your spending and set up a plan.
Cut Back
Remember the cabbage soup diet? Remember how after three days you were ready to scarf a large supreme pizza? The same principle is at play with living on a budget and paying down debts. An extreme strategy with zero flexibility could quickly activate your desire to rebel and spend more than you can afford, putting you right back where you started.
"Cutting back can be more effective than cutting out," Gail Cunningham, the former spokeswoman for the National Foundation for Credit Counseling, told CreditCards.com. "It's hard to adjust your lifestyle too dramatically, and often, little adjustments can add up to big savings."
Instead of making a No Dining Out rule, limit restaurant visits to once per week and cap your drinks at two. Instead of cutting the cable cord altogether, cut out the premium channels; don't go without heat, but try lowering the thermostat by a degree or two.
Action step: Write down three ways you can cut back on some of your splurges and downgrade or cancel some of your services starting today.
Put Your Credit Cards on Ice
We mean that literally. Put your credit cards in a cup or bowl of water and place it in the freezer. You'll still have the card(s) for emergencies, but they won't be in your wallet. Clear any stored credit card data off your computer, too.
Have a Smart Social Life
Derek Sall paid off $116,000 worth of debt before age 30 when he stopped trying to keep up with his friends, especially the luxury-filled highlight reel social media versions of their lives.
"The best tip I can give is just live your own life," Sall told CNBC. "The best way to just live simply and be content is just to turn it all off and hardly pay attention to it at all. Because that's what gets people in the most trouble. They see 'Oh, my friend went on this great vacation, and I wish we could do that!'"
Action step: If you need a digital social media detox to limit the visual envy and distractions, delete the apps off your phone.
Stay Focused
Remember why you're doing this. Will paying off your credit card debt allow you to save for a down payment on a house or stop panicking when you open the mailbox?
Action plan: Write your goals down and tack them to the fridge or bathroom mirror. Put a picture in your wallet of your dream house or something that represents financial peace to you. Join a money-saving community on Facebook or post regularly to forums where you can vent, be motivated, and remember you're not the only one in your position.
Keep Healthy Financial Habits
As you pay off your debts, think about healthy spending and saving habits. In particular, practice differentiating between wants and needs. Food and shelter are needs; bills and emergency funds are, too.
But wants are those ads you see on Instagram, a $14 French martini, a new spring blouse. When it comes to spending, make sure your needs are taking precedence over your wants.
Action step: You made that budget. Stick to it.
"Staying out of debt isn't a big mystery," Regina Blackwell, a certified budget counselor at credit counseling service Transformance, tells Credit Karma. "Account for your money. Live within your means. Don't spend what you don't have. After becoming debt-free, apply the lessons you've learned and work toward the establishment of healthy financial habits."
"I'm living so far beyond my income," wrote e.e. cummings, "that we may almost be said to be living apart."
If you find yourself in a similar financial predicament, it's likely time to stop making poetic quips and take a hard look at your financial reality. Is it time to ask for help? Asking for money from friends and family can be a dicey proposition, but if it's the difference between you and the poorhouse, it's time to put your pride aside and ask for help. How do you do it? Take our best advice.
Step 1: Get Real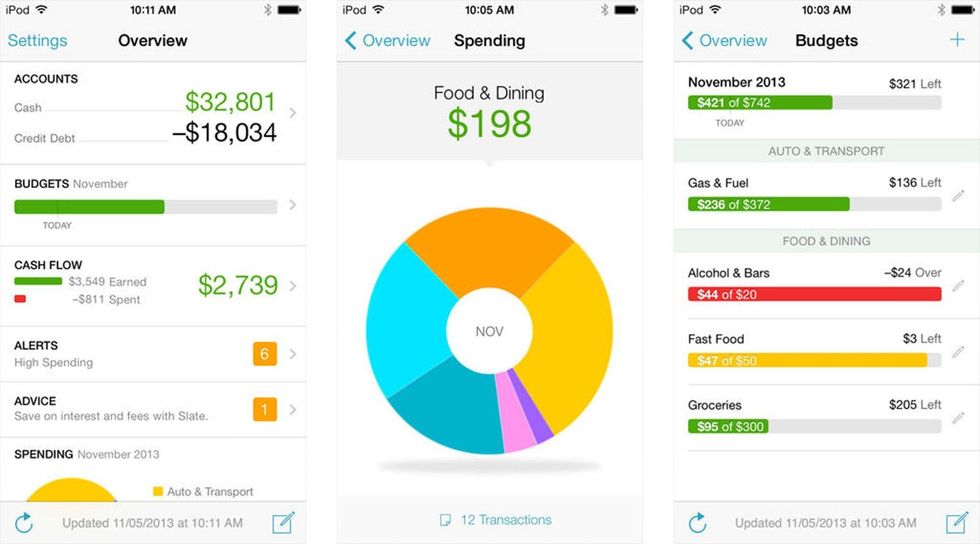 The Mint appYalantis
"You can't ask for help when you're still going out on weekends and blowing a couple hundred bucks on cocktails and breakfast," writes Puckermob. "You have to go through your expenses with a fine tooth comb and see where you can really be saving and what's just nonsense."

Weekend warrior fun might be the tip of the iceberg. Are you spending $9.99 per month on apps you don't use? Do you subscribe to magazines that hit the recycling bin before your bedside table? When's the last time you actually went to the gym that costs $89 a month?
A site like Mint can help you see trends in your spending, where you're overspending, and where to cut back. It can be tempting to stick your head in the sand, but when it comes to finances, knowledge is power; being more aware can help you set a budget you can stick to.
Financial responsibility is not just about slashing costs. Can you make more money by driving Lyft after work or asking for a raise?
"Before you ask for a loan, make sure you've already taken positive steps towards improving your finances," advises Consumerism Commentary. "You aren't ready to take the responsibility of a loan from a friend or relative before improving your financial situation."
Step 2: If You Need Help, Don't Wait
"It is easier to admit that you need help than it is to deal with the consequences of being too prideful and allowing a situation to get too far out of hand," writes Eric Nisall. "The worst time to accept the fact that you need assistance is when it is too late."
Don't wait until the bank has started foreclosure proceedings and your bank accounts are so empty that they're incurring overdraft fees upon overdraft fees.
Step 3: Ask the Right Person
Ask someone who has money to give and isn't in a financially perilous position themselves. If they're retired and on a fixed budget, out of a job, or dealing with stacks of their own bills to contend with, your request may seem inconsiderate and tone deaf.
Step 4: Come Prepared
Create a document that shows how exactly how much money you need and what it will go toward. Not only will this demonstrate your competence and responsibility, it will help give the person you're asking a clear vision of what this money is for.
Step 5: Come Up With the Terms for Repayment
If you were to approach a bank or financial institution for a loan, terms of repayment would be outlined out the outset. Give your friend or family member the same clear-cut vision for how they'll get their money back. How long will it take you to pay back the loan? How often will you send them payments? Even small payments, made regularly, will establish trust.
Step 6: Pay Interest
This offer demonstrates that you're not just casually hitting someone up for cash because you can. By offering to pay interest, you're not only showing your responsibility, you're also expressing a form of respect. "Hey," your offer says. "I know you could be racking up compound interest on this money, but you're helping me out instead. Thanks." Insist on paying interest at the minimum rate they'd be able to earn from a high-yield savings account, about 2 percent.
Step 7: Put It All In Writing
Promissory note templates designed specifically for loaning money to family and friends are available online. Putting the agreement in writing is another way to make the loan official and not just some loosey goosey handshake agreement.
Step 8: Pay the Loan Off Early
If your financial situation improves sooner than anticipated, pay the loan off early. "It will be a nice surprise, and on the personal relationship side, it might win you back 'points' you may have lost," says Consumerism Commentary. "At the very least it shows that you are not only a man or woman of your word, but you make extraordinary efforts not only to meet your obligations but outperform."
From Your Site Articles
Related Articles Around the Web