There's an unfortunate trend nowadays where people who don't really have the luxury of excess money spend what they do have on things they don't need. This isn't completely the fault of those people; saving is hard. If you believe your money isn't really working for you, there are a few things you should reexamine. Here are some of the common things people spend too much money on.
Groceries
As an unavoidable part of living, many people don't put too much thought into how much they spend on groceries. If you're strapped for cash, you shouldn't frequent the more expensive grocery stores. Instead, try to focus on buying in bulk. While this may seem more expensive in the moment, the long-run savings you'll make by buying in bulk will actually end up saving you money.
Clothing
If you're always buying brand-new clothes from department stores, you are not working with your clothing budget at all. There are plenty of secondhand and thrift stores that you can get clothes from, often the same quality at much better prices. You don't have to give up your shopping trips, you just need to adjust where you're buying from.
Eating Out
Many of us treat going out to eat as the norm for most of our meals. However, you should try to rethink this. Takeout and delivery are great, but restaurants charge extra for the convenience that they bring to the table. To go along with buying in bulk as we said above, flex your cooking muscles a few more times a week and you'll have much more money in your pocket.
Gym Memberships
There's nothing wrong with paying for a gym membership, as getting equipment for your home can also be cost prohibitive. However, there are different levels of gym memberships. If you are subscribed to a gym that offers saunas, massages, hot tubs, and steam rooms but never use those services, you are letting your money slip away with every month that goes by.
Coffee
You can't talk about things people spend too much money on without mentioning coffee. If you are someone that gets coffee on your way to work every day, you are flushing money down the drain. Unless you're just desperate for a sugar high, buying and making coffee at home is a much more cost-effective way to get your early morning caffeine.
Cable Television
Let's face it, when was the last time you really watched cable television? If you're like many, you're much more focused on streaming services for your viewing pleasures. Don't pay for something you never use. Drop the cable subscription and you probably won't even notice it being gone, but your wallet probably will.
<
"Mad Max: Fury Road" (2015)
Millennials are constantly being scolded and lectured by baby boomers who think that we don't know anything about finances. According to them, all our economic troubles are our own fault. They say that we don't believe in saving money for the future and that if we would just stick to a budget—cut out coffee shops and bars and stop wasting our paychecks on trendy, over-priced fixed-gear bikes—we could all own our own homes and begin planting some metaphorical seeds for a stable and secure retirement.
What these know-it-alls don't seem to realize is that, while we do believe in the concept of saving, our belief in anything like a "stable and secure" future has been strangled out of us by decades of inaction on climate change and the looming apocalypse it has brought on. None of their advice is even relevant to the meager subsistence that the lucky among us will manage once the world is reduced to a charred husk of human progress. That's not to say that "saving" isn't still important. If you do intend to be one of the survivors, here are some tips that might help you prepare your finances!
Do you ever look at your credit card statement and laugh at how often you spend money at the same four or five places? I definitely do. I have my favorite spots that are part of my daily routine and I'm always trying to think of ways to make my money go further, but I'm not willing to give up those purchases that are a normal part of my week. So rather than skip my morning coffee to save a buck, I use Drop.
Drop is an app that lets you earn points when you shop at your favorite stores. All you have to do is link your credit or debit card. Once you sync with Drop, you then select your five favorite stores. Then, any time you use your card at one of those five stores, you earn points that can be redeemed in the form of gift cards. It's literally that simple.
For me, there were almost too many options to choose from when selecting my five stores. There was Dunkin' Donuts, which was a no brainer since I need my coffee every day. Then there was Uber, which I always end up taking even when it's not in my budget. And of course I had to include Seamless, because I'm never in the mood to cook when I get home from work. To round it out, I chose Chipotle, my go-to lunch spot, and Target, which is where I go for everything else.
All I had to do to start earning points was go about my normal life and I saw the points start to roll in with each purchase. I knew I was spending a good amount of money at those five stores, but I had no idea how easy it would be to start getting rewards points. And if I want to earn even more points, Drop is constantly sending me additional offers from other brands that I love, like BirchBox and Boxed.com, so I don't just have to rely on my five main stores. Since I started with Drop two months ago, I've already used 10,000 points to get a $10 gift card at Amazon. It's that easy!
With Drop, I see all the deals available to me in the app and I can keep track of them in one convenient location. I've been trying to tell as many of my friends as possible to try Drop because there's zero downside and it takes almost no effort at all to earn points. I can't imagine I'll ever stop using it. It's literally the easiest way I've ever earned rewards points. I even get offers for new deals to earn more points at other places like Amazon and Barnes & Noble. Since signing up with Drop, I know I'm getting getting the best bang for my buck.
This content was brought to you by GeistM: Performance Driven Marketing At Scale. To learn more about GeistM and how we can power your content marketing strategy, follow this link and give us a shout. We're friendly and we're social!
thepioneerwoman.com
We've all been there. Mid-afternoon hits and we are ready to hit the sack. That post-lunch laziness sets in but there are still hours of work left. Many folks reach for a cuppa Joe, and that caffeine kick does the trick. The rest of the day is manageable thanks to that much-needed pep. But what if coffee isn't your thing? Slug it down, or find something that tempts your taste buds as it provides that energy surge to get your engine running? The latter seems logical, so here are some coffee alternatives that will get you over that mid-day slump, leaving you super-sharp and alert.
Coconut Water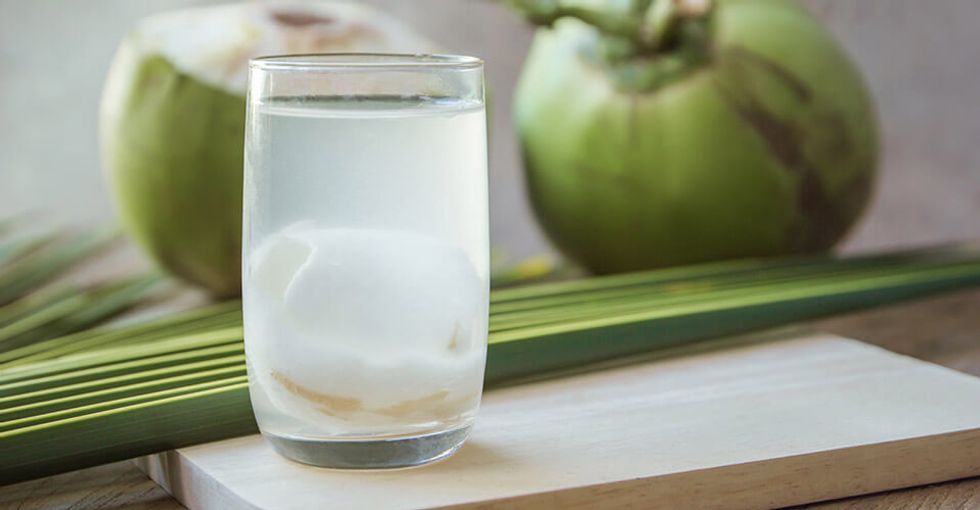 paleodojo.com
Refreshing and slightly sweet, nature's coconut water is a pleasing pick-me-up that is natural and light. One reason you may feel tired mid-day can be due to dehydration. According to WebMD, coconut water is, "super-hydrating, with more potassium than four bananas." It is low in sugar, so you will not suffer that spike and crash like you might with super-sugary sodas and juice drinks.
Trueself recommends drinking coconut water straight up or making a tasty coconut water-based smoothie. "Mix 1 cup of coconut water with 1 cup of berries and ½ banana. Top with coconut flakes." Make one at home before work and keep it in the office fridge for when you feel that slump surfacing. A few sips and you're good to go 'till closing time.
Matcha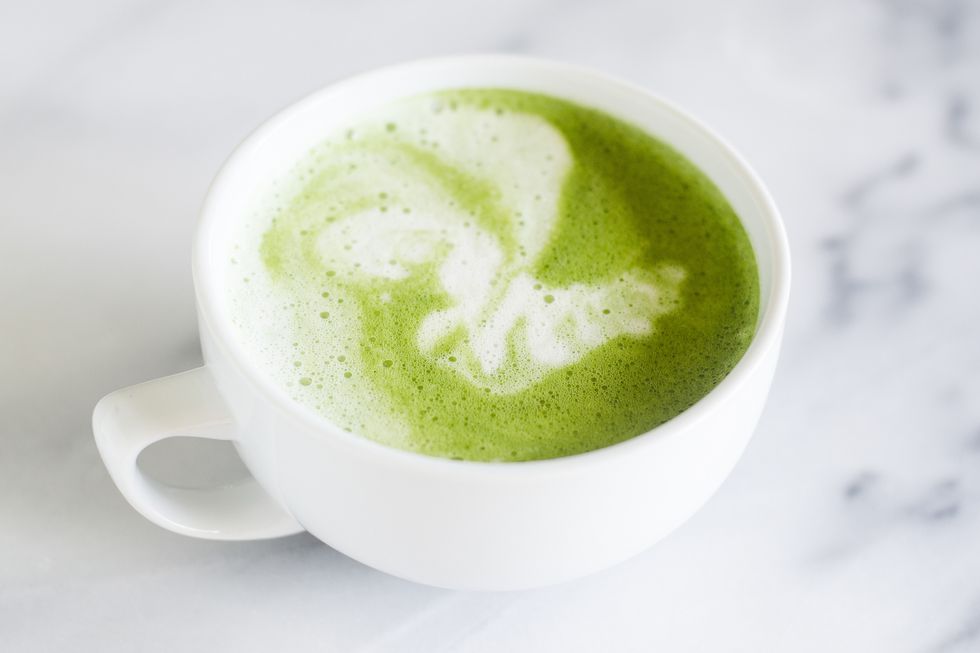 thepioneerwoman.com
Withmatcha, mid-day slumps have met their match. Go for the green stuff and you'll be on "go" until it's time to go home. According to Dr. Axe, "Matcha is an excellent alternative to coffee. A two-gram serving contains enough caffeine to give you an energy boost and is delivered slowly to your body over a period of 6-8 hours." No jitters, only steady and reliable energy to make every workday moment count. Sip some throughout the day and you will never be sidelined by a sudden slump.
What makes matcha so magical? As Trueself explains, "Matcha contains L-Theanine, an amino acid that stimulates alpha brain waves, and the EGCg content revs up your metabolism."
Maca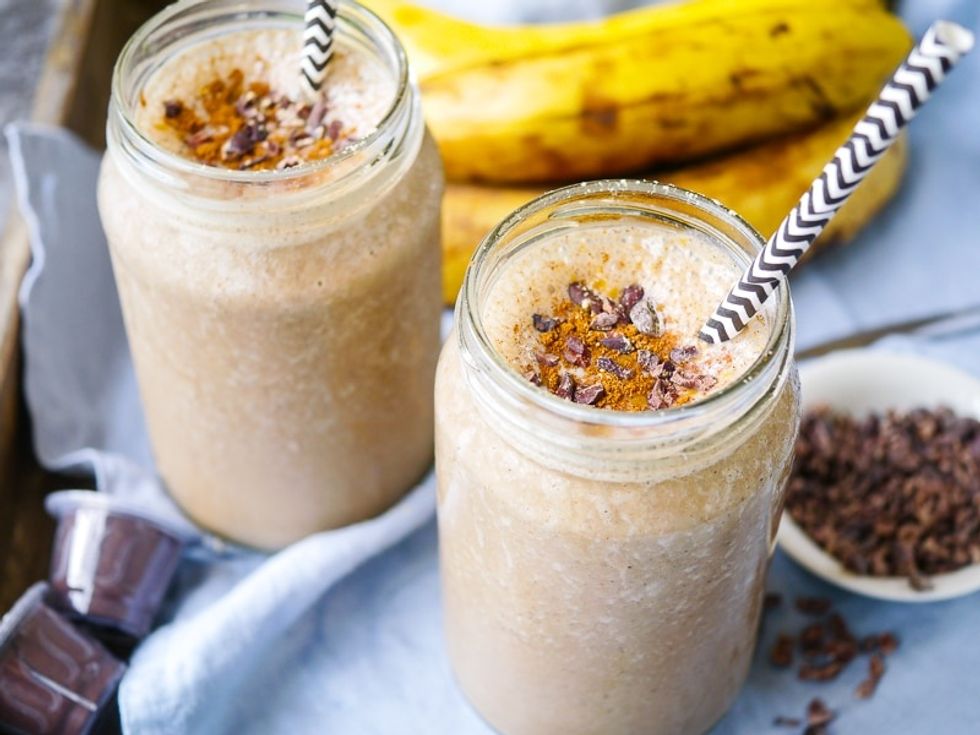 nourisheveryday.com
Maca is amazing when it comes to giving you a boost without the buzz. Livestrongexplains that maca root offsets the symptoms of adrenal fatigue, which "causes the adrenal glands to slow down and function at a less than optimal rate, causing extreme tiredness and a general feeling of malaise. Maca can be found as a whole food, powder, liquid, tablet, or capsule." It is versatile and proven effective.
As per Trueself, maca tastes buttery and nutty, making it a nice addition to a simple smoothie. Whip one up in the morning and let maca's magic keep you energized and on-the-ball from sunrise to sunset. Check out this easy-to-make maca milkshake recipe courtesy of Trueself, made with milk, fruit, cashew butter, and maca powder. An energy-boosting blend.
Apples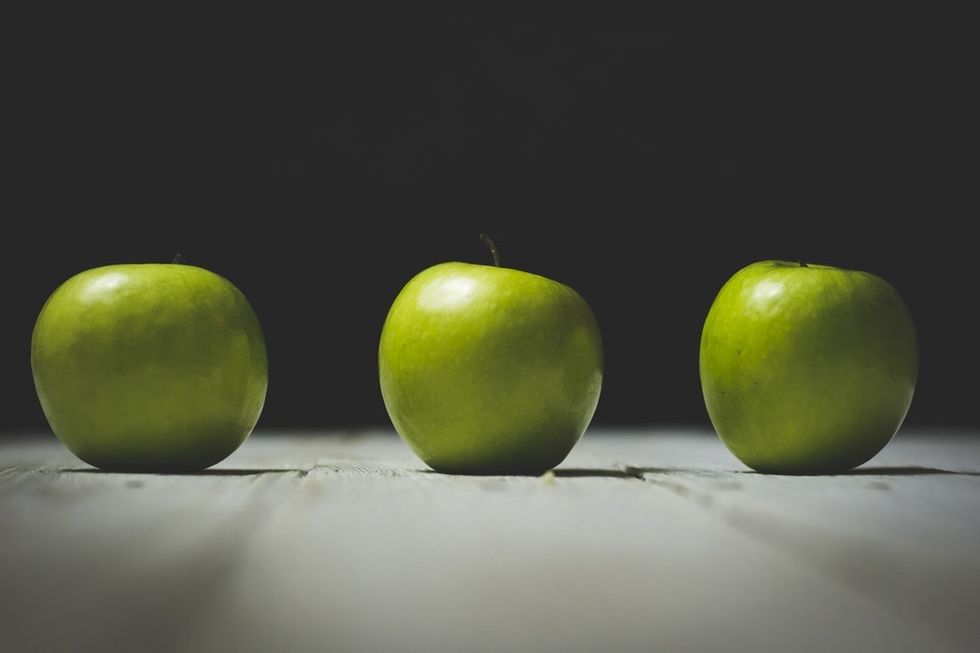 unsplash.com
An apple a day keeps the doctor away, but did you know it keeps Mr. Sandman at bay too? According to Shape, "A simple apple is a great energy-boosting, mid-afternoon snack. Full of vitamin C, fiber, and complex carbohydrates, an apple can deliver a boost of energy and stabilize blood sugar."
As Stemiltsimply explains, "You don't need expensive supplements or drinks for energy. It you're perpetually dragging, get more sleep and eat healthy, fresh food." The crisp and juicy snack is portable and delicious. And remember to stick to the whole fruit rather than juice which can have lots of added sugar that will bring you down as fast as you spiked.
Dark Chocolate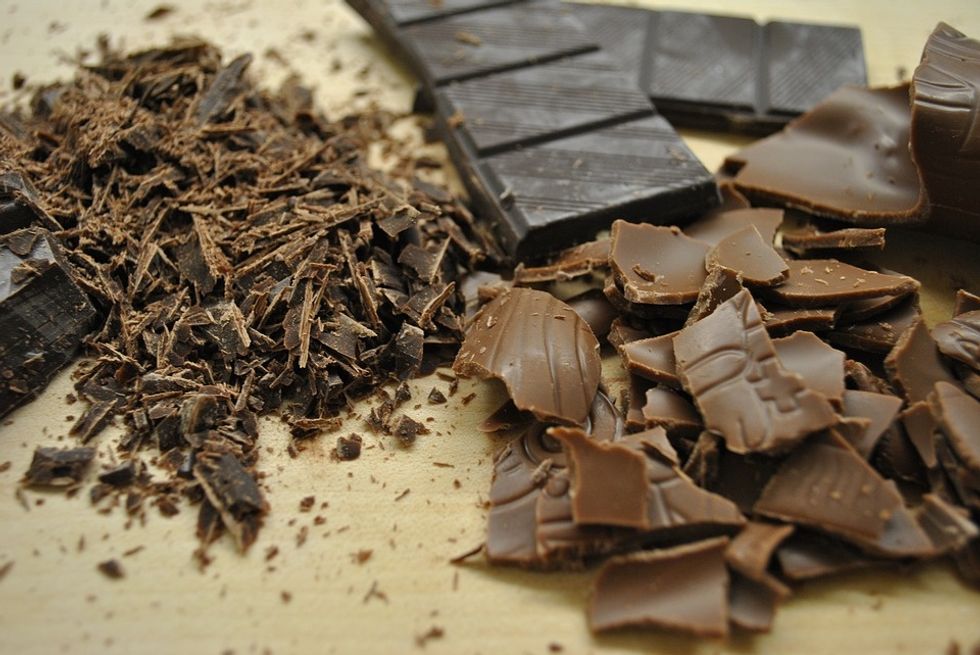 pixabay.com
Chocolate, you had us at hello. But aside from dark chocolate's decadent taste, it can be a nice mid-day slump stumper too. As long as you keep your portion size in check, you will avoid over-indulging yet get the pick me up you are after.
According to The Hearty Soul, "It contains antioxidants that will give you energy. Make sure that it's dark chocolate, as milk chocolate contains added sugars which may give you an initial feeling of more energy, but will result in a crash in all likelihood, with a net result of feeling more depleted than before you ate it."
For even more snacks with a caffeine kick, check out five recommended by Topdust. From peanut butter to popcorn, these caffeine-infused treats are unique and energizing.
When you're not crazy for coffee, energize with an alternative.