If you're late to the party, here's your 10-second summary of Pokémon GO: app-users search for Pokémon superimposed over real maps and locations, hoping to catch 'em all. It's rocking the nation, and the world.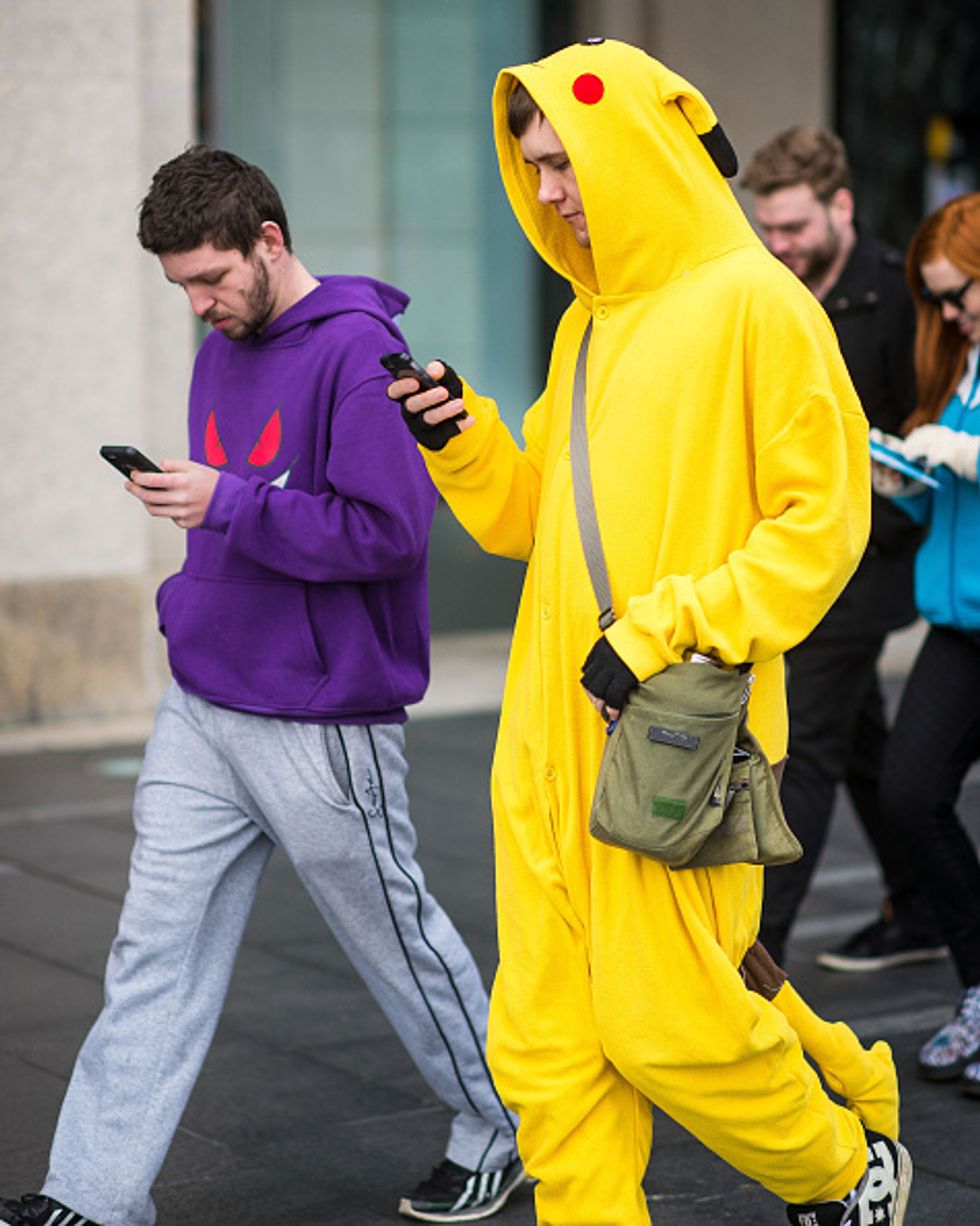 And businesses are saying, where there's Pokémon, there's money. The app itself is free, but that doesn't mean there's no profit to be made. Since the launch of the app earlier this month, it has outperformed Twitter, Tinder, and even internet searches for adult entertainment. People have been taken aback when large groups of Pokémon GO-ers have ambushed their houses, or run by in a stampede to capture a rare Pokémon. But some businesses see its popularity as an opportunity to lure customers by turning their stores into PokéStops. Here's how.
According to The New York Times, not only does Pokémon GO give players the chance to buy virtual items to be on the fast-track to catch 'em all, but, "by charging fast-food restaurants, coffee shops and other retail establishments to become sponsored locations where people are motivated to go to pick up virtual loot," Niantic is making Pokémon good for all.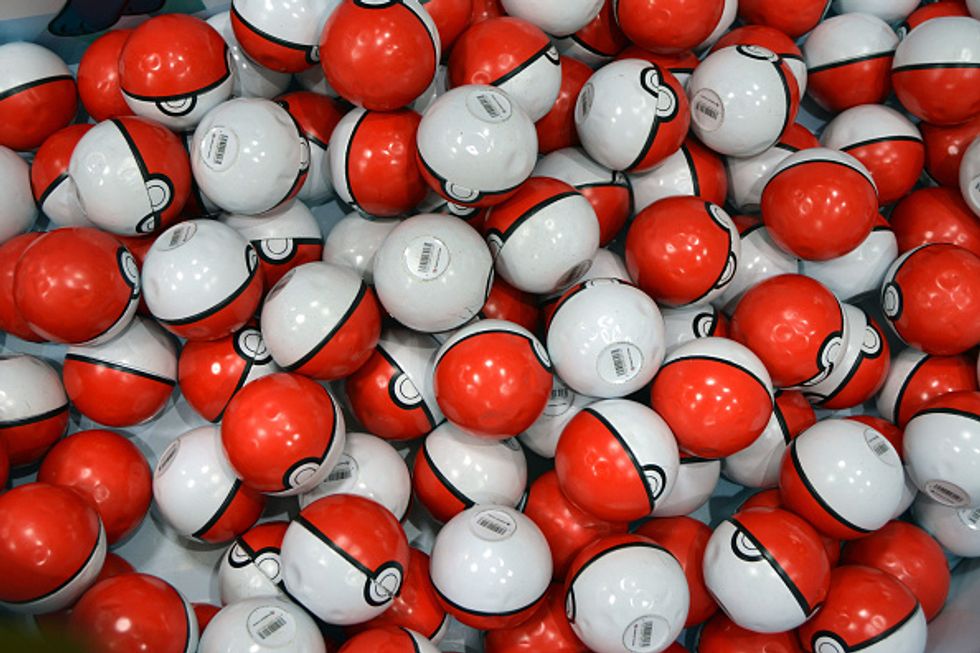 But this isn't the first time a virtual reality game is pumping the economy. Niantic's predecessor, Ingress was designed with the same principle in mind -- to let businesses sponsor the game and barter for traffic.
Restaurants and stores are also initiating new marketing campaigns to target Pokémon GO users. The popular chain restaurant Applebee's, for example, tried to lure in customers by retweeting photos of their customers catching Pokémon while dining.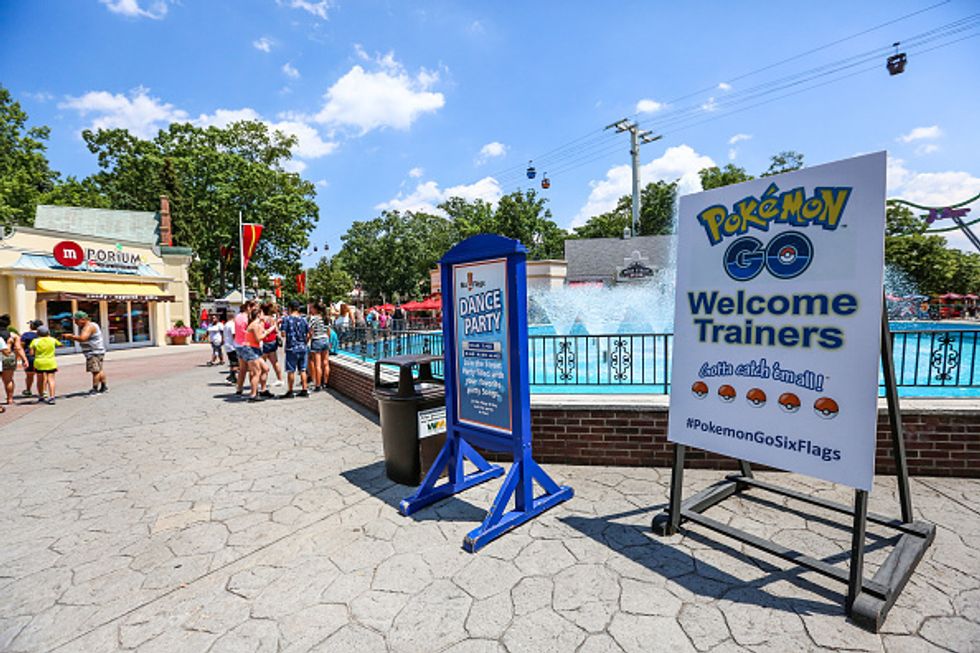 Companies are also using "lure modules" to trap potential customers. It's a feature of the game that can be set by location to attract Pokémon. (And where there are Pokémon, there will soon be people.) According to Inc.com, setting a lure is totally affordable and effective. After the lure is dropped, like clockwork, the people start pouring in.
But that's not all -- entrepreneurs are taking it on themselves to create their own Pokémon GO-inspired businesses. According to an article in Australia's Sydney Morning Herald, a Silicon Valley start-up created pokewalk.com. It's a website that walks your phone to catch new Pokémon. This means, people actually pick up your phone, take it for a walk up to 10 kilometers for $20, and then bring it back to you with more Pokémon caught.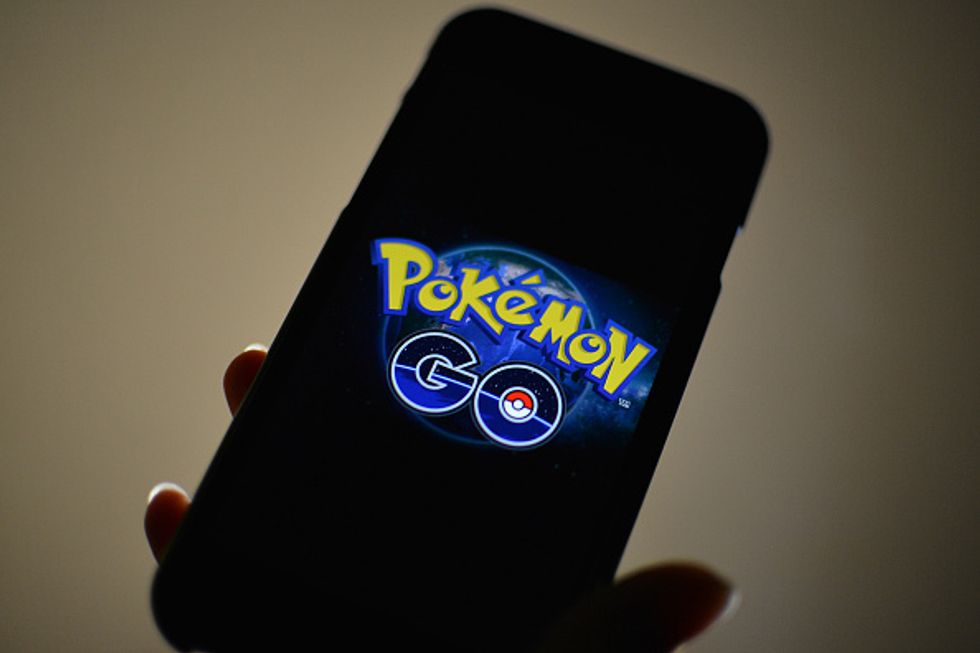 With a little creativity and some teamwork, any new phenomena can lead to profit. Pokémon GO is already proving a worthwhile investment, so we can only imagine how it will continue to impact our economic future.
Want to turn your business into a Pokémon GO business? Click here to get started.
Between buying a new home and transporting yourself and your belongings to it, moving can be an expensive process. One often underrecognized cost of moving occurs before one's original house has even been sold, and that's staging the house. Homeowners often spend hundreds of dollars making a home appealing to potential buyers. To ease the financial burden of moving, here are several tips for staging your home on a budget.
Downsize Instead of Storing
The goal of staging a home is to create a blank canvas that potential buyers can imagine their own lives painted upon. To accomplish this, homeowners should depersonalize the home as much as possible, removing items that are specific to their family and eliminating clutter. This is where homeowners often incur their first costs as they rush to put as many older things in storage as possible.
To cut costs, focus on downsizing rather than storing items. Look for items that you can sell, donate, or give away. For remaining items, look for alternative places to store them, such as a friend or relative's house. This will also reduce the cost of moving your belongings when it is time to go to the new house.
DIY What You Can
There are times when homeowners should bring in a professional to manage home renovations and decorating, such as when a task requires specialized skills. These types of jobs, when done incorrectly, will incur even greater costs if attempted on your own. However, many of the home improvement tasks that go into staging a home are simple enough that the homeowner can DIY them, such as painting, installing a backsplash, or refinishing the deck. Doing these tasks yourself will save you a significant amount of money.
Don't Redo, Update
Homeowners are often eager to make their houses look as appealing to buyers as possible. However, recall that the point of staging is depersonalization, making a home presentable so buyers can mentally impose their own style onto it. When staging a home on a budget, focus less on completely transforming the space and more on making what is there look presentable. For instance, if you wanted to give your bedroom a facelift, trying to replace the furniture and flooring would be pointless unless it was damaged or unkempt. Simply organizing the space and replacing the bed's comforter would be sufficient.
Maximize Space
Another way to update the space without entirely redoing it is to rearrange it to maximize the space that is already there. For instance, pulling the furniture away from the walls will make a room appear bigger and allows more space for those touring the house. Using window trimmings that maximize natural light and incorporating wall mirrors can also make a room seem more spacious.
Raising a larger family than most means that your lifestyle is going to change. Costs will continue to multiply as your family grows larger. However, just because your family is large doesn't mean your quality of life needs to suffer. It just means you need to make a few adjustments to help things work smoother and more efficiently. We've compiled a couple of money-saving tips for larger families to help you get the most out of your dollars.
Always Buy in Bulk
The benefit of having a larger family is that things you buy in bulk rarely ever go to waste. Smaller families can benefit from buying in bulk, of course, but your large family will see the most use out of shopping in large quantities. You'll want to avoid going to smaller stores for necessities such as groceries and clothes, as these places generally have higher markups on their items.
Buy Wholesale Items Online
If you want to take buying in bulk to the next level, one of the best money-saving tips for large families is to buy online from wholesalers. Buying online comes with a number of benefits that you won't get when you go to a physical store:
You don't have to drag your kids to the store with you
You have a lower probability of making impulse purchases
You can search for exactly what you need
Wholesalers sell in very large quantities for a lower price per item
Never Throw Away Something Useful
When you have to buy things for multiple children, your costs to replace items will be much higher. That's why it's so important to keep everything you can. Clothing is a big part of this. Hand-me-downs can prevent you from needing to replace entire closets every year. Try to repair or upcycle any clothes that may have damage, as this is usually much cheaper than buying brand-new items.
Stick to a Budget
When you support a large family, expenses can sometimes get away from you. Proper budgeting helps to keep the extra purchases that add up to a minimum. Budgeting correctly can save you a lot of heartache in the long run. It's up to you how much control you want to take; you can make your budget weekly or monthly, depending on how tight a ship you need to run. What's important to remember is that making the budget is only the first step—sticking to it is where you'll really need to enact some willpower.
From Your Site Articles
Related Articles Around the Web
Sometimes there is no choice—a home needs to be sold in the winter.
Spring may be the most popular time to put your house on the market, but homes do sell in the colder months. With fewer houses available, your home may be someone's only choice when house hunting in your neighborhood. As your neighbors hold out until spring, you'll already be done and ready to shop for your next house!
Here are a few tips for selling a home in the winter to get you on the right track.
Keep Paths Safe and Landscaping Fresh
Landscaping is the last thing on a homeowner's mind in the winter. Everything was cut back in the fall and may now be covered in snow. Still, take a walk around the house and yard to check everything out. Branches may have fallen from heavy snow, leaving a mess in the yard. Keep everything neat and tidy.
The last thing you need is a potential buyer slipping on the ice-covered walk in front of your house. Buyers often consider those moments bad omens, and this can affect their decisions. Shovel, snow blow, spread salt—do whatever you have to do to keep the driveway and walking paths clear, and don't forget the porch and deck.
Make the Inside Warm and Cozy
In cold weather, buyers won't spend a lot of time examining a home's exterior. Instead, impress them with the inside by creating an atmosphere which causes them to want to move in.
When there's time, leave wintery types of snacks and drinks, such as hot cocoa and cookies, available on a table during showings. This gives your home a welcoming feel to buyers.
Light the fireplace (if you have one) for a lovely ambience and set your thermostat to a comfortable setting. A warm home in the winter is much more appealing than a chilly one.
Make Your Home Less Personal
Understandably, this can be a tough thought for homeowners. After all, you've spent years creating memories in your home. To buyers, though, they need to picture it as their own. Too much personality makes that difficult.
It's always important to stage your home in a way that makes it look clean, comfortable, and move-in ready. Don't feel offended by the idea of taking family pictures down and replacing them with generic décor. This will help your home sell faster by helping buyers envision their own things there.
Cleanliness and Maintenance
Clean, clean, and clean some more. Make appliances, counters, and floors shine. No matter how old your home is, it needs to feel like new to potential buyers. If you aren't into dusting, now is the time to try. Don't forget window coverings that might need washing.
Be prepared ahead of time for home inspections by taking care of maintenance now. HVAC systems, plumbing, and electrical should all be up to code and running smoothly.
Use these tips for selling a home in the winter, exercise patience during the slower months, and your home will sell before you know it.
From Your Site Articles
Related Articles Around the Web