By Ron Adar // Shutterstock
When Kim Kardashian and Ye — then still known as Kanye West — announced their divorce, I did not bat an eye. Rumors had been flying for a while and — after a couple of suspicious Halloween costumes and Ye's increasing Kim-targeted rants — divorce seemed inevitable.
I pretty much forgot about the announcement then, and I thought the divorce would be just as insignificant to me as your garden-variety celebrity split. Boy, was I wrong.
I don't know what I expected given that Ye — the man notorious for interrupting Taylor Swift's VMA speech because he believed she didn't deserve to win — is not the most graceful loser. But his divorce is one confusing, messy spectacle we're all forced to bear witness to, despite our attempts to ignore it. We have much more important things to focus on like Rihanna's pregnancy or the latest Zoe Kravitz movie — now I spend my days saying "uncuh gyams" on repeat (IYKYK).
Frankly, their past few months have been a brazen press tour rather than a divorce. Each news story features a complex web of egoism, sexism, and even racism — from Kim's problematic SNL monologue and that Blackfishing Vogue cover to Kanye's manipulative Instagram posts. We refuse to mention the Super Bowl Instagram posts.
As the former power couple have battled it out in the public eye, their replacement relationships — or on Ye's part, his faulty parachute relationship — have caught the public's attention. Kim's with the people's favorite stand-up comic and serial monogamist, Pete Davidson; and Ye's now-defunct tryst with actress Julia Fox has busted up completely.
Both new partners have been plagued by intense media scrutiny, but public perception of them is quite different. Why? Sexism.
Pete Davidson is well known for dating some of the most desirable women in Hollywood. While many wonder what exactly draws them to him — sometimes cruelly judging his appearance — he's mainly applauded for dating Kim. While the innate sexism of treating Kim like a prize to be won is its own issue, this is wildly divergent from how Julia Fox has been treated.
In a recent episode of Forbidden Fruits — Fox's podcast with co-host Niki Takesh — Fox discussed her relationship with Ye and the press's narratives surrounding it. Fox is unphased by the omnipresent negativity, saying: "People are like 'Oh, you're only in it for the fame, you're in it for the clout, you're in it for the money.' Honey, I've dated billionaires my entire adult life, let's keep it real."
Fox doesn't find these media accusations surprising, and neither should we. The notion that she's self-interested, ill-intentioned, and clout-chasing comes from the ingrained idea that women who want more are bad.
Too often, women are systematically discouraged from seeking success and penalized when they do — especially if they're brazenly shameless about it. According to money expert, Stefanie O'Connell-Rodriguez, women are punished for seeking advancements or — heaven forbid — positions of power.
O'Connell-Rodriguez refers to this as the ambition penalty, saying: "The problem with this messaging is it implies that a woman's primary obstacle to economic power is herself, and that inequities in pay and wealth result from our own behavior. There's no acknowledgment of how women are often penalized for pursuing their ambitions."
To combat the ambition penalty, it's important for society to see prominent examples of women acting ambitiously, and getting rewarded for it. Changing the culture isn't merely about telling women to take "just" out of their emails and apologize less. It's about demanding equitable representation and tearing down prevailing structures of oppression.
When it comes to personal finances, women are increasingly challenging notions that they're hopeless with money and they shouldn't have control over it anyway. The Confessions of a Shopaholic spiraling? The Carrie Bradshaw cluelessness? These tropes are long out of fashion.
Instead, it's increasingly common to see women in pop culture claiming their financial independence. Instead of "can you pay my bills" — sorry Destiny's Child — female artists are declaring their ability to pay their own bills and demanding respect for their financial achievements.
Despite the slowly shifting ties, cultural phenomena such as this drawn-out divorce remind us of how far there is left to go.
While Julia is branded an opportunist, Pete is considered a hero. And it's not just Julia under the microscope. Kim has been equally accused of being with Pete for PR reasons and engineering the relationship for her own gain.
In both cases, the women are viewed as greedy and shamed about how their relationships might be in their self-interest.
Fox won't let those accusations merely bounce off her — she's embracing them. If she can have fun dating Ye while advancing her career, why not? "Why not see me for what I am which is a #1 hustler," she told The Cut. After announcing their split on Valentine's Day, Fox is only just beginning to demonstrate her own vision, rather than being subject to the press — or Ye.
Despite Ye's public parade of Kim look-alikes and his manipulative attempts to coerce her back into his life, no one questions his motives. And despite serious doubts about the legitimacy of Pete's alliance with Kim, accusatory fingers are never pointed in his direction.

The ambition gap paints women with one brush, blinding us to the nuance in their actions. While both relationships increase the couples' fame, the women are the ones called out for it. So what if there is a PR element to these curious couplings? Celebrity relationships have never been the exemplars of purity and virtue. This, we expect. But we shouldn't have to expect sexism too.
In a perfect world, I'd simply discount the goings-on of KimYe, JulYe, and whatever we're calling Kim and Pete. But the blatant sexism and problematic narratives surrounding these pairings is a glaring reminder of society's larger issues.
<
In the tale of how the cult-of-personality (rumored to be played by Jared Leto in an upcoming film adaptation) created the coworking empire and subsequently caused its downfall, WeWork: or The Making and Breaking of a $47 Billion Unicorn interviews employees of the company who were there from the beginning to pinpoint what went right that led to the inescapability of WeWork a few years ago, and what went so horribly wrong.
WeWork went from being valued at $47 billion to collapsing in a matter of months, largely because of the unchecked whims of Adam Neumann, who expanded without consideration of cost, and because of the the false promises made by the company's mission and its overinflated value.
WeWork: Or the Making and Breaking of a $47 Billion Unicorn • Official Trailer - A Hulu Originalwww.youtube.com
Above all, the documentary exposes the hollowness of value-driven corporations, and exposes how WeWork used its message of community to fuel the ambitions of those at the top. It also reveals how much of the company fell prey to its idealization of the rat race of hustle culture for very little reward.

So much of the documentary was surprising — the extent to which people bought into their brand's message, the internal cultish loyalty to Adam as the leader — and almost all of it seems, from the outside, insane. Startups are notoriously fickle, but WeWork's meteoric rise and fall was so catastrophic that it makes sense that there was more to its implosion than meets the eye.
The common lore of its downfall focuses on the loss of its major investor, SoftBank, alongside its reckless spending combined with its ambitious growth, but The Making and Breaking of a $47 Billion Unicorn shows how much was wrong at the core of WeWork and its culture from the start.
Critics of hustle culture and corporate activism (read: us) are not surprised by this capitalist Wizard of Oz story. Here are some of the wildest, most warped aspects of the WeWork documentary, which make us wonder how the employees on the inside didn't recognize their unicorn as an overinflated bubble waiting to burst.
Overall, the documentary was an elegy to an "era of easy money and no rules," according to Bloomberg Quicktake. Neumann reaped the benefits of a time when innovative tech startups were hailed as the new frontier, real estate was changing, and co-working was still just an idea.
However, his massive success came with a God complex which was eventually his downfall, all at the expense of the people he had made believe in him.
Art Installation N°1 by Carlos Marcial. Rhett Dashwood / YouTube
If you're keeping tabs on the art and tech worlds, you've probably been hearing whispers about "NFTs" for the past month. Just over the past week they've entered the mainstream lexicon.
Twitter founder Jack Dorsey made the news for selling his first ever tweet. The app has been teasing paid subscription models and newsletter-like features, but tweets for sale is "the next frontier."
The 2006 tweet went up for auction as an NFT, and the current bid is $2.5 Million. But what does it mean to own that? Why would anyone want to? And what even is an NFT?
What does NFT stand for?
NFT stands for "non-fungible token." Essentially, it's like a proof of ownership sticker for something that exists on the internet. The NFT is a piece of code that acts like a watermark or a signature — if you own an NFT, you own the rights to that little piece of the internet. Because ownership is embedded into unique code on a blockchain, NFTs are impossible to make fakes of or replicate. The digital asset can be screenshotted or replicated, but the ownership cannot.
An NFT is different from a "fungible token," like a Bitcoin. The main distinction is that fungible tokens are interchangeable. They each have a 1:1 value with each other, but NFTs do not. So while one Bitcoin has the same exact value as another, an NFT of a random Popdust tweet does not have the same value of Jack Dorsey's inaugural tweet.
Talk of NFTs is often intertwined with cryptocurrency jargon, but they are not only the realm of Bitcoin bros. Unlike other forms of cryptocurrency, you don't need to know the specific ins and outs of the market in order to purchase an NFT — making NFTs accessible to those of us who have yet to hop onto Bitcoin, Ethereum, or even Dogecoin.
What Can Be an NFT?
Any digital asset can become an NFT. From a tweet to a gif to digital art, anything that exists on the internet can now be officially owned. NFTs have been around for a while, but only recently have they taken off as a way for digital creators to sell "official" versions of their content.
Anyone can screenshot a tweet or repost an Instagram meme, but NFTs allow consumers to own the rights to trade, sell, or keep and collect them. While digital art and internet ephemera are most ubiquitous as NFTs, the market is growing for more traditional collection fodder to be sold in this new format.
Digital art is now being sold like fine art, and baseball cards are no longer the realm of middle school lunch tables. As the market grows, so does the scale. While an NFT gif can go for around $5,000, recent digital sales have been making headlines for reaching millions and tens of millions.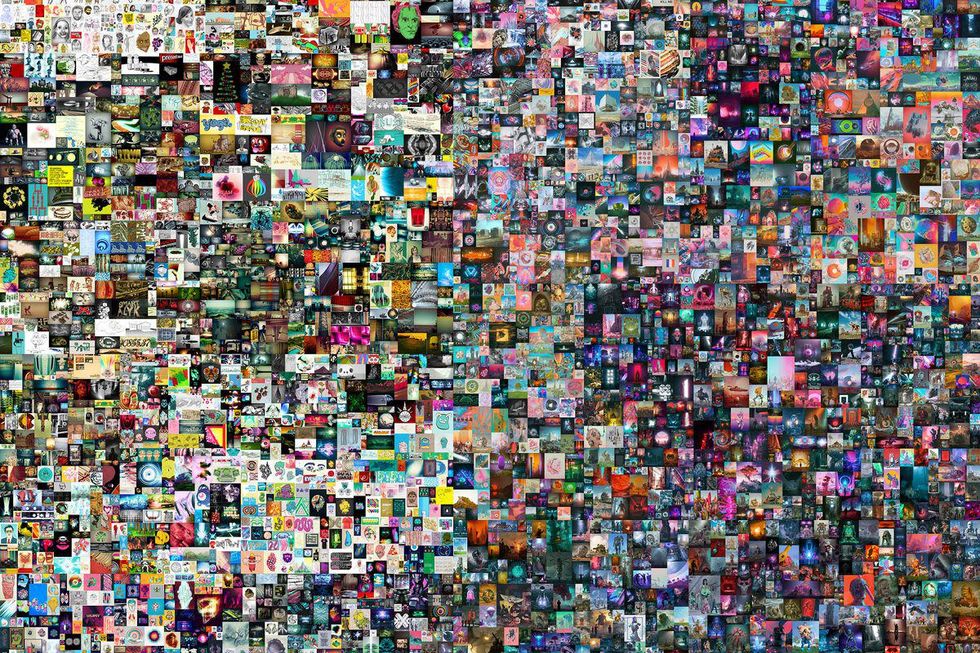 "Everydays - The First 5000 Days" by Beeple was sold by Christie's as an NFT for $69M
Why Are People Talking About Them?

While Dorsey is not the first to rack up millions for selling digital ephemera, his tweet auction has propelled the market into the headlines. The hype surrounding the NFT market is similar to the recent astronomical trajectory of cryptocurrency and has even been compared to the GameStop saga.
In one way, NFTs are similar to investments like fine art and rare collectibles. And the traditional auction world is taking notice. Digital artist Beeple, who has been creating Everydays for 13 years and amassed millions of social media followers, is finally getting payout for the work he has been doing for free. Internationally renowned auction house Christie's launched its first ever digital-only auction with a Beeple NFT.
It sold for $69 Million.

While the astronomical prices may be driven by hype, the future of NFTs is becoming undeniable.
What's the Future of NFTs?
NFTs are changing the way artists and digital creators interact with followers and get paid. Soon we'll be seeing branded NFTs collected like Jordans or even NFTs to replace tour merch. Music NFTs are already making waves, too.
They're also changing the way we think about investing. Instead of investing in the stock market or in the traditional collectibles, internet fodder can now appreciate in value. And because so many NFT platforms serve crypto users, investors can watch the value of their items and their crypto rise separately to compound their earnings.
However, the unregulated world of NFTs is rising without anyone keeping vigilant watch. The murky waters of internet ownership that NFTs ostensibly solve get muddied when people are stealing art to turn into NFTs in the first place.
And while NFTs are purportedly decentralizing and democratizing art dealing and trading, the reality seems like the people benefitting are already rich and looking to get richer.