You could spend ages trying to outsmart the airlines, but it would be a loser's game. There are, however, some simple guidelines to saving money on flights.
For one, in the world of air travel, time is money; the less money you spend, the more time you're likely to spend in the airport. If you're willing to make a stop or two rather than fly direct, or if you'll take on a layover more than 12 hours long, you'll save some dough. (Just keep in mind all that money you'll be tempted to spend at Chili's to Go, Starbucks, and Cinnabon, and the savings might evaporate.) Here are the other key things to keep in mind when searching for that deal.
1. There is no one magic bullet
"People would like a simple rule, but in practice there isn't a single day or time to buy," Patrick Surry, the chief data scientist for Hopper, an airfare prediction app, told The New York Times.
Moreover, there are plenty of myths online about how to get the cheapest tickets. It is not cheaper to buy tickets on Tuesday, for example, and there is no evidence to support that searching incognito results in better-priced fares, says travel expert Nomadic Matt.
Because airlines using complex pricing algorithms that are based on everything from time of the year, passenger demand, weather, holidays, time of day, competitor prices, and much more, it's impossible to predict future airline prices. Websites and apps — like Hopper — "are basically taking an educated (but probably wrong) guess," he says.
2. Be flexible when you fly
If you're flexible on when you fly, you could save a bundle. You'll find a better fare to Mexico during its rainy season rather than at peak holiday tropical getaway time, and save big if you don't demand to visit Rome in the high-tourist season (and heat) of August.
It's always cheaper to fly during the middle of the week than on a weekend, and early-morning or late-night flights will save you money.
Even "the difference of one day can mean hundreds of dollars in savings," notes Nomadic Matt, so be open to the penny-pinching possibilities.
3. Be flexible where you fly
When you're locked into where and when you want to fly, "No voodoo can change that," Nomadic Matt says. But there are those occasions when the world is your oyster, and you get to choose when you slurp it down. "When you become flexible, suddenly the entire world opens up to you and you'll find amazing cheap airfare!"
Google Flights makes it easy. Go to Google Flights and click the map. Put in your dates, home airport, and watch a world open up. There's always a deal somewhere!
4. Check each of these travel booking sites and put Google to work
Each airline search engine has its selling points — and its shortcomings. For example, budget airlines like AirAsia, Ryanair, and even Southwest often won't appear on large sites like Kayak, Expedia, or Orbitz because they don't want to pay a booking fee. Other times, the cheapest airline on offer has a site that isn't in English.
Kayak searches for "hacker fares," which allow you to fly out on one airline and return on another for savings. Skyscanner calls them mash-ups. Hit a few sites to make sure you're seeing everything that's out there. Nomadic Matt recommends Momondo, Google Flights, and Skyscanner.
5. Don't spend more than an hour searching
"If you're spending more than an hour booking a flight, you're spending too much time," says Nomadic Matt. Harsh words for the hand-wringing, purchase procrastinators among us. "Spend 30-40 minutes finding and booking a cheap flight at a price you're OK paying and move on with your life. I never second-guess myself on flights. You'll go crazy if you do."
Know Risk
Travel is always a risk. We've all been there. Dozing uncomfortably in the airport because your flight was delayed, arriving at your destination to find out that your bags never arrived, or a last minute emergency keeping you from going on that long awaited vacation all together. According to the U.S. Bureau of Transportation Statistics, over 35,000 flights will be cancelled this year and more than 5,000 diverted to other airports. While these inconveniences may sometimes be inevitable, losing money doesn't have to be.
Travel insurance can help protect your investment, in case a cancelled flight or an emergency prevents you from taking the trip you planned. Unfortunately, many travel insurance policies are too pricey to justify themselves, and inflate the cost of your trip anywhere from 4% to 8%. This is where travel insurance credit cards come in. These credit cards offer a variety of options of coverage, and to make your search easier, we've identified the top 5 cards that offer the best travel insurance benefits.
This card is the best for travel accident coverage, covering up to one million dollars in damages. It also offers up to a $300 annual credit for travel purchases, a fee credit for special access services like Global Entry or TSA PreCheck and luxury airport lounge access.
This card not only offers a large sign-up bonus, but also covers up to $10K per trip in trip-cancellation, trip delay coverage of up to $500 per ticket, and $3k in lost luggage coverage.
This card is best for loyalty airline rewards combined with travel insurance. According to WalletHub, with this card, "customers who qualify for a Visa Signature card will get access to travel protection benefits including travel accident insurance, an auto rental collision damage waiver, baggage delay insurance, lost luggage reimbursement and travel and emergency assistance services."
This card is the best for loyalty hotel rewards with travel insurance. This card also has interesting benefits like a free night stay at a participating IHG hotel each year you're a cardholder. It also offers coverage for trip cancellation and interruption insurance, baggage delay insurance and purchase protection against damage or theft.
In addition to travel insurance, with this card, get 10,000 bonus miles per $25,000 spent. Other travel benefits include a free first checked bag for you and one companion on the same reservation, priority boarding and two United Club passes.
When it comes to traveling, you're leaving money on the table if you aren't preparing for it with a solid credit card strategy. That goes double if you are someone who has to travel for work. It's also true if you regularly buy things for work that end up being reimbursed. So,let's talk about how you can get closer to your next travel destination every time you swipe that card.
The Chase Family of Cards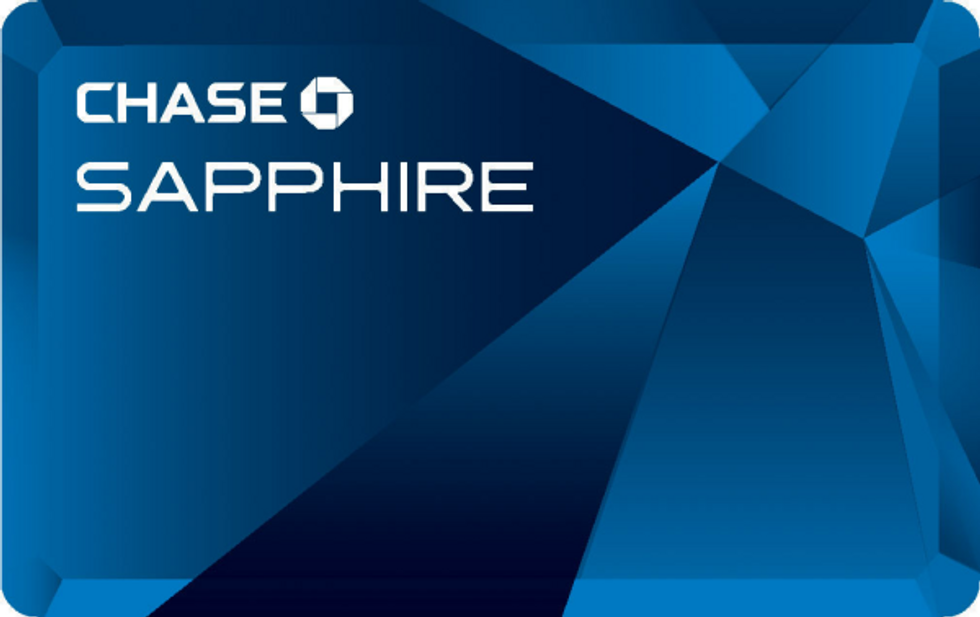 Hard to beat double points on most things. Although Triple points is pretty great...
Chase has several credit cards that all give out Chase Points. Which card you should choose depends on your financial situation and how much money you spend on a credit card generally. We'll start with the cards that have no annual fee, but lower rewards. Taking it from the bottom to the top:

Chase Freedom
You have two versions of this card, the Chase Freedom and the Chase Freedom Unlimited.. The Freedom card gives you 5% back in Chase points, up to $1500 each quarter. This is a good deal, however, the points are allocated to a different category every month. So, for April-June, points go to grocery stores. It's a bit of a game but pays off. The Unlimited card pays you back 1.5% on every purchase, and doesn't have the $1,500 limit. So choose which game you want to play.
Chase Sapphire: Preferred
This is a solid choice since it gives you 2 points every time you spend money on travel or dining. Travel covering: Plane tickets, train tickets, subway cards, hotels and tours. Dining is everything from a 5 star restaurant to Mcdonald's. It has a bonus of 50,000 bonus points (which is worth at least $500) when you spend $4,000 on it in the first 3 months of the account being open. It also has no annual fee for the first year, (it's$95 after that).
Chase Sapphire Reserve
This is Chase's highest end card. It offers 3 points for every dollar you spend on travel and also comes with a 50k bonus after spending 4k in the first 3 months. It also comes with a $300 annual travel credit you can apply to any trip you take. Plus it pays for Global Entry or TSA Precheck which if you ever travel, really at all, is a huge time saver. However, this has a $450 annual fee and is not waived for the first year. So, if you are going to fly at least 2-3 times a year this is probably worth it. If you travel only once a year, it is probably not.
Chase Ink Preferred
This also offers you 3 points for every dollar you spend on travel plus for any dollar you spend on internet and phone service. This card offers 80k bonus points if you spend 5k on purchases in the first 3 months. It also only has an $95 annual fee. The big however on this card is it can only be used by 'businesses,' so, you need to have a business, or be able to convince Chase that you have a business.
The Citi ThankYou Point Cards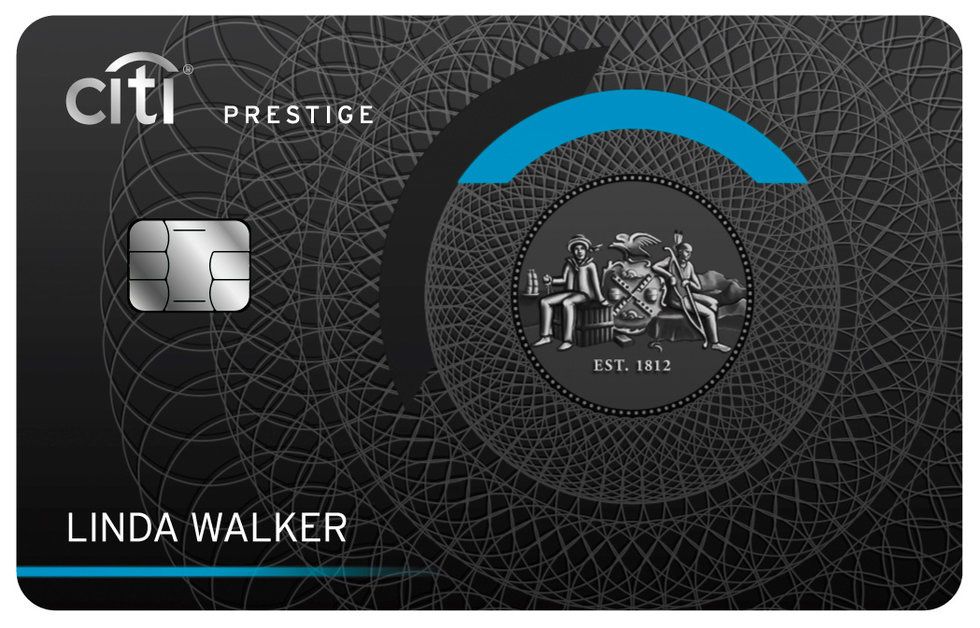 Worry not, Linda Walker will get all of the points.
Citi also has a variety of cards depending on your budget and how much you end up swiping in a given month.
Citi ThankYou Preferred Card
You receive 2 ThankYou points for every dollar you spend on dining and entertainment. That's both dinner and a movie. (Yes, someone probably made that exact pitch in a meeting.) Plus you get 1x on everything else. It has the big benefit of having no annual fee and an APR (how much they charge you to hold a balance month to month) of 0% for the first 15 months. Which is great if you aren't starting a job for a while, or looking for a job.
Citi ThankYou Premier Card
This has 3x on all travel including gas stations. The same 2x for dining out and entertainment and 1x on everything else. Plus a solid sign up bonus of 50k ThankYou points after you spend $4k in the first 3 months. The annual fee is only $95 and waived the first year.
Citi Prestige Card
This is their high end card. This has all the same benefits as the card above, except not gas stations apparently people with this card don't pump their own gas. It also doesn't have a signing bonus currently. The big perk this card has is a complimentary 4th night free in a hotel when you book through their service. If you are someone who spends business time or vacation time in hotels, this can be a gigantic savings.
The American Express Cards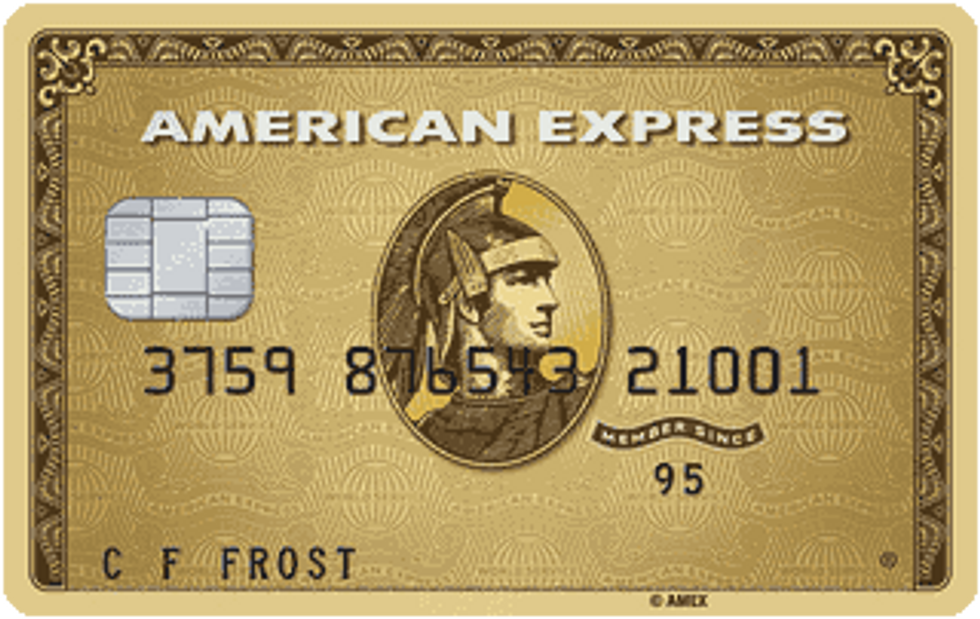 Who is this Greek Hero? Can he get me a cheap flight?
This is probably the oldest and most trusted rewards program out there. In fact, many of their competitors are slightly better only because they are attempting to steal people away from these programs.
The Starwood Preferred Guest Card
This is the go- to card for consultants and sales people who spend far too much time in hotels. You get 2x Starpoints for every dollar you spend at Starwood hotels. Occasionally they run promotions and this can end up being 5x for every dollar. To be clear that is a pretty narrow slice of the world but if you travel regularly for work this adds up quickly. Also to be clear Starpoints are way more valuable than most of the other points. The big use is for getting free hotel rooms around the world at a lower rate than any other program. So, if you stay at hotels in say Chicago all the time for work and want to stay at hotels in Paris for vacation this is the way to go. Only a $95 annual fee after the first year waived.
Blue Delta SkyMiles American Express
This is also a go-to card for people who fly a lot for work. Instead of getting points through American Express, you get miles with Delta that can be exchanged for flights with Delta. This comes with 2x Delta miles if you are at a restaurant, and no annual fee. Also a solid 10k bonus miles when you spend only $500 in the first 3 months.
Premier Rewards Gold Card
This is the American Express that you probably think about if you have an image of one in your head. It's gold and has a Gladiator head design on it. This gives you 3x points for flights you book with the airline. 2x points at restaurants, gas stations and supermarkets. Plus $100 airline fee credit. You know how now all airline tickets charge extra for everything including bag fees and sometimes peanuts? This can offset up to $100 of that. Also gives 25k points when you spend just 2k in the first 3 months. It's annual fee of $195 is a bit steep but is waived for the first year.
The big thing to remember when you're making a decision on which credit card to use is how much money do you spend and where do you spend it? It's no good to get $400 in travel rewards if you need to pay a $500 annual fee to get them. At the same time an additional $95 in annual fee could get you hundreds more dollars in rewards. So take a minute and look at how much money you spend on your credit cards now. Regardless of the answer there is a card out their that can get you to your next vacation faster. Happy and safe travels!