Via Millennial Mindset
For those born between 1982 and 2004* – congratulations! You make up part of the millennial generation that the world sees as powerful industry killing monsters with a sense of entitlement rivaling that of any prior generation.
* Give or take a few years – it varies depending on the source and there remains a lack of universal agreement over the exact age range.
The term was coined in 1987, during a time when George Michael's, "Faith" ruled the airwaves, Prozac was the new FDA-approved wonder drug, and a society was growing increasingly obsessed over the looming, millennium (preschoolers in 1987 would the graduating high school class of 2000). That correlation was evidently noticed, and the "millennial" was born, the term credited to William Strauss and Neil Howe, who wrote about this curious cohort in their 1991 book, "Generations - The History of America's Future," and their 2000 work, "Millennials Rising: The Next Generation." The pair of demographers believed that millennials would reject their boomer forebears' individualism and libertinism, becoming the "next Greatest Generation."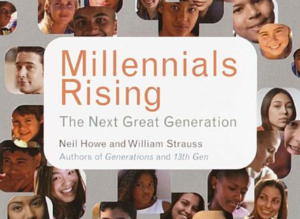 Via Lindsey Pollak
Strauss and Howe anticipated that this generation would radically reshape American life, based on their theory of repeating generational archetypes directly correlated with historical events of the time. They saw this sheltered generation resulting from the "most sweeping youth-safety movement in American history" and recognized them are a generation that consider themselves special, both as individuals and as a group, deeming them as confident, team-oriented, high-achieving, and pressured to succeed. They pretty much nailed it.
However, they didn't foresee how this innate confidence - while largely a positive trait for any other generation - would spill over into the realms of perceived entitlement and narcissism. These days, millennials are called many things, and Greatest Generation is not quite one of them. Psychologist Jean Twenge described millennials as "Generation Me" in her 2006 book and in 2013, Time magazine ran a cover story titled, "Millennials: The Me Me Me Generation." There's also "Generation 9/11" an apocalyptic name that aligns with Strauss and Howe's ideas explored in the 1997 book, "The Fourth Turning: An American Prophecy."
Strauss and Howe's optimistically thought that the confident, high-achievers would yield the creation of institutions that would transform society. Instead millennials proved interested in forcing the old ones to live up to their high-minded rhetoric in a time where their future is still uncertain, reeling from unexpected economic upheaval.
Millennials are now viewed as a force of narcissistic nature, demanding treatment no one before them ever received, and drastically reshaping everything in their path, from college campuses to the housing market. According to all the media everywhere, millennials are responsible for killing pretty much everything and retain the all the power to lead to an Ayn Rand vision of a dystopia with entire industries being demolished. Millennials even get credit for brutally murdering the mayonnaise industry!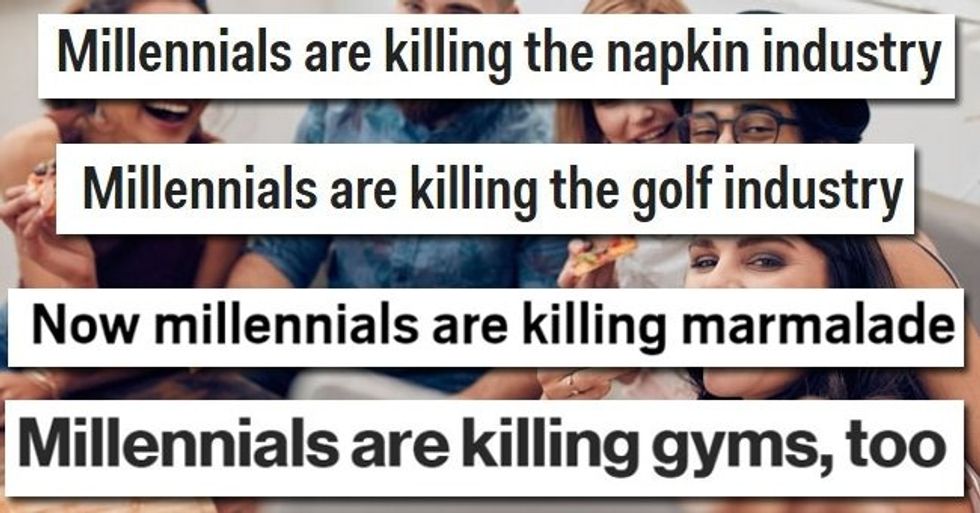 Via CollegeHumor
Millennials do wield a certain power, the same power that every generation to emerge has - the sheer number of millennials is intimidating and combined with the native digital language that naturally formed with exposure to emerging technology absolutely terrifies industries across the country. These older businesses view millennials as a threat while the generation sees themselves as powerless, pummeled by the world left for them by their elders.
Millennials have been surrounded by technology their whole lives, the effects only heightened by their helicopter parents (new term that emerged for overprotective baby boomer parents of millennials who are excessively involved in their children's lives), enabling constant contact. These "helicopter parents" have a tendency towards coddling and micromanaging, stemming from an inherent need to keep their children save from stranger danger (and anything else that could hurt them) and likely overcompensating for feeling neglected and unloved by their own lack of present parents. As such, millennials were raised to believe that they are special snowflakes, with the mantra "follow your dreams" instilled in them since childhood with their parents shielding them from anything that could potentially hurt their self-esteem, eliminating the very developmental phenomenon known as failure (the new apparent achievement of merely participating means that everyone gets a trophy and there are no losers).
With baby boomer parents preparing their children for the expected hyper-competitive 21st-century labor market, millennials were led to believe in meritocracy and forced into competition for their spots within it — only to find themselves paralyzed by a disintegrating job market, a catastrophic debt load and a financial crisis that struck just as large numbers were entering the workforce.
In a case of straight up bad timing, millennials collided with a time of economic trauma, creating an already disillusioned generation who entered into adulthood with unrealistic expectations, unprepared for a recession marked by structural shifts in the economy with detrimental impacts. Millennials have been defined by this era of economic trauma; stagnant wages, a skyrocketing cost of housing, colossal student debt have put millennials on the path to a lower quality of life than their parents (this is the first generation since the Silent Generation that is expected to be less economically successful than their parents).
Taking everything into consideration, it could be argued that millennials are unfairly blamed for things out of their control, victims of circumstance to a certain extent. Yes, millennials do have some unsavory traits bred from the environment around them, but perhaps society can give them just a bit a slack?
via Tiffany & Co.
When the new Tiffany's campaign was unveiled, reactions were mixed.

Tiffany's, the iconic jewelry brand which does not (despite what some might be misled to believe) in fact serve breakfast, featured Jay Z, Beyoncé, and a rare Basquiat painting in their recent campaign.
The aesthetics were undeniably luxe and historic. The campaign showcased the rarely-seen Basquiat painting Equals Pi (1982), which the brand acquired for the background's proximity to its distinctive Tiffany blue. Also notably historic is that Beyoncé was the first Black woman to wear the 128.54 carat Tiffany Diamond.

Before Beyoncé, the only other stars to wear the yellow diamond were Mary Whitehouse, wife of American diplomat Edwin Sheldon Whitehouse, Hollywood icon Audrey Hepburn, and singer Lady Gaga.
"Beyoncé and Jay-Z are the epitome of the modern love story …. Love is the diamond that the jewelry and art decorate," said the press release accompanying the campaign.
The campaign, titled "About Love," is stunning and has both classic and contemporary references. The image of the couple posing in front of high art recalled the iconic stills from their "APESHIT" music video, for which they famously rented out the Louvre and posed in front of the Mona Lisa.
THE CARTERS - APESHIT (Official Video) www.youtube.com
Their "APESHIT" photo made a giant cultural impact for its juxtaposition of Western beauty and Blackness. Tiffany's campaign seemed to have similar goals — showcasing Beyoncé and Jay Z as the peak of luxury, this time juxtaposing the Basquiat and the Tiffany diamond.

As a Black couple, their appearance in such a luxury campaign was a big move for representation, but in a post 2020 landscape, there was an outcry of criticism.
Despite the aesthetic beauty of the image, the high capitalist undertones didn't sit right with some on the internet — largely younger demographics. Though this campaign was an effort by Tiffany's to appeal to younger audiences and make the brand feel more relevant, Twitter's verdict was clear: a blood diamond wasn't the way to go.
The diamond, which was mined in South Africa in 1877, comes from origins laden in the implications of colonialism. The practice of mining in South Africa at the time was exploitative and destructive, eschewing the livelihoods and safety of African miners and their communities for... what? Money? So Tiffany could try to sell us some dream of affluence using Black celebrities as to "Blackwash" the history behind their treasured piece?
The Washington Post also had some choice words, saying: "Its campaign does not celebrate Black liberation — it elevates a painful symbol of colonialism. It presents an ostentatious display of wealth as a sign of progress in an age when Black Americans possess just 4 percent of the United States's total household wealth. If Black success is defined by being paid to wear White people's large colonial diamonds, then we are truly still in the sunken place."
Alongside the campaign, Tiffany & Co have promised to donate $2 million to HBCUs to fund scholarships and internships. But this measly amount (considering the multi-billion dollar net worth behind LVMH) is not enough to cover up that, despite their performative efforts to promote "diversity," Tiffany's is entrenched in a colonial history that neither beauty nor Beyonce can make us ignore.
While Black representation has been increasing over the past few years, the question of how we are represented is starting to be considered with more nuance. And as we examine the structures of wealth and hierarchical values, many people are starting to ask whether these should be the standards we aspire to anymore.
Jay Z and Beyoncé have come under fire before for their promotion of Black Capitalist values — which the kids don't seem to want. Jay Z especially seems invested in the trappings of traditional (read: white) success and wealth. His cannabis line recently unveiled a campaign based on the work Slim Aarons — which was famously focused on "attractive people doing attractive things in attractive places" — and its unashamed opulence raised some eyebrows.
Images like this aren't as revolutionary as they once might have been since they reinforce the status quo and tell marginalized people to reach for the same luxuries and lifestyles deemed aspirational by the people who have oppressed them.
Anti-capitalist theory has been around as long as capitalism has, but younger generations are more likely to question the status quo — even when it comes packed with Basquiat and Beyoncé.
The conversation about the Tiffany campaign is indicative of how Gen Z thinks differently about money and what it means to them. They are less likely to be seduced by the luster of the aspirational, and more receptive to relatability.
This is why apps like Cleo have been on the rise. Cleo is a budgeting and personal finance app which makes money feel less inaccessible and makes engaging in personal finance relatable and easy.
No more does financial literacy seem restricted to the pretentious or the elite — we get it, finance bros; you love capitalism. With Cleo, understanding your money is something that can align users with their values.
And those values don't look like blood diamonds or corporate pandering.