Pexels
Venmo and other similar apps aim to make your life easier by allowing you to quickly send money to your friends and family. With just a few taps, you can pay back your friend for lunch and get reimbursed for movie tickets. You can also easily send money back to your bank account almost instantly. But with all this convenience a question remains: how secure are these services?
In order to use Venmo, you have to connect an active debit or credit card. If you want to be able to deposit your Venmo balance into your bank account, you'll need to connect it to the app. This is usually done by entering your routing and account number. This is obviously very sensitive information that you definitely don't want getting out anywhere. Serious security concerns surfaced for Venmo in February 2015. Many users reported fraudulent charges on their Venmo account, but the company was slow to respond to complaints — if at all.
Venmo promises "bank grade" encryption to protect users' accounts. However, in the past, Venmo failed to alert users if their password or email was changed on their account, or even if their account was accessed on an unauthorized device. This made it all too easy for someone to hack in and transfer money to themselves in seconds. The app does now offer two-factor authentication to make accounts more secure, but there's no foolproof way to prevent fraud.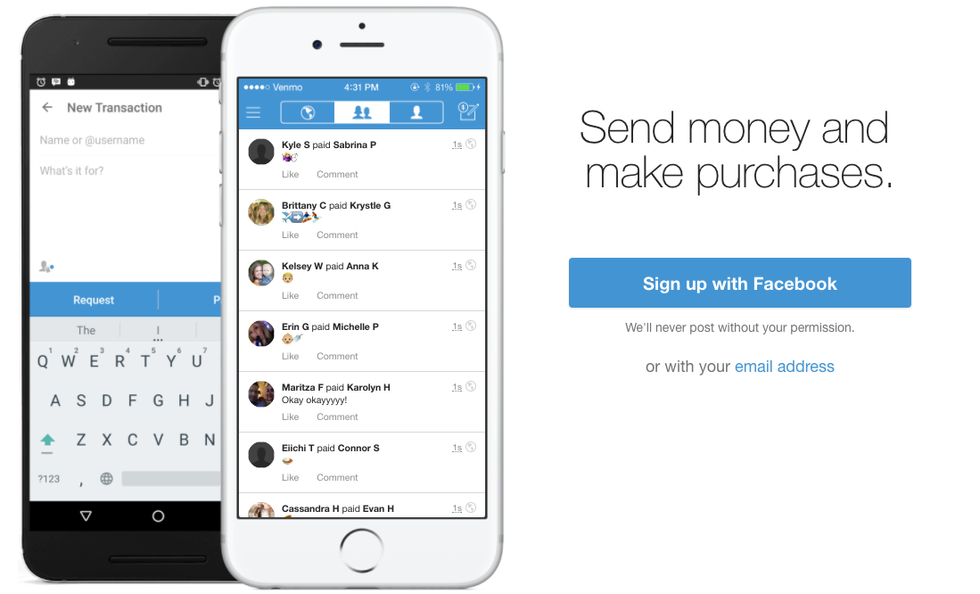 Venmo.com
In 2015, Venmo did not even have a customer service call line and all queries were sent through email. Now, the company has a phone number for complaints and concerns, but it is only open from 10 a.m. until 6 p.m. and is closed on major holidays. For comparison, most banks can receive customer calls every single day of the week and during morning and evening times outside of regular business hours. However, Venmo users can also chat with customer service 24 hours a day during the week through the app. Most banks don't have this option.

To be fair, Venmo does not advertise or function as a banking service. However, it does handle sensitive financial information and, therefore, easy contact and timely responses are essential. Banks are very good at handling fraud claims as they have entire departments set up for it. Venmo is still a relatively small company. Although communication and points of contact have gotten better, there is plenty of room for improvement.
In the past, Venmo required that customers contact the company within two business days of discovering a potential fraudulent charge, or else their liability would shoot up from $50 to $500. However, the current policy is to contact Venmo within 60 days for any unauthorized transaction to receive 100 percent protection. After those 60 days, you might not be able to recover any funds from Venmo.
The moral of the story is to be cautious and wary. To protect yourself, avoid providing your account number. You won't be able to send money from Venmo to your bank, but if you plan on using the app a lot for small transactions, that shouldn't be a problem. You can still send money with a debit card with no added fees. For extra protection, link a credit card instead. There will be a 3 percent transaction fee to send money – but you'll also have a higher amount of protection under credit card fraud if someone gains access to your account. In the end, if you truly don't trust Venmo, don't use it.
Between buying a new home and transporting yourself and your belongings to it, moving can be an expensive process. One often underrecognized cost of moving occurs before one's original house has even been sold, and that's staging the house. Homeowners often spend hundreds of dollars making a home appealing to potential buyers. To ease the financial burden of moving, here are several tips for staging your home on a budget.
Downsize Instead of Storing
The goal of staging a home is to create a blank canvas that potential buyers can imagine their own lives painted upon. To accomplish this, homeowners should depersonalize the home as much as possible, removing items that are specific to their family and eliminating clutter. This is where homeowners often incur their first costs as they rush to put as many older things in storage as possible.
To cut costs, focus on downsizing rather than storing items. Look for items that you can sell, donate, or give away. For remaining items, look for alternative places to store them, such as a friend or relative's house. This will also reduce the cost of moving your belongings when it is time to go to the new house.
DIY What You Can
There are times when homeowners should bring in a professional to manage home renovations and decorating, such as when a task requires specialized skills. These types of jobs, when done incorrectly, will incur even greater costs if attempted on your own. However, many of the home improvement tasks that go into staging a home are simple enough that the homeowner can DIY them, such as painting, installing a backsplash, or refinishing the deck. Doing these tasks yourself will save you a significant amount of money.
Don't Redo, Update
Homeowners are often eager to make their houses look as appealing to buyers as possible. However, recall that the point of staging is depersonalization, making a home presentable so buyers can mentally impose their own style onto it. When staging a home on a budget, focus less on completely transforming the space and more on making what is there look presentable. For instance, if you wanted to give your bedroom a facelift, trying to replace the furniture and flooring would be pointless unless it was damaged or unkempt. Simply organizing the space and replacing the bed's comforter would be sufficient.
Maximize Space
Another way to update the space without entirely redoing it is to rearrange it to maximize the space that is already there. For instance, pulling the furniture away from the walls will make a room appear bigger and allows more space for those touring the house. Using window trimmings that maximize natural light and incorporating wall mirrors can also make a room seem more spacious.
Raising a larger family than most means that your lifestyle is going to change. Costs will continue to multiply as your family grows larger. However, just because your family is large doesn't mean your quality of life needs to suffer. It just means you need to make a few adjustments to help things work smoother and more efficiently. We've compiled a couple of money-saving tips for larger families to help you get the most out of your dollars.
Always Buy in Bulk
The benefit of having a larger family is that things you buy in bulk rarely ever go to waste. Smaller families can benefit from buying in bulk, of course, but your large family will see the most use out of shopping in large quantities. You'll want to avoid going to smaller stores for necessities such as groceries and clothes, as these places generally have higher markups on their items.
Buy Wholesale Items Online
If you want to take buying in bulk to the next level, one of the best money-saving tips for large families is to buy online from wholesalers. Buying online comes with a number of benefits that you won't get when you go to a physical store:
You don't have to drag your kids to the store with you
You have a lower probability of making impulse purchases
You can search for exactly what you need
Wholesalers sell in very large quantities for a lower price per item
Never Throw Away Something Useful
When you have to buy things for multiple children, your costs to replace items will be much higher. That's why it's so important to keep everything you can. Clothing is a big part of this. Hand-me-downs can prevent you from needing to replace entire closets every year. Try to repair or upcycle any clothes that may have damage, as this is usually much cheaper than buying brand-new items.
Stick to a Budget
When you support a large family, expenses can sometimes get away from you. Proper budgeting helps to keep the extra purchases that add up to a minimum. Budgeting correctly can save you a lot of heartache in the long run. It's up to you how much control you want to take; you can make your budget weekly or monthly, depending on how tight a ship you need to run. What's important to remember is that making the budget is only the first step—sticking to it is where you'll really need to enact some willpower.
From Your Site Articles
Related Articles Around the Web
Sometimes there is no choice—a home needs to be sold in the winter.
Spring may be the most popular time to put your house on the market, but homes do sell in the colder months. With fewer houses available, your home may be someone's only choice when house hunting in your neighborhood. As your neighbors hold out until spring, you'll already be done and ready to shop for your next house!
Here are a few tips for selling a home in the winter to get you on the right track.
Keep Paths Safe and Landscaping Fresh
Landscaping is the last thing on a homeowner's mind in the winter. Everything was cut back in the fall and may now be covered in snow. Still, take a walk around the house and yard to check everything out. Branches may have fallen from heavy snow, leaving a mess in the yard. Keep everything neat and tidy.
The last thing you need is a potential buyer slipping on the ice-covered walk in front of your house. Buyers often consider those moments bad omens, and this can affect their decisions. Shovel, snow blow, spread salt—do whatever you have to do to keep the driveway and walking paths clear, and don't forget the porch and deck.
Make the Inside Warm and Cozy
In cold weather, buyers won't spend a lot of time examining a home's exterior. Instead, impress them with the inside by creating an atmosphere which causes them to want to move in.
When there's time, leave wintery types of snacks and drinks, such as hot cocoa and cookies, available on a table during showings. This gives your home a welcoming feel to buyers.
Light the fireplace (if you have one) for a lovely ambience and set your thermostat to a comfortable setting. A warm home in the winter is much more appealing than a chilly one.
Make Your Home Less Personal
Understandably, this can be a tough thought for homeowners. After all, you've spent years creating memories in your home. To buyers, though, they need to picture it as their own. Too much personality makes that difficult.
It's always important to stage your home in a way that makes it look clean, comfortable, and move-in ready. Don't feel offended by the idea of taking family pictures down and replacing them with generic décor. This will help your home sell faster by helping buyers envision their own things there.
Cleanliness and Maintenance
Clean, clean, and clean some more. Make appliances, counters, and floors shine. No matter how old your home is, it needs to feel like new to potential buyers. If you aren't into dusting, now is the time to try. Don't forget window coverings that might need washing.
Be prepared ahead of time for home inspections by taking care of maintenance now. HVAC systems, plumbing, and electrical should all be up to code and running smoothly.
Use these tips for selling a home in the winter, exercise patience during the slower months, and your home will sell before you know it.
From Your Site Articles
Related Articles Around the Web