genstrike.org
According to a report published in The Intercept on Tuesday, essential workers at major companies like Amazon, Walmart, Instacart, Target, Whole Foods, and FedEx are planning a walkout as part of a May Day general strike, fighting for workers' rights.
A lot of Americans probably don't know the history of May Day, or the fact that May 1st is known as International Workers' Day—or Labour Day—in much of the world. That ignorance, and the fact that we have our own Labor Day in September, can best be understood as part of a deliberate effort to undermine class consciousness and solidarity in the US, and is all the more reason why more workers need to participate in Friday's strike.
The power structures of our country have long maintained a hostile relationship toward labor and have successfully suppressed unionization and other efforts by workers to agitate for their rights. But this May 1st is the perfect time to correct that tendency and join the world in celebrating workers–because the historic event that International Workers' Day commemorates took place here in America in 1886, and it upset the established hierarchy in a way that should serve as inspiration for people currently struggling to make ends meet.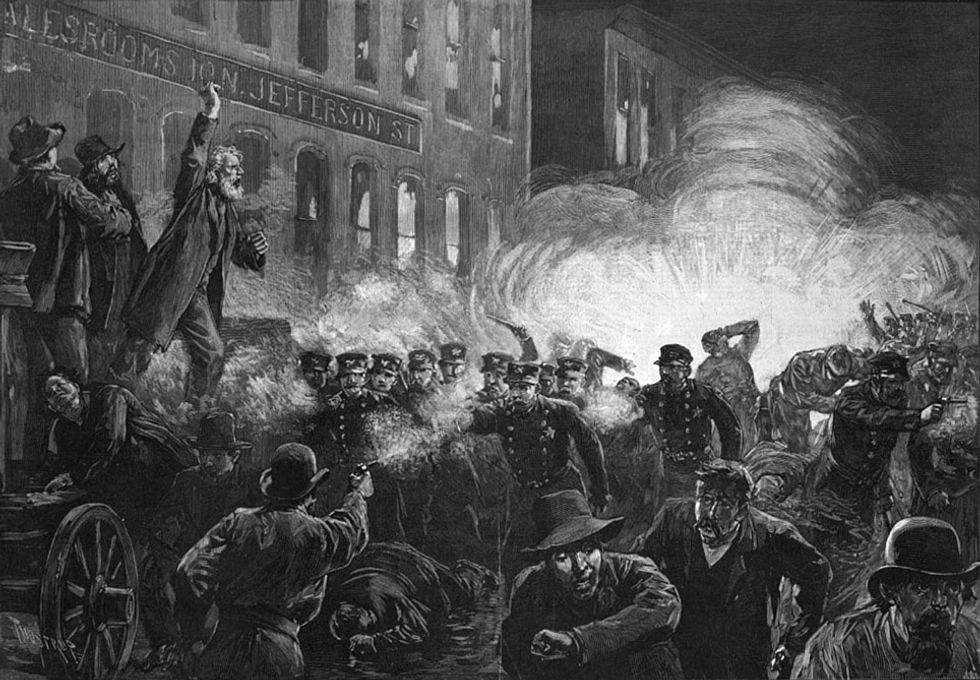 Prior to 1886, May Day had traditionally been celebrated in European cultures with a variety of festivals celebrating spring, but that year American workers took the occasion as an opportunity to fight for their rights. A massive, nationwide work stoppage began on May 1st and continued for several days, with thousands of striking workers demonstrating in every major city. At the time, workers were often made to work long hours in dangerous conditions, and they were fighting for the eight-hour workday—so if you've ever gotten overtime pay, or just enjoyed clocking out at 5:00, then you have them to thank.
On May 3rd police efforts to quash the protests in Chicago resulted in at least one death and several injuries.The next day an unknown assailant came prepared. When police once more attempted to disperse the crowd in Haymarket Square with violent tactics, that person threw a dynamite bomb. The explosion and the ensuing gunfire killed seven police officers and at least four civilians. Dozens more were badly hurt. Police then rounded up hundreds of organizers, and four men—none of whom had thrown the bomb—were hanged after a lengthy, internationally publicized trial.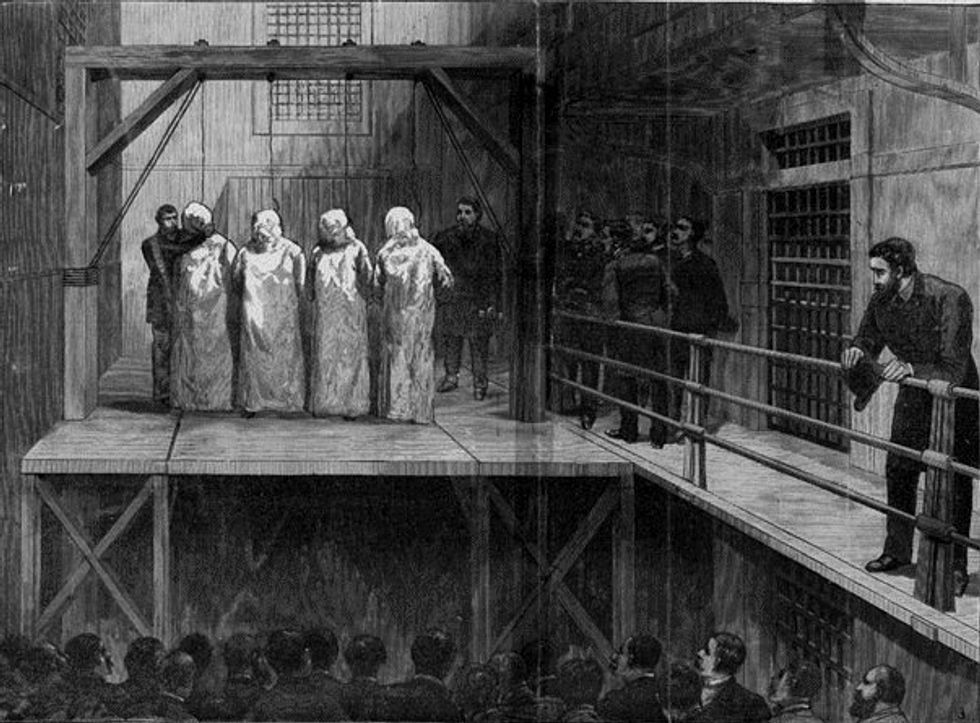 It would take another 30 years of fighting before a federal law established an eight-hour work day for any private industry—and even longer before FDR's administration made it standard across most types of work. But those four men became martyrs for the cause of workers' rights and galvanized people around the world to take action. According to historian William J. Adelman, "No single event has influenced the history of labor in Illinois, the United States, and even the world, more than the Chicago Haymarket Affair," yet few Americans are aware of these events or the holiday they spawned. While the violence and death that took place back then was obviously regrettable—and no one should be hoping for its recurrence—we are about due for another turning point in labor history.

The cracks in our system are being exposed like never before, and millions are falling through. Tens of millions of Americans find themselves suddenly unemployed or underemployed. Shockingly few have been able to sign up for unemployment benefits, and the federal government's $1,200 checks are being treated as a long-term cure-all. People aren't making money, yet most of them are still expected to pay their rent in full, and many have lost their health insurance amid a viral pandemic. It's no wonder people are protesting for their states to reopen; but seeing as that would plainly backfire (and is a push being secretly driven by wealthy backers who won't have to risk their lives), we need to direct that energy toward measures that would actually help.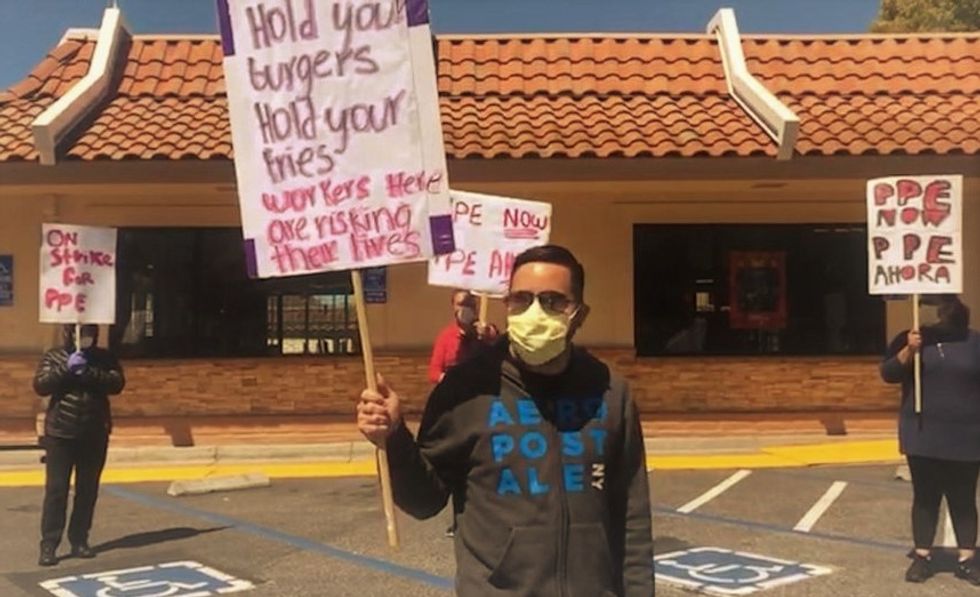 ABC
Meanwhile, many of the people who never stopped working—in healthcare, retail, food service, and other industries deemed "essential"—are being asked to risk their lives working without safety equipment, hazard pay, or even adequate sick leave. These conditions would be unacceptable at the best of times, but now—at the worst of times—we have no choice but to fight back and demand immediate relief and lasting reforms.

A rent strike is a good start, but a general strike—in which workers across industries and around the country participate—sends a real message. So if it's at all possible for you to join the general strike on Friday, May 1st, and/or participate in a (safe, socially-distant) demonstration, consider what you'd be fighting for: A rent and mortgage freeze; liveable stimulus payments; guaranteed healthcare; and hazard pay, sick leave, and PPE for all essential workers.
These are the absolute bare minimum measures that can get us all through this crisis, and if we don't demonstrate the collective power of the American working class—to drive or shut down the economy—we will continue to be deprived of even these. It's time to stand up.
<
The Trump Administration's solution to aid the 16 million Americans who are out of a job thanks to coronavirus? One big, shiny, $1,200 check.
As MarketWatch explains, "The Internal Revenue Service will send $1,200 payments to individuals with adjusted gross income below $75,000 and $2,400 to married couples filing taxes jointly who earn under $150,000. The government will also pay $500 per qualifying child." That plan is a little skewed—$1,200, after all, isn't even enough for one month's rent for a studio in NYC's outer boroughs. And for everyone who's receiving the check, there's someone else who, fortunately, is able to work from home and hasn't faced a huge setback due to COVID-19.
If you're one of the lucky ones, or if you're just feeling generous, here are just a few good causes that deserve your donations to help those in need.
WeCount!'s Immigrant Worker COVID-19 Fund: Florida nonprofit WeCount! is on a mission to address the gap in medical support for undocumented immigrants, emphasized by COVID-19.
Immigrant Worker Safety Net Fund: National Day Laborer Organizing Network allocates cash donations to worker leaders, organizers, and volunteers who have already contracted the COVID-19, as well as undocumented laborers who are especially vulnerable to the virus, such as those over 60 or with preexisting health concerns.
National Bailout: Prisons, jails, and detention centers have raised big health concerns in the coronavirus's wake. National Bailout is galvanizing funds to get people out, in an effort to slow the spread. The organization also already hosts an annual #FreeBlackMamas campaign to specifically help incarcerated black mothers each Mother's Day, but donations are welcome and encouraged year-round.
Restaurant Workers' Community Foundation: With restaurants limited to takeout only, many folks in the service industry are taking a major hit. RWCF's emergency relief fund collected $2.8M since its launch in late-March. Of that, half goes directly to individual restaurant workers, 25 percent to non-profits serving restaurant workers, and another 25 percent for zero-interest loans to keep restaurants running.
Coalition for the Homeless: Homeless people are predisposed to major risks year-round, but the pandemic has brought additional attention to their health care. In New York City, the Coalition for the Homeless is providing temporary safe housing to the community thanks to donations.
A record number of Americans have applied for unemployment benefits in the wake of the coronavirus pandemic. So many, in fact, that there has been a 3000% jump in jobless claims since early March. Unfortunately, the situation is likely to only get worse. According to Citi economist Andrew Hollenhorst, "Further job loss expected in coming weeks is very likely to push unemployment above 10%, even taking account of a potential steep decline in the labor force participation rate, as some displaced workers are neither furloughed nor looking for work."
Of course, if you've been outright fired from your job, you can at least take comfort in the fact that you face a relatively straightforward process for applying for unemployment. But what if you've been furloughed? What do you do now?
What is a furlough?
Furlough's have become increasingly common as the pandemic has continued to devastate the American job market. In short, a furlough is when an employee is put on an unpaid leave from work for an indefinite amount of time. According to the Office for Personnel Management, there are two types of furlough:
"An administrative furlough is a planned event by an agency which is designed to absorb reductions necessitated by downsizing, reduced funding, lack of work, or any budget situation other than a lapse in appropriations. Furloughs that would potentially result from sequestration would generally be considered administrative furloughs."
"A shutdown furlough (also called an emergency furlough) occurs when there is a lapse in appropriations, and can occur at the beginning of a fiscal year, if no funds have been appropriated for that year, or upon expiration of a continuing resolution, if a new continuing resolution or appropriations law is not passed. In a shutdown furlough, an affected agency would have to shut down any activities funded by annual appropriations that are not excepted by law. Typically, an agency will have very little to no lead time to plan and implement a shutdown furlough."
A furlough is, by its nature, temporary, but that doesn't mean that you can count on getting your job back. Many private and public companies have furloughed employees as a cost saving measure in hopes of weathering the economic turmoil of COVID-19 and hiring back furloughed employees as soon as possible, but as economies grind to a halt across the world, it becomes more and more likely that furlough will turn to permanent termination for many workers. As Jie Feng, an assistant professor in the Rutgers School of Management and Labor Relations told the Society for Human Resource Management, "Unlike layoffs, furloughs reduce labor costs without adding new costs such as severance packages and outplacement services." That means that, unfortunately, your company may just be putting off termination in order to avoid the costs associated with it.
While you likely still have healthcare as a furloughed employee, its not a guarantee, so its worth verifying with your specific company what benefits you retain during your leave.

Do I qualify for unemployment if I've been furloughed?
While you wait to see how long your furlough lasts, you can at least take comfort knowing that you probably qualify for unemployment benefits, particularly as they've been expanded under the $2 trillion coronavirus relief package. Usually, it wouldn't be a guarantee that furloughed workers would qualify for unemployment (it depends on the state you live in) but thanks to the new relief packaged, anyone who was furloughed due to the coronavirus outbreak qualifies for unemployment insurance. Additionally, unlike filing for unemployment because you've lost your job, furloughed employees do not have to prove they lost their jobs. Keep in mind that if you're on paid leave or are able to work from home, you won't qualify for the updated unemployment benefits.
According to CNET, you are likely eligible for additional unemployment under the new package if: "you're a part-time or self-employed worker, as well as if you're already unemployed or can't work because of COVID-19."
You are also eligible if:
You were set to start a new job and can't because of the outbreak
You collect veteran or Social Security benefits
Your job closed due to the coronavirus (for instance, restaurants or businesses deemed "nonessential")
You're not working because you have to care for children or other family members who would otherwise attend school or another facility
So, how much money will I get?
While the total sum of the unemployment money you receive will depend on your state's unemployment plan, the new federal relief package will give you an extra $600 a week on top of whatever you get through your state. It will also cover you for an extra 13 weeks in addition to whatever amount of time your state unemployment program covers. Most states unemployment benefits are upwards of 26 weeks, meaning you're likely to be covered for around 39 weeks. How much money you'll receive is entirely dependent on your state, for example, California residents get $450 a week so the extra $600 would put their weekly benefits at more than $1,000, but Florida residents get a max of $275 per week, putting their total unemployment at a maximum amount of $875.
How do I apply?
There is no way to apply for unemployment via the federal government, so you'll have to find the specific process for your state. Luckily, you can apply immediately. You used to have to wait at least a week to receive benefits, but thanks to the stimulus package you can now expect a more immediate turnaround time. While some states have waived the waiting period, others might still have one implemented. To find out what your state's unemployment program looks like, refer to the table on this site or select your state on this page.