With nearly 14 million Americans currently looking for work, giving your resume an update has never sounded better! We have cultivated a list of the most coveted and in-demand job skills you should focus on developing as you prepare for a changing COVID influenced world.
Employers look for employees who possess both hard and soft skills. Hard skills are those that involve technical knowledge, while soft skills deal with personality traits.
Digital Hard Skills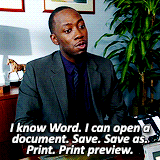 skills GIF Giphy
The global workforce was already amidst a technological revolution, but when COVID took the reins, the skill sets needed for digital work priority seemingly overnight.

According to LinkedIn, data literacy–which is the ability not only to read and understand data but also to apply that data in a meaningful way–is the most important skill set businesses look to attain. Special skill sets in statistics and probability are a great asset to any job in the data field.
Computer programming is now, more than ever, becoming a job skill that employers desire. But you don't have to have a programming degree to pick up some basic coding skills that might help you go far. Codecademy offers free basic beginner classes that teach you how to code from the comfort of your home.
Having proficiency in computer programming languages can also get your resume noticed. According to Indeed, Python is the highest demanded program language for jobs right now. Blockchain technology, a job skill that has never even appeared on LinkedIn's top skill demands before this year, debuted as the highest demanded skill for 2020. The up-and-coming Blockchain technology, which is generally associated with cryptocurrency, is now being sought for use by businesses who are looking for innovative ways to implement new technologies.
Similarly, jobs dealing with artificial intelligence have shown the highest rate of increase in any industry in the United States this past year. Proficiency in developing algorithms and robotics can get your resume noticed fast.
Finally, affiliate marketing has been one of the fastest-growing marketing sectors that businesses are developing. Business spending on affiliate marketing grew from $4.2 billion to $6.8 billion annually between 2015 and 2020. Practice and understanding of search engine optimization (SEO) and search engine marketing (SEM) are crucial job skills that can help you grow a business online. And if you have no experience with SEO, learning about it can be done for free and easily through sites such as Moz or Yoast. Familiarity with online analytics such as Google and Adobe analytics will also help your resume get it noticed.
High Demand Soft Skills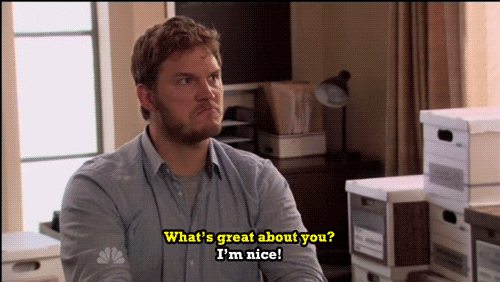 resume GIF Giphy
Cognitive Skills
Employers have always desired some level of cognitive skill from employees. Logic and reasoning are important in a world where it seems easier to find fake news and misrepresented data, and being able to objectively sort through what is credible and what is not is a coveted job skill in today's world.
Adaptability and Resilience Skills
The baby boomer generation was accustomed to holding lifelong jobs, often having the same workplace and requirements throughout an entire career. In today's world, the majority of millennials prefer–or are forced into–job-hopping, so being willing to adjust to change in an increasingly changing workforce will get you far.
Leadership Skills
With jobs shifting to remote work-at-home settings, leadership skills will become a top job skill throughout the workforce. People who show self-management are more likely to adapt to working from home and are capable of engaging fellow teammates more effectively.
Creativity Skills
Artists who make a career out of their passions have long felt undervalued at what they do. But if recent closures and shutdowns have trained the job market's interests on anything good, it's been creativity, as businesses have all been forced to think outside of the box.
What do you do when financial hardship hits and you can't make your monthly mortgage payments? This is a question on many homeowner's minds as nearly 17.8 million Americans are reportedly unemployed during the coronavirus pandemic.
When homeowners face financial hardship, such as the loss of a job, they often look to obtain a forbearance agreement from their lender. A forbearance happens when your lender grants you a temporary pause or reduction in monthly payments on your mortgage. Forbearance is not the same as payment forgiveness, in that you still have to pay the entire amount back by an agreed-upon time.
Mortgage lending institutions differ on their mortgage relief policies and qualifications; however, the Coronavirus Aid, Relief, and Economic Security (CARES) Act were signed into law in late March of this year to protect government-backed mortgages.
Federally backed mortgages include:
Fannie Mae
Freddie Mac
The Federal Housing Administration (FHA)
The US Department of Veteran Affairs (VA)
The US Department of Agriculture (USDA)
Under the CARES Act, homeowners with a federally backed loan who either directly or indirectly suffer financial hardship due to coronavirus automatically qualify for mortgage forbearance.
Even if your mortgage is not secured by one of these agencies, you still can call and see if you qualify, as many lenders will still offer the option in order to avoid foreclosures.
Under the CARES act, homeowners can claim mortgage forbearance due to financial hardship from COVID-19 for up to 12 months without requiring any documentation or verification. During the forbearance period, mortgage lenders cannot charge late fees or penalties.
Additionally, as long as your mortgage is current at the time you claim forbearance, the lender is required to keep reporting your mortgage as paid current throughout the entire period.
At the end of the forbearance, the CARES act protects consumers from having to make a lump sum payment. Instead, you will be given a repayment plan from your provider. Since repayment options vary, it's important you ask your provider about all of your repayment options.
Possible Repayment Options:
You may be eligible for a loan modification at the end of your forbearance. With modification, the mortgage terms are changed in order to add payments that were missed during the forbearance onto the end of the loan, extending the term.
Another option that may work for some is a reduced payment option. This allows you to keep paying monthly payments at a reduced amount. The amount missed is usually added back into the monthly payments at the end of the forbearance.
For example:
Regular payment: $1000 per month
Reduced payment: $500 per month
Payment after forbearance period: $1500 (until caught up)
Balloon payments, or lump sum payments at the end of the forbearance, are prohibited under the CARES Act. However, mortgage lenders may require homeowners who are not protected under the CARES Act to make a balloon payment at the end, so again it is best to check first with your provider.
Mortgage forbearance should only be considered in true financial hardship. In other words, just because of the pandemic, you should not take a forbearance on your mortgage if you can still afford your payments. Likewise, if you are able to start making payments before the forbearance period is up, it's best to do so as soon as possible.
The Next Steps:
Before you get in touch with your mortgage servicer, save time by gathering as much documentation about the mortgage as you can. Also, be ready to list your income and monthly expenses. Due to an influx in calls, financial institutions are experiencing extremely long wait times right now, and having your information at the ready will help.
Have questions ready to ask. Here are some questions you should be asking:
What fees are associated with the forbearance?
What are all the repayment options available to you at the end of the forbearance?
Will you be charged interest during the forbearance period?
If your forbearance is approved, make sure to keep all documentation pertaining to it. Make sure to cancel any automatic payments to the mortgage during the forbearance period, and keep tabs on your credit report to make sure your lender doesn't report the loan as unpaid.
For more information on forbearance, contact your lender and discuss your options. If you need more assistance with understanding your options, you can contact a local agent for the
housing counseling agency
, or call their hotline at 1-800-569-4287.
Related Articles Around the Web
In her impassioned, desperate diatribe on the increasingly untenable position of working parents—caught between work and child care in the reopening economy—food writer Deb Perelman asks her readers two incredulous questions:
"Why isn't anyone talking about this? Why are we not hearing a primal scream so deafening that no plodding policy can be implemented without addressing the people buried by it?"
As it turns out, those primal screams were waiting patiently for Deb Perelman to lead them in unison. Within minutes of her article going live in the business section of The New York Times, thousands of users on Twitter were sharing the link accompanied by choice quotes like, "Allowing workplaces to reopen while schools, camps and day cares remain closed tells a generation of working parents that it's fine if they lose their jobs, insurance and livelihoods in the process."
As Perelman's article makes clear, while law-makers and government officials have arranged plans to ensure that economic conditions return to normal as quickly as possible for wealthy business owners, there has been little apparent concern for how reopening measures would affect families with school-age children.
In Perelman's case, living in New York City, this lack of consideration reached a breaking point when she became aware of current plans for the fall school term. In order to ensure that each student is afforded a minimum of 65 square feet of classroom space, only a third of students will be in the school building in any given week—the other two thirds learning remotely.

For the time being, while the science on how COVID-19 is contracted and spread by children remains unclear, these sorts of measures are seen as necessary to prevent sudden, overwhelming spikes in the infection rate. But for parents like Perelman and her husband, this means that two weeks out of every three, their children—one approaching kindergarten, the other entering 6th grade—will need to be home.
The fact that Perelman's husband is among the tens of millions who have been laid off during the COVID-19 lockdown has made it possible to maintain child care while Perelman works from home, setting her own exhausting hours.
But what happens to them and countless other parents who are struggling to keep their children educated and supervised when he is rehired or forced to start looking for a new job? How are they supposed to pay their bills and take care of their children?
The problem is obviously even worse for parents who may not have had the option—like Perelman—to work from home, or haven't had the resources to maintain their children's education with online tutors and extra school supplies.
Here's what schools could look like this fall amid pandemic l GMA www.youtube.com
As Perelman points out, these and other issues with remote learning have already affected student outcomes and have likely expanded the existing achievement gaps along racial and socioeconomic lines. But those issues are certain to get worse as more and more parents are forced to return to work without viable child care options.

While the wealthy will be fine, many in the middle class (particularly mothers) will be forced to choose their children over their long-term career plans. And as for poor and working class parents, far too many will have no choice at all—will have to keep working and leave their children unsupervised.
While the proximate cause of this mess is obviously the coronavirus pandemic gripping the world and requiring adaptive measures to counter its spread, there is a deeper issue that can be tied—as with so many societal problems—to the structure of capitalism.
It's the same problem that English philosopher Bertrand Russell pointed out in his essay "In Praise of Idleness". It's the same problem that recurs on a near constant basis in our society, but it's most evident in the aftermath of a crisis: At every opportunity to give workers more freedom, we instead choose to increase productivity.
When Russell published the essay in 1932, he had in mind the aftermath of World War I, when soldiers returned home from the front, effectively doubling the workforce.

As he notes, living standards and productive industry had been maintained throughout the war thanks to mechanization and thoughtful planning. The populous remained fed and clothed and housed despite the loss of so many workers to the war.
Less work was needed to achieve the same outcome, which meant that—when those workers finally returned—there was the option to allow everyone to work half as much and still make a living wage.
But no. Instead productivity was increased, workers were laid off, and it was still necessary to work 40 hours a week to get by. And that's where things in England, the US, and much of the world remain to this day.

The same dynamic was in play in the second half of the 20th century as it became the norm for women to join the workforce. There were twice as many workers, but rather than cut the work week in half, we kept it at 40 hours, increased productivity, and allowed wages to stagnate so that two incomes were soon necessary for a basic standard of living—and working mothers were still expected to perform traditional child care duties.
We've invented so many machines and systems to make our work lives more efficient and our home lives more convenient, but instead of framing these advances as opportunities to increase our freedom—to reduce the work week to 20 hours, as Russell suggests, and give workers the opportunity to redirect their energy toward their passions and interests, we treat them as tools to increase profit for those at the very top.
They replace workers with automation and outsourcing and pay those who remain less while investors and executives rake in more. Because growth of investment is the ultimate ideal driving the whole machine—even if that machine is wringing the life out of workers and the planet alike.
Right now around half of working-age Americans aren't working. The work force is set to return in a big way in coming months—just as it did after WWI. If we shifted our priorities toward a more humane objective, we could see this crisis and the aftermath not as another occasion to benefit the wealthy and push working people to their limit, but as an opportunity to increase the freedom and the happiness in the world.
Shift to a 30-hour work week (without reducing pay) and give workers—especially working parents—some flexibility for when they work those hours. Suddenly child care and home-schooling wouldn't be nearly such an overwhelming burden. Better still, provide them with that child care. Suddenly workers would have energy left over to find new ways to thrive—rather than only surviving.

It may seem far-fetched, but changes like this have happened before when workers were united. The only thing preventing it now is that we haven't all joined our voice with that primal, deafening scream and demanded what we deserve.
In the coming weeks many US states will begin the process of loosening COVID-19 lockdown restrictions and "reopening" their economies.
Other states have already done so.
While the argument for reopening has been unequivocal—it's supposedly what we need to save our flagging economy from a full-blown depression—it's not clear that it will serve that function at all. Recent polling has shown that the vast majority of Americans support social-distancing and stay-at-home measures and are not enthusiastic about the prospect of going back to restaurants and crowded stores while the coronavirus pandemic is ongoing. Which means that the number of customers who return as states drop their restrictions may not be enough to keep small businesses afloat.
Unfortunately that majority opinion has not received as much attention as many of the loudest advocates for reopening—who have argued that a death toll that is likely to more than double current figures is worth it, or that the whole pandemic is just a hoax. Of course it makes sense for small business owners and people who are struggling to make ends meet right now to want to get back to work, but what good will it do?
If cases spike, overwhelming local hospital systems and causing deaths and tremendous medical debt in the process, then restrictions will need to be reinstated, and the economic problems we're currently dealing with will only be prolonged. Right now we lack the widespread testing and the sufficiently improving conditions to support reopening without a vaccine. There are measures we could take at the federal level to improve the situation without such startling risks, but we are ignoring those options—treating reopening like it's the only solution available—for one simple reason: Americans hate "big government."
Last Monday, cases hit their lowest daily total since March. Today, the case number is up a couple thousand cases… https://t.co/NJoLmhZwMZ

— The COVID Tracking Project (@The COVID Tracking Project)1589839717.0
Since at least the 1980s our society has been flooded with anti-government propaganda. We recite mantras about government mismanagement, waste, incompetence, while ignoring successful programs at home and abroad. One of our two major parties has devoted much of its political willpower to actively sabotaging federal programs and agencies like the US Postal Service to prove their point and push for further privatization (that they, along with their donors and friends, stand to personally profit from). In this context, the kind of aggressive federal spending we would need to keep small businesses and struggling families afloat in current conditions is virtually unthinkable.

Even America's relatively compassionate party is only pushing fairly moderate measures that are likely to be whittled down and paired with massive business subsidies in the Senate—just like what happened with the Cares Act in March. In its current form the Heroes Act includes $175 billion in housing assistance, a second round of $1200 stimulus payments (with children receiving as much as adults this time), $200 billion in hazard pay for essential workers, $1 trillion in funding for states to pay their vital workers, and a six month extension of the $600 unemployment expansion.
Undoubtedly these measures will help a lot—though not as much as more generous proposals—but they ignore some major issues. The biggest problem (apart from the fact that the senate isn't going to let the bill pass as is) is that states are straining to make the basic unemployment payments that the $600 expansion is meant to supplement. As a result, many of the tens of millions of people trying to file for unemployment have been stymied by bureaucratic foot-dragging and red tape, and now states are using reopening as a way to push workers off of unemployment and protect state budgets from possible bankruptcy—an outcome which Senate Majority Leader Mitch McConnell has no interest in preventing. In some states there are even systems being implemented to report workers who refuse to go back to work, regardless of their circumstances or legitimate fears.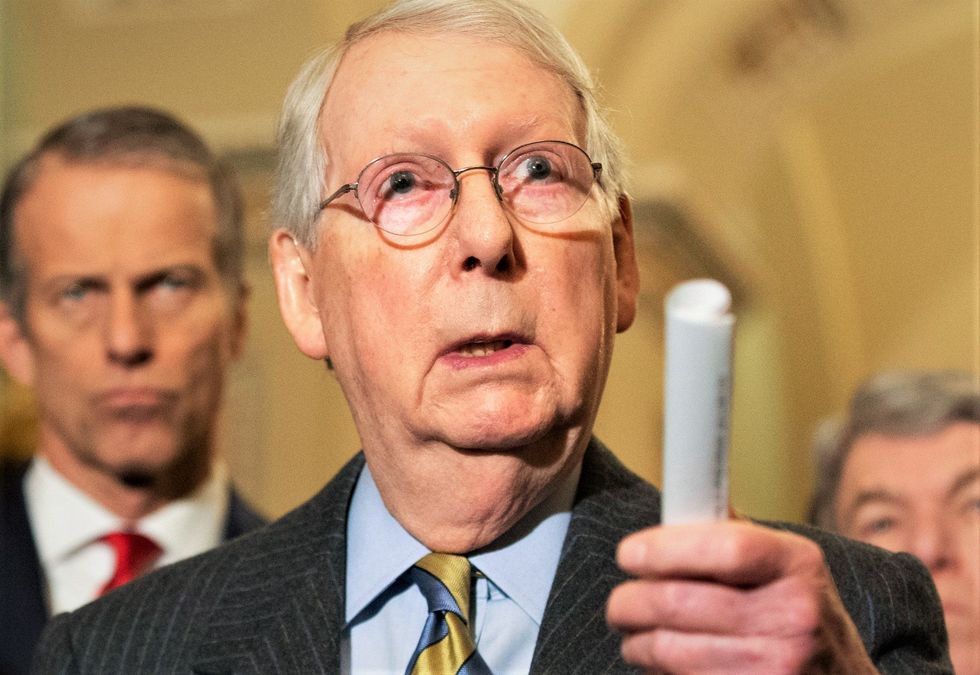 Whether any of this will improve the national economy in the long run remains to be seen. What is clear is that state governments are being understandably cautious with their budgets, and the Republican party is playing their usual political games with lives, health, and livelihoods on the line. The result is that states are reopening, and millions of workers are about to be pushed off unemployment. The next stop is cutting retirement benefits, and fully dissolving any remnant of a social safety net this country has.

As we enter what is likely to be another global depression, it's worth keeping in mind that these programs are among the measures that helped us get through the last one under FDR and that countries that chose a different path were pushed toward a scarier form of politics that has lately been threatening resurgence: outright fascism. Let's try not to repeat the mistakes of the 1930s.