The National Financial Educators Council (NFEC) surveyed young adults in 2017 and asked them what high school level course would benefit their lives the most.
The majority responded that money management was the course that would be most beneficial.
With personal debt is at its highest record and COVID-19 threatening to have the hardest economic effects on youth, understanding money and finances is an important life lesson that should be taught to children at a young age.
The following is a list of the best financial literacy lessons and tips to teach children throughout different life stages.
---
Younger Children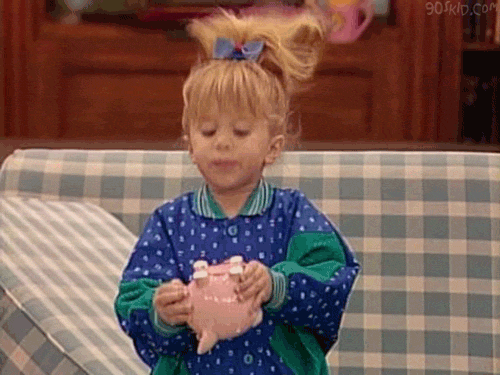 paying full house GIF Giphy
A 2013 University of Cambridge study stated that by the time children are just 7 years old, they have already formed money habits. While toddlers are still too young to be taught the value of money, it's never too early to introduce money and spending to them. Here are some great ways to introduce money to young children.

Get them their first piggy bank. Clear piggy banks work best so that the child can visually see their money grow. If you would like to take it further, give your child two separate piggy banks—one for spending and one for saving.
Encourage play money. While getting familiar with money is important at a young age, you don't necessarily want your child handling dirty money. Investing in a money play set and teaching money lessons through play is a great way to introduce money to children—because what toddler doesn't love to play store?
Children learn by example, and setting a good financial example for your younger children to follow is important.
Open a joint savings account with them. I am an avid believer in parents holding at least two types of saving vehicles for their children—one that the parent can fully control and one for the child to be on jointly. When the time is right for you and your child to open the account, make it a fun and exciting event for them. This is a great opportunity to get them familiar with banks and depositing money.
Check for educational games and apps that have money learning games. Savings Spree is great for kids and well worth the $5 price.
Elementary/Middle School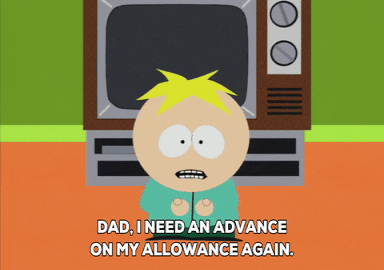 money talking GIF by South Park Giphy
By now most children know financial basics, such as the different denominations, but keeping up with their financial learning at this stage in life can be crucial. Here are some tools and tips to help your child navigate through the beginning steps of learning what it means to control their own finances.

Don't simply give your kids allowances—instead, teach them about earning money by assigning chores and rewards. iAllownce is a great resource and management tool to create chores, automated payouts, and rewards that can be synced to children's devices in your household.
Gift your child a stock that has meaning to them. Giving a kid a piece of paper and telling them they own a share of stock isn't that exciting. But perhaps presenting it to them as they are now the proud owner of stock—and in turn, a part of the company itself—may be a little more satisfying, especially if it's coming from a company they are familiar with and has meaning to them (i.e. Disney). This is a great way to introduce kids into the world of investments and stocks.
Teach lessons about value in goods and opportunity costs. If your child only has enough money to buy one of the two things they want, talk it over with them. Have them figure out the value of each item by comparing costs, longevity, and desire; this will show them that if they choose one thing, they can't have the other (the opportunity cost). Likewise, encouraging kids to think a purchase over for a day before making decisions instills strong values that will prevent them from making impulse buys as adults.
Teenagers/Young Adults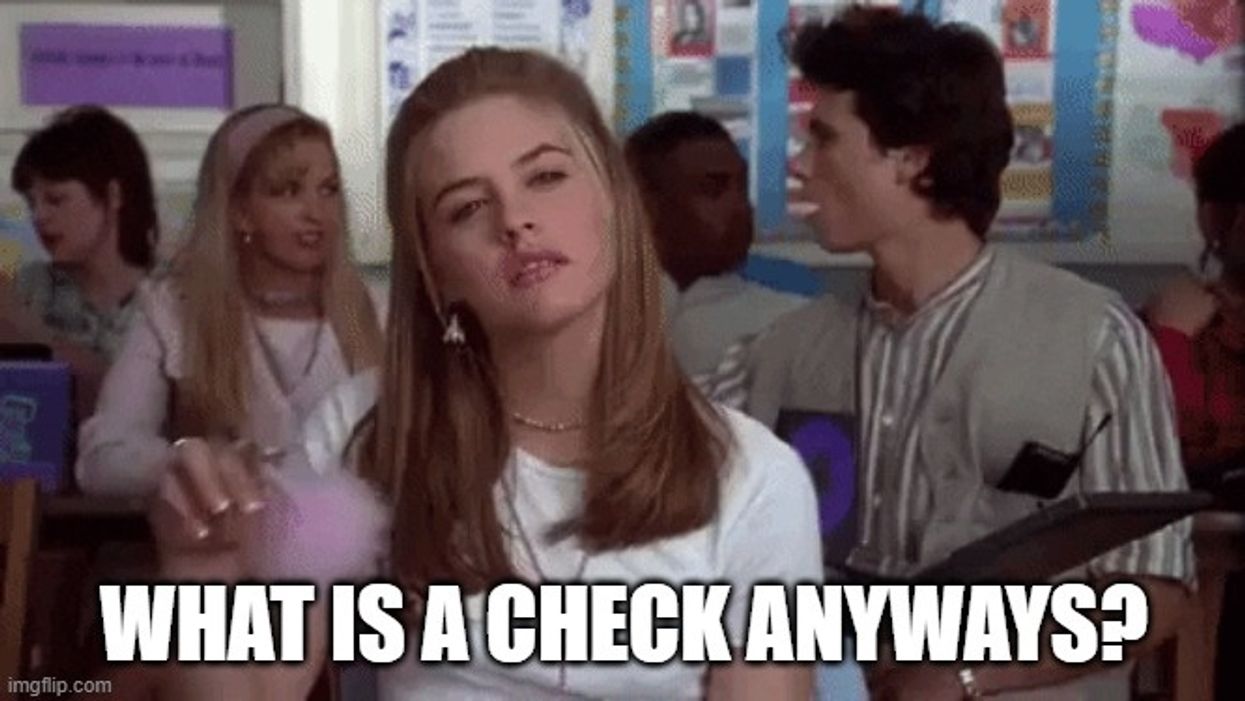 Do not depend on your child's school to teach them financial literacy, as less than half of states require high school students to take a personal finance course. High school years are the perfect time to develop your kid's financial freedom so they are prepared to make smart choices when out on their own.

Let your child earn a paycheck other than a chore allowance, whether through a job or by pursuing their own business entrepreneurship such as an Etsy shop. Your child's first paycheck can be a great lesson on taxes.
The most important thing you can teach your teen is how to keep a checkbook ledger, as well as how to fill out a check and a deposit slip. In my time working at a bank, the majority of teens and younger adults I encountered had almost no prior knowledge about basic banking transactions. While the argument against keeping up with such tasks is that banking is now mostly online, there is no direct way to keep exact track of your account balances without some sort of ledger entry. Card swipe and electronic transfers have become nearly instant ways of making transactions on checking accounts—but not everything instantly goes through your account.
Help teens set long term savings goals and encourage them to always put a percentage of their income into savings. One great savings incentive is to set up a savings match with them. I once had a banking customer that told her children she would match whatever they put into their savings account by the time they graduated.
Teach them healthy credit card habits. It's important for teenagers to learn the dangers of credit card spending, but I am an adamant believer that every parent should help their child get a first time credit card at the age of 18 to instill good credit habits.
Help them create a budget. Sit down with them and together figure out their monthly income. If they have any monthly expenses (gas, cell phone, etc.) subtract that from their monthly income to figure out how much money they have left for spending and saving.
I thought I had a pretty good handle on my finances out of school. I worked several jobs while attending university and had little to no problem managing my income. However, once I graduated, I realized how much more complicated personal accounting could really be.
There were so many variables I needed to keep track of. Biweekly bills, monthly charges, and general necessities amounted to a heap of confusing numbers that were often impossible to decipher. The funniest part was that I was actually trying to do this by hand (I don't know what I was trying to prove to myself, either).
After messing up for the 17th time, I decided to give Microsoft Excel a shot. I used Excel a bit in school and I knew all the big-wig finance people used it, so what could I possibly have to lose? The answer is about six hours of my precious time. Excel isn't much of an improvement over handwriting and it's still dependent on the user to manually input all of the information. It's like doing everything by hand with the slightest help, meaning that it still required a tremendous amount of time and concentration. Well that was all for nothing, I guess.
It's sort of funny. I was certain that I could manage my personal finances with ease, when it's practically a full-time job. I was already stressed out enough with my first job and I knew I didn't have enough time to give my finances the attention it deserved.
That's why I decided to try out a budgeting app. My best friend told me that he uses an app called Truebill to manage his finances. "What does it even mean to manage your finances?" I asked him. He told me that Truebill was the personal financial assistant I wished I could have. It could aggregate all of my account information into one place and give me specific insights and actions.
I loved the idea of having full control over my finances, especially during a time of financial uncertainty, and I realized that Truebill would be the easiest way to accomplish this. The user interface is incredibly simple and intuitive, so it doesn't even feel like a finance app! Truebill offers a multitude of features, with their most popular being the ability to cancel subscriptions with the press of a button.
Okay, I had no idea how many subscriptions I was still subscribed to. In fact, I wasn't even using a quarter of the subscription services I was signed up for. Subscription boxes, streaming services, my old gym, and even an old subscription to my favorite magazine--it was all there and I was livid. How could I let myself waste all of this money and how did I never catch this? Thank goodness for Truebill.
Truebill also offers bill negotiations. There is a 40% fee based on how much you save and Truebill even claims that there is an 85% chance that they'll be able to lower your bill once a negotiation is requested. Why wouldn't I take them up on this? There was zero risk and I would only have to pay once my bill was lowered (which means that I would be saving money regardless).
More standard features of Truebill include the ability to generate a credit report on-demand and even request a pay advance. I only used the pay advance feature once when I wanted to buy a gift for my mom, but didn't have enough cash in hand and Truebill automatically reimbursed itself when I got my next paycheck.
The credit report is another fantastic feature and practically taught me what good credit meant. Truebill's credit report basically shows you which financial decisions have the most significant impact on your credit score and ways that you can improve your credit month-over-month. I've never had such control over my credit and it feels good.
I'll be the first to admit that I was extremely naive coming out of school. I figured that as long as I was attentive, I could manage my finances with ease. We manage money to some extent throughout our entire lives, but once you're thrown out on your own, it's a completely different story. With Truebill, I've finally been able to take control over my finances and stay on top of all of my responsibilities.
Update: Our friends at Truebill are extending a special offer to our readers! Follow this link to sign-up for Truebill.
My buddies and I always try to make it out to a game, but we never really care which one we end up at. Obviously we have our favorite sports and teams, but it was rarely about what game we went to or who we saw playing. It was about watching the game live.
In the early months of lockdown, all we had was Korean baseball, and trust me, we loved it. The only issue was, none of us had any idea what the commentators were saying. Even then, a few of my friends weren't huge fans of baseball. They were into sports like football and basketball, ones that moved at a quicker pace with less down-time in between plays.
We decided to see if there were any other events going down and came across horse racing. Yes, horse racing. It was perfect--short, fast-paced, and most importantly, an opportunity for betting.
I had never really considered watching a horse race any time other than the Belmont Stakes, but the prospects of the sport seemed exhilarating. Even better, with horse racing we knew we could still recreate the atmosphere of a race track. Salty snacks? Check. Stale beer? Check. A simple and easy way to bet? Check.
One quick Google search later, we came across TVG, powered by FanDuel. It's an online betting platform that takes you right to the heart of the action. We were a little apprehensive about using a mobile app to place our bets, but TVG's ability to bet on live horse races from all over the world was too good to pass up.
Here are 5 reasons why we are obsessed with horse racing thanks to TVG:
1. Betting has never been easier
Use your phone or computer to watch and bet on live horse races in real-time. TVG offers a bunch of features to make betting even simpler--live odds and handicapping tips leverage recent learnings to help you make your best bet. Not to mention, TVG's exclusive race content and wagering guide offers an under-the-hood look into the strategy behind horse race betting.
2. The biggest selection of horse races out there
If you're looking to drop a little dough on a horse race, chances are your best option is your local race track. But watching the same few horses races over and over again isn't the most exciting thing. With TVG you have access to over 150 tracks worldwide with races happening consistently throughout the day.
3. Get a generous sign-up offer when you place your first bet
Once you register your account, you will be eligible for a $200 risk-free bet. All you have to do is place your first bet and you're covered. If you happen to lose, TVG will insure you for up to $200 as a sort of wagering credit. I may have been a little trigger happy when placing my first bet, so having this insurance was a great perk. There are also a bunch of promotional offers available year-round.
4. Making deposits and cashing out at the touch of button
With a ton of payment options such as PayPal, BetCash, debit/credit, wire transfers, and other third-party services, making a deposit is a breeze. But what about the payout? Depending on your deposit method, your withdrawal will be available in a few days. No more waiting in-line to collect your winnings!
5. Watching live races with your friends while betting is exhilarating
Even when we were watching Korean baseball, Zoom calls with my friends were a little dull.
With TVG, we haven't had this sort of fun in months! Every weekend we'll turn on a race and throw our bets in. After a few races, and quite a few drinks, we'll tally up our winnings to see who won the most! Sometimes it's not even about making money, but just having a good time.
TVG is the perfect way to add a little excitement to an otherwise mundane afternoon. It introduced me to the world of horse racing, a sport I never would have considered otherwise.
The races just keep ramping up and thanks to TVG, I can always get in on the fun.
UPDATE: The biggest derby in horse racing is THIS WEEKEND. Get in on the action with your $200 risk-free bet!
Debt collection is a whopping $11.5 billion industry, and around 28% of Americans currently owe money and are being sought out by a third party debt collection agency, according to the Bureau of Consumer Financial Protection (BCFP).
Debt collectors often prey on creditors' ignorance. In 2018 alone, the Federal Trade Commission (FTC) banned 32 companies and individuals from ever working in debt collection again for malpractice. The best course of action when you first become late on a payment is to make sure you know the laws and your rights when it comes to handling debt collection.
A debt collection agency is a separate third party from the original creditor to whom you owe money. At some point of time (usually no sooner than 90 days), creditors often turn over unpaid loans to the debt collector to pursue the customer in an attempt to receive payments. Debt collection agencies often buy out a portion of the unpaid loan from the creditor, or they may receive a percentage of the money if and when it is paid.
Debt collection is a civil, not criminal matter. This means the police will not get involved, and you will not go to jail for failure to pay on loans.
<p><script async="" src="//pagead2.googlesyndication.com/pagead/js/adsbygoogle.js"></script> <!-- 02B3 - responsive ad for shortcodes --> <ins class="adsbygoogle" style="display:block" data-ad-client="ca-pub-4301469008561137" data-ad-slot="5966901225" data-ad-format="auto" data-full-width-responsive="true"></ins> <script> (adsbygoogle = window.adsbygoogle || []).push({}); </script></p><h2>What to Do First When Contacted by a Debt Collector?</h2><p>First, get the information validated with the collector <em>in writing </em>and make sure it is something you truly owe. Also verify that it is for the correct amount (take note that sometimes debt collectors offer a discounted payment if you pay in full). </p><h2>Initial Contact</h2><p>The majority of debt collection agencies have an agent reach out by phone for the first contact, even before mail. No matter what, <strong>make sure not to say anything that can be considered an admission to owning the debt during this call.</strong></p><p>Do not give out any personal info—they will ask for it, but you don't have to answer their questions. </p><p>Get as much information from the caller as you can, including their name, the agency they work for, their address, and phone numbers they can be reached at. </p><p><div id="ezoic-pub-ad-placeholder-133"></div> <!-- End Ezoic - incontent3 - longer_content --></p><p>Always ask the caller to send you a written statement regarding what they say you owe. If they ask for your address, do not give it out. A genuine debt collector would already have that info. By law, the debt collector is required to send this written notice within 5 days of contacting the debtor.</p><p>Keep a log of every call you receive along with any documentation from debt collectors, and be sure to include the date, time, and any pertinent information from the call for your protection.</p><h2>Know Your Rights</h2><p>Consumer debt collection agencies have been known to be aggressive to get their "sale," but laws protect the rights of consumers in regards to debt collection.</p><p>The <a href="https://www.ftc.gov/enforcement/rules/rulemaking-regulatory-reform-proceedings/fair-debt-collection-practices-act-text" target="_blank">Fair Debt Collection Practices Act (FDCPA)</a> governs the behaviors and actions of third-party debt collectors attempting to collect payments on behalf of a creditor. Under this law, debt collectors are in violation of law if they do any of the following:</p><ul class="ee-ul"><li>Debt collectors are limited in the hours they can reach out to the debtor. They cannot call you before 8 a.m or after 9 p.m unless an arrangement has been made with the debtor.</li><li>Initially, debt collectors can attempt to make contact with a debtor through their place of employment. However, either a verbal or written statement telling the collector to stop contacting you at work barres the debt collector from reaching out to you through your place of employment again.</li><li>You can also request the collector stop calling your personal phone. This must be submitted in a written request to be upheld. (Tip: send this request by certified mail).</li><li>Debt collectors are allowed to reach out to known contacts of the debtor to try and obtain their contact information. However, it's wise to note that legally they cannot discuss what they need the information for or even the fact that they are a debt collector. Additionally, debt collectors are only allowed to reach out to third-parties as such one time each.</li><li>Debt collectors are prohibited from using any means of harassment to collect on a bill. They can not make any threats such as arrest or bodily harm, and they also are barred from using obscene language. </li><li>Debt collectors cannot threaten to garnish wages without the presence of an active judgement (court order) against you. Likewise, they cannot threaten to sue you without the intent and therefore proof to go through with it.</li></ul><p><br></p><p class="shortcode-media shortcode-media-rebelmouse-image"> <img type="lazy-image" data-runner-src="https://assets.rebelmouse.io/eyJhbGciOiJIUzI1NiIsInR5cCI6IkpXVCJ9.eyJpbWFnZSI6Imh0dHBzOi8vYXNzZXRzLnJibC5tcy8yMzU3ODEwMy9vcmlnaW4ucG5nIiwiZXhwaXJlc19hdCI6MTYwOTU1NjI5Mn0.3HKUjl__48TU5VtgYNwWthIX64n-r3xX0rUk7XkXCK8/img.png?width=980" id="fbe52" class="rm-shortcode" data-rm-shortcode-id="07dce620ab33419256cda8b0b2a0f955" data-rm-shortcode-name="rebelmouse-image" alt="Debt"> </p><p><br></p><h2>Statute of Limitations</h2><p>Under state laws governing <a href="https://www.credit.com/debt/statutes-of-limitations/" target="_blank">statute of limitations</a>, creditors and debt collectors have a limited amount of time to file a lawsuit to recover a debt.</p><p>In most states, debt collectors can still attempt to collect on a debt after the statute of limitations; however, they have no legal recourse to sue you.</p><p>It is important to note that the court doesn't keep track of statute of limitations. This means that a debt collector may still attempt to sue you after the statute of limitations expires. If a debt collector attempts to sue after the statue of limitations expires, it is your responsibility to know and provide this information to the court. </p><p>The time period for statue of limitations varies by state. Typically most states range from three to five years, but some go as high as ten or fifteen. This differs entirely from the timeline that a collections bill stays on your <a href="https://www.transunion.com/blog/credit-advice/how-long-do-closed-accounts-stay-on-credit-report#:~:text=An%20account%20that%20was%20in,generally%20helps%20your%20credit%20score." target="_blank">credit report</a>, which is typically seven years.</p><h2>Resources</h2><p>The Consumer Financial Protection Bureau (CFPB) has sample letters for use when corresponding with debt collectors, which you can find <a href="https://www.consumerfinance.gov/ask-cfpb/what-should-i-do-when-a-debt-collector-contacts-me-en-1695/" target="_blank">here</a>.</p><p>For specific laws in your state, contract your Attorney General's office. If you believe a debt collector has either violated laws or made false claims against you, you can file a complaint with the <a href="https://www.consumerfinance.gov/complaint/#debt-collection" target="_blank">CFPB</a>, <a href="https://www.ftccomplaintassistant.gov/#crnt&amp;panel1-1" target="_blank">FTC</a>, and the <a href="https://www.bbb.org/consumer-complaints/file-a-complaint/get-started" target="_blank">Better Business Bureau. </a></p><h2></h2><p><script async="" src="//pagead2.googlesyndication.com/pagead/js/adsbygoogle.js"></script> <!-- 04B3-text-and-display --> <ins class="adsbygoogle" style="display:block" data-ad-client="ca-pub-4301469008561137" data-ad-slot="1924957707" data-ad-format="auto" data-full-width-responsive="true"></ins> <script> (adsbygoogle = window.adsbygoogle || []).push({}); </script></p>