The National Financial Educators Council (NFEC) surveyed young adults in 2017 and asked them what high school level course would benefit their lives the most.
The majority responded that money management was the course that would be most beneficial.
With personal debt is at its highest record and COVID-19 threatening to have the hardest economic effects on youth, understanding money and finances is an important life lesson that should be taught to children at a young age.
The following is a list of the best financial literacy lessons and tips to teach children throughout different life stages.
---
Younger Children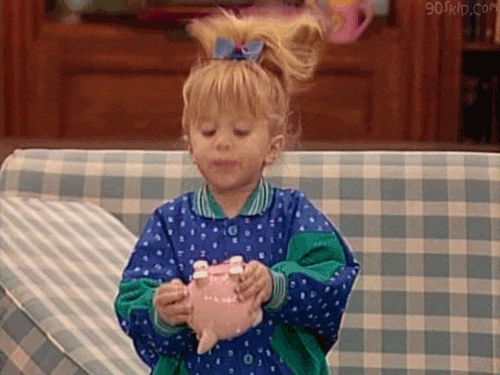 paying full house GIF Giphy
A 2013 University of Cambridge study stated that by the time children are just 7 years old, they have already formed money habits. While toddlers are still too young to be taught the value of money, it's never too early to introduce money and spending to them. Here are some great ways to introduce money to young children.

Get them their first piggy bank. Clear piggy banks work best so that the child can visually see their money grow. If you would like to take it further, give your child two separate piggy banks—one for spending and one for saving.
Encourage play money. While getting familiar with money is important at a young age, you don't necessarily want your child handling dirty money. Investing in a money play set and teaching money lessons through play is a great way to introduce money to children—because what toddler doesn't love to play store?
Children learn by example, and setting a good financial example for your younger children to follow is important.
Open a joint savings account with them. I am an avid believer in parents holding at least two types of saving vehicles for their children—one that the parent can fully control and one for the child to be on jointly. When the time is right for you and your child to open the account, make it a fun and exciting event for them. This is a great opportunity to get them familiar with banks and depositing money.
Check for educational games and apps that have money learning games. Savings Spree is great for kids and well worth the $5 price.
Elementary/Middle School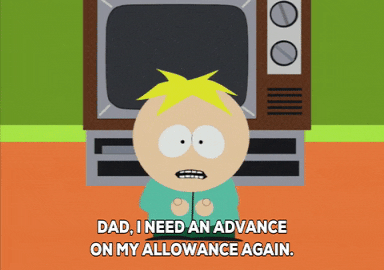 money talking GIF by South Park Giphy
By now most children know financial basics, such as the different denominations, but keeping up with their financial learning at this stage in life can be crucial. Here are some tools and tips to help your child navigate through the beginning steps of learning what it means to control their own finances.

Don't simply give your kids allowances—instead, teach them about earning money by assigning chores and rewards. iAllownce is a great resource and management tool to create chores, automated payouts, and rewards that can be synced to children's devices in your household.
Gift your child a stock that has meaning to them. Giving a kid a piece of paper and telling them they own a share of stock isn't that exciting. But perhaps presenting it to them as they are now the proud owner of stock—and in turn, a part of the company itself—may be a little more satisfying, especially if it's coming from a company they are familiar with and has meaning to them (i.e. Disney). This is a great way to introduce kids into the world of investments and stocks.
Teach lessons about value in goods and opportunity costs. If your child only has enough money to buy one of the two things they want, talk it over with them. Have them figure out the value of each item by comparing costs, longevity, and desire; this will show them that if they choose one thing, they can't have the other (the opportunity cost). Likewise, encouraging kids to think a purchase over for a day before making decisions instills strong values that will prevent them from making impulse buys as adults.
Teenagers/Young Adults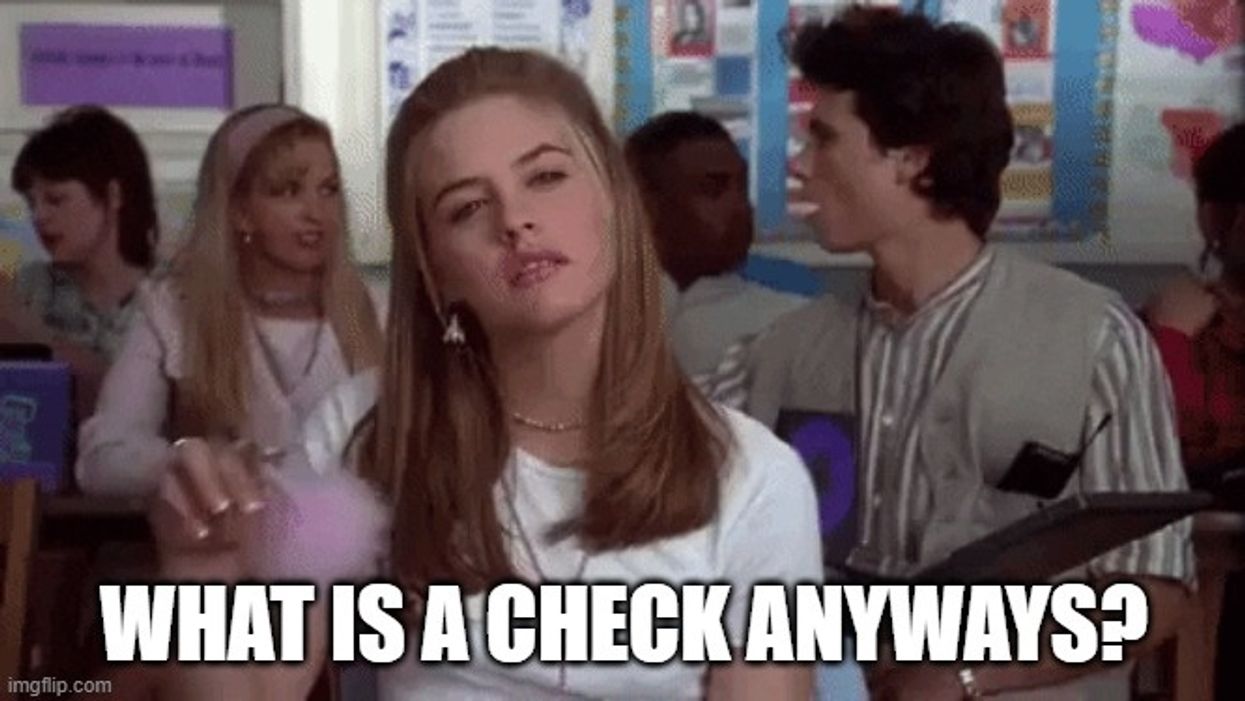 Do not depend on your child's school to teach them financial literacy, as less than half of states require high school students to take a personal finance course. High school years are the perfect time to develop your kid's financial freedom so they are prepared to make smart choices when out on their own.

Let your child earn a paycheck other than a chore allowance, whether through a job or by pursuing their own business entrepreneurship such as an Etsy shop. Your child's first paycheck can be a great lesson on taxes.
The most important thing you can teach your teen is how to keep a checkbook ledger, as well as how to fill out a check and a deposit slip. In my time working at a bank, the majority of teens and younger adults I encountered had almost no prior knowledge about basic banking transactions. While the argument against keeping up with such tasks is that banking is now mostly online, there is no direct way to keep exact track of your account balances without some sort of ledger entry. Card swipe and electronic transfers have become nearly instant ways of making transactions on checking accounts—but not everything instantly goes through your account.
Help teens set long term savings goals and encourage them to always put a percentage of their income into savings. One great savings incentive is to set up a savings match with them. I once had a banking customer that told her children she would match whatever they put into their savings account by the time they graduated.
Teach them healthy credit card habits. It's important for teenagers to learn the dangers of credit card spending, but I am an adamant believer that every parent should help their child get a first time credit card at the age of 18 to instill good credit habits.
Help them create a budget. Sit down with them and together figure out their monthly income. If they have any monthly expenses (gas, cell phone, etc.) subtract that from their monthly income to figure out how much money they have left for spending and saving.
via Cleo
Let's face it: this sucks.
After a massive vaccine campaign, a pretty successful hot-vax summer, and a pre-holiday season which made us believe things would finally-finally be getting back to normal, we were introduced to the Omicron variant.
As booster shots slowly rolled out, none of us were prepared for how hard and how fast this surge would hit. Unlike other variants, Omicron is more resistant to the vaccine and is infecting even those with booster shots and antibodies.
And it's really effing scary.
Places like New York are teetering on the edge of another lockdown as restaurants close, offices shut down, and events get canceled. In short: it feels like March 2020 again.
In the words of the perpetually relatable Olivia Rodrigo: "do you get deja vu?" Yes, Olivia, we do.
There are some differences to this surge. Luckily most people — especially the vaccinated among us — are experiencing mild symptoms. While numbers are up, hospitals are not as overwhelmed as they were when the virus first slammed us.
However, this time, many of us are experiencing pandemic burn out — mentally and financially.
When the pandemic first began, no one could have imagined how long it would last. Many people who were furloughed or working from home saw it as taking a few weeks off to relax and unwind. Obviously, this was not the case. Rates of unemployment skyrocketed and some were forced to move out of their homes to save money or take other dramatic, unexpected measures.
What did this look like? Burning through savings accounts, plunging into credit card debt, and adopting the precarious paycheck-to-paycheck cycle. According to CNBC "42% of U.S. adults with credit card debt have increased those balances since the Covid-19 pandemic began in March 2020."
And while employment rates are up in 2021 and the Great Resignation has seen people seeking and finding better opportunities, the Omicron surge proves it's not all sunshine and rainbows.
In a recent money confessional on Slate's "Pay Dirt" column, one reader expressed their frustration at the financial setbacks they experienced during the pandemic. While they were not totaled by the changes, they had to drastically adjust their life plans.
The columnist responded: "A lot of people had their dreams shattered in 2020 … Just because your situation isn't the same as your more-hard-hit co-workers' doesn't mean that you aren't grieving the loss of your income," giving us all permission to feel the negative feelings. They continued: "Toxic positivity is very real in the United States and inspires a lot of people to say that no matter what their life is like, they should be happy … But you can be happy and grateful, yet still, acknowledge the suck in a situation."
This perspective reflects a necessary shift that we all need to make. Especially as we approach yet another perilous year in the land of Covidia. It's soooo hard to continue — and continue and continue — being grateful and not be, quite frankly, fed up. So what can we do about it?
As everything is spiraling out of control, there are small things you can do to feel less overwhelmed. And maybe, less bitter, sad, or resentful — provide room to process and accept this unfortunate reality as best you can.
Feel Your Feelings
Toxic positivity festers when we assume we should feel a certain way and don't pause to let ourselves feel our negative feelings. Emotion comes from the Latin emovere - to "move out, remove, agitate." If we really break it down we get ex "out" + movere "to move." What does that mean to us living in America in the early days of 2022? Get those negative emotions outta here. Feel them and move 'em out.
Then take a deep look, free from judgment, at how you're actually doing in your day-to-day life. Try daily journaling, or delve into meditation.
Take Stock of your Life
Often, without realizing it, we fall into habits that become patterns and routines that eventually become our whole lives. So, when these habits are disrupted …. by, I don't know, a global pandemic … we're shaken out of our comfort zone and into reality. Take a glance at your life. What are you actually, truly, grateful for? What is mere distraction?
Make a Plan
Our spending habits are the first thing to spiral out of control and the most difficult to course-correct. If you're worried about your financial health during this time — or you want to be more vigilant just in case — try the Cleo app. This holistic service manages your money for you and helps you gain control and improve your situation. Managing your money no longer feels like a chore, and it's actually fun!
All in all, Meet Cleo makes you feel like you have a handle on your finances. And in these uncertain times, just being aware of your standing can offer a world of comfort. With Meet Cleo as your side, you no longer have to cave to toxic positivity. This app keeps it real and chats with you like your honest, most blunt friend. And for that, we thank her.
Find out more about Cleo here and put yourself on the path to financial control.
When you think of personal finance, what springs to mind?

Kevin O'Leary of Shark Tank fame? Dave Ramsay yelling into a podcast mic? Finance bros tracking their bitcoin? Unfortunately, these are the images we're constantly bombarded by. So they're the archetypes overwhelmingly represented in personal finance.
But it's not all Chads in down vests and dad-types shaming you about your financial faux paus, the personal finance world has grown increasingly more dynamic and diverse.
With the rise of social media, the importance of financial literacy has entered the mainstream, as essential information is no longer confined to impenetrable, official documents. Instead, educators have changed their approach and are making the intimidating world of managing your money far less scary.
Through graphics, memes — and other whimsical mediums — online financial advice that's geared to younger generations is more and more common.
Now, with the help of TikTok — an app unique for wildly popularizing previously niche subjects — personal finance talk has become ubiquitous.
Who's Doing the Talking
The beauty of social media is its power to democratize. Though TikTok has been criticized for promoting those its algorithm chooses — and has even resulted in strikes from Black Creators demanding to be given more credit — it's also granted platforms to people with different experiences and backgrounds.
When it comes to financial advice, TikTok makes it super relatable. No longer is advice restricted to "skip your morning latte" and "quit that avocado toast" or other millennial-shaming behavior. These days, young people directly advise their peers by sharing sympathetic experiences.
From debt repayment to financial freedom journeys, people are engaging with the obscure realm of finances in a charismatic way.
Financial Feminists … But Don't Call Them Girlbosses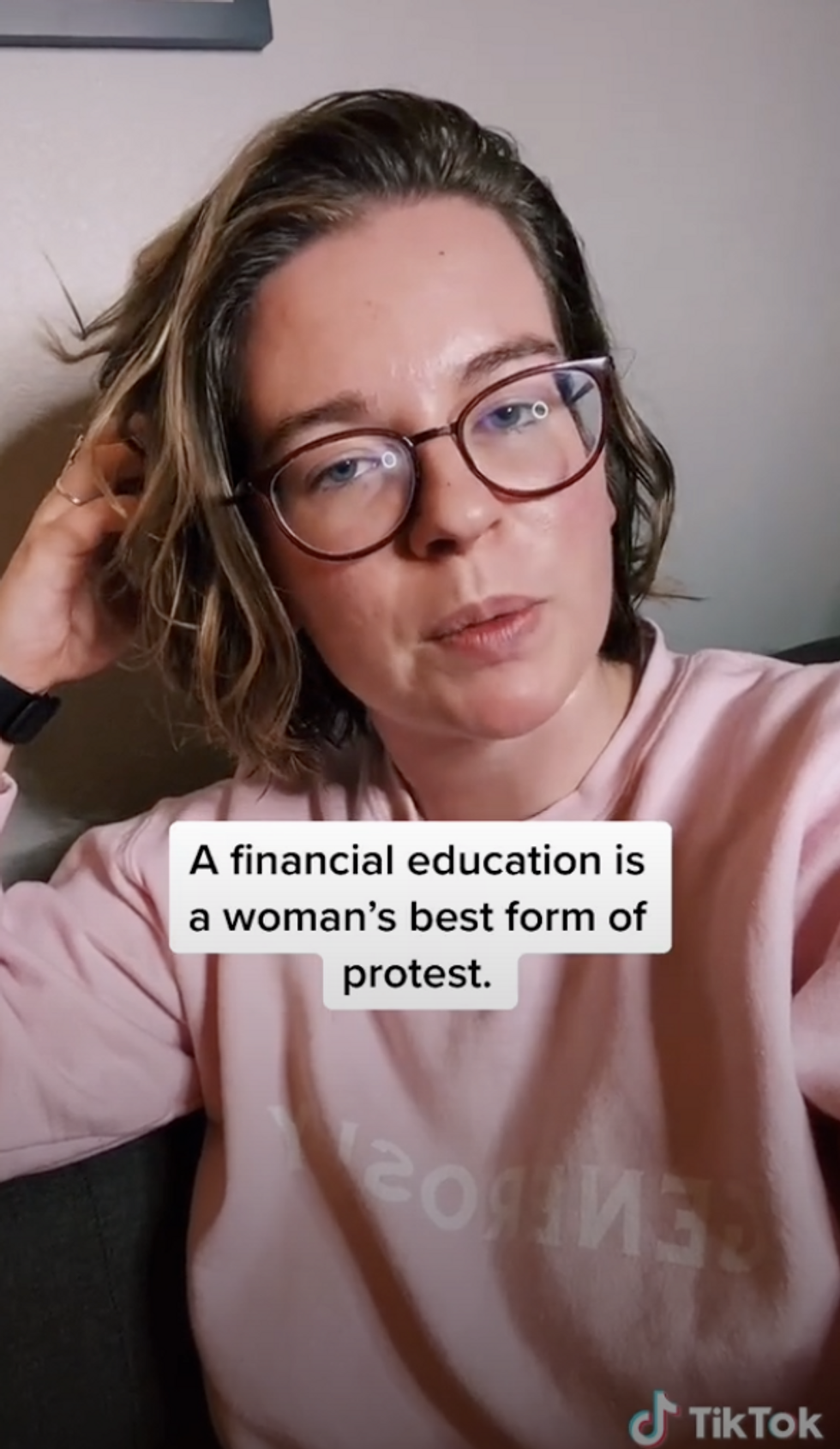 One huge TikTok sub-movement that's emerged is the Financial Feminist movement, which urges women specifically to take charge of their finances.
However, this isn't a repeat of the early 2010s Girlboss Feminism or even Corporate Feminism which encourages women to rise up within an established system. This is a whole new ball game.
By empowering women to speak to each other, personal finance is no longer a shame-game. Instead of scrolling through Reddit threads that mock people who support the trappings of the patriarchy like makeup or highly-feminine clothing — which are often deemed necessary for society to take one seriously, if not by Reddit bloggers — women learn from other women about how to manage their lives.
There's also information about unlearning feminized behaviors, helping women break out of socially coded patterns which hold them back from asking for help, asking for more or asserting — and believing! — their true value.
Financial Feminism takes into account the wage gap, talking about gendered norms and systems that prevent us from living financial lives equal to male counterparts.
Even more radical, however, are accounts which incorporate intersectional politics and social commentary. Instead of merely assessing the numbers, they examine the social structures and hierarchies that cause people to treat their money differently and radically affects how they live their lives.
These little communities have become hubs for financial empowerment for marginalized genders with the mission of helping them know themselves better, do better — and have fun while doing it!
Why Cleo?
Despite its addictive charm, you can't live your life on TikTok alone.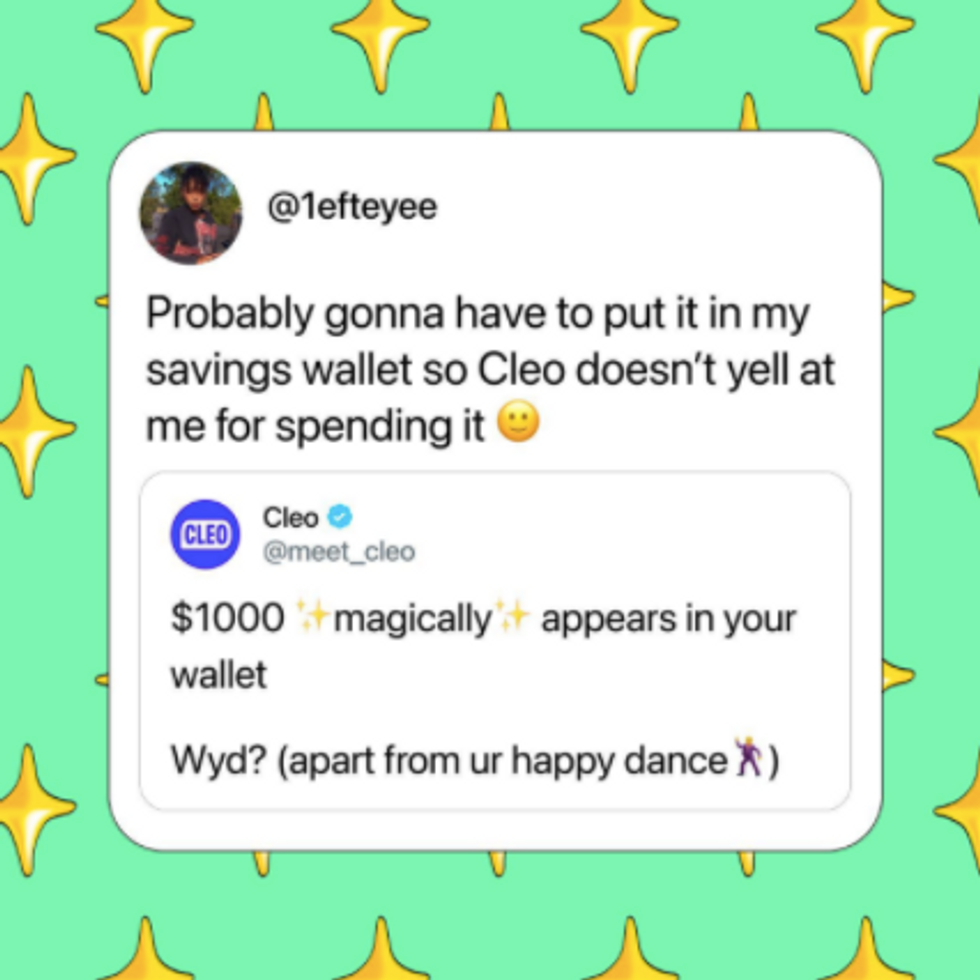 So while Personal Finance TikTok is an okay place to start, taking effective action means getting off TikTok… and onto a better app. Cleo is a budgeting app that's as engaging as TikTok, but actually helps you do the things you're learning.
According to their website, Cleo integrates all your accounts and — like a financially savvy and brutally honest friend — reveals what's truly going on in your wallet.
Cleo is like the coolest finance major you'll ever meet. Simply text her all your questions about your spending, your habits, and your current balances, and she'll give it to you straight.
She'll also tell you when you're running low — like when you really should skip that Starbucks stop so you'll have money left for the subway home — and keeps you on track of your goals.
*
Why Are Black TikTok Creators on Strike? - Popdust
What Leandra Medine Cohen Doesn't Understand - Popdust
via Cleo
Ah yes, 'tis finally the giving season!

As someone whose love-language is gift giving, I relish most opportunities to spoil my friends with sweet tokens of appreciation. I am the queen of spontaneous gifts. When I'm puttering around the city, doing my silly little tasks, I always perk up when I find some small trinket that I can give my friends.
Nothing says "I love you" more than saying, "hey, this reminded me of you." And then handing them a nod to a past conversation, or a memory we share. So, sorry to my friends for cluttering your houses with sentimental junk, but I'm even more apologetic for my fatal flaw: when it comes to the holidays … I always draw a blank!
To me, organic gifting is much more genuine than holiday gifting. Yet, if I were to use that as an excuse for turning up empty-handed to every single holiday party this season. I fear I'd start the new year off with fewer friends. And, as someone who loves to receive gifts just as much, I don't want to chance burning bridges that might hold presents on the other side.
So, when the holiday season arrives, I spend far too much of my precious time strategizing my gifts for my friends.
Often, when I draw a blank, I end up splurging on expensive gifts — a luxury candle, a decadent face oil, a classy bottle of perfume. Sure, these opulent gifts are a cop out, but they're guaranteed successes. Upon opening a package containing their favorite, overpriced indulgence who wouldn't smile?
Due to my holiday default, I'm forced to do some serious budget planning to accommodate my lavish spending. Or, more often, I go spectacularly over-budget.
However, this year, I must make a change. After my summer of post-vax hedonism that granted justification to spend more money than I'd ever dare, my holiday budget's looking pretty lean.
After sitting myself down and giving myself a strict talking to about prioritizing my savings, I've come up with some tips on how to save money around the holidays:
Review your budget
The amount of money we think we spend and the money we actually spend are two very different numbers. Grab a drink, pull out your bank statements, it's time to get to the bottom of your spending.
Take a look at two or three months and categorize your purchases. Which ones were intentional? Which ones were emotional? And how many times did you go to the coffee shop just to feel something and leave with a $10 latte and pastry? Once the truth is laid out in front of you, it's easy to see where you're bleeding money.
For me, it's coffee shops and boutique clothing stores I discover during jaunts around trendy neighborhoods. Whatever your vices are, do your best to become aware of them.
Budgeting apps like Cleo have helped me curb my impulse spending a ton! Cleo talks to me like a friend would — a friend who is not afraid to tell me no and call me out on my overspending. We all need a friend like Cleo, so download the app and watch your budget change overnight.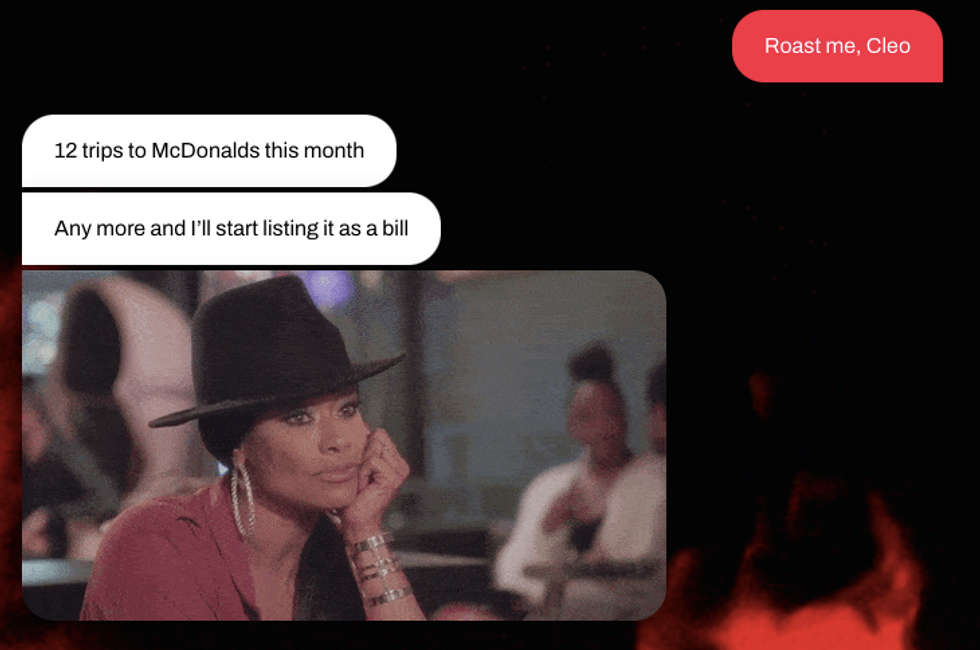 via Cleo App
Cut out what you don't need
It's all well and good to glance at your spending, but the next step is brutal: get honest with yourself about the purchases you could have gone without. But this isn't about deprivation, it's prioritization. What can you relinquish now to ensure you have a great holiday season later?
Cringing at past impulse buys I've made, I vowed to avoid my typical temptations, since I couldn't resist them. I know I'm easily lured into charming little storefronts downtown. So I took new routes home, avoiding the streets where all the cool clothes lie, waiting for me to cave.
I'm sure, in good time, I'll be back. But that's a problem for 2022-me. Until then, we just have to hold out for less than two months, get the gifts our friends deserve, and then it's back to regularly scheduled planning.
Make a spending plan
Saving without a plan usually leads to spending. As you narrow down what you can afford, figure out what you want to buy. I like to split it into categories: larger expenses vs. affordable picks.
Here's the fun part: shopping around. Sometimes I only have a general idea of what I want to buy, and sometimes I have specifics in mind. Either way, I love to shop around for a deal.
When it comes to saving money, research is paramount. Various vendors might have different prices, promotional codes, or sales. A quick Google search can often save you 10% or more, so don't take the first price you see as gospel.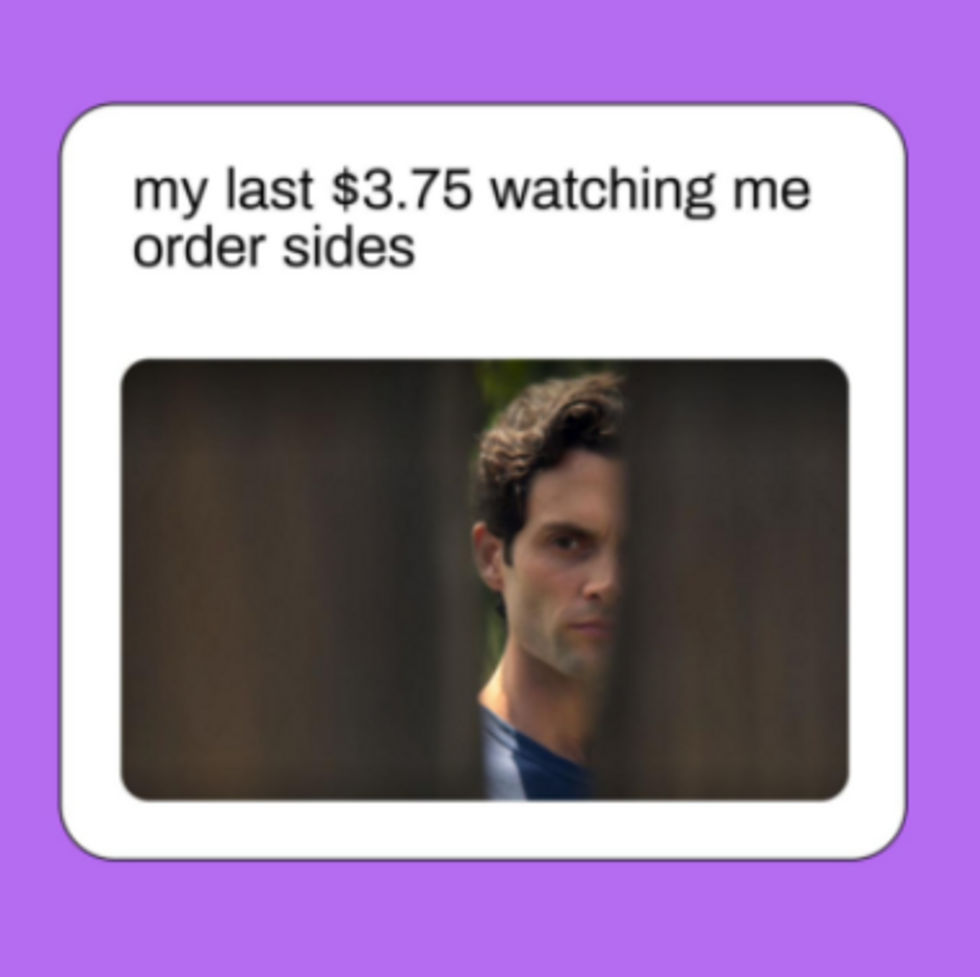 via Cleo App
After finding the best price, I can budget for what I'm going to buy and when. Which takes me to ….
Take advantage of sales … strategically
The holiday season brings with it the promise of big, blowout sales. But, if you're not careful, you can end up spending more money during a sale — which is precisely the stores' intention.
Don't fall victim to the allure of those big, red "SALE" stickers. Instead, plot out how to take advantage of a number of sales for different products. Adding those sale prices to your spending plan will keep you focused and on track, instead of buying frivolous items no one will ever use just because the prices are slashed.
Saving money over the holidays doesn't mean you have to make a Scrooge of yourself. You can still gift and gift well, just more intelligently. Spending with intention is key to savings, while investing thoughtfully into your relationships.
Apps like Cleo can help you keep your finances on track without feeling overwhelming. With one download, you could be on your way to mega-savings.
Happy gifting!