I sat down with Aaron Bernstein, founder of AaronB Fitness. He is an attorney with a personal training certification who recently launched his own fitness program after a life-long love of health and fitness. Here, we discussed his path towards the legal profession, what has inspired him to put more time towards his self-developed fitness program, and advice he can give others who neglect or forget what gives them inspiration and purpose. Life is a balance, work and enjoyment can go hand-in-hand, and it is never too late to make time for something you love.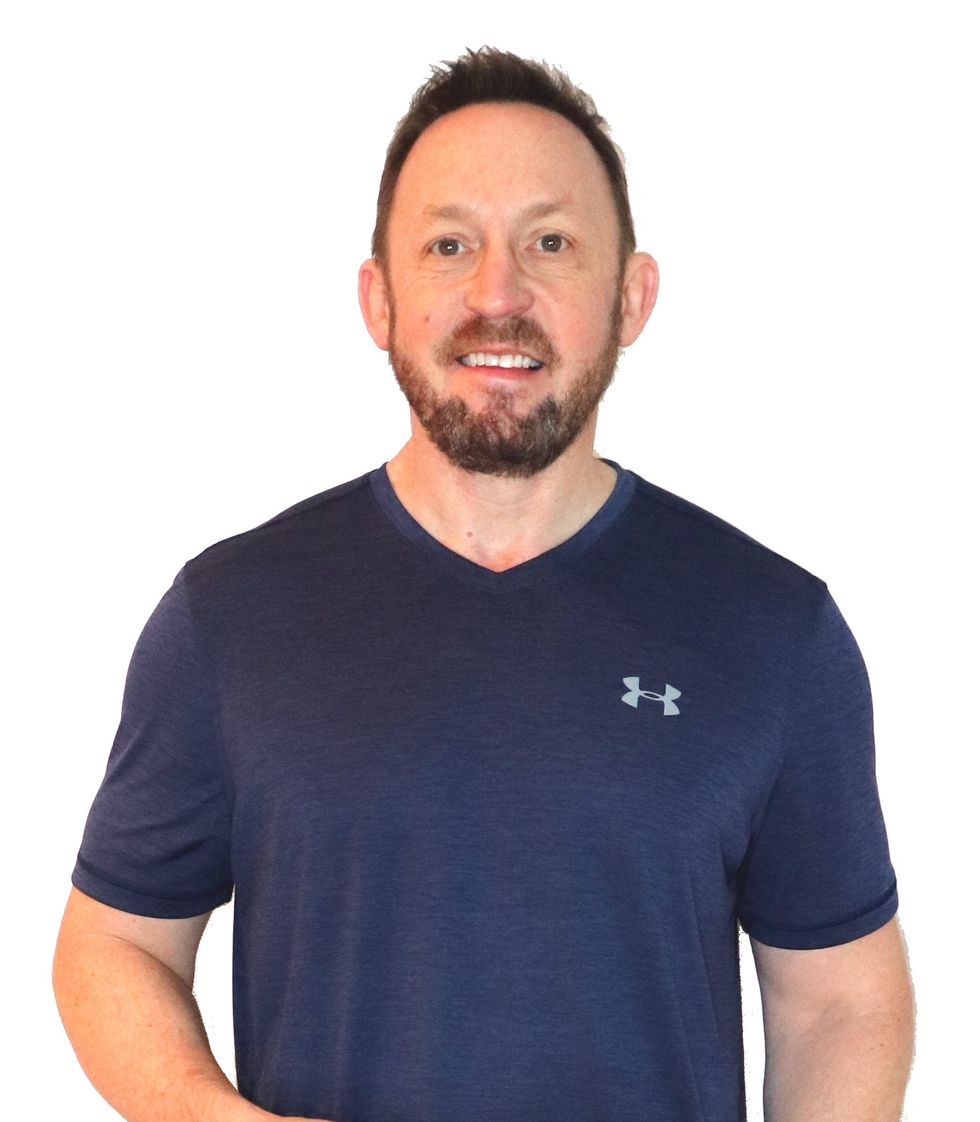 Aaron B.aaronbfitness.com
What made you choose law as a profession?
I had a technical background. Electrical Engineering. There is a special field of law, patent law, which is the only sort of law practice that only certain people can take up. To be a patent lawyer you must have a science or engineering degree. So, it makes for a good career choice – not that many people can do it. Since law is analytical much like engineering, law appealed to me to. I was lucky to get a scholarship to law school and really enjoy law and my lawyer career.
Name a few of the best things about the legal field that you've experienced and a few of the most challenging.
Practicing law involves a lot of thinking, communicating with clients and opposing counsel, and problem solving. I love to think, and problem solve. That's the engineer in me. Also, I enjoy communicating, explaining things that might be hard to understand. I teach patent law topics a few times a year for one of the well known continuing legal education firms. And I like to help both sides find a middle ground to resolve disputes. I like to try to be the objective, fair, and sensible perspective in the room. That serves everyone in the legal dispute environment.
Most challenging – that relates to the last comment. Practicing law typically involves, each day, engaging in conflict. Whether you are negotiating a business contract or dealing with a lawsuit. People are often emotion-driven rather than practical and rationally driven. As a lawyer, by definition, you represent one side, and you must be the "zealous advocate" for your side. That is literally in the code of lawyer's ethics. Which makes sense. That's why your client hired you. But that means you spend most of your time as a lawyer engaging in conflict. If you're a sensible peace-maker at heart, that can get to you after a while.
When did you decide to get certified in personal training and why?
Since I was a kid, I had enthusiasm for fitness. To be honest, I'm sure it was mostly vanity-driven. I lived for a long time in southern California and I wanted to look good at the beach – smiley face, hah hah. I even lived in Venice Beach (the famous Muscle Beach) and saw Arnold Schwarzenegger there in the gym a few times. World's Gym in Venice California.
Anyway, the fitness industry is always what my "voice inside" told me was my strongest interest. But sometimes if you have the opportunity and the capability you follow the path that conventional society urges. In my case, a high-paying lawyer job in a specialized legal field. Nevertheless, several years out of law school I still wanted to keep the fitness industry in my life in some meaningful way. So, I obtained a Personal Trainer Certification through ACE, American Council on Exercise, one of the more well-established certification organizations. I've held the certification for 17 years now.
What is the inspiration behind and the goal of AaronB Fitness?
I've finally gathered the energy and focus and enthusiasm to really take a run at doing something with my fitness training and interest. The internet, websites, YouTube, and all the social media channels open infinite possibilities to offer value and interest and audience reach that were not available in the past. Seeing the great, helpful, and entertaining things people are doing from an online and social media platform is inspiring. If they can do it, I can too (although I'm not sure I'll ever generate more interest than the quirky cat videos do.) The goal is to truly help people on a practical level. Most of the "fitness industry" is greed-driven false promises that set you up for disappointment. I want to be honest and helpful.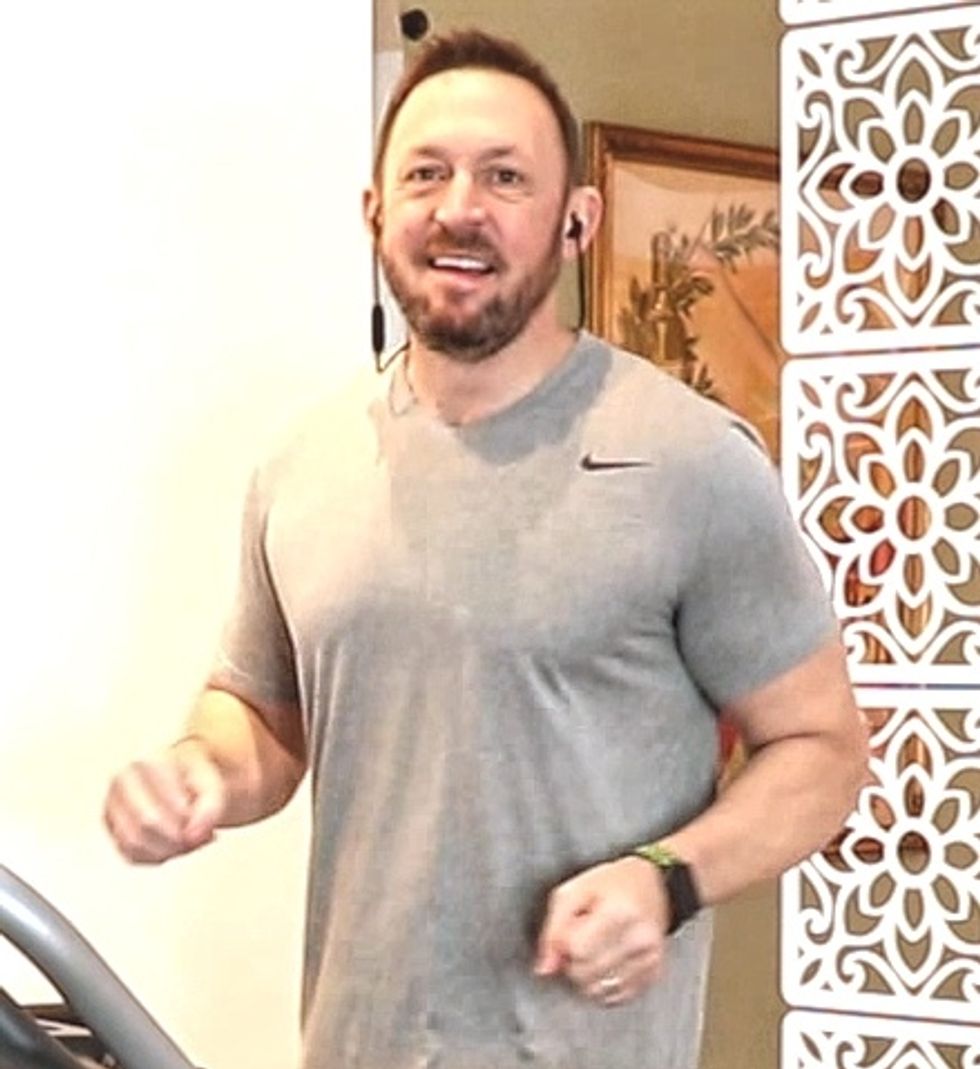 Aaron B in his gymaaronbfitness.com
What makes AaronB Fitness different/better than other fitness plans?
My central proposition is, and we all know this deep down inside, the fitness industry is selling you a lot of "hooey," false promises and unreasonable expectations. Greed-driven, they tell you you'll have six-pack abs or a modelesque bikini body in six weeks if you just join their gym, swallow their pill, or buy their fitness training program. AaronB Fitness is willing to poke fun at this RIDICULOUS, traditional greed-driven fitness industry whose sole objective it to see that you part with your hard-earned money for something that is NEVER going to work in the long run. And more importantly, AaronB Fitness is here to provide you real weight loss and fitness advice in a way that will move you toward your goals quickly and realistically, and in a way such that you'll have fun in the process.
AaronB Fitness aims to entertain and give you truthful, accurate, and realistic weight loss and fitness advice. No lies, no false promises, no impossible expectations that just lead to let-downs. The truth that works and is fun! That's our philosophy and that's the foundations of everything we offer.
Are you trying to reach a specific audience?
Yes. We're trying the reach the "everybody." The "fitness pro" bikini perfect ladies and shirtless guys (real or Photoshopped, who knows?) -- Who are they trying to reach and fool?!?
Time Magazine reported in October of 2017 that according to National Center for Health Statistics, 40% of adults and 19% of young people in the United States are obese (Not just overweight, but clinically obese. And nearly 75% of American men and more than 60% of women are obese or overweight. Nearly 30% of boys and girls under age 20 are either obese or overweight. Now, I'm a big fan of personal responsibility. But the fact is, we've been victims of other greed-driven industries, for example fast food and refined sugar. And now we have a catastrophic health crisis on our hands. I want to help work on addressing that. And as importantly, help people be happier in their lives.
Look, we all love the idea of beach perfect bodies and six-packs abs. Something to aspire to. But that's not what we need to be aiming for. First things first. We need to learn to sensibly drop some pounds, which we'll be very happy with when we look in the mirror. And we need to sensibly bring activity and exercise into our daily and weekly routine. The audience AaronB Fitness is trying to reach is all of us "real people" who need to deal with first things first. Lose some weight. Get active. Get educated about how you can do that in a fun way. In 6 to 12 months we'll start working on the six-pack abs and the perfect beach body.
What has been the most difficult thing thus far setting up your website and program?
Setting up a professional-looking polished website and filming decent quality video Vlogs is pretty complicated. For example, how do you set up taking credit card payments on your website? What camera and microphone and lighting do I need to make quality videos? How do you set up a YouTube channel and a Facebook business page? And also, our first system for sale is a digital interactive product that has a ton of software programming behind it. I did every bit of all of it myself, including all the graphics and web design and photos and videos. And every bit of the First Things First system that we sell from the website. So, there was a huge technical learning curve. But I enjoy that kind of thing, so I had a blast doing it, and I'm definitely still learning.
What would you say to people who think staying in a more "stable" career is the smarter move?
Certainly, that makes practical sense. I will continue to make my legal career as my primary source of income. But don't let life pass you buy. Life is not a dress rehearsal and all those other clichés. If you have a passion for something, don't regret never putting legitimate time into it. Get up a few hours earlier, watch a little less TV and avoid other time stealers to put time into whatever it is that lights your fire.
Do you see any similarities between being a lawyer and being a personal trainer?
Sure. In both fields you deal with people one-on-one. You have clients whom you need to listen to very carefully to understand their goals and objectives. And then very effectively help them accomplish those.
If you could talk to your 18-year-old self, what career advice would you give?
I don't at all regret being a lawyer. It's a terrific career. But I would have put more serious energy into the fitness game much earlier on if I had it all to do over again. What I would tell my 18-year-old self is, listen to your gut. Trust what it is telling you. If there is a pursuit that motivates you to want to get up early in the morning and stay up late at night, do lots of it.
If someone feels stuck in a job or is afraid to make a change, what can you advise them?
Sure. You don't need to make a change. Meaning you don't need to ditch everything and turn to something new and very risky. Rather you just need to gut-up and make the time to add something new to your life and routine that you're passionate about. It takes lots of hard work and discipline, but you will absolutely not regret it. In fact, you will likely regret not doing so.
Do you have a personal motto/mantra?
I think I have many. And from time to time they will be the focus of some of the AaronB Fitness blogs and video vlogs. One that stands out is a paraphrase of a quote from Henry David Thoreau's Walden. Live life deliberately, so that you do not reach the end of your days regretting that had not. That's not the exact quote, but that's how I paraphrase it. Meaning, guide your own life and chose your own endeavors. Don't live someone else's life or society's prescription for you. Don't just go along for the ride. Are you leading life or is life leading you?
Anything else you'd like to share about yourself or AaronB Fitness?
I'm so glad I put the work into launching AaronB Fitness. It's just a baby and it will grow and evolve and improve. But it's a platform now that will let me stay involved with something I've been "shoulding" to do most of my life but put off for so many years. Everyone reading this should gut-up and do the same. Another quote I'm fond of is by a famous ultra-marathon runner, Dean Karnazes. "Somewhere along the line we seem to have confused comfort with happiness." You'll never regret putting hard work into something that matters to you. Rather, you will surely regret not doing so. Just begin. Once you begin you'll see immediately what I mean.
Visit AaronB Fitness for more information and inspiration!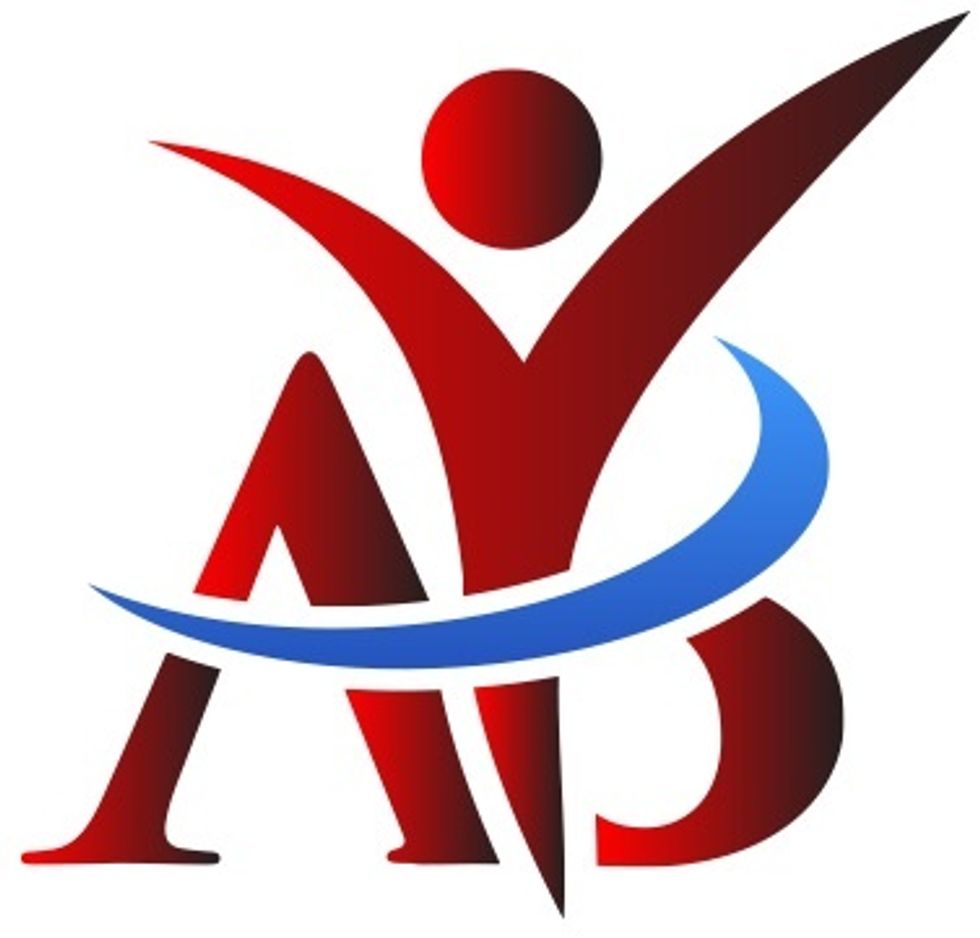 AaronB Fitness aims to make fitness doable for normal, busy peopleaaronbfitness.com
As anyone who has ever sold a house will tell you, you must prioritize curb appeal. Before a potential buyer even considers looking inside your house, they notice the outside first. Does it attract the right kind of attention? Does it take away from the feel you're going for? If you plan to sell sometime soon, you must think about these things. Here are some landscaping options to increase your home's curb appeal, so you can get the best price on your home.
Extensive Plants and Greenery
A barren front yard won't get you the price you want on your home. So, invest in at least a little bit of greenery to keep the surrounding area from looking too dead. Shrubs and bushes tie the house to the lawn that precedes it, and flower beds bring a pop of color to an otherwise drab structure. You can also strategically plant some trees to improve the overall feel of your home's exterior.
Lawn Care
As we mentioned, your lawn is one of the most prominent features of your home's exterior. A patchy, dried-up lawn will quickly drive your home's price way down. Some of the best landscaping options for your home's curb appeal involve improving your lawn for the next inhabitant. Overall fertilization, ground aeration, underbrush removal, proper mowing—all of these lawn care tasks contribute to a greener and more lively area that invites people to see your house, rather than stay away from it.
Paved Pathways
There's nothing like a broken and disheveled pathway to make someone think twice about buying a property. Just as you want the entryway in your house to be welcoming, so too should the pathway leading up to the house be inviting. The pathway from the street to your front door provides plenty of real estate to get creative with. You don't have to settle for a boring concrete pathway. Consider something more eye catching, like a cobblestone path or intermittent brick patterns, as a way to better welcome potential buyers.
Usable Outdoor Furniture
Landscaping doesn't just involve the ground you walk on; also included are the items you use as extras to the overall look. Outdoor furniture is one such extra that you don't necessarily need but can look quite attractive if done correctly. Staging is important with outdoor furniture. Old, broken-down pieces will only look like more work to the potential buyer. A few comfortable chairs, a bench, or a table with an umbrella really go a long way to improving your outdoor aesthetics.
A good tip for deciding on curb appeal items is to decide what you personally would want to see as a part of a welcoming home's exterior. You don't need to go overboard, but a little bit of forethought could net you quite a lot of extra cash in the sale.
Many people strive to support their community by donating their time or their money. When you find a meaningful cause, you might be quick to cut a donation check. Though it's admirable to be quick to act charitably, you should be wary of several common mistakes made when giving to charity. Being mindful of these mistakes and learning tips for making informed charitable choices can help you make the most out of your generous check.
Acting Quickly Out of Emotion
Mission statements are meant to be compelling. If you're an emotionally driven individual, it's natural to pull out your wallet at the sight of a sad puppy on TV or when informed about food insecurity over the phone. Unfortunately, not all charities are as effective or official as they may seem.
Take your passion for helping others one step further by making sure your chosen charity is legit. Speaking with a representative, reviewing their website and social media accounts, and looking at testaments online can give you a better idea of whether the organization is worth your donation.
Forgetting to Keep Record of the Donation
Don't forget that you can reap some financial perks from giving back! With the proper documentation of your donation, you can acquire a better tax deductible.
If you donate more than $12,400 as a single filer or $24,800 as one of two joint filers, you're eligible to deduct that amount from your taxes. So, when a charity asks if you'd like a receipt of donation, always answer yes.
Donating Unusable Materials
Most charities can utilize a monetary donation—it's the physical donations that usually cause some issues. Providing a local nonprofit with irrelevant materials or gifting them with unusable products are surprisingly common mistakes made when giving to charity.
Always check your intended charity's website for a list of things they do and do not accept. The majority of places will provide a guideline to donating or offer contact information to clarify any questions.
Strictly Giving at Year's End
As more and more people get into the holiday spirit at the end of the year, nonprofit organizations see an influx of donations. While it's great to spread holiday cheer via a monetary donation, it's important to keep that spirit going year-round.
With regular donations, charities can more effectively allocate their annual budget. Setting up an automatic monthly donation with the charity of your choosing can maximize your impact. You can account for a monthly donation by foregoing a costly coffee every once in a while.
Knowing how much you should spend on home maintenance each year is hard to figure out and may be preventing you from buying your first home. The types of costs you'll incur depend on the house you buy and its location. The one certainty is that you should start saving now. Read on to figure out how much to start setting aside based on the home you own.
The Age of Your House
Consider several factors when budgeting for home repairs. If you've purchased a new home, your house likely won't require as much maintenance for a few years. Homes built 20 or more years ago are likely to require more maintenance, including replacing and keeping your windows clean. Further, depending on your home's location, weather can cause additional strain over time, so you may need to budget for more repairs.
The One-Percent Rule
An easy way to budget for home repairs is to follow the one-percent rule. Set aside one percent of your home's purchase price each year to cover maintenance costs. For instance, if you paid $200,000 for your home, you would set aside $2,000 each year. This plan is not foolproof. If you bought your home for a good deal during a buyer's market, your home could require more repairs than you've budgeted for.
The Square-Foot Rule
Easy to calculate, you can also budget for home maintenance by saving one dollar for every square foot of your home. This pricing method is more consistent than pricing it by how much you paid because the rate relies on the objective size of your home. Unfortunately, it does not consider inflation for the area where you live, so make sure you also budget for increased taxes and labor costs if you live in or near a city.
The Mix and Match Method
Since there is no infallible rule for how much you should spend on home maintenance, you can combine both methods to get an idea for a budget. Average your results from the square-foot rule and the one-percent rule to arrive at a budget that works for you. You should also increase your savings by 10 percent for each risk factor that affects your home, such as weather and age.
Holding on to savings is easier in theory than practice. Once you know how much you should spend on home maintenance, you'll know what to aim for and be more prepared for an emergency. If you are having trouble securing funds for home repairs, consider taking out a home equity loan, borrowing money from friends or family, or applying for funds through a home repair program through your local government for low-income individuals.