Bosses are like a box of chocolate, you never know which one you're gonna get. Some bosses are like a dream come true – caring, intelligent, morale-boosting, confident, and many other positive attributes we appreciate and hope for in a leader. Others, on the flip side, can be disrespectful, arrogant, unfair, uncompassionate, and even downright mean. All the personality traits that make a boss a pain in the you-know-what.
If you have a boss you simply can't tolerate or want to prepare for the chance that you may one day be burdened with one, here are 3 ways to deal with a boss you can't stand. It's all about how you handle things to make your work life satisfactory.
---
1. Communicate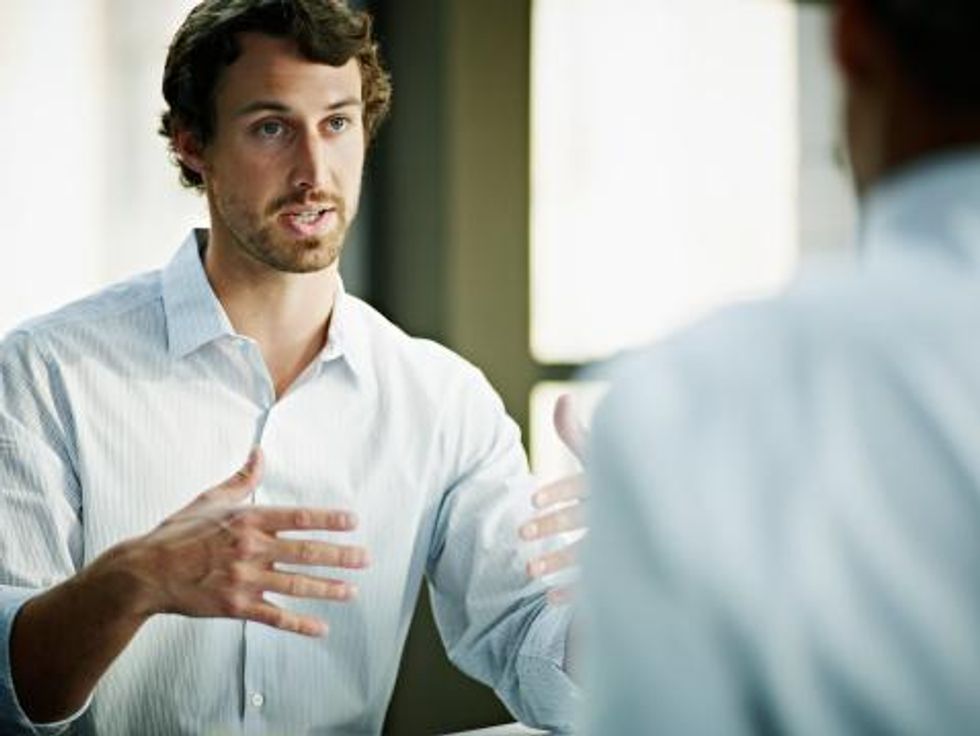 Walking around the office huffing and puffing or wishing your boss's bad behavior away will only make you more aggravated and will become contagious, giving co-workers a negative vibe. Bosses are people too, and just like you may take a friend aside when there's an issue on your mind, you can request to talk to your boss one-on-one to discuss what's bothering you.
As per Salary, "Schedule a meeting with your boss and bring your list of grievances with you. In the most professional (read: non-accusatory) way possible, refresh your boss' brain about each incident and how it negatively affected you."
Your boss may very well appreciate the open honesty and may not have even known that their actions and words were upsetting or causing a problem. As Forbes notes, "When you approach them with respect and with a genuine desire to make things work better, you can open the door to whole new levels of trust, collaboration and outcomes. A door that will remain permanently closed otherwise."
That said, if the issues run deeper, it may be time to take the matter to human resources. According to Money & Career Cheat Sheet, "An annoying or incompetent boss is one thing, but some managers really do cross the line. If your boss sexually harasses employees, is abusive, is discriminating against you, breaks the law, or engages in other unacceptable behavior, it's time to talk to HR."
2. See it From Their Side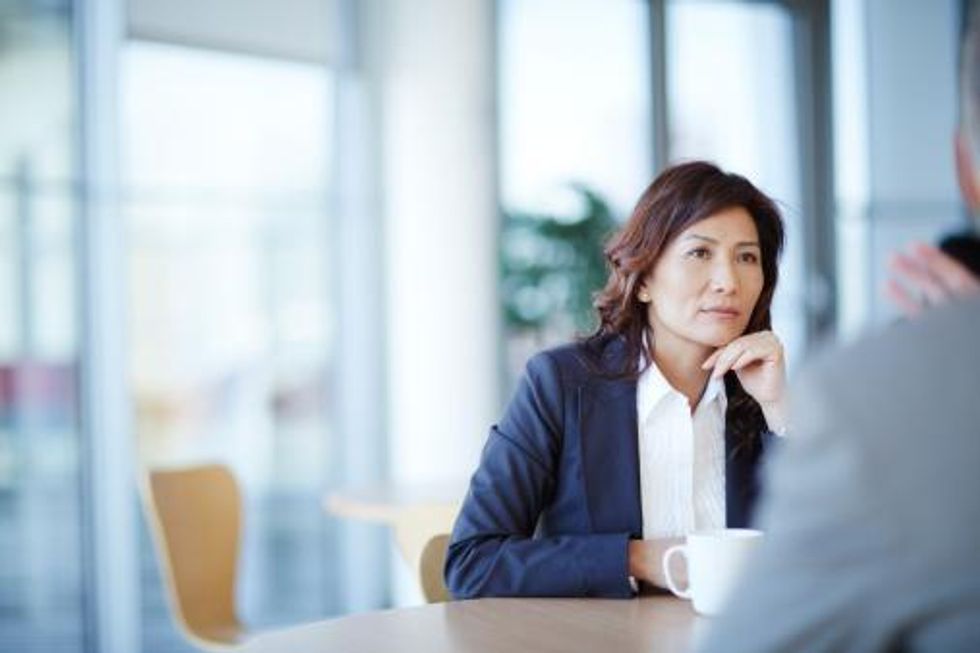 Bosses have a lot on their plate and sometimes their own burdens, stress levels, and pressures can trickle down to affecting the employees. As Money & Career Cheat Sheet suggests, "Getting frustrated with your boss is easy, but before you rush to judge, try to look at things from his perspective. There's a lot about their job that you don't know about or see, so don't assume that they're out to get you."
Salary adds, "He may be micromanaging you, but that might stem from his own boss breathing down his neck. By having some sympathy for your boss and all the pressure that he is under to perform, you may be able to tolerate his tics better."
3. Focus on the Positive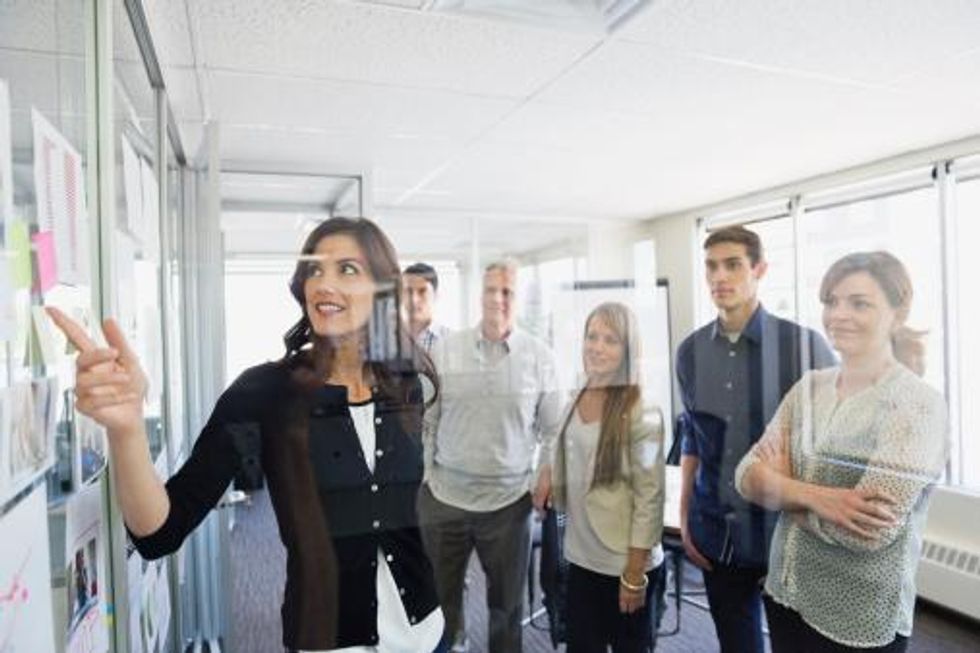 There's got to be something going for this man or woman that has propelled them to the position they're in today. It can't all be terrible, right? While it's easy to get all-consumed with what's wrong, taking time to hone in on the good may help you better tolerate and appreciate your boss and let the small stuff roll off your back in times of dismay.
Your boss may have a great sense of humor, lets you leave early for the kids' soccer games, or runs meetings really effectively. When things are rough, think about the qualities that make your boss special and likeable.
One way to steer towards the positive side is to understand their motivation. As per LifeHack, "If you can find a way to help him with his objectives then maybe you can work around his faults. A good rule at work is to help your boss to succeed – whether you like him or not. Other people will see you do this and it works to your credit – especially if they know that your boss is difficult."
Finding a mentor other than your boss can also aid in better understanding your boss's perspective and behaviors while helping you develop better business skills and interpersonal relationships in your career. Lifehacker notes, "A mentor, even a manager in another department, can often help you understand your boss's pressures and challenges in a non-threatening way. The whole point of having a mentor is to help you learn, grow, and develop your skills—which include working with difficult people."
We may be able to choose the career we want, but the boss we get stuck with may not always be what we signed up for. Use these tips to navigate your way towards tolerance and a determination to succeed no matter the challenges (people included) placed in your path.
via Tiffany & Co.
When the new Tiffany's campaign was unveiled, reactions were mixed.

Tiffany's, the iconic jewelry brand which does not (despite what some might be misled to believe) in fact serve breakfast, featured Jay Z, Beyoncé, and a rare Basquiat painting in their recent campaign.
The aesthetics were undeniably luxe and historic. The campaign showcased the rarely-seen Basquiat painting Equals Pi (1982), which the brand acquired for the background's proximity to its distinctive Tiffany blue. Also notably historic is that Beyoncé was the first Black woman to wear the 128.54 carat Tiffany Diamond.

Before Beyoncé, the only other stars to wear the yellow diamond were Mary Whitehouse, wife of American diplomat Edwin Sheldon Whitehouse, Hollywood icon Audrey Hepburn, and singer Lady Gaga.
"Beyoncé and Jay-Z are the epitome of the modern love story …. Love is the diamond that the jewelry and art decorate," said the press release accompanying the campaign.
The campaign, titled "About Love," is stunning and has both classic and contemporary references. The image of the couple posing in front of high art recalled the iconic stills from their "APESHIT" music video, for which they famously rented out the Louvre and posed in front of the Mona Lisa.
THE CARTERS - APESHIT (Official Video) www.youtube.com
Their "APESHIT" photo made a giant cultural impact for its juxtaposition of Western beauty and Blackness. Tiffany's campaign seemed to have similar goals — showcasing Beyoncé and Jay Z as the peak of luxury, this time juxtaposing the Basquiat and the Tiffany diamond.

As a Black couple, their appearance in such a luxury campaign was a big move for representation, but in a post 2020 landscape, there was an outcry of criticism.
Despite the aesthetic beauty of the image, the high capitalist undertones didn't sit right with some on the internet — largely younger demographics. Though this campaign was an effort by Tiffany's to appeal to younger audiences and make the brand feel more relevant, Twitter's verdict was clear: a blood diamond wasn't the way to go.
The diamond, which was mined in South Africa in 1877, comes from origins laden in the implications of colonialism. The practice of mining in South Africa at the time was exploitative and destructive, eschewing the livelihoods and safety of African miners and their communities for... what? Money? So Tiffany could try to sell us some dream of affluence using Black celebrities as to "Blackwash" the history behind their treasured piece?
The Washington Post also had some choice words, saying: "Its campaign does not celebrate Black liberation — it elevates a painful symbol of colonialism. It presents an ostentatious display of wealth as a sign of progress in an age when Black Americans possess just 4 percent of the United States's total household wealth. If Black success is defined by being paid to wear White people's large colonial diamonds, then we are truly still in the sunken place."
Alongside the campaign, Tiffany & Co have promised to donate $2 million to HBCUs to fund scholarships and internships. But this measly amount (considering the multi-billion dollar net worth behind LVMH) is not enough to cover up that, despite their performative efforts to promote "diversity," Tiffany's is entrenched in a colonial history that neither beauty nor Beyonce can make us ignore.
While Black representation has been increasing over the past few years, the question of how we are represented is starting to be considered with more nuance. And as we examine the structures of wealth and hierarchical values, many people are starting to ask whether these should be the standards we aspire to anymore.
Jay Z and Beyoncé have come under fire before for their promotion of Black Capitalist values — which the kids don't seem to want. Jay Z especially seems invested in the trappings of traditional (read: white) success and wealth. His cannabis line recently unveiled a campaign based on the work Slim Aarons — which was famously focused on "attractive people doing attractive things in attractive places" — and its unashamed opulence raised some eyebrows.
Images like this aren't as revolutionary as they once might have been since they reinforce the status quo and tell marginalized people to reach for the same luxuries and lifestyles deemed aspirational by the people who have oppressed them.
Anti-capitalist theory has been around as long as capitalism has, but younger generations are more likely to question the status quo — even when it comes packed with Basquiat and Beyoncé.
The conversation about the Tiffany campaign is indicative of how Gen Z thinks differently about money and what it means to them. They are less likely to be seduced by the luster of the aspirational, and more receptive to relatability.
This is why apps like Cleo have been on the rise. Cleo is a budgeting and personal finance app which makes money feel less inaccessible and makes engaging in personal finance relatable and easy.
No more does financial literacy seem restricted to the pretentious or the elite — we get it, finance bros; you love capitalism. With Cleo, understanding your money is something that can align users with their values.
And those values don't look like blood diamonds or corporate pandering.