The 90's are dead. Again.
According to the global investment banking firm, Jeffries, brands like FILA, Champion, and others known mostly for their 'retro' 90's designs are in trouble. Despite a surge in popularity over the past few years that had everyone wearing Supreme, sales for throwback fashion retailers going into 2020 are nothing short of worrisome. "These brands in particular are no longer driving the buzz they did [last year]," said Jeffries analyst, Janine Stichter. While brands like Zumiez and Guess "are showing relatively better staying power" than competitors like Urban Outfitters who rely more dramatically on vintage aesthetics.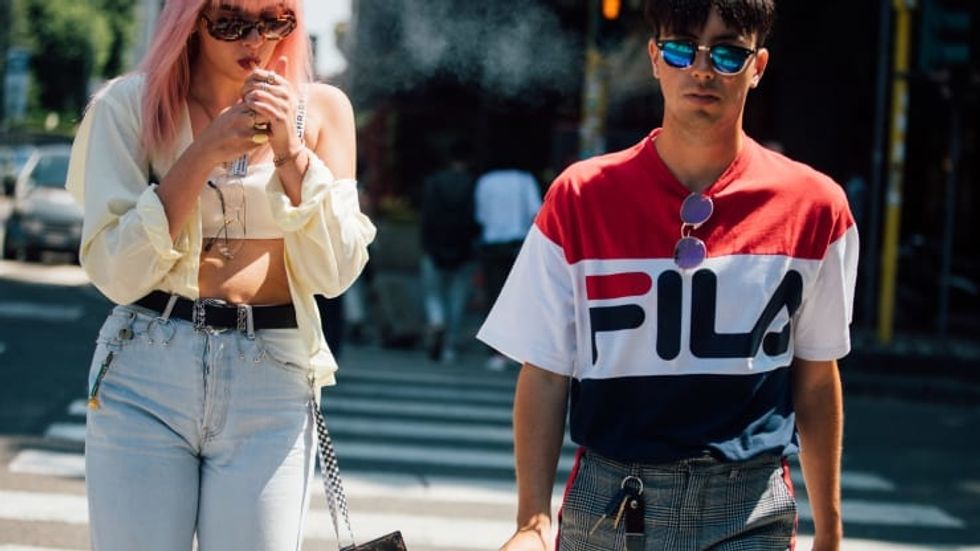 How will we survive?
So that's what's happening in fashion. But it's not just denim that's fading this year (see what I did there?), we also have the US economy! President Donald Trump announced this week plans to ratify a bill backing protesters in Hong Kong. China was not having it and made it clear there would be retaliation. "The standoff," as Reuters referred to it "knocked Wall Street's main indexes off record highs."

At 10:19 a.m. ET the Dow Jones Industrial Average .DJI was down 56.67 points, or 0.2%, at 28,107.33, while the S&P 500 .SPX was down 4.08 points, or 0.13%, at 3,149.55. The Nasdaq Composite .IXIC was down 9 points, or 0.1%, at 8,696.18. - Reuters
"But that's just one crappy day," you say. Tell that to Barclays! They decided this week to focus their equities on European and emerging markets going into 2020. "This market is a better bet than U.S. stocks," claims Emmanuel Cau, European equity strategist at Barclays. And of course, like everything else, Trump has something to do with it. Cau went on to state: "U.S. equities have tended to perform well in the fourth years of presidential terms, but this time around, the Trump impeachment hearings could affect investor confidence given the possible impacts on the outcome of the next election." He then threw some shade towards Senator Elizabeth Warren's policies and my eyes rolled right off the page.
Finally, let's talk Black Friday, baby! Nothing cures economic meltdown woes like good old retail therapy, am I right? (Won't help Supreme or Urban Outfitters though...they're doomed.) Shoppers dropped $4.2 billion online during Thanksgiving and are expected to spend at least $7.4 billion online today for Black Friday. Those are record highs for online sales and a nearly 15% increase over last year.
What are people buying? AirPods, apparently.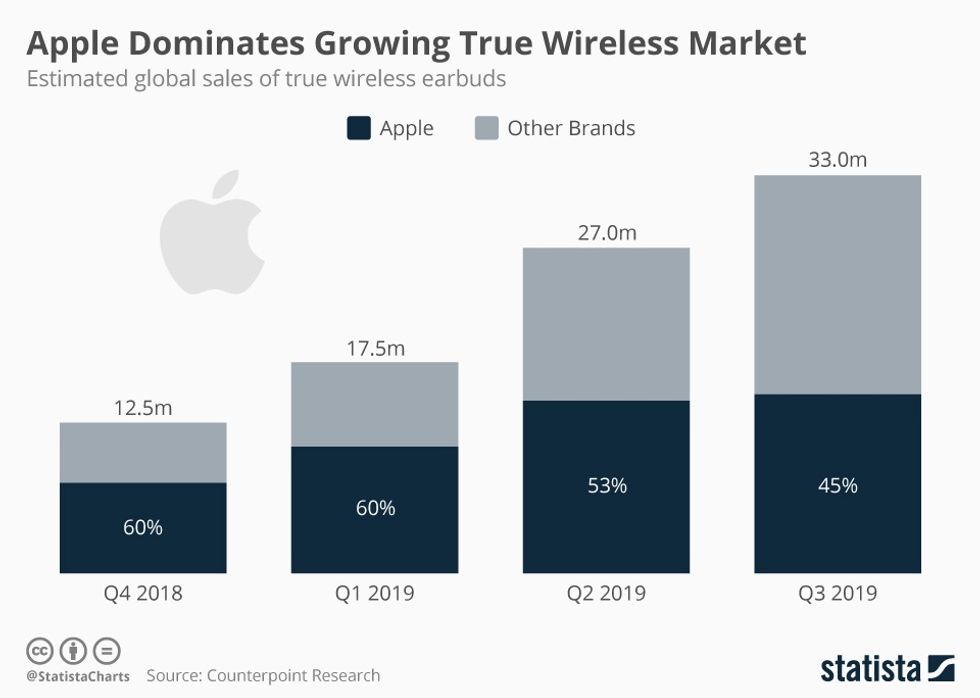 Apple is basically the Air Bud of earpods. The Ear Bud of airdogs? Kill me. Statista
While online sales are skyrocketing and total money spent on Black Friday has increased every year since 2008, sales in brick-and-mortar stores continue to decline. As a result, holiday season hiring for retailers has been declining since 2016 and several companies have been offering exclusive in-store sales, desperate to relive the glory days of sweet, sweet foot traffic. You know, like when hoards of people would trample each other for 20% off meaningless junk. I'm sorry, toys are not junk. Toys save lives, and that is a fact. Regardless, as thebalance.com recently reported, over 75% of popular toys are purchased online at walmart.com, so stores are screwed. Remember Toys 'R' Us? Oh boy, that's what we'll be saying about Urban Outfitters in a few years!
And that's your week in financial news!
UPDATE: a Toys 'R' Us was raised from the dead in a New Jersey mall this week. The zombie apocalypse is upon us!