Amazon founder, CEO, and wealth-hoarding dragon, Jeff Bezos, just announced that he will be transitioning from his role as chief executive of Amazon into the role of executive chair.
Jeff Bezos has been with the company since its inception in 1995 and has watched it transform from a small online book seller into a company worth over $1 trillion.
Andy Jassy, who currently oversees Amazon Web Services, will take over Jeff Bezos' role later in 2021. Jassy has been with the company since 1997.
In a letter sent to Amazon employees on Tuesday, Jeff Bezos explained that he's looking forward to the transition.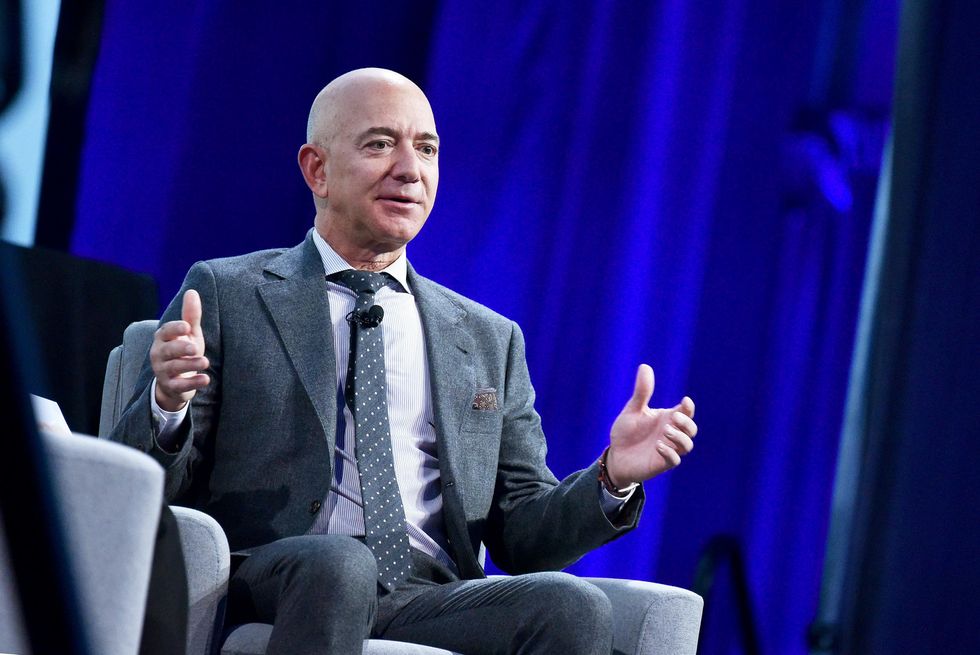 Jeff Bezos
"Being the CEO of Amazon is a deep responsibility, and it's consuming," Bezos wrote. "When you have a responsibility like that, it's hard to put attention on anything else. As Exec Chair I will stay engaged in important Amazon initiatives but also have the time and energy I need to focus on the Day 1 Fund, the Bezos Earth Fund, Blue Origin, The Washington Post, and my other passions. I've never had more energy, and this isn't about retiring. I'm super passionate about the impact I think these organizations can have."
The news comes at the end of an unprecedentedly successful year for Amazon, in large part thanks to the pandemic, that saw the company's stock grow nearly 69% in 2020.
Jeff Bezos is currently one of the richest people in the world, with a net worth of approximately $184.6 billion.
From Your Site Articles
Related Articles Around the Web
<
As many businesses have been tanking in 2020, Amazon sales have been doing just fine.
A Microsoft and Apple become trillion-dollar companies—with Amazon just a hair behind—the possibility of the world's first trillionaire is within arm's reach. Amazon's CEO and the richest person to ever live, Jeff Bezos, is projected to earn his first trillion by 2026. Especially in the wake of the worldwide health crisis and the recent strike of Amazon employees, Bezos has especially come under fire for his financial habits.
Here are just a few things Bezos could buy:
New Water Lines for Flint: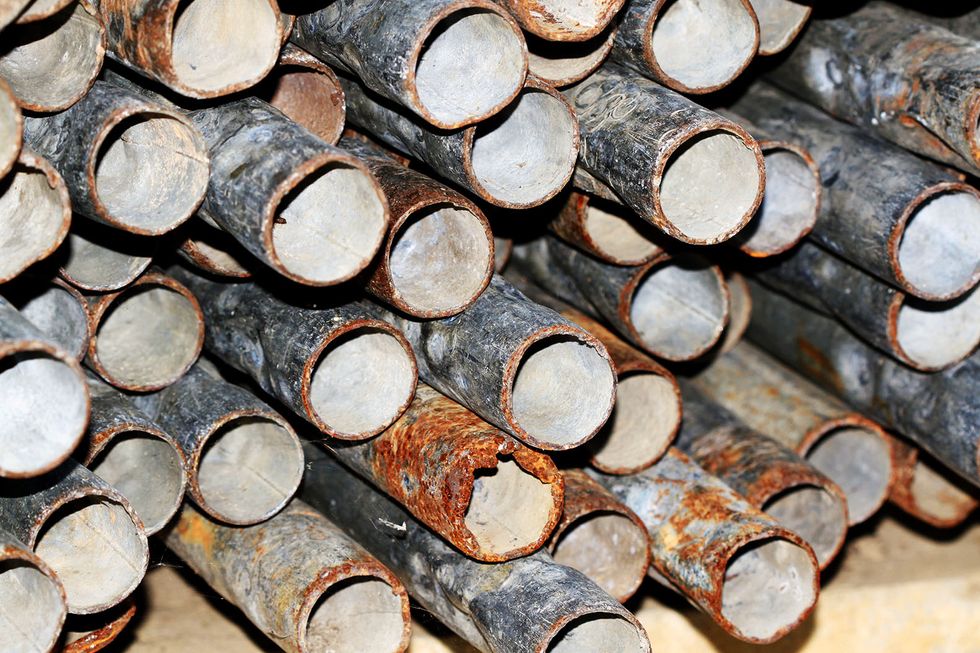 In 2017, the state of Michigan set aside $97 million for lead or galvanized steel water lines to be replaced in Flint as a solution to the city's ongoing water crisis.

Citizenship Tests: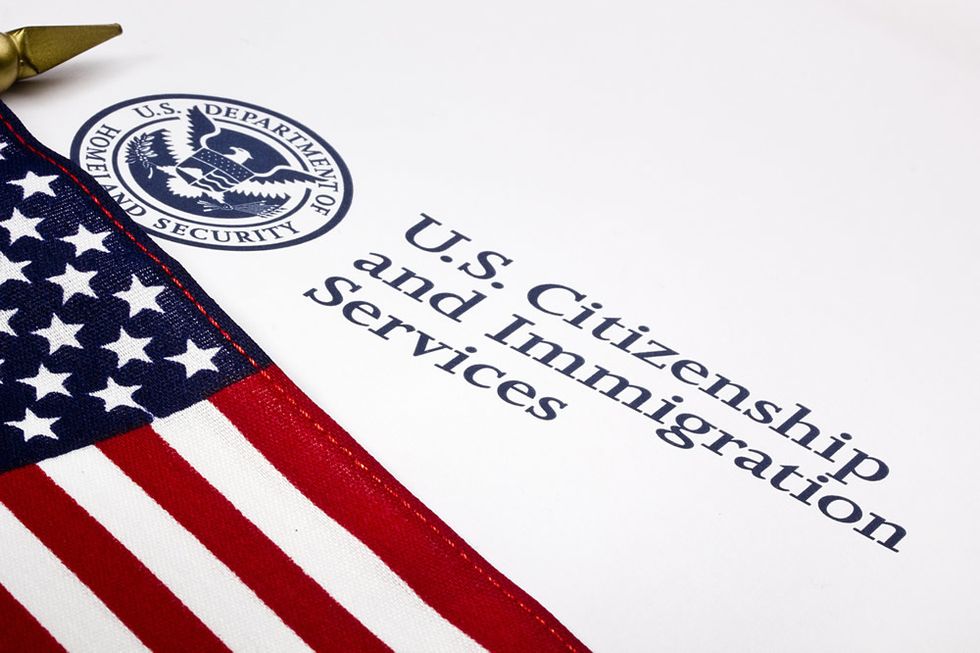 The current naturalization fee in the U.S. is $640. Although the exact number of undocumented immigrants in the United States is understandably difficult to pinpoint, the Pew Research Center estimated that there were roughly 10.5 million as of 2017. It would cost about $1 billion to pay for naturalization fees for all undocumented immigrants in the U.S., which Bezos could pay 100 times over and still have $40 billion to spare.

Homelessness: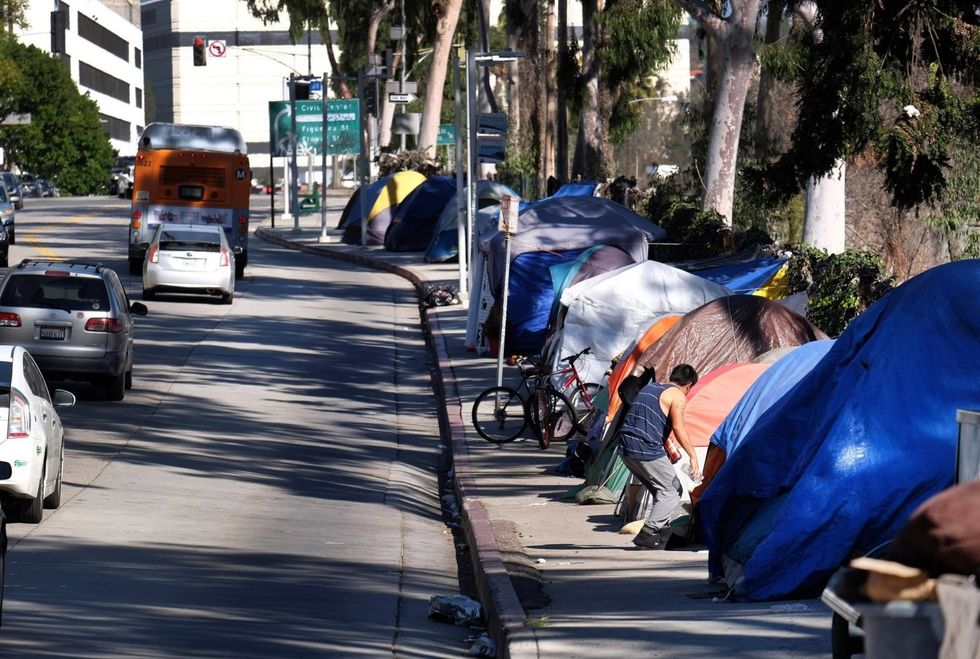 The San Francisco Bay Area and New York City account for two of the country's highest rates of homelessness. Reports in 2019 estimate that it would cost just under $13 billion to end homelessness in both San Francisco and New York City, which Bezos could pay and still have $100 billion for himself.

Universities: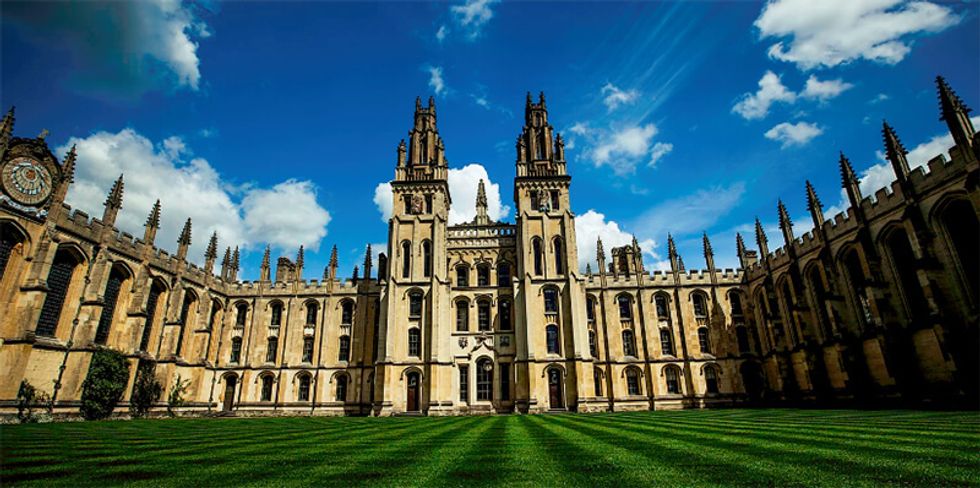 According to a 2018 report, the four richest universities in the U.S. are Harvard University ($38.3 billion), the University of Texas system ($30.9), and Yale University ($29.4 billion). Bezos could buy them all, with a few billion left over.

World Health: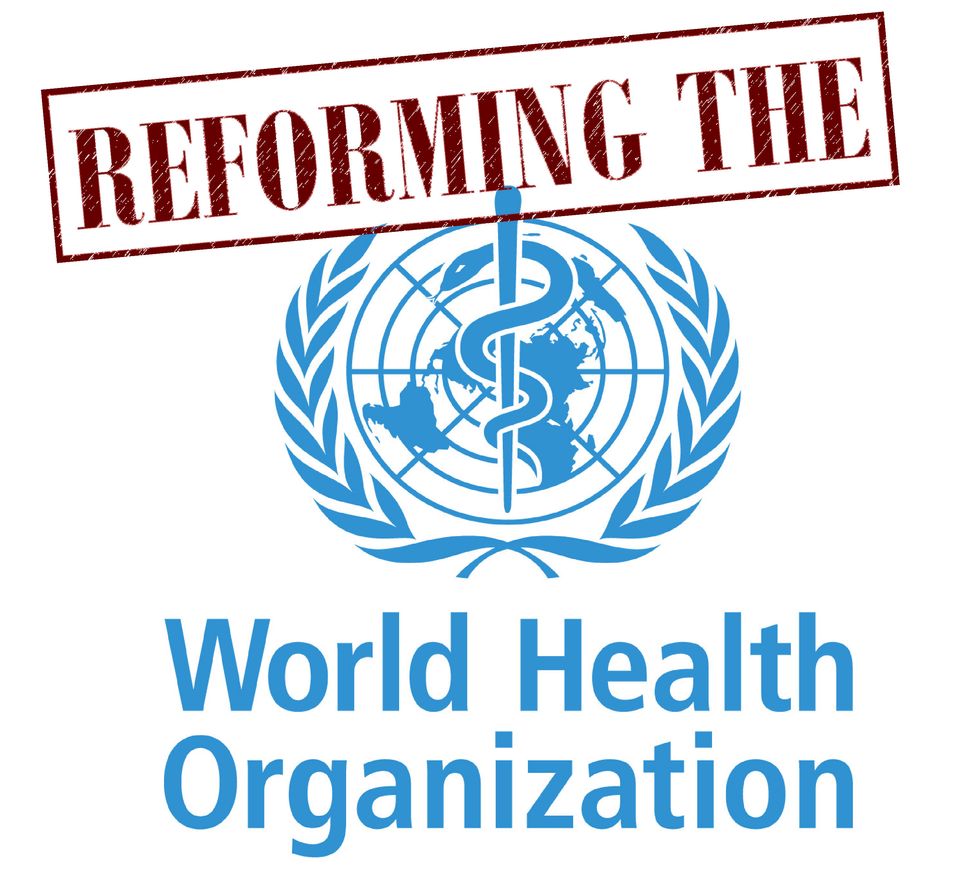 Bezos could permanently double the budgets (about $4.5 billion) of World Health Organization programs that address communicable diseases, health emergencies, vaccinations, and other global health threats—you know, the organization Trump just threatened to defund?

genstrike.org
According to a report published in The Intercept on Tuesday, essential workers at major companies like Amazon, Walmart, Instacart, Target, Whole Foods, and FedEx are planning a walkout as part of a May Day general strike, fighting for workers' rights.
A lot of Americans probably don't know the history of May Day, or the fact that May 1st is known as International Workers' Day—or Labour Day—in much of the world. That ignorance, and the fact that we have our own Labor Day in September, can best be understood as part of a deliberate effort to undermine class consciousness and solidarity in the US, and is all the more reason why more workers need to participate in Friday's strike.
The power structures of our country have long maintained a hostile relationship toward labor and have successfully suppressed unionization and other efforts by workers to agitate for their rights. But this May 1st is the perfect time to correct that tendency and join the world in celebrating workers–because the historic event that International Workers' Day commemorates took place here in America in 1886, and it upset the established hierarchy in a way that should serve as inspiration for people currently struggling to make ends meet.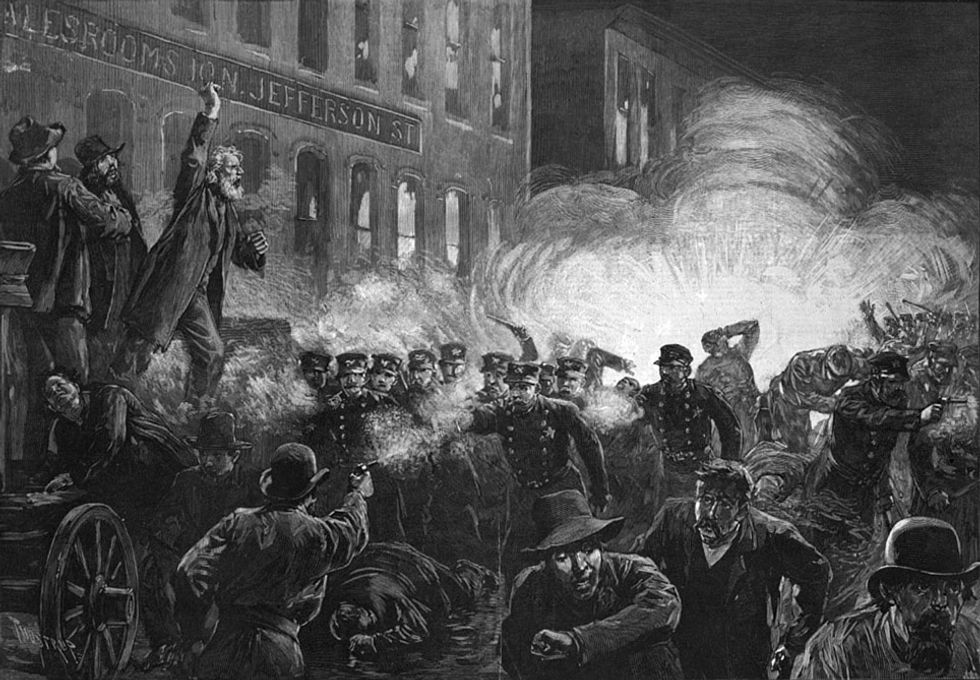 Prior to 1886, May Day had traditionally been celebrated in European cultures with a variety of festivals celebrating spring, but that year American workers took the occasion as an opportunity to fight for their rights. A massive, nationwide work stoppage began on May 1st and continued for several days, with thousands of striking workers demonstrating in every major city. At the time, workers were often made to work long hours in dangerous conditions, and they were fighting for the eight-hour workday—so if you've ever gotten overtime pay, or just enjoyed clocking out at 5:00, then you have them to thank.
On May 3rd police efforts to quash the protests in Chicago resulted in at least one death and several injuries.The next day an unknown assailant came prepared. When police once more attempted to disperse the crowd in Haymarket Square with violent tactics, that person threw a dynamite bomb. The explosion and the ensuing gunfire killed seven police officers and at least four civilians. Dozens more were badly hurt. Police then rounded up hundreds of organizers, and four men—none of whom had thrown the bomb—were hanged after a lengthy, internationally publicized trial.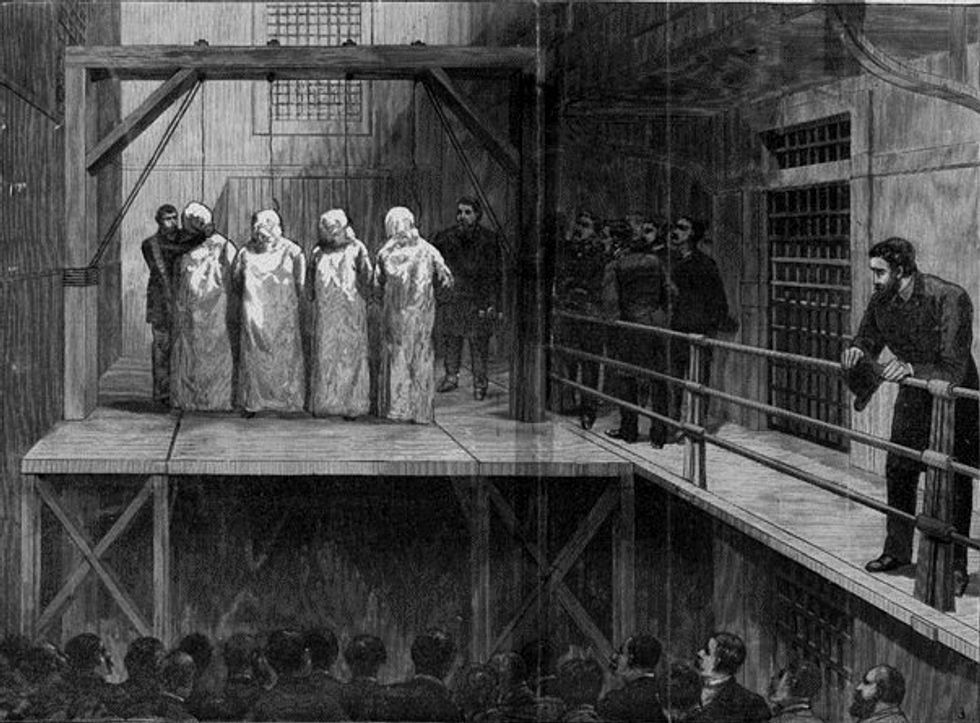 It would take another 30 years of fighting before a federal law established an eight-hour work day for any private industry—and even longer before FDR's administration made it standard across most types of work. But those four men became martyrs for the cause of workers' rights and galvanized people around the world to take action. According to historian William J. Adelman, "No single event has influenced the history of labor in Illinois, the United States, and even the world, more than the Chicago Haymarket Affair," yet few Americans are aware of these events or the holiday they spawned. While the violence and death that took place back then was obviously regrettable—and no one should be hoping for its recurrence—we are about due for another turning point in labor history.

The cracks in our system are being exposed like never before, and millions are falling through. Tens of millions of Americans find themselves suddenly unemployed or underemployed. Shockingly few have been able to sign up for unemployment benefits, and the federal government's $1,200 checks are being treated as a long-term cure-all. People aren't making money, yet most of them are still expected to pay their rent in full, and many have lost their health insurance amid a viral pandemic. It's no wonder people are protesting for their states to reopen; but seeing as that would plainly backfire (and is a push being secretly driven by wealthy backers who won't have to risk their lives), we need to direct that energy toward measures that would actually help.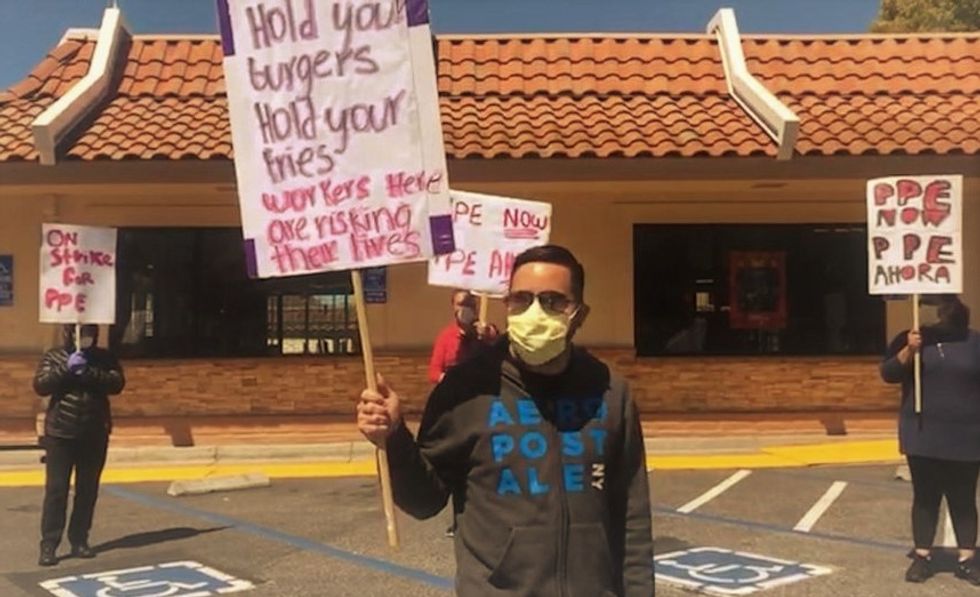 ABC
Meanwhile, many of the people who never stopped working—in healthcare, retail, food service, and other industries deemed "essential"—are being asked to risk their lives working without safety equipment, hazard pay, or even adequate sick leave. These conditions would be unacceptable at the best of times, but now—at the worst of times—we have no choice but to fight back and demand immediate relief and lasting reforms.

A rent strike is a good start, but a general strike—in which workers across industries and around the country participate—sends a real message. So if it's at all possible for you to join the general strike on Friday, May 1st, and/or participate in a (safe, socially-distant) demonstration, consider what you'd be fighting for: A rent and mortgage freeze; liveable stimulus payments; guaranteed healthcare; and hazard pay, sick leave, and PPE for all essential workers.
These are the absolute bare minimum measures that can get us all through this crisis, and if we don't demonstrate the collective power of the American working class—to drive or shut down the economy—we will continue to be deprived of even these. It's time to stand up.
In an era of online shopping and search engines, retailers are especially invested in what you're searching for most often, what brands are selling best, and how they can direct your searches to their own products. In the case of Amazon, the company has control over what products appear in your search results for a range of goods from batteries to apparel. Depending on the retailer, they're interested in promoting their own in-house brands or brands they have personal stake in - whether you're aware of it or not.
The reasoning behind retailers' self-promotion isn't solely about profit greed. Scott Galloway, a professor of marketing at New York University Stern School of Business, describes Amazon's tactic: "I think, effectively, you have a company that has conspired with about a billion consumers and technology to destroy brands. Their attitude is that brands have, for a long time, earned an unearned price premium that screws consumers."
But some commodities are easier to replicate than others, so you're more likely to stumble across so-called "Best Sellers" of certain in-brand items than others. From Amazon to Target and Walmart, retailers are more likely to steer you towards their own versions of these products.
Household Goods
Daily household items are easy to copy in knock-off brands: paper towels, batterie, and extension cords. Whether it's AmazonBasics or Target's Up&Up, your online search results on those websites are programmed to recommend the in-store brand.
Staple Food Items
With online food shopping growing in popularity in densely populated areas, coffee, cereals, and even perishable items like butter and eggs are the most common items offered by retailers' own brands. From Target's Market Pantry and Archer Farms to Walmart's Great Value line, you're pushed see these goods at the top of search results. James Thomson, a former Amazon executive who now works with brands hoping to sell their products to Amazon, told The New York Times: "Amazon has access to data that nobody else has. I can't just walk into a store and say, 'Excuse me, did you look at this brand of cereal this morning and decide not to buy it?' Amazon has that data. They know you looked at a brand and didn't buy it and they're not going to share that data with any other brands."
Basic Apparel
Simple clothing like T-shirts, button-ups, and sneakers are universally relevant to all demographics, which means there's a flooded marketplace for them. Amazon creates and promotes private labels that use customer data to create the most appealing product. Cooper Smith, an analyst at Gartner L2, says, "Amazon can analyze those reviews and figure out why customers were dissatisfied with a certain product. Amazon can then turn around and create a private label for a similar product but improve upon it based on what customers say."
How trustworthy your recommended search results are depends on what you're seeking. While you might see more genuine feedback for niche or tech-oriented products, basic items are so easily replicable that you're probably only searching online to decide which brand you should trust. Retailers have vested interests in your attraction to their own in-house or private labels, so as an exercise in digital literacy you have to treat the results with skepticism.