B2B companies invested over $6Bn in 2020 on digital marketing campaigns. While that pales in comparison with the nearly $15Bn spent on trade shows, the trend towards digital and performance-based marketing by Business-to-Business (B2B) players is rapidly accelerating.

This is partially due to the impact of the global pandemic, which has placed severe restrictions on travel and trade show opportunities. But it's primarily the result of improved performance and accountability tools now available to B2B marketers.
"B2B marketing is a completely different animal than consumer-facing advertising," says Andrew Gill Smith, SVP of Strategic Partnerships with GeistM, the fastest growing Martech platform in the US. "The conversion funnel for B2B has to be highly elastic in order to account for wide variations in customer lifetime values. We have telecommunications equipment clients who have deals ranging from $25,000 all the way up to $5,000,000. It also has to be extraordinarily efficient, meaning it has to drive to calls, leads, and sales quickly. B2B is all about performance. Most players don't have time for fru-fru 'soft' metrics like brand awareness or abstract, top-of-the-funnel concepts."
For most B2B players, digital marketing is a necessary evil. It begins and ends with Search Engine Marketing (SEM). Many companies rely on local or part-time "consultants" to perform this essential function, and as a result, are missing out on tremendous growth opportunities. GeistM recommends that B2B marketers budget at least $5,000 per month to generate consistent, optimal results.
The biggest mistake most B2B marketers make starts at the top of their funnel, specifically the way they set up their keyword campaigns. The traditional setup, detailed below, assigns multiple messages to multiple keywords or "ad groups."
Traditional Setup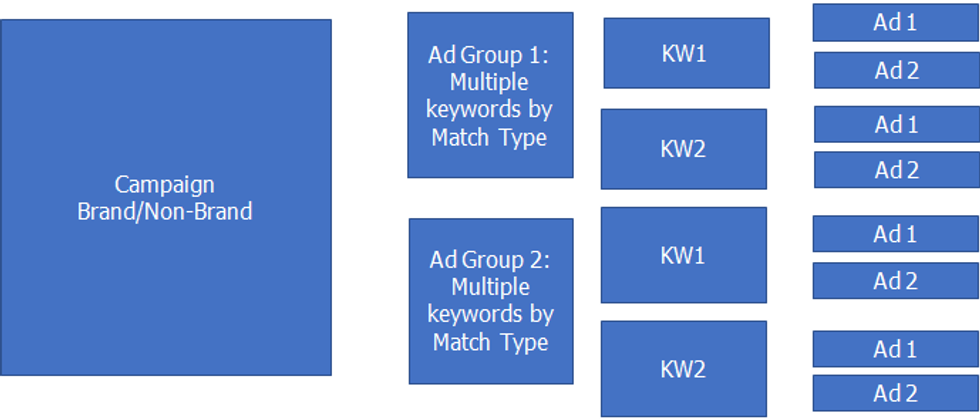 This works well enough, but it also leads to lower quality scores, meaning that the company's pages are less likely to show up in paid search results. This means higher costs-per-clicks and, ultimately, higher customer acquisition costs.

GeistM has pioneered the use of Single Keyword Ad Groups (SKAGs), which requires a completely different campaign architecture: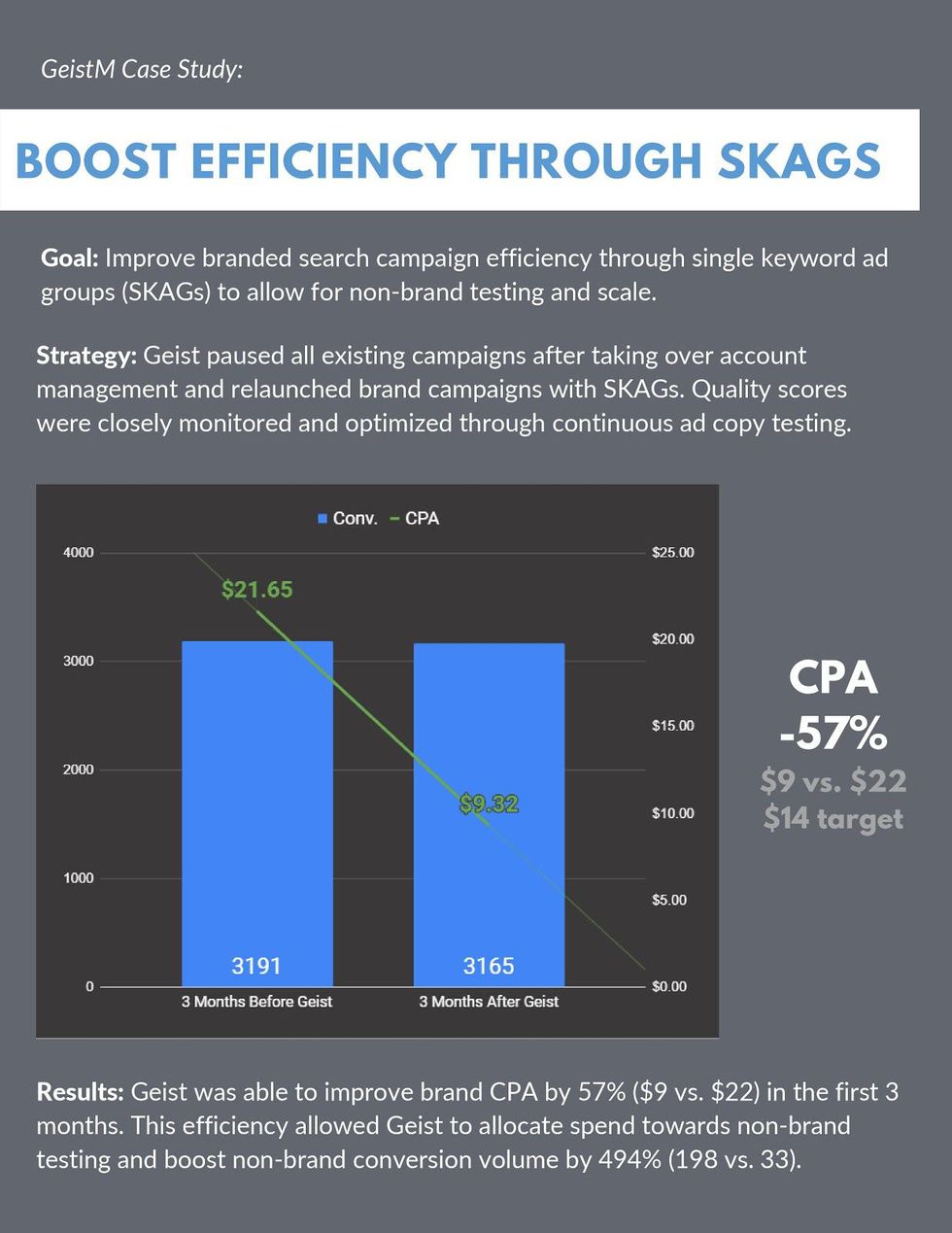 "As a result, they aren't maximizing their ROI on their digital marketing spend."
Rather than sending prospects to a website or a company-hosted landing page, the better approach is to run them through a filter of 3rd party content. This content needs to be carefully calibrated to deliver the company's value propositions and points of differentiation. It must be purpose-built for optimization.

"The advantage of passing prospects through a content filter is that you get the positive benefits of social validation while still maintaining control over the messaging. You're getting educated customers who are truly ready to make a purchase decision after reading your content."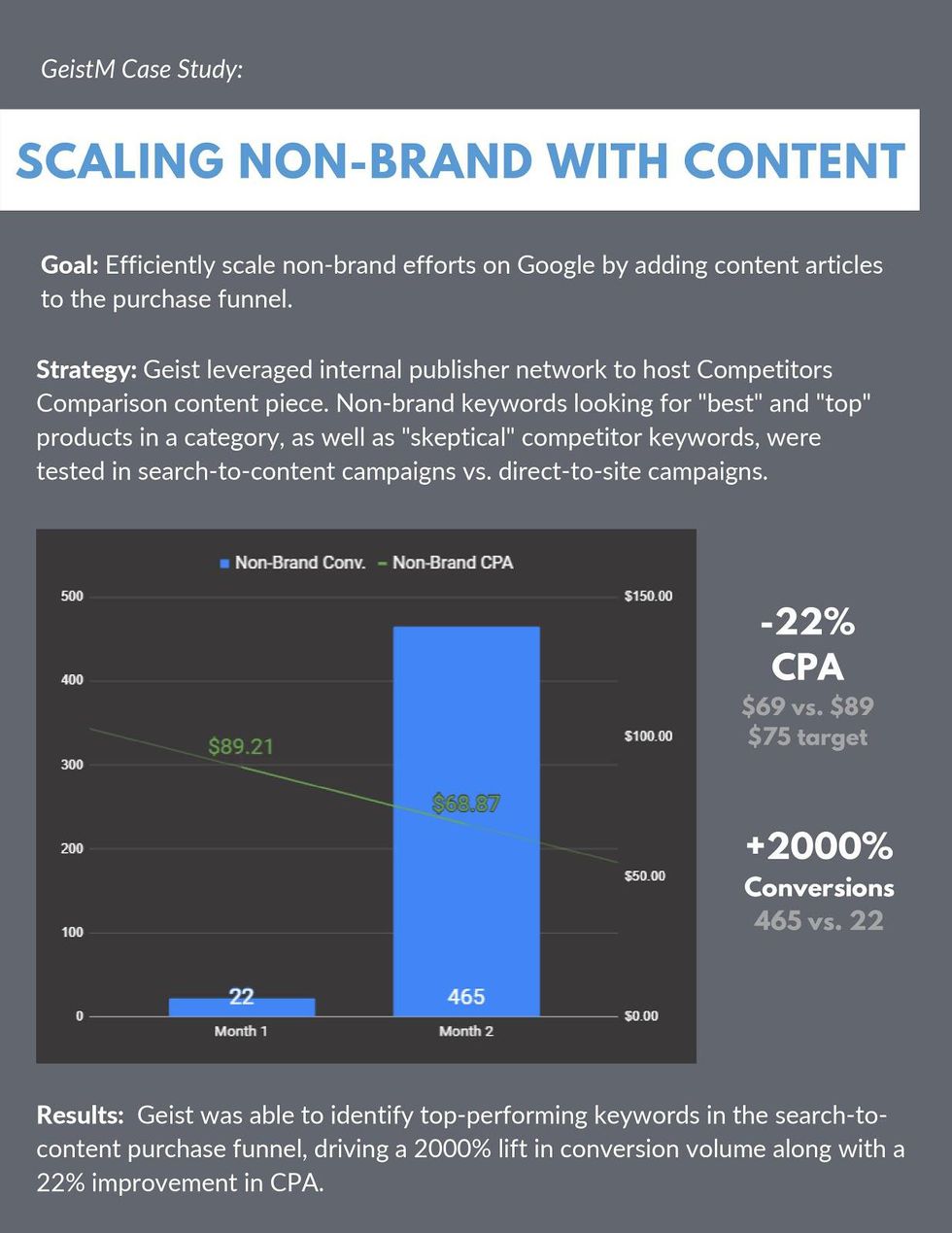 GeistM recently produced another case study showing how the content filter approach within SEM campaigns increased conversions by 2000% while lowering CPAs.

By fusing a modern SEM strategy with high quality, non-branded content, B2B players can stand out from the crowd and escape the "race to the bottom" of price-based competition.
If you're interested in learning more about how GeistM can help your B2B business implement these strategies, visit their website.
Getty Images/Maria Stavreva
Whether you're leaving a job involuntarily, departing for something new, or just want to prepare for the unknown, it is smart to understand all your options regarding your 401k.
Leave It Where It Is
401k plans differ based on the employer, but most will give you the option to leave your 401k where it is even when you don't work for them anymore.
Depending on the 401k's money options, your money might be better off in the investments at your old job than moving it elsewhere. If you are happy with the investment options in the existing 401k, but not necessarily with your other options, it may be best to stay put. I personally did this with an ex-employer's 401k, because I was happy with the expense ratios and investments they offered.
Larger employers tend to offer 401k programs at lower fees. Compare any fees from your previous employer's 401k plan to whichever vehicles you are considering transferring to first. To do so, check the expense ratios of the mutual funds offered in both plans.
Depending on how much money is in your 401k at the time you leave, it may not be a good idea to leave it and do nothing. Often, accounts with balances of $5,000 or less may be closed automatically. If this happens, the employer may end up sending you a lump sum check, or deposit the money into an IRA in your name. It's best to check with your employer first.
Know that you won't be able to make more contributions to the existing 401k once your employment ends. Withdrawal options are also limited. 401k benefits, such as retirement loans, are usually not allowed once you are no longer actively participating in the plan.
Roll It into a 401k with Your New Employer
Simplicity is the key to easy 401k management. The standard routine for 401ks when you switch jobs is to roll it into your new employer's retirement plan.
Having just one 401k to manage can be beneficial if you don't continuously dedicate time to review all your accounts. However, as we mentioned before, you should closely compare expenses and investment options before making that decision.
Roll It into an Individual Retirement Account (IRA)
You also have the option to roll over the funds from your 401k into an IRA account with a bank or brokerage firm, where your money will continue to grow tax-deferred.
One possible benefit of an IRA rollover is the plethora of investment options available to you. Many 401ks are limited to just a handful of mutual funds and bonds, whereas IRAs give you more choices.
Likewise, many 401ks limit the number of times in a year you can make investment changes (known as portfolio rebalancing). With IRA accounts, you're not limited to a select amount of times you can make such changes, giving you more freedom and flexibility with an IRA.
Many brokerages and banks are known for giving out incentives to new customers — and there's no shortage of handouts when it comes to opening a new IRA with them. You may be able to snag yourself a bonus while gaining more control over your retirement money.
As promising as IRA rollovers can be, it's not always going to be the best option for 401k funds. For example, let's say you've left a job for another and you're debating moving your previous 401k into an IRA or your new employer's plan. Always take into consideration employer matching contributions. Most employer's 401k programs will contribute a certain percentage or match what you put into the account. For example, let's say the program will match up to 6% of your contributions, and you contribute 6% of your salary that year which ends up being $3,000. With the employer matching contributions, you end up gaining another $3,000 for the year. If you choose the IRA, you could possibly miss out on a ton of money.
Take the Money
You always have the option to simply close out your 401k when you leave your job, but this is almost always a bad choice.
If you decide to take the cash when you aren't 59 ½ or older, then you will end up paying an excessive amount of taxes along with penalty fees that are usually around 10%.
Your Next Steps
Once you have decided which rollover option to take, your first step is to set up the new account. When the account is opened, the new provider will provide you with instructions to transfer the money. Usually, this means you are in charge of contacting the former employer's plan administration and letting them know you need to make a direct rollover.
With the election of Joe Biden to the Presidency, you're probably here seeking to understand how much your taxes are going to go up.
The answer: most people will see no tax increases.
The tax plan that Joe Biden has rolled out is targeted at individuals making more than $400,000 a year, less than 1% of the population of the US. If you (like me) are not one of these lucky individuals, then it's very-likely that nothing in this article is going to apply to you.
But, for argument's sake, let's hop in the Model S, drive over to the penthouse, and analyze what Biden's tax code plans mean for you.
If you make over $400,000 a year
First, Biden is going to impose a 12.4% tax on incomes over $400,000 to fund Social Security, split evenly between employers and employees. This is a new tax, because Social Security taxes in the past have been capped on income at or below $137,700.
People who made over $137,700 had a tax break where they didn't have to pay into Social Security for all of their income. Biden's tax plan still allows people making over $137,700 to not pay the Social Security payroll tax for income above that amount as long as they make under $400,000.
When your income exceeds $400,000, you then have to start paying the tax again. This creates an interesting tax structure where people's income at the very bottom and the very top of their income is being taxed for Social Security, but income in the middle is not.
Second, while Biden is likely to keep many of changes from the Tax Cuts and Jobs Act, he has stated that he is going to revert the marginal tax rate for individual incomes above $400,000 from 37% back to the previous 39.6%. As with the Social Security tax, this does not kick in unless your income goes above $400,000.
Individuals making above $400,000 will also have their incomes above $400,000 see itemized deductions capped at 28%. That means if your income is over $400,000 and your tax rate is over 28%, you have less options for itemizing your deductions to get a lower tax rate.
Some business owners have benefitted from deducting up to 20% of their business income as well as 20% of the dividends from qualifying Real Estate Investment Trusts (REITs) on their taxes. Biden is proposing phasing that out for incomes above – drumroll - $400,000.
But what if you're not just making $400,000 a year? What if you are making even more than $400,000 a year? What if you earn over $1 million a year? That's when Biden's really going to hit you where it hurts – your investments.
Most people pay taxes on what's called "earned income," referring to things like your salary at your job. The tax rates for that range from 10% to 37%, depending on how much you make. If you make money from investments instead, that's a whole different story.
If you buy an investment and sell it for a profit within one year of purchase, you would pay your normal income tax on any profit you make. But if you hold the investment for longer than a year, you pay a reduced tax rate between 0% and 20%, depending on your income.
If you make over $200,000 ($250,000 for married couples), you would also pay a 3.8% tax on net investment income. What Biden is proposing is taxing any income over $1 million the same regardless of it comes from your salary or your long-term investments.
The wealthiest people in the US have seen a large amount of their income come from investments, and this measure would keep the wealthiest Americans from paying less in taxes than average working people just because the money comes from holding stocks or real estate instead of a traditional job.
If you make under $400,000 a year
Let's say that you, like more than 99% of Americans, do not make $400,000 a year. Does this mean Biden's tax plan will not affect you at all? There's actually a decent chance you might see some changes to your taxes.
Biden is proposing bringing back the First-Time Homebuyers' Tax Credit, originally created to help the housing market during the Great Recession, and provide up to $15,000 for first-time homebuyers. With interest rates at historic lows, this may be another incentive for you to consider dipping your toes into the real estate game and becoming a homeowner.
Biden is also proposing expanding the Child and Dependent Care Tax Credit from $3,000 up to $8,000 for one dependent and $16,000 if you have multiple dependents. The maximum reimbursement rate would also adjust from 35% to 50%. If you have kids or other dependents, this may reduce how much you pay in taxes by giving you a child tax credit the money you spend to support your family.
Biden also has a few very targeted tax cuts and tax benefits that will apply to a much smaller group of people. One is expanding the Earned Income Tax Credit (a tax credit for low-income people who are very close to the poverty line) and allowing people over the age of 65 to also claim the credit even if they do not have dependent children.
He would also provide a refundable low-income renter's credit, reinstate tax credits for the purchase of electric vehicles and improvements to your home to make them more energy-efficient, as well as exempt forgiven student loans from taxable income. These may not apply to as wide a group of people, but if you're older, a renter, looking to live a more green lifestyle, or seeking forgiveness for student loans, Biden's tax proposals can have you looking at a smaller tax bill.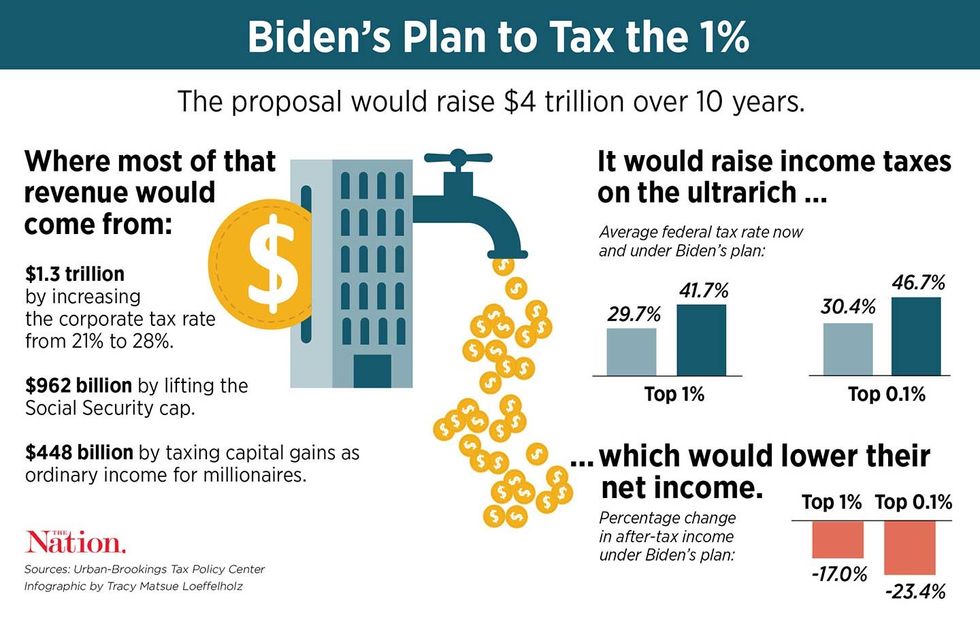 Biden's plans for inheritances
At first glance, it looks like everyone making more than $400,000 a year will pay higher taxes and everyone else will pay less taxes than they currently do. However, there is a part of Biden's tax plan that may have an impact on you even if you are lower income – if you have a rich family.
The Tax Cuts and Jobs Act raised the threshold at which estate taxes are paid and lowered how much they have to pay in taxes. If you stand to inherit an estate worth $11.6 million dollars today ($23 million if you are a married couple), right now you don't pay taxes on it.
If you inherit more than that, you would pay a top rate of 40% tax. Biden is proposing lowering the threshold where the tax would kick in back down to $3.5 million ($7 million for married couples) and raising the tax rate back to 45%. This will affect roughly 0.3% of estates. If you are in the 99.7%, you do not need to worry about the Biden inheritance policy.
Now, the next part is closing an inheritance loophole called the "stepped-up basis" loophole. Right now, when an heir inherits an asset, they only pay taxes on the gain in value of the asset from the time that they inherited it.
Let's say your parents bought $100 worth of stocks decades ago and today those stocks are worth $10,000. If your parents passed away and left you the stocks, you would be allowed to sell them immediately and not pay any taxes.
If you held the stock and the price rose to $12,000, you would only pay taxes on the $2,000 in value the stocks gained since you inherited it. This because the initial value of the stocks would be "stepped-up" to the value at the time you inherited it rather than the value at the time your parents bought it.
This loophole has allowed the very wealthy to leave very valuable assets to their children without needing to pay taxes and allowed generations to pass large fortunes to their children. Biden has proposed closing this loophole and not stepping-up the value of an asset when it is inherited; taxes will instead be paid on the value of the asset from when it was first purchased.
This part of the plan has yet to be fully fleshed-out by Biden, but it appears to be modelled after a proposal from the Obama administration. That plan allowed an exclusion of $100,000 per person (rising with inflation) and excluding $250,000 for primary residences ($500,000 for couples). It also allowed a 15-year payment period and tax deferrals for family-owned small businesses. Biden may roll out similar provisions once he rolls his tax plan out before congress.
Does any of the Biden tax policy outlines even matter?
Maybe?
Biden has presented something of a wish list for his tax plan, but that doesn't mean he can wave a magic wand on January 20th and put it into place. This plan will require significant negotiations in Congress, and if Republicans retain a Senate majority, they may refuse to even allow a bill to have a hearing. Ultimately, Biden's tax proposals may change significantly as they work their way through Congress and if they are not able to garner enough support, they may never come into effect.
From Your Site Articles
Related Articles Around the Web
With nearly 14 million Americans currently looking for work, giving your resume an update has never sounded better! We have cultivated a list of the most coveted and in-demand job skills you should focus on developing as you prepare for a changing COVID influenced world.
Employers look for employees who possess both hard and soft skills. Hard skills are those that involve technical knowledge, while soft skills deal with personality traits.
Digital Hard Skills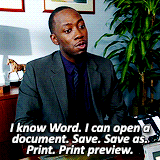 skills GIF Giphy
The global workforce was already amidst a technological revolution, but when COVID took the reins, the skill sets needed for digital work priority seemingly overnight.

According to LinkedIn, data literacy–which is the ability not only to read and understand data but also to apply that data in a meaningful way–is the most important skill set businesses look to attain. Special skill sets in statistics and probability are a great asset to any job in the data field.
Computer programming is now, more than ever, becoming a job skill that employers desire. But you don't have to have a programming degree to pick up some basic coding skills that might help you go far. Codecademy offers free basic beginner classes that teach you how to code from the comfort of your home.
Having proficiency in computer programming languages can also get your resume noticed. According to Indeed, Python is the highest demanded program language for jobs right now. Blockchain technology, a job skill that has never even appeared on LinkedIn's top skill demands before this year, debuted as the highest demanded skill for 2020. The up-and-coming Blockchain technology, which is generally associated with cryptocurrency, is now being sought for use by businesses who are looking for innovative ways to implement new technologies.
Similarly, jobs dealing with artificial intelligence have shown the highest rate of increase in any industry in the United States this past year. Proficiency in developing algorithms and robotics can get your resume noticed fast.
Finally, affiliate marketing has been one of the fastest-growing marketing sectors that businesses are developing. Business spending on affiliate marketing grew from $4.2 billion to $6.8 billion annually between 2015 and 2020. Practice and understanding of search engine optimization (SEO) and search engine marketing (SEM) are crucial job skills that can help you grow a business online. And if you have no experience with SEO, learning about it can be done for free and easily through sites such as Moz or Yoast. Familiarity with online analytics such as Google and Adobe analytics will also help your resume get it noticed.
High Demand Soft Skills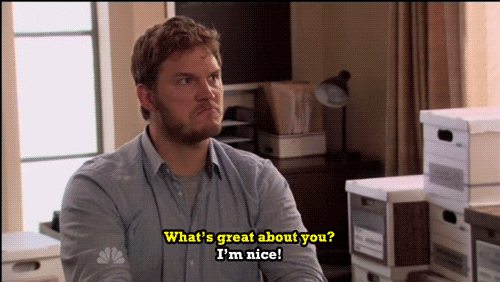 resume GIF Giphy
Cognitive Skills
Employers have always desired some level of cognitive skill from employees. Logic and reasoning are important in a world where it seems easier to find fake news and misrepresented data, and being able to objectively sort through what is credible and what is not is a coveted job skill in today's world.
Adaptability and Resilience Skills
The baby boomer generation was accustomed to holding lifelong jobs, often having the same workplace and requirements throughout an entire career. In today's world, the majority of millennials prefer–or are forced into–job-hopping, so being willing to adjust to change in an increasingly changing workforce will get you far.
Leadership Skills
With jobs shifting to remote work-at-home settings, leadership skills will become a top job skill throughout the workforce. People who show self-management are more likely to adapt to working from home and are capable of engaging fellow teammates more effectively.
Creativity Skills
Artists who make a career out of their passions have long felt undervalued at what they do. But if recent closures and shutdowns have trained the job market's interests on anything good, it's been creativity, as businesses have all been forced to think outside of the box.