The workers who forgo the yoke of traditional employment to strike it out on their own form a vibrant sector of the American economy. From ambitious entrepreneurs to cunning freelancers and everyone in between, self-employed workers say "no" to a punch-the-clock world and enjoy a great deal of freedom in their work. However, that freedom comes at a price—namely, the onerous self-employment taxes one must pay when they aren't a W-2 employee. When tax time comes around, the self-employed seek out relief. Fortunately, the IRS allows for deductions and strategies that can take some of the sting out of those tax rates. The best tax breaks for the self-employed allow workers to take honest deductions that won't burn them in the long run. Here are a few to consider.
The Home Office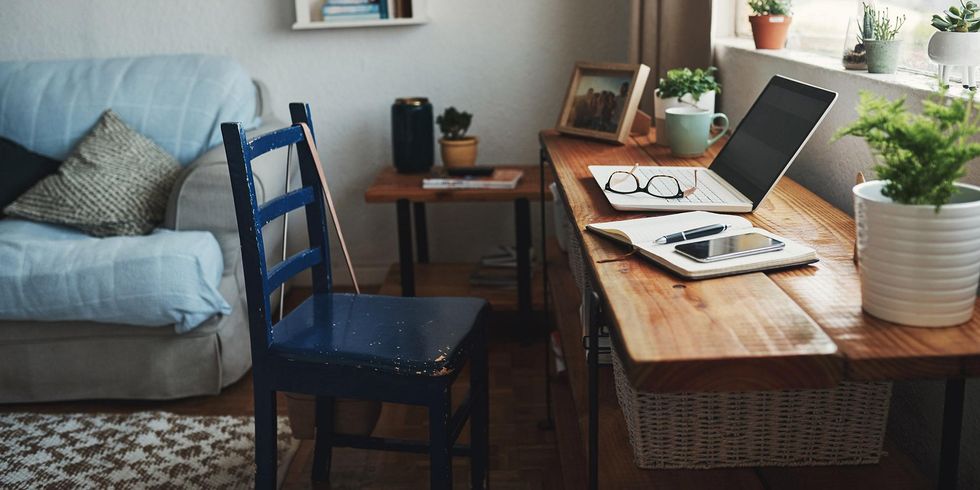 In 2020, millions of Americans acquainted themselves with webcams, broadband connectivity tests, and lagging video calls as they packed up their offices and started to work from home. Tantalized by visions of tax deductions for home offices, W-2-bound employees were chagrined to discover that this deduction was no longer available in the pandemic. Self-employed people, on the other hand, continue to enjoy deduction opportunities for home office expenses as long as they maintain dedicated square footage for exclusive and extensive work use. This deduction can help take a bite out of your utilities and mortgage.
SEP IRA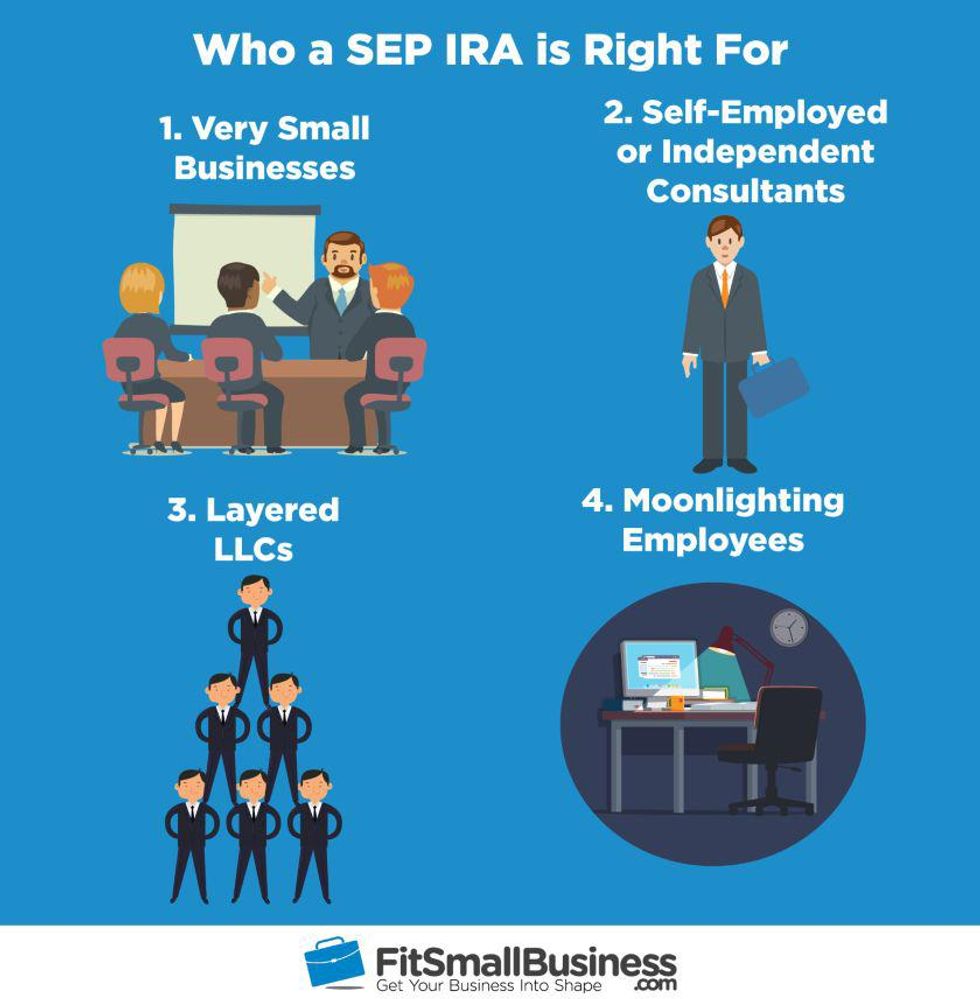 If you're self-employed but also have employees of your own, investing in your retirement and theirs can provide a significant tax break. Simplified Employee Pension plans allow employers to make contributions for themselves with matching contributions on behalf of their employees, making this an ideal plan for very small businesses. In fact, you can even establish an SEP as a sole proprietorship with no other employees at all. Unlike a 401(k) plan, contributions from an SEP go into traditional IRAs. As pre-tax contributions, they represent a sizable tax break in the short term, which can be quite useful for a small business.
Continuing Education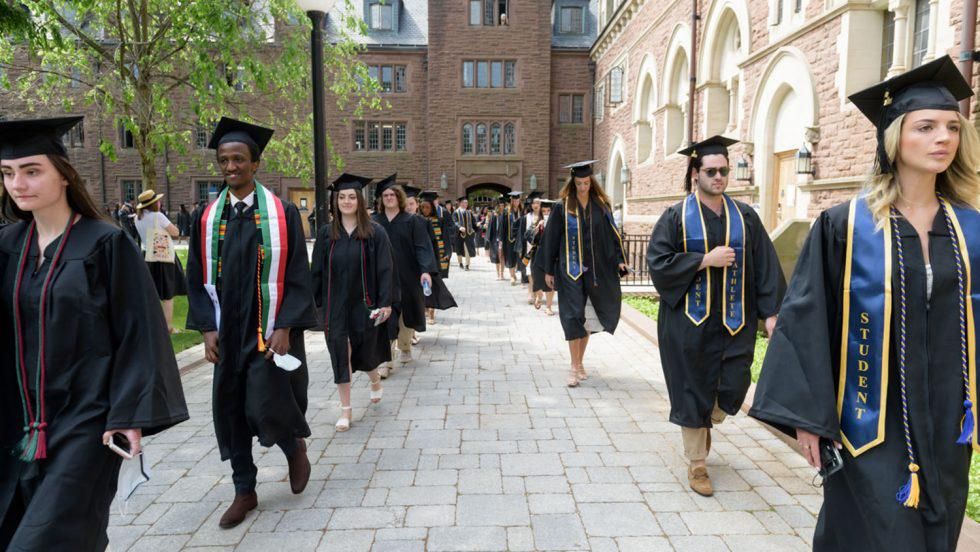 The road to self-improvement can prove costly when it involves the American educational system. The expenses for continuing education can be especially burdensome for self-employed workers. Luckily, the IRS allows for deductions relating to tuition and ancillary costs. Like all the best tax breaks for the self-employed, however, Uncle Sam does maintain some rigorous standards for what qualifies—the lessons you learn and the credentials you earn must pertain to your existing work.
Long gone are the days when the majority of Americans dreamed about owning a home with a white picket fence.
The traditional American Dream may be on its deathbed, but that doesn't mean a core component of the vision can't survive. It simply takes a diverse perspective. People can still believe they can attain their own vision of success in society with hard work, knowledge, and risk-taking. Investing in today's American Dream may literally mean investing money in our modern economy, starting with our infrastructure.
Real estate investing in particular is a lucrative method that can boost income and secure a better financial future for many. There's always risk involved, but the payoffs can far outweigh the uncertainty. Selecting solid financial investments is about confidence and competence. If you're looking for some advice on this kind of investment, here are a few savvy tips for new real estate investors.
Stick To a Specific Strategy or Niche
Real estate is a challenging sphere of the business world, one that requires several key skills: groundwork knowledge, networking, perseverance, and organization. True knowledge of the real estate market will come with time and experience, but it's a smart idea to select one area of the market and stick to it. This is the best way to attain in-depth familiarity with your specific niche.
First, choose a geographical area close by and then a niche strategy within it, such as house flips, rental rehabs, or residential or commercial properties. By doing so, you can become aware of current inner working conditions in the market and you'll have a better idea of how these trends may change in the future.
Be Vigilant About Viable Financing Options
While it takes money to make money, you don't have to use all your own money. A common misconception about real estate investing is that you must be wealthy to start off. This isn't straight fact, however. A majority of people can test the waters of real estate investing without a lot of initial cash in their pocket.
Aside from traditional financing options from banks and institutions, private lending options can be worthy solutions. Hard money lenders are popular, reasonable choices, and they tend to have fewer qualification requirements upfront. However, be sure to strategically choose a hard money lender to find the best possible fit.
Master the Art of Finding Good Deals
There may be hundreds of thousands of available properties for sale on the current market, but the bulk of them will never amount to the final money-making result you desire. Another great tip for new real estate investors is to use good math to estimate profit. Taking risks is part of the process, but you have the ability to analyze properties and use networking sources to find the greatest deal. You can't win every deal, but you can steadily work towards a thriving financial future.
B2B companies invested over $6Bn in 2020 on digital marketing campaigns. While that pales in comparison with the nearly $15Bn spent on trade shows, the trend towards digital and performance-based marketing by Business-to-Business (B2B) players is rapidly accelerating.

This is partially due to the impact of the global pandemic, which has placed severe restrictions on travel and trade show opportunities. But it's primarily the result of improved performance and accountability tools now available to B2B marketers.
"B2B marketing is a completely different animal than consumer-facing advertising," says Andrew Gill Smith, SVP of Strategic Partnerships with GeistM, the fastest growing Martech platform in the US. "The conversion funnel for B2B has to be highly elastic in order to account for wide variations in customer lifetime values. We have telecommunications equipment clients who have deals ranging from $25,000 all the way up to $5,000,000. It also has to be extraordinarily efficient, meaning it has to drive to calls, leads, and sales quickly. B2B is all about performance. Most players don't have time for fru-fru 'soft' metrics like brand awareness or abstract, top-of-the-funnel concepts."
For most B2B players, digital marketing is a necessary evil. It begins and ends with Search Engine Marketing (SEM). Many companies rely on local or part-time "consultants" to perform this essential function, and as a result, are missing out on tremendous growth opportunities. GeistM recommends that B2B marketers budget at least $5,000 per month to generate consistent, optimal results.
The biggest mistake most B2B marketers make starts at the top of their funnel, specifically the way they set up their keyword campaigns. The traditional setup, detailed below, assigns multiple messages to multiple keywords or "ad groups."
Traditional Setup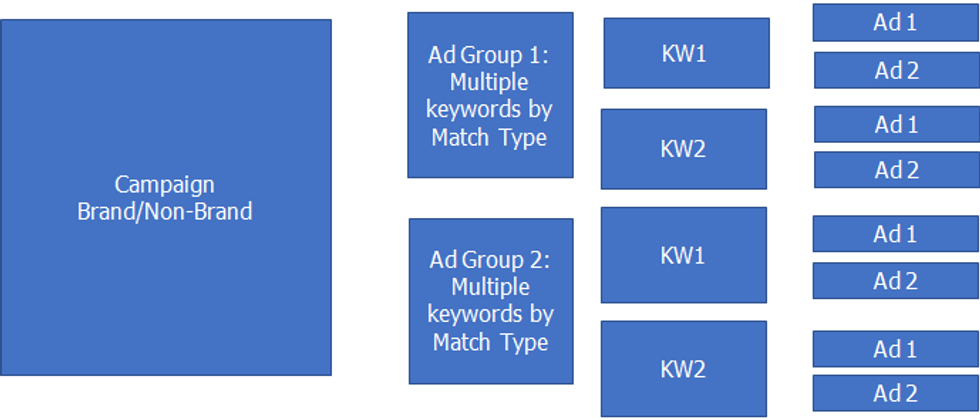 This works well enough, but it also leads to lower quality scores, meaning that the company's pages are less likely to show up in paid search results. This means higher costs-per-clicks and, ultimately, higher customer acquisition costs.

GeistM has pioneered the use of Single Keyword Ad Groups (SKAGs), which requires a completely different campaign architecture: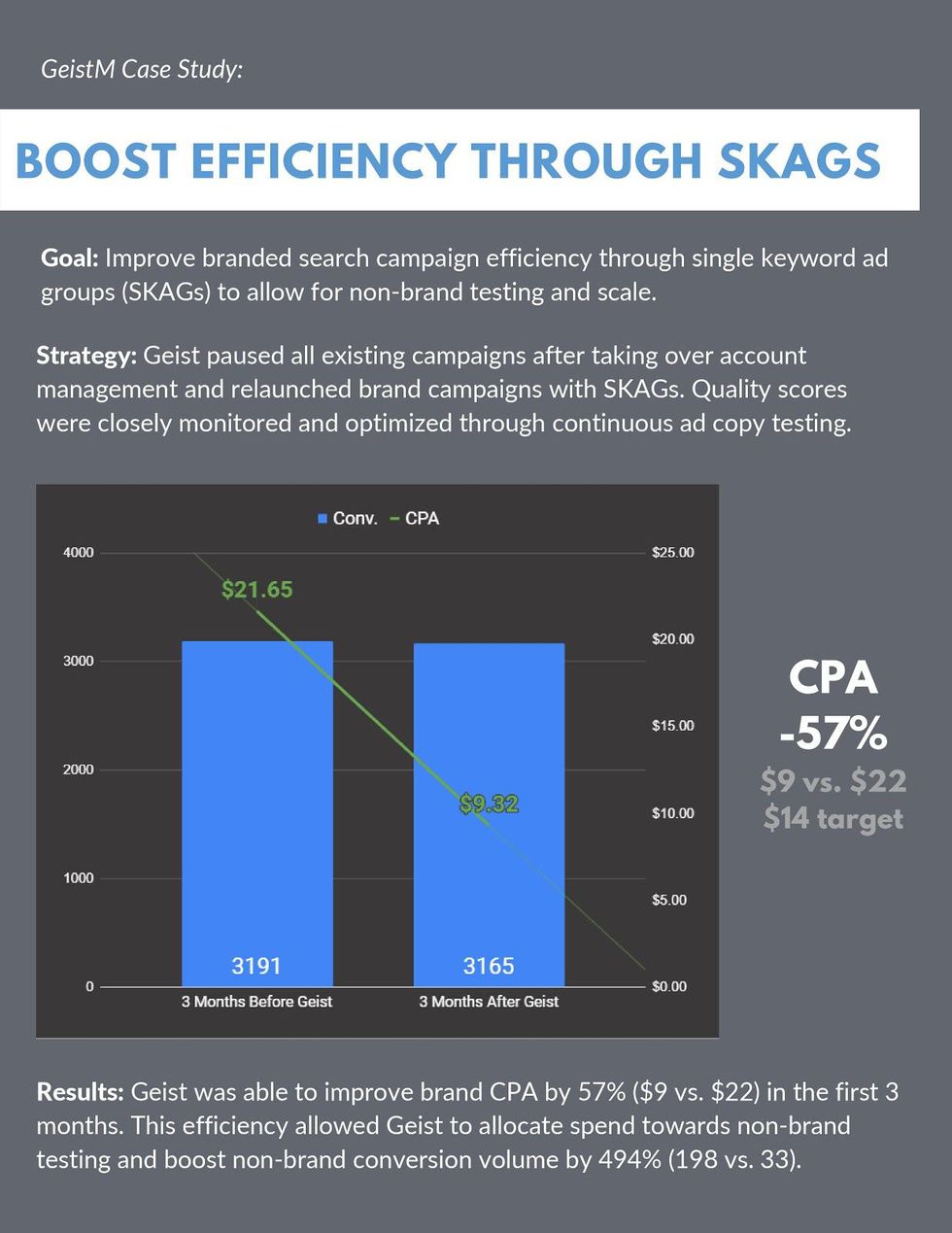 "As a result, they aren't maximizing their ROI on their digital marketing spend."
Rather than sending prospects to a website or a company-hosted landing page, the better approach is to run them through a filter of 3rd party content. This content needs to be carefully calibrated to deliver the company's value propositions and points of differentiation. It must be purpose-built for optimization.

"The advantage of passing prospects through a content filter is that you get the positive benefits of social validation while still maintaining control over the messaging. You're getting educated customers who are truly ready to make a purchase decision after reading your content."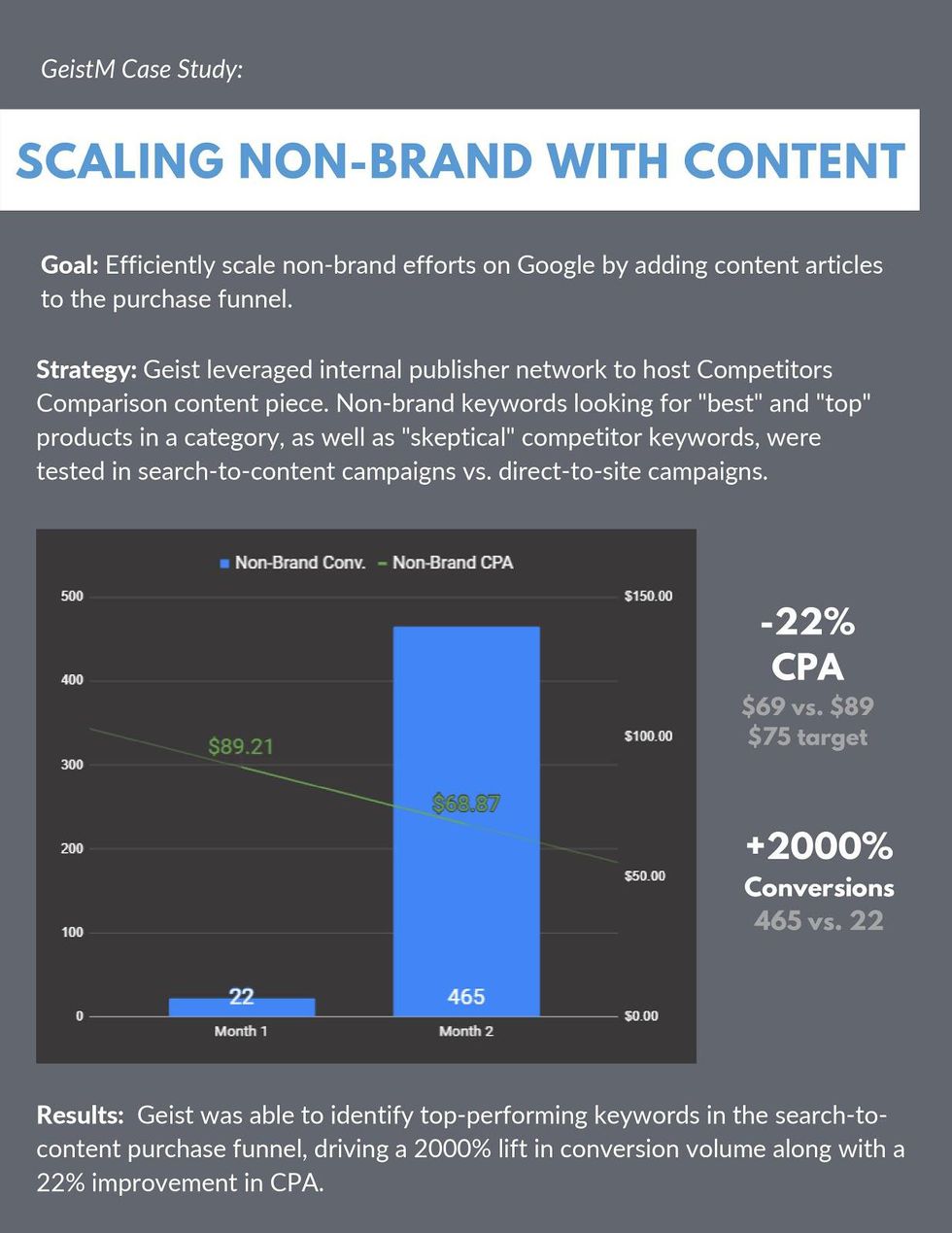 GeistM recently produced another case study showing how the content filter approach within SEM campaigns increased conversions by 2000% while lowering CPAs.

By fusing a modern SEM strategy with high quality, non-branded content, B2B players can stand out from the crowd and escape the "race to the bottom" of price-based competition.
If you're interested in learning more about how GeistM can help your B2B business implement these strategies, visit their website.
Getty Images/Maria Stavreva
Whether you're leaving a job involuntarily, departing for something new, or just want to prepare for the unknown, it is smart to understand all your options regarding your 401k.
Leave It Where It Is
401k plans differ based on the employer, but most will give you the option to leave your 401k where it is even when you don't work for them anymore.
Depending on the 401k's money options, your money might be better off in the investments at your old job than moving it elsewhere. If you are happy with the investment options in the existing 401k, but not necessarily with your other options, it may be best to stay put. I personally did this with an ex-employer's 401k, because I was happy with the expense ratios and investments they offered.
Larger employers tend to offer 401k programs at lower fees. Compare any fees from your previous employer's 401k plan to whichever vehicles you are considering transferring to first. To do so, check the expense ratios of the mutual funds offered in both plans.
Depending on how much money is in your 401k at the time you leave, it may not be a good idea to leave it and do nothing. Often, accounts with balances of $5,000 or less may be closed automatically. If this happens, the employer may end up sending you a lump sum check, or deposit the money into an IRA in your name. It's best to check with your employer first.
Know that you won't be able to make more contributions to the existing 401k once your employment ends. Withdrawal options are also limited. 401k benefits, such as retirement loans, are usually not allowed once you are no longer actively participating in the plan.
Roll It into a 401k with Your New Employer
Simplicity is the key to easy 401k management. The standard routine for 401ks when you switch jobs is to roll it into your new employer's retirement plan.
Having just one 401k to manage can be beneficial if you don't continuously dedicate time to review all your accounts. However, as we mentioned before, you should closely compare expenses and investment options before making that decision.
Roll It into an Individual Retirement Account (IRA)
You also have the option to roll over the funds from your 401k into an IRA account with a bank or brokerage firm, where your money will continue to grow tax-deferred.
One possible benefit of an IRA rollover is the plethora of investment options available to you. Many 401ks are limited to just a handful of mutual funds and bonds, whereas IRAs give you more choices.
Likewise, many 401ks limit the number of times in a year you can make investment changes (known as portfolio rebalancing). With IRA accounts, you're not limited to a select amount of times you can make such changes, giving you more freedom and flexibility with an IRA.
Many brokerages and banks are known for giving out incentives to new customers — and there's no shortage of handouts when it comes to opening a new IRA with them. You may be able to snag yourself a bonus while gaining more control over your retirement money.
As promising as IRA rollovers can be, it's not always going to be the best option for 401k funds. For example, let's say you've left a job for another and you're debating moving your previous 401k into an IRA or your new employer's plan. Always take into consideration employer matching contributions. Most employer's 401k programs will contribute a certain percentage or match what you put into the account. For example, let's say the program will match up to 6% of your contributions, and you contribute 6% of your salary that year which ends up being $3,000. With the employer matching contributions, you end up gaining another $3,000 for the year. If you choose the IRA, you could possibly miss out on a ton of money.
Take the Money
You always have the option to simply close out your 401k when you leave your job, but this is almost always a bad choice.
If you decide to take the cash when you aren't 59 ½ or older, then you will end up paying an excessive amount of taxes along with penalty fees that are usually around 10%.
Your Next Steps
Once you have decided which rollover option to take, your first step is to set up the new account. When the account is opened, the new provider will provide you with instructions to transfer the money. Usually, this means you are in charge of contacting the former employer's plan administration and letting them know you need to make a direct rollover.