Kim K is acting up again — nature is healing.
After Kanye West recently went on an online tear trying to win Kim back by … weaponizing his fans against her and her boyfriend — the logic is flawed, especially since West was simultaneously parading his relationship with Julia Fox — a judge declared Kim Kardashian legally single. Silly me, I thought this would be the end of the whole ordeal. I naively hoped that I would get some peace, quiet, and respite from the Kardashian/Jenner/West/Barker/Fox/Davidson/whoever-else brood for at least a little while.
Once again, I was wrong.
Kim Kardashian recently made it Instagram-official with Pete Davidson in a very on-trend photo dump. And — predictably — this went viral. This is … whatever. Good for them. However, at the same time, a video of Kim's advice to business owners also went viral.
In an interview for Variety, the magazine asked Kim for her "best advice for women in business." In response, Kim said — in all seriousness and without a hint of sarcasm or self-awareness — "Get your f—ing ass up and work." She continued: "It seems like nobody wants to work these days. You have to surround yourself with people that want to work. No toxic work environments and show up and do the work. Have a good work environment where everyone loves what they do because you have one life."
If this sounds like bad advice, it's because it is. In fact, none of it really means anything substantial. At best, it's vacuous and unhelpful. At worst, it's ignorant and completely insensitive.
Emerging from a global pandemic that ravaged the economy with high rates of unemployment and confused work boundaries for those who could work, Kim's assessment of people "these days" is outrageously out of touch.
In fact, most people are working more. Studies show: "Nearly 70 percent of professionals who transitioned to remote work because of the pandemic say they now work on the weekends. And 45 percent say they regularly work more hours during the week than they did before."
While the rise of remote work promised more freedom and flexibility, it actually placed increased pressure on employees. They face rising workloads — especially in shrinking departments that laid off some employees due to budget cuts — and less ability to advocate for themselves. So, even if Kim is right and people don't "want to work," they're working anyway. And they're working more than ever.
According to Paul McDonald, senior executive director at LA-based staffing firm Robert Half, "While remote work affords employees greater flexibility, it also makes disconnecting extremely difficult. Many people feel pressure to keep up with rising workloads and are putting in long hours to support the business and customer needs."
This pressure, combined with hastily-set-up remote systems means employees have been left in limbo, clocking in at the end of the world. "Simply handing an employee a laptop and downloading Zoom or some other collaborative software is not enough to help employees manage their work and lives through the pandemic and beyond," says Cali Williams Yost, a nationally recognized expert on workplace flexibility and founder of the Manhattan-based consultancy Flex+Strategy Group.
Due to the prevalence of hustle culture, these boundaries are even more blurred. Unfortunately, the glorification of non-stop hustling was omnipresent during the pandemic. Remember when we first started lockdown and everyone was like, "write a book," or "get a six-pack." Somehow, that expectation still stands, and now those who got crypto-rich or exploited people's pandemic vulnerabilities are looking down on the people who didn't.
Kim is the latter. Her various business ventures all depend on selling consumer insecurities back to people. The self-image she constructed for her brand is one that promises her fans they can get a piece of her life, her success, her looks if they only spend more and more money.
According to Kim, her job is burdensome. She defended herself, saying: "When you do product shots (or) when you (post) things that are work-related posts, it's still a job and it's still really hard. Success is never easy. If you put in the work, you will see results." But once again, this is overly simplistic, oblivious, and ignorant.
Not to say that she hasn't leveraged the privileges she's been given, but that's just it. Kim Kardashian was born in proximity to wealth and fame, all of which provided her with the opportunities she has now leveraged for her success. And some of these opportunities have come at the cost of other people — i.e. her whole aesthetic and how it was built on a foundation of anti-blackness. As a fair-skinned woman, Kim was praised and uplifted for embodying aesthetics that Black women have been shamed and degraded for. So her success is not merely a result of her desire to work, her individual actions. Rather, it's because she had all the prerequisites to success. But not everyone can just reach out and choose a life of access, ease, and abundance.
To be honest, the Variety question was kind of a setup. Kim's relationship with work is not like most people's, so no advice she would have given would be relatable. Sure, it didn't have to be so shallow or perpetuate toxic ideas about work. But the lesson here is clear: don't take work advice from Kim Kardashian.
<
via Cleo
Let's face it: this sucks.
After a massive vaccine campaign, a pretty successful hot-vax summer, and a pre-holiday season which made us believe things would finally-finally be getting back to normal, we were introduced to the Omicron variant.
As booster shots slowly rolled out, none of us were prepared for how hard and how fast this surge would hit. Unlike other variants, Omicron is more resistant to the vaccine and is infecting even those with booster shots and antibodies.
And it's really effing scary.
Places like New York are teetering on the edge of another lockdown as restaurants close, offices shut down, and events get canceled. In short: it feels like March 2020 again.
In the words of the perpetually relatable Olivia Rodrigo: "do you get deja vu?" Yes, Olivia, we do.
There are some differences to this surge. Luckily most people — especially the vaccinated among us — are experiencing mild symptoms. While numbers are up, hospitals are not as overwhelmed as they were when the virus first slammed us.
However, this time, many of us are experiencing pandemic burn out — mentally and financially.
When the pandemic first began, no one could have imagined how long it would last. Many people who were furloughed or working from home saw it as taking a few weeks off to relax and unwind. Obviously, this was not the case. Rates of unemployment skyrocketed and some were forced to move out of their homes to save money or take other dramatic, unexpected measures.
What did this look like? Burning through savings accounts, plunging into credit card debt, and adopting the precarious paycheck-to-paycheck cycle. According to CNBC "42% of U.S. adults with credit card debt have increased those balances since the Covid-19 pandemic began in March 2020."
And while employment rates are up in 2021 and the Great Resignation has seen people seeking and finding better opportunities, the Omicron surge proves it's not all sunshine and rainbows.
In a recent money confessional on Slate's "Pay Dirt" column, one reader expressed their frustration at the financial setbacks they experienced during the pandemic. While they were not totaled by the changes, they had to drastically adjust their life plans.
The columnist responded: "A lot of people had their dreams shattered in 2020 … Just because your situation isn't the same as your more-hard-hit co-workers' doesn't mean that you aren't grieving the loss of your income," giving us all permission to feel the negative feelings. They continued: "Toxic positivity is very real in the United States and inspires a lot of people to say that no matter what their life is like, they should be happy … But you can be happy and grateful, yet still, acknowledge the suck in a situation."
This perspective reflects a necessary shift that we all need to make. Especially as we approach yet another perilous year in the land of Covidia. It's soooo hard to continue — and continue and continue — being grateful and not be, quite frankly, fed up. So what can we do about it?
As everything is spiraling out of control, there are small things you can do to feel less overwhelmed. And maybe, less bitter, sad, or resentful — provide room to process and accept this unfortunate reality as best you can.
Feel Your Feelings
Toxic positivity festers when we assume we should feel a certain way and don't pause to let ourselves feel our negative feelings. Emotion comes from the Latin emovere - to "move out, remove, agitate." If we really break it down we get ex "out" + movere "to move." What does that mean to us living in America in the early days of 2022? Get those negative emotions outta here. Feel them and move 'em out.
Then take a deep look, free from judgment, at how you're actually doing in your day-to-day life. Try daily journaling, or delve into meditation.
Take Stock of your Life
Often, without realizing it, we fall into habits that become patterns and routines that eventually become our whole lives. So, when these habits are disrupted …. by, I don't know, a global pandemic … we're shaken out of our comfort zone and into reality. Take a glance at your life. What are you actually, truly, grateful for? What is mere distraction?
Make a Plan
Our spending habits are the first thing to spiral out of control and the most difficult to course-correct. If you're worried about your financial health during this time — or you want to be more vigilant just in case — try the Cleo app. This holistic service manages your money for you and helps you gain control and improve your situation. Managing your money no longer feels like a chore, and it's actually fun!
All in all, Meet Cleo makes you feel like you have a handle on your finances. And in these uncertain times, just being aware of your standing can offer a world of comfort. With Meet Cleo as your side, you no longer have to cave to toxic positivity. This app keeps it real and chats with you like your honest, most blunt friend. And for that, we thank her.
Find out more about Cleo here and put yourself on the path to financial control.
The workers who forgo the yoke of traditional employment to strike it out on their own form a vibrant sector of the American economy. From ambitious entrepreneurs to cunning freelancers and everyone in between, self-employed workers say "no" to a punch-the-clock world and enjoy a great deal of freedom in their work. However, that freedom comes at a price—namely, the onerous self-employment taxes one must pay when they aren't a W-2 employee. When tax time comes around, the self-employed seek out relief. Fortunately, the IRS allows for deductions and strategies that can take some of the sting out of those tax rates. The best tax breaks for the self-employed allow workers to take honest deductions that won't burn them in the long run. Here are a few to consider.
The Home Office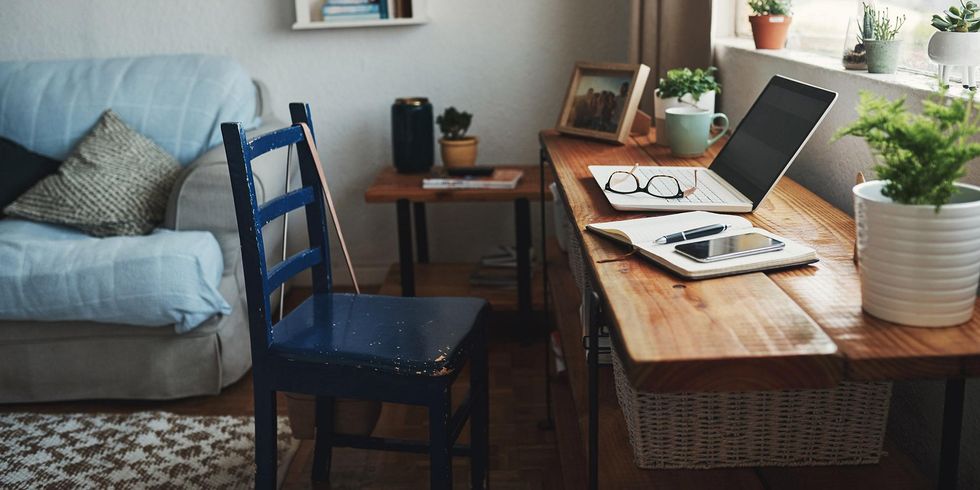 In 2020, millions of Americans acquainted themselves with webcams, broadband connectivity tests, and lagging video calls as they packed up their offices and started to work from home. Tantalized by visions of tax deductions for home offices, W-2-bound employees were chagrined to discover that this deduction was no longer available in the pandemic. Self-employed people, on the other hand, continue to enjoy deduction opportunities for home office expenses as long as they maintain dedicated square footage for exclusive and extensive work use. This deduction can help take a bite out of your utilities and mortgage.
SEP IRA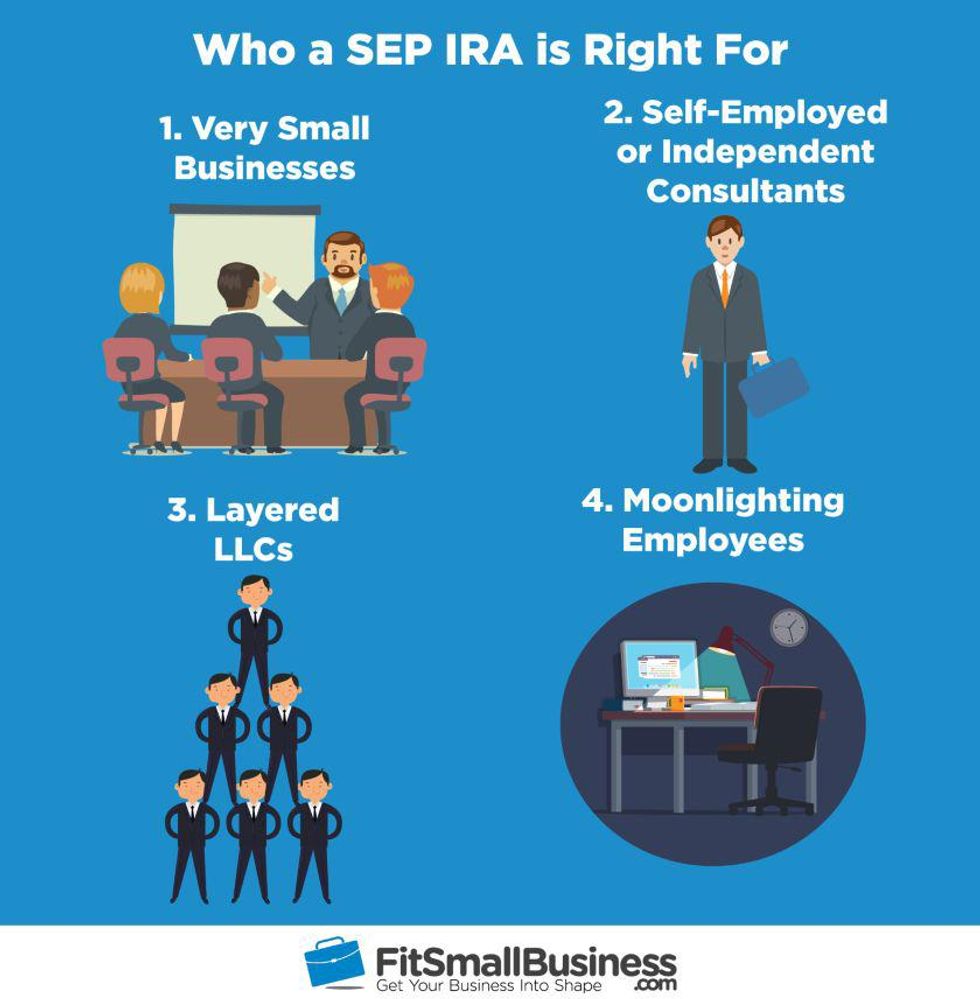 If you're self-employed but also have employees of your own, investing in your retirement and theirs can provide a significant tax break. Simplified Employee Pension plans allow employers to make contributions for themselves with matching contributions on behalf of their employees, making this an ideal plan for very small businesses. In fact, you can even establish an SEP as a sole proprietorship with no other employees at all. Unlike a 401(k) plan, contributions from an SEP go into traditional IRAs. As pre-tax contributions, they represent a sizable tax break in the short term, which can be quite useful for a small business.
Continuing Education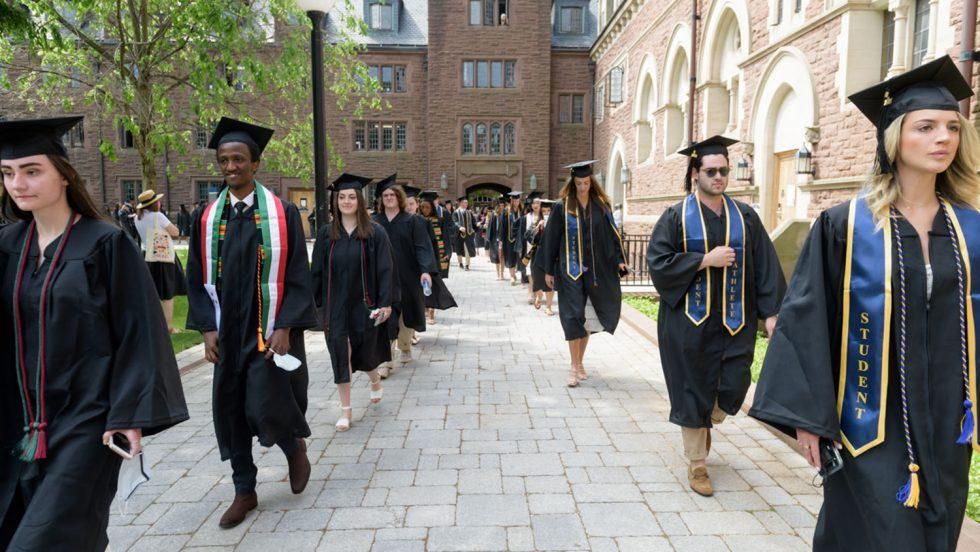 The road to self-improvement can prove costly when it involves the American educational system. The expenses for continuing education can be especially burdensome for self-employed workers. Luckily, the IRS allows for deductions relating to tuition and ancillary costs. Like all the best tax breaks for the self-employed, however, Uncle Sam does maintain some rigorous standards for what qualifies—the lessons you learn and the credentials you earn must pertain to your existing work.
Long gone are the days when the majority of Americans dreamed about owning a home with a white picket fence.
The traditional American Dream may be on its deathbed, but that doesn't mean a core component of the vision can't survive. It simply takes a diverse perspective. People can still believe they can attain their own vision of success in society with hard work, knowledge, and risk-taking. Investing in today's American Dream may literally mean investing money in our modern economy, starting with our infrastructure.
Real estate investing in particular is a lucrative method that can boost income and secure a better financial future for many. There's always risk involved, but the payoffs can far outweigh the uncertainty. Selecting solid financial investments is about confidence and competence. If you're looking for some advice on this kind of investment, here are a few savvy tips for new real estate investors.
Stick To a Specific Strategy or Niche
Real estate is a challenging sphere of the business world, one that requires several key skills: groundwork knowledge, networking, perseverance, and organization. True knowledge of the real estate market will come with time and experience, but it's a smart idea to select one area of the market and stick to it. This is the best way to attain in-depth familiarity with your specific niche.
First, choose a geographical area close by and then a niche strategy within it, such as house flips, rental rehabs, or residential or commercial properties. By doing so, you can become aware of current inner working conditions in the market and you'll have a better idea of how these trends may change in the future.
Be Vigilant About Viable Financing Options
While it takes money to make money, you don't have to use all your own money. A common misconception about real estate investing is that you must be wealthy to start off. This isn't straight fact, however. A majority of people can test the waters of real estate investing without a lot of initial cash in their pocket.
Aside from traditional financing options from banks and institutions, private lending options can be worthy solutions. Hard money lenders are popular, reasonable choices, and they tend to have fewer qualification requirements upfront. However, be sure to strategically choose a hard money lender to find the best possible fit.
Master the Art of Finding Good Deals
There may be hundreds of thousands of available properties for sale on the current market, but the bulk of them will never amount to the final money-making result you desire. Another great tip for new real estate investors is to use good math to estimate profit. Taking risks is part of the process, but you have the ability to analyze properties and use networking sources to find the greatest deal. You can't win every deal, but you can steadily work towards a thriving financial future.