It's been nearly four years since President Trump's election, and to make an understatement, his approach to the presidency has been unorthodox.
In an unprecedented break of presidential custom, he has refused to release his tax returns despite ongoing claims of fraud. In an administration led by one of the most recognizable names in the world, the decision to keep the president's personal finances secret has raised many questions, the most notable being: is it possible that Trump may be making money off his presidency?
Back in 2000, Trump made that very claim: "It's very possible that I could be the first presidential candidate to run and make money on it." In a macro sense, this is obviously based on the real estate mogul's simple maxim of "all press is good press," which the 2016 election made obvious with an estimated $2 billion of free media for Trump. Does all the additional coverage help his business like it helped win him the election?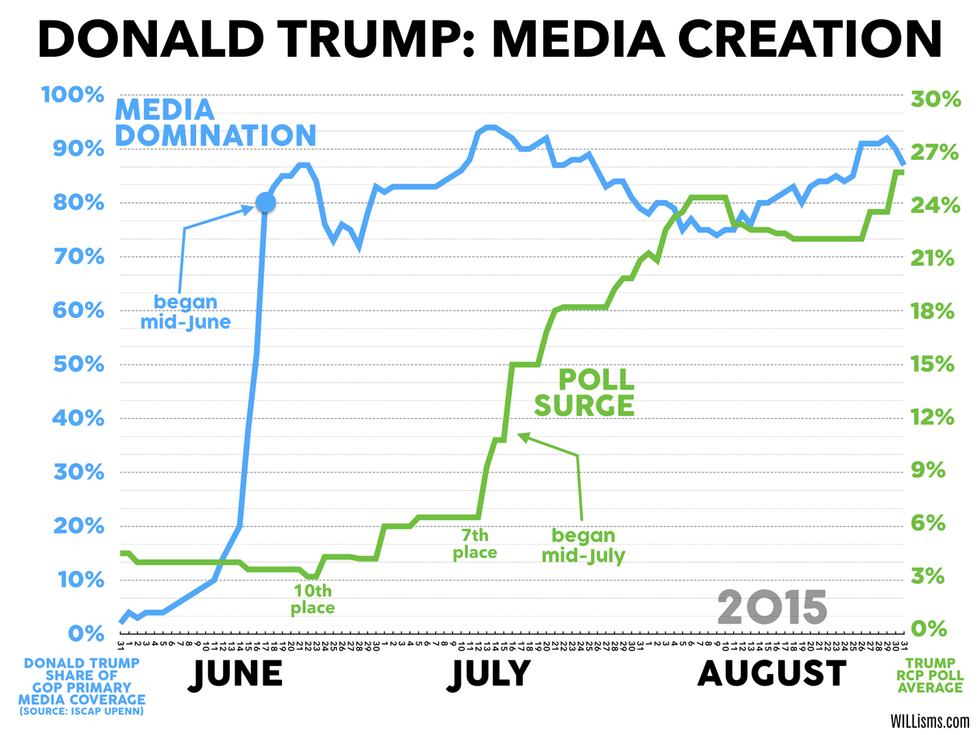 Regarding Trump's many properties, the answer appears to point that way.

Although declining prices have likely hurt its worth, Trump's 11,000-square-foot penthouse in Trump Tower is now essentially a national monument and is positioned to sell for an additional $10 million simply because of an increase in the value of its main tenant.
Trump Hotels have also seemed to benefit, as President Donald Trump frequently uses his luxury properties for government business and leisure, prompting ethics concerns over a president appearing to promote his private enterprise at public cost. Government officials in Kuwait canceled a major event they had planned at the Four Seasons Hotel and switched their venue to Trump's hotel in D.C. under alleged pressure. The same luxury hotel has emerged as a political power hub and is at the center of a court case about presidential emoluments.
Regarding the president's infamous Mar-a-Lago resort, it has seen its membership fee double to $200,000 since Trump took office. Shortly after the fee hike was revealed, Barack Obama's former ethics lawyer said the increase is a "not very subtle exploitation of the fact that the club's figurehead is now president of the U.S." Forbes estimates the "winter White House" is now worth $160 million, $10 million more than pre-election.

Some of the profiteering is even more direct: Trump immediately launched his reelection campaign on the day he assumed office. Donor money has continually flowed since then, and America's first billionaire president turned more than $900,000 into personal revenue.

And we can't forget Trump's signature 2017 tax reform legislation, which will also clearly benefit the president. Forbes says Trump could save about 10% on business income, which based on his leaked 2005 tax return, could mean as much as $11 million annually.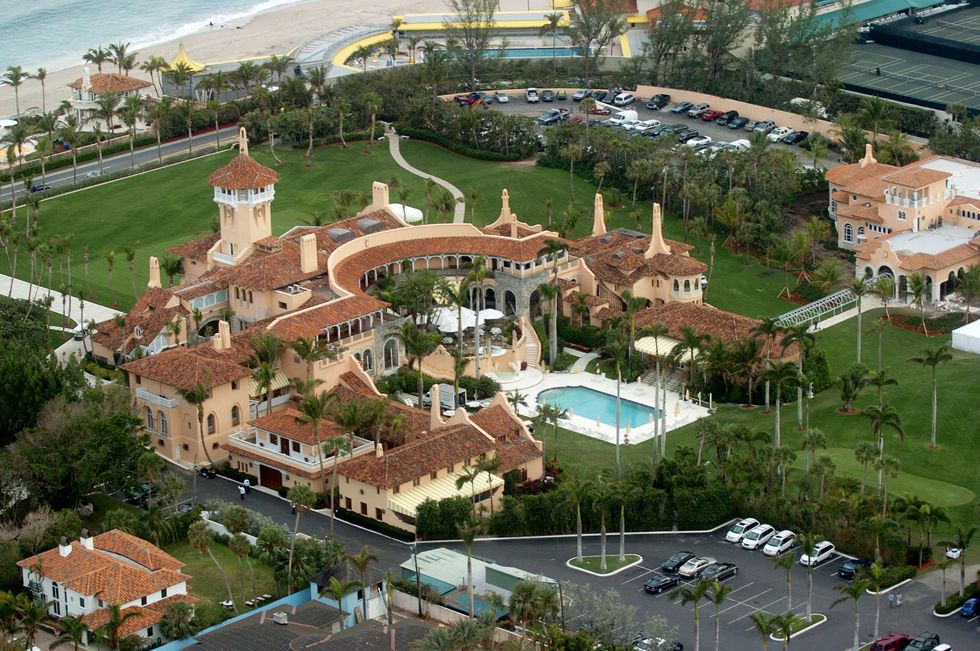 Aerial view of Mar-a-Lago, the estate of Donald Trump, in Pa
However, becoming president has had its drawbacks for the businessman.

While his 2016 campaign's controversial marketing strategy helped Trump leverage media coverage to benefit his commercial properties and projects, Forbes reports that, so far, mixing politics and business has hurt him more than it has helped.
By some calculations, Trump's net worth has dropped from $4.5 billion in 2015 to $3.1 billion in the last two years, dropping the president 138 spots lower on the Forbes 400. In regards to Trump Tower, the net operating income dropped 27% between 2014, the year before Trump announced his run for president, and 2017, his first year in the White House.
In refusing to divest his tax returns, Trump has set himself up to be accused of perpetual conflicts of interests that may or may not be true. Forbes' suggests that Trump would be $500 million richer if he had liquidated his assets, paid capital gains tax on his fortune and created a blind trust to invest it all in the stock market.
At the end of the day, Trump has made money off the pedestal he's been given. However, he may have made more—and been better perceived—if he had thrown in the towel altogether.
---
Joshua Smalley is a New York-based writer, editor, and playwright. Find Josh at his website and on Twitter: @smalleywrites.
---
The Independent
When it comes to dating, a lot of the outdated, gender normative, etiquette that was once nonnegotiable, grows less and less important by the year.
It's no longer necessary for women to get married, men don't always pick up the dinner bill, house hold chores are shared, and communication is open in a way that was not a given for past generations.
Another perk of changing relationship dynamics should be the ability to have an open conversation about finances with your romantic partner. We've come too far to leave finances out of the equation when it comes to partnership, whether that's a restaurant bill or your daughter's college tuition. So no matter what stage of your relationship you're in, be sure to start a dialogue.
At the Beginning of the Relationship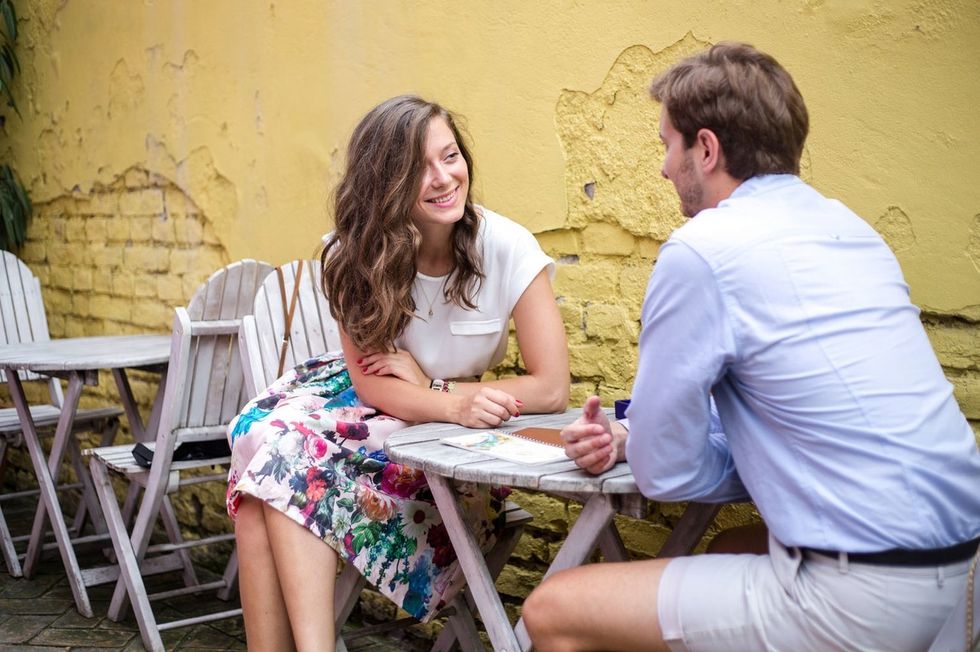 Glamour
By date three, you and your partner are certainly not discussing how you might finance a house, but that's not to say you can't get a gauge on values when it comes to money. This doesn't necessarily have to be a conversation as much as an observation.

"Ask them, 'If you won the lottery, what would you do?' I think that tells you a lot about a person," says financial planner, Erin Voisin. Telling questions like these are plenty useful for getting to know someone in a holistic way, and money is just a little part of that.
"Do they do things that are irrational or impulsive?" asks Reshell Smith, a second financial planner. "I also think people's attitudes about money comes from their family. Talking about family, parents and how you were raised — you can get an idea from there."
When you're still feeling each other out, it's good to have an understanding of the kinds of things your partner is willing to spend money on. You don't have to ask how much, but knowing if they're more inclined to drop their paycheck into a Planned Parenthood fund, a family vacation, or a pair of Nike Frees is definitely valuable information.
When the Relationship Gets Serious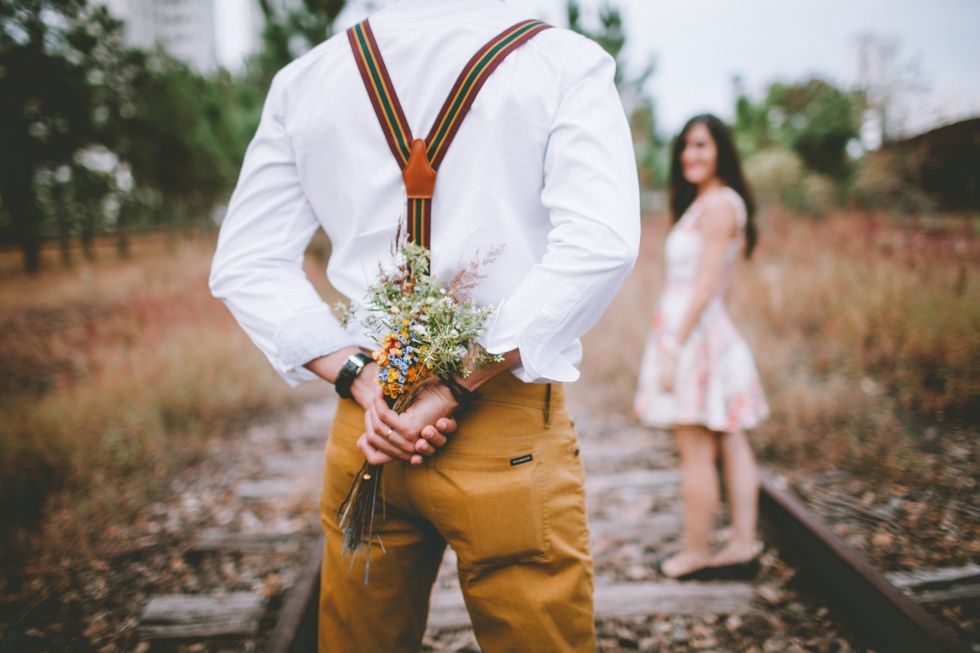 Medium
Serious is, of course, a relative term. Plenty of couples take years to say "I love you." Some take weeks. Some think open relationships are easier than committed ones. Some swear off marriage. But once you feel like you're genuinely committed to another person, there are certain money questions that need to be asked.
Voisin recommends making time to talk about the highs and lows in your economic histories. Did you invest in something stupid? Do you impulsively shop? Are you frugal to a debilitating point? "Talking about financial successes and failures is important," she explains.
If you plan to continue your relationship, you'll get in the habit of spending money on and around one another quite a bit. That means you need to know about major debts or serious trust funds (yes, this includes a conversation about credit score).
When You Decide to Move in Together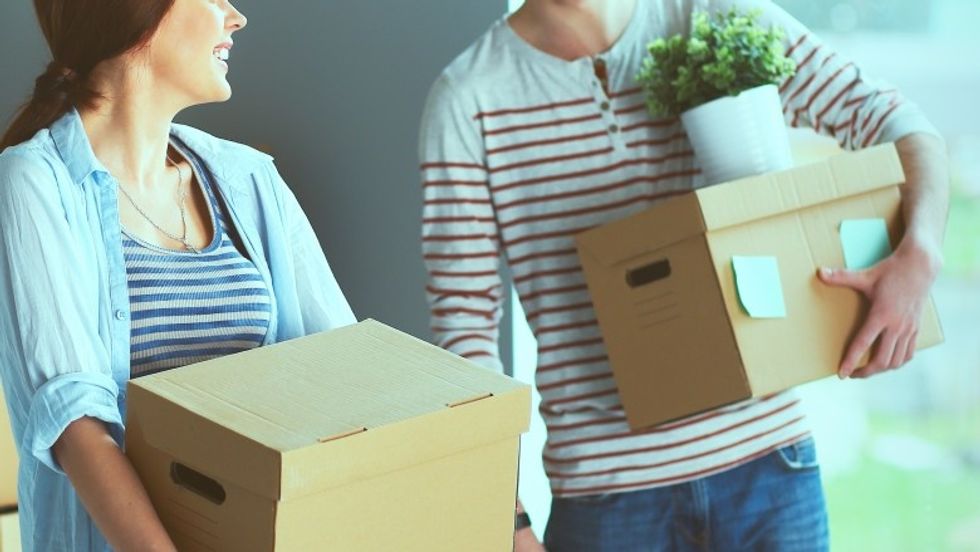 The List
This is quite possibly the most difficult test any couple undergoes — only the strong survive. Cohabitation can entirely change the way you relate to a person. Not all good friends make good roommates, and not all good romantic partners do either.
From a financial angle, living together, of course, implies splitting the cost of a home — but it also implies dictating what is mutually owned, and what is personally owned.
"If you both are living in separate places, you probably have two washers, two dryers, two TVs. These are things you can sell to raise money for a wedding or to help pay down debt," says Smith. But do you decide who has the better version of each? Whose debt are you paying off? The yours, mine, ours conversation is not an easy one.
It's recommended that you test out a joint savings account where you can deposit mutual funds. Not only does this make the financial conversation a little bit more fluid, but it also helps with division of cash when you split. Don't overthink it, but this is, of course, always a possibility.
When You Get Married (or make a long term commitment)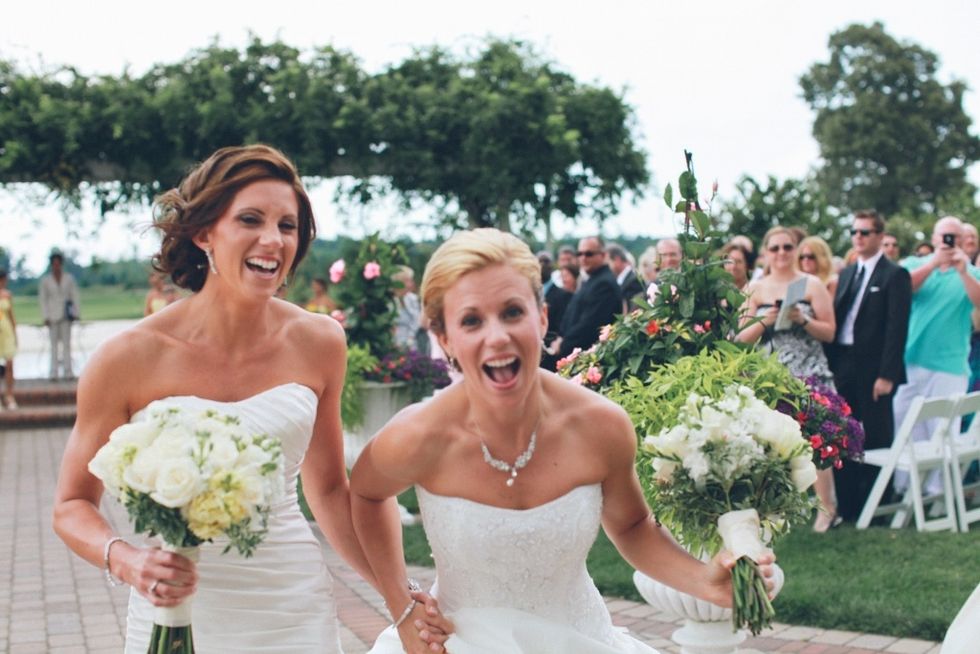 New Article World
Ok, so you survived the cohabitation test. You can actually live within the same four walls, and you still like each other — even love each other.

At this point, you should be a little more secure when it comes to sharing. Theoretically, you'll have mutual accounts 'til death do you part. We're not saying this is set in stone — but it is some form of guarantee. With your commitment, however, come conversations about retirement funds, kids, and longterm housing. That's tough stuff.
Viosin recommends discussing dependency. While of course different couples support each other in different ways, it's important to make sure the full financial burden doesn't fall on one party. "It's making sure that each person has enough … and having that conversation about what does 'taken care of' actually mean," she says.
There are plenty of ways of validating a relationship in the long term, and marriage doesn't have to be one of them. But, if you've committed to spending your life with someone, you should feel that you're both shouldering part of the financial weight, and that you both feel secure. And unfortunately, like everything else, that's going to have to be a discussion.
When Your Family Starts to Grow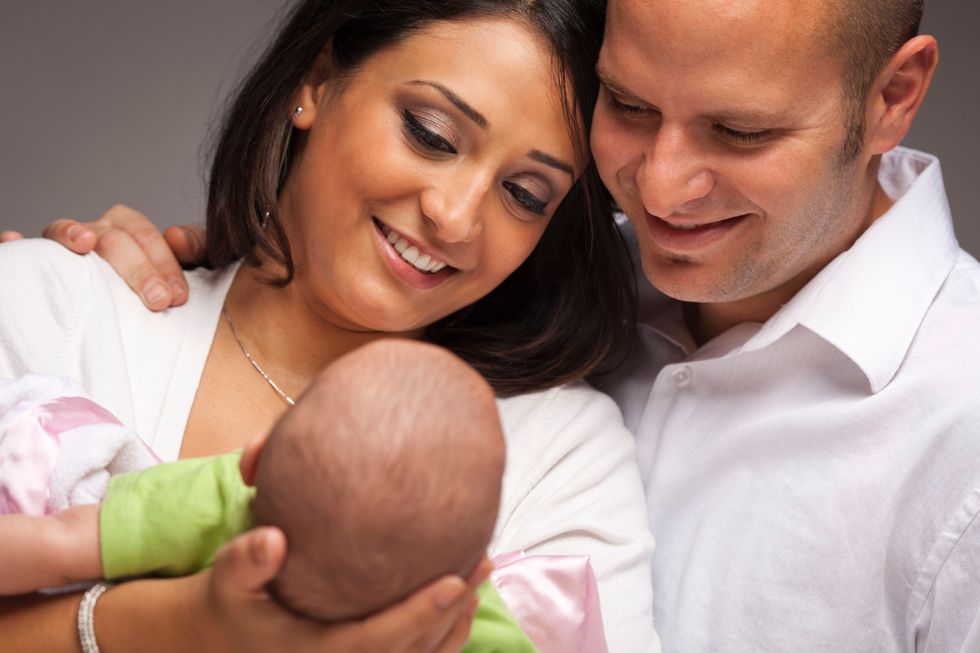 Happy Young Attractive Mixed Race Family with Newborn Baby. Tennesse Fertility Institute
Not everyone will decide to have kids — families can be defined in many different ways. You might have nieces and nephews close by, or in laws who have to move in. You might get a dog. You might adopt. You might nurse a thriving garden. Regardless of the entity, odds are, you will become financially responsible at some point for someone besides your partner.

"Once you have kids, your lives will generally revolve around them and their education," Huffpost reports. You and your partner need to take that in stride. You'll want them to have appropriate clothing, healthy food, and top-notch toys, but you'll also pour money into their education, health care and personal happiness.
"Those are conversations you definitely want to have ahead of the baby coming, because that's a very short time frame," says Smith.
If we're just talking about a dog here, the budgeting falls on a smaller scale, but regardless, it's hard factoring another body into your financial plans. On the other hand, it's a
privilege
and you ought to appreciate the fact that you've got someone around to brave the financial world with you. Money talk may never come naturally, but with the right person, we promise it will be worth it.
Few things will halt a lively dinner conversation like the question, "Should we split the check?"
In 2018, your table manners are a far less pressing matter of etiquette than how you pay for your meal. For some, dividing a check by individual order — down to the dollar — is both nit-picky and cheap. Others find it reckless and selfish to expect that your friends cover the cost of your food (and that second martini). Your waiter probably would prefer you all throw down cash, and leave your six separate credit cards out of it.
In the end, there is no right way to split the check.
Unless you run in a conveniently-sourced circle of socialites and pseudo-celebrities, odds are there's an income disparity amongst your friends. You earn different salaries, you pay different rent fees, you come from different families. And no matter how much you all enjoy the act of gathering around a table and consuming food together, that doesn't solve the looming problem of the bill.
To make matters worse, the anxiety derived from wealth gaps amongst friends doesn't end with dinner payment. According to a study in the Quarterly Journal of Economics, "How much you feel you earn in comparison to others is more important in determining self-esteem than what you actually earn" — which goes to say that the income diversity within your social circle may actually be taking a serious toll on your self-image.
Does this mean you should ditch your friends with mansions in the Hamptons in an effort to surround yourself with people exclusively within the same income bracket as you? Absolutely not.
There are, however, tactical steps that can be taken.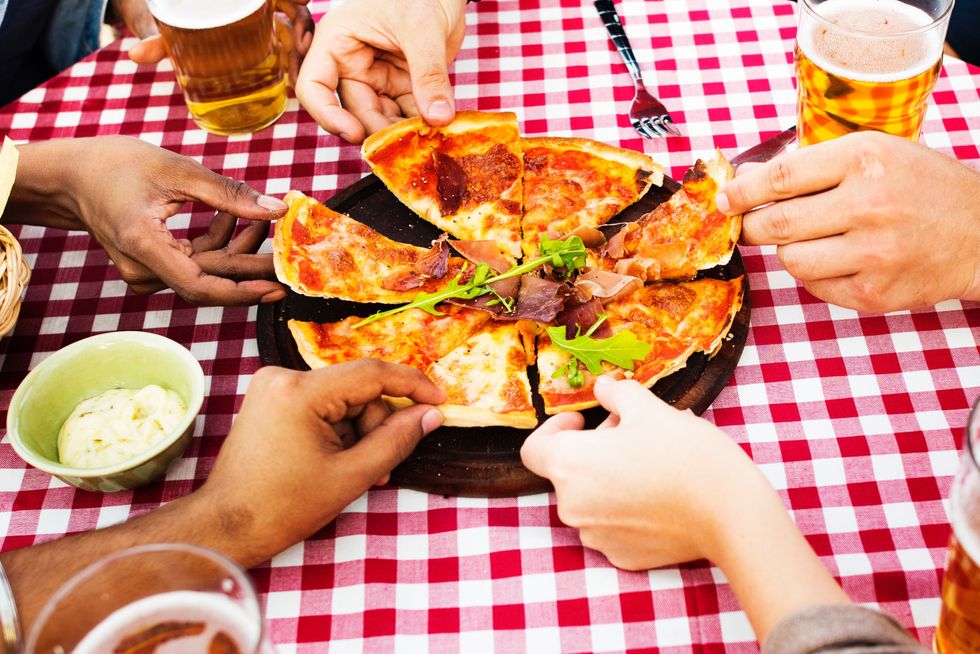 For starters, you should begin navigating this discrepancy with candid, open conversation. Don't let money be the elephant in the room. According to the Huffington Post, "Outings are about compromise, and any good plan will incorporate input from both parties." There will always be a middle ground in terms of which restaurant you select, or which AirBnB you choose. Starting a conversation means you can find that in-between space.

For the wealthier parties in this equation, navigating these disparities is just as awkward as it is for those with less "money to blow," so to speak. "It's a delicate dance so that you're not going overboard in showing how wealthy and comfortable you are," says etiquette coach Thomas Farley. "But also not going so far in the other direction, so that the person feels like, 'What? You don't think I'm good enough to go to a fancy restaurant?'"
He suggests that you try to make up for the difference without being over-charitable, by paying the tip on a split check, supplying the food for a weekend away, or covering a shared Uber.
On the other end of the spectrum, folks who are trying their absolute hardest to save a few pennies can rely on telling questions, without having to come right out and say "I sure as hell can't afford that." Town & Country recommends asking things like,"'Would it be weird if I just met you after the concert for a drink?' or 'Is there anyone else going to Nantucket that weekend who might want to share a hotel room?'"
Lastly, and perhaps most importantly of all, be sure to keep in mind the fact that your friends are your friends for a reason and this likely has nothing to do with income. "You probably have more in common with your rich friends than you think; you did, after all, become friends in the first place," says Huffington Post.
So be honest about your finances, but don't let wealth become central to your relationships. Odds are, the people you surround yourself with have far better qualities than a six-figure salary.
From Your Site Articles
Related Articles Around the Web
unsplash.com
Many of today's great leaders with remarkable success stories have not only achieved greatness for themselves but care to inspire others to pursue their dreams as well. Their words are powerful and passionate, educational and uplifting. Their hard work and perseverance paves the way for up-and-comers striving to do things equally remarkable.
You may be on the road to reaching your goals or perhaps you have not yet begun the journey. Need some inspiration and encouragement to get through those long days and sleepless nights? These quotes from high achievers and forever-believers will give you the push you need to hustle over hurdles and see setbacks as new starting points. Use their words of wisdom to one day pay it forward to the next generation of change-makers.
Leadership Expert Simon Sinek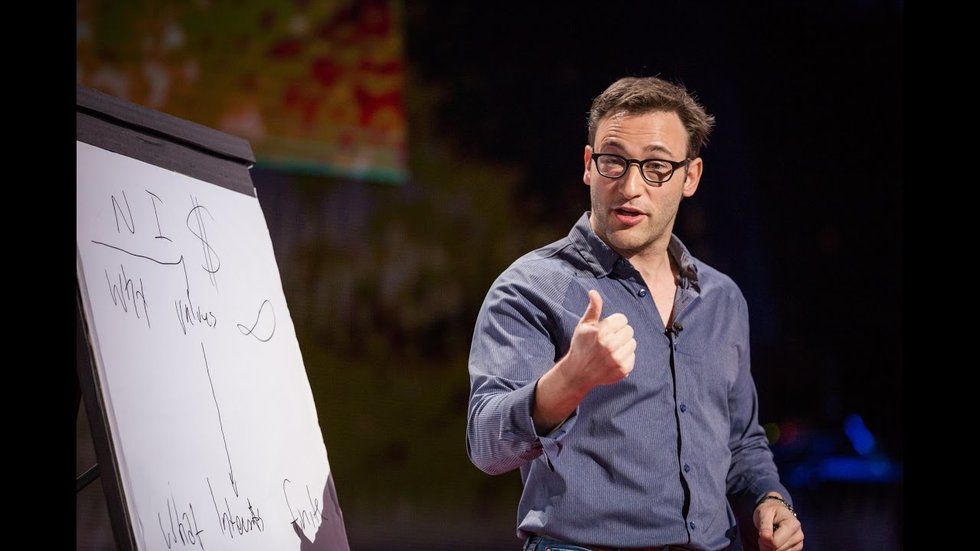 Sinek i.ytimg.com
Simon Sinek is a TED speaker. "I try to find, celebrate and teach leaders how to build platforms that will inspire others," he says. One of his inspiring quotes below is an example of how like-minded people make the best employees.

"If you hire people just because they can do a job, they'll work for your money. But if you hire people who believe what you believe, they'll work for you with blood and sweat and tears."
Watch one of his eye-opening TED Talks, " How great leaders inspire action."

Vulnerability Researcher/Professor Brené Brown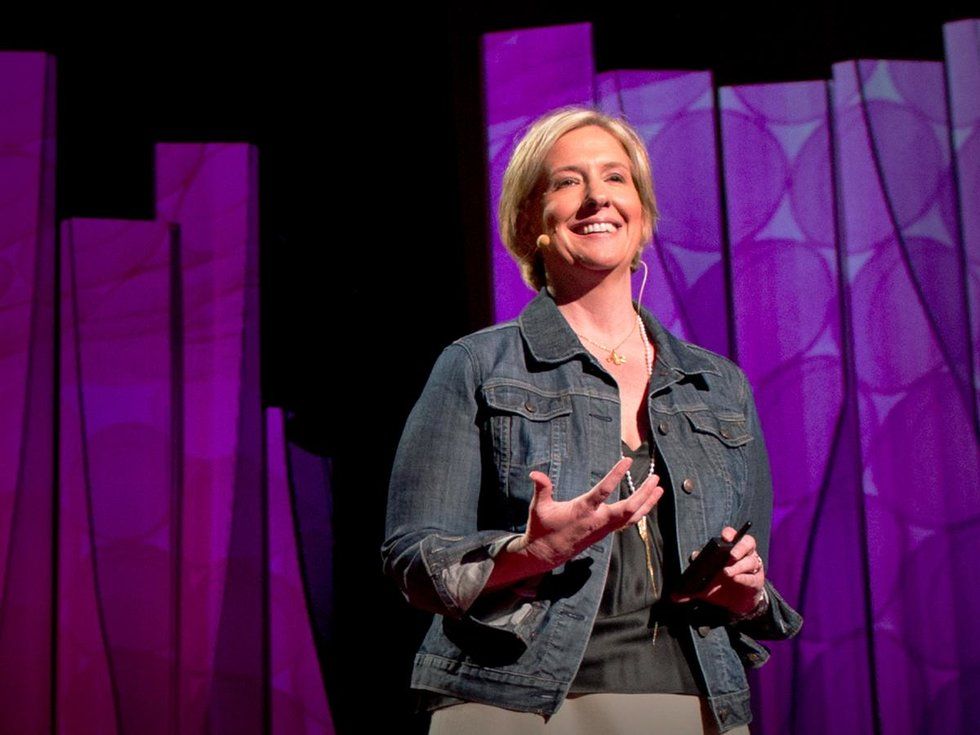 Brown pi.tedcdn.com
Another expert who has impressed audiences with her TED Talk is Brené Brown, who "studies vulnerability, courage, authenticity, and shame. Her focus is on the "human connection" and how caring and criticism only make us better.

"Vulnerability is our most accurate measurement of courage."
"Vulnerability is the birthplace of innovation, creativity, and change."
It takes humility and modesty to rise to the top. Our "flaws" and "weaknesses" are what make us unique. Be open, honest, and kind to be the best version of yourself.
Watch Brown as she delivers her TED talk, " The power of vulnerability."

Entrepreneur and CEO Gary Vaynerchuk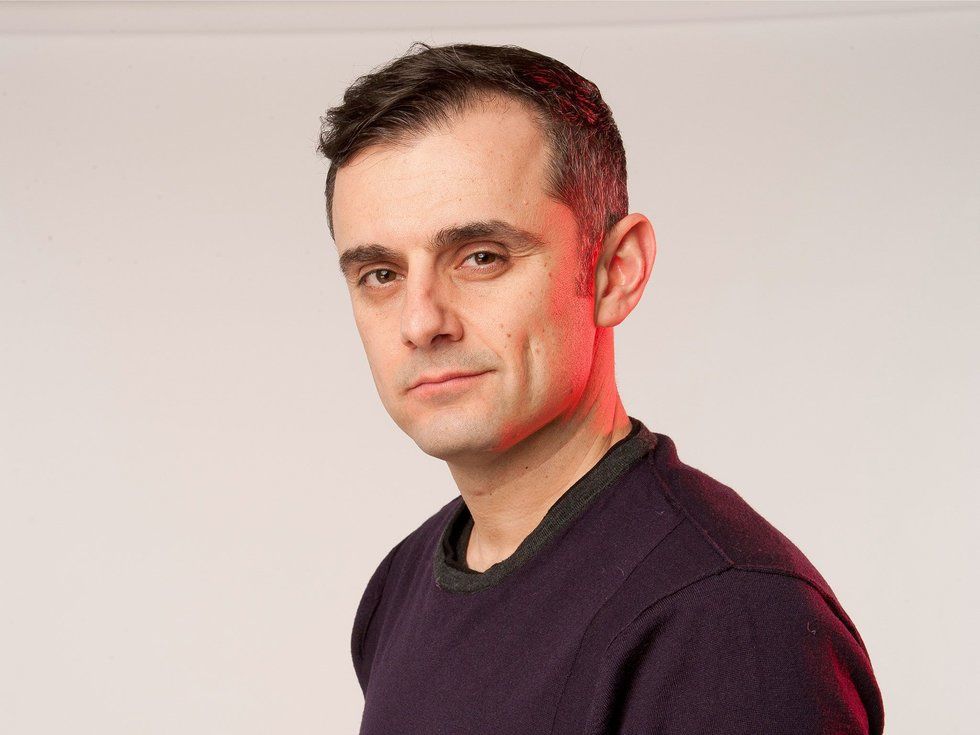 Vaynerchuk www.crainsnewyork.com
Gary Vaynerchuk is a big name in the entrepreneurial world. He's the CEO and co-founder of VaynerMedia, helping clients "drive their business outcomes with best-in-class modern video production, media planning, distribution, influencer marketing, etc."

He has been at it since his first ecommerce website – WineLibrary grew like wildfire. Since then, Vaynerchuk has spent his time speaking publicly, writing, investing (in Twitter and Uber, among other companies), and more.
Named one of Fortune's 40 Under 40, Vaynerchuk has accomplished so much so far, and now, at just 42, he has the world ahead of him. Below, he reminds us that we must be passionate about what we do in order to feel personally fulfilled and do the best job we can.
"If you don't believe in what you're doing, whether it's your personal brand or the product you represent, you need to get out NOW."
"You have to understand your own personal DNA. Don't do things because I do them or Steve Jobs or Mark Cuban tried it. You need to know your personal brand and stay true to it."
Need more inspiration? These famous folks have the experience and success under their belts to give you confidence on your journey, whatever your path may be.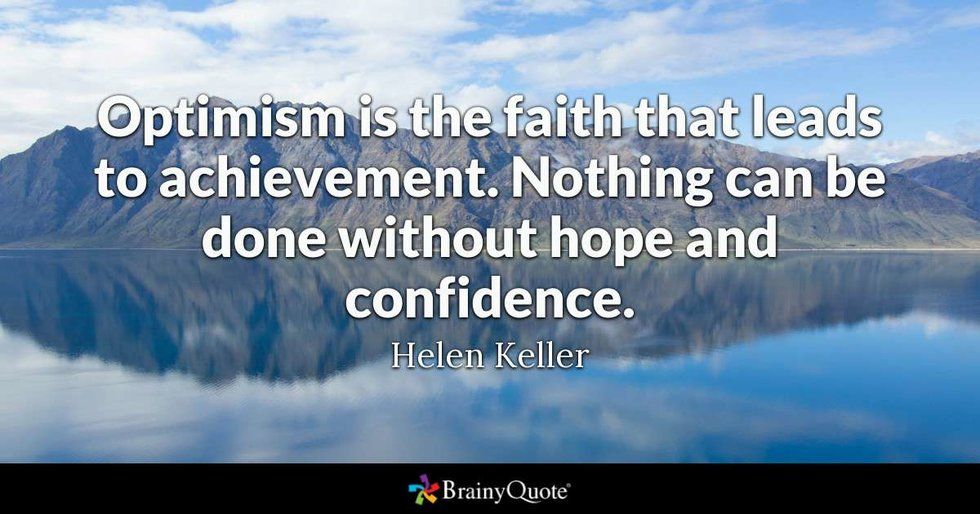 Keller www.brainyquote.com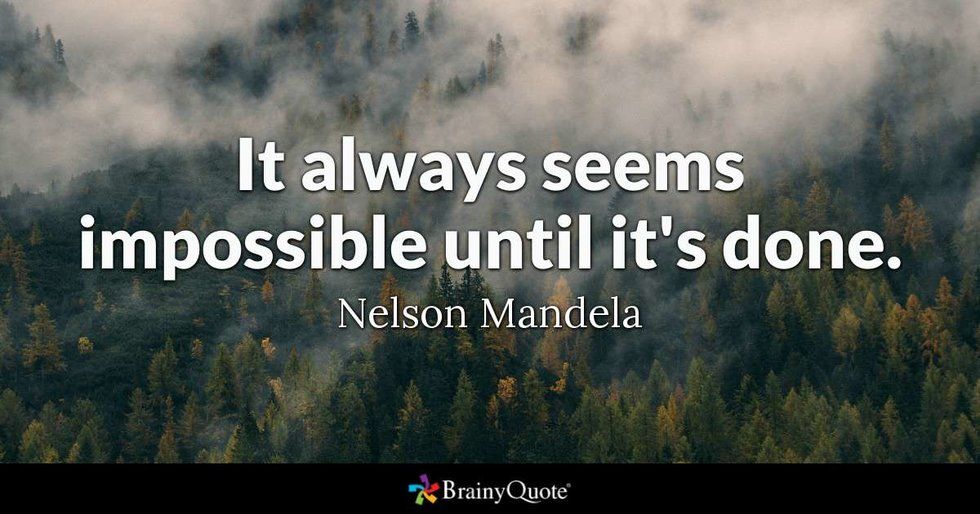 Mandela www.brainyquote.com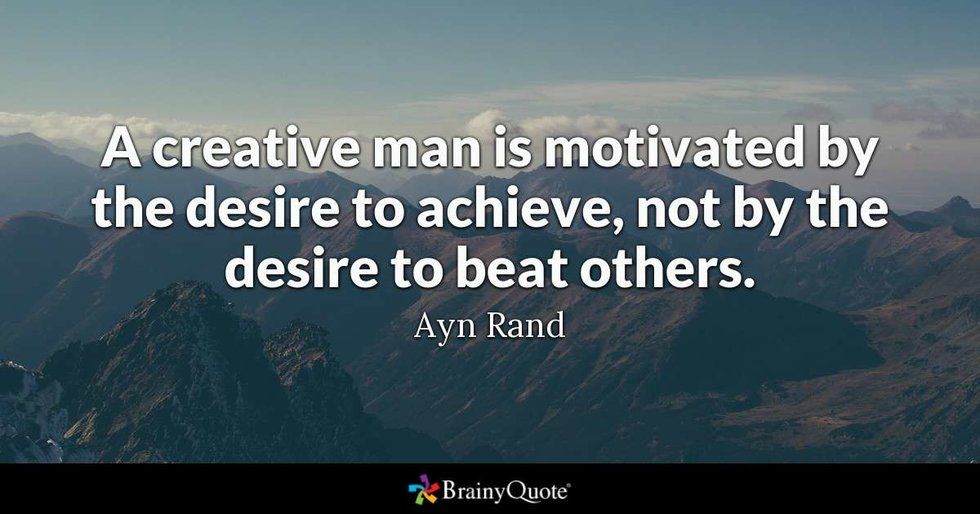 Rand www.brainyquote.com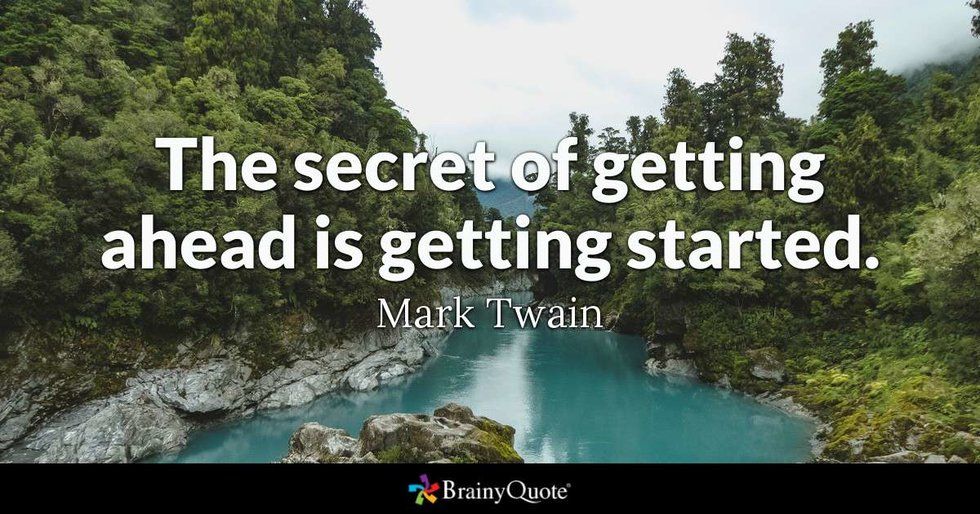 Twain www.brainyquote.com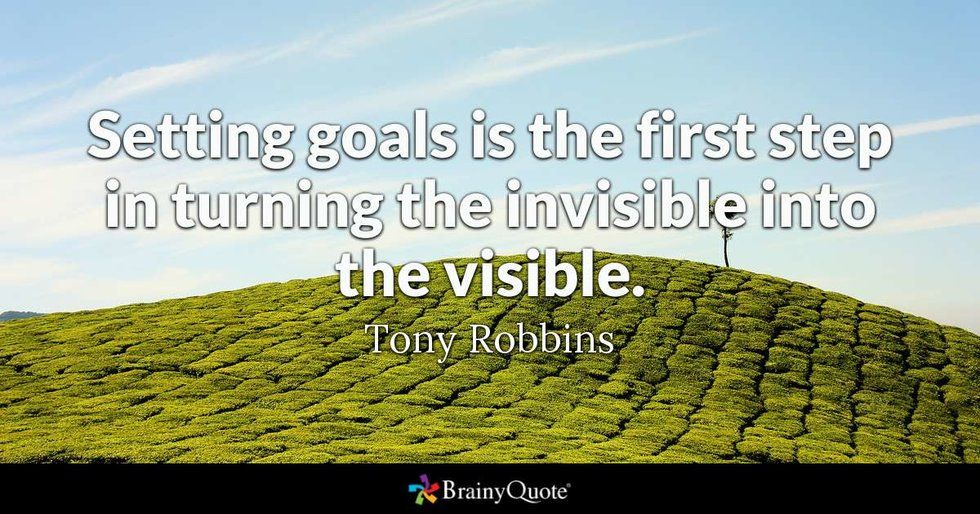 Robbins www.brainyquote.com
Success is a step away. As long as you keep reaching for new heights and striving for more, the possibilities are limitless. If these folks can do it, so can you!