Don't you just love stories about people giving back?
While there's a lot of greed out there, some of the richest people on Earth realize how lucky they are and decide to share the wealth.
Just look at Jeff Bezos of Amazon and his decision to donate $100 million to food banks. It's a lot more than you and I (and several large families put together) will ever give to charity… Because it's more than we'll earn in our entire lifetimes.
It's more than you could fit in the trunk of your car in stacks of $100 bills! If you put it all in a basic savings account, you and me and those several families could all easily live off the interest alone!
Actually, when you think about it like that, it's kind of more money than any one person could ever need or even spend on anything normal...
Sure, if you want to travel the world in a luxury blimp, eating meals out of the skulls of dead celebrities, you could spend it all pretty easily. But if you're just trying to have a happy, comfortable life, $100 million isn't much better than an $80,000 salary.
Fixing the World's Problems
So why doesn't any of these mega-billionaires like Jeff Bezos, Michael Bloomberg, Elon Musk, or any one of the Walmart Waltons just give away their riches and go down in history as the person who ended world hunger? At an estimated cost of $20 billion a year, each of them could afford to end homelessness in America for between two and eight years.
They could even keep a few car trunks stuffed with hundreds so they could continue living like kings and hunting olympic athletes for sport. And imagine how much all those people could improve their lives if they had stable places to live and sleep.
It must not be that simple... Because if private greed was the only thing standing in the way of transformational change, governments could have collected all that wealth with some steep taxes and made the world a better place. There has to be some reasonable explanation for why these people don't just give it all away…
In this series we are looking at a number of prominent myths around philanthropy, including the notions that billionaires' "wealth" is substantially different than money, and that they are important patrons of the arts.
Previously we debunked the ideas that charity is better than "government handouts" and that it's even possible for billionaires to be generous, but today we'll look at the question of whether their private charitable foundations are powerful forces for good.
Myth: Those foundations do a lot of good though
The Myth: They might not be as good as well-funded government programs, but in the absence of the political will to raise taxes and establish those kinds of programs, the private charitable foundations of billionaires do a lot of good and are a great option for helping people in need.
Why It's Wrong: There's no doubt that some of those foundations have truly helped people in significant, life-changing ways. But, generally speaking, the stated charitable missions of these organizations are secondary to their function as tax havens.
Adam Ruins Everything - Why Billionaire Philanthropy is Not So Selfless | truTV www.youtube.com
In the past these organizations were a useful way for anyone lucky enough to be leaving assets in excess of ~$600,000 to their loved ones to avoid the estate tax. These days the estate tax has been gutted to the benefit of no one who has ever earned anything, and the amount has been pushed above $11,000,000. But there are plenty of people who still want that loophole or enjoy the prestige that private charitable foundations provide them.
Often private LLCs directly controlled by the billionaire funders, these foundations allow for income not only to evade income tax, while earning the donor a tax deduction on top of that. Of course in order to qualify for these benefits, the organization must meet the requirements of a non-profit, but the standards aren't exactly strict.

What Billionaires Want
Not only can the organization focus only on the issues that matter most to a person with ungodly amounts of money (a cure for all the papercuts they get from flipping through their stacks?), they only need to spend 5% of their investment assets annually. And they could choose to spend that amount on administrative costs and salary for the friends/lackeys they've chosen to run them.
You basically have to be as blatantly self-serving and corrupt as Donald Trump—spending other people's money to buy a portrait of himself—to come under any real scrutiny, and even then it's only if you're running for president...
On top of that, these foundations are free to grow their assets through investments—even in for-profit industries that work in diametric opposition to the foundations' stated goals. Consider the fact that—until Bill Gates was publicly shamed into divesting—the Bill and Melinda Gates Foundation was heavily invested in fossil fuel companies.
Apart from their horrifying impact on climate change, these companies are among the worst offenders on Earth in terms of polluting fresh water resources. If only there was a charitable foundation that was focused on preserving and cleaning water supplies in developing countries. Like, for instance, the WASH program…of the Bill and Melinda Gates Foundation.
Worse still, many so-called charitable donations end up going to think tanks, university branches, and political advocacy groups that fund and promote research and policy initiatives that support the interests of the wealthy.
The effect is to amplify ideas that ultra-wealthy already believe and what they want to be true. If you were a researcher who had reason to believe that increasing the top marginal tax rate to 90% could solve all of our nation's most pressing problems, you would struggle to get your research funded. But if you managed to complete it and get it published, there would immediately be 10 well funded studies seeking to disprove it.
The Bill Gates Approach to "Fixing" Education
Look again at the Bill and Melinda Gates Foundation. Not only does it give a lot of money to so-called good causes that primarily serve the wealthy, but even when the foundation is focused on trying to do actual good they often end up hurting more than they help.
Among its primary focuses has been revamping America's public school systems, which has involved billions of dollars being spent on various initiatives to change the way teachers are trained, the way children are taught, and the way schools themselves are organized—all with an emphasis on data collection and standardized testing.
Among the complaints against how the Foundation operates is the fact that its model of reform and success involves little input from educators and that Bill Gates himself essentially steers the ship with little resistance from within the organization. And the results have been...less than stellar.
Obviously the goal of improving the education system for everyone is admirable, but the allure of Gates' money and his supposed genius has tempted state and local governments to match his initiatives with a lot of money of their own.
And time after time those initiatives have been abandoned as soon as they don't yield the results Gates was looking for—leaving schools and municipalities on the hook for cleaning up the mess without that financial backing.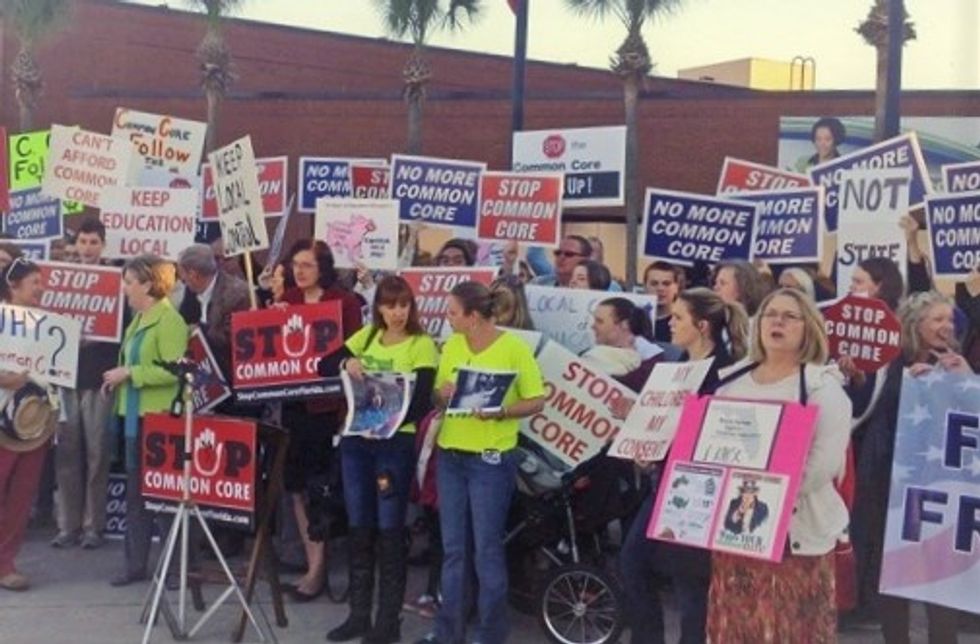 From Common Core to smaller schools to creepy data mining, Gates' ideas have faltered or crumbled when they meet with the real world, and they've ended up costing the communities they "serve" a lot more than they've ever cost him. At this point you could argue that the biggest accomplishment the foundation has achieved is rehabilitating Bill Gates' predatory reputation.

But he is way too rich to be ashamed of his failures. So Bill Gates just keeps going and pushes his narrow-minded views on education even harder. These days he's helping New York Governor Andrew Cuomo with the idea that we don't even need classrooms…
Stricter Standards for "Charity"
So while claims that Bill Gates is using vaccines to spread the mark of the beast and practice eugenics are a bit wild, the work of these private charities definitely deserve more scrutiny.
Basically, even when these private foundations aren't glorified tax shelters, they're still awful. As well-intentioned as some billionaires might be, they are too powerful, too used to getting their way, and too detached from real life to actually be much use in helping people.
In other words, we need to make the standards for these foundations far stricter—to make sure they're doing some actual good in exchange for their tax evasion—and once we've done that, we need to tax the hell out of all the billionaires' money so they remember what it's like to be human.
And if you're thinking that we can't do that—because all that wealth is tied up in investments—we'll have to cover that myth in the next installment.
As anyone who has ever sold a house will tell you, you must prioritize curb appeal. Before a potential buyer even considers looking inside your house, they notice the outside first. Does it attract the right kind of attention? Does it take away from the feel you're going for? If you plan to sell sometime soon, you must think about these things. Here are some landscaping options to increase your home's curb appeal, so you can get the best price on your home.
Extensive Plants and Greenery
A barren front yard won't get you the price you want on your home. So, invest in at least a little bit of greenery to keep the surrounding area from looking too dead. Shrubs and bushes tie the house to the lawn that precedes it, and flower beds bring a pop of color to an otherwise drab structure. You can also strategically plant some trees to improve the overall feel of your home's exterior.
Lawn Care
As we mentioned, your lawn is one of the most prominent features of your home's exterior. A patchy, dried-up lawn will quickly drive your home's price way down. Some of the best landscaping options for your home's curb appeal involve improving your lawn for the next inhabitant. Overall fertilization, ground aeration, underbrush removal, proper mowing—all of these lawn care tasks contribute to a greener and more lively area that invites people to see your house, rather than stay away from it.
Paved Pathways
There's nothing like a broken and disheveled pathway to make someone think twice about buying a property. Just as you want the entryway in your house to be welcoming, so too should the pathway leading up to the house be inviting. The pathway from the street to your front door provides plenty of real estate to get creative with. You don't have to settle for a boring concrete pathway. Consider something more eye catching, like a cobblestone path or intermittent brick patterns, as a way to better welcome potential buyers.
Usable Outdoor Furniture
Landscaping doesn't just involve the ground you walk on; also included are the items you use as extras to the overall look. Outdoor furniture is one such extra that you don't necessarily need but can look quite attractive if done correctly. Staging is important with outdoor furniture. Old, broken-down pieces will only look like more work to the potential buyer. A few comfortable chairs, a bench, or a table with an umbrella really go a long way to improving your outdoor aesthetics.
A good tip for deciding on curb appeal items is to decide what you personally would want to see as a part of a welcoming home's exterior. You don't need to go overboard, but a little bit of forethought could net you quite a lot of extra cash in the sale.
Many people strive to support their community by donating their time or their money. When you find a meaningful cause, you might be quick to cut a donation check. Though it's admirable to be quick to act charitably, you should be wary of several common mistakes made when giving to charity. Being mindful of these mistakes and learning tips for making informed charitable choices can help you make the most out of your generous check.
Acting Quickly Out of Emotion
Mission statements are meant to be compelling. If you're an emotionally driven individual, it's natural to pull out your wallet at the sight of a sad puppy on TV or when informed about food insecurity over the phone. Unfortunately, not all charities are as effective or official as they may seem.
Take your passion for helping others one step further by making sure your chosen charity is legit. Speaking with a representative, reviewing their website and social media accounts, and looking at testaments online can give you a better idea of whether the organization is worth your donation.
Forgetting to Keep Record of the Donation
Don't forget that you can reap some financial perks from giving back! With the proper documentation of your donation, you can acquire a better tax deductible.
If you donate more than $12,400 as a single filer or $24,800 as one of two joint filers, you're eligible to deduct that amount from your taxes. So, when a charity asks if you'd like a receipt of donation, always answer yes.
Donating Unusable Materials
Most charities can utilize a monetary donation—it's the physical donations that usually cause some issues. Providing a local nonprofit with irrelevant materials or gifting them with unusable products are surprisingly common mistakes made when giving to charity.
Always check your intended charity's website for a list of things they do and do not accept. The majority of places will provide a guideline to donating or offer contact information to clarify any questions.
Strictly Giving at Year's End
As more and more people get into the holiday spirit at the end of the year, nonprofit organizations see an influx of donations. While it's great to spread holiday cheer via a monetary donation, it's important to keep that spirit going year-round.
With regular donations, charities can more effectively allocate their annual budget. Setting up an automatic monthly donation with the charity of your choosing can maximize your impact. You can account for a monthly donation by foregoing a costly coffee every once in a while.
Knowing how much you should spend on home maintenance each year is hard to figure out and may be preventing you from buying your first home. The types of costs you'll incur depend on the house you buy and its location. The one certainty is that you should start saving now. Read on to figure out how much to start setting aside based on the home you own.
The Age of Your House
Consider several factors when budgeting for home repairs. If you've purchased a new home, your house likely won't require as much maintenance for a few years. Homes built 20 or more years ago are likely to require more maintenance, including replacing and keeping your windows clean. Further, depending on your home's location, weather can cause additional strain over time, so you may need to budget for more repairs.
The One-Percent Rule
An easy way to budget for home repairs is to follow the one-percent rule. Set aside one percent of your home's purchase price each year to cover maintenance costs. For instance, if you paid $200,000 for your home, you would set aside $2,000 each year. This plan is not foolproof. If you bought your home for a good deal during a buyer's market, your home could require more repairs than you've budgeted for.
The Square-Foot Rule
Easy to calculate, you can also budget for home maintenance by saving one dollar for every square foot of your home. This pricing method is more consistent than pricing it by how much you paid because the rate relies on the objective size of your home. Unfortunately, it does not consider inflation for the area where you live, so make sure you also budget for increased taxes and labor costs if you live in or near a city.
The Mix and Match Method
Since there is no infallible rule for how much you should spend on home maintenance, you can combine both methods to get an idea for a budget. Average your results from the square-foot rule and the one-percent rule to arrive at a budget that works for you. You should also increase your savings by 10 percent for each risk factor that affects your home, such as weather and age.
Holding on to savings is easier in theory than practice. Once you know how much you should spend on home maintenance, you'll know what to aim for and be more prepared for an emergency. If you are having trouble securing funds for home repairs, consider taking out a home equity loan, borrowing money from friends or family, or applying for funds through a home repair program through your local government for low-income individuals.