Seven Items To Keep Your Desk Organized
pbteen
They say a messy desk is a sign of creativity (at least the messy people do) but wouldn't some organization be a breath of fresh air? Papers everywhere, not a pen in sight, and Post-Its floating around like a ticker tape parade may make it seem like you're working hard, but when your 2:00 meeting rolls in, your area looks more "pigsty" than professional. Get your items in order, clear your chaos, and you can still be as "creative" as before…just now you'll know where your staple remover is. Here are seven desk top items that add style, sophistication, and storage.
Gold 4 Cup Kiara Desk Organizer with Tray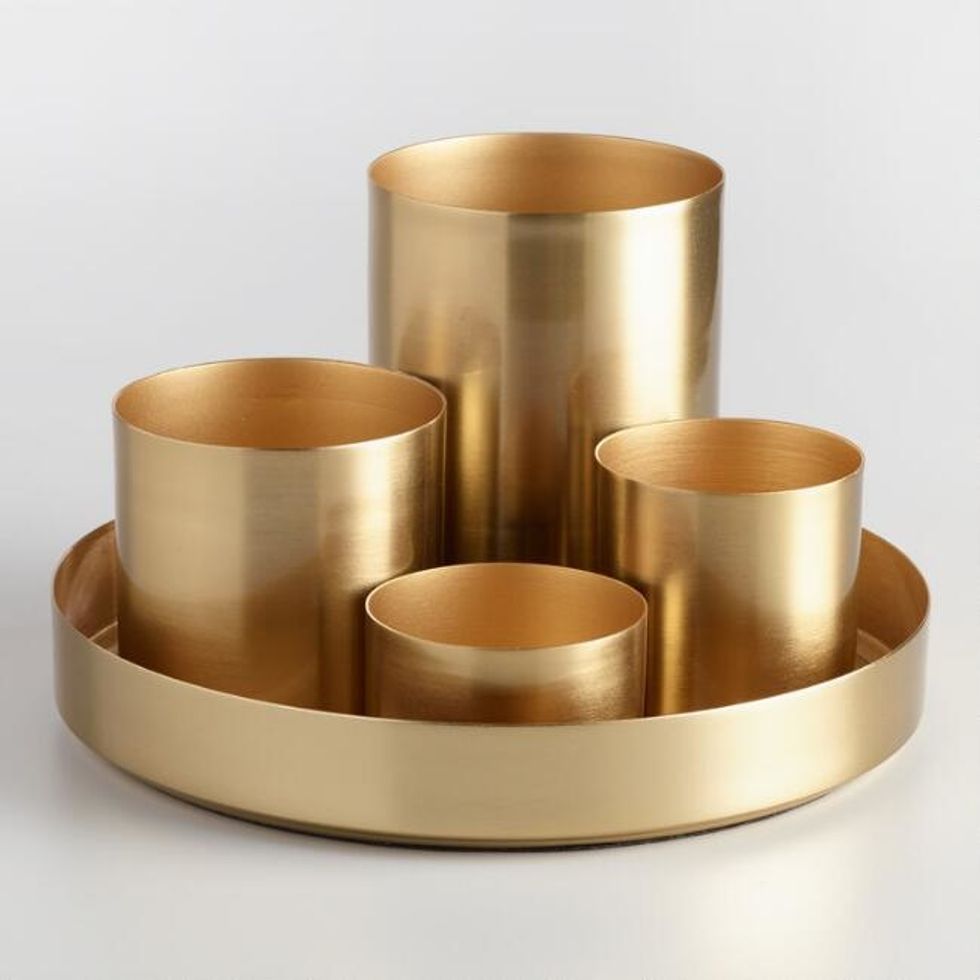 Gold 4 Cup Via worldmarket.com
Give your desk the royal treatment by keeping your odds and ends neatly stowed away in cups of gold. The Gold 4 Cup Kiara Desk Organizer with Tray adds a high-end touch to your workspace, keeping your things in order while serving up stylish appeal. The golden metal cups are attached to the tray, so everything stays in one area, leaving you plenty of desk space to work. Place your pens, paper clips, thumbtacks, and other items in the gold cups, giving way to a tidy space that shines.

Cost: $22.49 (on sale!)
PBteen Organize It System Homework Caddy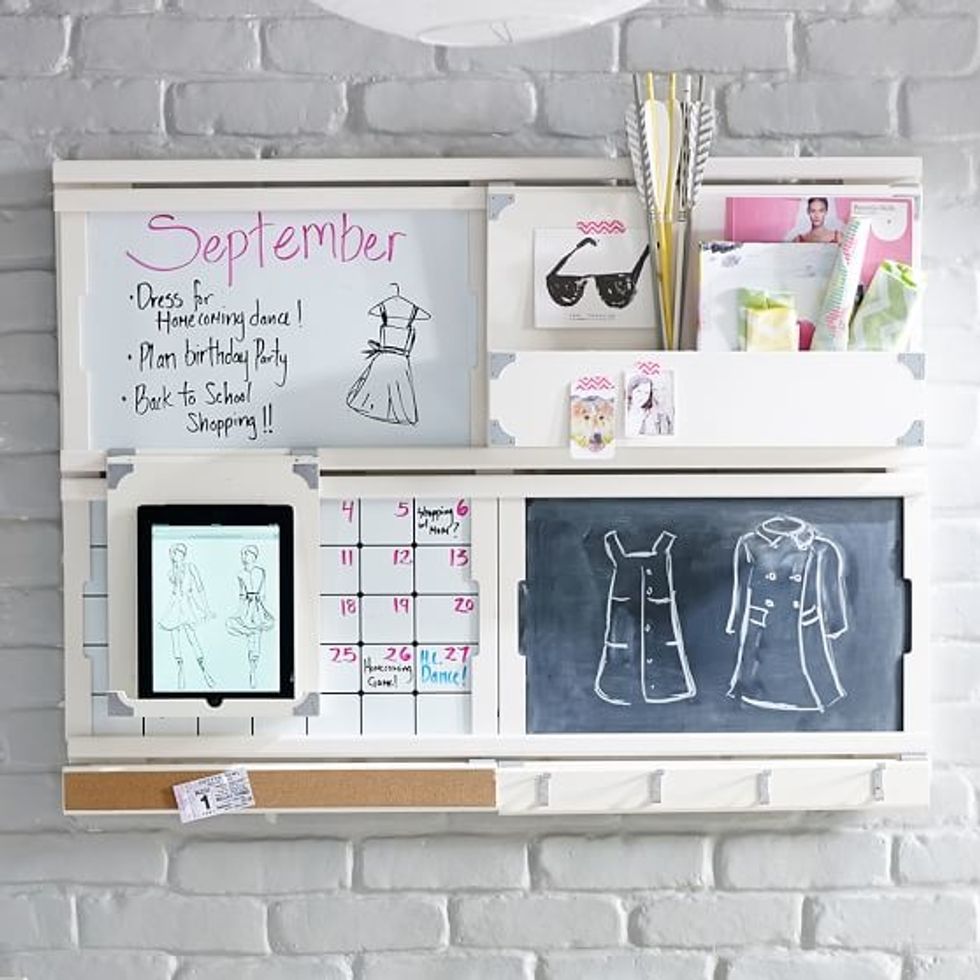 PBteen CaddyVia pbteen.com
While this caddy is catered towards tweens and teens, anyone can make use of this fashionable and functional setup, perfect for office or cubicle use. The PBteen Organize It System Homework Caddy is just as effective for workplace organization, with handy places to keep desk supplies, a calendar for marking appointments, and other areas for notes, reminders, and everyday to-dos. Hang on the wall for convenience and a clearer desk top, and transform your space into something more stylish.

Cost: $9.99 - $34.99 (various size options)
Mind Reader Axel Desk Organizer with Charging Station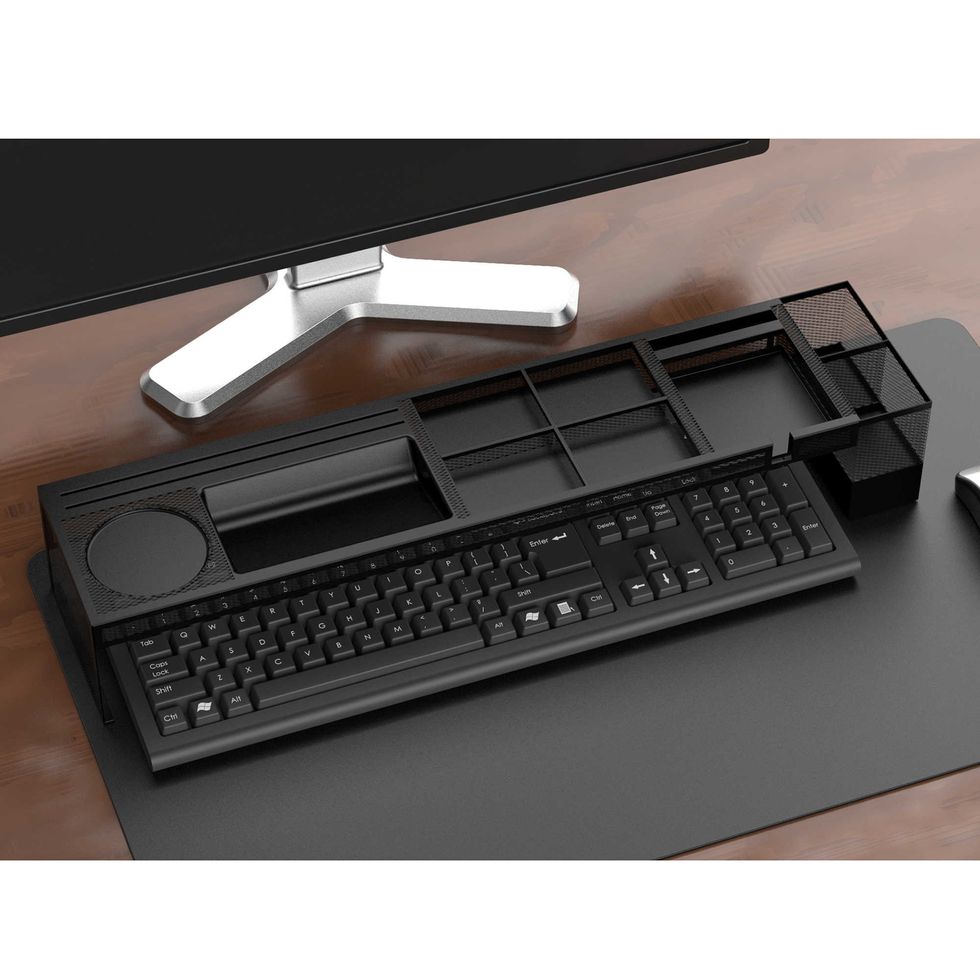 Mind Reader Via bedbathandbeyond.com
Keep your space sleek, "juice" up your tech gear, and even tuck your keyboard away with one snazzy on-desk organizer. The Mind Reader Axel Desk Organizer with Charging Station is super for maintaining an organized desk with all the bells and whistles you need for modern convenience. You can even place your coffee mug on top when you need a full desk for papers and projects. Charge your devices, confine your gear, and feel put together when everything has its place.

Cost: $19.99
Lipper 4-Tier Bamboo Desk Organizer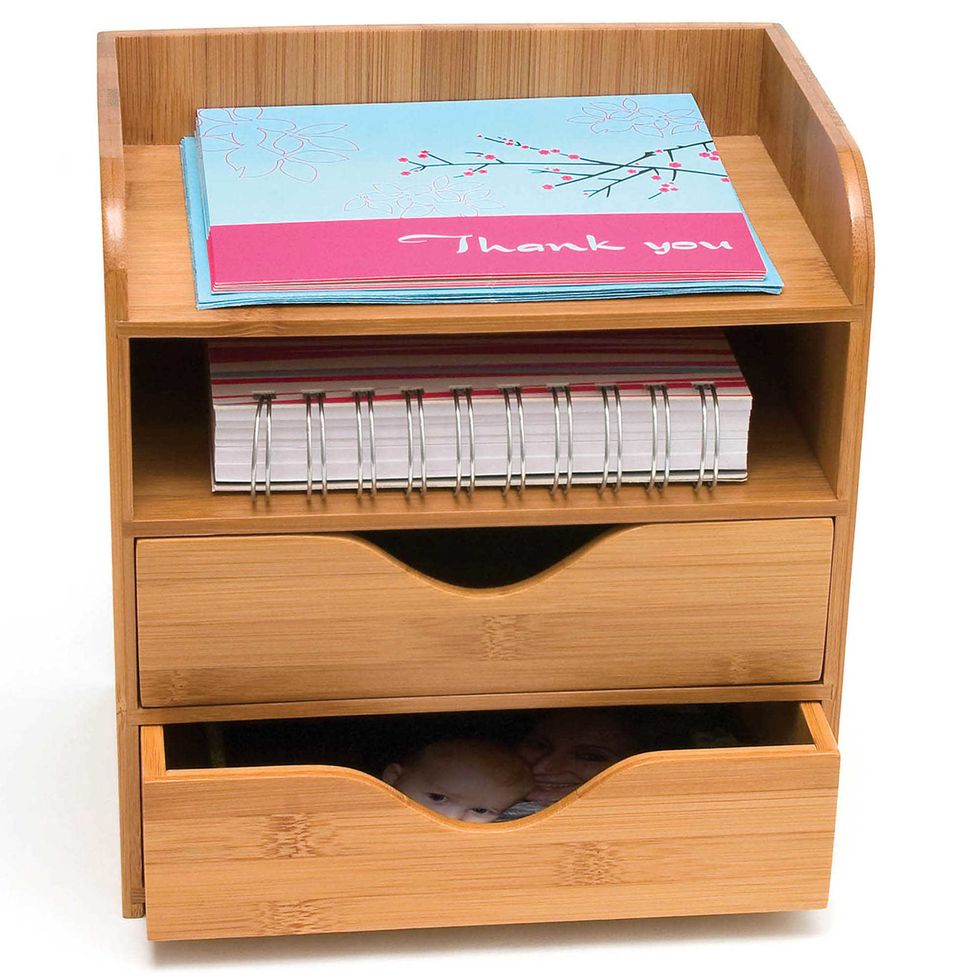 Lipper 4-TierVia bedbathandbeyond.com
Stow away your staples, spreadsheets, and everything in-between inside the Lipper 4-Tier Bamboo Desk Organizer. Use the top shelf for easy reach, the storage shelf for books or files, and the bottom drawers for items you want to keep out of site. The natural bamboo is neutral and classic, the design is simple and sturdy, and you'll feel much better about the state of your desk top when everything is orderly and organized.

Cost: $25.99
White House Marketplace Three Bin Desk Organizer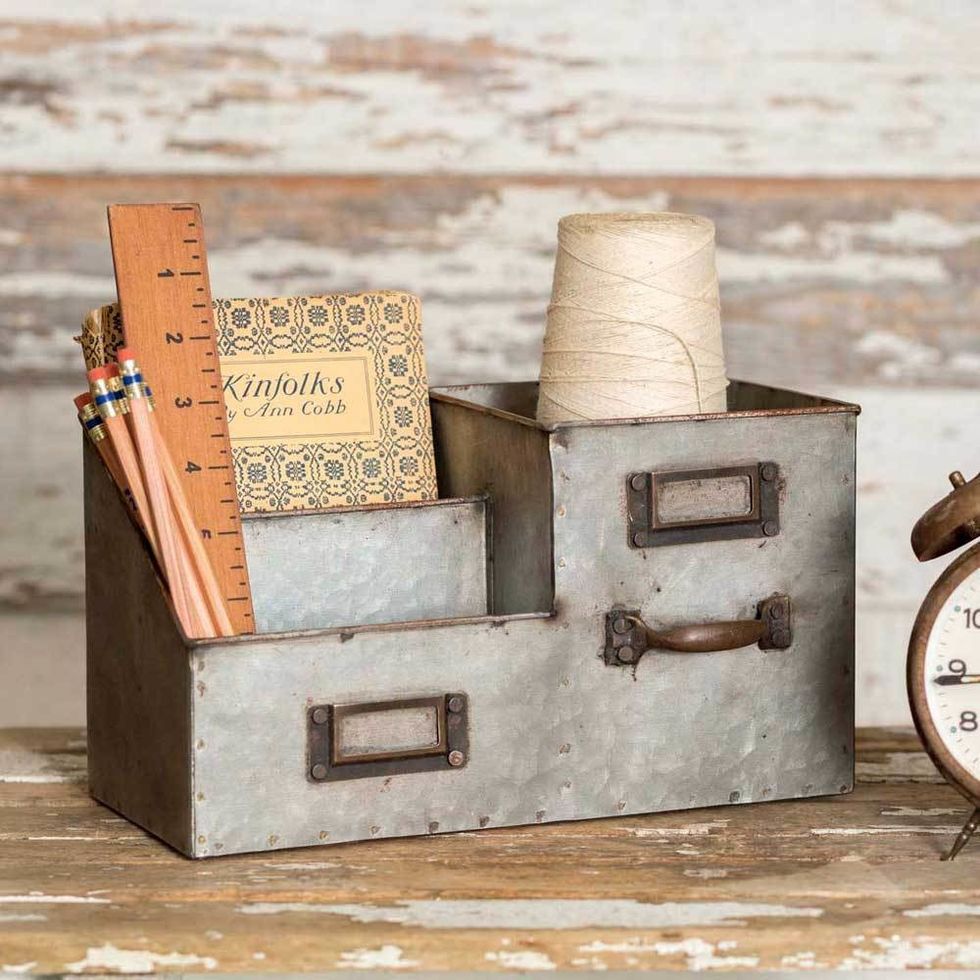 White House MarketplaceVia thewhitehousemarketplace.com
Rustic and reliable, the White House Marketplace Three Bin Desk Organizer is a "shabby chic" storage piece for a desk that's prone to become untidy. Various compartments of different sizes provide space for the usual desktops items that haven't had a "home" until now. The handle and fixtures add a nice touch when you want something eye-catching as well as organizational.

Cost: $24.49
Offex Supplies Organizer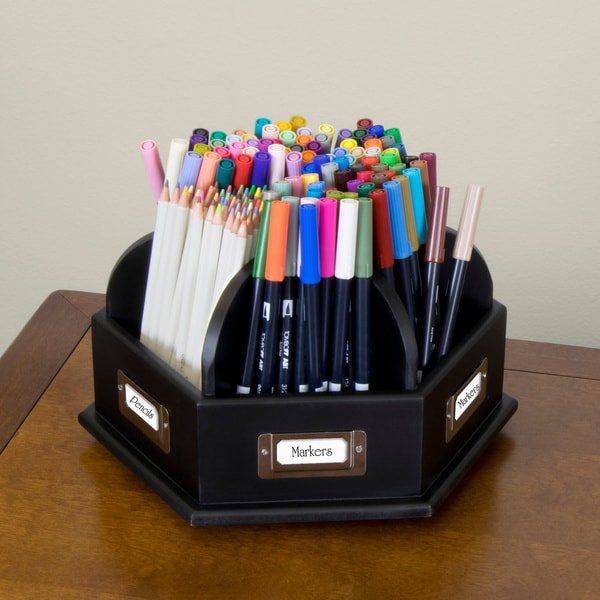 OffexVia overstock.com
Bold and beautiful with a carousel shape and lots of labeling, the Offex Supplies Organizer will turn your previously disheveled desk into a cleaner corner. This organizer rotates for convenience as you keep the essentials in order yet ready when you need something in a snap. Made of all wood and richly colored in deep brown, this supplies organizer will be the centerpiece of a much cleaner workspace.

Cost: $55.99
Tilt Desktop Storage Bin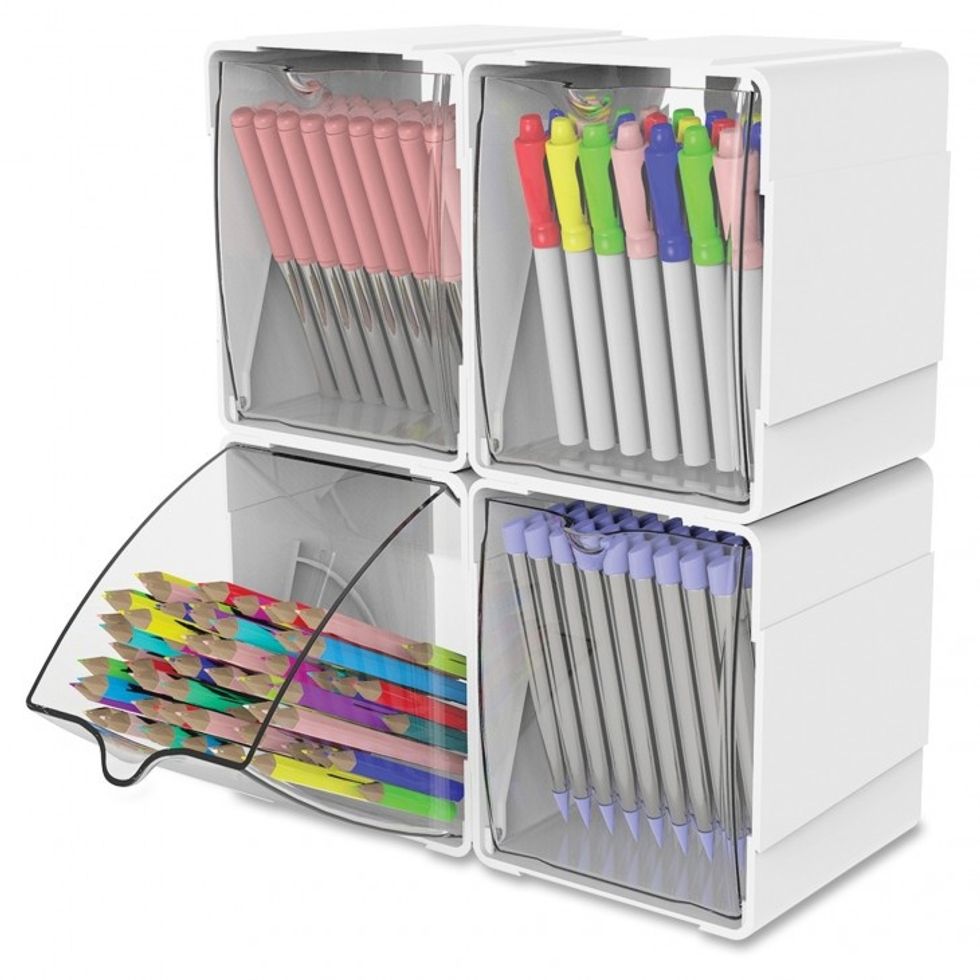 Tilt Storage BinVia ldproducts.com
Placed on your desktop or mounted to the wall, the Tilt Desktop Storage Bin is the perfect way to stock supplies nicely and neatly within reach. The clear bins let you peer inside so you know where everything is without rummaging through drawers like you used to do. Fill them up with pens, pencils, tape, note pads, you name it. All of your supplies will be stocked seamlessly.

Cost: $25.39
A clear desk = a clear mind. Get organized!