Via thewhitehousemarketplace.com
They say a messy desk is a sign of creativity (at least the messy people do) but wouldn't some organization be a breath of fresh air? Papers everywhere, not a pen in sight, and Post-Its floating around like a ticker tape parade may make it seem like you're working hard, but when your 2:00 meeting rolls in, your area looks more "pigsty" than professional. Get your items in order, clear your chaos, and you can still be as "creative" as before…just now you'll know where your staple remover is. Here are seven desk top items that add style, sophistication, and storage.
Gold 4 Cup Kiara Desk Organizer with Tray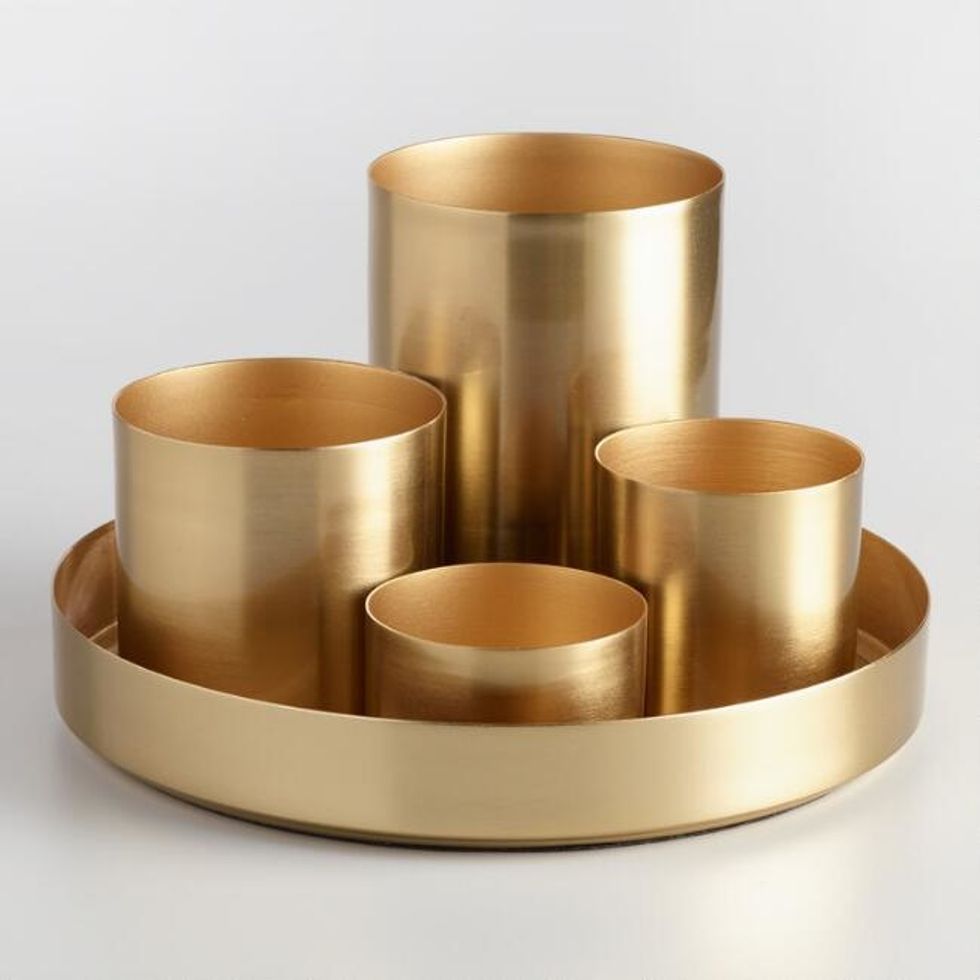 Gold 4 Cup Via worldmarket.com
Give your desk the royal treatment by keeping your odds and ends neatly stowed away in cups of gold. The Gold 4 Cup Kiara Desk Organizer with Tray adds a high-end touch to your workspace, keeping your things in order while serving up stylish appeal. The golden metal cups are attached to the tray, so everything stays in one area, leaving you plenty of desk space to work. Place your pens, paper clips, thumbtacks, and other items in the gold cups, giving way to a tidy space that shines.

Cost: $22.49 (on sale!)
PBteen Organize It System Homework Caddy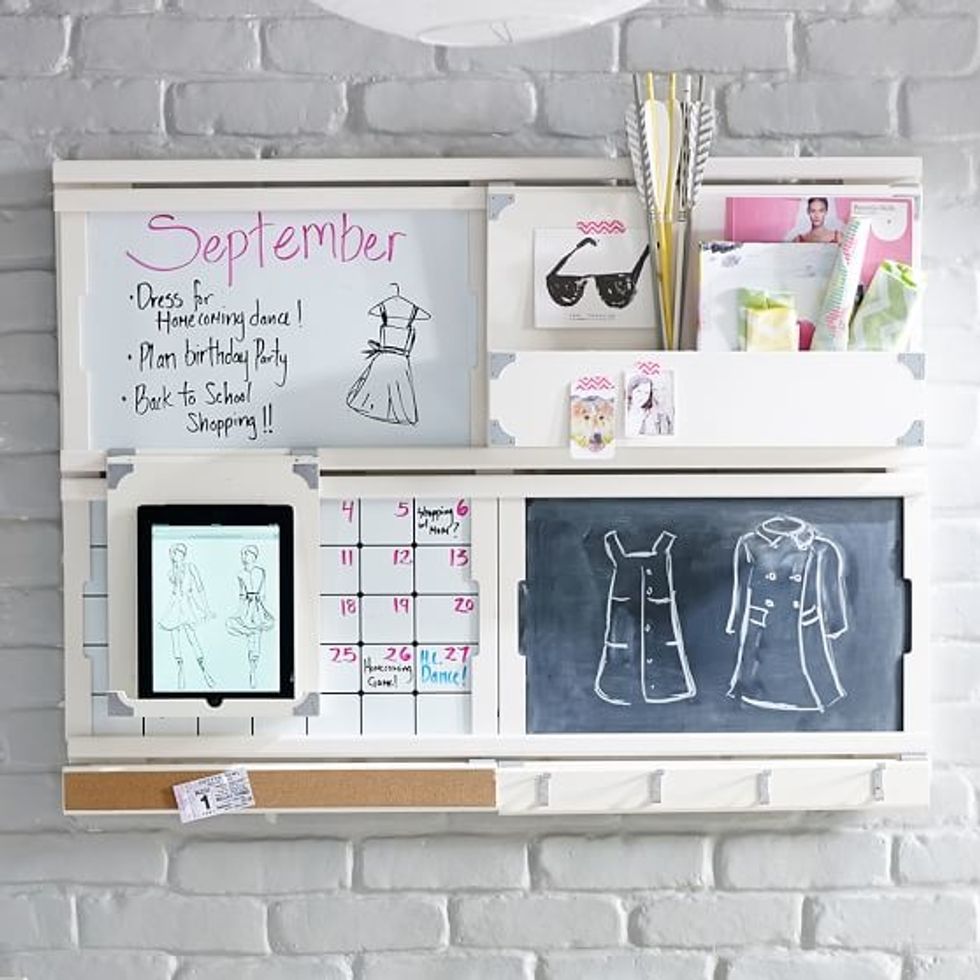 PBteen CaddyVia pbteen.com
While this caddy is catered towards tweens and teens, anyone can make use of this fashionable and functional setup, perfect for office or cubicle use. The PBteen Organize It System Homework Caddy is just as effective for workplace organization, with handy places to keep desk supplies, a calendar for marking appointments, and other areas for notes, reminders, and everyday to-dos. Hang on the wall for convenience and a clearer desk top, and transform your space into something more stylish.

Cost: $9.99 - $34.99 (various size options)
Mind Reader Axel Desk Organizer with Charging Station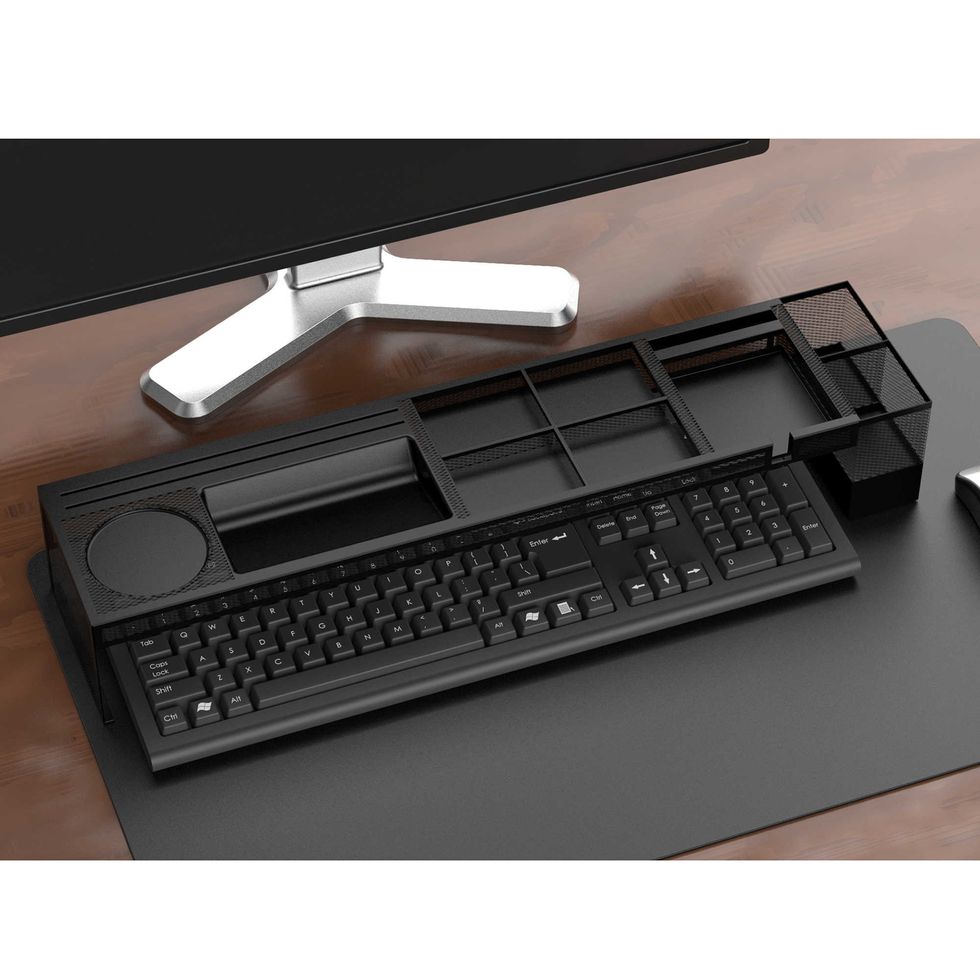 Mind Reader Via bedbathandbeyond.com
Keep your space sleek, "juice" up your tech gear, and even tuck your keyboard away with one snazzy on-desk organizer. The Mind Reader Axel Desk Organizer with Charging Station is super for maintaining an organized desk with all the bells and whistles you need for modern convenience. You can even place your coffee mug on top when you need a full desk for papers and projects. Charge your devices, confine your gear, and feel put together when everything has its place.

Cost: $19.99
Lipper 4-Tier Bamboo Desk Organizer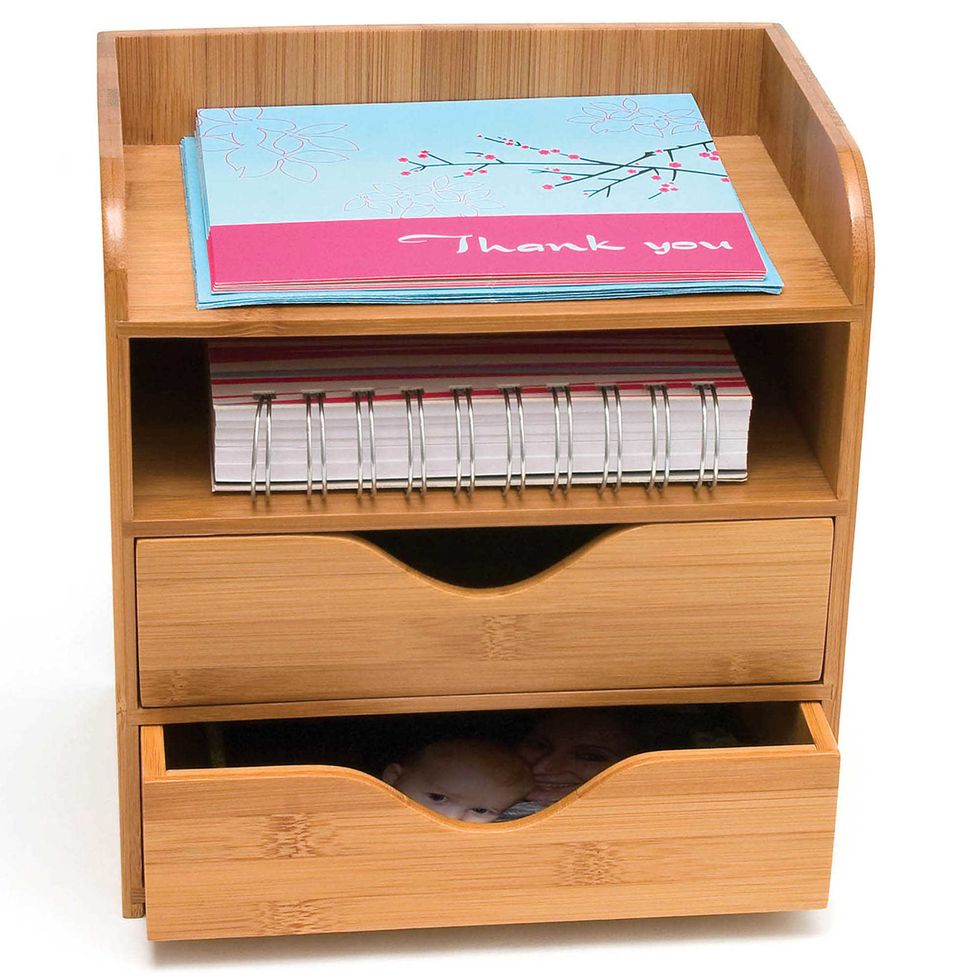 Lipper 4-TierVia bedbathandbeyond.com
Stow away your staples, spreadsheets, and everything in-between inside the Lipper 4-Tier Bamboo Desk Organizer. Use the top shelf for easy reach, the storage shelf for books or files, and the bottom drawers for items you want to keep out of site. The natural bamboo is neutral and classic, the design is simple and sturdy, and you'll feel much better about the state of your desk top when everything is orderly and organized.

Cost: $25.99
White House Marketplace Three Bin Desk Organizer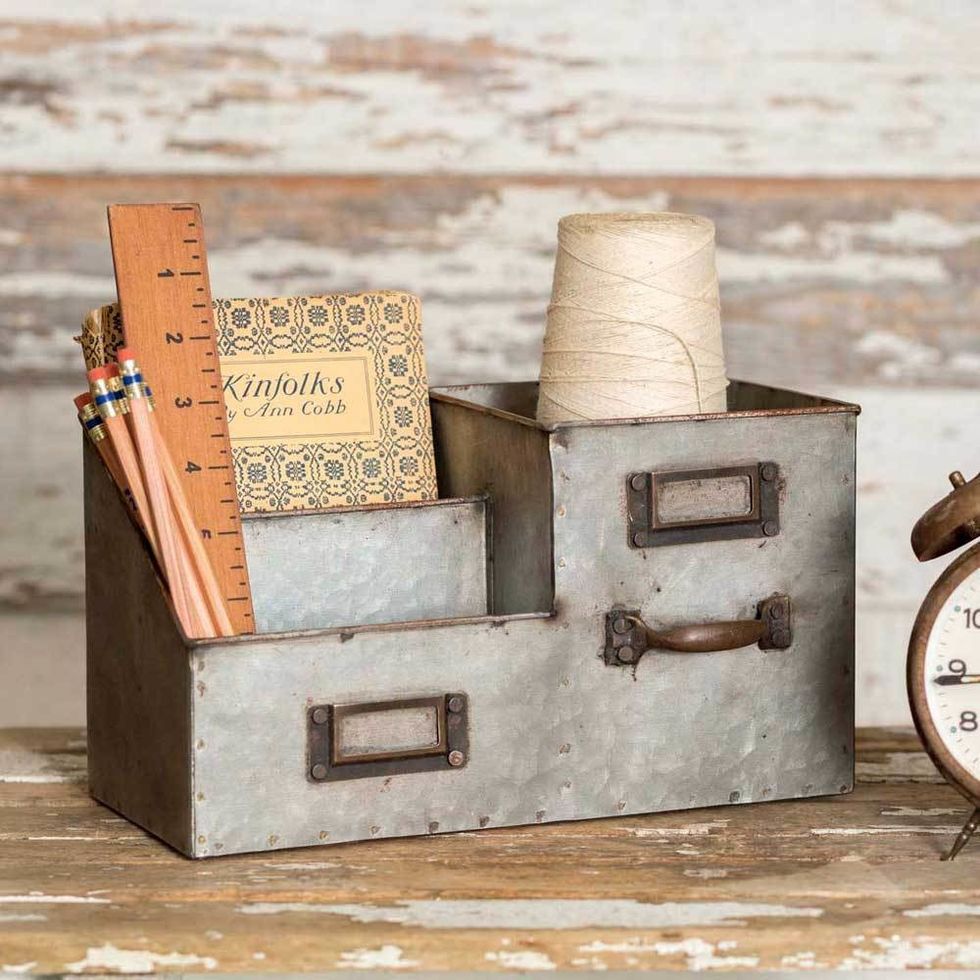 White House MarketplaceVia thewhitehousemarketplace.com
Rustic and reliable, the White House Marketplace Three Bin Desk Organizer is a "shabby chic" storage piece for a desk that's prone to become untidy. Various compartments of different sizes provide space for the usual desktops items that haven't had a "home" until now. The handle and fixtures add a nice touch when you want something eye-catching as well as organizational.

Cost: $24.49
Offex Supplies Organizer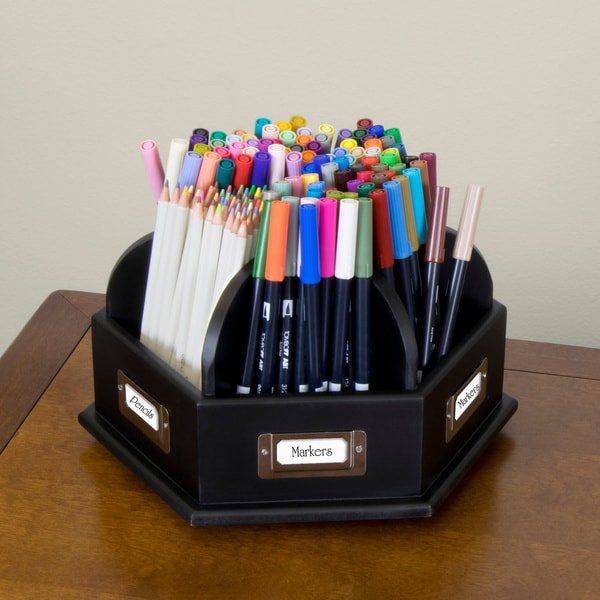 OffexVia overstock.com
Bold and beautiful with a carousel shape and lots of labeling, the Offex Supplies Organizer will turn your previously disheveled desk into a cleaner corner. This organizer rotates for convenience as you keep the essentials in order yet ready when you need something in a snap. Made of all wood and richly colored in deep brown, this supplies organizer will be the centerpiece of a much cleaner workspace.

Cost: $55.99
Tilt Desktop Storage Bin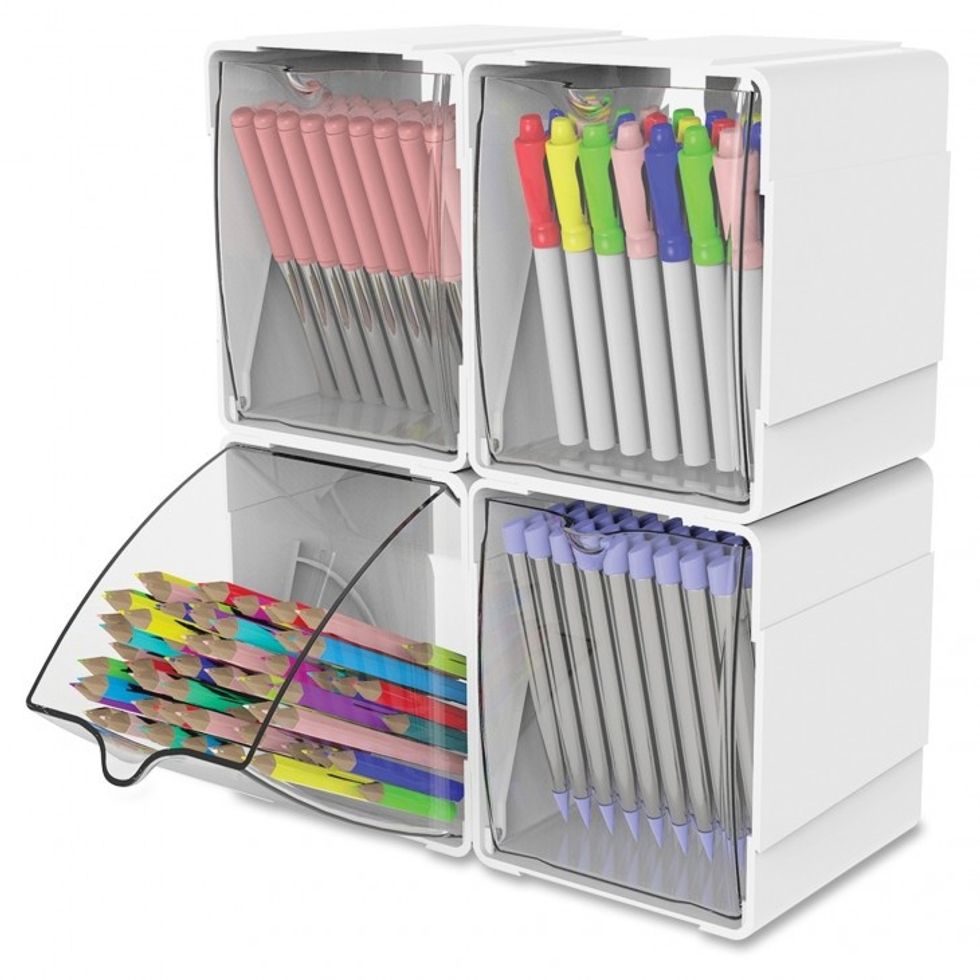 Tilt Storage BinVia ldproducts.com
Placed on your desktop or mounted to the wall, the Tilt Desktop Storage Bin is the perfect way to stock supplies nicely and neatly within reach. The clear bins let you peer inside so you know where everything is without rummaging through drawers like you used to do. Fill them up with pens, pencils, tape, note pads, you name it. All of your supplies will be stocked seamlessly.

Cost: $25.39
A clear desk = a clear mind. Get organized!
<
Poppin
You could have a desk like everybody else's, or you could make it stand out. Bring your personal style into the office and make your desk your own. Here are some of the best places to buy unique, fun, and beautiful office supplies.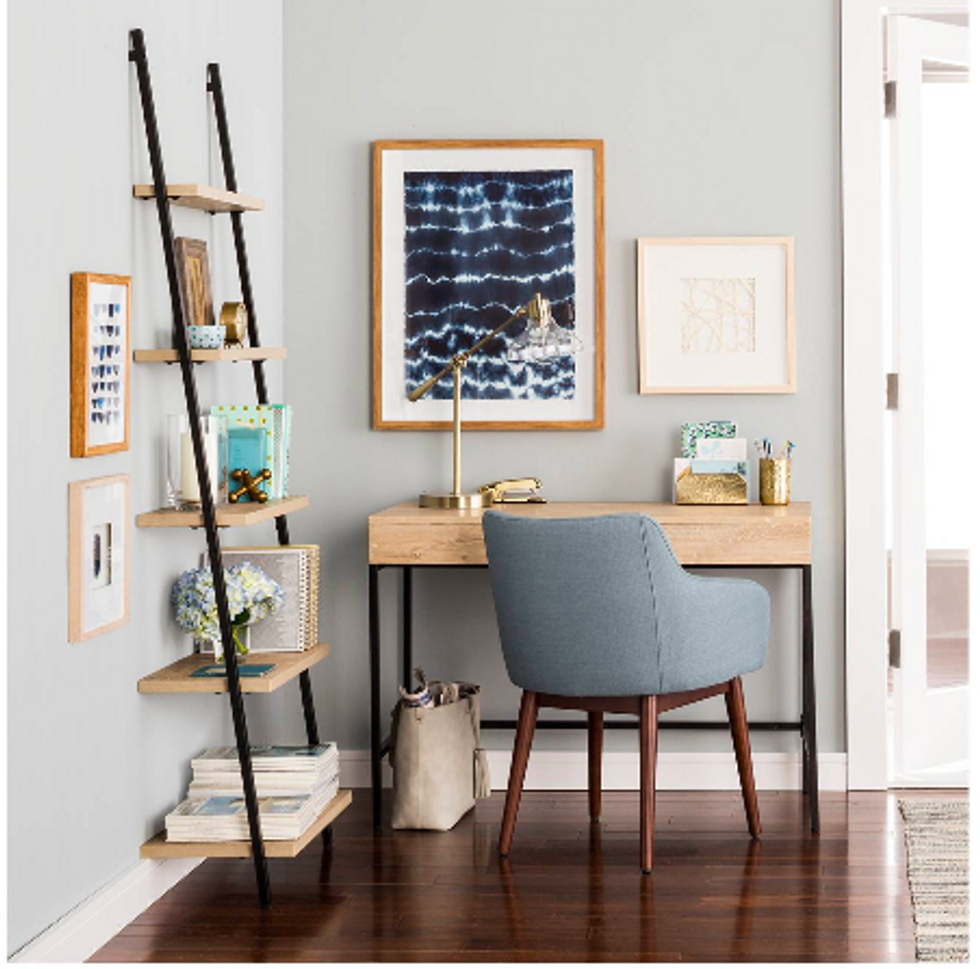 Hey, you're already here for dish soap, aren't you? Target also has great office supplies! Check out the affordable meets glam line of office supplies by Nate Berkus. Deck out your desk in gold accented pieces to stand out from the crowd. Whether you want hammered gold letter sorter, shining pencil holder, or a glittering tape dispenser, you can up the drama. Skip the typical office attire for this glam glow up.
If you want a whole office renovation or just a couple of desktop organizers, Wayfair has you covered. Interesting desks, unique office chairs, aesthetically pleasing filing cabinets, Wayfair has it all. They also are incredibly wide-ranging in their decors, so whatever your personal style is, it will be represented. If you head there and get scared by prices, don't panic because there are plenty of products available in every price range! Don't know which direction to decorate; check out their awesome room ideas!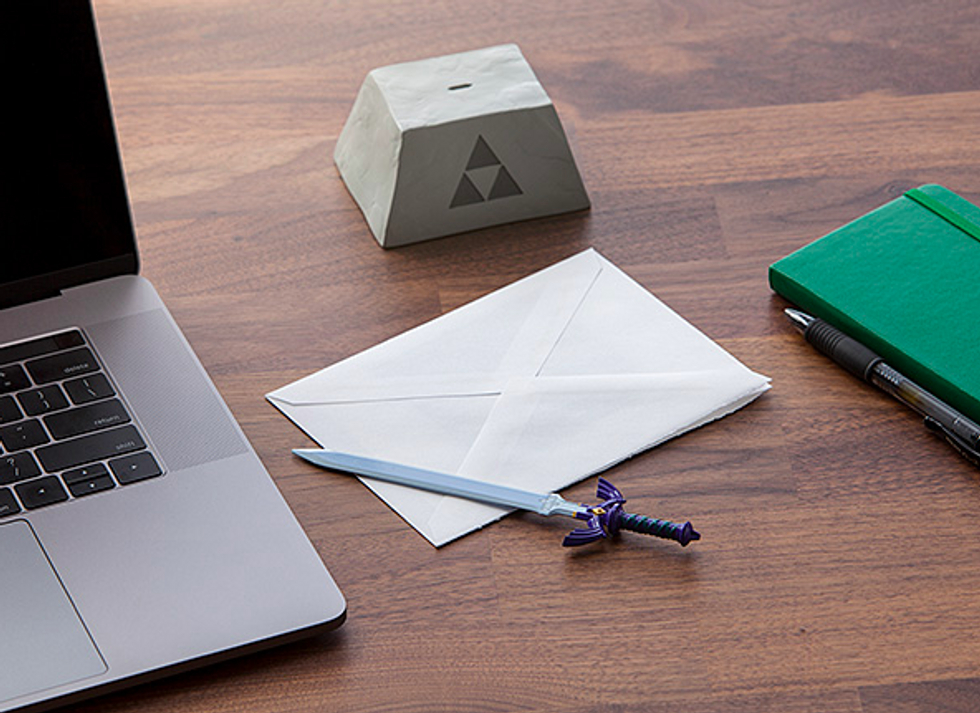 If you have a very specific design theme in mind based on your favorite book, tv show, or video game, then check out Think Geek. They have things that are useful, but they also have just plain fun desk decorations. Bring out your inner geek, have the most interesting desk, and fill your space with all of your favorite fandoms.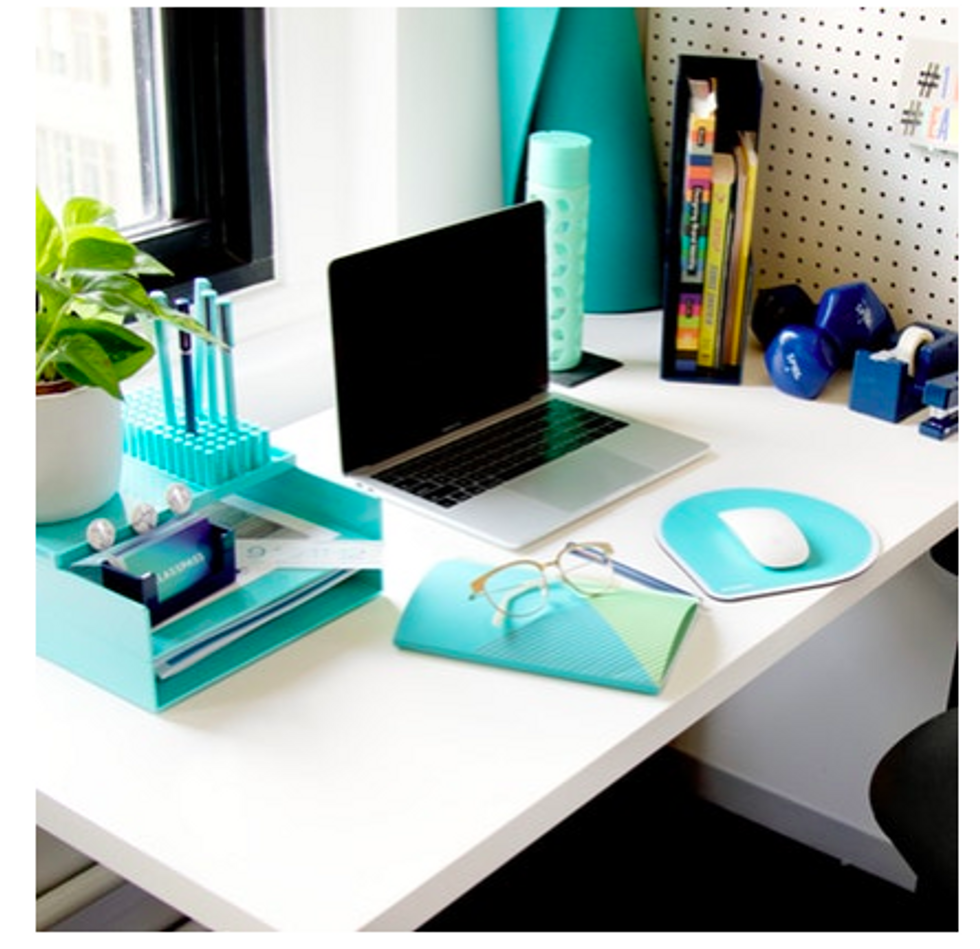 If you're looking for a desk upgrade that won't cost too much, then check out Poppin. They specialize in colorful modern office supplies that add something new without breaking the bank. The bright colors bring the fun while the sleek lines add a sophisticated element that makes this aesthetically pleasing.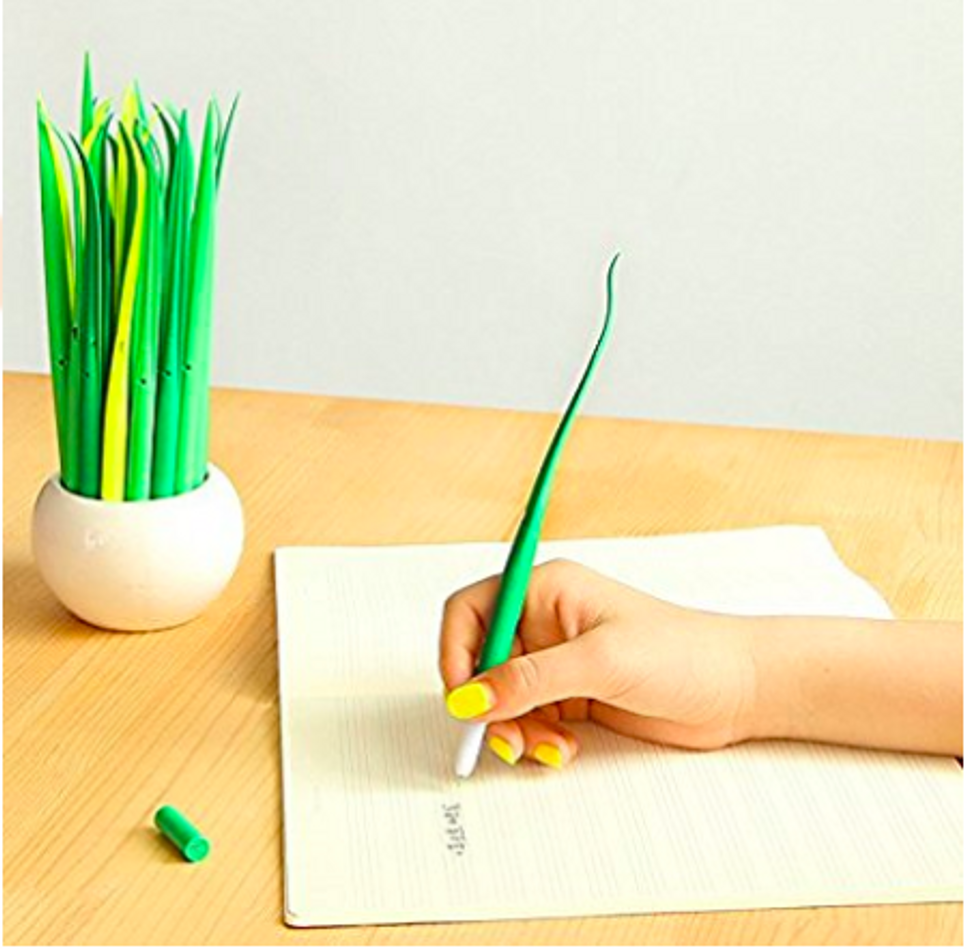 Sky's the limit with Amazon office supplies. Any aesthetic you choose for your desk is right at your fingertips. Go cute and whimsical, modern sophisticate, or full-on glam with every kind of office product you could need. I mean, it's Amazon! There are a million things waiting for you, but you just have to head down the rabbit hole and seek them out.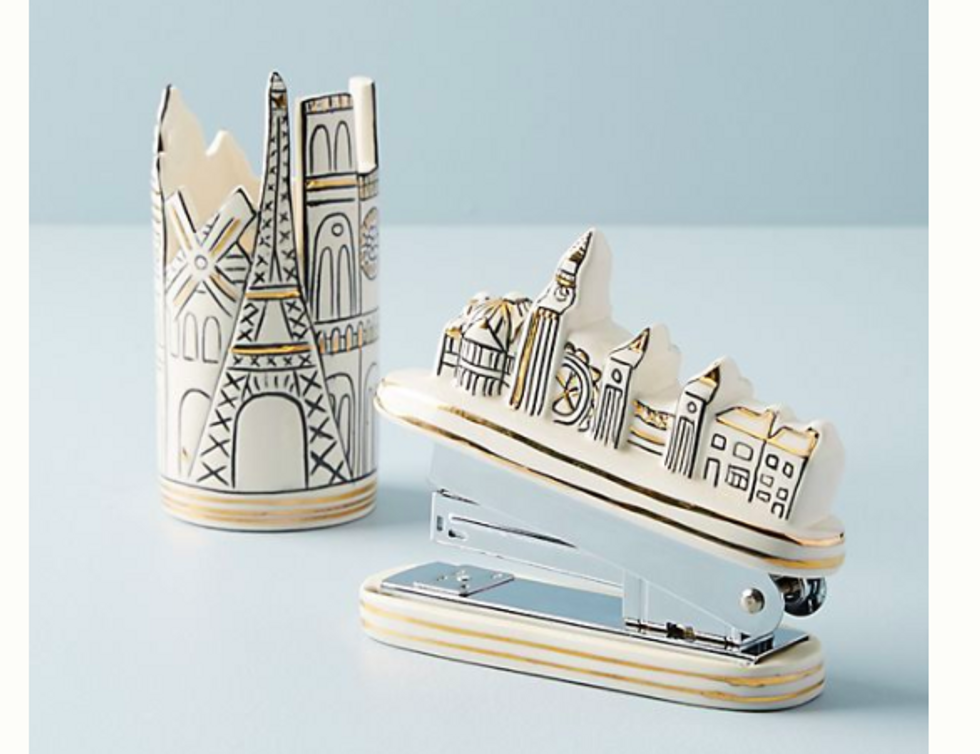 Office supplies never stood a chance against this fashion mogul. A mix of modern and classic styles from a high end expert, they have a more quirky approach to office supplies that doesn't really feel childlike... more fun adult with a twist. Whether you're looking for boho styles, standout metallics, or whimsical goods, you'll find what you need.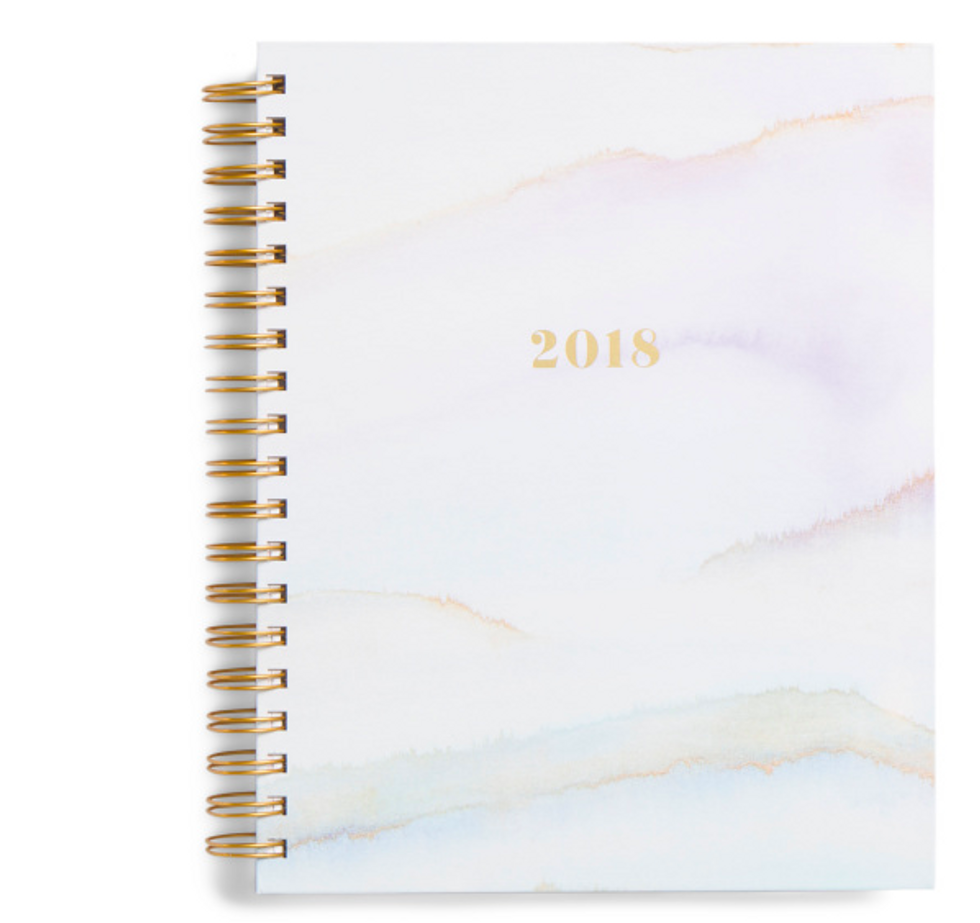 One of your favorite clothing and home goods store also has some gorgeous office supplies. Let's be honest it's all about rooting through your stores' specific products and seeing if there is a diamond in the rough, but the online store is a good bet if you are looking for something specific. So next time you're on the hunt for a maxxinista deal, go check out what hidden gems are lying amongst the large buddha heads and scented candles.
Let's face it — when your workspace is cluttered, you feel unproductive and unmotivated. There's just too much stimulation around you to distract and disturb your concentration. Even if it's not about distraction, you still need a clean desk to save space and know where everything is.
So, whether you organize to relieve stress or to procrastinate other tasks, make sure you find the time within the day to clean up your workspace. Here are ten things you can do right now to organize your desk for a more productive day.
1. Maintain a permanent layout
According to Gotham Organizers, your monitor should be at eye-level and about 17 inches in front of you. You can really do this however you want but make sure your computer and frequently used items are in the same place on your desk everyday.

I put my laptop diagonally to the left of my desk and my agenda to the right — it's not the most efficient way but the layout works for me.
2. De-clutter useless things from your desk
Throw away anything that doesn't help you with productivity. Make a list of all the items on your desk and categorize them by importance. Trinkets from last Christmas? Stuffed animals from your bed? Throw them out or put them away.

It's alright to have one or two personal items like a framed picture or flowers, but too many objects will distract and overstimulate.
3. Store your supplies
Keep office supplies together either on top of your desk or in a drawer. Things you need everyday should go on top of your desk — preferably in a supplies organizer. Objects you don't need everyday can go in a drawer — maybe even in a drawer organizer.

4. Free up some free space
Not every inch of your desk needs to be covered — leave a sizeable amount of room for short term projects or important documents. This way, you won't be struggling to clear space every time a new item is introduced to your desk.
5. Organize storage containers with colors and labels
Amazon.com: StorageWorks Polyester Storage Bin with Strong Cotton Rope Handle, Foldable Storage Basket, White, Bamboo Style, Large, 3-Pack: Home & Kitchen
[rebelmouse-proxy-image https://media.rbl.ms/image?u=%2Fimages%2FS%2Faplus-seller-content-images-us-east-1%2FATVPDKIKX0DER%2FA2OZ254Z7WPAIH%2FB01CZUJACQ%2F23H11wp4QBGO._UX970_TTW__.jpg&ho=https%3A%2F%2Fm.media-amazon.com&s=987&h=07bc4177d16be944945f613078bd32465f9e69534b85ac13949da74186fccd8c&size=980x&c=3881880935 crop_info="%7B%22image%22%3A%20%22https%3A//media.rbl.ms/image%3Fu%3D%252Fimages%252FS%252Faplus-seller-content-images-us-east-1%252FATVPDKIKX0DER%252FA2OZ254Z7WPAIH%252FB01CZUJACQ%252F23H11wp4QBGO._UX970_TTW__.jpg%26ho%3Dhttps%253A%252F%252Fm.media-amazon.com%26s%3D987%26h%3D07bc4177d16be944945f613078bd32465f9e69534b85ac13949da74186fccd8c%26size%3D980x%26c%3D3881880935%22%7D" caption="" pin_description="" image-library="0" expand=1 photo_credit=""]
Desk storage bins can be super helpful in organizing your life — just be sure to color code and label them as you see fit. You don't want to be rummaging around all your containers every time you need some blank paper.
Taking time to color code and label can also be a destressing and relaxing task — have fun with cute colors and shapes.
6. Prioritize your tasks
Having to deal with a lot of projects at once can overwhelm and stress you out. Use file holders to prioritize everyday tasks — have a section for urgent, important and non-urgent. This way, you can just pluck a task off the top and work your way to the bottom.
7. Divide your workspace
Does technology distract you? Do you often eat at one of your workspaces? Performing a leisurely task frequently in the same spot can lead to habits and association of that task with the corresponding space. That's why I can never work on my bed like most of my friends.
Instead, separate out your workspace. Designate one area as a technology-free zone or remember to never watch Netflix at your desk. Doing this will provide you with a sense of routine and stability.
8. Don't forget your virtual workspace
Your laptop can also be a source of distraction — organizing your virtual workspace will make you more motivated and less overwhelmed. Trash items on your desktop that you don't need. Delete old and useless files from your folders. Categorize work into different folders and utilize reminders and calendars to organize your life.

9. Put a small trash can near your workspace
A separate trash and recycling bin would work best, but beggars can't be choosers. Place a small wastebasket next to your desk — you won't have to get up every time to throw scrap paper away which can disrupt your workflow.
10. Organize your cables
I use cable clips to keep my chargers and wires in order. This can be very useful, especially if you have an extension cord under your desk. Wires are just prone to becoming tangled up with one another so you don't want to always be undoing them.