U.S. financial markets are in the process of making history!
Despite the fact that the election is still undecided and facing legal challenges by the Trump administration in several states, the stock market continues its post election surge.According to industry analysts over at MarketWatch, today's performance marks the strongest post-election day for the market in 100 years with the NASDAQ and S&P 500, both much newer indexes, also both breaking their own previous records.
DJIA

With futures up 650 points overnight, the Dow Jones Industrial Average (28,215), opened strong, has been rocking all day and is currently up 650 points (2.35%) with no signs of slowing before the closing bell.
The Dow is now 124 years old and the oldest index in the financial world.
The last time there was such a large single day gain for the DJIA in the day after an election was when President (Rep) William McKinley defeated (Dem)William Jennings Bryan in the 1900 election. The DJIA (Dow Jones Industrial Average grew by more than 3% on that day.
S&P 500
S&P 500 futures saw gains of more than 100 points overnight and the index is now hovering at 3,469, just shy of all-time high territory. In fact, today's 107 point gain represents its biggest post election day rally in history.
First introduced in the 1950's, the S&P 500 debuted on March 4, 1957. It tracks more than 500 large companies (505 as of today) and is now considered one of the most popular and tracked indexes in the world.
NASDAQ
Not to be left behind, the NASDAQ composite is up 4% for the day, marking a solid 445 point gain and the single largest post election day gain for the index. Tracking almost every company listed on the Nasdaq, this index is also very popular among global investors.
What's Next For The Markets?
The question on most people's minds is whether or not this rally will continue or flounder once the results of the election are announced.
Waking up to almost as much uncertainty as when you went to bed, there are certain things which are much clearer. Wall Street is much happier with the prospect of Republicans maintaining control of the Senate.
Why would Wall Street be responding so favorably to the news that the Senate will most likely stay in control of the Republican party, even though they made it clear they were in favor of Joe Biden becoming the next president?
It's pretty simple. It is extremely unlikely that, if elected, Biden would be able to follow through on his promise to raise corporate tax levels, as well as institute tax hikes on the super wealthy in the U.S.
What Should You Do As An Investor?

The most important thing to remember is DO NOT PANIC.
If you are someone who puts their faith in evidence based decision making then the answer couldn't be any clearer....have faith in your decisions, maintain a long term view and hold, hold hold.
Too many times you will hear stories of people who respond to world events by getting spooked and as a result decided to liquidate their positions. 99% of the time this is the wrong decision and could end up costing you your life savings.
As long as you have a diversified portfolio and do not rely too much one sector of the market you are in good shape. It is important to keep in mind that for most individual investors you are looking for a long term solution for where to keep your money, and historically the stock market has provided the best returns and most safety, if done right.
Now is not the time to make hasty decisions, the truth is most industry experts expect the turmoil to continue until the transition to the Biden White House is complete, but it will calm down and eventually it will get back to normal.
Say it with me. Do Not Panic.
History Of The Stock Market
With all the constant drama surrounding the stock market; recessions, boons, bubbles, bull markets, bear markets, it can be super daunting and hard to keep up with, but it is important to have the full picture so you can understand how the financial world fits into our history.
Have you ever wondered where the stock market came from?
Stock markets were started when countries in the New World began trading with each other. While many pioneer merchants wanted to start huge businesses, this required substantial amounts of capital that no single merchant could raise alone.
As a result, groups of investors pooled their savings and became business partners and co-owners with individual shares in their businesses to form joint-stock companies. Originated by the Dutch, joint-stock companies became a viable business model for many struggling businesses.
In 1602, the Dutch East India Co. issued the first paper shares. This exchangeable medium allowed shareholders to conveniently buy, sell and trade their stock with other shareholders and investors.
As the volume of shares increased, the need for an organized marketplace to exchange these shares became necessary. As a result, stock traders decided to meet at a London coffeehouse, which they used as a marketplace.
Eventually, they took over the coffeehouse and, in 1773, changed its name to the "stock exchange." Thus, the first exchange, the London Stock Exchange, was founded. The idea made its way to the American colonies with an exchange started in Philadelphia in 1790.
To most people, the name Wall Street is synonymous with stock exchange. The market on Wall Street opened May 17, 1792 on the corner of Wall Street and Broadway.
Twenty-four supply brokers signed the Buttonwood Agreement outside 68 Wall St. in New York, underneath a buttonwood tree. On March 8, 1817 the group renamed itself the New York Stock and Exchange Board and moved off the street into 40 Wall St.
Airbnb offers an affordable option for people looking to be more comfortable as they travel.
However, there are downsides to staying in a host's home rather than a hotel. Whereas hotels are designed for constant streams of visitors and often have furniture built to last, at an Airbnb, you may be staying on old or cheap furniture that a host is using in order to maximize their profits.
And while most reputable hotels will have regular room inspections from staff to check for any wear and tear, Airbnb damage disputes are oftentimes he said, she said situations. If you are in an Airbnb and something breaks, there are a few steps you should take in order to ensure that you are not on the hook for damages out of your control.
I have used Airbnb for years and have had a grand total of one dispute over damages with a host. But by following these steps, I was able to effectively work with Airbnb to come to a fair resolution.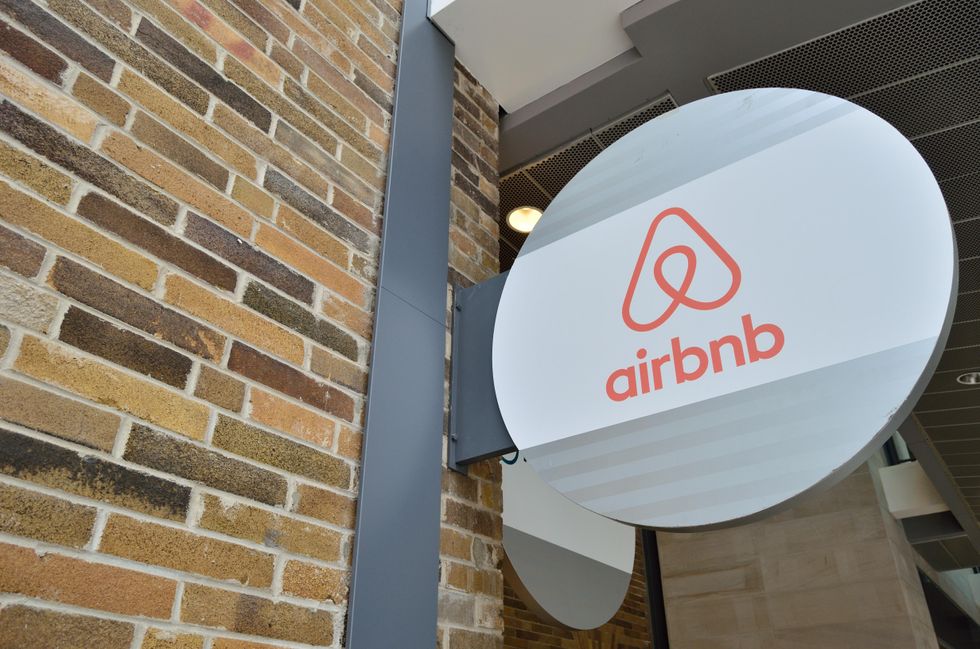 Handling disputes through Airbnb can be a strange process unlike damages in a hotel."Airbnb Office" by Open Grid Scheduler / Grid Engine is marked with
Step 1: Assess if you are actually at fault. If you are, pay for it.
We have all heard the stories of fat cat Airbnb management companies pulling in millions of dollars from hundreds of apartments, but the reality is that the average Airbnb host makes less than $1,000 a month. These are likely people just like you who are trying to supplement their incomes and stay in their home sasn rents in many major cities climb faster than wages.
If the damage is normal wear and tear, then the guest won't need to pay. But if you broke something through actions outside of regular wear and tear, even if it was unintentional, it is the right thing to do to pay for the damages you didino this person's home. The host will likely take the money out of your security deposit, but you may need to arrange for additional payments for larger damages to their property.
Step 2: Take pictures of the damage right away.
Pull out your phone and take pictures of the damage. Some people take pictures before they enter an Airbnb in case of any damages, but after a long day of travelling I rarely want to peek in every nook and cranny of an apartment. Still, it's always a good idea to take photos the moment damage occurs. You will want to have these photos in case of a dispute with the host.
Step 3: Contact the host through Airbnb immediately.
You should never communicate with a host through a medium other than Airbnb. Remember that communicating through the app is meant to ensure the safety of all parties. Airbnb will put less weight towards screenshots of text messages or your description of a phone call than communication within their app, which they know cannot be fabricated.
I always recommend communicating through written message rather than trying to call as that way there is a clear record of who said what and when. If there are damages to thAirbnb, you should want to contact the host immediately, first to show that you are not trying to hide the damages and second because you are entitled to accommodations that comply with the specifications listed in the ad. If the fridge in your Airbnb is not working, then the host has a responsibility to fix it to provide you with the amenities you paid for.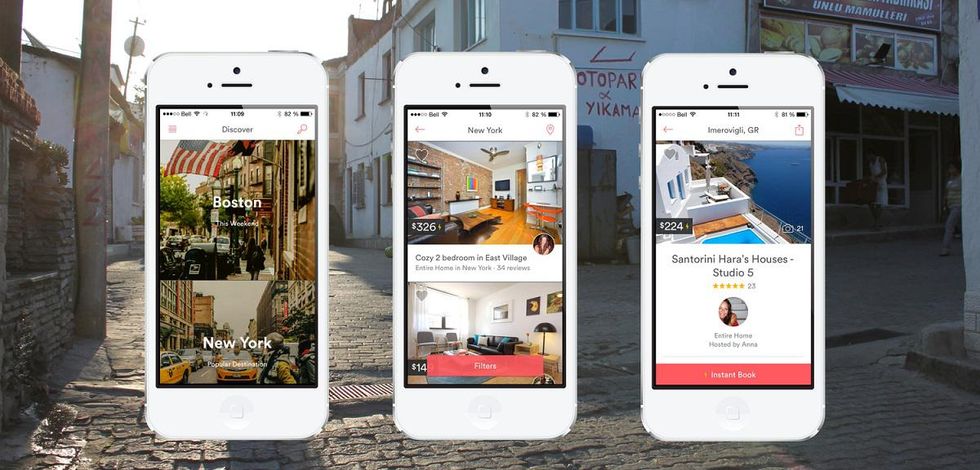 Keep your communication through Airbnb so there is a record in case of a dispute.
Step 4: If the host does not respond, contact Airbnb
In my own case, I had arrived at my Airbnb in a small beach town for a holiday weekend. When the wooden bed frame came apart as soon as we sat on it, we could not get a response from the host, who was likely enjoying their own festivities.
A host is supposed to be ready to respond to any issues during check-in and when they were not available, I decided to contact Airbnb. The Airbnb bot is available through the app (always go through the app whenever possible!) and I was advised to call Airbnb Community Support. I explained to the representative that the bed had come apart when we had sat on it (certainly normal usage) and was unusable. They advised us to wait while they tried to get ahold of the host, so we sat on the floor and put on a movie while we waited.
After about an hour, they reached out to us through the app and neither one of us had been able to reach the host. If you are still able to use the Airbnb, they will likely have you continue to stay in the accommodation if it is useable. In our case, because it was the only bed in the apartment and there was no room to put the mattress on the floor, they put us in a hotel and paid for half of the difference in price from needing to book a last-minute room.
Step 5: Wait for the host's claim in the Resolution Center
Hosts have up to 60 days to make a claim on a deposit, and you must respond within 72 hours. If you don't respond, then Airbnb will go ahead and process the claim.
Read through the host's claim several times before crafting your response. You will want to respond to any points they make in their claim that you disagree with. The host has to prove that you caused the damage in order to be awarded the money, so you will want to respond to any claims they are making. It doesn't feel good to be accused of doing something you did not do, but do not let emotion come into it. It is best to be professional and matter-of-fact as you go through this contentious situation.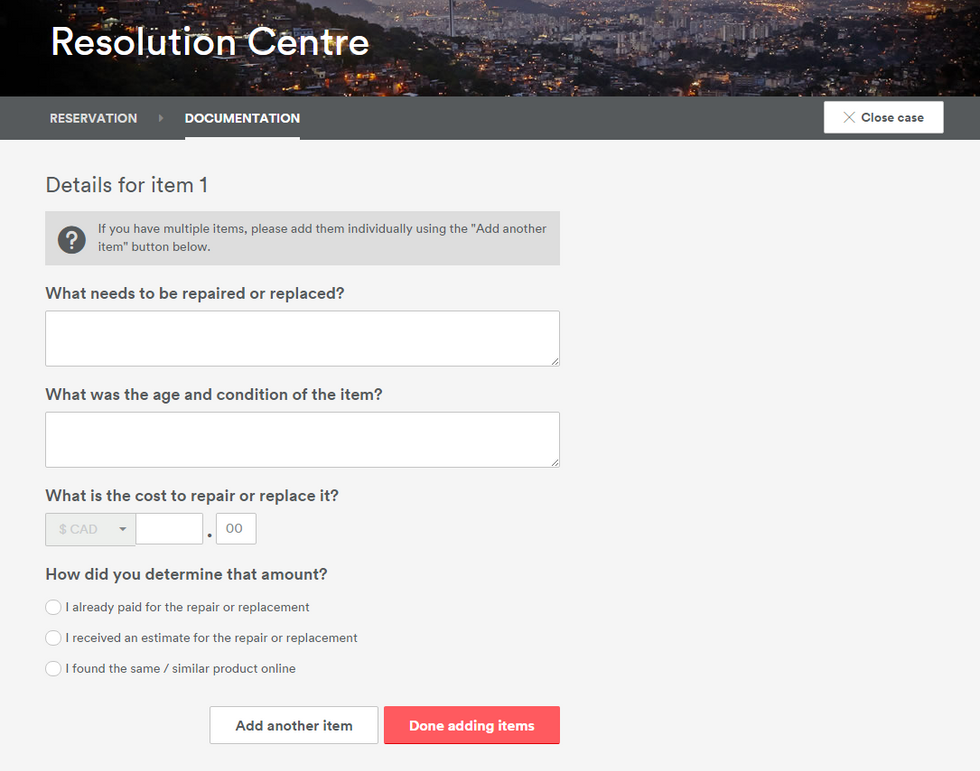 Never pay a host directly. All damage disputes should be handled through Airbnb's Resolution Center.
Step 6: If you hear from the mediator, prepare your response.
If you decide to dispute the claim, then the host can elect to involve a mediator through Airbnb. They will gather information from both sides of the dispute and make a decision. The mediator's judgement is final, and you cannot escalate the situation any further. You must respond to the mediator within 72 hours or they will automatically rule in favor of the host.
A good response will have the following elements:
- Highlights from your positive reviews. If you have dozens of positive reviews all saying you are very respectful of the property, it would certainly be wise to point out your positive prior experiences with Airbnb hosts as a testament to your character.
- A complete and truthful description of how the damage came about. You may be tired of explaining what happened at this point, but this will likely be the last time. Thoroughly explain what happened so that a mediator just coming into the case can be armed with the facts. If the host is making up damages completely, point that out and explain how the items in question worked while you were in the apartment. This is your chance to tell your side of the story.
- Pictures of the damage. This is important for establishing whether the damage could have been accidental and if anyone in the dispute is being less than truthful. In my own case, the host argued that the bed that had broken was brand new and was solid wood, but the pictures I had taken showed that it was made from particle board. I think that was a big part of why I won the dispute, as the host was clearly not telling the whole story.
- All of your communication with the host. This is why you want to only communicate through the Airbnb app. The Airbnb mediator can see that your communications are undoctored, and the host cannot make any claims that you admitted to causing the damage when you did not. Showing that you immediately contacted the host and did not try to cover up the damage at all goes a long way in these disputes.
- A response to any unreasonable charges or claims. If you broke a wine glass and the host starts demanding hundreds of dollars to replace it, you would certainly balk. For my damage dispute, the host asked for $900 to replace the bed, and I expressed that this sounded a bit high for a particle board bed frame. If there is damage to the Airbnb, the host cannot simply make up a number they would like to charge. They must produce receipts for replacements or estimates for repairs.
- The phrases "wear and tear" and "reasonable use". Hosts are providing you a place to stay, but they cannot expect furniture to be in the same condition after months or years of use. If the damages could have come from normal wear and tear, point that out to Airbnb. Normal wear and tear is to be expected; if it's something like small scratches where the dining room chairs meet the floor, then that is to be expected after a while. Also, point out if the damages occurred during reasonable us. A chair should be able to support the body weight of a regular-sized person, a closet door should not come off the tracks when it is slid open, and you should not need to pay for damage that results from using a piece of furniture for its intended purpose. Doing parkour in an Airbnb is likely to lead to some damages that you would be responsible for, but making reasonable use of a piece of furniture should not.
- A response to the host's claim of purposeful damages. In my case, I questioned how the damage to the bed could have occurred if it was not caused by us merely sitting on a cheap wooden frame. I pointed out the bed was close to the wall and questioned how we might have caused the damages outside of reasonable and regular use of the bed. If a host is saying that you damaged the Airbnb, the onus is on them to provide an explanation and proof.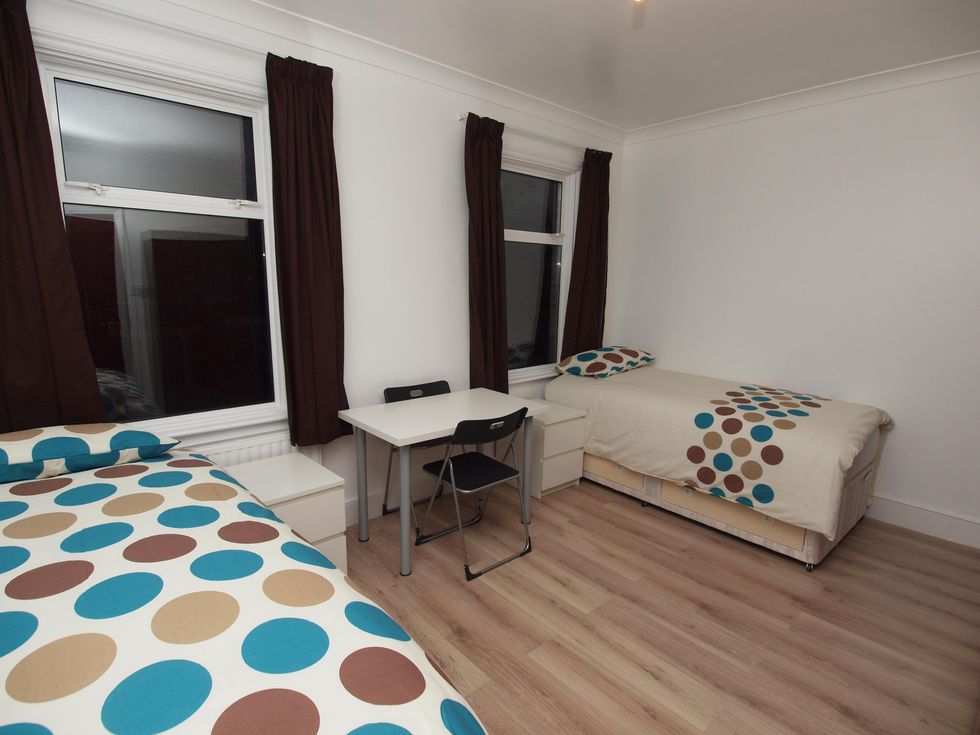 Airbnbs may contain lower-quality furniture that is easily damaged."House Share" by Shane Global Language Centres is licensed under
Step 7: Wait for a response
I waited anxiously for a final decision from the mediator but resisted the urge to reach out. The host must take time to draft their own response and the mediator must review all the pictures and evidence that is provided, as well as request any further documentation they need before making a decision.
In the end, because the damages had occurred from regular use of the apartment and I had maintained professional and prompt communication with Airbnb, they found in my favor. However, the whole ordeal did make me a bit more nervous about how I might be making myself vulnerable to spurious claims. In the future, I plan on taking a video of myself entering my vacation rentals and going through the apartment to show the state of the place when I arrive. Staying in a vacation rental may be an affordable alternative to a hotel, but you are certainly much more at risk of running across an unscrupulous host.
Art Installation N°1 by Carlos Marcial. Rhett Dashwood / YouTube
If you're keeping tabs on the art and tech worlds, you've probably been hearing whispers about "NFTs" for the past month. Just over the past week they've entered the mainstream lexicon.
Twitter founder Jack Dorsey made the news for selling his first ever tweet. The app has been teasing paid subscription models and newsletter-like features, but tweets for sale is "the next frontier."
The 2006 tweet went up for auction as an NFT, and the current bid is $2.5 Million. But what does it mean to own that? Why would anyone want to? And what even is an NFT?
What does NFT stand for?
NFT stands for "non-fungible token." Essentially, it's like a proof of ownership sticker for something that exists on the internet. The NFT is a piece of code that acts like a watermark or a signature — if you own an NFT, you own the rights to that little piece of the internet. Because ownership is embedded into unique code on a blockchain, NFTs are impossible to make fakes of or replicate. The digital asset can be screenshotted or replicated, but the ownership cannot.
An NFT is different from a "fungible token," like a Bitcoin. The main distinction is that fungible tokens are interchangeable. They each have a 1:1 value with each other, but NFTs do not. So while one Bitcoin has the same exact value as another, an NFT of a random Popdust tweet does not have the same value of Jack Dorsey's inaugural tweet.
Talk of NFTs is often intertwined with cryptocurrency jargon, but they are not only the realm of Bitcoin bros. Unlike other forms of cryptocurrency, you don't need to know the specific ins and outs of the market in order to purchase an NFT — making NFTs accessible to those of us who have yet to hop onto Bitcoin, Ethereum, or even Dogecoin.
What Can Be an NFT?
Any digital asset can become an NFT. From a tweet to a gif to digital art, anything that exists on the internet can now be officially owned. NFTs have been around for a while, but only recently have they taken off as a way for digital creators to sell "official" versions of their content.
Anyone can screenshot a tweet or repost an Instagram meme, but NFTs allow consumers to own the rights to trade, sell, or keep and collect them. While digital art and internet ephemera are most ubiquitous as NFTs, the market is growing for more traditional collection fodder to be sold in this new format.
Digital art is now being sold like fine art, and baseball cards are no longer the realm of middle school lunch tables. As the market grows, so does the scale. While an NFT gif can go for around $5,000, recent digital sales have been making headlines for reaching millions and tens of millions.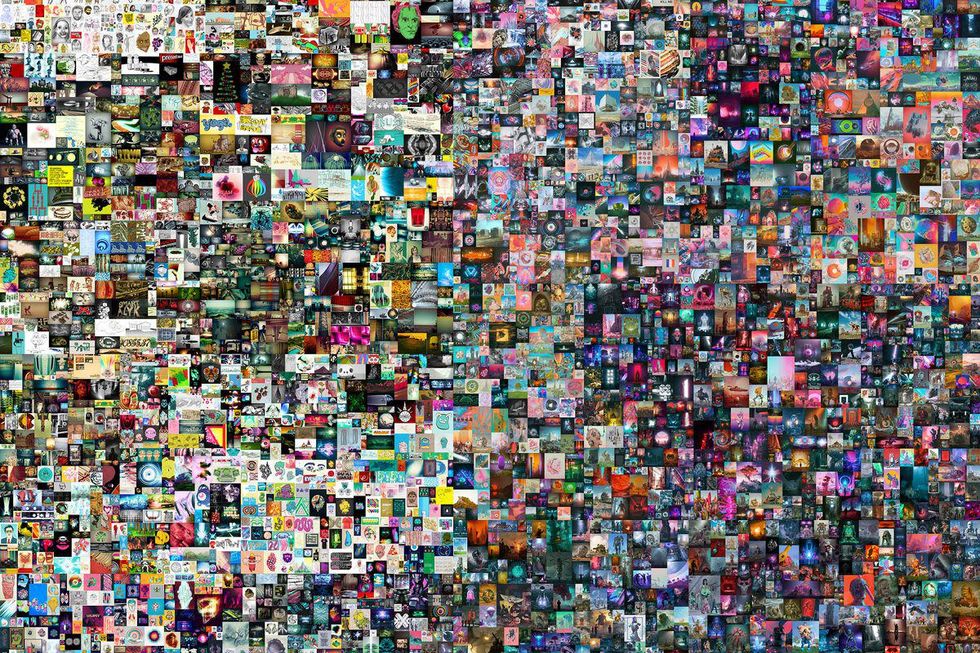 "Everydays - The First 5000 Days" by Beeple was sold by Christie's as an NFT for $69M
Why Are People Talking About Them?

While Dorsey is not the first to rack up millions for selling digital ephemera, his tweet auction has propelled the market into the headlines. The hype surrounding the NFT market is similar to the recent astronomical trajectory of cryptocurrency and has even been compared to the GameStop saga.
In one way, NFTs are similar to investments like fine art and rare collectibles. And the traditional auction world is taking notice. Digital artist Beeple, who has been creating Everydays for 13 years and amassed millions of social media followers, is finally getting payout for the work he has been doing for free. Internationally renowned auction house Christie's launched its first ever digital-only auction with a Beeple NFT.
It sold for $69 Million.

While the astronomical prices may be driven by hype, the future of NFTs is becoming undeniable.
What's the Future of NFTs?
NFTs are changing the way artists and digital creators interact with followers and get paid. Soon we'll be seeing branded NFTs collected like Jordans or even NFTs to replace tour merch. Music NFTs are already making waves, too.
They're also changing the way we think about investing. Instead of investing in the stock market or in the traditional collectibles, internet fodder can now appreciate in value. And because so many NFT platforms serve crypto users, investors can watch the value of their items and their crypto rise separately to compound their earnings.
However, the unregulated world of NFTs is rising without anyone keeping vigilant watch. The murky waters of internet ownership that NFTs ostensibly solve get muddied when people are stealing art to turn into NFTs in the first place.
And while NFTs are purportedly decentralizing and democratizing art dealing and trading, the reality seems like the people benefitting are already rich and looking to get richer.
Long gone are the days when the majority of Americans dreamed about owning a home with a white picket fence.
The traditional American Dream may be on its deathbed, but that doesn't mean a core component of the vision can't survive. It simply takes a diverse perspective. People can still believe they can attain their own vision of success in society with hard work, knowledge, and risk-taking. Investing in today's American Dream may literally mean investing money in our modern economy, starting with our infrastructure.
Real estate investing in particular is a lucrative method that can boost income and secure a better financial future for many. There's always risk involved, but the payoffs can far outweigh the uncertainty. Selecting solid financial investments is about confidence and competence. If you're looking for some advice on this kind of investment, here are a few savvy tips for new real estate investors.
Stick To a Specific Strategy or Niche
Real estate is a challenging sphere of the business world, one that requires several key skills: groundwork knowledge, networking, perseverance, and organization. True knowledge of the real estate market will come with time and experience, but it's a smart idea to select one area of the market and stick to it. This is the best way to attain in-depth familiarity with your specific niche.
First, choose a geographical area close by and then a niche strategy within it, such as house flips, rental rehabs, or residential or commercial properties. By doing so, you can become aware of current inner working conditions in the market and you'll have a better idea of how these trends may change in the future.
Be Vigilant About Viable Financing Options
While it takes money to make money, you don't have to use all your own money. A common misconception about real estate investing is that you must be wealthy to start off. This isn't straight fact, however. A majority of people can test the waters of real estate investing without a lot of initial cash in their pocket.
Aside from traditional financing options from banks and institutions, private lending options can be worthy solutions. Hard money lenders are popular, reasonable choices, and they tend to have fewer qualification requirements upfront. However, be sure to strategically choose a hard money lender to find the best possible fit.
Master the Art of Finding Good Deals
There may be hundreds of thousands of available properties for sale on the current market, but the bulk of them will never amount to the final money-making result you desire. Another great tip for new real estate investors is to use good math to estimate profit. Taking risks is part of the process, but you have the ability to analyze properties and use networking sources to find the greatest deal. You can't win every deal, but you can steadily work towards a thriving financial future.