The Internet of Things — maybe you've heard of the phrase, maybe you haven't. Maybe you've heard it muttered around the workplace as your colleagues talked about their new voice-activated devices.
The IoT has been growing steadily since the start of PCs and smartphones. From there, we've come out with more interconnected devices including smartwatches and televisions — maybe you've heard of our little friend, Alexa? Now, it's estimated that by 2020, there will be more than 24 billion IoT devices on the planet.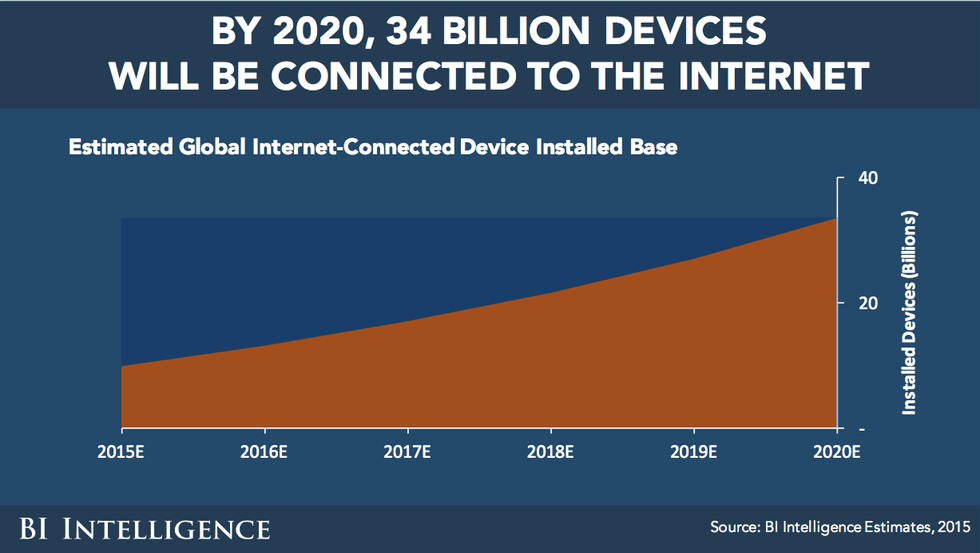 Source: BI Intelligence Estimates, 2015
However, IoT devices don't have to specifically be computers or screens really — they come in the form of our everyday devices. Smart cameras and water bottles can aid you at the beach while smart plugs and safes can help you out in your dorm or apartment.
Thus, IoT isn't just about the interconnection of devices anymore — it's about the way we live and think. When you build a smart home, you're not just using devices — you're a part of them. You think of ways to program your lights and AC that's not just shutting the blinds or pressing buttons on the wall.
Same with the way we learn — more and more schools now are incorporating tablets and interactive smartphone lessons into the classroom. Teachers can cut down on interruption time from transitioning, distributing and other menial tasks along with saving textbook resources.
But, how did we get here? Who decided that IoT was worth discovering and promoting?

According to 2014 Goldman Sachs and BI Intelligence Estimates, the average price of IoT hardware has been dropping and businesses will be the top investor of IoT. Also, agricultural companies, doctors, oil companies, insurance companies, retail, government and many more sectors are all increasing their use of IoT devices and sensors.
However, there are also very serious concerns about privacy and security, according to BI Intelligence. Hackers can easily get into accounts because IoT devices lack cybersecurity protections. This concern is oftentimes associated with government projects and can be possible even with self-driving cars.
But don't worry, engineers are working on the kinks in the system. In the meantime, you can keep up with IoT news from various tech websites, but you can also consult your friends, family and acquaintances.
If you're looking to build up your "smart life," most IoT devices have a home base on a smartphone — so start your build up there if you haven't already. IoT will definitely make your life easier and better — get on board before it's too late!
Getty Images/Maria Stavreva
Whether you're leaving a job involuntarily, departing for something new, or just want to prepare for the unknown, it is smart to understand all your options regarding your 401k.
<h2>Leave It Where It Is</h2><p><a href="https://www.irs.gov/retirement-plans/401k-resource-guide" rel="noopener noreferrer" target="_blank">401k plans</a> differ based on the employer, but most will give you the option to leave your 401k where it is even when you don't work for them anymore.</p><p><div id="ezoic-pub-ad-placeholder-129" style="width: 100%;"> <!-- /10937338/Paypath/post-page-in-content-1 --> <div id="adslot" style="text-align: center;"><script>moreContentIC1()</script></div> </div> <!-- End Ezoic - In-Content 1- mid_content --></p><p>Depending on the 401k's money options, your money might be better off in the investments at your old job than moving it elsewhere. If you are happy with the investment options in the existing 401k, but not necessarily with your other options, it may be best to stay put. I personally did this with an ex-employer's 401k, because I was happy with the expense ratios and investments they offered. </p><p>Larger employers tend to offer 401k programs at lower fees. Compare any fees from your previous employer's 401k plan to whichever vehicles you are considering transferring to first. To do so, check the expense ratios of the mutual funds offered in both plans. </p><p><div id="ezoic-pub-ad-placeholder-131" style="width: 100%;"><!-- /10937338/Paypath/post-page-in-content-2 --> <div id="adslot" style="text-align: center;"><script>moreContentIC2()</script></div></div> <!-- End Ezoic - In-Content 2 - long_content --></p><p>Depending on how much money is in your 401k at the time you leave, it may not be a good idea to leave it and do nothing. Often, accounts with balances of $5,000 or less may be closed automatically. If this happens, the employer may end up sending you a lump sum check, or deposit the money into an IRA in your name. It's best to check with your employer first.</p><p>Know that you won't be able to make more contributions to the existing 401k once your employment ends. Withdrawal options are also limited. 401k benefits, such as retirement loans, are usually not allowed once you are no longer actively participating in the plan.</p><h2>Roll It into a 401k with Your New Employer</h2><p>Simplicity is the key to easy 401k management. The standard routine for 401ks when you switch jobs is to roll it into your new employer's retirement plan. </p><p><div id="ezoic-pub-ad-placeholder-133" style="width: 100%;"><!-- /10937338/Paypath/post-page-in-content-3 --> <div id="adslot" style="text-align: center;"><script>moreContentIC3()</script></div></div> <!-- End Ezoic - In-Content 3 - longer_content --></p><p>Having just one 401k to manage can be beneficial if you don't continuously dedicate time to review all your accounts. However, as we mentioned before, you should closely compare expenses and investment options before making that decision. </p><h2>Roll It into an Individual Retirement Account (IRA)</h2><p>You also have the option to roll over the funds from your 401k into an <a href="https://www.fidelity.com/building-savings/learn-about-iras/overview" rel="noopener noreferrer" target="_blank">IRA account</a> with a bank or brokerage firm, where your money will continue to grow tax-deferred.</p><p>One possible benefit of an IRA rollover is the plethora of investment options available to you. Many 401ks are limited to just a handful of mutual funds and bonds, whereas IRAs give you more choices. </p><p>Likewise, many 401ks limit the number of times in a year you can make investment changes (known as portfolio rebalancing). With IRA accounts, you're not limited to a select amount of times you can make such changes, giving you more freedom and flexibility with an IRA.</p><p>Many brokerages and banks are known for giving out incentives to new customers — and there's no shortage of handouts when it comes to opening a new IRA with them. You may be able to snag yourself a bonus while gaining more control over your retirement money. </p><p>As promising as IRA rollovers can be, it's not always going to be the best option for 401k funds. For example, let's say you've left a job for another and you're debating moving your previous 401k into an IRA or your new employer's plan. Always take into consideration employer matching contributions. Most employer's 401k programs will contribute a certain percentage or match what you put into the account. For example, let's say the program will match up to 6% of your contributions, and you contribute 6% of your salary that year which ends up being $3,000. With the employer matching contributions, you end up gaining another $3,000 for the year. If you choose the IRA, you could possibly miss out on a ton of money. </p><h2>Take the Money</h2><p>You always have the option to simply close out your 401k when you leave your job, but this is almost always a bad choice. </p><p>If you decide to take the cash when you aren't 59 ½ or older, then you will end up paying an <a href="https://www.irs.gov/newsroom/early-withdrawals-from-retirement-plans#:~:text=If%20a%20taxpayer%20took%20an,Nontaxable%20Withdrawals." rel="noopener noreferrer" target="_blank">excessive amount of taxes along with penalty fees</a> that are usually around 10%.</p><h2>Your Next Steps </h2><p>Once you have decided which rollover option to take, your first step is to set up the new account. When the account is opened, the new provider will provide you with instructions to transfer the money. Usually, this means you are in charge of contacting the former employer's plan administration and letting them know you need to make a direct rollover. </p>