Urban Investor's Dictionary: The Dow Jones
We hear about it everyday. The Dow is up, The Dow is down, but what does it really mean?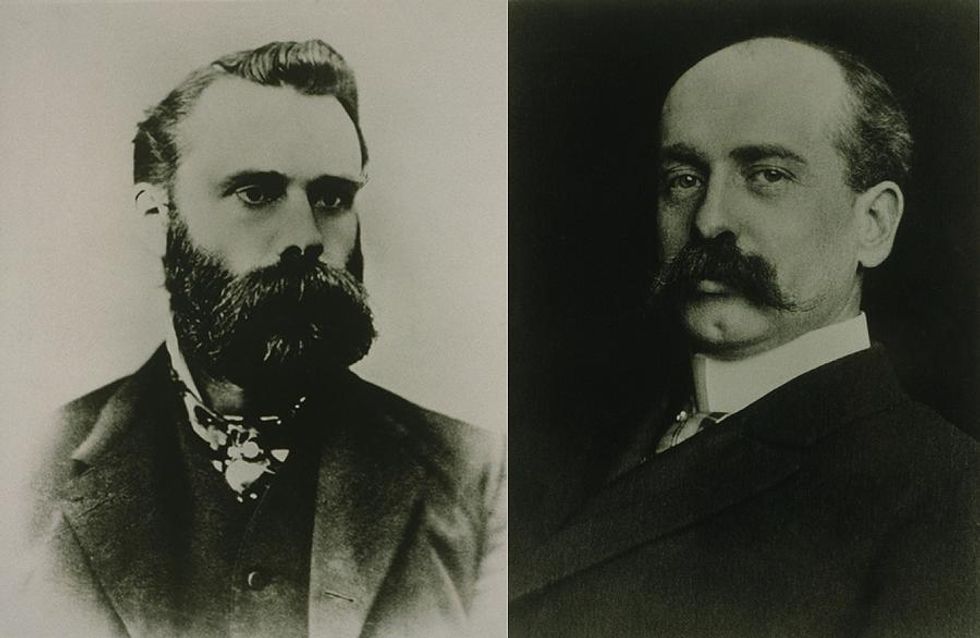 Charles Dow (Left) & Edward Jones (Right). Financial prowess aside, these guys had some impressive facial hair
In 1882 Charles Dow and Edwards Jones together with Charles Bergstresser founded what would become one of the largest and most prominent business and financial news firms on the planet - Dow Jones & Company. The name is taken after Charles and Edward's surnames respectively. They would also go on to form The Wall Street Journal in 1889 - which to this day is still one of the leading and most influential financial publications.
---
In 1884 Charles Dow - who also served as editor of The Wall Street Journal - began recording stock averages. The first which grouped together 9 railroads and two industrial companies was the precursor to the Dow Jones Transportation Average. Charles Dow was grouping together stocks from businesses of similar nature to create an overall average to gauge the performance of the market.
Charles' second index is also his most notable. Known by its many monikers - DJI, Industrial Average, Dow 30, or just The Dow - the Dow Jones Industrial Average, in its modern incarnation, serves as an index that indicates the performance of 30 large publicly owned companies based in the United States during a standard trading session in the stock market. The original Dow Jones Industrial was published on May 26 1896, and consisted of 12 industrials. General Electric is the only of the original 12 to remain on the index, but check out this list of the other 11.
American Sugar Company, became Domino Sugar in 1900, now Domino Foods, Inc.
American Tobacco Company, broken up in a 1911 antitrust action.
Chicago Gas Company, bought by Peoples Gas Light in 1897, now an operating subsidiary of Integrys Energy Group.
Distilling & Cattle Feeding Company, now Millennium Chemicals, formerly a division of LyondellBasell, the latter of which recently emerged from Chapter 11 bankruptcy.[12]
Laclede Gas Company, still in operation as the Laclede Group, Inc., removed from the Dow Jones Industrial Average in 1899.
National Lead Company, now NL Industries, removed from the Dow Jones Industrial Average in 1916.
North American Company, an electric utility holding company, broken up by the U.S. Securities and Exchange Commission (SEC) in 1946.
Tennessee Coal, Iron and Railroad Company in Birmingham, Alabama, bought by U.S. Steel in 1907; U.S. Steel was removed from the Dow Jones Industrial Average in 1991.
U.S. Leather Company, dissolved in 1952.
United States Rubber Company, changed its name to Uniroyal in 1961, merged with private B.F. Goodrich in 1986, bought by Michelin in 1990.
In order to come up with the calculation, Charles Dow used a weighted average - stocks with higher values are given a higher weight in the index. The divisor for the Dow has been adjusted over time to keep the index from being affected by market events, political events, war, and natural disaster. The Dow has maintained its importance and influence over the years because it provides an overview of American economic performance. When you hear people say "the market is up" it is almost always a direct reference to the Dow.
In 1928, at the height of the roaring 20's the Dow increased it's index to 30 in accordance with the changing economic tides. Since then there have been several shifts as stocks have been moved in and out of the index. In 2015 Apple Inc. was added.
Check out a complete list of the current 30 on the Dow Jones Industrial Average - many which aren't even industrial, but they all serve to give a cross section of the American economy and its performance.