"It's the most wonderful time of the year," Andy Williams sings in the classic carol, but it's also the most expensive. Between hosting and attending holiday parties (wine for the hostess! new sparkly top!), gifts, and travel, the bill for holiday bliss can be a big one, which leaves you with more than family dynamics to stress about. (Most Americans rank holiday shopping as more stressful than traveling or spending time with extended family, according to a survey from e-commerce platform Needle.)
And here's what makes it worse: in a study from Credit Karma, more than half of respondents said they'd impulse-shopped to deal with feelings of stress, anxiety or depression.
"Stress spending is a bit like having coffee while you are stressed: It's an impulsive behavior that you think will calm you down, but all it does is make you feel even more jittery and anxious," Teodora Pavkovic, a psychologist and life coach tells NBC News.
"It's a vicious cycle because our excessive holiday spending plunges us deeper into debt, which then increase our feelings of fear, anxiety, guilt and shame," says Kelli Saginak, a life coach and professor, told the site.
Online spending in the U.S. is likely to grow nearly 15 percent in 2018 to a total of $124.1 billion. That's a lot of Tickle Me Elmos and Fidget Spinners. But don't worry, you can keep your holiday spending in check by avoiding these pitfalls.
You Don't Make a Budget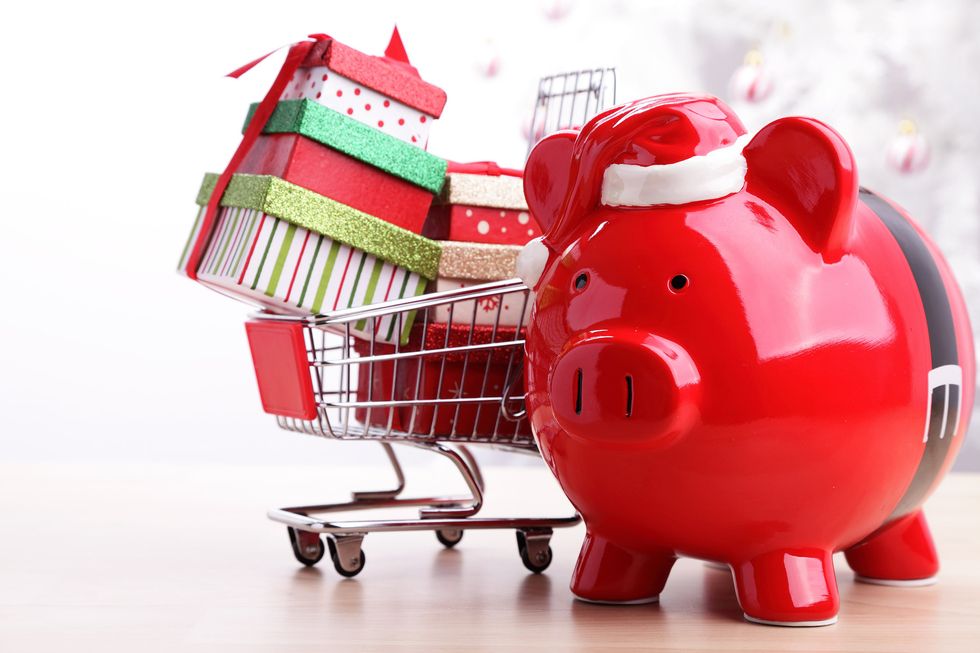 Savings for Christmas Shopping Clark & Washington
Got a holiday budget of $1,000? Sorry, that's not good enough. You also need to break that number down by person, Zaneilia Harris, author of Finance 'n Stilettos and president of Harris & Harris Wealth Management told US New and World Report. "The more organized you are and the more detailed you are, the better," she says.
It sounds like a job for excel, advises financial columnist Liz Weston. "Spreadsheets aren't exactly warm, fuzzy and cinnamon-scented," she wrote for the Associated Press. "But they allow us to see our total expected holiday spending and to make adjustments as necessary. (Adjustments are always necessary.)"
You Lean Hard on Credit Cards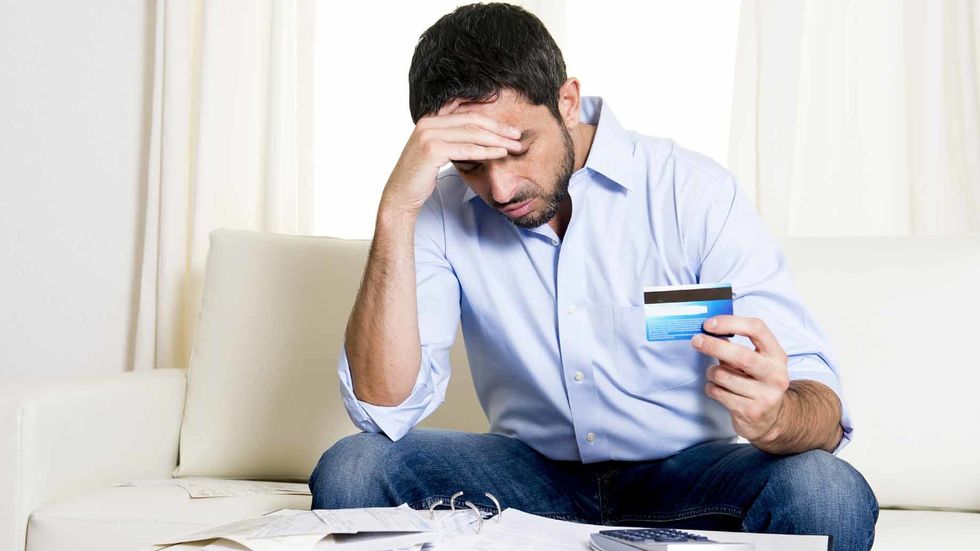 Money Crashers
"Tons of research shows that people spend more money when they charge things," Kit Yarrow, professor emeritus at Golden Gate University and author of Gen BuY: How Tweens, Teens, and Twenty-Somethings Are Revolutionizing Retail told BankRate. "If you can pay with cash, you'll always be a little more aware of what those gifts cost."

You Let Your Emotions Get the Best of You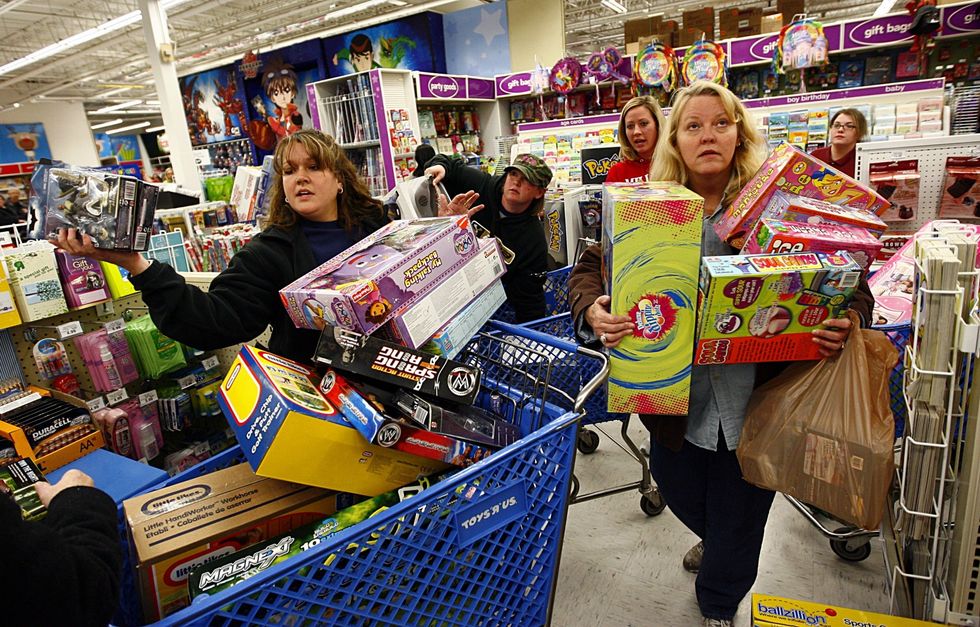 Timeline
Guilt gifting. Fear of missing out on a flash sale. When will turntables ever be this cheap again?!? Don't make yourself susceptible to the psychology of shopping.

If someone who wasn't on your budget gives you a gift, respond with a really thoughtful card or homemade gift—not by buying them an impulse bottle of fine Champagne. You want to show you value them, but that doesn't always require spending.
"What people have to remind themselves of is that money doesn't equal love or affection," Yarrow said.
Fire sales can also tap into our lizard brains and our fear of scarcity. Black Friday sales and weekend specials create emotionally charged and stressful shopping situations, and a fear of missing out can override common sense. "When everybody is grabbing for something, we feel we should be grabbing for it, too" she said.
Furthermore, don't let yourself be seduced by slashed prices and big savings, warns The Motley Fool. "If you buy a $500 dishwasher for $300, don't look at it as saving $200, view it as spending $300."
You Forget the Value of a Homemade Gift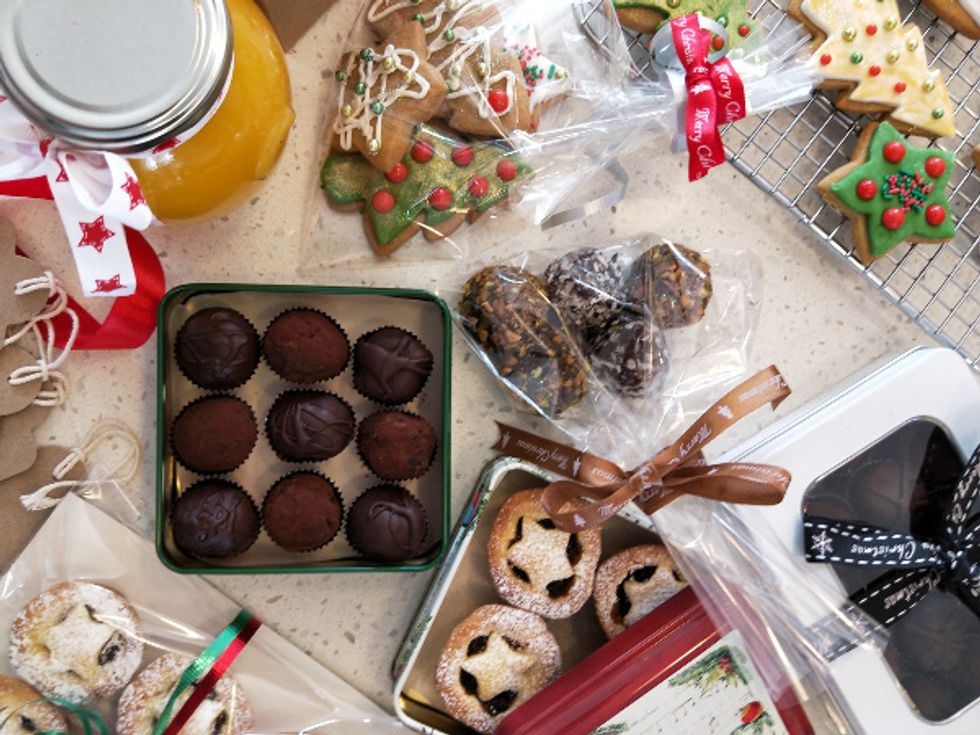 Food in a Minute
"For some people, their love language is receiving things," Michelle Singletary, author of The 21-day Financial Fast: Your Path to Financial Peace and Freedom, told BankRate. Who's to say that "thing" can't be a homemade thing?
You can go big with a knit scarf or crocheted hat, or small with cookies, chocolate bark, jams, granola, homemade bread, soaps or candles. What about making beautiful, abstract watercolors and buying frames at Ikea? Aren't these gifts way more thoughtful than an Amazon gift card?
Or what about thoughtful vouchers? The parents of two-year-old twins will be overjoyed at a coupon for babysitting and your best friend would likely love lunch on you and a trip to the art museum.
You Fail to See the Big Picture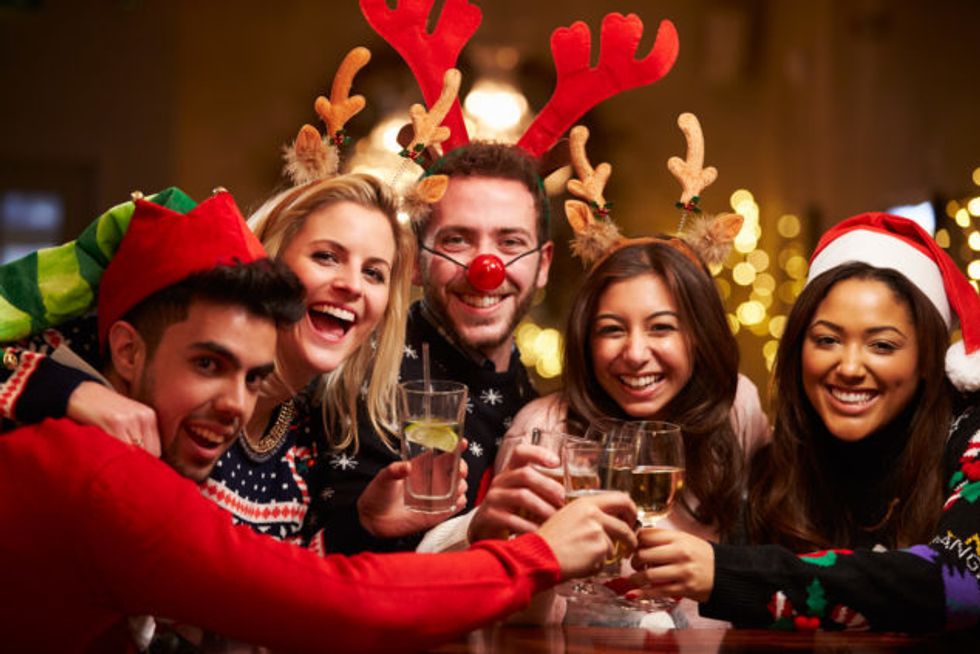 Small Business
A guaranteed way to spend your holidays feeling drained is to spend the next six weeks at the mall, looking for parking, and elbowing fellow shoppers out of your path at Williams-Sonoma. What makes the holiday season memorable is all the other stuff: fires, time with loved ones, twinkly lights, rich hot cocoa, and festive events.

Kelli Saginak suggests thinking about how to create a meaningful holiday season "with minimal stress on you, your body, and your bank account.: Ask yourself:
How do I really want to feel during the holidays?
What type of holiday do I really want to create and experience?
What conscious responsible actions will allow me to spread holiday cheer, lower my stress and not add to my money problems?
Celebrating is not the same as shopping, Mary Hunt, founder of DebtProofLiving.com and author of 7 Money Rules for Life, told Bankrate. What we enjoy is the ceremony and the feast of the senses.
"The sights and sounds of Christmas were the reason [my family] loved the mall," Hunt says. "So I would just take a few bucks in my pocket to get a hot chocolate and a cookie. Our purpose was to go see Santa, or to go see the decorations and ride the train." She also remembered the most memorable year being the cheapest.
"The best Christmas we ever had was when we decided to spend $100. The $100 goes fairly quickly. So what do you do for the rest of the season? You visit, you make hot chocolate. We spent the holiday with people and not in the stores. It was, by far, the best holiday ever."
via Tiffany & Co.
When the new Tiffany's campaign was unveiled, reactions were mixed.

Tiffany's, the iconic jewelry brand which does not (despite what some might be misled to believe) in fact serve breakfast, featured Jay Z, Beyoncé, and a rare Basquiat painting in their recent campaign.
The aesthetics were undeniably luxe and historic. The campaign showcased the rarely-seen Basquiat painting Equals Pi (1982), which the brand acquired for the background's proximity to its distinctive Tiffany blue. Also notably historic is that Beyoncé was the first Black woman to wear the 128.54 carat Tiffany Diamond.

Before Beyoncé, the only other stars to wear the yellow diamond were Mary Whitehouse, wife of American diplomat Edwin Sheldon Whitehouse, Hollywood icon Audrey Hepburn, and singer Lady Gaga.
"Beyoncé and Jay-Z are the epitome of the modern love story …. Love is the diamond that the jewelry and art decorate," said the press release accompanying the campaign.
The campaign, titled "About Love," is stunning and has both classic and contemporary references. The image of the couple posing in front of high art recalled the iconic stills from their "APESHIT" music video, for which they famously rented out the Louvre and posed in front of the Mona Lisa.
THE CARTERS - APESHIT (Official Video) www.youtube.com
Their "APESHIT" photo made a giant cultural impact for its juxtaposition of Western beauty and Blackness. Tiffany's campaign seemed to have similar goals — showcasing Beyoncé and Jay Z as the peak of luxury, this time juxtaposing the Basquiat and the Tiffany diamond.

As a Black couple, their appearance in such a luxury campaign was a big move for representation, but in a post 2020 landscape, there was an outcry of criticism.
Despite the aesthetic beauty of the image, the high capitalist undertones didn't sit right with some on the internet — largely younger demographics. Though this campaign was an effort by Tiffany's to appeal to younger audiences and make the brand feel more relevant, Twitter's verdict was clear: a blood diamond wasn't the way to go.
The diamond, which was mined in South Africa in 1877, comes from origins laden in the implications of colonialism. The practice of mining in South Africa at the time was exploitative and destructive, eschewing the livelihoods and safety of African miners and their communities for... what? Money? So Tiffany could try to sell us some dream of affluence using Black celebrities as to "Blackwash" the history behind their treasured piece?
The Washington Post also had some choice words, saying: "Its campaign does not celebrate Black liberation — it elevates a painful symbol of colonialism. It presents an ostentatious display of wealth as a sign of progress in an age when Black Americans possess just 4 percent of the United States's total household wealth. If Black success is defined by being paid to wear White people's large colonial diamonds, then we are truly still in the sunken place."
Alongside the campaign, Tiffany & Co have promised to donate $2 million to HBCUs to fund scholarships and internships. But this measly amount (considering the multi-billion dollar net worth behind LVMH) is not enough to cover up that, despite their performative efforts to promote "diversity," Tiffany's is entrenched in a colonial history that neither beauty nor Beyonce can make us ignore.
While Black representation has been increasing over the past few years, the question of how we are represented is starting to be considered with more nuance. And as we examine the structures of wealth and hierarchical values, many people are starting to ask whether these should be the standards we aspire to anymore.
Jay Z and Beyoncé have come under fire before for their promotion of Black Capitalist values — which the kids don't seem to want. Jay Z especially seems invested in the trappings of traditional (read: white) success and wealth. His cannabis line recently unveiled a campaign based on the work Slim Aarons — which was famously focused on "attractive people doing attractive things in attractive places" — and its unashamed opulence raised some eyebrows.
Images like this aren't as revolutionary as they once might have been since they reinforce the status quo and tell marginalized people to reach for the same luxuries and lifestyles deemed aspirational by the people who have oppressed them.
Anti-capitalist theory has been around as long as capitalism has, but younger generations are more likely to question the status quo — even when it comes packed with Basquiat and Beyoncé.
The conversation about the Tiffany campaign is indicative of how Gen Z thinks differently about money and what it means to them. They are less likely to be seduced by the luster of the aspirational, and more receptive to relatability.
This is why apps like Cleo have been on the rise. Cleo is a budgeting and personal finance app which makes money feel less inaccessible and makes engaging in personal finance relatable and easy.
No more does financial literacy seem restricted to the pretentious or the elite — we get it, finance bros; you love capitalism. With Cleo, understanding your money is something that can align users with their values.
And those values don't look like blood diamonds or corporate pandering.