If you have young children, you know how quickly they grow. In the blink of an eye, your precious bundle of joy goes from diapers to dress clothes and from onesies to boxer briefs. Little girls sprout into tweens overnight and boys turn from toddlerhood into young men sometimes before they've had the chance to wear the same outfit twice.
When kids grow and change with such speed, spending lots of money on their clothing is wasteful. Sure, you want your kids to look nice and keep up with fashion trends, but at what cost? To wear a pricey blouse for one special event or invest in a pair of tailored pants your kid's ankles will stick out from in a few months is money practically thrown in the trash.
Kids are expensive to raise, from food to schooling to healthcare and more, so invest your money into something that's longer-term than a turtleneck your kid won't be able to fit over his head by the following winter. Here are some easy ways to save money on children's clothing you'll feel proud to have put into effect. And don't forget, no matter what they want to wear now, once your kids are adults, they'll look back at their childhood outfits in photos and cringe anyhow!
1. Swap with Friends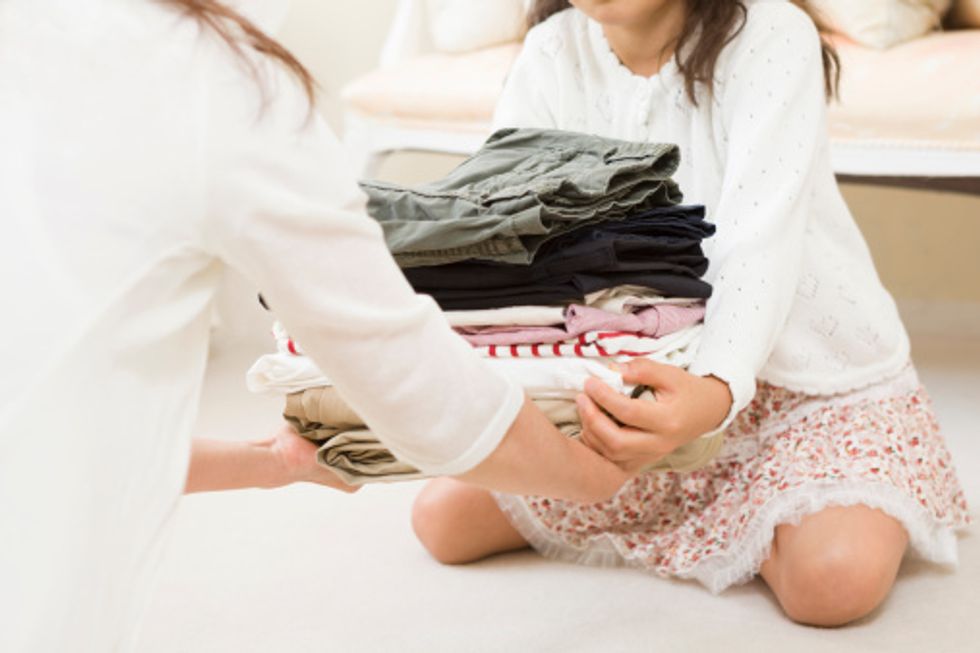 Just because a kid grows out of something doesn't mean the piece of clothing's life is over. If a child only wore something a few times, why not let someone else own it next?
Meet up with friends who have kids around the same age and size and swap clothing. Or connect with friends with older kids who have clothing that your kid has caught up to, and vice versa. It's like going shopping without spending a cent. The clothes will feel like new to you and your child because they've never worn them before.
As recommended by Money Crashers, "Tell all your friends to bring 10 to 15 pieces that are in great condition and approximately the same size, and you'll end up with new additions to your child's closet." You'll leave with a bunch of new pieces as will your friends. It's like recycling for clothing!
2. Thrift Shop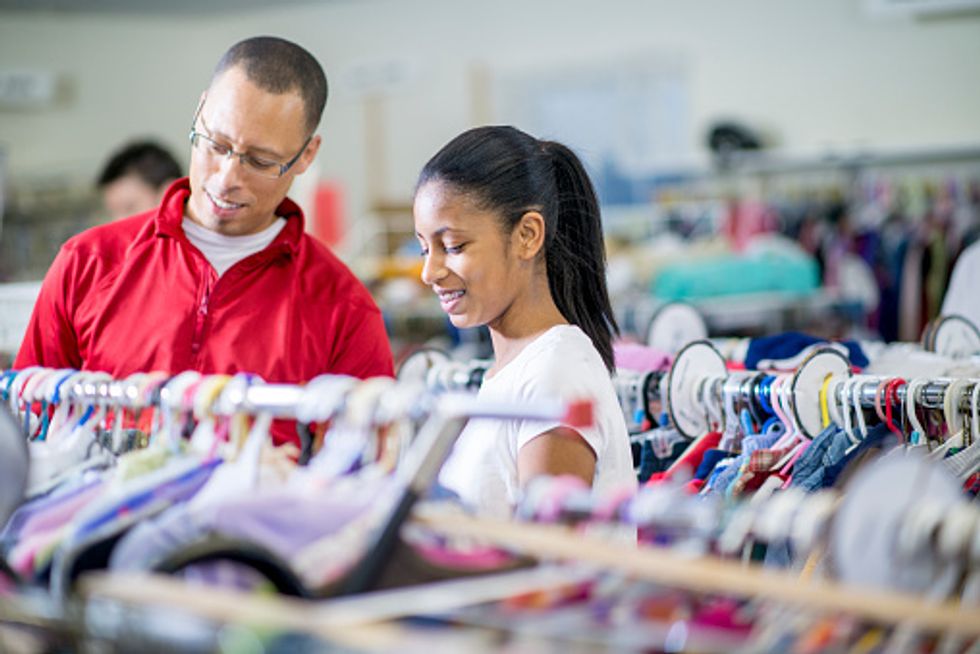 As kids are growing, playing and making a mess, and constantly need things far more important than expensive clothing, shopping frugally is the way to go. Hit up local thrift shops, tag and garage sales, consignment stores, and the like. You'll find what you need at the fraction of the cost of name brands and designer duds. As long as the clothing is well put together and stylish, your kids will be comfortable and you'll feel like a savvy shopper.
As per Mom365, "Goodwill, the Salvation Army and other used clothing stores are a great way to get a large chunk of your child's wardrobe on the cheap. Because the clothing is donated, there may be small stains or minor wear, but in terms of price, these stores usually offer the biggest bang for the buck. Plus, many of these stores are raising money for their charitable projects, so you can feel good about your purchases."
3. Forget Gender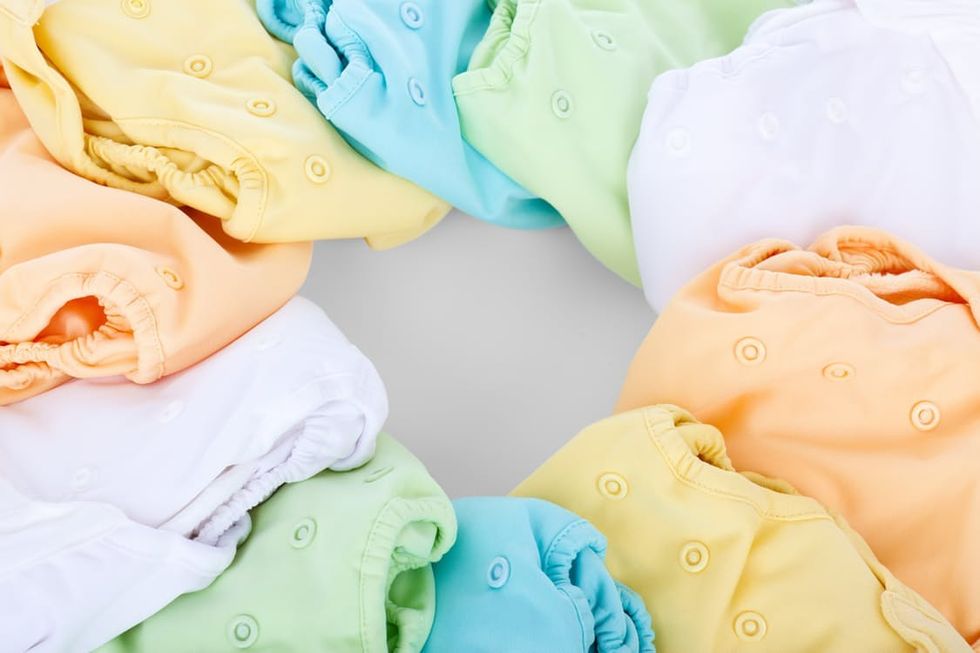 When you're out buying clothing, let go of the stereotypical gender-specific colors, prints, and patterns and aim for neutrality. Not only will you get more use from the basics, but these pieces of clothing can be used for your daughter now, and then for her little brother when he catches up in size. Or if your son and daughter wear close to the same size, they can share t-shirts, sweats, socks, and even pjs.
This shopping mentality saves on those big ticket items like winter gear, rain gear, boots, and jackets. As Money Crashers notes, "Buy them in black or brown so they can be shared and passed down. These items can be pricey, and having to buy only one pair is a big financial relief."
4. Shop Pre- or Post-Season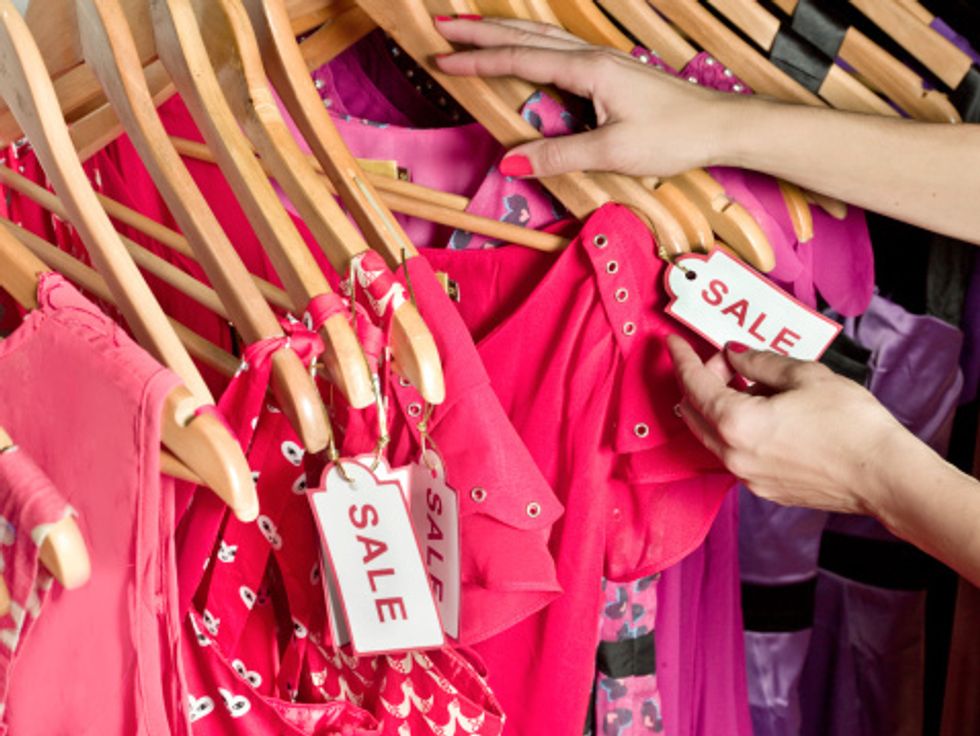 Waiting until the first snowfall to buy a winter coat or that first perfect beach day for a swimsuit purchase may seem season-appropriate, but it'll cost you. When these items are in high-demand, the prices are at their peak meaning you'll have to shell out full price.
Instead, stock up during the off-seasons when sales are in place and stores need to clear off their shelves and racks. As Sidetracked Sarah suggests, "Take inventory at the end of the current season. What sizes and items will your child need when this season comes up again? Often, stores will be clearancing the out of season items at 75% to 90% off."
Kids go from pint-sized to almost our size in a snap. Their clothing is for the moment and not a lifetime, so spend with that notion in mind. Use what you've saved for something special or for their other needs and you'll realize how far a dollar will stretch when it comes to your kid's wardrobe.
via Tiffany & Co.
When the new Tiffany's campaign was unveiled, reactions were mixed.

Tiffany's, the iconic jewelry brand which does not (despite what some might be misled to believe) in fact serve breakfast, featured Jay Z, Beyoncé, and a rare Basquiat painting in their recent campaign.
The aesthetics were undeniably luxe and historic. The campaign showcased the rarely-seen Basquiat painting Equals Pi (1982), which the brand acquired for the background's proximity to its distinctive Tiffany blue. Also notably historic is that Beyoncé was the first Black woman to wear the 128.54 carat Tiffany Diamond.

Before Beyoncé, the only other stars to wear the yellow diamond were Mary Whitehouse, wife of American diplomat Edwin Sheldon Whitehouse, Hollywood icon Audrey Hepburn, and singer Lady Gaga.
"Beyoncé and Jay-Z are the epitome of the modern love story …. Love is the diamond that the jewelry and art decorate," said the press release accompanying the campaign.
The campaign, titled "About Love," is stunning and has both classic and contemporary references. The image of the couple posing in front of high art recalled the iconic stills from their "APESHIT" music video, for which they famously rented out the Louvre and posed in front of the Mona Lisa.
THE CARTERS - APESHIT (Official Video) www.youtube.com
Their "APESHIT" photo made a giant cultural impact for its juxtaposition of Western beauty and Blackness. Tiffany's campaign seemed to have similar goals — showcasing Beyoncé and Jay Z as the peak of luxury, this time juxtaposing the Basquiat and the Tiffany diamond.

As a Black couple, their appearance in such a luxury campaign was a big move for representation, but in a post 2020 landscape, there was an outcry of criticism.
Despite the aesthetic beauty of the image, the high capitalist undertones didn't sit right with some on the internet — largely younger demographics. Though this campaign was an effort by Tiffany's to appeal to younger audiences and make the brand feel more relevant, Twitter's verdict was clear: a blood diamond wasn't the way to go.
The diamond, which was mined in South Africa in 1877, comes from origins laden in the implications of colonialism. The practice of mining in South Africa at the time was exploitative and destructive, eschewing the livelihoods and safety of African miners and their communities for... what? Money? So Tiffany could try to sell us some dream of affluence using Black celebrities as to "Blackwash" the history behind their treasured piece?
The Washington Post also had some choice words, saying: "Its campaign does not celebrate Black liberation — it elevates a painful symbol of colonialism. It presents an ostentatious display of wealth as a sign of progress in an age when Black Americans possess just 4 percent of the United States's total household wealth. If Black success is defined by being paid to wear White people's large colonial diamonds, then we are truly still in the sunken place."
Alongside the campaign, Tiffany & Co have promised to donate $2 million to HBCUs to fund scholarships and internships. But this measly amount (considering the multi-billion dollar net worth behind LVMH) is not enough to cover up that, despite their performative efforts to promote "diversity," Tiffany's is entrenched in a colonial history that neither beauty nor Beyonce can make us ignore.
While Black representation has been increasing over the past few years, the question of how we are represented is starting to be considered with more nuance. And as we examine the structures of wealth and hierarchical values, many people are starting to ask whether these should be the standards we aspire to anymore.
Jay Z and Beyoncé have come under fire before for their promotion of Black Capitalist values — which the kids don't seem to want. Jay Z especially seems invested in the trappings of traditional (read: white) success and wealth. His cannabis line recently unveiled a campaign based on the work Slim Aarons — which was famously focused on "attractive people doing attractive things in attractive places" — and its unashamed opulence raised some eyebrows.
Images like this aren't as revolutionary as they once might have been since they reinforce the status quo and tell marginalized people to reach for the same luxuries and lifestyles deemed aspirational by the people who have oppressed them.
Anti-capitalist theory has been around as long as capitalism has, but younger generations are more likely to question the status quo — even when it comes packed with Basquiat and Beyoncé.
The conversation about the Tiffany campaign is indicative of how Gen Z thinks differently about money and what it means to them. They are less likely to be seduced by the luster of the aspirational, and more receptive to relatability.
This is why apps like Cleo have been on the rise. Cleo is a budgeting and personal finance app which makes money feel less inaccessible and makes engaging in personal finance relatable and easy.
No more does financial literacy seem restricted to the pretentious or the elite — we get it, finance bros; you love capitalism. With Cleo, understanding your money is something that can align users with their values.
And those values don't look like blood diamonds or corporate pandering.