Pexels
Venmo and other similar apps aim to make your life easier by allowing you to quickly send money to your friends and family. With just a few taps, you can pay back your friend for lunch and get reimbursed for movie tickets. You can also easily send money back to your bank account almost instantly. But with all this convenience a question remains: how secure are these services?
In order to use Venmo, you have to connect an active debit or credit card. If you want to be able to deposit your Venmo balance into your bank account, you'll need to connect it to the app. This is usually done by entering your routing and account number. This is obviously very sensitive information that you definitely don't want getting out anywhere. Serious security concerns surfaced for Venmo in February 2015. Many users reported fraudulent charges on their Venmo account, but the company was slow to respond to complaints — if at all.
Venmo promises "bank grade" encryption to protect users' accounts. However, in the past, Venmo failed to alert users if their password or email was changed on their account, or even if their account was accessed on an unauthorized device. This made it all too easy for someone to hack in and transfer money to themselves in seconds. The app does now offer two-factor authentication to make accounts more secure, but there's no foolproof way to prevent fraud.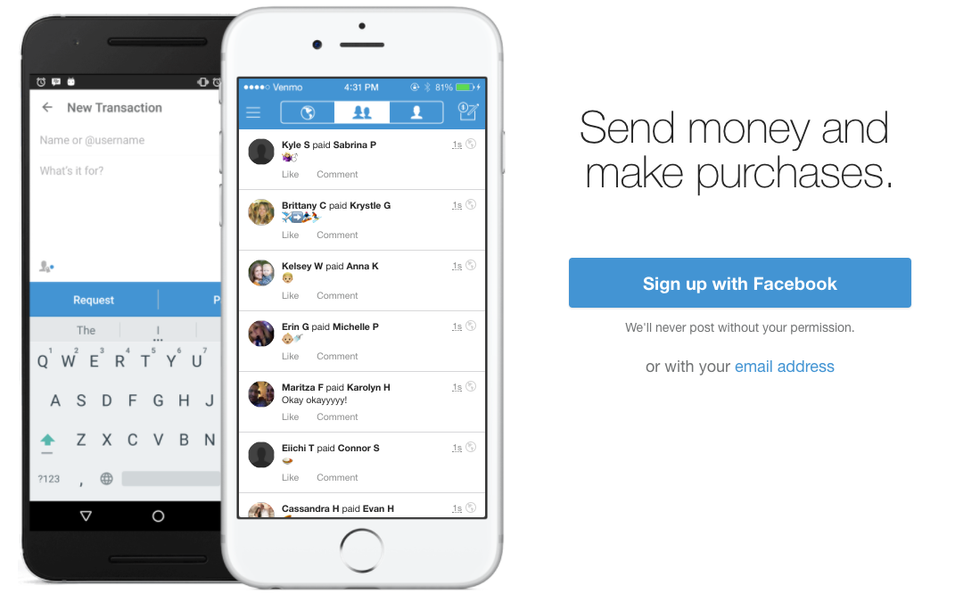 Venmo.com
In 2015, Venmo did not even have a customer service call line and all queries were sent through email. Now, the company has a phone number for complaints and concerns, but it is only open from 10 a.m. until 6 p.m. and is closed on major holidays. For comparison, most banks can receive customer calls every single day of the week and during morning and evening times outside of regular business hours. However, Venmo users can also chat with customer service 24 hours a day during the week through the app. Most banks don't have this option.

To be fair, Venmo does not advertise or function as a banking service. However, it does handle sensitive financial information and, therefore, easy contact and timely responses are essential. Banks are very good at handling fraud claims as they have entire departments set up for it. Venmo is still a relatively small company. Although communication and points of contact have gotten better, there is plenty of room for improvement.
In the past, Venmo required that customers contact the company within two business days of discovering a potential fraudulent charge, or else their liability would shoot up from $50 to $500. However, the current policy is to contact Venmo within 60 days for any unauthorized transaction to receive 100 percent protection. After those 60 days, you might not be able to recover any funds from Venmo.
The moral of the story is to be cautious and wary. To protect yourself, avoid providing your account number. You won't be able to send money from Venmo to your bank, but if you plan on using the app a lot for small transactions, that shouldn't be a problem. You can still send money with a debit card with no added fees. For extra protection, link a credit card instead. There will be a 3 percent transaction fee to send money – but you'll also have a higher amount of protection under credit card fraud if someone gains access to your account. In the end, if you truly don't trust Venmo, don't use it.
<