via Cleo
Ah yes, 'tis finally the giving season!

As someone whose love-language is gift giving, I relish most opportunities to spoil my friends with sweet tokens of appreciation. I am the queen of spontaneous gifts. When I'm puttering around the city, doing my silly little tasks, I always perk up when I find some small trinket that I can give my friends.
Nothing says "I love you" more than saying, "hey, this reminded me of you." And then handing them a nod to a past conversation, or a memory we share. So, sorry to my friends for cluttering your houses with sentimental junk, but I'm even more apologetic for my fatal flaw: when it comes to the holidays … I always draw a blank!
To me, organic gifting is much more genuine than holiday gifting. Yet, if I were to use that as an excuse for turning up empty-handed to every single holiday party this season. I fear I'd start the new year off with fewer friends. And, as someone who loves to receive gifts just as much, I don't want to chance burning bridges that might hold presents on the other side.
So, when the holiday season arrives, I spend far too much of my precious time strategizing my gifts for my friends.
Often, when I draw a blank, I end up splurging on expensive gifts — a luxury candle, a decadent face oil, a classy bottle of perfume. Sure, these opulent gifts are a cop out, but they're guaranteed successes. Upon opening a package containing their favorite, overpriced indulgence who wouldn't smile?
Due to my holiday default, I'm forced to do some serious budget planning to accommodate my lavish spending. Or, more often, I go spectacularly over-budget.
However, this year, I must make a change. After my summer of post-vax hedonism that granted justification to spend more money than I'd ever dare, my holiday budget's looking pretty lean.
After sitting myself down and giving myself a strict talking to about prioritizing my savings, I've come up with some tips on how to save money around the holidays:
Review your budget
The amount of money we think we spend and the money we actually spend are two very different numbers. Grab a drink, pull out your bank statements, it's time to get to the bottom of your spending.
Take a look at two or three months and categorize your purchases. Which ones were intentional? Which ones were emotional? And how many times did you go to the coffee shop just to feel something and leave with a $10 latte and pastry? Once the truth is laid out in front of you, it's easy to see where you're bleeding money.
For me, it's coffee shops and boutique clothing stores I discover during jaunts around trendy neighborhoods. Whatever your vices are, do your best to become aware of them.
Budgeting apps like Cleo have helped me curb my impulse spending a ton! Cleo talks to me like a friend would — a friend who is not afraid to tell me no and call me out on my overspending. We all need a friend like Cleo, so download the app and watch your budget change overnight.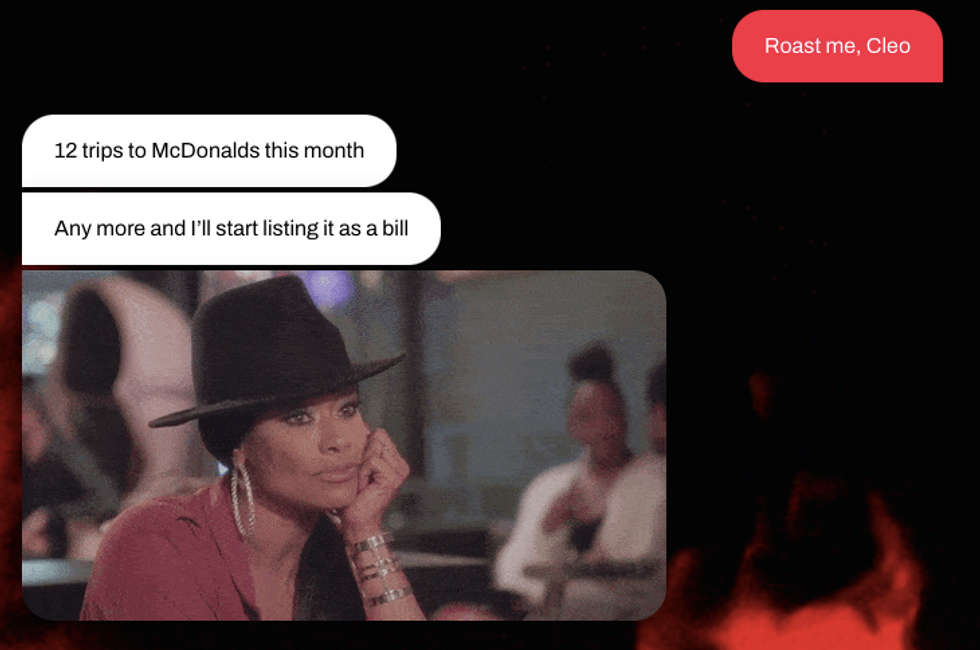 via Cleo App
Cut out what you don't need
It's all well and good to glance at your spending, but the next step is brutal: get honest with yourself about the purchases you could have gone without. But this isn't about deprivation, it's prioritization. What can you relinquish now to ensure you have a great holiday season later?
Cringing at past impulse buys I've made, I vowed to avoid my typical temptations, since I couldn't resist them. I know I'm easily lured into charming little storefronts downtown. So I took new routes home, avoiding the streets where all the cool clothes lie, waiting for me to cave.
I'm sure, in good time, I'll be back. But that's a problem for 2022-me. Until then, we just have to hold out for less than two months, get the gifts our friends deserve, and then it's back to regularly scheduled planning.
Make a spending plan
Saving without a plan usually leads to spending. As you narrow down what you can afford, figure out what you want to buy. I like to split it into categories: larger expenses vs. affordable picks.
Here's the fun part: shopping around. Sometimes I only have a general idea of what I want to buy, and sometimes I have specifics in mind. Either way, I love to shop around for a deal.
When it comes to saving money, research is paramount. Various vendors might have different prices, promotional codes, or sales. A quick Google search can often save you 10% or more, so don't take the first price you see as gospel.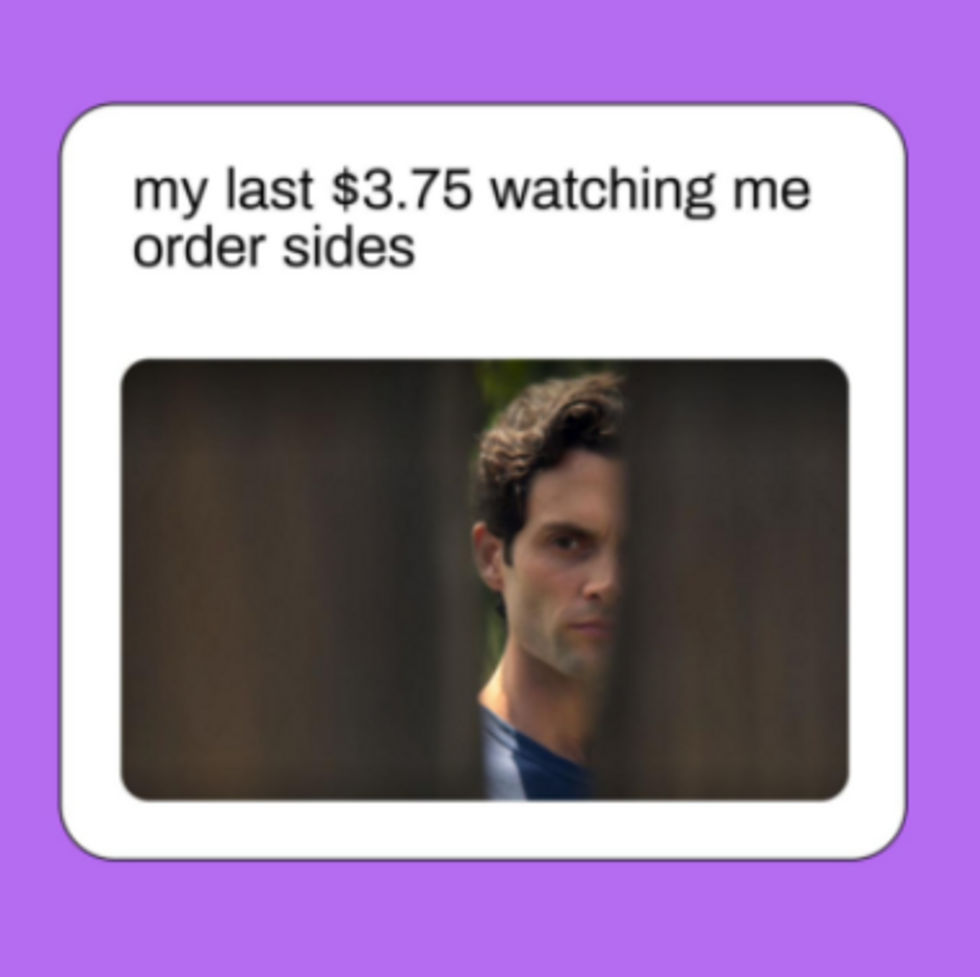 via Cleo App
After finding the best price, I can budget for what I'm going to buy and when. Which takes me to ….
Take advantage of sales … strategically
The holiday season brings with it the promise of big, blowout sales. But, if you're not careful, you can end up spending more money during a sale — which is precisely the stores' intention.
Don't fall victim to the allure of those big, red "SALE" stickers. Instead, plot out how to take advantage of a number of sales for different products. Adding those sale prices to your spending plan will keep you focused and on track, instead of buying frivolous items no one will ever use just because the prices are slashed.
Saving money over the holidays doesn't mean you have to make a Scrooge of yourself. You can still gift and gift well, just more intelligently. Spending with intention is key to savings, while investing thoughtfully into your relationships.
Apps like Cleo can help you keep your finances on track without feeling overwhelming. With one download, you could be on your way to mega-savings.
Happy gifting!
via Tiffany & Co.
When the new Tiffany's campaign was unveiled, reactions were mixed.

Tiffany's, the iconic jewelry brand which does not (despite what some might be misled to believe) in fact serve breakfast, featured Jay Z, Beyoncé, and a rare Basquiat painting in their recent campaign.
The aesthetics were undeniably luxe and historic. The campaign showcased the rarely-seen Basquiat painting Equals Pi (1982), which the brand acquired for the background's proximity to its distinctive Tiffany blue. Also notably historic is that Beyoncé was the first Black woman to wear the 128.54 carat Tiffany Diamond.

Before Beyoncé, the only other stars to wear the yellow diamond were Mary Whitehouse, wife of American diplomat Edwin Sheldon Whitehouse, Hollywood icon Audrey Hepburn, and singer Lady Gaga.
"Beyoncé and Jay-Z are the epitome of the modern love story …. Love is the diamond that the jewelry and art decorate," said the press release accompanying the campaign.
The campaign, titled "About Love," is stunning and has both classic and contemporary references. The image of the couple posing in front of high art recalled the iconic stills from their "APESHIT" music video, for which they famously rented out the Louvre and posed in front of the Mona Lisa.
THE CARTERS - APESHIT (Official Video) www.youtube.com
Their "APESHIT" photo made a giant cultural impact for its juxtaposition of Western beauty and Blackness. Tiffany's campaign seemed to have similar goals — showcasing Beyoncé and Jay Z as the peak of luxury, this time juxtaposing the Basquiat and the Tiffany diamond.

As a Black couple, their appearance in such a luxury campaign was a big move for representation, but in a post 2020 landscape, there was an outcry of criticism.
Despite the aesthetic beauty of the image, the high capitalist undertones didn't sit right with some on the internet — largely younger demographics. Though this campaign was an effort by Tiffany's to appeal to younger audiences and make the brand feel more relevant, Twitter's verdict was clear: a blood diamond wasn't the way to go.
The diamond, which was mined in South Africa in 1877, comes from origins laden in the implications of colonialism. The practice of mining in South Africa at the time was exploitative and destructive, eschewing the livelihoods and safety of African miners and their communities for... what? Money? So Tiffany could try to sell us some dream of affluence using Black celebrities as to "Blackwash" the history behind their treasured piece?
The Washington Post also had some choice words, saying: "Its campaign does not celebrate Black liberation — it elevates a painful symbol of colonialism. It presents an ostentatious display of wealth as a sign of progress in an age when Black Americans possess just 4 percent of the United States's total household wealth. If Black success is defined by being paid to wear White people's large colonial diamonds, then we are truly still in the sunken place."
Alongside the campaign, Tiffany & Co have promised to donate $2 million to HBCUs to fund scholarships and internships. But this measly amount (considering the multi-billion dollar net worth behind LVMH) is not enough to cover up that, despite their performative efforts to promote "diversity," Tiffany's is entrenched in a colonial history that neither beauty nor Beyonce can make us ignore.
While Black representation has been increasing over the past few years, the question of how we are represented is starting to be considered with more nuance. And as we examine the structures of wealth and hierarchical values, many people are starting to ask whether these should be the standards we aspire to anymore.
Jay Z and Beyoncé have come under fire before for their promotion of Black Capitalist values — which the kids don't seem to want. Jay Z especially seems invested in the trappings of traditional (read: white) success and wealth. His cannabis line recently unveiled a campaign based on the work Slim Aarons — which was famously focused on "attractive people doing attractive things in attractive places" — and its unashamed opulence raised some eyebrows.
Images like this aren't as revolutionary as they once might have been since they reinforce the status quo and tell marginalized people to reach for the same luxuries and lifestyles deemed aspirational by the people who have oppressed them.
Anti-capitalist theory has been around as long as capitalism has, but younger generations are more likely to question the status quo — even when it comes packed with Basquiat and Beyoncé.
The conversation about the Tiffany campaign is indicative of how Gen Z thinks differently about money and what it means to them. They are less likely to be seduced by the luster of the aspirational, and more receptive to relatability.
This is why apps like Cleo have been on the rise. Cleo is a budgeting and personal finance app which makes money feel less inaccessible and makes engaging in personal finance relatable and easy.
No more does financial literacy seem restricted to the pretentious or the elite — we get it, finance bros; you love capitalism. With Cleo, understanding your money is something that can align users with their values.
And those values don't look like blood diamonds or corporate pandering.