Unsplash
Toni Morrison has an anecdote about her first ever job, which was cleaning some neighborhood woman's house. The young Toni arrived home after work one day and expressed her troubles to her father. But he didn't provide the sympathy she expected. Instead, he gave her something better — his advice:
"Listen. You don't live there. You live here. With your people. Go to work. Get your money. And come on home."
Years later, she wrote about this remarkable experience for the New Yorker and said, in hindsight, this is what she learned:
1. Whatever the work is, do it well—not for the boss but for yourself
2. You make the job; it doesn't make you
3. Your real life is with us, your family
4. You are not the work you do; you are the person you are
What Morrison so eloquently articulated was setting boundaries. I revisited this piece during the pandemic when working from home ramped up in earnest. Back when work was one of the few things that anchored my day.
Without a physical office, the pandemic shattered the work/life balance for many people. There was no more of that physical separation that Morrison talked about. There is no coming home from work physically. There is no real life to come back to — just a manufactured commute to your laptop in your makeshift home office.
But, par for the course, Gen Z are navigating this boundaryless era using TikTok. While internet gurus promote hustle culture and constant online availability since you're not getting face time with your managers, there's a trend in town — "quiet quitting."
The trend arose from the depths of the pandemic. Layoffs, salary cuts, and furloughs proved that their employers did not care about their hard-working employees.
The Washington Post dubs quiet quitting as a fresh trem for an old phenomenon: employee disengagement. In many cases, it's a response to burnout. For much of Gen Z, it's a way of establishing healthy boundaries in the office and resisting the pressure of the rat race. After all, why work yourself to the bone for a company that just proved it's ready and willing to let you go?
Despite the term's negative connotations, Quiet Quitting can provide an empowering shift in thinking for employees.
For far too long, employees have been indoctrinated with a slew of toxic workplace advice. Faced with these old misconceptions and lacking job security or clear paths for advancement, Gen Z is untethering their identities from work.
Quiet quitting — therefore — might be a bit of a misnomer. These employers aren't completely disengaged. They're certainly not launching Flight Club-esque sabotage attempts on their employers. NO. Contrary to media panic, Gen Z understands the value of a job — the fickle market they entered ensured that. But they also understand the value of life.
They're doing what they're being paid for. Nothing more, nothing less.
According to Chief, a private membership network focused on connecting and supporting women executive leaders, older generations should learn from this approach.
"Gen Z has already endured the largest seismic shifts to the career landscape than any previous generation, having started their careers in the middle of a pandemic that changed office culture forever and a gig economy that makes piecing together work more viable. They're taking both those realities and therefore demanding more autonomy and flexibility than any other generation."
Gen Z are less attached to job titles and statuses. They're more concerned about their lives. Sure, this can lead to problematic outlooks on money and experiences — see the "I can earn my money back" TikTok trend. But it's better than hustling for no reward. Besides, as some Gen Z-ers put it on TikTok, the office isn't even a vibe.
"With the ability to work from anywhere and for more than just one place, Gen Z-ers are forging their own paths that don't rely on old patterns set by previous generations and are redefining what "career success" looks like. Gen Z can take note, as more and more leaders are similarly pursuing multiple income streams of their own through the form of a portfolio career. The way in which work looks like and where it happens is evolving."
With less single-minded focus on one job, some TikTok business gurus advocate shutting your laptops precisely at 5 pm. And then jump onto your side hustle. Do nails or lashes on the weekend. Become social media managers for your phone. Sell soap on Etsy (again … perhaps not in the Fight Club way).
But this valorization of side hustles is not about hustle culture, either. They say job security isn't guaranteed. Learning new skills and develop an alternate income stream/s to keep you afloat. Just make sure you're not left in the lurch. BTW inflation is here. So every little bit helps.
But where do you start? Watching TikToks can only get you so far. Try a course on LinkedIn Learning to sharpen up your skills and learn new ones that you can turn into a verifiable side hustle — or leverage in your job search if quiet quitting leads to … real quitting.
Learn on your own time with bite-sized videos or in-depth courses. Watch them after work, before you clock in, or on your lunch break. Then, after your courses are complete, you'll have certificates prominently displayed on your profile that prove your skills.
<
Over two years into the most momentous event in our lives the world has changed forever … Some of us have PTSD from being locked up at home, some are living like everything's going to end tomorrow, and the rest of us are merely trying to get by. When the pandemic hit we entered a perpetual state of vulnerability, but now we're supposed to return to normal and just get on with our lives.
What does that mean? Packed bars, concerts, and grocery shopping without a mask feel totally strange. We got used to having more rules over our everyday life, considering if we really had to go out or keeping Zooming from our living rooms in threadbare pajama bottoms.
The work-from-home culture changed it all. Initially, companies were skeptical about letting employees work remotely, automatically assuming work output would fall and so would the quality. To the contrary, since March of 2020 productivity has risen by 47%, which says it all. Employees can work from home and still deliver results.
There are a number of reasons why everyone loves the work from home culture. We gained hours weekly that were wasted on public transport, people saved a ton of money, and could work from anywhere in the world. Then there were the obvious reasons like wearing sweats or loungewear all week long and having your pets close by. Come on, whose cat hasn't done a tap dance on your keyboard in the middle of that All Hands Call!
Working from home grants the freedom to decorate your 'office' any way you want. But then people needed a change of environment. Companies began requesting their employees' RTO, thus generating the Hybrid Work Model — a blend of in-person and virtual work arrangements. Prior to 2020, about 20% of employees worked from home, but in the midst of the pandemic, it exploded to around 70%.
Although the number of people working from home increased and people enjoyed their flexibility, politicians started calling for a harder RTW policy. President Joe Biden urges us with, "It's time for Americans to get back to work and fill our great downtowns again."
While Boris Johnson said, "Mother Nature does not like working from home.'' It wasn't surprising that politicians wanted people back at their desks due to the financial impact of working from the office. According to a report in the BBC, US workers spent between $2,000 - $5,000 each year on transport to work before the pandemic.
That's where the problem lies. The majority of us stopped planning for public transport, takeaway coffee, and fresh work-appropriate outfits. We must reconsider these things now, and our wallets are paying
the price. Gas costs are at an all-time high, making public transport increase their fees; food and clothes are all on a steep incline. A simple iced latte from Dunkin' went from $3.70 to $3.99 (which doesn't seem like much but 2-3 coffees a day with the extra flavors and shots add up to a lot), while sandwiches soared by 14% and salads by 11%.
This contributes to the pressure employees feel about heading into the office. Remote work may have begun as a safety measure, but it's now a savings measure for employees around the world.
Bloomberg are offering its US staff a $75 daily commuting stipend that they can spend however they want. And other companies are doing the best they can. This still lends credence to 'the great resignation.' Initially starting with the retail, food service, and hospitality sectors which were hard hit during the pandemic, it has since spread to other industries. By September 2021, the US Bureau of Labor Statistics reported 4.4 million resignations.
That's where the most critical question lies…work from home, work from the office or stick to this new hybrid world culture?
Borris Johnson thinks, "We need to get back into the habit of getting into the office." Because his experience of working from home "is you spend an awful lot of time making another cup of coffee and then, you know, getting up, walking very slowly to the fridge, hacking off a small piece of cheese, then walking very slowly back to your laptop and then forgetting what it was you're doing."
While New York City Mayor Eric Adams says you "can't stay home in your pajamas all day."
In the end, does it really matter where we work if efficiency and productivity are great? We've proven that companies can trust us to achieve the same results — or better! — and on time with this hybrid model. Employees can be more flexible, which boosts satisfaction, improves both productivity and retention, and improves diversity in the workplace because corporations can hire through the US and indeed all over the world.
We've seen companies make this work in many ways, through virtual lunches, breakout rooms, paint and prosecco parties, and — the most popular — trivia nights.
As much as we strive for normalcy, the last two years cannot simply be erased. So instead of wiping out this era, it's time to embrace the change and find the right world culture for you.
When people think of gifting, they tend to think of the winter holiday season.

Suddenly, every store offers gift wrapping and the internet is a cornucopia of gift guides. I get super into it, making lists — like Santa himself — of who's getting gifts r and who's getting nuffin because they scorned me last time around. Black Friday and the winter sale season have trained me well - I'm now in the groove of saving in advance, prepping my budget, and keeping an eye out for major sales.
But with all that anticipation in winter, there's almost nothing of the sort in spring. And, after going through my spending last year, I realized why I felt like all my money was going down the drain from April to June: this is a holiday-filled season too!
At first, I blamed it on hot-girl summer — and maybe in part, this was the case. Buying new clothes to refresh my stale pandemic wardrobe, and admittedly getting carried away with my post-vax excitement for going/doing/seeing everything all took hits at my budget.
In the future, I'll make sure to prep more for summer because every year brings new exciting things to spend money on – especially outside.. Plus, as travel becomes more and more seamless with fewer restrictions, having a "summer buffer" will let me dip into my savings for trips that may come, not into my credit card balance.
I told myself I'd make those financial decisions for the summer, but it wasn't just the summer. The whole spring was a financial pit and I didn't completely understand why. After all, isn't spring for cleaning, decluttering, and even making money by ditching things that aren't serving you? Why then, did I keep watching my accounts get drained?
The answer is gifts. From Easter in April, Mother's Day in May, Father's Day in June, and more, spring is a parade of little holidays that sneak up on you with their obligatory gifting. And it doesn't even end there for me – I have a ton of friends' birthdays during these months! With Tauruses being known for their materialism (or maybe that's just the ones I know), I always splurge on their presents. This leaves me with an empty checking account … kind of by surprise.
In the winter, I prep and save and budget. In the spring, I scramble and overspend. But not this year. This year, I'm very aware that it's gifting season and I am planning accordingly.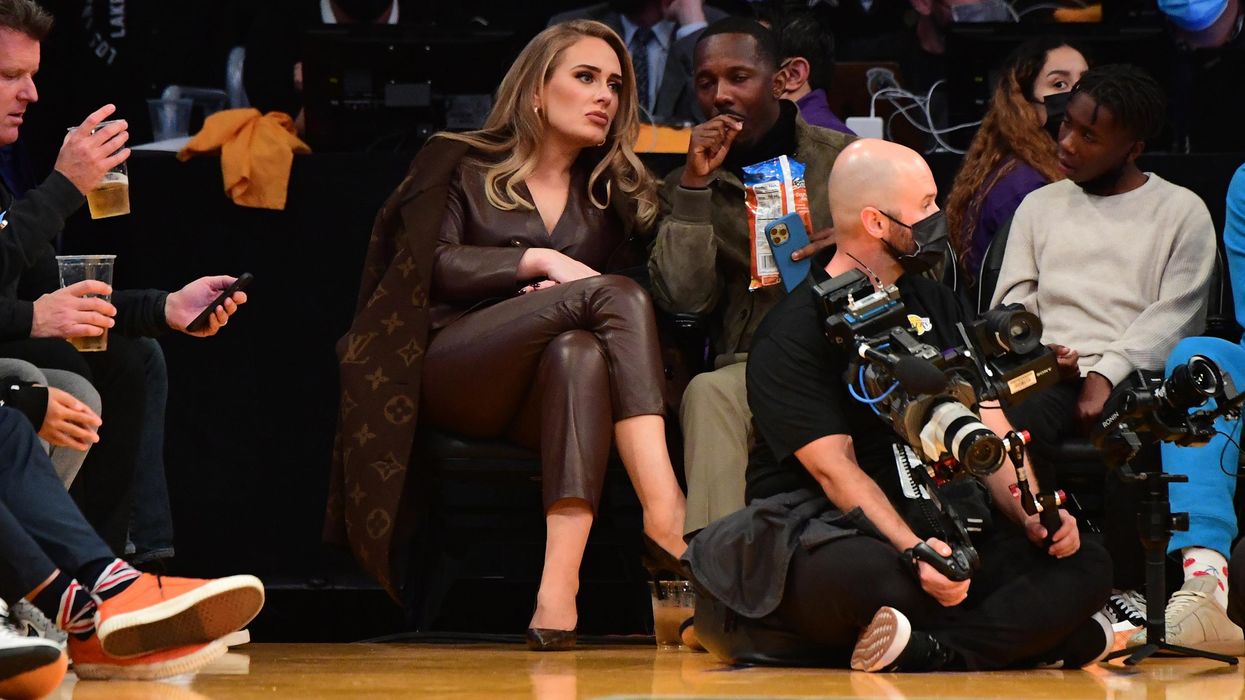 Adele, a Taurus, courtside in all designer. See what I mean? Does she LOOK easy to impress? No, this is why I'm broke
How to Save For Short Term Goals Using Sinking Funds
According to personal finance blogs, one of the keys to saving enough for seasons like this is starting early. Establishing what is known as "sinking funds" is the most efficient way to consistently save for short-term goals. From everything to impending vacations to holiday gifts, sinking funds let you start planning early and reinforce good spending habits. No longer will you be surprised by recurring bills or how much a vacation really costs – the money will be saved, waiting for you to enjoy.
TIME defines sinking funds as a special kind of savings account. "A sinking fund functions similar to a savings account, but with a purpose and approach all its own," says TIME. "A sinking fund is money you set aside for a specific upcoming expense. Unlike a general savings account or emergency fund, a sinking fund has a clear purpose attached to it — whether it's to save for a vacation, down payment on a home, or a big-ticket splurge. The financial educator Haley Sacks has a sinking account just for astrologists. If you have a big expense coming up, you might consider creating a sinking fund to take the stress out of saving for it."
I'm taking notes — and even considering starting my own astrology sinking fund — and I already made one for "Spring Surprises." For any savings goal, keeping a separate savings account apart from your checking account is the first step to making sure you're actually contributing to it. Seeing that number get closer to your goal is great motivation. For sinking funds, I make many different savings accounts, all with specific names according to the goal. I even add the goal amount and the month it's "due" to the account name so I know when each is coming up. This gets me excited to see the fruits of my labor and keep contributing consistently. It also makes it easier to budget for my sinking funds each month with a dedicated amount.
Sinking funds are great cash flow tools that keep you in control of your purchases. According to Clever Girl Finance, a popular personal finance blog for women: "When you don't have a sinking fund, you may be forced to make these purchases through another source of funds, i.e., your emergency fund, your savings account, or your credit card. A sinking fund helps you to plan for large purchases. It also helps you stay on track with your savings goals, keeps your debt low, and allows you to make purchases freely without feeling the pinch."
This added security lets you spend money on gifts guilt-free. Once it's in your sinking fund, you can spend it for its allocated purpose without having to worry about other expenses or going into debt. You've planned for this. And now you can be generous without the unexpected stress of draining your checking or even your own spending money.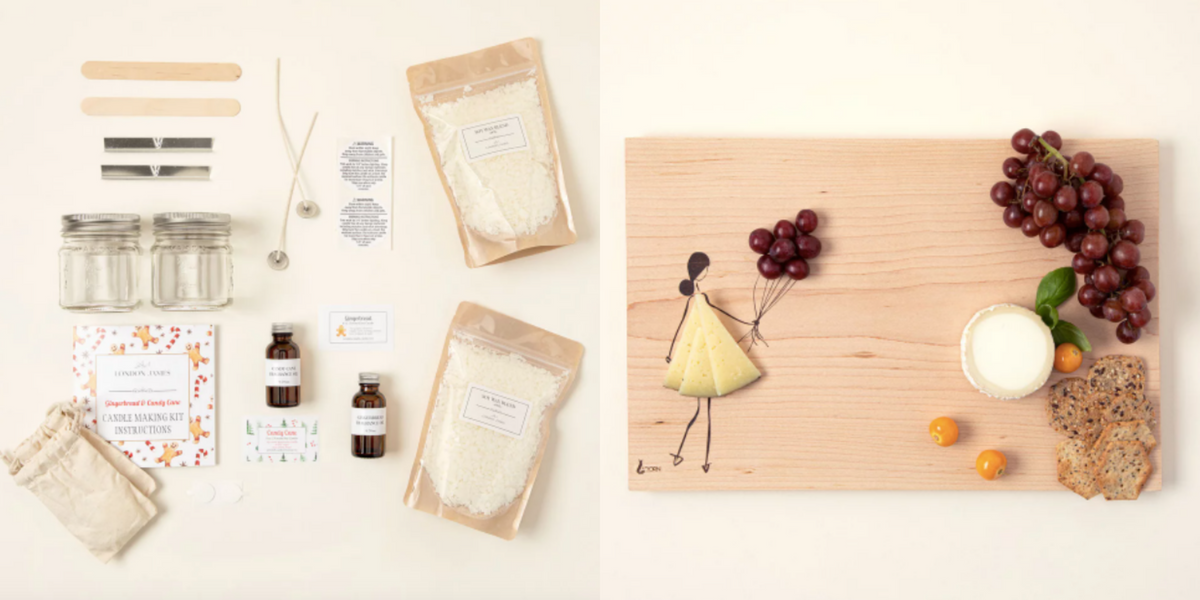 What to Buy This Spring
With all the little holidays that accumulate during the season, it can be easy to be surprised by them. Sinking funds take care of the financials, but an extra step of planning never hurts. Figuring out what you actually want to buy in advance lets you track prices and take advantage of sales, rather than buying whatever marked-up mother's day bouquet you come across last minute.
Be the best gifter of the season by simply being prepared. You can find unique gifts for all your loved ones on Uncommon Goods.
Uncommon Goods is your new one-stop-shop for all your gifting needs. Instead of buying the common and cliché, you can find the best array of bespoke, artisanal, and handcrafted gifts for everyone in your life.
Everything on Uncommon Goods is "all out of the ordinary." From highly specific and aesthetically pleasing tools for niches like gardening to crowd-pleasers like mimosa-makers or beer lovers' gift sets, Uncommon Goods has something for everyone.
As well as offering"Uncommon Goods", they're also doing good through their new initiative supporting Ukrainian refugees. According to their website: "To aid Ukrainian refugees,Uncommon Goodsis doubling our Better to Give a donation to the International Rescue Committee. Choose IRC at checkout and we'll donate $2. If you're a Perks member, we'll donate $4."
Never spiral out of control when spring comes again. Make a smart purchase decision for you, your lucky giftee, and Ukrainian refugees by choosingUncommon Goods for all your gifts this season.
Everyone knows we need to save our money. Some of us might even believe we make savvy financial decisions when we skip the occasional impulse buy, or pat ourselves on the back when we refrain from buying yet another pair of ripped blue jeans.

For many, the reason they can't save money is they're too afraid to face their finances. We worry that we'll never be good savers and live in fear of our bank balances. There's a culture of shame surrounding what "they" label "stupid" money decisions. Not to mention the constant anxiety about not saving enough. All this creates a negative feedback loop that inhibits people from learning about their money habits.
This shame is the prevailing narrative surrounding money advice. Far too many money experts are older white males — wagging their fingers at pesky Millennials and self-centered Gen Zers, making idiotic decisions and not buying houses.
Yet younger generations are saddled with outrageous debt. As inflation rates and housing markets rise — that outdated American dream of the Colonial house and picket fence becomes absolutely unattainable. So, when it feels like there's no goal in sight, it's tempting to take the nihilistic approach and spend-spend-spend rather than saving. Don't forget, these generations are coming of age in the "YOLO" era.
In authors Emma Pattee and Stefanie O'Connell's CNBC article "Personal finance advice relies on shame; what if we tried empathy?" They say: "From the over-simplified math of David Bach's "The Latte Factor," to Dave Ramsey's condemnation of nearly all debt, to the media's obsession with extreme frugality and early retirement, the message is clear: If you're struggling financially, you only have yourself to blame. In this mythology, only once an individual takes full responsibility for their situation, will they be able to make the so-called right choices in order to achieve financial prosperity."
You can't simply put on a Joe Rogan podcast and magically change your life. Let's just get to the point and actually speak about the main thing keeping people down: capitalism. So until we get rid of that, inequality will persist and the small-minded powers that be will blame the people suffering from it and for it.
However, it's not all revolution or Rogan. There is a middle ground. By overcoming your fears you'll be better equipped to take a peek at your finances and address the issues that are buried there. Rather than restricting yourself by a word like budget, try the term spending plan. It combines the thrill of spending with the intelligence of a plan. With this new term and ideology to hand, perhaps you'll be able to set aside your money to save.
A spending plan isn't intimidating — especially with the help of apps like Meet Cleo, which keep it real and keep you on track. By doing what a good friend would, theMeet Cleofinance app will help you to face the numbers and actually do something with them. You don't have to make a mortgage your goal, but socking the money away can't hurt.
Here are 6 ways you can shave down those numbers on your spreadsheet and cut costs:
Rent
No, I won't be plugging the house hacking trend here — wannabe millionaire landlords exploiting the lack of affordable housing is not a fun investment strategy for me. However, rent is usually people's biggest expense. If you can reduce this, it goes a long way to helping you save.
A lot of people don't know that you can negotiate your rent. Instead of meekly accepting the price offered, you can present your landlord with a figure that works better for you. In a competitive housing market, this will be less effective. But some buildings offer incentives like a few months free. See if you can snag one of these deals. If your lease is almost up, try to renegotiate your rent. It costs landlords a lot to move you out and identify a replacement tenant when it would be cheaper to keep you. Give it a try. What do you have to lose but a couple of hundred dollars shaved off your living expenses.
Groceries
After rent, food is our second-largest expense. Between groceries and eating out — we'll get to that — what we eat plays a huge factor in how we spend. While many people will tell you to head to Costco or Walmart to shop in bulk, take a breath and consider your shopping needs. Bigger isn't always better when you buy more than you can eat because you think you're getting a deal. It's clear that bulk shopping isn't the answer for everyone. Shop smarter, not bigger. Go to the grocery store with a list and stick to it. To keep it interesting, maybe allow yourself one spontaneous buy, but trust me. Lists are law.
Eating Out
Like with grocery shopping, the key to curbing impulse shopping is allowing room in your spending plan for small indulgences. Allow for dinner out or delivery once or twice a week, then no more. That way, you'll eat all the weekly groceries and truly savor those meals out. Two birds, one stone.
You Guessed It … The Latte
Joe Rogan and Co. will tell you that the daily Starbucks run is ruining your life. However, if there's room for it in your spending plan, go ahead and keep your Starbs if it really lifts your day. For some, taking a walk to their local coffee shop is all that kept them going during the pandemic — and even now. But if hitting your local cafe is a mindless habit that you don't value, sure, replace it with coffee at home. The key is intentionality, not punishment. Keep your small indulgences within the parameters of your spending plan.
Clothes
Do you have a wardrobe full of clothes but still feel like there's nothing you can wear? That means your clothes aren't following the rules of intentionality, as outlined above. Instead of hopping on microtrends and buying everything on the sale rack, take your time and consider how it will fit into your daily life before purchasing.
Subscriptions
Challenge to you right now: list everything you think you're subscribed to right now. Then go through your credit card statements and itemize all the actual subscriptions. I guarantee you'll find some you've totally forgotten about. Unsubscribe to them immediately. Too often, we forget what we signed up for and end up paying for it months or even years after the free trial is over. Then check through what's left. Do you need every single streaming service? Do you need every single app? Your screentime and your savings will thank you.