Long gone are the days when the majority of Americans dreamed about owning a home with a white picket fence.
The traditional American Dream may be on its deathbed, but that doesn't mean a core component of the vision can't survive. It simply takes a diverse perspective. People can still believe they can attain their own vision of success in society with hard work, knowledge, and risk-taking. Investing in today's American Dream may literally mean investing money in our modern economy, starting with our infrastructure.
Real estate investing in particular is a lucrative method that can boost income and secure a better financial future for many. There's always risk involved, but the payoffs can far outweigh the uncertainty. Selecting solid financial investments is about confidence and competence. If you're looking for some advice on this kind of investment, here are a few savvy tips for new real estate investors.
Stick To a Specific Strategy or Niche
Real estate is a challenging sphere of the business world, one that requires several key skills: groundwork knowledge, networking, perseverance, and organization. True knowledge of the real estate market will come with time and experience, but it's a smart idea to select one area of the market and stick to it. This is the best way to attain in-depth familiarity with your specific niche.
First, choose a geographical area close by and then a niche strategy within it, such as house flips, rental rehabs, or residential or commercial properties. By doing so, you can become aware of current inner working conditions in the market and you'll have a better idea of how these trends may change in the future.
Be Vigilant About Viable Financing Options
While it takes money to make money, you don't have to use all your own money. A common misconception about real estate investing is that you must be wealthy to start off. This isn't straight fact, however. A majority of people can test the waters of real estate investing without a lot of initial cash in their pocket.
Aside from traditional financing options from banks and institutions, private lending options can be worthy solutions. Hard money lenders are popular, reasonable choices, and they tend to have fewer qualification requirements upfront. However, be sure to strategically choose a hard money lender to find the best possible fit.
Master the Art of Finding Good Deals
There may be hundreds of thousands of available properties for sale on the current market, but the bulk of them will never amount to the final money-making result you desire. Another great tip for new real estate investors is to use good math to estimate profit. Taking risks is part of the process, but you have the ability to analyze properties and use networking sources to find the greatest deal. You can't win every deal, but you can steadily work towards a thriving financial future.
Tesla's ups and downs have been a roller coaster for investors over the last few years, but Monday's announcement that the company will be added to the S&P 500 should grab everyone's attention.
Tesla met the criteria to join the exclusive club representing some of the most valuable public companies in the US back in September. Despite the delayed addition, the S&P Selection Committee will include the company in the benchmark index starting Monday, December 21st.
There is currently over $11 trillion in assets benchmarked to the S&P 500, including $4.6 trillion in indexed funds. With Tesla's addition, these funds will have to buy Tesla stock and include it in their portfolios. Passive funds are expected to purchase around 95 million shares while active fund managers will need to purchase 30 million on top of that. That's over $50 billion dollars flowing into Tesla stock as portfolios are rebalanced.
If you've been holding onto Tesla stock, this is great news for you as there is going to be much more demand from institutional investors forced to buy the stock. If you've been looking for the right time to sell, you're going to have a lot of eager buyers this December. The stock's jump in price after the announcement is a testament to how much value the increased demand is expected to create.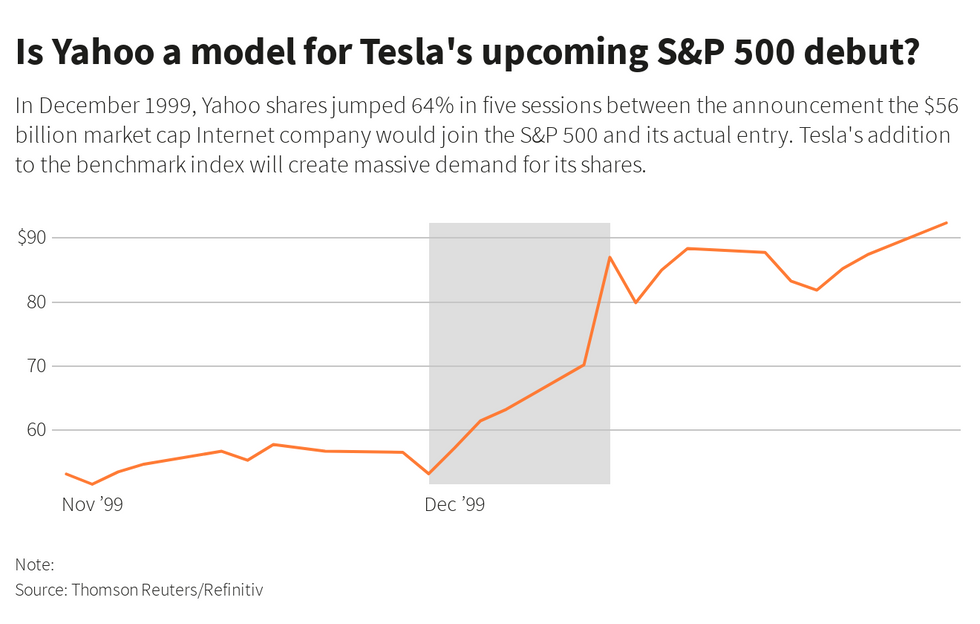 Reuters
Even if you don't hold any Tesla stock, this will affect you too. Tesla is going to be one of the largest companies ever added to the index, and that $50 billion dollars is going to have to come from somewhere. All those investment funds indexed to the S&P 500 need to sell shares of other companies in order to buy Tesla to ensure their portfolios reflect the car company's portion of the index. This trade is expected to be so large that the S&P Dow Jones Indices is soliciting feedback as to whether Tesla should be added all at once or in two tranches to give investors more time to balance portfolios.

If you are invested in a fund that tracks the S&P, you might be excited that you are finally going to get a piece of some of the action. Come December 21st, many investors who have kept their money index funds will find themselves owning Tesla shares. If the stock continues on its upward trajectory, this is great news. However, some investors have accused Tesla stock of being a bubble and adding it at an inflated price may open investors to losses should the share price drop in the future.

From Your Site Articles
Related Articles Around the Web
abacuswealth.com
The Tax Cuts and Jobs Act of 2017 raised the standard deduction for US taxpayers and capped the state and local tax deduction at $10,000. This greatly reduced the number of taxpayers who itemize on their tax return and caused a major reduction in charitable giving.
Taxpayers who itemize can reduce their income by the amount that they give to eligible charities and charitable organizations, and thus pay less in taxes.
When you pay taxes you (or let's be real – your accountants) add up all of your deductions (charity donations, student loan interest, et cetera) and if it's more than the standard deduction of $12,400 for single people ($24,800 for married couples filing jointly), you can reduce your income by that amount and pay taxes on that amount.
Since the standard deduction is now higher, less people are itemizing all their deductions as they don't expect to exceed the standard deduction. This disincentives people from giving to charities as they won't be able to use that donation to lower their tax burden.
This year offers a special opportunity thanks to the CARES Act.
The CARES Act was passed in response to the Coronavirus pandemic and offered a special incentive for people to give more to charities, many of which are facing more demand than ever as the pandemic rages on.
Starting in 2020, up to $300 in charitable contributions may be used as an above-the-line deduction, meaning that you would be able to deduct up to $300 in charity donations and mutual funds even if you take the standard deduction.
Let's say you are a single person that lives in Washington State and make $60,000 a year. Your top Federal tax rate is 22% and you pay no state tax in Washington.
Now, you're very likely to take a standard deduction of $12,400, meaning you would only need to pay taxes on $47,600 of adjusted gross income, lowering your tax bill by $2,728 (22% of $12,400).
But, thanks to the CARES Act, if you also give $300 in charitable contributions to charity this year, you would be able to deduct that money as well, reducing your taxes by an additional $66.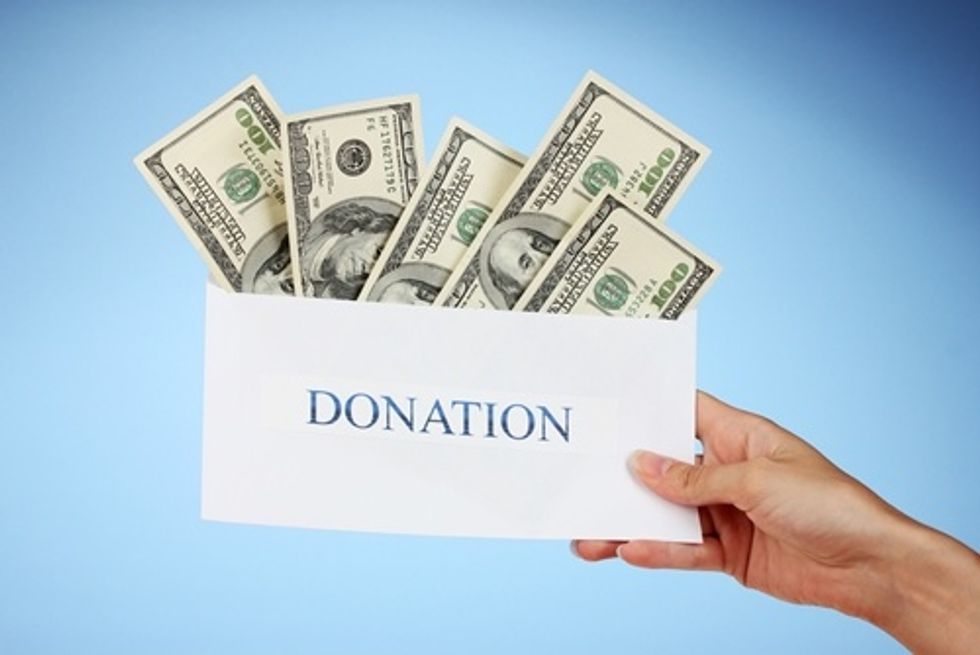 cashcentral.com
A few caveats with this. First, you have to give to a qualified public charity. Check on their website that you are giving to a 501(c)3 organization before you give. You can also check on the IRS website for a list of organizations you may be able to donate to.
Second, it has to be cash giving, so giving your old sweater to Goodwill unfortunately doesn't count. Third, if you give over $250 to an organization, you have to get a "written acknowledgement" of the gift. That just means you want to be sure to ask for a receipt when you send the money to the charity.
A lot of charities have been hit very hard because of COVID-19, and making sure that they have the resources available to continue to help people can be really important for the people who rely on the generosity of others.
With the CARES Act, you can help make sure that charities you believe in are able to continue their work while also saving yourself money come tax time. It might be time to speak with a financial advisor to set charitable goals for 2020 and 2021.
If interested in opening a
charitable giving account
, we recommend
Fidelity Charitable
. They can help identify private foundations and charities to support, as well as recommend grants. Over time you can grow your donor advised funds, tax free and look into donating stocks or donating with a credit card.
Fidelity Charitable also provides a helpful charitable giving tax savings calculator.

From Your Site Articles
Related Articles Around the Web