From saving for a big purchase to paying off a loan, money management apps can help you take control of your finances. However, selecting one can be more difficult than figuring out the interest, fees, or charges on your latest credit card statement. We rounded up the top three apps to help you manage money.
1. Mint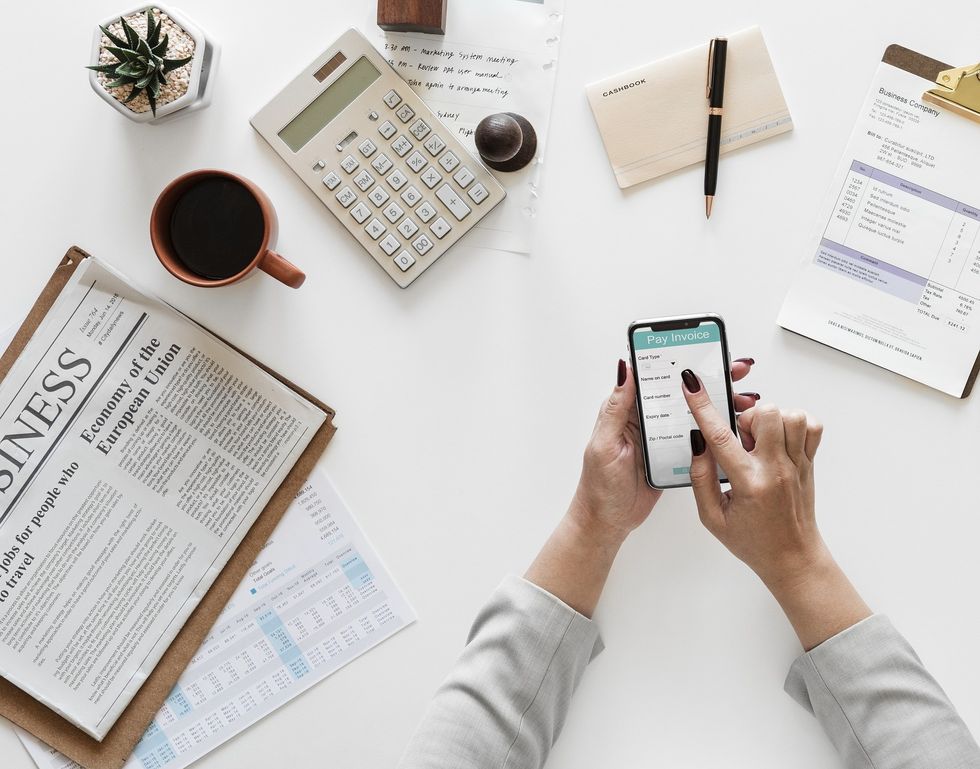 Since 2006, Mint has helped people stay on a budget and track their finances. This free app is a good choice if you are trying to cut expenses but don't want to resort to an Excel spreadsheet for finance management. Mint doesn't require any software installation, and you can use the mobile app or access the site on a browser.
Mint combines all the different aspects of your financial life into one place. It handles budgets, bills, credit scores, and investments. You can add an unlimited number of accounts, such as bank accounts or credit cards, and automatically track them. Mint provides tips to help you manage money based on the goals you set. In addition, it sends alerts for upcoming bills, organizes all the bills in one place, and alerts you to unusual account changes.
2. Acorns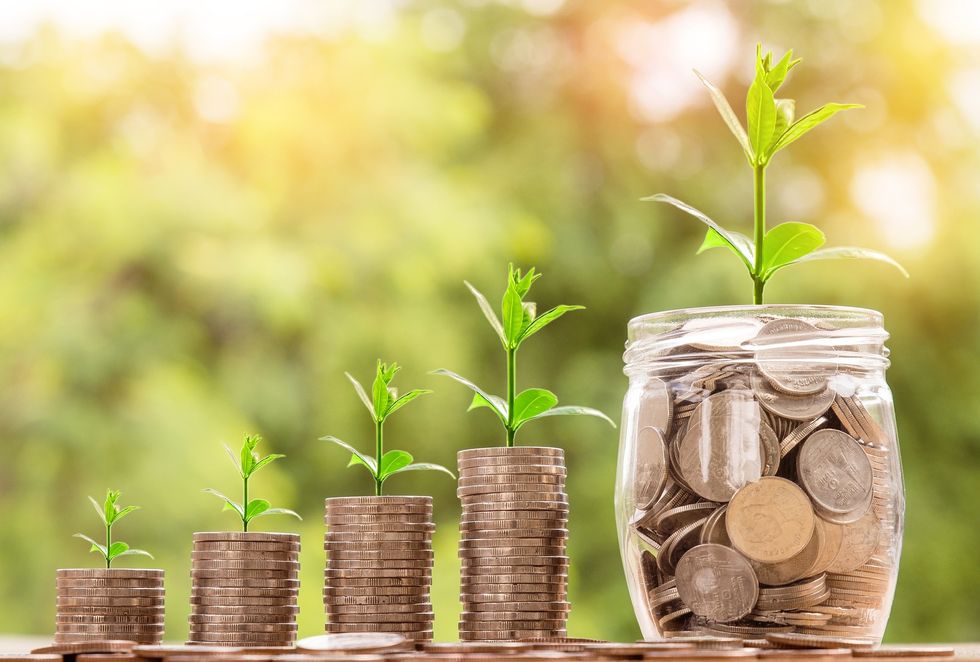 The Acorns app helps you save money with little effort. Although it is not free, Acorns is very affordable with $1, $2, and $3 per month plans. College students can get the $1 per month plan for free. The app lets you automatically save and invest money on a daily, weekly, or monthly basis.
Acorns invests your spare change by rounding up to the nearest dollar every time you make a purchase with a debit or credit card. Then, it takes the spare change from your checking account and moves it into your Acorns investment account. Next, the app automatically invests it in your portfolio. You can also move a lump sum for investing or set up recurring contributions to a retirement account.
3. Credit Karma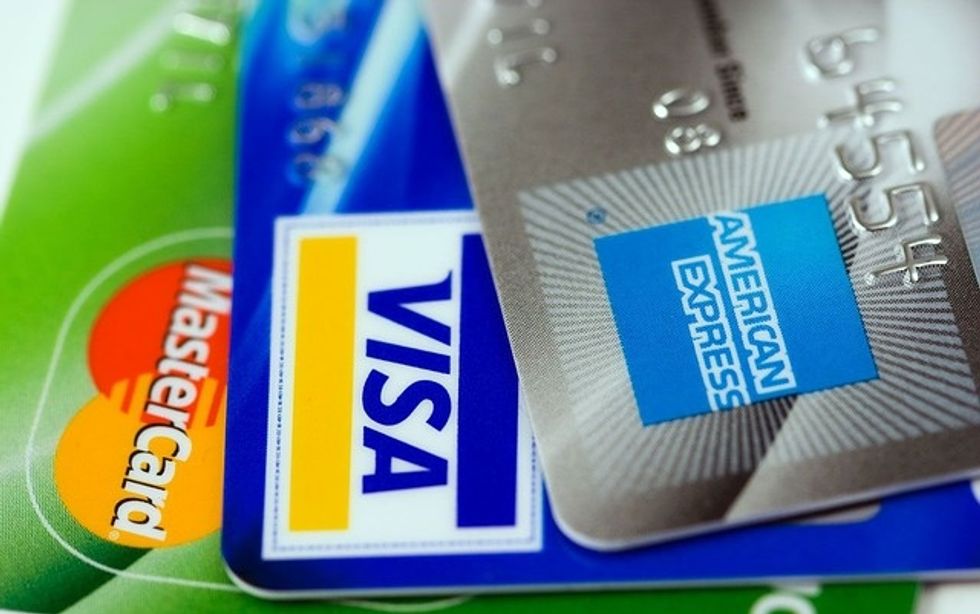 Your credit is an important part of your financial life and affects your insurance rates, ability to take out a new loan, or get a lease on a rental property. Credit Karma lets you check your credits scores with an easy app for free. The app provides credit scores from TransUnion and Equifax, along with the reports, so you can track progress. Checking them with this free service doesn't affect your scores.
Credit Karma also gives you personalized recommendations to improve your credit and save money. The insights help you analyze the scores in a simple way. If anything changes, its credit-monitoring feature sends you alerts. It can also track your email address to search for breached accounts and notify you.
Ignoring your finances won't help you get out of debt or manage a budget, but you don't have to do it alone. Try one of these three money management apps to stay on track. We promise that there are no complicated spreadsheets or calculus involved in using them.
From Your Site Articles
Related Articles Around the Web
China's economy is the second largest in the world, and with America's economy so beholden to it for supply and stability, the affects of COVID 19 reach far beyond the Chinese borders. As the virus spreads internationally, sectors across the world brace for dips in profit. Things will remain uncertain for weeks to come as we wait to see the full impact of the spread of the virus, but for now, these eight industries have been affected the most by the pandemic.
Luxury Goods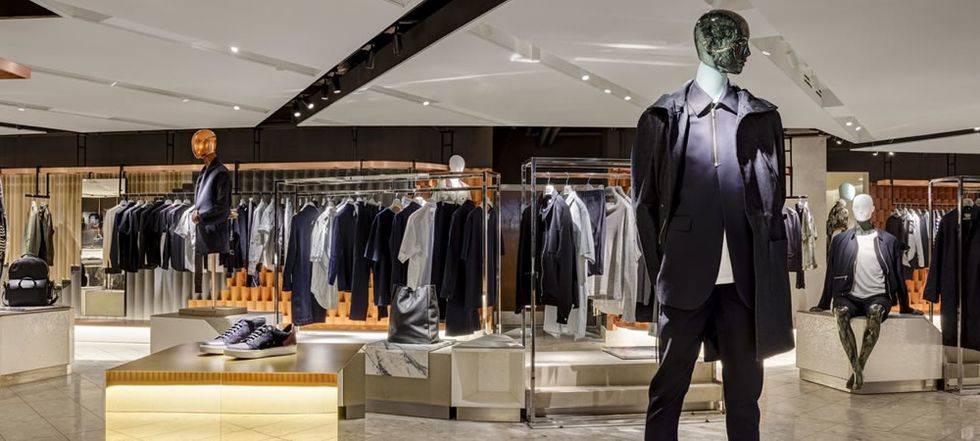 Chinese consumers account for "more than a third of the value of so-called personal luxury goods purchases, which includes apparel, beauty and jewelry," according to Financial Times. Joëlle de Montgolfier, director of Bain's luxury practice, said the coronavirus could have a "double whammy effect" on the luxury sector. "Not only will Chinese people buy less domestically during the key New Year shopping season, they will also have to cancel trips abroad, during which they often buy luxury goods," she said.
Poultry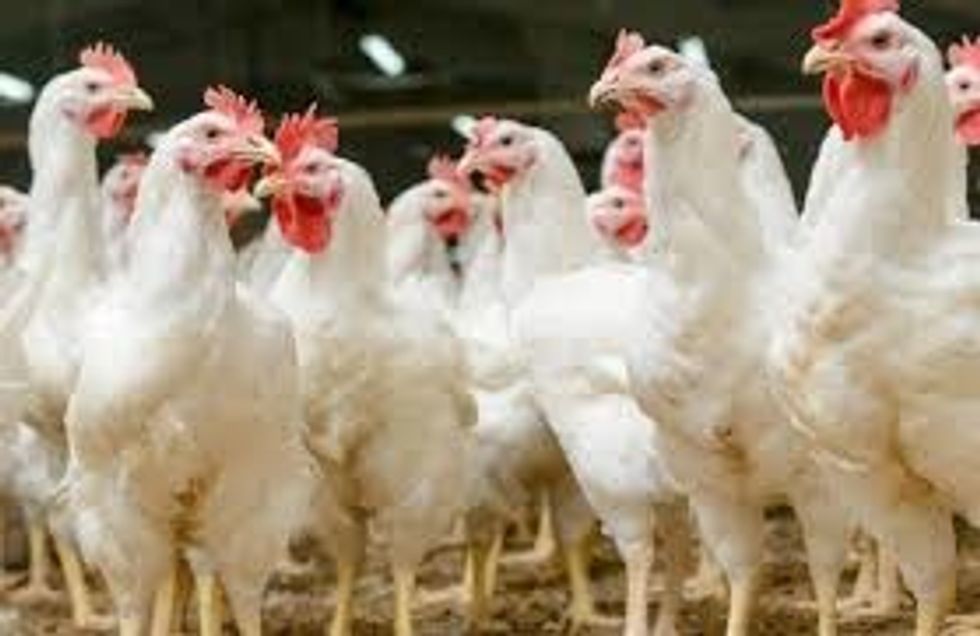 The wholesale price of chicken has dropped as much as 70% in India specifically due to rumors that the virus can be transmitted through eating poultry. Similar drops in the value of poultry have been reported all over the globe, particularly in countries with many cases of COVID-19.
Airlines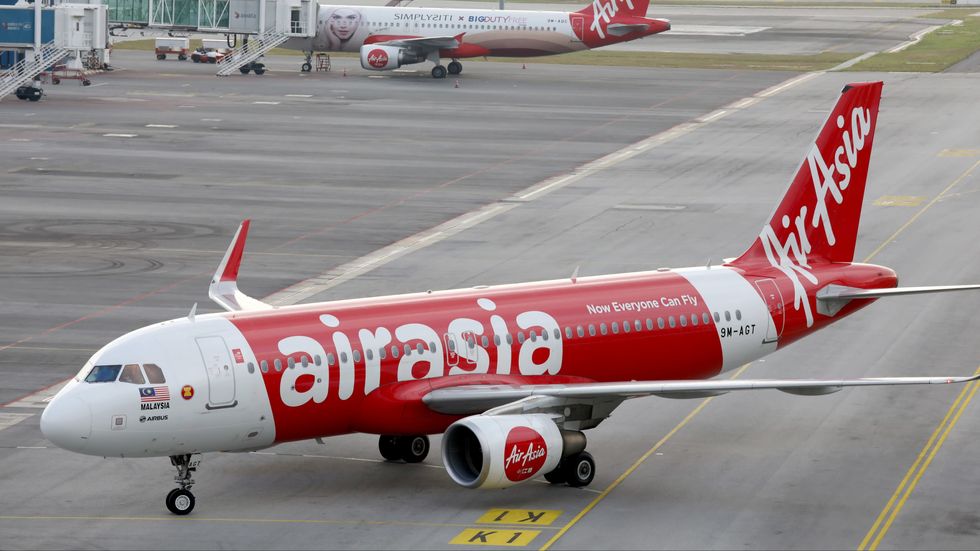 According to the Guardian, "more than 85,000 flights touching China have been canceled in the three weeks since the outbreak closed Wuhan airport on 23 January." While these cancellations have the largest impact on airlines, there has also been a notable decrease in flying globally—not just to China—because of customers fears of contracting the disease. "If people take a view they shouldn't be traveling or shouldn't go to a place or be on planes with people who might have been to certain places, they're less likely to travel," said Andrew Charlton, a Geneva-based aviation analyst. "It's going to have an impact on passenger numbers."
Automobile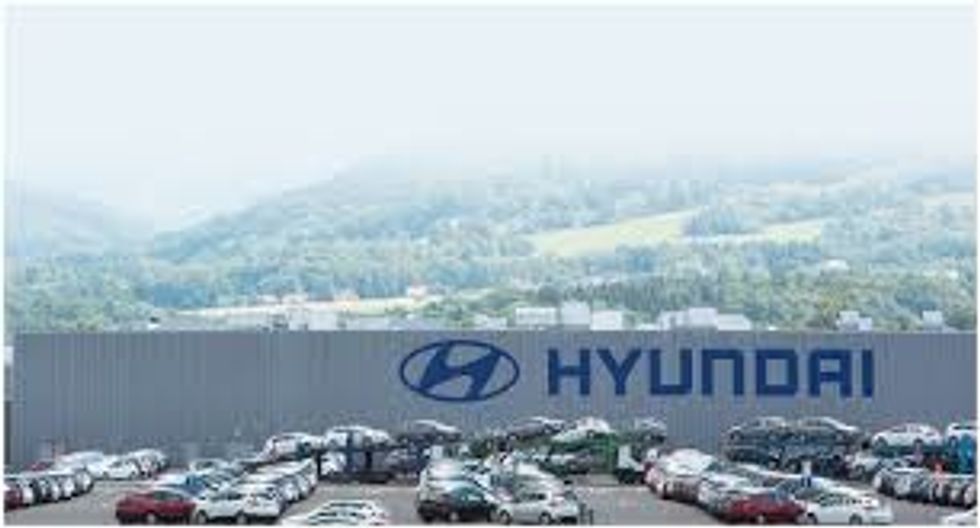 Wuhan (the center of the COVID 19 outbreak) itself is a major hub for the automobile industry, particularly for European carmakers. Renault, Peugeot, Volkswagen, BMW, and Jaguar Land Rover, Honda, have still not reopened factories run with Chinese partners. These delays could be catastrophic to the car industry because "carmakers hold very little stock at their assembly operations, instead relying on just-in-time supply chains that see parts delivered to the assembly plant hours or even minutes before required in the factory."
Oil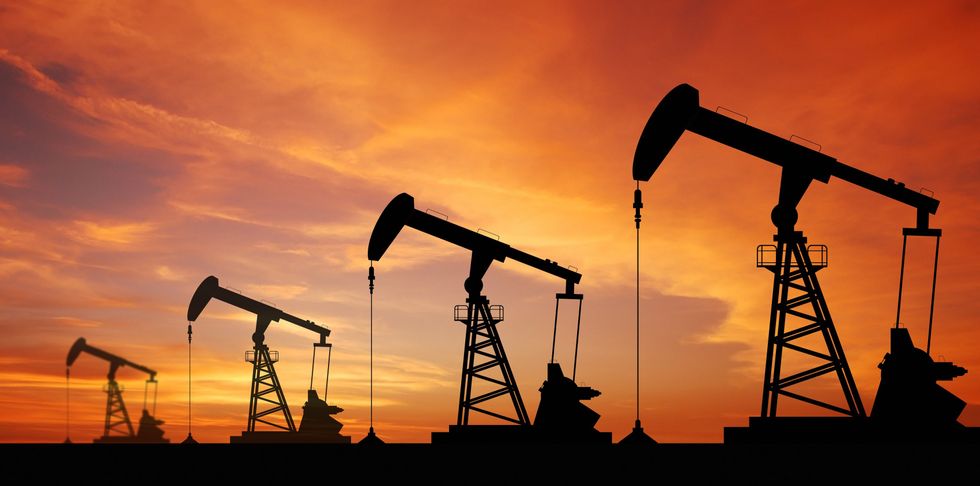 The Chinese were responsible for the majority of the growth in global demand for oil last year, but the International Energy Agency expects demand to fall in coming months for the first time in more than ten years thanks to the far reaching affects of COVID 19.
Cruise Vacations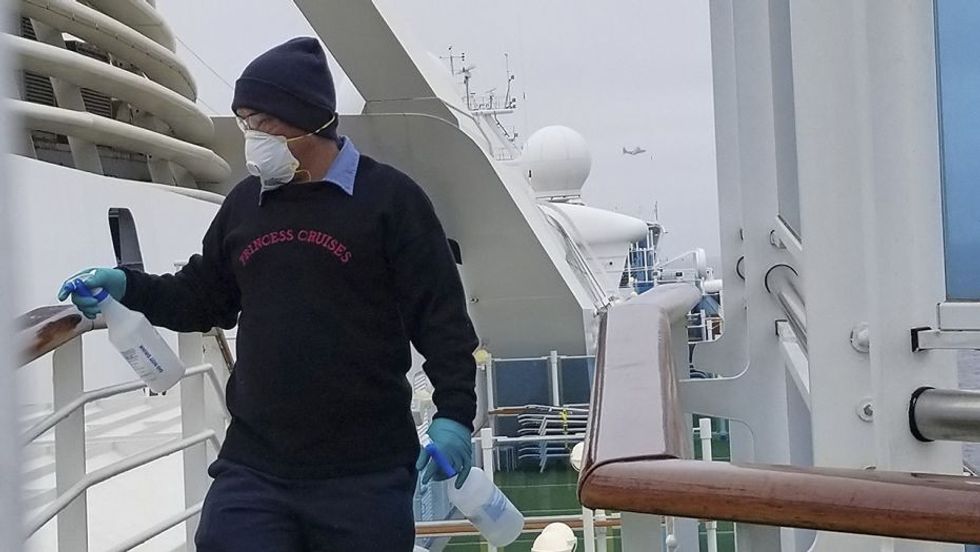 Cases of COVID 19 have been confirmed or suspected on upwards of 5 cruise ships so far, and thanks to the close quarters of these ships, confirmation of the disease results in infected ships being quarantined at sea. Obviously, that makes it an unappealing time to book a cruise, and to make matters worse for the cruise industry the US State Department just put out a statement saying: "U.S. citizens, particularly travelers with underlying health conditions, should not travel by cruise ship." To try to bolster flagging bookings, many cruise lines are now offering major discounts and lenient cancellation policies.
Leisure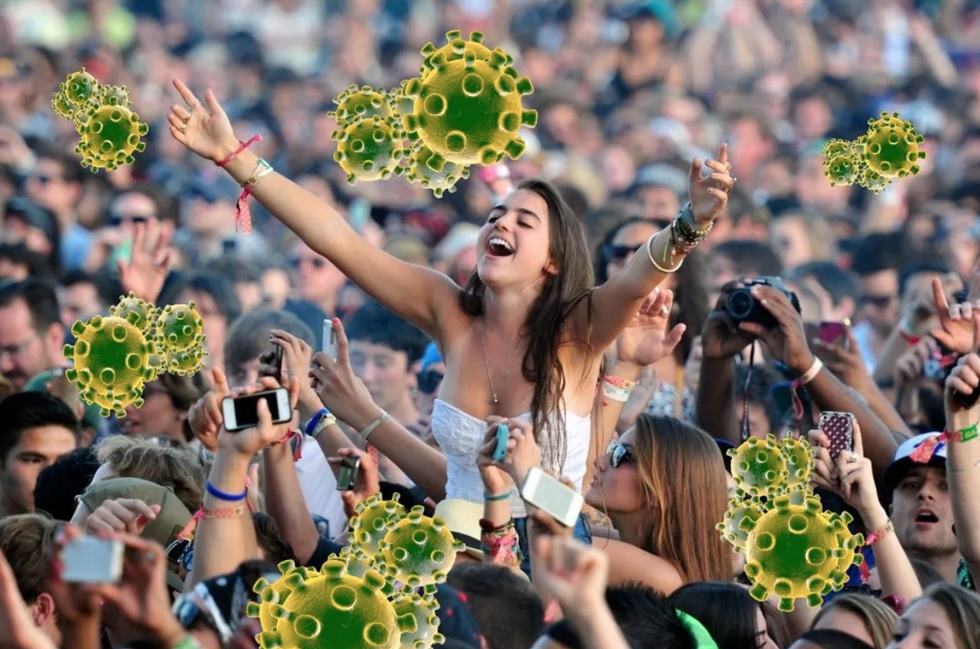 Coronavirus fears have already canceled SXSW, a major American music festival, and it's likely that more festivals will be called off in coming months. The music industry isn't the only leisure activity being affected. Macau, a popular destination for gambling off the coast of China, reported an 80% dip in visitors from China compared to the same day last year. As COVID 19 continues to spread, it's likely that casinos, concert venues, sporting events, theme parks, movie theaters, and other destinations for leisure activities will close their doors across the world.
Banks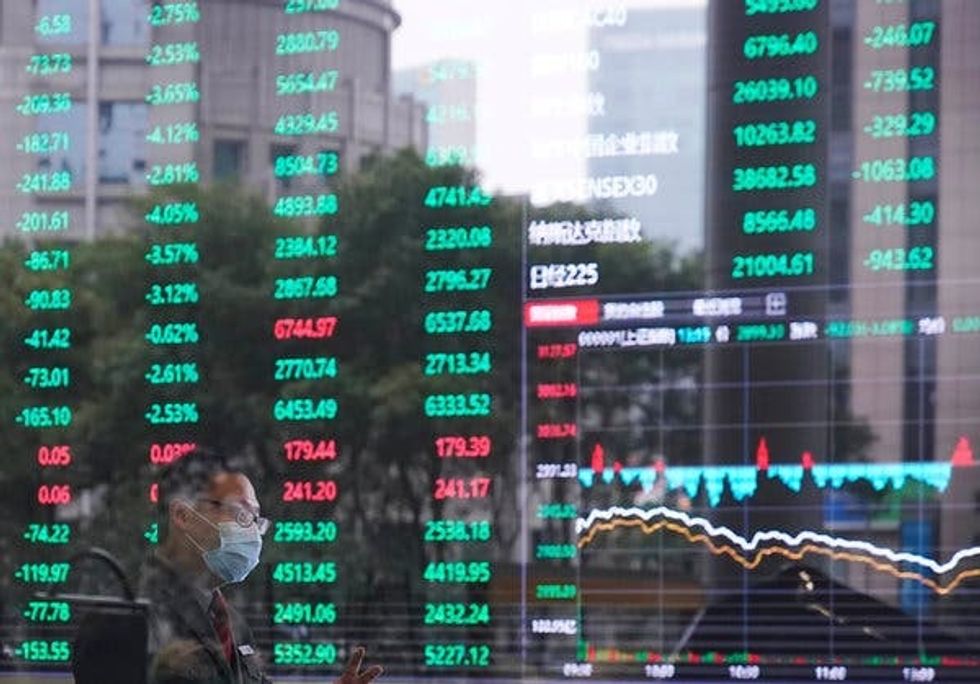 Analysts expect the virus to have a major impact on world banks thanks to rapid slowdown in loan growth and a reduction in fee income. Many banks are also operating below normal standards because of the shuttering of many offices across China and other infected cities. For example, Swiss bank UBS told its workers in Hong Kong to stay home for at least two weeks if they have travelled to China recently.
Back in 1997, you could buy a share of Amazon stock for around one dollar. Imagine if you bought one thousand of those shares and still owned them today (a share is currently around $2,100, almost a 120,000% increase)! The popularity of marijuana stock comes from the potentials of the industry–everyone's hoping to find a payoff much like early Amazon investors. With US marijuana sales expected to reach 23.4 billion by the year 2022, the market could possibly see exceptional trajectory growth in the stock market.
With recent changes to the legalization of marijuana use in the United States, both medically and recreationally, more people are showing an interest in marijuana stocks. And it's no wonder, considering global spending on legal cannabis worldwide is projected to hit 57 billion in a decade. The legal market is growing like a weed (pun intended) and many people are wondering if investing in marijuana right now could pay off in the future.
Who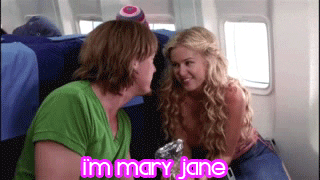 Giphy
Marijuana derives from the cannabis plant, as does hemp. The plant produces cannabinoid chemicals like tetrahydrocannabinol (THC) and cannabidiol (CBD). There are plenty of different companies currently in the pot industry. Before making any decisions on investing in this industry, you should do your research first. When looking into companies dabbling in marijuana, it's important to know what they deal with. Some marijuana stock companies are in the growth and retail industry, such as Canopy Growth Corporation. Others are in the biotech and pharma industry, such as GW Pharmaceuticals, while others are focused on CBD products like Charlotte's Web. Many well-known companies are also looking to become players in the marijuana industry. Anheuser-Busch announced a $50 billion partnership in 2018 with Tilray to research the production of canned beverages that will contain both CBD and THC.
How
When buying stock in marijuana, you have options. You can buy publicly traded stock yourself through over-the-counter trades (OTC), from a stock exchange available through a licensed broker, or through an exchange-traded fund (ETF) which is a group of funds grouped together into one account. There are pros and cons to each of these buying options.
ETFs
Choosing an ETF can reduce your risk, since your portfolio is diversified over many different stocks; but on the flip side, you're not as likely to reap any significant benefits if one of the stocks happens to soar. The two most popular weed-based ETFs are the
ETFMJ Alternative Harvest ETF and the AdvisorShares Pure Cannabis ETF.
OTCs
OTCs, sometimes called penny stocks, are the riskiest buying options simply due to the lack of public information on such new companies, combined with the fact that most of the companies in this stock line are new businesses. The appeal of these types of stocks, however, is their low cost to purchase. For example, cbdMD, a producer of CBD oils, had a stock price at $1.11 per share as of February 23rd. Even though these low stock prices are enticing, it probably would not be wise to put all of your eggs in one basket with any OTC stocks.
The Risks
Just like any budding industry, the potential gain is great, but the risk could be even greater, and your investments might have the risk of going up in smoke.
Legal/Political Risks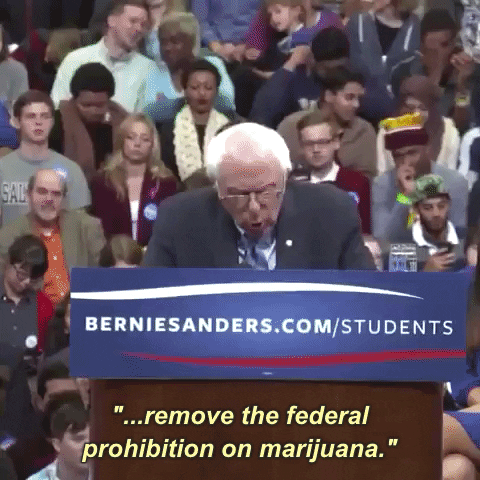 Giphy
Although recreational marijuana is now legal in 11 states and medical marijuana in 33 states, the drug is still illegal on federal terms under the Controlled Substance Act. With marijuana's classification as a Schedule 1 drug under this act, the federal government declares it to be completely illegal, even for medical use– which technically means that investors who put their money in marijuana companies are conspiring to violate that act. If you're an employee of the federal government, it might be best to steer clear of any marijuana stocks–at least until it's legalized on the federal level. For everyday investors, however, the chance of facing criminal charges is pretty low.
Price to Sales Risks
The price to sales ratio is commonly used amongst investors when evaluating stocks. A company's P/S ratio is determined by dividing a company's market capitalization by its revenue (usually over a twelve-month period). It's important to look into the PS ratio for any company you plan on buying stock in, as this figure gives you a better understanding of how much investors are willing to pay per dollar of sales. The key takeaway: the lower the ratio, the more desirable the stock is to purchase.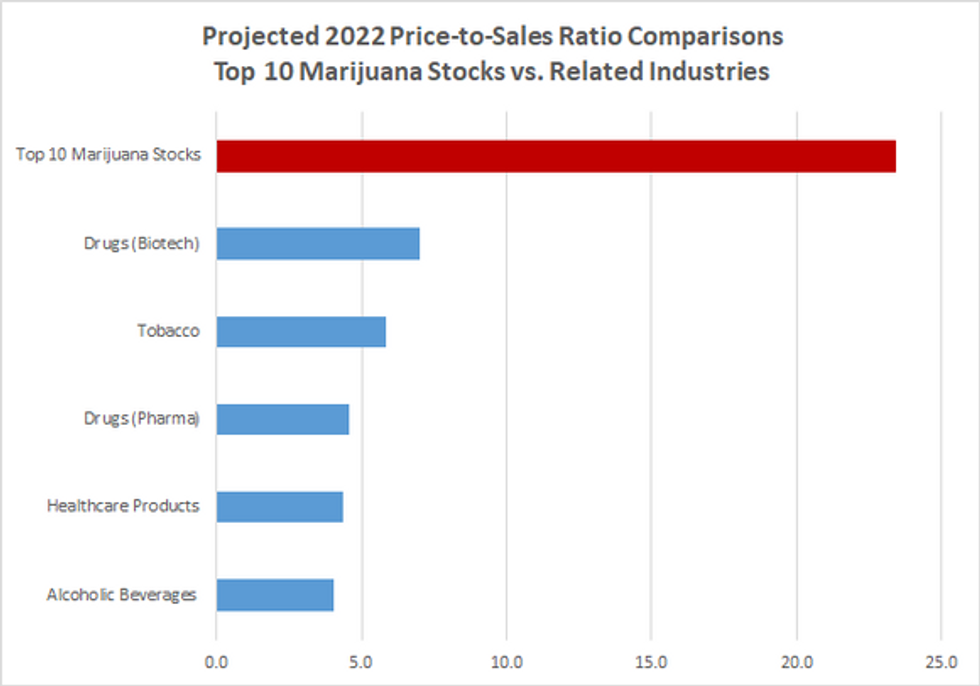 NASDAQ
A look at this P/S ratio chart shows the significantly higher projected P/S ratio in the marijuana stocks compared to other industries. Currently, top-trending marijuana stocks from companies like Cronos Group, Inc., Tilray Inc., and Canopy Growth, Inc. are showing high results for P/S ratio. The good news: P/S ratio is not the be-all-end-all of determining a stock's worth.
Black Market Risks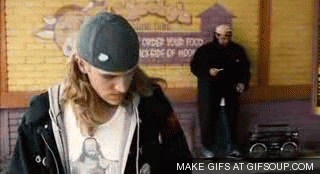 Giphy
As much as statistics show growth trends in the legalized sector of marijuana-based sales, black market pot sales are still playing a role in hindering the industry's sales. Even with the complete legalization of marijuana in Canada, for example, statistics still show that nearly half of all cannabis users report buying marijuana from illegal sources.Likewise, according to NBC News, in spite of California legalizing recreational marijuana over two years ago, black market sales still outnumber the legal ones.

Dilution Risks
Stock dilution occurs when a company issues new stocks, therefore decreasing ownership percentages of current stockholders, and in turn stock prices. Statistics show that many marijuana-related industries have dilution concerns, which can be seen through market cap statistics showing the share price and the number of existing shares. For example, Canopy Growth's five year market cap analysis chart shows a significant increase.
The Bottom Line
It seems that many of the repercussive risks in the legal marijuana industry will change over time, as more and more countries legalize and decriminalize marijuana. With the growing support of its legalization over time, I believe the legal market is here to stay.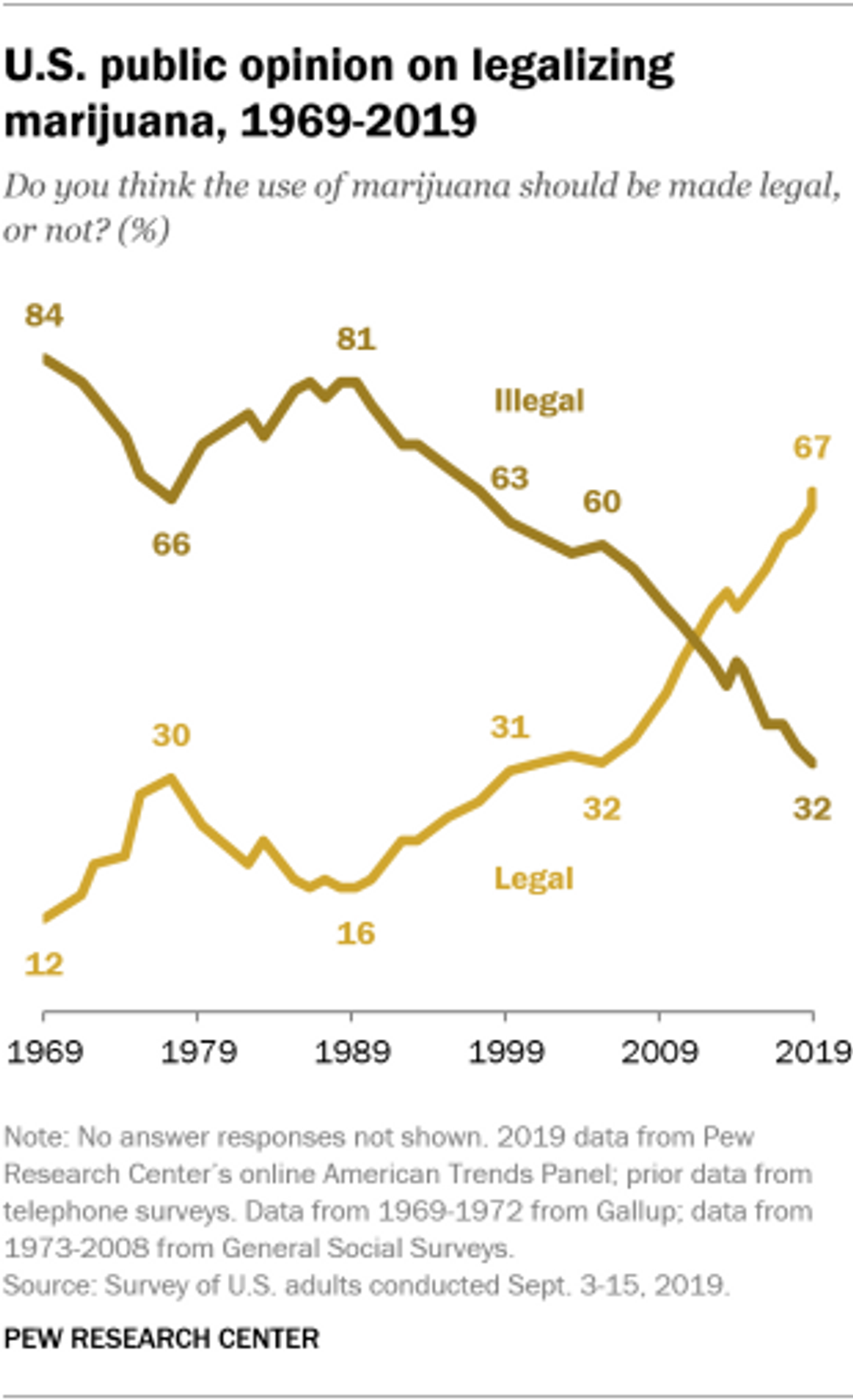 Pew Research Center
It's impossible to invest in any stock without taking risks. The best advice for potential pot investors: Don't devote more than you are willing to risk, do your research before buying any particular stocks yourself, and always remember, diversification is key in any good investment strategy!
From Your Site Articles
Related Articles Around the Web