Insider.com
Everyone knows it's important to build credit, but where do you start?
If you've never had a credit card before, the number of options can be intimidating. Luckily, there are plenty of cards designed specifically for first-timers. Some reasons you may want one of these cards are if you've never had a U.S. loan or credit card under your name, have had one for less than 3 years, or irresponsibly handled your credit in the past. While these cards function the same way as other credit cards (you borrow money from a financial institution to make purchases, then you pay off your debt after a specific period of time), there are a few things that set them apart:
Low credit limits
High interest rates
Limited (if any) rewards
Upfront fees or deposits
Essentially, these cards are designed to help you learn about credit, build credit, and prove your ability to pay back your credit card company. Here are a few of the best starter credit cards available.
Losing your wallet is a terrible feeling.
One moment you're on solid ground, going about your daily business, and the next, you're in free fall. If you're in this situation, frantically searching through your pockets and coming up empty, realize that most of us go through this at one time or another. Here are some steps to take to make sure you minimize the amount of time and money you spend making up for your carelessness.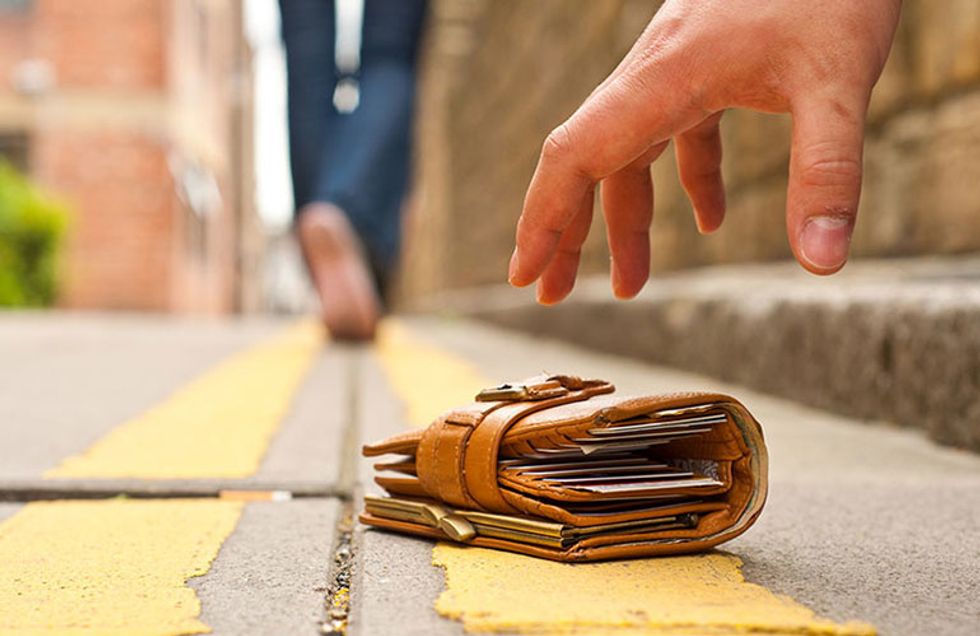 Readers Digest Asia
Part 1: Evaluate the situation
Don't Panic
If you've lost your wallet, don't panic. Take a deep breath. Losing a wallet isn't fun, but if you do this right, the consequences will be relatively minimal.
2. Check to make sure the wallet is lost
Before you dive in, do a quick search to check and see if you can find the wallet. Call the last few places you remember making a purchase or using your wallet, even if you're sure they're not there. Check all your bags, pockets, and every nook and cranny you can think of.
Part 2: Deal with your credit cards
3. Check your bank statements for charges
Whether you had a MetroCard, a social security card, a license, or three old sticks of gum in your wallet, you'll want to take stock of what you've lost. If you had your key in your wallet, consider changing your locks. Consider changing your passwords to any accounts that might have been connected to your bank information. Take note of any lost library cards, medical insurance cards (you'll need to cancel those too if they were lost), or other cards that might be important, and notify those organizations as needed.
4. Cancel or lock your credit or debit cards
This is a quick, easy, and important step you can take to prevent any fraudulent charges. Most banks allow you to lock or cancel your cards quickly via their website. If you think your wallet is lost somewhere in your house, not stolen, locking the cards is a good way to avoid having to order new ones. However, if you see fraudulent charges, cancel the cards immediately.
5. Call your bank
When you call your bank, tell them that your wallet was stolen, even if you aren't sure thats what happened. During the call, you can also put in an order for an expedited card. Once you report a lost card, you cannot be held liable for fraudulent charges. Make sure you also let your bank know if you were carrying any blank checks.
6. Contact anyone who might share your cards and let them know to cancel their cards
This step speaks for itself. Also, think of any recurring charges that might run into an issue if your card is canceled and address those as needed.
Part 3: Deal with your other cards and lost items
7. Make a list of everything that was in your wallet
Whether you had a MetroCard, a social security card, a license or three old sticks of gum in your wallet, you'll want to take stock of what you've lost. If you had your key in your wallet, consider changing your locks. Consider changing your passwords to any accounts that might have been connected to your bank information. Take note of any lost library cards, medical insurance cards (you'll need to cancel those too if they were lost), or other cards that might be important, and notify those organizations as needed.
8. Contact the DMV about your drivers' license
Most people carry their licenses in their wallet, so you'll probably want to get in touch with the DMV. To replace a driver's license, you'll often need to visit the DMV in person (be sure to bring your birth certificate and social security card or military ID). Every state has different DMV requirements, so check yours out
here.

Part 4: Get the legal details in place and consider identity theft
9. Inform the authorities
You'll want to file a police report when your wallet is lost, especially if identity theft is a risk. Call your local police department's non-emergency number and ask them to file a report. You'll need to make the report in whatever area you think you lost the wallet in.
10. Inform the social security organization
If you lost your social security card, immediately report that to the Social Security Administration.
11. Create a fraud alert
Losing your wallet means you're entitled to a free credit report and fraud alerts. Even if you've canceled your cards, it's a good idea to put a fraud alert on your account, which will be free for 90 days and will alert you in the case of suspicious activity. Call these numbers to do so:
Equifax®: Equifax.com/CreditReportAssistance
1-888-766-0008Experian®: Experian.com/fraudalert; 1-888-397-3742
TransUnion®: TransUnion.com/fraud; 1-800-680-7289
Part 5: Damage control
12. Figure out what you need to do now
As you wait for your cards to arrive, you might be wondering how you're going to pay for everything. Most of the time, if you know your social security number and have some form of identification, you can go to the bank and get them to pull out money for you. If you're overseas, you can have relatives wire you money through Western Union.
13. Make sure this won't happen again
In the future, consider only keeping a few things in your wallet to minimize the consequences of losing it. Consider also how you might keep your wallet more protected. Realize that there's nothing you can do now except look to the future.
These days, no matter how well we plan our time, there never seems to be enough hours in the day, am I right? You can have every good intention in the world and plan every detail down to the minute, but still find yourself saying "I wish there was a service for that." Luckily, in today's day and age, there is a service for just about everything. From helpful apps that help you track your fitness progress and plan your meals, to clothing subscription boxes and meal kits, knowing which services will actually make your life easier can be tricky!
Sometimes you just need a little help to get things in order. Here are the 3 services you need to try immediately to help get your life together.
Instacart
Why spend your evenings and weekends lining up at the grocery store, lugging bags and spending too much money on snacks because you went to the store hungry? Shop for all of your groceries online with Instacart and save yourself the hassle. From the comfort of your couch, you can buy groceries from your favorite stores in your local area, and one of Instacart's delivery people will go and shop for you! You'll get all of the same brands and products you know and love, and your delivery person will message you directly if they happen to have run out of your beloved barbecue chips
Another one of life's necessary tasks, spending what little free time you have cleaning is no fun. Think a cleaning service is a hassle to book and out of your budget? Think again! Handy's easy-to-use app matches you with experienced and vetted cleaning Pros in your area. Handy's convenient cleaning plans are super flexible and can be tweaked at any time. Pros can come and save the day if there's a cleaning emergency, or arrive on a weekly, bi-weekly or monthly basis. Appointments can be available as soon as the next day! You can also specify the exact type of cleaning you want before your Pro arrives and can add on additional services like deep fridge cleans or doing a load of laundry. Having a cleaning professional come on a regular basis makes it so much easier to keep your home in order. Plus, let's be real, everyone hates cleaning, so do yourself a favor and take your weekends back.
Sleep Cycle
What's more important than a good night's sleep? Nothing! Apps like Sleep Cycle are making it a lot easier to make sure that you're getting the right amount of quality rest. It gives you insight into key factors like how many hours of REM sleep you're getting, how much you move throughout the night, and your fluctuating heart rate, making it easier to understand why you still feel tired, even after 8 hours of sleep. The best part? You can set an alarm like you usually would, and based on your movements, it will detect when you are drifting into lighter stages of sleep and will wake you up at your lightest sleep point of sleep closest to your alarm. This makes waking up and getting out of bed so much more bearable (we wouldn't say easier!).
Not all services are a luxury. Cut yourself some slack and use an app like Handy to take some of the work off your plate.
Update: The folks at Handy are extending a Special offer to our readers. For a limited time follow this link to get a special offer on a cleaning plan!
If you struggle with saving money, then consider trying one of the following phone apps. They're easy to use and automate savings, so you never have to think about a piggy bank again. Start the new year with something better than a resolution: Download one of these five apps.
Acorns
Acorns is an app that automatically invests your money in small amounts. It rounds up your purchases to the nearest dollar and transfers the change to your Acorns account. You have to connect a checking account to use this app, so the app can move money into an investment portfolio. It only costs $1 per month to use Acorns, but if you want more features, then you can sign up for the $2 or $3 per month options.
Digit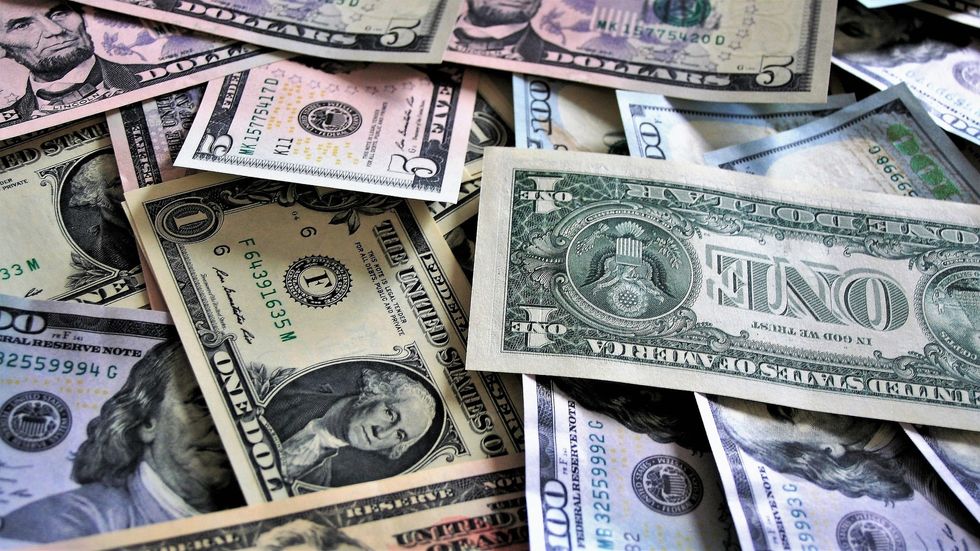 Digit analyzes your spending habits and income to help you save money automatically. The app relies on algorithms to determine how much you can save every month and transfers the money from your checking account to your Digit account. It has a no-overdraft guarantee and only costs $2.99 per month to use. Although your savings don't earn interest, you get a 1% savings bonus every three months and can withdraw the money from the account at any time.
Earny
Earny is a different type of savings app. Instead of taking money from your account and moving it, this free app automatically sends you money from refunds it obtains. First, you connect an email account such as Gmail or Yahoo. Then, the app scans the inbox for receipts and looks for price drops on your purchases. If it finds something costs less than what you paid, it will automatically request a refund and notify you. You can add multiple email addresses, so the app can monitor all of them for receipts.
Qapital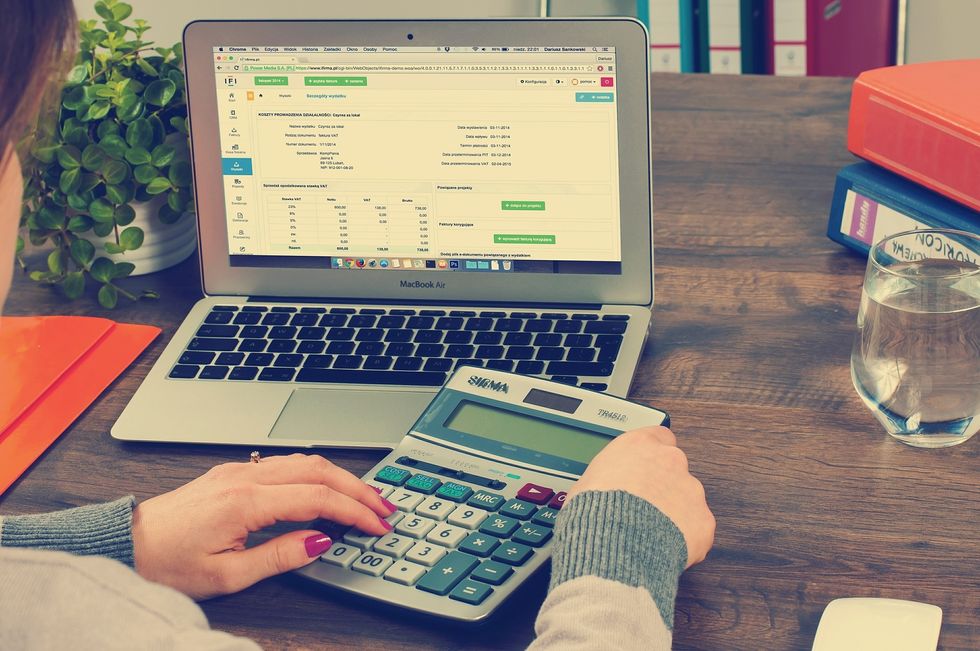 Qapital is a free banking app that can also round up your change to the nearest dollar and transfer it to savings. The app also allows you to create specific savings rules, such as creating a goal to save 15% of your paycheck every month. If you open a Qapital Spending account, you can earn 0.10% interest, and it's FDIC-insured. You can also invest the money in a portfolio and choose the risk level that feels comfortable.
Ibotta
Ibotta is a free cash-back app for your purchases. You can send receipts, link a store loyalty card or make mobile purchases to get cash back. After setting up your account, the next step is to look for offers on products that you want to buy. These rebates change all the time and range from 5% cash back from purchasing on Amazon to $4 for buying any brand's beef roast. Then, you add the offers to your account, go shopping and get cash back automatically. Once you earn $20, you can transfer the money to your PayPal or Venmo account, or you can purchase a gift card.
Acorns, Digit, Earny, Qapital, and Ibotta are easy apps to use, so you can start saving money right away. These five apps can help you reach your money goals faster.