We're all taking steps towards helping the environment. Such as recycling more diligently, using reusable bags, and quitting plastic straws.
Luckily, all of these steps don't cost too much money. Turns out, there's another step you can take that actually saves you money. Sounds a little too good to be true, but Arcadia Power can help you cut the cost of your energy bills, all while finding a more green alternative.
There's no catch, no extortionate bills, no 30-year commitment, and no need to install solar panels on your roof. You're probably wondering how this is possible.
Firstly, Arcadia looks at your monthly bills and determines what your energy usage is. Then, they automatically shop around to find the best monthly rate in your area that's sourced from renewable energy, like wind and solar. They don't change your utility, just get you a more sustainable bill.
Arcadia isn't a power provider, but they work on your behalf to make sure that the energy being proved by companies is being partly sourced from green suppliers, as well as getting you the best deal possible.
50% of your electricity will come from renewable alternatives.
It doesn't cost you anything because Arcadia is paid by your provider after they secure you a green energy supplier.
It only takes 2 minutes to sign up, and it's a totally free service! Acadia's mission is to make green energy sources not only more accessible but more affordable, too.
Whether you're renting or you're a homeowner, Arcadia is an easy way to do more for the environment. And again, it saves you money. Everybody wins!
Insider.com
Everyone knows it's important to build credit, but where do you start?
If you've never had a credit card before, the number of options can be intimidating. Luckily, there are plenty of cards designed specifically for first-timers. Some reasons you may want one of these cards are if you've never had a U.S. loan or credit card under your name, have had one for less than 3 years, or irresponsibly handled your credit in the past. While these cards function the same way as other credit cards (you borrow money from a financial institution to make purchases, then you pay off your debt after a specific period of time), there are a few things that set them apart:
Low credit limits
High interest rates
Limited (if any) rewards
Upfront fees or deposits
Essentially, these cards are designed to help you learn about credit, build credit, and prove your ability to pay back your credit card company. Here are a few of the best starter credit cards available.
Losing your wallet is a terrible feeling.
One moment you're on solid ground, going about your daily business, and the next, you're in free fall. If you're in this situation, frantically searching through your pockets and coming up empty, realize that most of us go through this at one time or another. Here are some steps to take to make sure you minimize the amount of time and money you spend making up for your carelessness.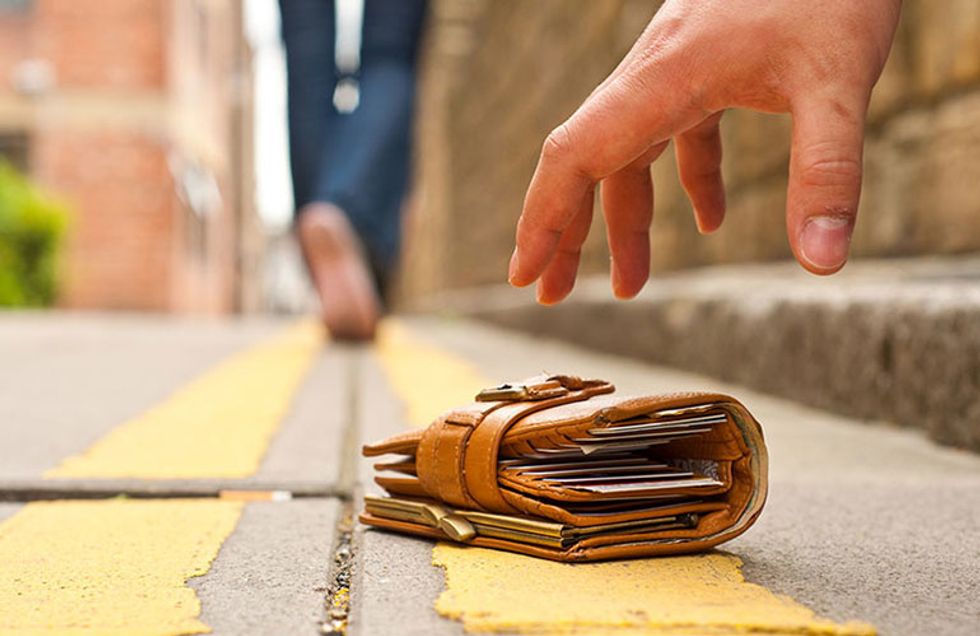 Readers Digest Asia
Part 1: Evaluate the situation
Don't Panic
If you've lost your wallet, don't panic. Take a deep breath. Losing a wallet isn't fun, but if you do this right, the consequences will be relatively minimal.
2. Check to make sure the wallet is lost
Before you dive in, do a quick search to check and see if you can find the wallet. Call the last few places you remember making a purchase or using your wallet, even if you're sure they're not there. Check all your bags, pockets, and every nook and cranny you can think of.
Part 2: Deal with your credit cards
3. Check your bank statements for charges
Whether you had a MetroCard, a social security card, a license, or three old sticks of gum in your wallet, you'll want to take stock of what you've lost. If you had your key in your wallet, consider changing your locks. Consider changing your passwords to any accounts that might have been connected to your bank information. Take note of any lost library cards, medical insurance cards (you'll need to cancel those too if they were lost), or other cards that might be important, and notify those organizations as needed.
4. Cancel or lock your credit or debit cards
This is a quick, easy, and important step you can take to prevent any fraudulent charges. Most banks allow you to lock or cancel your cards quickly via their website. If you think your wallet is lost somewhere in your house, not stolen, locking the cards is a good way to avoid having to order new ones. However, if you see fraudulent charges, cancel the cards immediately.
5. Call your bank
When you call your bank, tell them that your wallet was stolen, even if you aren't sure thats what happened. During the call, you can also put in an order for an expedited card. Once you report a lost card, you cannot be held liable for fraudulent charges. Make sure you also let your bank know if you were carrying any blank checks.
6. Contact anyone who might share your cards and let them know to cancel their cards
This step speaks for itself. Also, think of any recurring charges that might run into an issue if your card is canceled and address those as needed.
Part 3: Deal with your other cards and lost items
7. Make a list of everything that was in your wallet
Whether you had a MetroCard, a social security card, a license or three old sticks of gum in your wallet, you'll want to take stock of what you've lost. If you had your key in your wallet, consider changing your locks. Consider changing your passwords to any accounts that might have been connected to your bank information. Take note of any lost library cards, medical insurance cards (you'll need to cancel those too if they were lost), or other cards that might be important, and notify those organizations as needed.
8. Contact the DMV about your drivers' license
Most people carry their licenses in their wallet, so you'll probably want to get in touch with the DMV. To replace a driver's license, you'll often need to visit the DMV in person (be sure to bring your birth certificate and social security card or military ID). Every state has different DMV requirements, so check yours out
here.

Part 4: Get the legal details in place and consider identity theft
9. Inform the authorities
You'll want to file a police report when your wallet is lost, especially if identity theft is a risk. Call your local police department's non-emergency number and ask them to file a report. You'll need to make the report in whatever area you think you lost the wallet in.
10. Inform the social security organization
If you lost your social security card, immediately report that to the Social Security Administration.
11. Create a fraud alert
Losing your wallet means you're entitled to a free credit report and fraud alerts. Even if you've canceled your cards, it's a good idea to put a fraud alert on your account, which will be free for 90 days and will alert you in the case of suspicious activity. Call these numbers to do so:
Equifax®: Equifax.com/CreditReportAssistance
1-888-766-0008Experian®: Experian.com/fraudalert; 1-888-397-3742
TransUnion®: TransUnion.com/fraud; 1-800-680-7289
Part 5: Damage control
12. Figure out what you need to do now
As you wait for your cards to arrive, you might be wondering how you're going to pay for everything. Most of the time, if you know your social security number and have some form of identification, you can go to the bank and get them to pull out money for you. If you're overseas, you can have relatives wire you money through Western Union.
13. Make sure this won't happen again
In the future, consider only keeping a few things in your wallet to minimize the consequences of losing it. Consider also how you might keep your wallet more protected. Realize that there's nothing you can do now except look to the future.
Mr. Money Mustache is an online personality, a character of Peter Adeney who offers financial advice that aims to help people live frugally and retire early. The Money Mustache blog slogan is "Financial Freedom Through Badassity," and his personal finance advice often requires an independent, confident disposition that's willing to sacrifice. But the promised payoffs are huge, and their example of success is Mr. Mustache, himself.

The blog features posts by Mr. Money Mustache, its extreme character, and the Realist, his checks-and-balance opponent. While the Realist would have readers skip the once-a-week McDonald's and, instead, save $10, Mr. Money Mustache insists on doing it hard and fast. He'd push a family with two workers making $60k a year, each, to save $5,000 per month as a basic rule.
Born in Ontario, Canada, Mr. Mustache-Adeney's working life started with a paper route and continued steadily until he graduated from college and moved to the U.S.
At this point, he writes, with enough financial independence to cover a down payment on a house, he bought a fixer-upper with his future wife. With two incomes and a small mortgage, "we were on a treadmill that was pushing us forwards instead of fighting one that pulled us back."
In the following few years, his and his wife's savings compounded until they arrived at the striking moment in their story: instead of splurging on new cars, or vacations, the couple simply retired. At 30.
Mr. Mustache started writing advice from a relatively unique perspective: as a person for whom these practices worked, even thought it doesn't for the vast majority. His posts aren't the usual college commencement quotes from billionaires who offer generalities that most people already know ("work hard," "save money," "don't be afraid of failure"). The writing on his website is honest, often annoyed but optimistic and full of sarcastic humor.
He writes as a person who beat the system and is sick of reading news about how this or that—or the economy, a poor excuse in his opinion—is hurting people's lives.
"Your current middle-class life is an Exploding Volcano of Wastefulness," he writes, and with this realization a person should be able to halve their expenses (and, consequently, double their savings). The Mustache family saved two-thirds of their income and retired at thirty. Is it really that simple? Is it true retirement doesn't need to wait until you are pushing 70 years old?
You may have read books about the FIRE movement ("Financial Independence, Retire Early") but Money Mustache says most of people get it wrong. "A fundamental truth in society is that most people are pretty bad at math. At the core, these FIRE ideas are simply about taking some solid math, combining it with principles of human happiness, and then distilling it down into a list of simple tactics that will get you way ahead in all areas of life. The benefits go way beyond money," he writes.
His list of steps to early retirement includes such advice as: erase debt; move close to work and avoid cars, especially unaffordable ones (he advocates bicycles strongly); cancel the TV service; grocery shop wisely (with lots of coupons); escape expensive mobile phones; and much, much more. Oh, and an important one: "practice optimism."
Mr. Money Mustache also provides a retirement calculator to help people stop working and become early retirees.
"Optimism tricks you into trying more things," he writes. Hope and positivity are crucial keys to Mustachianism, because the way involves more sacrifice than most people feel ready to make. Optimism makes it all possible: "What do you do with all that extra knowledge? You succeed."
That's about as close to a commencement address as the blog gets. Most of its articles trigger action because of their unromantic bluntness. You know you've succeeded when you can write a sentence like this: "My wife and I just saved about 66% of our pay without really noticing it, and in under ten years we woke up and realized we didn't have to work for a living any more."
"But fast-processor tablet-phones are important, and cars are necessary, and you know what they say about vacations benefiting your health, and etc," we all plead.
Mr. Mustache acknowledges all of this desire and want, but he calls it just that. He emphasizes a focus on happiness instead of convenience. You're ultimately left with a choice between working most of your life to live conveniently, or sacrificing instant pleasures for deeper happiness and an early retirement.
Even with investing in stocks, he advises you to simply buy an index fund with low fees and get back to enjoying life. "If index funds really are the statistically best bet, why are there still thousands of brand-name mutual funds and hotshot traders out there?" Mr. Mustache: "For the same reason that Las Vegas still exists and people still drive SUVs. Humans are irrational creatures..."
Mustachianism recalls the old wisdom that happiness is the appreciation of what one already has. Mr. Money Mustache doesn't want people to live with constant spending guilt. He wants his readers to escape the grip of debt and material obsession, and understand just how close—how very close—they are to financial victory and personal success.