clark.com
During open enrollment or when you start a new job, you may find that your company offers the chance to enroll in a Flexible Spending Account (FSA - registered trademark). It might seem annoying to have money deducted from your paycheck at first, but it can actually save you money on health care expenses in the long run.

An FSA is an account that takes money from your paycheck and puts it into a special account that you can only spend on certain healthcare items or eligible medical services.
You can use an FSA for copays for visiting the doctor, prescriptions, and even for services like new retainers or glasses. Some of the FSA-eligible expenses you might not even think about include sunscreen, condoms, and tampons.
Parents and children of elderly might be familiar with Dependent Care FSA, a similar pre-tax benefit used to pay for things like after school programs and even adult daycare.
The money taken out of your paycheck is pre-tax, meaning that while you can't spend the money on just anything, if you are able to estimate your medical expenses for the next year, you can avoid paying payroll taxes on up to $2,750.
If you've had your eye on LASIK surgery (eye – LASIK, get it?) you can include extra money in your FSA contribution for the next year and pay no taxes on the money from the FSA you use to pay for the surgery.
Many plans allow you to access the full year's contribution on January 1st. This means you can use the FSA as an interest-free loan for medical expenses. The money is going to be deducted from your paycheck anyway, so why wait?
The big downside to an FSA is that you usually can't change your contribution mid-year. So, if you run out of money in the FSA funds in July, you'll have to use regular after-tax dollars to pay for qualified goods and services.
Conversely, put in too much, and you might be scrambling in December to find eligible expenses to spend the money in your FSA account. An FSA is use-it-or-lose-it – you have to spend all the money that year or poof, it's gone. However, if you have funds remaining in your account at the end of the plan year, there is a grace period of two months and 15 day. That means you have until March 15th to spend money from the previous year.
To decide how much to contribute to an FSA, I recommend a few steps:
Look at your qualified medical expenses that happen on a regular basis. If you know you're going to have a $20 copay every week for therapy or a $35 copay every six months for a checkup, take note of it.
Think about any big procedures or items you might want in the next year. If you're thinking it's about time for new prescription sunglasses, be sure to set aside some money for that.
Do some research about what FSA-eligible items you use regularly and get a rough estimate as to how much you might spend on them. I usually check out the FSA Store to get an idea of the different categories. If you're addicted to a certain lip balm or have been dying to try light therapy for your acne, try to get a ballpark idea of how much you're going to spend next year. I don't know what guy needs to hear this, but you probably do not need that many condoms even if they are tax-free.
I like to then add a small gross up for incidentals that may pop up (nobody plans on spraining a wrist) and any random expenses you might have (if you have to pay for parking at the hospital or something, you can use your FSA). The specific amount depends on how comfortable you are of running out of your FSA if something comes up and how much extra you can afford to set aside each week from your paycheck.
Add that all together and that's how much you should set aside in your health care FSA.
Once you have your limited purpose FSA, you can use the FSA mobile app for deadline reminders and eligibility checks.
You can retain hundreds of dollars a year in tax savings by paying your medical expenses with money from your FSA all while keeping you healthy. If your employer offers one with your health insurance benefits, I definitely recommend enrolling. Spend more on your health, and less on the internal revenue service.
From Your Site Articles
Related Articles Around the Web
We're all taking steps towards helping the environment. Such as recycling more diligently, using reusable bags, and quitting plastic straws.
Luckily, all of these steps don't cost too much money. Turns out, there's another step you can take that actually saves you money. Sounds a little too good to be true, but Arcadia Power can help you cut the cost of your energy bills, all while finding a more green alternative.
There's no catch, no extortionate bills, no 30-year commitment, and no need to install solar panels on your roof. You're probably wondering how this is possible.
Firstly, Arcadia looks at your monthly bills and determines what your energy usage is. Then, they automatically shop around to find the best monthly rate in your area that's sourced from renewable energy, like wind and solar. They don't change your utility, just get you a more sustainable bill.
Arcadia isn't a power provider, but they work on your behalf to make sure that the energy being proved by companies is being partly sourced from green suppliers, as well as getting you the best deal possible.
50% of your electricity will come from renewable alternatives.
It doesn't cost you anything because Arcadia is paid by your provider after they secure you a green energy supplier.
It only takes 2 minutes to sign up, and it's a totally free service! Acadia's mission is to make green energy sources not only more accessible but more affordable, too.
Whether you're renting or you're a homeowner, Arcadia is an easy way to do more for the environment. And again, it saves you money. Everybody wins!
Insider.com
Everyone knows it's important to build credit, but where do you start?
If you've never had a credit card before, the number of options can be intimidating. Luckily, there are plenty of cards designed specifically for first-timers. Some reasons you may want one of these cards are if you've never had a U.S. loan or credit card under your name, have had one for less than 3 years, or irresponsibly handled your credit in the past. While these cards function the same way as other credit cards (you borrow money from a financial institution to make purchases, then you pay off your debt after a specific period of time), there are a few things that set them apart:
Low credit limits
High interest rates
Limited (if any) rewards
Upfront fees or deposits
Essentially, these cards are designed to help you learn about credit, build credit, and prove your ability to pay back your credit card company. Here are a few of the best starter credit cards available.
Losing your wallet is a terrible feeling.
One moment you're on solid ground, going about your daily business, and the next, you're in free fall. If you're in this situation, frantically searching through your pockets and coming up empty, realize that most of us go through this at one time or another. Here are some steps to take to make sure you minimize the amount of time and money you spend making up for your carelessness.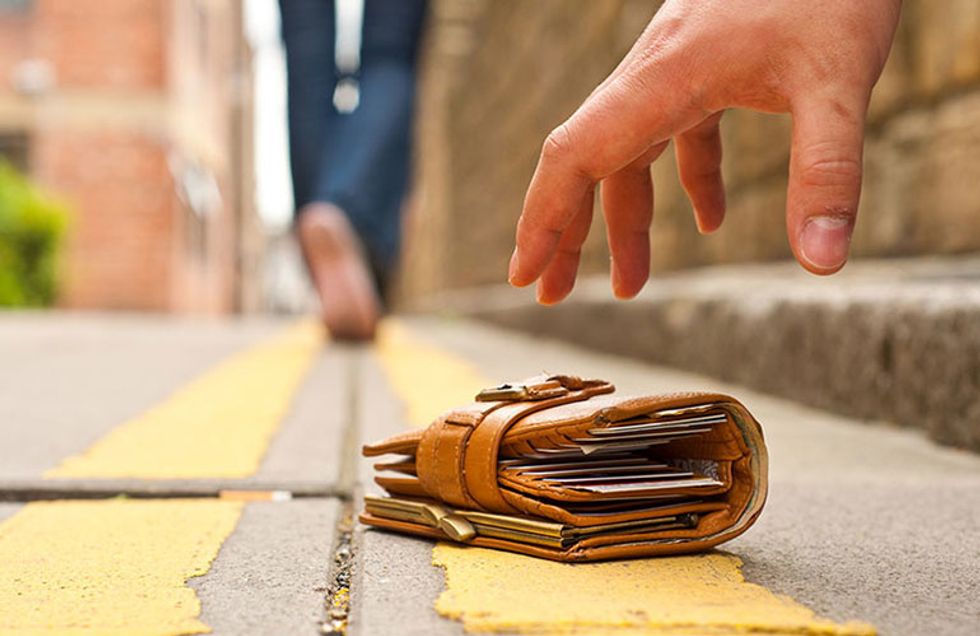 Readers Digest Asia
Part 1: Evaluate the situation
Don't Panic
If you've lost your wallet, don't panic. Take a deep breath. Losing a wallet isn't fun, but if you do this right, the consequences will be relatively minimal.
2. Check to make sure the wallet is lost
Before you dive in, do a quick search to check and see if you can find the wallet. Call the last few places you remember making a purchase or using your wallet, even if you're sure they're not there. Check all your bags, pockets, and every nook and cranny you can think of.
Part 2: Deal with your credit cards
3. Check your bank statements for charges
Whether you had a MetroCard, a social security card, a license, or three old sticks of gum in your wallet, you'll want to take stock of what you've lost. If you had your key in your wallet, consider changing your locks. Consider changing your passwords to any accounts that might have been connected to your bank information. Take note of any lost library cards, medical insurance cards (you'll need to cancel those too if they were lost), or other cards that might be important, and notify those organizations as needed.
4. Cancel or lock your credit or debit cards
This is a quick, easy, and important step you can take to prevent any fraudulent charges. Most banks allow you to lock or cancel your cards quickly via their website. If you think your wallet is lost somewhere in your house, not stolen, locking the cards is a good way to avoid having to order new ones. However, if you see fraudulent charges, cancel the cards immediately.
5. Call your bank
When you call your bank, tell them that your wallet was stolen, even if you aren't sure thats what happened. During the call, you can also put in an order for an expedited card. Once you report a lost card, you cannot be held liable for fraudulent charges. Make sure you also let your bank know if you were carrying any blank checks.
6. Contact anyone who might share your cards and let them know to cancel their cards
This step speaks for itself. Also, think of any recurring charges that might run into an issue if your card is canceled and address those as needed.
Part 3: Deal with your other cards and lost items
7. Make a list of everything that was in your wallet
Whether you had a MetroCard, a social security card, a license or three old sticks of gum in your wallet, you'll want to take stock of what you've lost. If you had your key in your wallet, consider changing your locks. Consider changing your passwords to any accounts that might have been connected to your bank information. Take note of any lost library cards, medical insurance cards (you'll need to cancel those too if they were lost), or other cards that might be important, and notify those organizations as needed.
8. Contact the DMV about your drivers' license
Most people carry their licenses in their wallet, so you'll probably want to get in touch with the DMV. To replace a driver's license, you'll often need to visit the DMV in person (be sure to bring your birth certificate and social security card or military ID). Every state has different DMV requirements, so check yours out
here.

Part 4: Get the legal details in place and consider identity theft
9. Inform the authorities
You'll want to file a police report when your wallet is lost, especially if identity theft is a risk. Call your local police department's non-emergency number and ask them to file a report. You'll need to make the report in whatever area you think you lost the wallet in.
10. Inform the social security organization
If you lost your social security card, immediately report that to the Social Security Administration.
11. Create a fraud alert
Losing your wallet means you're entitled to a free credit report and fraud alerts. Even if you've canceled your cards, it's a good idea to put a fraud alert on your account, which will be free for 90 days and will alert you in the case of suspicious activity. Call these numbers to do so:
Equifax®: Equifax.com/CreditReportAssistance
1-888-766-0008Experian®: Experian.com/fraudalert; 1-888-397-3742
TransUnion®: TransUnion.com/fraud; 1-800-680-7289
Part 5: Damage control
12. Figure out what you need to do now
As you wait for your cards to arrive, you might be wondering how you're going to pay for everything. Most of the time, if you know your social security number and have some form of identification, you can go to the bank and get them to pull out money for you. If you're overseas, you can have relatives wire you money through Western Union.
13. Make sure this won't happen again
In the future, consider only keeping a few things in your wallet to minimize the consequences of losing it. Consider also how you might keep your wallet more protected. Realize that there's nothing you can do now except look to the future.