pixabay.com
Doctor, lawyers, celebs, and CEOs. When we hear these job titles, we know there's money in them… piles of it in many cases. But not all of us are cut out to be the next Mark Zuckerberg or Nicki Minaj. Does this mean that high-paying careers are not in our futures? Not so. While most of us will never make Dr. Phil-level cash, there are plenty of careers that pay surprisingly well.
These eight jobs are varied and interesting, falling all over the map when it comes to creativity, compassion, hard work, and handiness. No matter where you live, there is promise for a career that is motivating and money-making. Broaden your horizons with these eight well-paying positions.
Medical Writer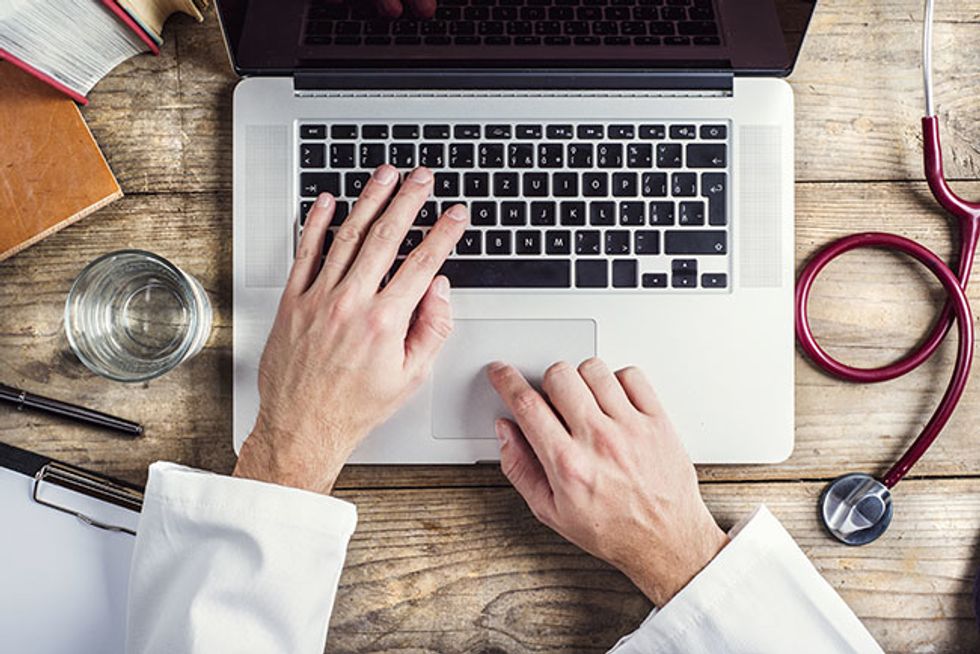 mediabistro.com
If you are interested in the medical field from a technical aspect rather than a hands-on approach like a doctor, nurse, or surgeon, consider becoming a medical writer. According to Job Hero, "The Bureau of Labor Statistics projects a 10 percent increase in jobs for all technical writers, including Medical Writers, by 2024." With demand comes supply, meaning potentially more money for those who choose to enter this detail-oriented and highly important field.
As per Study.com, "Companies and institutions that hire medical writers need professionals who offer a dynamic union between scientific medical knowledge and written communication skills. Hospitals, academic medical centers, pharmaceutical companies and science publications and websites are potential employers."
Study.com adds that you will need a bachelor's or master's degree in English or journalism as well as writing/editorial skills, medical field knowledge, ability to conduct research, and regulation and approval processes.
According to Glassdoor, "The national average salary for a Medical Writer is $82,641."
Paralegal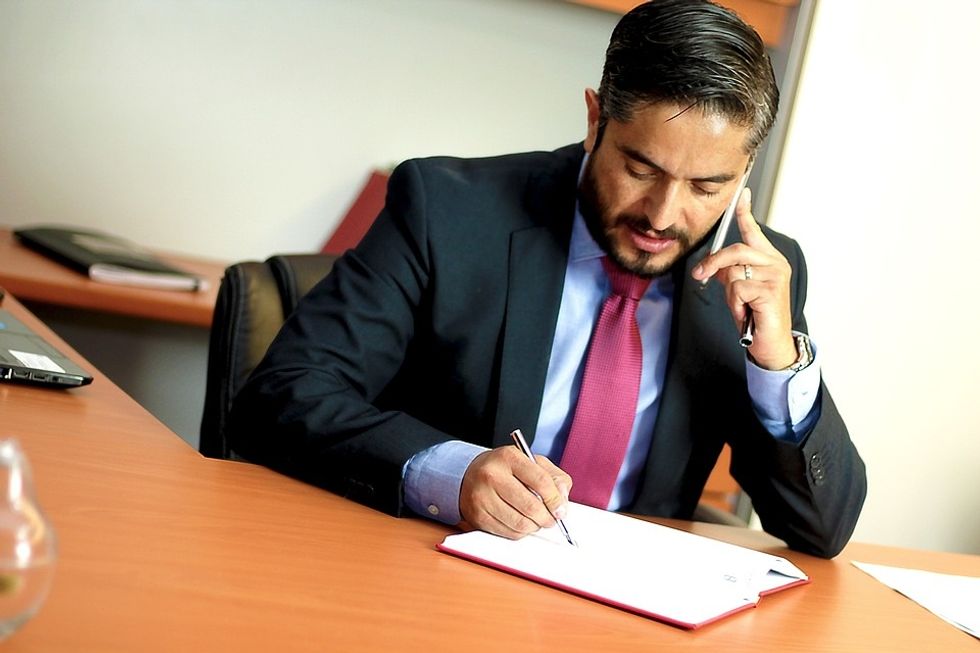 pixabay.com
You don't have to become an attorney to be involved in the legal profession in an important and significant way. The paralegal is an intricate member of nearly any legal team, and the pay is good.
As explained by The Balance, "Paralegals, also known as legal assistants, are individuals who are trained to assist attorneys in the delivery of legal services. They work in law firms, corporations, the government and other practice environments and must operate under the supervision of a lawyer. Paralegals assist attorneys in resolving lawsuits, and as such, their duties are diverse."
According to Learn How to Become, "The most-common educational path to becoming a paralegal includes an Associate degree. These two-year programs are offered through community colleges, universities, or online, and teach the basic skills and knowledge required of an entry-level paralegal or legal assistant. A four-year bachelor's degree in paralegal studies may be a requirement for paralegal positions with major law firms, government legal departments or in corporate law.
"The median annual paralegal salary is $53,651, as of January 30, 2018, with a range usually between $47,440 - $60,577," according to Salary.com.
Social Media Manager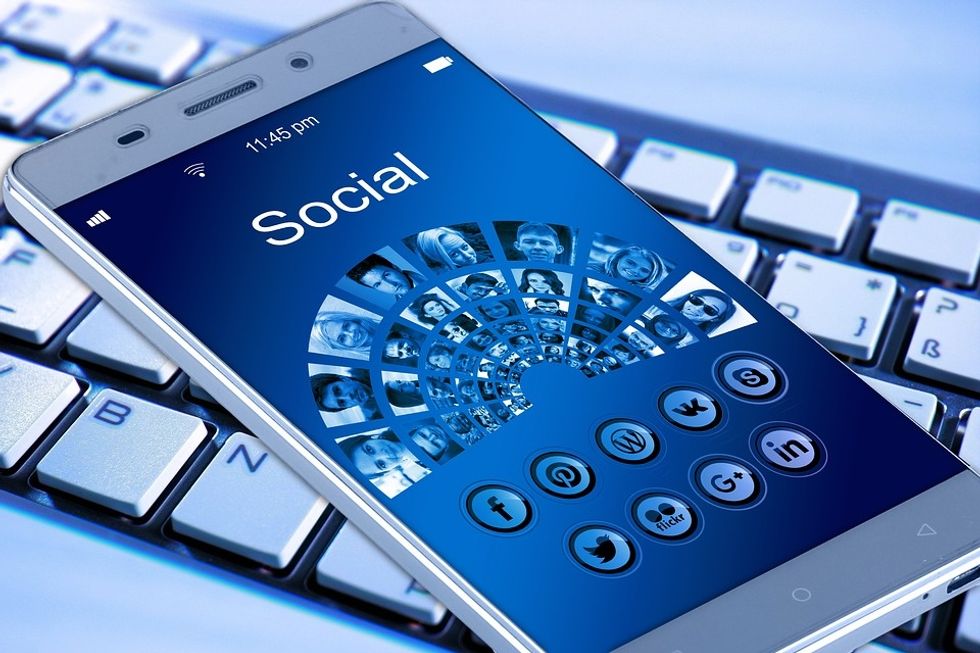 pixabay.com
When we think of social media, posting pics to Instagram or "tweeting" about current events comes to mind. But for a marketing-minded business, the role of social media manager is highly valued to get word about their brand out to the public, gain customers, and make money. And with that, the social media manager will make a nice living for themselves.
ZipRecruiter explains, "As a social media manager, you will update social networks and curate content to gain new followers. You will also create new social marketing campaigns, build brand recognition, and manage all published company content. While working with web analytic tools to track campaign progress and researching industry trends, you will maintain an active social presence and reply to customer inquiries. A successful social media manager will collaborate with marketing, PR, and legal teams to align company messages, promotions, and goals."
That's a lot of responsibility for one person, but for today's social media-savvy folks, this job can be fun and creative. And the demand is only increasing as more businesses move and grow with the times.
As per Study.com, "Bachelor's degree in communications, journalism, or marketing," is needed for this job.
"The average salary for a Social Media Manager is $60,784," as per Glassdoor.
Translator/Interpreter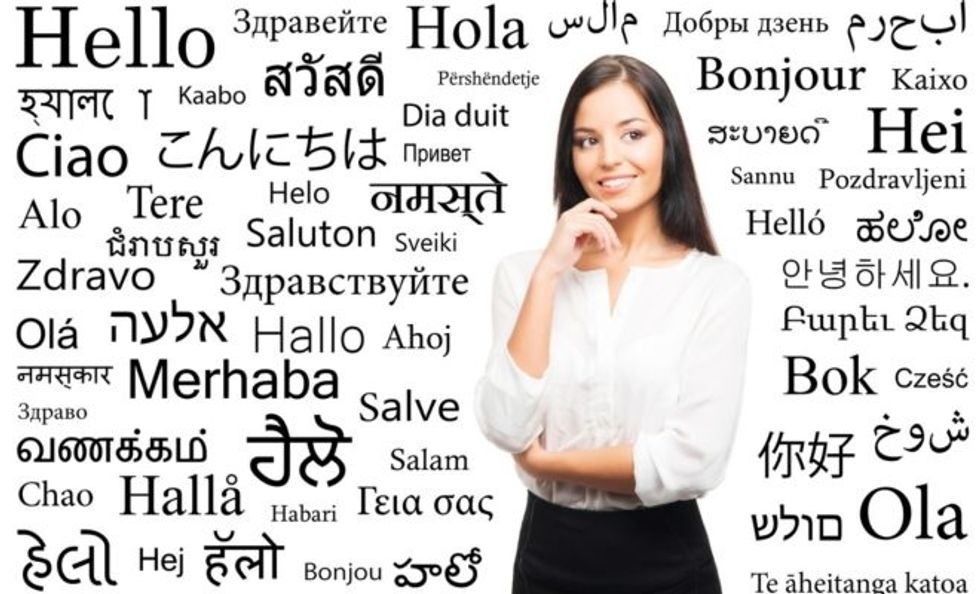 thebusinesswomanmedia.com
If you are fluent in more than one tongue, put those talents and skills to use at work by taking a job as a translator or interpreter. As Truity describes, "Interpreters and translators convert information from one language into another language. Interpreters work in spoken or sign language; translators work in written language."
"The goal of a translator is to have people read the translation as if it were the original. (They) must be able to write sentences that maintain or duplicate the structure and style of the original meaning while keeping the ideas and facts of the original meaning accurate. (They) must properly transmit any cultural references and other expressions that do not translate literally," explains Truity. And, "Interpreters convert information from one spoken language into another—or, in the case of sign language interpreters, between spoken language and sign language. The goal of an interpreter is to have people hear the interpretation as if it were the original. Interpreters must usually be fluent speakers or signers of both languages, because they communicate back and forth among the people who do not share a common language."
According to Study.com, "Translators often specialize in a certain topic, such as literature, finance, law, medicine, or technology. Most staff employment opportunities are in Washington, D.C., New York, and California; however, the need for Translators is expanding throughout the U.S., especially in the area of healthcare. (You'll need) a bachelor's degree and expertise in multiple languages."
As per U.S. News & World Report, "Interpreters and translators earned a median annual salary of $46,120 in 2016. The best-paid earned more than $83,010."
Auditor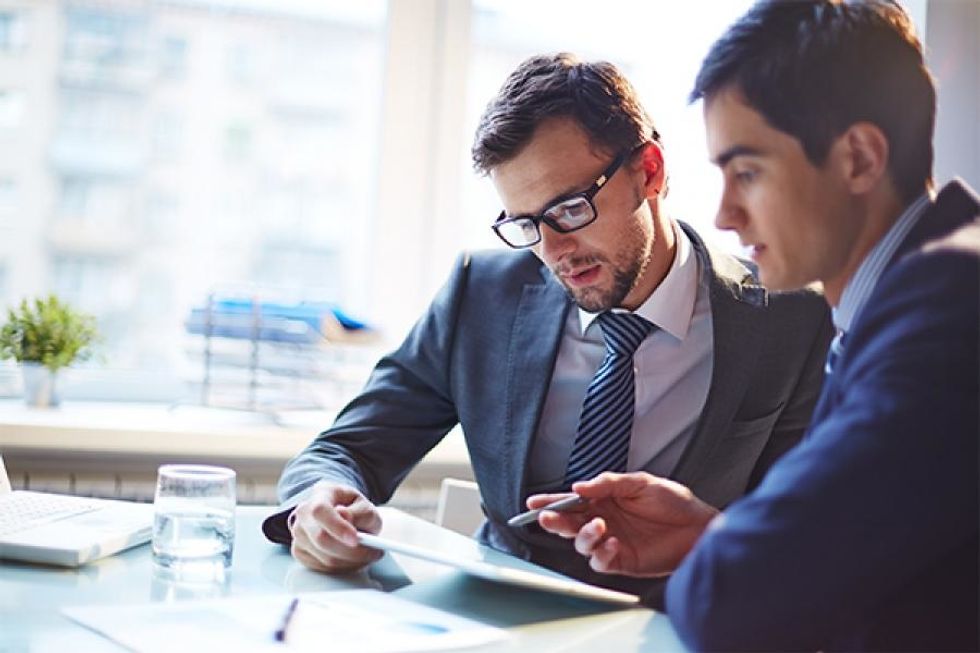 forbesindia.com
Are you good with money, math, and management? A career as an auditor may be your calling, and a path to a generous paycheck to boot. As per Target Jobs, "Auditors are specialists who review the accounts of companies and organizations to ensure the validity and legality of their financial records. They can also act in an advisory role to recommend possible risk aversion measures and cost savings that could be made. Auditors work in the accounting departments of a huge range of firms and with independent chartered and certified firms, examining the money going in and out of organizations and making sure it is recorded and processed correctly."
As far as schooling goes, "Auditors typically need at least a bachelor's degree in an accounting-related field, and earning optional certification, such as those offered by the Institute of Internal Auditors, can increase job prospects and/or earnings," according to Study.com.
Look out for an 11% growth in the demand for auditors through 2014, which is, "faster than average of all occupations," as per Study.com.
According to Glassdoor, "The national average salary for an Auditor is $58,083."
Court Reporter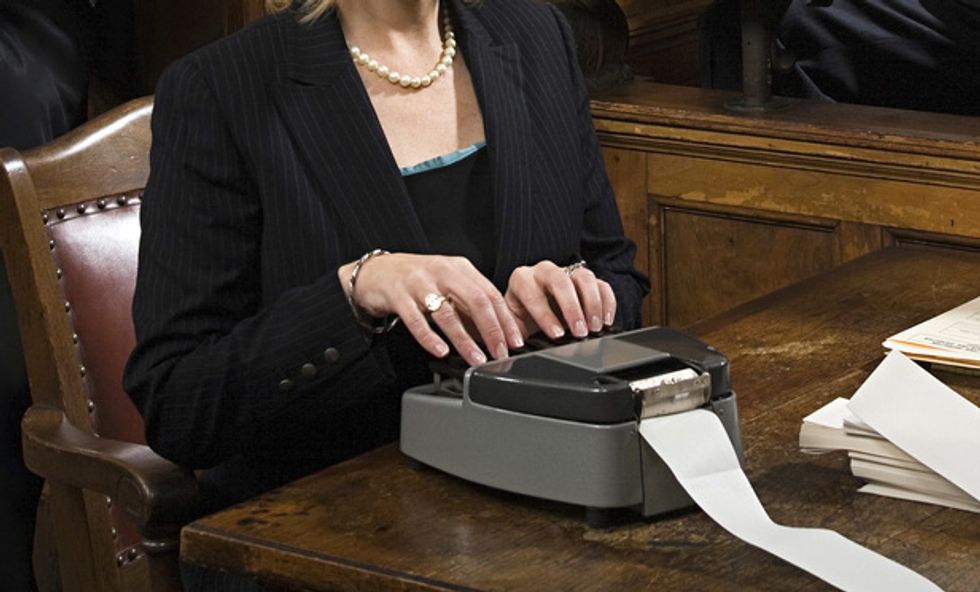 lanjinchilawteam.com
Be part of the justice system by becoming a court reporter. If you are interested in the legal system, but don't have the desire to become a lawyer or judge, a court reporter can be a fulfilling career full of excitement and importance.
As per CourtReporterEdu, "Court reporters – also referred to as short hand reporters – are responsible for keeping written records of legal proceedings, whether in government, court, or private settings. The verbatim documentation in criminal, civil and other court proceedings requires professionals who are highly skilled and trained in court reporting, which usually involves stenography."
You'll need lots of talent, skills, and a solid work ethic to be a consistent and capable court reporter. CourtReporterEdu lists some of the traits of and knowledge needed to be a competent court reporter:
Operate a stenographic machine at 200 wpm
Advanced spelling, punctuation, vocabulary and grammar skills
Perform legal clerical work with a high degree of accuracy and speed
Remain seated for long periods of time
Knowledge of clerical and legal recordkeeping practices and procedures
Operate a variety of equipment, including transcription machines, computer terminals, audio equipment, and printers…
…and the list goes on.
You will need to become a stenographer, as per WikiHow, and meet state requirements. "The requirements for becoming a court reporter vary by state. Some states, for instance, only require certification from one of the court reporter's associations, while some require both certification and completion of a vocational program at a technical school. Many states require aspiring court reporters to take a licensing test produced by the state."
Are you up for the courtroom challenge? If so, not only will your skills be put to good use, but you will make a living that reflects your attention to detail and aid in making judicial proceedings run effectively.
As per CourtReporterEdu, "The Bureau of Labor Statistics estimates that court reporter jobs are expected to grow 14 percent (by) 2020." Salary.com lists a salary range for a court reporter to be $40,147 - $72,828.
Flight Attendant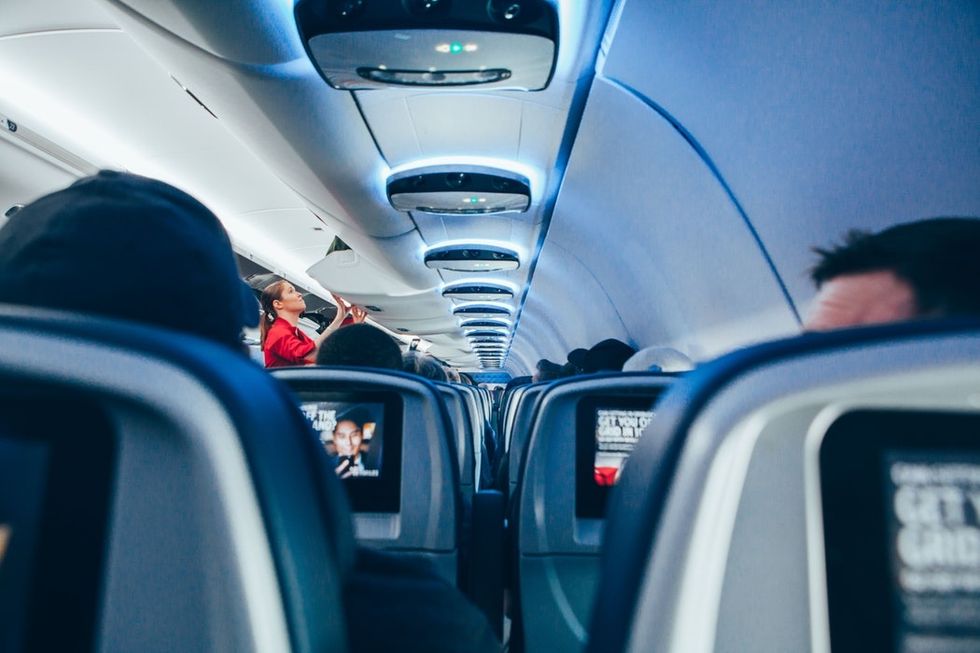 unsplash.com
Travel the world, meet new people, take care of others, and keep travelers safe by taking your career to new heights (literally) as a flight attendant. If you have a flexible schedule and can manage non-traditional work hours and an out-of-the-box atmosphere, a job on a plane may have you on cloud nine!
According to Truity, the following duties make up a flight attendant's work:
Attend preflight briefings on details of the flight
Ensure that adequate supplies of refreshments and emergency equipment are on board
Assist in cleaning the cabin between flights
Demonstrate the use of safety and emergency equipment
Ensure all passengers have seatbelts fastened and ensure other safety requirements are met
Serve, and sometimes sell, beverages, meals, or snacks
Take care of passengers' needs, particularly those with special needs
Reassure passengers during flight, such as when the aircraft hits turbulence
Administer first aid to passengers or coordinate first aid efforts, when needed
Direct passengers in case of emergency
As per Study.com, "Becoming a flight attendant requires little formal education. Flight attendants need to hold a high school diploma and complete a training program leading to certification by the Federal Aviation Administration."
"The national average salary for a Flight Attendant is $52,217 in United States," according to Glassdoor. Are you all aboard for a career in flight?
Dental Hygienist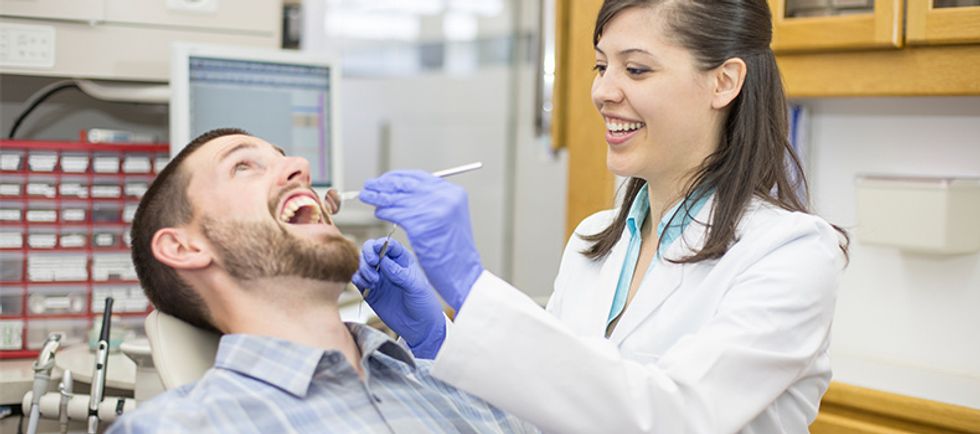 allalliedhealthschools.com
If the idea of helping others maintain good oral hygiene is something that makes you smile, then a career as a dental hygienist will have you creating pearly white smiles for those in your community in need of dental care.
Being a dentist isn't for everyone, but there is more to good oral care than the work of a dentist or orthodontist. According to the Bureau of Labor Statistics, "Dental hygienists clean teeth, examine patients for signs of oral diseases such as gingivitis, and provide other preventive dental care. They also educate patients on ways to improve and maintain good oral health. Dental hygienists typically need an associate's degree in dental hygiene. Programs typically take 3 years to complete. All states require dental hygienists to be licensed; requirements vary by state."
And choosing to get into this profession is a smart idea, as the career is booming. As per The Balance, "The U.S. Bureau of Labor Statistics (BLS) has designated this a 'Bright Outlook' occupation because of its exceptional job outlook. Employment, through at least 2024, is expected to grow much faster than the average for all occupations."
The Balance adds, "Dental hygienists who worked full-time earned a median annual salary of $72,910 in 2016."
Give these careers a chance, not only for their interesting duties, but for the nice pay that is associated with each.
Related Articles Around the Web
While it's possible to be frugal with many aspects of your lifestyle, there are certain events and possessions that will require you to spend a substantial amount of money. Thus, a wise course of action is to begin saving well ahead of time while thinking about your goals for the future. This way, you'll be able to maintain a stable financial state even when faced with those large expenses. The following are a few major life purchases that you should plan for.
A Wedding
Marriage is a joyous occasion that many people look forward to. However, a wedding can be quite expensive, often costing thousands of dollars. Your family and your future spouse's family will often contribute to covering this, but you should still prepare to spend a good deal of your own money on the ceremony. If you're in a serious relationship and are considering marriage, you should plan where the funds for the wedding will come from and take the necessary actions to accumulate them. It's also crucial to discuss financial matters with your partner, since your property will merge once you get married.
A New Car
Automobiles remain one of the top modes of transportation. As a result, you may want to purchase a new car at some point in your life. Although you may be fine with an old or used vehicle at present, you may one day be motivated by a desire to acquire something nice for yourself or by the practical needs that arise as you raise children. Whatever the case, obtaining a new car is a major life purchase that you should plan for.
In addition to setting aside funds to eventually put towards a vehicle, you should also aim to build you credit score. This is because your credit score will determine your available car loan options. The higher your credit score, the more you may be able to lower your interest rates on your car.
A House
Owning your own residential property is a worthy objective that you may hope to make a reality one day. Ideally, you should save about 20 percent of the total cost of a house before you buy it. This will allow you to make a larger down payment and thereafter face less interest on your mortgage.
As with acquiring a car, the mortgage options that you'll have can change based on how strong your credit score is. You'll want to increase your score as much as possible in the years leading up to buying a house so that you can get more favorable interest rates. In addition to contemplating down payments and mortgages, you must also remember that you'll need to deal with property taxes, insurance, maintenance and repair fees, and sometimes homeowners' association charges.
It's also necessary to hire a real estate agent to help you with the buying process. There are different types of real estate professionals. You should know how to distinguish between buyer's agents and seller's agents so that you can obtain favorable prices on homes as well.
Many people live together before getting married and have begun the process of combining accounts and sharing responsibilities. However, some people wait to do this only after marriage, and others wait until they're married to live together. Whichever path you've chosen, it's still crucial to know a few tips to manage money together as newlyweds to determine where you should begin and how you can remain on the same page.
Discussing Money Motivations
As we begin to share money with our significant other, we soon find out what one person may rank as a priority regarding money and the other may not. As such, sitting down and discussing money motivations is important. Two people who cannot agree on how to handle money may cause serious issues. This should include:
How to deal with money following payday. Is a percentage put into savings? Is that the day to splurge on dinner, drinks, and more?
The frequency and size of payments made to debts. Some people like to pay minimums, whereas others pay in full or make double payments.
What do you each consider money well spent? Is it a new 70" 4K television? Is it an investment? Is it paying as much debt off as possible?
How do you go about consulting each other before making purchases over a certain amount?
Establishing Financial Goals
After you evaluate the motivations behind your money and how it should be spent, you'll need to spend time together hashing out financial goals. As newlyweds, there are certain things on your list that you're going to want to save for. How do you go about that? How much of each paycheck will you dedicate to a particular fund?
Some things in the future worth making a financial plan for include savings and paying down debts. This is the time to be honest about your current financial standing. If you're looking to buy a home, you'll want to assemble a first-time homeowner financial checklist to begin to develop topics of conversation. Some of the things to consider setting goals for are:
Student loans
Car loans
Future children
A house
Medical bills
Delinquencies on credit reports
Vacation and rainy-day funds
Emergency funds
Budgeting Together
The more honest and open you can be with each other about the money you have and now the debts you share, the better. Implementing plans for the best ways to have the things that you both desire while still taking care of existing demands is important. These can be uncomfortable things to talk about; however, these conversations are necessary.
Following these tips to manage money together as newlyweds will allow you to have a starting point for conversations that can be tough to start. The sooner you and your partner get on the same page with finances and the responsibilities that come with them, the easier the transition will be and the sooner you'll find success.
It's the dream: money you can count on to keep rolling in, even while you sleep.
Passive income isn't entirely passive, of course. You'll put in work up-front to get the profits rolling, so don't relax in your recliner just yet. But with so many potential sources of passive income available to you, picking one or several will mean that the day you can finally kick back will draw steadily closer.
Rental Properties
Real estate is a tried-and-true wealth builder for a simple reason: people will always need somewhere to live. Research the market in a growing community until you know a good deal when you see it. You can maximize rent by fixing up a deteriorating property or upgrading a mediocre one. The key is to hire a property manager to do all the day-to-day landlord duties for you—and you'll need a good one. Smart investors put their profits in another property and repeat the process until they have a diverse portfolio.
A YouTube Channel
You can start a blog if you're more comfortable hiding behind a computer, but consumers are more likely to prefer video content. Post a series of "how-to" videos to answer questions about whatever you're an expert in.
You can put up any content you want, but if you don't want to commit to regularly updating it, focus on "evergreen" topics that will draw clicks for eternity. Ads will create your income, especially if your channel grows in popularity. Better yet, sign up for affiliate marketing. If you recommend a product and provide a link to buy it, you'll get a small percentage of those transactions.
Auto Advertising
If you don't mind vinyl-wrapping your car with an ad for a company, you can get cash just driving around and running your errands. Make sure you contact a reputable company that doesn't ask for any money from you; if they're the real deal, they'll evaluate your car, your driving habits, your area, and more. Bonus: the brighter the ad, the easier it'll be to find your vehicle in the parking lot.
Digital Products
What's something that people will pay for but doesn't require shipping on your part? Finding that item is what can supplement your income indefinitely. Write an e-book, charge for your cross-stitching patterns, design prints that people can digitally download, invent an app, record a "masterclass," or whatever else you want. Every time someone new discovers it, the cash register rings. With a little more effort, this is a potential source of passive income for you that can continue to grow. Once you build up a customer base, they might want more products. The good part is that it's up to you whether you wish to give it to them.
From Your Site Articles
Related Articles Around the Web