pixabay.com
Doctor, lawyers, celebs, and CEOs. When we hear these job titles, we know there's money in them… piles of it in many cases. But not all of us are cut out to be the next Mark Zuckerberg or Nicki Minaj. Does this mean that high-paying careers are not in our futures? Not so. While most of us will never make Dr. Phil-level cash, there are plenty of careers that pay surprisingly well.
These eight jobs are varied and interesting, falling all over the map when it comes to creativity, compassion, hard work, and handiness. No matter where you live, there is promise for a career that is motivating and money-making. Broaden your horizons with these eight well-paying positions.
Medical Writer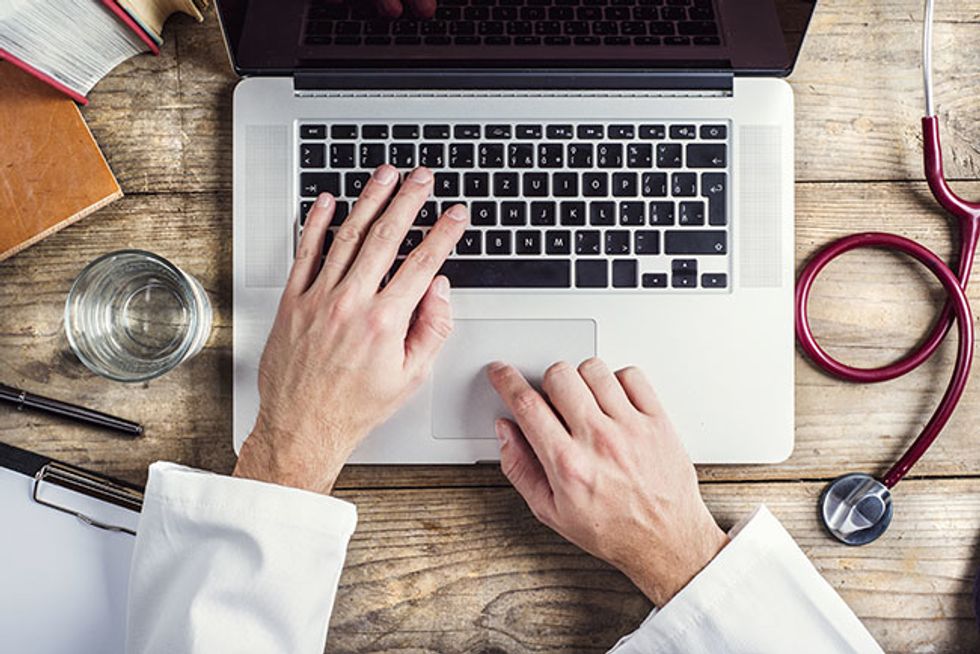 mediabistro.com
If you are interested in the medical field from a technical aspect rather than a hands-on approach like a doctor, nurse, or surgeon, consider becoming a medical writer. According to Job Hero, "The Bureau of Labor Statistics projects a 10 percent increase in jobs for all technical writers, including Medical Writers, by 2024." With demand comes supply, meaning potentially more money for those who choose to enter this detail-oriented and highly important field.
As per Study.com, "Companies and institutions that hire medical writers need professionals who offer a dynamic union between scientific medical knowledge and written communication skills. Hospitals, academic medical centers, pharmaceutical companies and science publications and websites are potential employers."
Study.com adds that you will need a bachelor's or master's degree in English or journalism as well as writing/editorial skills, medical field knowledge, ability to conduct research, and regulation and approval processes.
According to Glassdoor, "The national average salary for a Medical Writer is $82,641."
Paralegal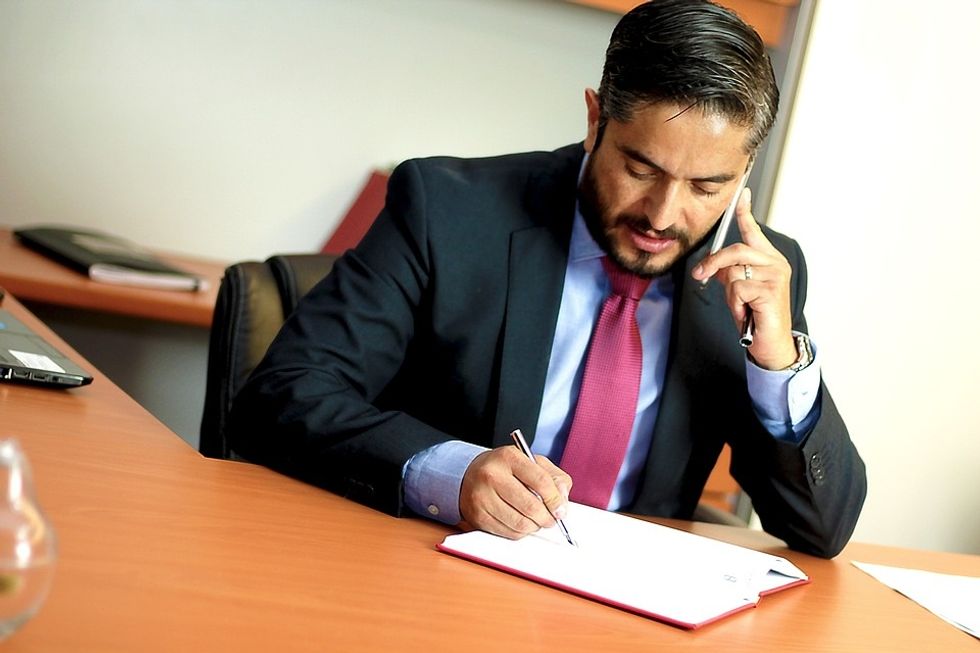 pixabay.com
You don't have to become an attorney to be involved in the legal profession in an important and significant way. The paralegal is an intricate member of nearly any legal team, and the pay is good.
As explained by The Balance, "Paralegals, also known as legal assistants, are individuals who are trained to assist attorneys in the delivery of legal services. They work in law firms, corporations, the government and other practice environments and must operate under the supervision of a lawyer. Paralegals assist attorneys in resolving lawsuits, and as such, their duties are diverse."
According to Learn How to Become, "The most-common educational path to becoming a paralegal includes an Associate degree. These two-year programs are offered through community colleges, universities, or online, and teach the basic skills and knowledge required of an entry-level paralegal or legal assistant. A four-year bachelor's degree in paralegal studies may be a requirement for paralegal positions with major law firms, government legal departments or in corporate law.
"The median annual paralegal salary is $53,651, as of January 30, 2018, with a range usually between $47,440 - $60,577," according to Salary.com.
Social Media Manager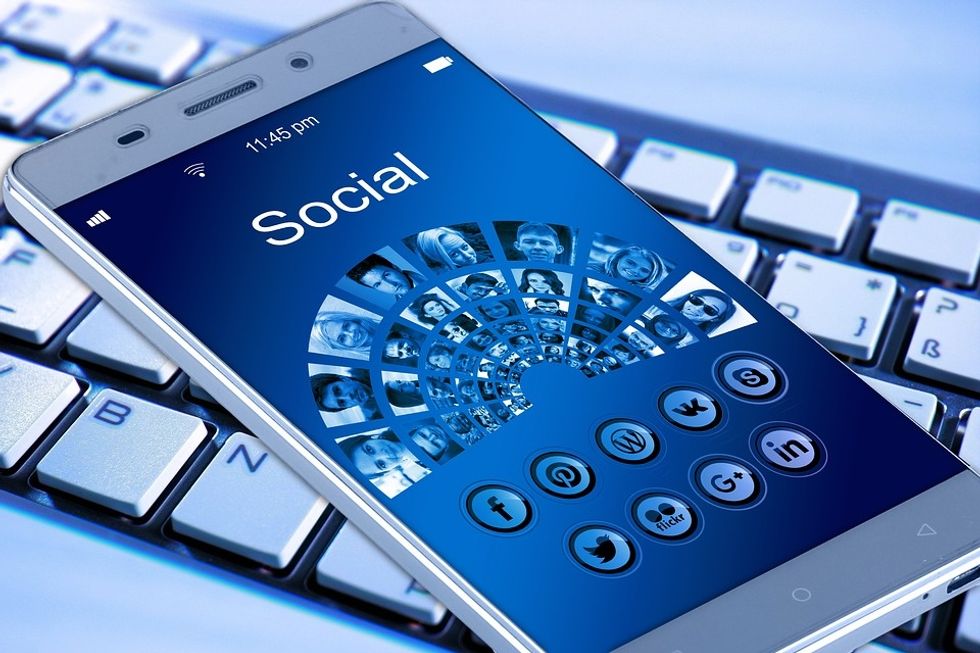 pixabay.com
When we think of social media, posting pics to Instagram or "tweeting" about current events comes to mind. But for a marketing-minded business, the role of social media manager is highly valued to get word about their brand out to the public, gain customers, and make money. And with that, the social media manager will make a nice living for themselves.
ZipRecruiter explains, "As a social media manager, you will update social networks and curate content to gain new followers. You will also create new social marketing campaigns, build brand recognition, and manage all published company content. While working with web analytic tools to track campaign progress and researching industry trends, you will maintain an active social presence and reply to customer inquiries. A successful social media manager will collaborate with marketing, PR, and legal teams to align company messages, promotions, and goals."
That's a lot of responsibility for one person, but for today's social media-savvy folks, this job can be fun and creative. And the demand is only increasing as more businesses move and grow with the times.
As per Study.com, "Bachelor's degree in communications, journalism, or marketing," is needed for this job.
"The average salary for a Social Media Manager is $60,784," as per Glassdoor.
Translator/Interpreter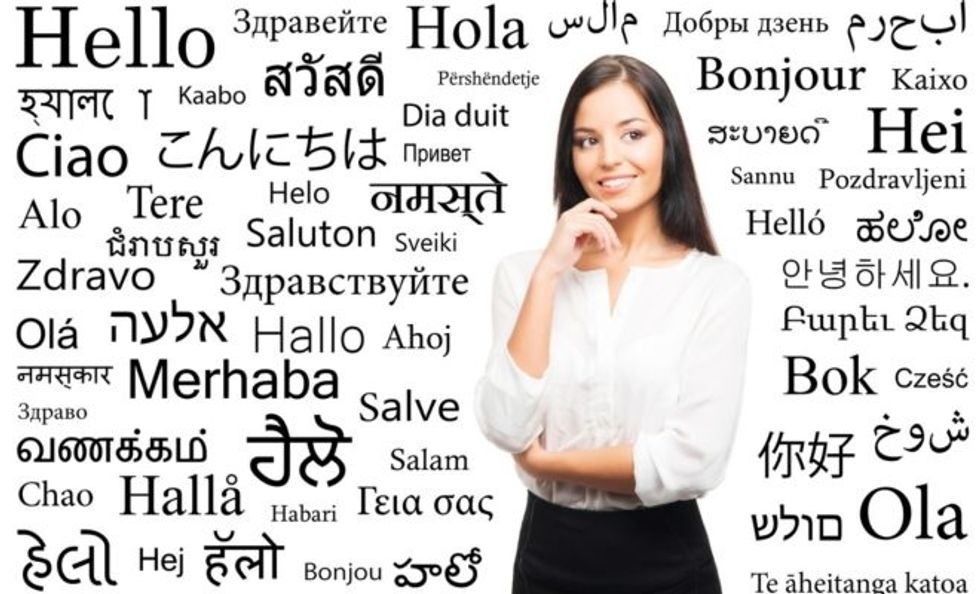 thebusinesswomanmedia.com
If you are fluent in more than one tongue, put those talents and skills to use at work by taking a job as a translator or interpreter. As Truity describes, "Interpreters and translators convert information from one language into another language. Interpreters work in spoken or sign language; translators work in written language."
"The goal of a translator is to have people read the translation as if it were the original. (They) must be able to write sentences that maintain or duplicate the structure and style of the original meaning while keeping the ideas and facts of the original meaning accurate. (They) must properly transmit any cultural references and other expressions that do not translate literally," explains Truity. And, "Interpreters convert information from one spoken language into another—or, in the case of sign language interpreters, between spoken language and sign language. The goal of an interpreter is to have people hear the interpretation as if it were the original. Interpreters must usually be fluent speakers or signers of both languages, because they communicate back and forth among the people who do not share a common language."
According to Study.com, "Translators often specialize in a certain topic, such as literature, finance, law, medicine, or technology. Most staff employment opportunities are in Washington, D.C., New York, and California; however, the need for Translators is expanding throughout the U.S., especially in the area of healthcare. (You'll need) a bachelor's degree and expertise in multiple languages."
As per U.S. News & World Report, "Interpreters and translators earned a median annual salary of $46,120 in 2016. The best-paid earned more than $83,010."
Auditor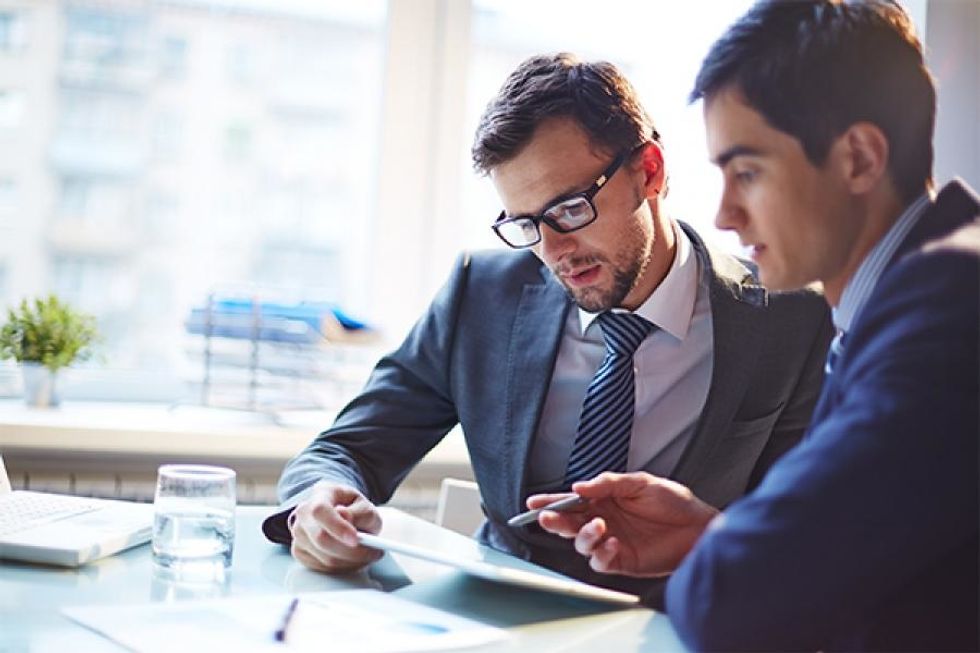 forbesindia.com
Are you good with money, math, and management? A career as an auditor may be your calling, and a path to a generous paycheck to boot. As per Target Jobs, "Auditors are specialists who review the accounts of companies and organizations to ensure the validity and legality of their financial records. They can also act in an advisory role to recommend possible risk aversion measures and cost savings that could be made. Auditors work in the accounting departments of a huge range of firms and with independent chartered and certified firms, examining the money going in and out of organizations and making sure it is recorded and processed correctly."
As far as schooling goes, "Auditors typically need at least a bachelor's degree in an accounting-related field, and earning optional certification, such as those offered by the Institute of Internal Auditors, can increase job prospects and/or earnings," according to Study.com.
Look out for an 11% growth in the demand for auditors through 2014, which is, "faster than average of all occupations," as per Study.com.
According to Glassdoor, "The national average salary for an Auditor is $58,083."
Court Reporter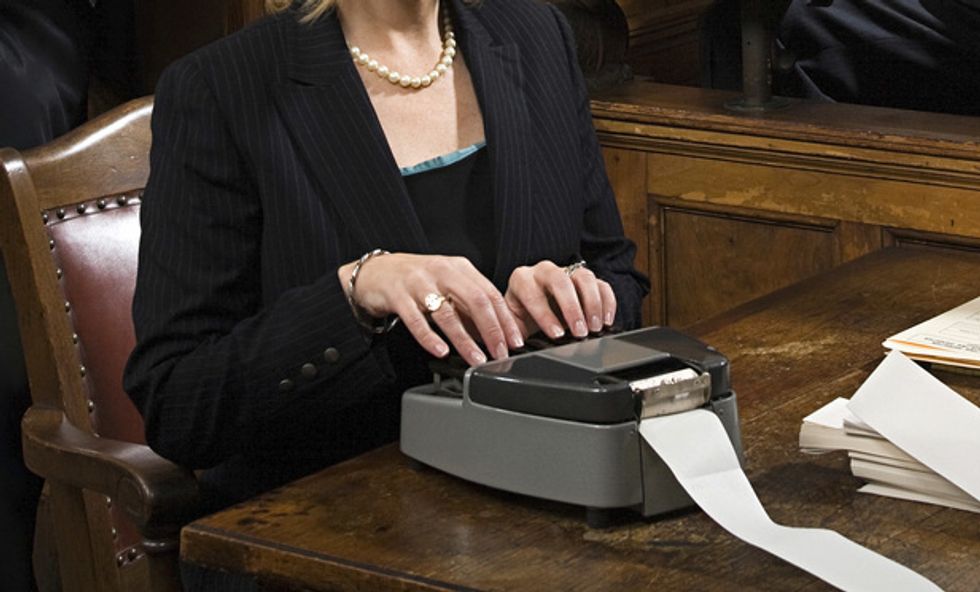 lanjinchilawteam.com
Be part of the justice system by becoming a court reporter. If you are interested in the legal system, but don't have the desire to become a lawyer or judge, a court reporter can be a fulfilling career full of excitement and importance.
As per CourtReporterEdu, "Court reporters – also referred to as short hand reporters – are responsible for keeping written records of legal proceedings, whether in government, court, or private settings. The verbatim documentation in criminal, civil and other court proceedings requires professionals who are highly skilled and trained in court reporting, which usually involves stenography."
You'll need lots of talent, skills, and a solid work ethic to be a consistent and capable court reporter. CourtReporterEdu lists some of the traits of and knowledge needed to be a competent court reporter:
Operate a stenographic machine at 200 wpm
Advanced spelling, punctuation, vocabulary and grammar skills
Perform legal clerical work with a high degree of accuracy and speed
Remain seated for long periods of time
Knowledge of clerical and legal recordkeeping practices and procedures
Operate a variety of equipment, including transcription machines, computer terminals, audio equipment, and printers…
…and the list goes on.
You will need to become a stenographer, as per WikiHow, and meet state requirements. "The requirements for becoming a court reporter vary by state. Some states, for instance, only require certification from one of the court reporter's associations, while some require both certification and completion of a vocational program at a technical school. Many states require aspiring court reporters to take a licensing test produced by the state."
Are you up for the courtroom challenge? If so, not only will your skills be put to good use, but you will make a living that reflects your attention to detail and aid in making judicial proceedings run effectively.
As per CourtReporterEdu, "The Bureau of Labor Statistics estimates that court reporter jobs are expected to grow 14 percent (by) 2020." Salary.com lists a salary range for a court reporter to be $40,147 - $72,828.
Flight Attendant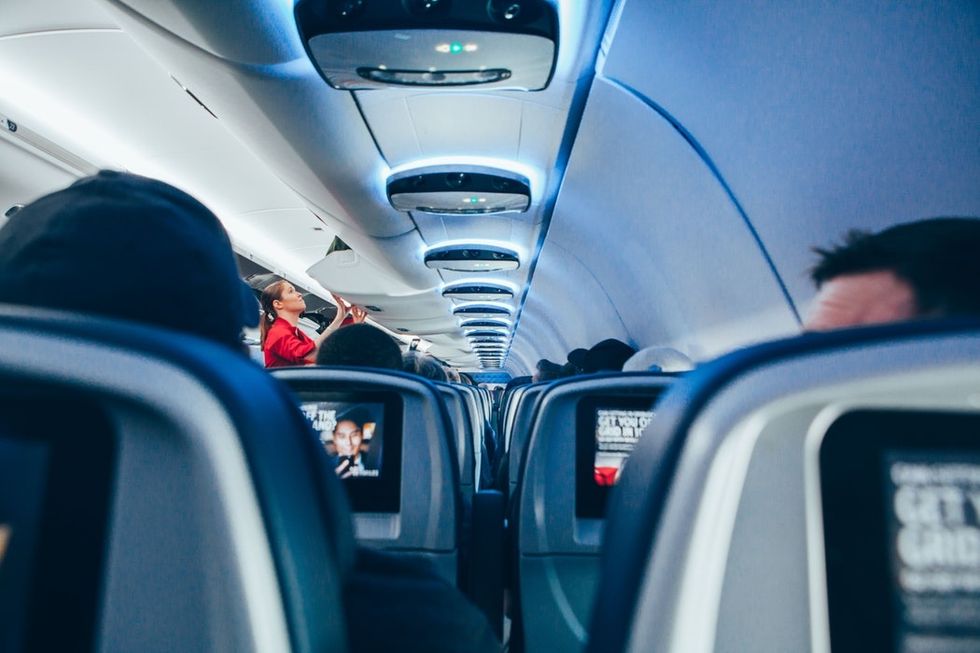 unsplash.com
Travel the world, meet new people, take care of others, and keep travelers safe by taking your career to new heights (literally) as a flight attendant. If you have a flexible schedule and can manage non-traditional work hours and an out-of-the-box atmosphere, a job on a plane may have you on cloud nine!
According to Truity, the following duties make up a flight attendant's work:
Attend preflight briefings on details of the flight
Ensure that adequate supplies of refreshments and emergency equipment are on board
Assist in cleaning the cabin between flights
Demonstrate the use of safety and emergency equipment
Ensure all passengers have seatbelts fastened and ensure other safety requirements are met
Serve, and sometimes sell, beverages, meals, or snacks
Take care of passengers' needs, particularly those with special needs
Reassure passengers during flight, such as when the aircraft hits turbulence
Administer first aid to passengers or coordinate first aid efforts, when needed
Direct passengers in case of emergency
As per Study.com, "Becoming a flight attendant requires little formal education. Flight attendants need to hold a high school diploma and complete a training program leading to certification by the Federal Aviation Administration."
"The national average salary for a Flight Attendant is $52,217 in United States," according to Glassdoor. Are you all aboard for a career in flight?
Dental Hygienist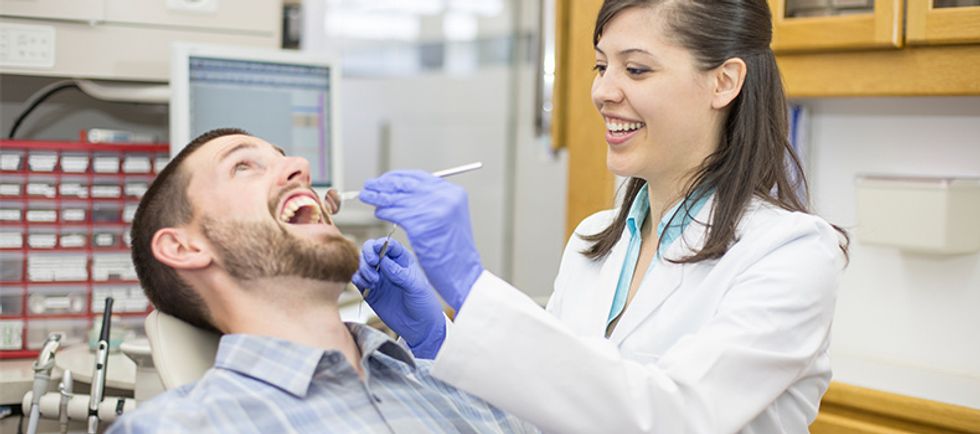 allalliedhealthschools.com
If the idea of helping others maintain good oral hygiene is something that makes you smile, then a career as a dental hygienist will have you creating pearly white smiles for those in your community in need of dental care.
Being a dentist isn't for everyone, but there is more to good oral care than the work of a dentist or orthodontist. According to the Bureau of Labor Statistics, "Dental hygienists clean teeth, examine patients for signs of oral diseases such as gingivitis, and provide other preventive dental care. They also educate patients on ways to improve and maintain good oral health. Dental hygienists typically need an associate's degree in dental hygiene. Programs typically take 3 years to complete. All states require dental hygienists to be licensed; requirements vary by state."
And choosing to get into this profession is a smart idea, as the career is booming. As per The Balance, "The U.S. Bureau of Labor Statistics (BLS) has designated this a 'Bright Outlook' occupation because of its exceptional job outlook. Employment, through at least 2024, is expected to grow much faster than the average for all occupations."
The Balance adds, "Dental hygienists who worked full-time earned a median annual salary of $72,910 in 2016."
Give these careers a chance, not only for their interesting duties, but for the nice pay that is associated with each.
Related Articles Around the Web
via Tiffany & Co.
When the new Tiffany's campaign was unveiled, reactions were mixed.

Tiffany's, the iconic jewelry brand which does not (despite what some might be misled to believe) in fact serve breakfast, featured Jay Z, Beyoncé, and a rare Basquiat painting in their recent campaign.
The aesthetics were undeniably luxe and historic. The campaign showcased the rarely-seen Basquiat painting Equals Pi (1982), which the brand acquired for the background's proximity to its distinctive Tiffany blue. Also notably historic is that Beyoncé was the first Black woman to wear the 128.54 carat Tiffany Diamond.

Before Beyoncé, the only other stars to wear the yellow diamond were Mary Whitehouse, wife of American diplomat Edwin Sheldon Whitehouse, Hollywood icon Audrey Hepburn, and singer Lady Gaga.
"Beyoncé and Jay-Z are the epitome of the modern love story …. Love is the diamond that the jewelry and art decorate," said the press release accompanying the campaign.
The campaign, titled "About Love," is stunning and has both classic and contemporary references. The image of the couple posing in front of high art recalled the iconic stills from their "APESHIT" music video, for which they famously rented out the Louvre and posed in front of the Mona Lisa.
THE CARTERS - APESHIT (Official Video) www.youtube.com
Their "APESHIT" photo made a giant cultural impact for its juxtaposition of Western beauty and Blackness. Tiffany's campaign seemed to have similar goals — showcasing Beyoncé and Jay Z as the peak of luxury, this time juxtaposing the Basquiat and the Tiffany diamond.

As a Black couple, their appearance in such a luxury campaign was a big move for representation, but in a post 2020 landscape, there was an outcry of criticism.
Despite the aesthetic beauty of the image, the high capitalist undertones didn't sit right with some on the internet — largely younger demographics. Though this campaign was an effort by Tiffany's to appeal to younger audiences and make the brand feel more relevant, Twitter's verdict was clear: a blood diamond wasn't the way to go.
The diamond, which was mined in South Africa in 1877, comes from origins laden in the implications of colonialism. The practice of mining in South Africa at the time was exploitative and destructive, eschewing the livelihoods and safety of African miners and their communities for... what? Money? So Tiffany could try to sell us some dream of affluence using Black celebrities as to "Blackwash" the history behind their treasured piece?
The Washington Post also had some choice words, saying: "Its campaign does not celebrate Black liberation — it elevates a painful symbol of colonialism. It presents an ostentatious display of wealth as a sign of progress in an age when Black Americans possess just 4 percent of the United States's total household wealth. If Black success is defined by being paid to wear White people's large colonial diamonds, then we are truly still in the sunken place."
Alongside the campaign, Tiffany & Co have promised to donate $2 million to HBCUs to fund scholarships and internships. But this measly amount (considering the multi-billion dollar net worth behind LVMH) is not enough to cover up that, despite their performative efforts to promote "diversity," Tiffany's is entrenched in a colonial history that neither beauty nor Beyonce can make us ignore.
While Black representation has been increasing over the past few years, the question of how we are represented is starting to be considered with more nuance. And as we examine the structures of wealth and hierarchical values, many people are starting to ask whether these should be the standards we aspire to anymore.
Jay Z and Beyoncé have come under fire before for their promotion of Black Capitalist values — which the kids don't seem to want. Jay Z especially seems invested in the trappings of traditional (read: white) success and wealth. His cannabis line recently unveiled a campaign based on the work Slim Aarons — which was famously focused on "attractive people doing attractive things in attractive places" — and its unashamed opulence raised some eyebrows.
Images like this aren't as revolutionary as they once might have been since they reinforce the status quo and tell marginalized people to reach for the same luxuries and lifestyles deemed aspirational by the people who have oppressed them.
Anti-capitalist theory has been around as long as capitalism has, but younger generations are more likely to question the status quo — even when it comes packed with Basquiat and Beyoncé.
The conversation about the Tiffany campaign is indicative of how Gen Z thinks differently about money and what it means to them. They are less likely to be seduced by the luster of the aspirational, and more receptive to relatability.
This is why apps like Cleo have been on the rise. Cleo is a budgeting and personal finance app which makes money feel less inaccessible and makes engaging in personal finance relatable and easy.
No more does financial literacy seem restricted to the pretentious or the elite — we get it, finance bros; you love capitalism. With Cleo, understanding your money is something that can align users with their values.
And those values don't look like blood diamonds or corporate pandering.