Startup culture promotes organizational strategy that emphasizes open-communication and has a relatively flat hierarchical structure, the primary benefit being a less stuffy work environment. Stereotypically, this laid-back vibe is usually accompanied by amenities ranging from office happy hours to video games to ping pong tables and beyond. On the surface, it's the ideal workspace, an area in which frequent breaks aren't just allowed, but encouraged. As long as you get your work done, you're free to do as you please. With just 15% of 2015 graduates preferring a job at a large corporation it would seem that this Disney World-ification of the business world is beginning to stick. That said, when these practices are implemented, reality doesn't always live up to the ideal.
For all of startup culture's attempts to make the workplace fun, they often run into various issues regarding, you know, business. When a company spends money on cool perks, this often means one of two things. On the one hand, it's possible that the company is doing so well that they have the extra cash lying around to host sushi lunches and have FIFA tournaments (more on this later). On the other, this can be a telltale sign of a company that's mismanaging its finances and chasing a luxury office life that it can't afford. There's nothing sexy about balancing the books, but that's the thing that keeps the lights on.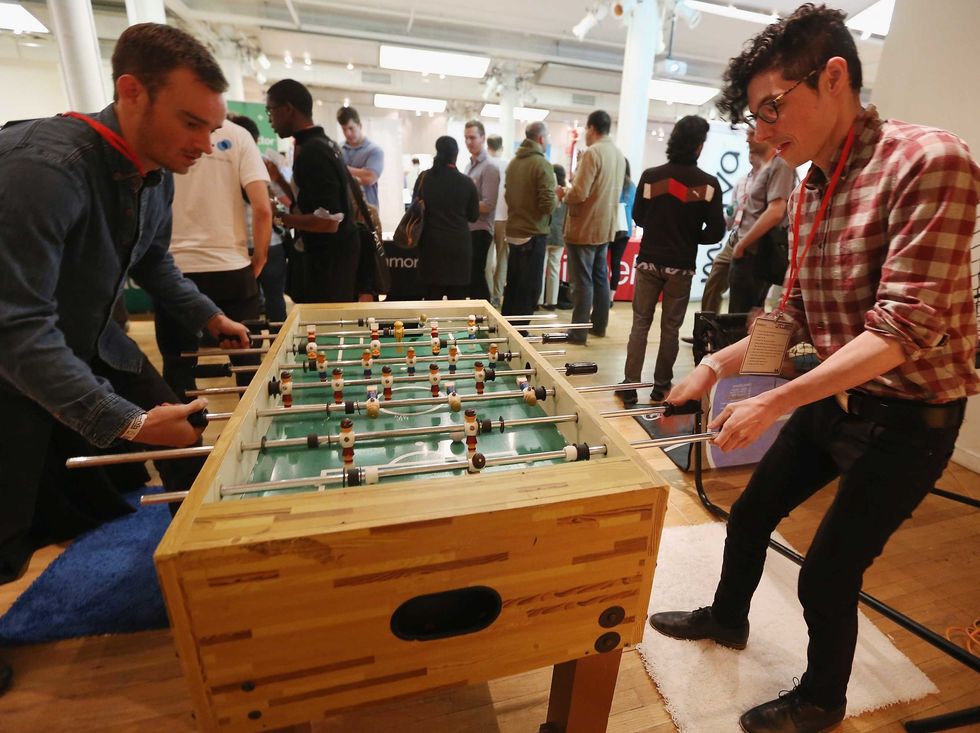 Some offices even offer their employees games - like foosball
Sometimes though, the scenario is such that a company can provide all of the comforts associated with the typical startup without bankrupting itself. While it sounds great, this isn't necessarily a good thing. Obviously, everyone wants their job to be fun. They want a flexible schedule that allows them to decide when and how their work gets done. But the problem is, when there isn't a fixed schedule or the office is full of toys, it's pretty easy to get distracted, and employees often end up working long hours to compensate for all of the nonessential work events. On top of this, when there isn't a rigid hierarchical structure, people assume there aren't rigid power dynamics. This is a mistake, and when the lines between boss and co-worker start blurring, it becomes a particularly difficult tightrope to walk. Especially since America puts a pretty low premium on work-life balance, and our social lives tend to be spent mostly with our coworkers. This intermingling can feel rather constricting, considering that it leaves very little time to not be on. It can also lead to nauseating conversations with not-your-managers in which they say things like I'm putting on my friend cap. The power dynamics in this world tend to resemble that of a school playground rather than the fixed, almost militaristic structure of 20th century corporate America.
This isn't the only way in which startups buck corporate trends. While they lack in work-life balance and financial stability, startups make up for this by providing people the opportunity to be a part of something from the get-go, allowing people to feel as though they're an integral part of their team. As said and repeated ad nauseum, millennials want jobs that give them purpose, and startups are particularly good at facilitating this desire. This changes the fundamental structure of what a work environment is. Work is no longer a place where one goes and receives payment in exchange for his/her services. The world of the startup is predicated on making its workers' jobs an extension of themselves.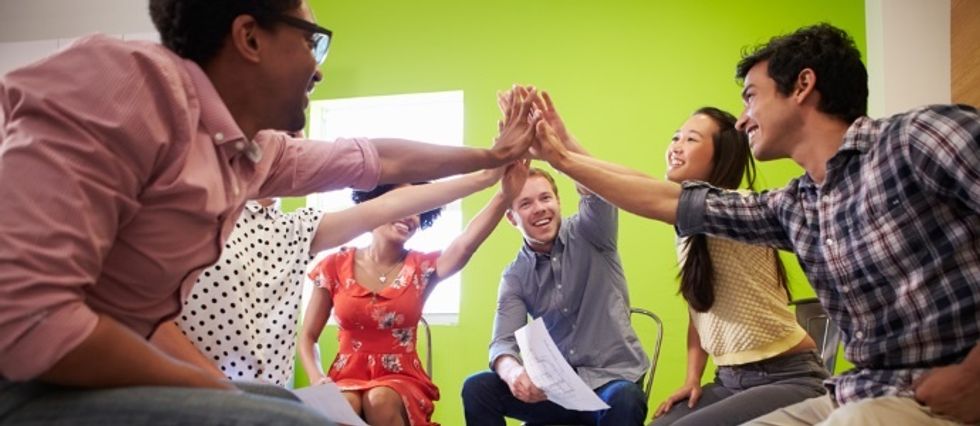 Team building at the office
The 2017 film The Circle, while so terribly written that it may have destroyed Emma Watson's career, attempts to deal with the problem surrounding tech companies and the cult of personality that tends pervade within them once they hit critical mass. If you ignore the plot, horrible acting, and bad writing, the film actually gets one thing right. It portrays a tech company in which employees' identities are so firmly linked to their roles at work, that they pursue the company's goals without ever thinking of their (the goals) effect on the outside world. The result is surveillance technology that places an extreme amount of extrajudicial power in the hands of the company's CEO, Tom Hanks. What this film tries–and mostly fails– to portray, is a neo-feudalistic society, in which workers live on an isolated compound with only their fellow employees, living solely for their company, as if it were its own nation with managers acting as vassals.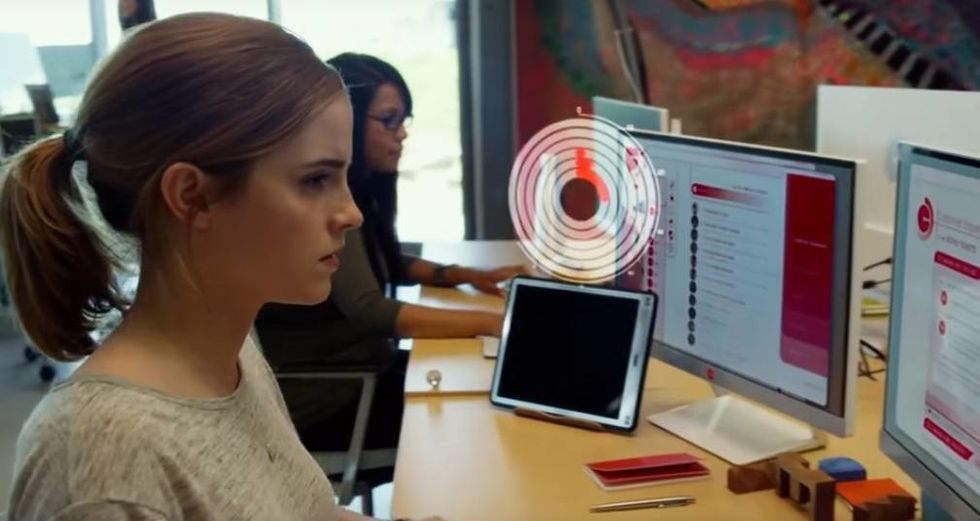 Emma Watson in "The Circle"
The road to corporate feudalism isn't going to be paved by guys who look like Don Draper. Suits and ties and constriction are the ways of the past. The real way to trick someone into spending 100% of their time working, is to convince them that they're not working at all. It's important notice how plenty of already successful companies, noticing their employees' envy, are starting to implement the same types of incentives as their smaller competitors. This isn't to suggest that there's some sort of worldwide conspiracy to turn workers into slaves, but rather to shed light on an important trend; namely, that startup culture is being co-opted by plenty of companies as a means of convincing their employees to work longer, harder, and at a rate that doesn't correspond to their pay. Now more than ever, potential employees have to be vigilant during the interview process. When in doubt, fall back on the old edict: if it sounds too good to be true, it probably is.
---
Matt Clibanoff is a writer and editor based in New York City who covers music, politics, sports and pop culture. His editorial work can be found in Pop Dust, The Liberty Project, and All Things Go. His fiction has been published in Forth Magazine. Website: https://matthewdclibanoff.journoportfolio.com/ Twitter: @mattclibanoff

via Tiffany & Co.
When the new Tiffany's campaign was unveiled, reactions were mixed.

Tiffany's, the iconic jewelry brand which does not (despite what some might be misled to believe) in fact serve breakfast, featured Jay Z, Beyoncé, and a rare Basquiat painting in their recent campaign.
The aesthetics were undeniably luxe and historic. The campaign showcased the rarely-seen Basquiat painting Equals Pi (1982), which the brand acquired for the background's proximity to its distinctive Tiffany blue. Also notably historic is that Beyoncé was the first Black woman to wear the 128.54 carat Tiffany Diamond.

Before Beyoncé, the only other stars to wear the yellow diamond were Mary Whitehouse, wife of American diplomat Edwin Sheldon Whitehouse, Hollywood icon Audrey Hepburn, and singer Lady Gaga.
"Beyoncé and Jay-Z are the epitome of the modern love story …. Love is the diamond that the jewelry and art decorate," said the press release accompanying the campaign.
The campaign, titled "About Love," is stunning and has both classic and contemporary references. The image of the couple posing in front of high art recalled the iconic stills from their "APESHIT" music video, for which they famously rented out the Louvre and posed in front of the Mona Lisa.
THE CARTERS - APESHIT (Official Video) www.youtube.com
Their "APESHIT" photo made a giant cultural impact for its juxtaposition of Western beauty and Blackness. Tiffany's campaign seemed to have similar goals — showcasing Beyoncé and Jay Z as the peak of luxury, this time juxtaposing the Basquiat and the Tiffany diamond.

As a Black couple, their appearance in such a luxury campaign was a big move for representation, but in a post 2020 landscape, there was an outcry of criticism.
Despite the aesthetic beauty of the image, the high capitalist undertones didn't sit right with some on the internet — largely younger demographics. Though this campaign was an effort by Tiffany's to appeal to younger audiences and make the brand feel more relevant, Twitter's verdict was clear: a blood diamond wasn't the way to go.
The diamond, which was mined in South Africa in 1877, comes from origins laden in the implications of colonialism. The practice of mining in South Africa at the time was exploitative and destructive, eschewing the livelihoods and safety of African miners and their communities for... what? Money? So Tiffany could try to sell us some dream of affluence using Black celebrities as to "Blackwash" the history behind their treasured piece?
The Washington Post also had some choice words, saying: "Its campaign does not celebrate Black liberation — it elevates a painful symbol of colonialism. It presents an ostentatious display of wealth as a sign of progress in an age when Black Americans possess just 4 percent of the United States's total household wealth. If Black success is defined by being paid to wear White people's large colonial diamonds, then we are truly still in the sunken place."
Alongside the campaign, Tiffany & Co have promised to donate $2 million to HBCUs to fund scholarships and internships. But this measly amount (considering the multi-billion dollar net worth behind LVMH) is not enough to cover up that, despite their performative efforts to promote "diversity," Tiffany's is entrenched in a colonial history that neither beauty nor Beyonce can make us ignore.
While Black representation has been increasing over the past few years, the question of how we are represented is starting to be considered with more nuance. And as we examine the structures of wealth and hierarchical values, many people are starting to ask whether these should be the standards we aspire to anymore.
Jay Z and Beyoncé have come under fire before for their promotion of Black Capitalist values — which the kids don't seem to want. Jay Z especially seems invested in the trappings of traditional (read: white) success and wealth. His cannabis line recently unveiled a campaign based on the work Slim Aarons — which was famously focused on "attractive people doing attractive things in attractive places" — and its unashamed opulence raised some eyebrows.
Images like this aren't as revolutionary as they once might have been since they reinforce the status quo and tell marginalized people to reach for the same luxuries and lifestyles deemed aspirational by the people who have oppressed them.
Anti-capitalist theory has been around as long as capitalism has, but younger generations are more likely to question the status quo — even when it comes packed with Basquiat and Beyoncé.
The conversation about the Tiffany campaign is indicative of how Gen Z thinks differently about money and what it means to them. They are less likely to be seduced by the luster of the aspirational, and more receptive to relatability.
This is why apps like Cleo have been on the rise. Cleo is a budgeting and personal finance app which makes money feel less inaccessible and makes engaging in personal finance relatable and easy.
No more does financial literacy seem restricted to the pretentious or the elite — we get it, finance bros; you love capitalism. With Cleo, understanding your money is something that can align users with their values.
And those values don't look like blood diamonds or corporate pandering.