How To Split The Bill, Without Losing Friends
Few things will halt a lively dinner conversation like the question, "Should we split the check?"
In 2018, your table manners are a far less pressing matter of etiquette than how you pay for your meal. For some, dividing a check by individual order — down to the dollar — is both nit-picky and cheap. Others find it reckless and selfish to expect that your friends cover the cost of your food (and that second martini). Your waiter probably would prefer you all throw down cash, and leave your six separate credit cards out of it.
In the end, there is no right way to split the check.
Unless you run in a conveniently-sourced circle of socialites and pseudo-celebrities, odds are there's an income disparity amongst your friends. You earn different salaries, you pay different rent fees, you come from different families. And no matter how much you all enjoy the act of gathering around a table and consuming food together, that doesn't solve the looming problem of the bill.
To make matters worse, the anxiety derived from wealth gaps amongst friends doesn't end with dinner payment. According to a study in the Quarterly Journal of Economics, "How much you feel you earn in comparison to others is more important in determining self-esteem than what you actually earn" — which goes to say that the income diversity within your social circle may actually be taking a serious toll on your self-image.
Does this mean you should ditch your friends with mansions in the Hamptons in an effort to surround yourself with people exclusively within the same income bracket as you? Absolutely not.
There are, however, tactical steps that can be taken.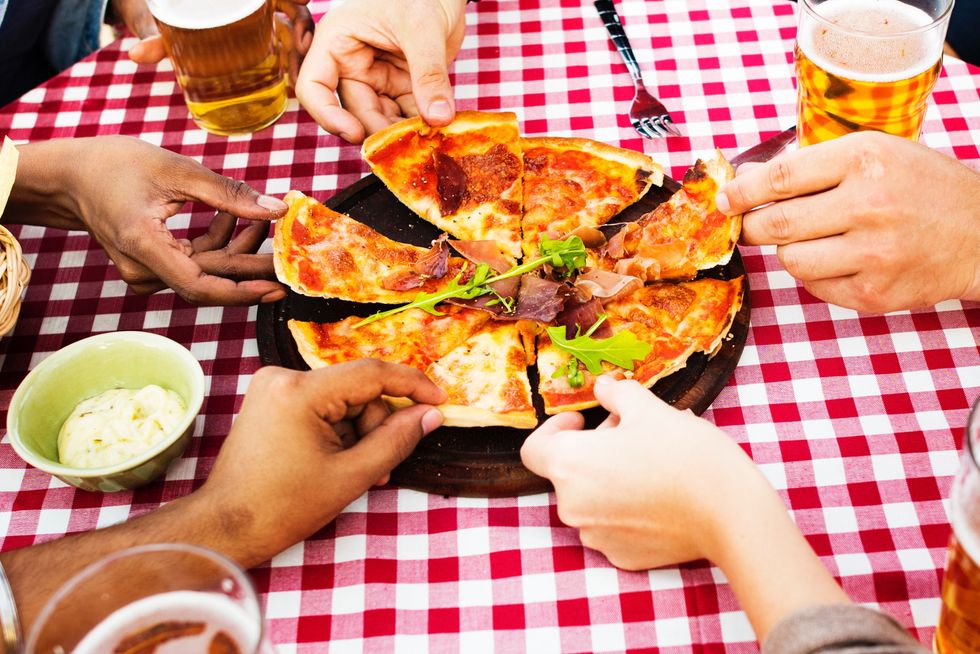 For starters, you should begin navigating this discrepancy with candid, open conversation. Don't let money be the elephant in the room. According to the Huffington Post, "Outings are about compromise, and any good plan will incorporate input from both parties." There will always be a middle ground in terms of which restaurant you select, or which AirBnB you choose. Starting a conversation means you can find that in-between space.

For the wealthier parties in this equation, navigating these disparities is just as awkward as it is for those with less "money to blow," so to speak. "It's a delicate dance so that you're not going overboard in showing how wealthy and comfortable you are," says etiquette coach Thomas Farley. "But also not going so far in the other direction, so that the person feels like, 'What? You don't think I'm good enough to go to a fancy restaurant?'"
He suggests that you try to make up for the difference without being over-charitable, by paying the tip on a split check, supplying the food for a weekend away, or covering a shared Uber.
On the other end of the spectrum, folks who are trying their absolute hardest to save a few pennies can rely on telling questions, without having to come right out and say "I sure as hell can't afford that." Town & Country recommends asking things like,"'Would it be weird if I just met you after the concert for a drink?' or 'Is there anyone else going to Nantucket that weekend who might want to share a hotel room?'"
Lastly, and perhaps most importantly of all, be sure to keep in mind the fact that your friends are your friends for a reason and this likely has nothing to do with income. "You probably have more in common with your rich friends than you think; you did, after all, become friends in the first place," says Huffington Post.
So be honest about your finances, but don't let wealth become central to your relationships. Odds are, the people you surround yourself with have far better qualities than a six-figure salary.