Should You Pay Your Rent While 6.6 Million Americans Are Applying for Unemployment?
Blaise Sewell
Yesterday the rent was due for millions of Americans for the first time since they were put under quarantine.
We are being told to remain indoors as much as possible and to maintain a safe distance from other people. For some of us, that means working from home. For millions of others, it means they can't work at all. On top of that, the quarantine is causing steep drops in revenue for most sectors of the economy, which means that even a lot of people who can work remotely are being laid off and losing their employer-provided health insurance amid a deadly pandemic. The result is that, for millions of people, paying the rent would require foregoing food or other basic necessities. For others, paying the rent isn't even on the table.
In just the last week, 6.6 million Americans applied for unemployment insurance. That doubled the new record set the week before, making for a total of 10 million newly unemployed Americans in a span of two weeks—and that doesn't even include employees whose hours have been drastically cut or workers removed from the so-called gig economy.
Fortunately, there are some understanding landlords who are offering massively reduced or eliminated rent payments. Others, sadly, are issuing statements threatening tenants with eviction if they don't pay, or insisting that any payments that are deferred will have to be paid in full when the crisis is resolved—despite the obvious fact that the economy is never going to provide back-wages for people who are newly out of work.
My landlord said he sympathized with my roommates and I losing our jobs. He then suggested we move out now since we… https://t.co/esQNvjiZb5

— gabi (@gabi) 1585271520.0
Meanwhile, the government payments that are supposed to help people through these difficult times are being given out based on 2018 tax returns—so if you made a lot of money that year but are flat broke now, you're out of luck. Worse still, if you aren't already signed up to receive direct deposits from the IRS, your check could take up to four months to arrive. Coupled with a broad lack of necessary protections from eviction and foreclosure, the whole situation is looking grim.

With all this going on, a lot of people are not going to be able to pay their rent. The idea that all those people should face eviction or be buried in debt as a result is absurd—who would move into all those empty apartments at a time like this, anyway? While landlords may want to believe that they can be insulated from the economic effects of quarantine, that's just not how this is going to work.
Obviously, many landlords have mortgages that need to be paid—the fact that a mortgage freeze has not already been implemented throughout the country is shameful. But in the case of rental properties, that kind of relief is not nearly as urgent as the need for all housed people to keep their homes—and for adequate housing to be provided to the homeless. Landlords must be made to see that they have a duty to relieve some of the burden on their tenants. Even those of us who are able to pay rent: Should we?
So the company we pay our rent to sent out a very condescending mass email to all tenants about paying rent and for… https://t.co/5UY367ZXZ9

— Nai (@Nai) 1585711758.0
Each situation is unique. Are you renting a few rooms in a nice old couple's house and still getting your usual paycheck? If so, you should probably give them rent. But if you are living in a large apartment complex and receiving threatening mass-emails from the management company, then you should talk to your fellow tenants and—even if you're able to pay—consider participating in a rent strike. Likewise, if you are struggling to make payments and feel like you're alone, reach out to your fellow tenants. Find out if they're struggling too, or if they're willing to stand with you.

You may feel it's too late to start this approach, but April 1st was just the beginning. In situations where one person has power over a large group of people—as in employee-employer and tenant-landlord relationships—collective action is necessary to correct that imbalance. Any individual tenant could easily be intimidated by a hard-nosed landlord or a large management company, but if all the tenants are able to communicate—either over the phone, through email, or in person from a safe distance—and coordinate their action, they have the power to negotiate terms. Organizations like the Los Angeles Tenants Union, with the "Food Not Rent" campaign, are helping in that effort, but as individuals we also need to step up.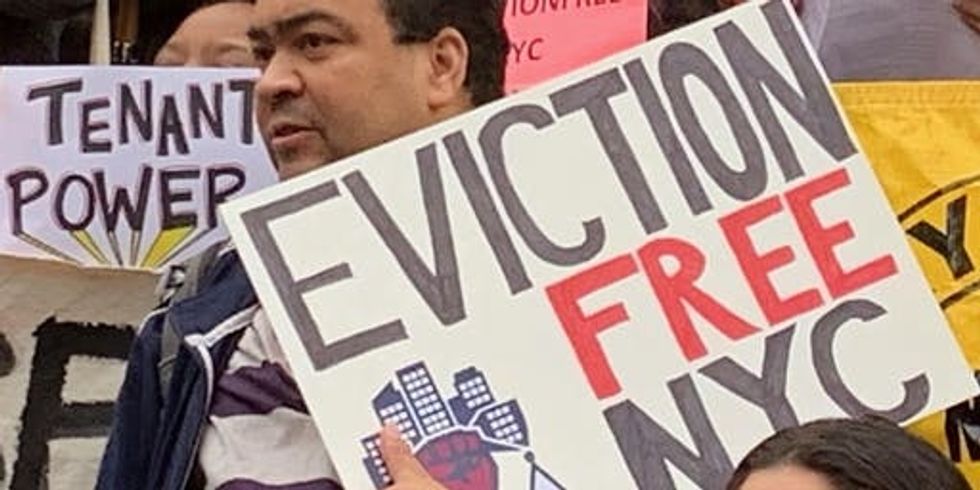 Landlords, as well as the banks that collect their mortgage payments, must all be made aware that they can't bully working people into giving up more than they can afford right now. This is not business as usual. This is a crisis. Solidarity among renters, workers, and everyone at the bottom of the food chain will be necessary if the people with the power in this country are going to be prevented from pushing all the negative consequences downstream. If that means rent strikes, sick outs, appropriation of empty houses for the homeless, then that's what we'll have to do.

As much as we are isolated in this quarantine, we have to find ways to come together and support one another if we're going to get through this.