Tips to Get Over Your Fear of Public Speaking
publicspeaking.school
Some people are born to engage a crowd – they're confident, cool, and collected, even while speaking publicly.
They can get right up there, deliver their spiel, and never seem to break a sweat. No fear, no frets, and no fumbles. If this doesn't sound a thing like you, you're likely lumped in with the rest of the folks who dread public speaking. It's nothing to be ashamed of, but it's also not your destiny. You can get over your fears and turn anxiety into accomplishment.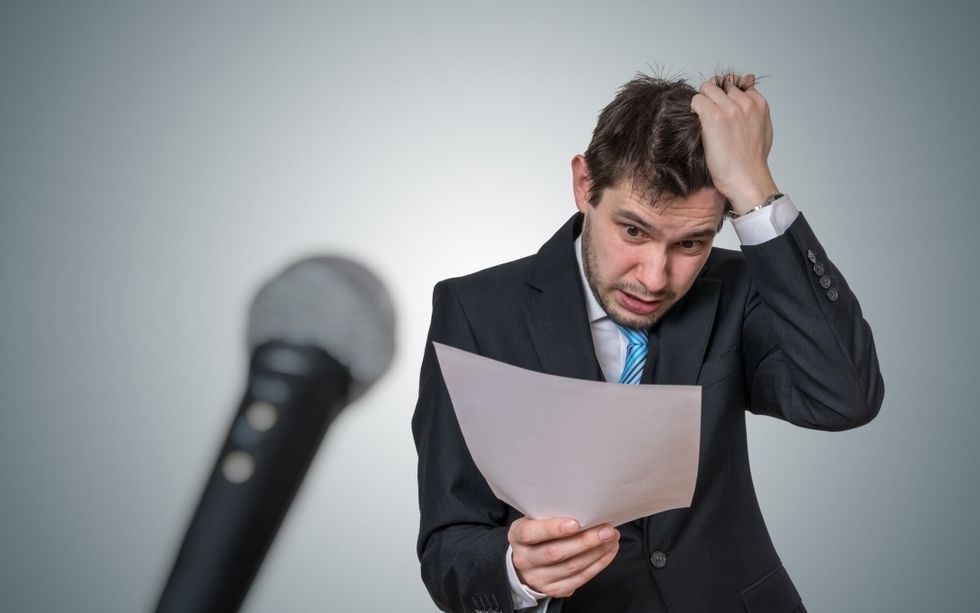 Face your fears josephcostello.ie
Prepare

If fear of public speaking already weighs on you, "winging it" will only make matters worse. No matter the topic, you must study up on the facts and figures, background, studies, etc. The more you research and learn, the better you'll be able to present the information. You need to know what you're talking about and that it's factual and informative.
As per Mayo Clinic, "The better you understand what you're talking about — and the more you care about the topic — the less likely you'll make a mistake or get off track. And if you do get lost, you'll be able to recover quickly. Take some time to consider what questions the audience may ask and have your responses ready."
Rehearse
Just like a stage actor rehearses his lines before opening night, you should practice your presentation before your "performance." Harvard Business Review suggests, "Enlist your friends to help you rehearse your speech. They can help review your material, ask you tough follow-up questions, or act like an indifferent audience."
The Balanceadds, "Rehearse several times before the big talk. Time your presentation and always have back up material in case time is left over."
Practice may not make perfect, but you'll be closer to it.
Envision Success
When you're a ball of nerves, it can be difficult to see the light at the end of the tunnel. But with a sunny outlook, you can effectively will your way into doing a job you're proud of. Mayo Clinic explains, "Positive thoughts can help decrease some of your negativity about your social performance and relieve some anxiety."
Huffington Post notes, "By being able to paint a concrete picture of what success looks like to you, it becomes less abstract and more obtainable to you." So, think about yourself standing up there, well-prepared, well-received, and realizing it wasn't so bad after all.
Breathe
Fear and worry can cause anything from sweaty pits to something closer to a panic attack. You need to concentrate on your breathing to calm yourself down and gain clarity and focus.The Balance recommends, "using deep belly breathing to reduce stress and build confidence."
CNBCexpands, "Deep breathing before and during your presentation or pitch calms your nerves and adds power and strength to your voice. Deep breathing also keeps your voice centered and prevents dangerous uptalk, which undermines your credibility and confidence. (Allison Shapira, founder, and CEO of Global Public Speaking)."
Be Yourself
Authenticity and ease of yourself will go a long way. You want to connect with your audience, and how better to do that than by being you? Too much memorization and rigidity will cause you to come off as more of a robot than the real thing. Be conversational and friendly. Nobody is waiting/hoping for you to mess up, they just want to be engaged and enlightened.
CNBC advises, "Telling personal, true stories are the best way to impart information and inspire others. (Gary Schmidt, Past International President of Toastmasters International, a nonprofit organization that helps members improve their public speaking skills)."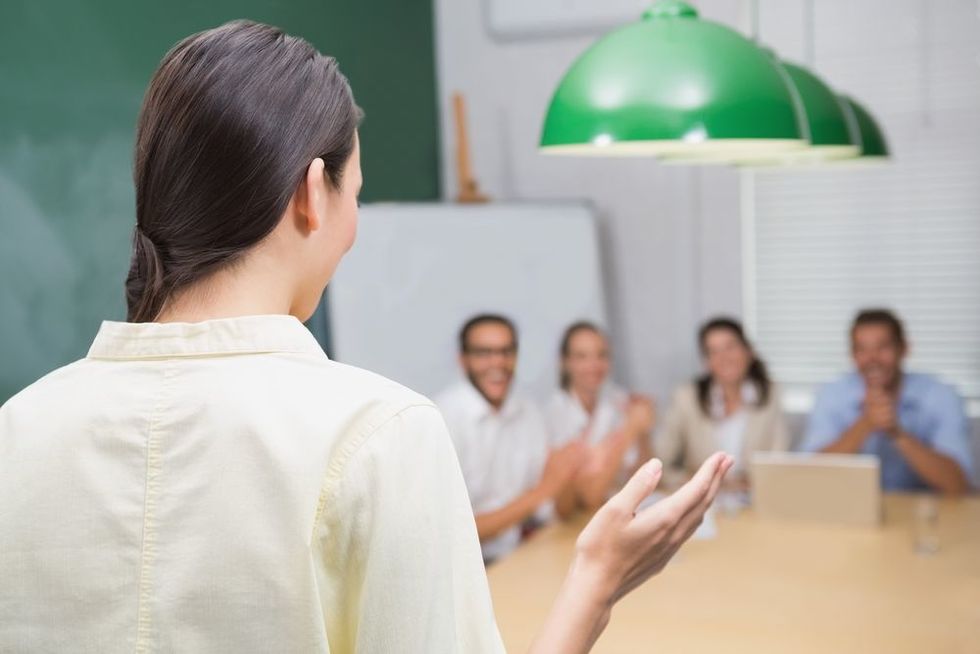 You can do this!workingmother.com
Forget the fear and find your place front and center.