It's difficult to resist the cash back offers and sign up bonuses advertised in every bank and on dozens of TV channels every day. $100 back on $500 of spending sounds like a great discount and, in many cases, it is. The right applicant under the right circumstances can take advantage of card companies' latest offers to save money on groceries, travel, restaurants, and large upcoming purchases. But it's important to be careful when applying for and opening new credit cards because doing it in the wrong way can damage a person's credit score and lower their chances of being approved in the future.
A tricky but weighty question is: how often is it okay to apply for a new card? A general suggestion is about six months between applications but, like everything that has to do with credit cards, this varies based on your credit score. Applicants with lower credit scores are required to wait a little longer between applications, to show companies that they're not a risk. Better credit scores allow applicants to apply sooner, though doing so too frequently will still hurt their score. You should also wait slightly longer if you've just been rejected by another company. Hard inquiries will almost always knock a few points off of your score. Spreading them out will avoid damaging it too much.
Be especially careful when:
You're rebuilding poor credit.
You've recently been rejected by another card or company.
You're about to apply for a mortgage or large car loan.
Those few points that fall off of your score after an application might cost you hundreds or thousands of dollars more on a mortgage. Time your applications to avoid impacting upcoming loans.
On the other hand, the best times to apply for a credit card depend on your preferences and spending habits. If you're r building credit, consider secured cards that require a deposit but make it easier for someone without a credit history to begin one. If you already have good credit, you have the privilege of shopping around for the newest and best deals offered by credit companies.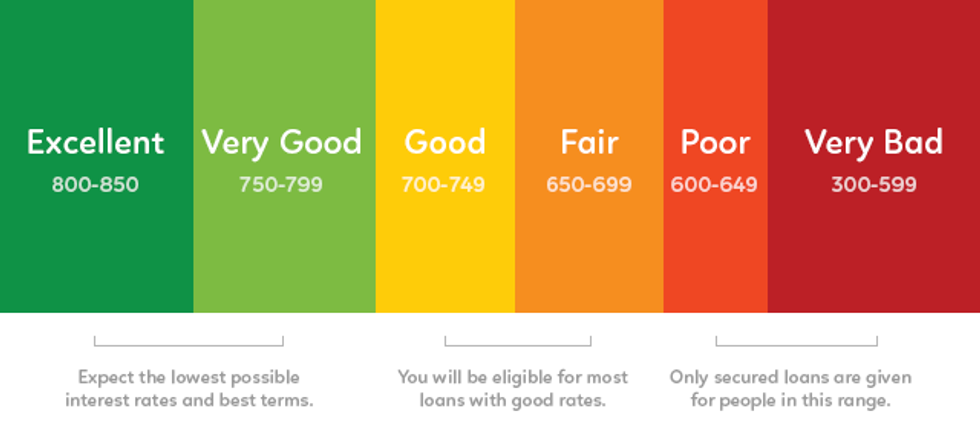 Credit Score Range
Your smart credit habits give you options that include low interest rates, cash back rewards, sign up bonuses and more. To make the most of your new card, try to time any sign up bonuses with large, planned purchases. Often, sign up bonuses come with spending requirements, such as $500 in 60 days. If you're about to purchase a new computer, for example, you can use the new card to fulfill its spending requirement all at once and save $100 on the computer.

If you haven't changed credit cards in five or ten years, it's time to look for lower interest rates and better perks. Card companies always change what they offer to compete with each other, and it's probably better than what you signed up for a decade ago. If you're still paying an annual fee, check out the no-fee offerings, too.
Analyze your spending and shop for cards whose perks best match your habits. Travel miles aren't valuable for everyone. If you eat at restaurants several times a week, look for a card that will reward you for that. Others offer cash back bonuses on gas, groceries or categories that vary month-to-month. Shopping for cash bonuses and rewards is the fun part of having good credit.
A last word on opening a new line of credit: don't close your old card. Unless it charges an annual fee (in which case, definitely do close it), leaving that old, in-good-standing credit line open can only help your score. Credit bureaus account for the age of your credit history and credit utilization when calculating your score. Your utilization is the ratio of credit use to credit limit. Closing an old card will shorten your credit history and, simultaneously, increase your utilization by lowering your total available credit. Both of these negatives are unnecessary: if that old card doesn't cost anything, leave it open.
Your credit card might have become such a regular part of your habit that you stopped thinking about it over the years. But if you've paid it in full and on time to build that credit score into the 700s or even higher, you owe it to yourself to take another look at the card market and shop for lower rates and better deals. It's like shopping for free money—it's the least you can do to reward yourself for your smart financial habits.
Tom Twardzik is a writer covering personal finance, productivity and investing for Paypath. He also contributes pop culture pieces to Popdust, travel writing to The Journiest, product reviews to Topdust and essays to The Liberty Project. Read more on his website and follow him on Twitter.