What the "Payment Status Not Available" Stimulus Check Error on the IRS Website Means
Thanks to the passage of the CARES Act, many Americans can expect a $1,200 check (or slightly less, depending on your income last year). The Internal Revenue Service is responsible for making these payments, either by mail or through direct deposit. If you filed your taxes last year and opted for a direct deposit option for your refund, you can expect to receive your stimulus check that way. If you opted to have your refund mailed to you, that's how you'll receive your check (likely much later than those who opted for direct deposit). Of course, making sure that every eligible tax payer receives this check is a very large task, and experts have warned that the IRS' antiquated system may struggle to handle the task.
If you aren't sure about the status of your relief check, you can use this tool to check. Unfortunately, over the weekend, many people found themselves unable to access their payment status through the tool. When these people entered their information through the portal, they were met with a "Payment Status Not Available" error.
While it's possible that you're receiving this error message because you aren't eligible for the relief check, there are several more reasons you may be receiving it. Luckily, the IRS updated their FAQ's with more information on the subject.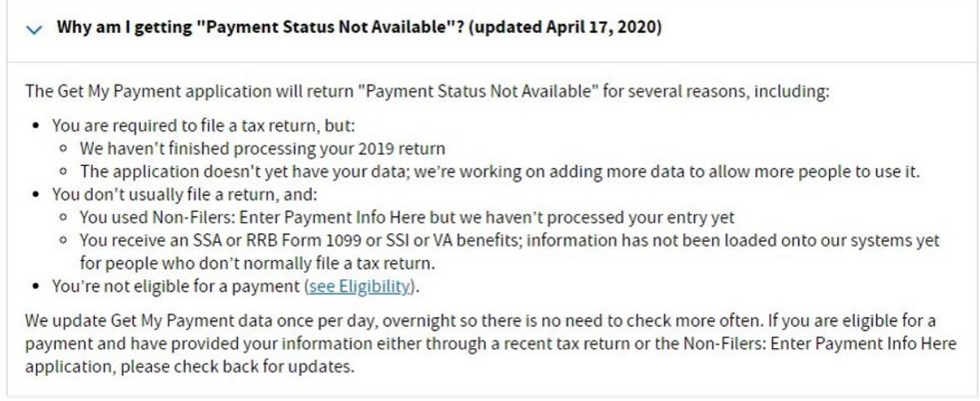 According to Forbes, a likely reason for receiving the error message is simply that the IRS hasn't finished processing your information: "In other words, they don't know your status because they haven't fully processed your information. If you recently filed a tax return for 2019 or used their Non-Filer form to give them your banking information, they just haven't processed that new information yet. It also doesn't include information for those who receive benefits through Social Security or Veterans Affairs."
Regardless of the reason for the error message, all you can do it continue to check the portal once a day for updates.