Maybe you're recently out-of-work. Maybe school has shut down and confined you to your apartment.
Maybe you're working from home for the second consecutive week. Whatever's happened, you're likely, for the first time, needing to plan, prepare, and consume all your weekly meals from the confines of your kitchen. It's a taxing prospect, especially since grocery stores are infected zones to be avoided whenever possible. There are other options on the table, but many of us are priced out of grocery delivery services through Amazon or Peapod, or otherwise can only make it worthwhile by buying in bulk.
For those reasons, it's vital to keep fridges and pantries stocked for as long as you can, for as little money as possible, without settling for pasta so often that it plumps you up like a Christmas goose by the time this is over. So, here are five easy ways not only to stretch your money as far as possible, but also keep your meals varied, relatively healthy, and long-lasting.
1. The Ol' Slow-Cook-and-Freeze
Physically cooking requires constant focus and multitasking. But there's no cheaper and healthier way to cook than when you prepare meals yourself, using ingredients you've decided on. But cooking, while cathartic to some can be a hassle. Enter slow-cooker.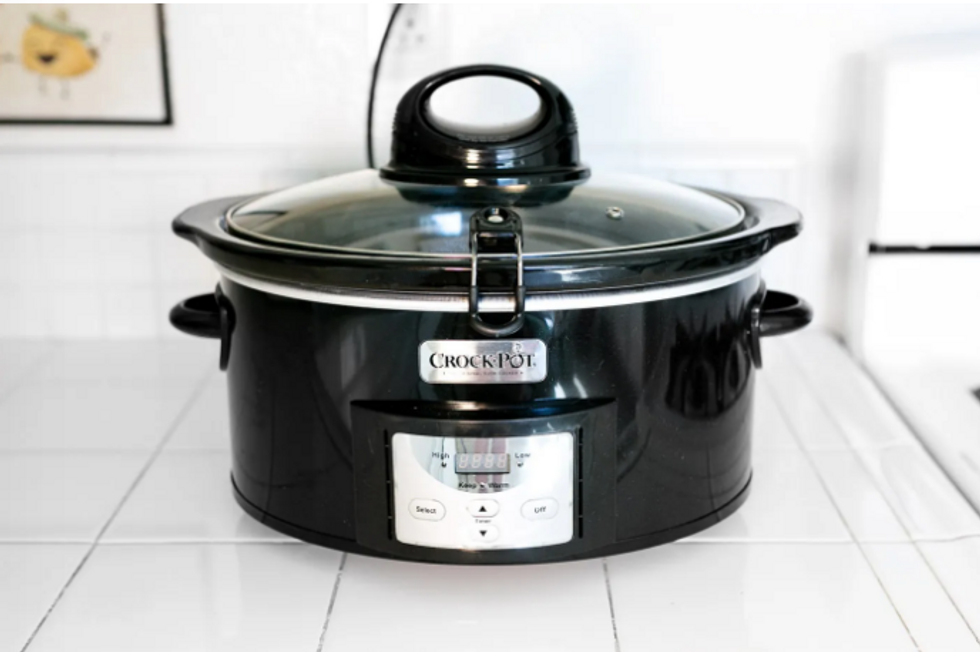 A slow-cooker, crockpot, or pressure cooker will suffice. As long as you can put food in it and then leave it alone to cook, the thing you're thinking of will be a perfect tool. Thats not just because it requires only preparatory steps—cut vegetables, thaw chicken breast, choose sauces, cover, wait—but because these things make a ton of food. Since the smallest size slow-cooker still allows six-quarts of ingredients, you're looking at a week's worth of meals (if you can make them last that long).

The freezer is your friend. Put stews in deli containers; tupperware meats indefinitely. Just as bulk-buying minimizes miscellaneous charges like delivery and service fees, bulk-cooking minimizes prep time, maximizes meal amount, and lets you cook cheap and simple ingredients like potatoes, turnips, or radishes in really interesting ways.
2. Rice (and Grains)
Let rice be your culinary staple because rice is cheap. You will find bagged rice in all sorts of uncooked varieties: brown, black, wild, forbidden, long-grain, basmati, jasmine, white. If you have a rice-cooker, you are likely already aware of the beauty freshly-cooked rice exudes. But even amateurs need no more than a pan, heat, and tap water, to cook huge amounts of rice in short amounts of time. Directions are on the bag and differ based on rice type, amount, and company, but heed them. Just two cups of rice, usually about half an average bag, will provide multiple-day's worth of sustenance.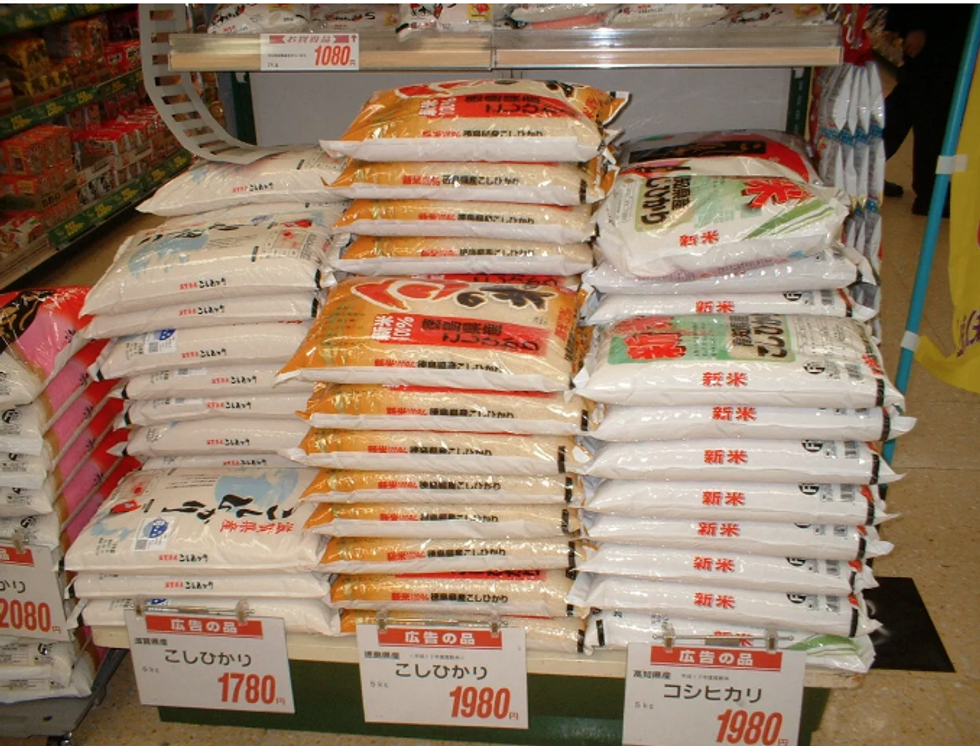 If you're health-conscious, quinoa can be prepared and stored similarly, although at a bit more premium price point.
3. Potatoes
"Boil 'em, mash 'em, stick 'em in a stew," says Samwise Gamgee in Lord of the Rings, describing his personal precious. Potatoes are the MVP of foods because they can take so many different forms, be prepared in so many different ways, and last forever. Small potatoes (fingerlings, butterballs, etc.) can be easily boiled in bulk and thereafter last for a week in the fridge, serving dutifully as sides or meal bases or as simple, salted snacks. Sacks of potatoes, while heavy, are low-cost, and because it's rather easy to cut them, dice them, boil them, smash them, microwave them, or bake them, you can conceivably have a different form of the world's greatest starch for every meal for a week or more.
4. Canned Foods
Buy canned vegetables. Buy canned beans. Buy canned anything. Canned foods get a bad rap because their containers are often dinged and un-lasciviously-colored, but the food inside is allowed to marinate in its own juices and keeps for years. A can of beans can be a meal all on its own, usually for somewhere close to 99 cents. Get a couple cans of beans and a bag of rice and find yourself understanding why rice and beans is a beloved culinary staple the world over.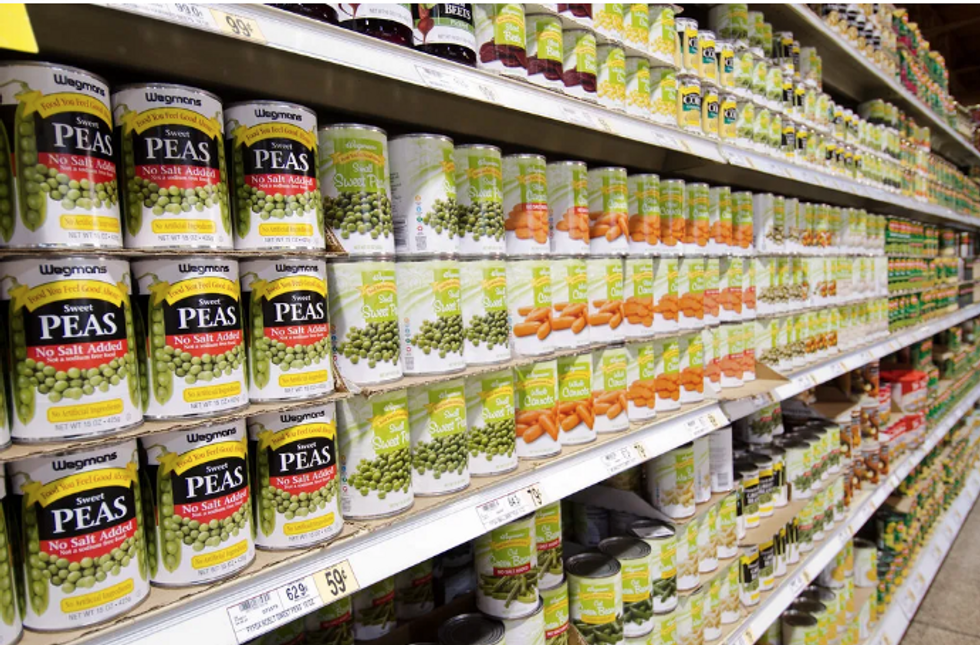 Be careful intaking too much sodium (many canned foods will have separate low-sodium versions), but with a little bit of extra time in the aisle, you can leave the store with pounds of delicious and nutritious foods to keep around for snacks (canned corn always hits the spot and goes shockingly well in guacamoles) or as meals unto themselves.
5. Vegetable-Based Proteins
Plant-based protein options are comparable in price to meat, keep longer, require far-less preparation, and are more versatile. Whether it's veggie-or-bean-based burgers, vegan sausage crumbles, faux chicken, or garden-variety tofu, the plant-based protein industry is coming up with new ways to pique our salivary glands daily. Vegetable-based options are easily thrown into any dish for extra protein and generally require no more than a quick pan saute to show their true flavors. Freezing meat is not a bad option, but that strategy requires large amounts of meat to be cooked at once, and it's generally inadvisable to re-freeze already cooked food. In contrast, vegan food can be kept for months or more.
While it's possible to be frugal with many aspects of your lifestyle, there are certain events and possessions that will require you to spend a substantial amount of money. Thus, a wise course of action is to begin saving well ahead of time while thinking about your goals for the future. This way, you'll be able to maintain a stable financial state even when faced with those large expenses. The following are a few major life purchases that you should plan for.
A Wedding
Marriage is a joyous occasion that many people look forward to. However, a wedding can be quite expensive, often costing thousands of dollars. Your family and your future spouse's family will often contribute to covering this, but you should still prepare to spend a good deal of your own money on the ceremony. If you're in a serious relationship and are considering marriage, you should plan where the funds for the wedding will come from and take the necessary actions to accumulate them. It's also crucial to discuss financial matters with your partner, since your property will merge once you get married.
A New Car
Automobiles remain one of the top modes of transportation. As a result, you may want to purchase a new car at some point in your life. Although you may be fine with an old or used vehicle at present, you may one day be motivated by a desire to acquire something nice for yourself or by the practical needs that arise as you raise children. Whatever the case, obtaining a new car is a major life purchase that you should plan for.
In addition to setting aside funds to eventually put towards a vehicle, you should also aim to build you credit score. This is because your credit score will determine your available car loan options. The higher your credit score, the more you may be able to lower your interest rates on your car.
A House
Owning your own residential property is a worthy objective that you may hope to make a reality one day. Ideally, you should save about 20 percent of the total cost of a house before you buy it. This will allow you to make a larger down payment and thereafter face less interest on your mortgage.
As with acquiring a car, the mortgage options that you'll have can change based on how strong your credit score is. You'll want to increase your score as much as possible in the years leading up to buying a house so that you can get more favorable interest rates. In addition to contemplating down payments and mortgages, you must also remember that you'll need to deal with property taxes, insurance, maintenance and repair fees, and sometimes homeowners' association charges.
It's also necessary to hire a real estate agent to help you with the buying process. There are different types of real estate professionals. You should know how to distinguish between buyer's agents and seller's agents so that you can obtain favorable prices on homes as well.
Many people live together before getting married and have begun the process of combining accounts and sharing responsibilities. However, some people wait to do this only after marriage, and others wait until they're married to live together. Whichever path you've chosen, it's still crucial to know a few tips to manage money together as newlyweds to determine where you should begin and how you can remain on the same page.
Discussing Money Motivations
As we begin to share money with our significant other, we soon find out what one person may rank as a priority regarding money and the other may not. As such, sitting down and discussing money motivations is important. Two people who cannot agree on how to handle money may cause serious issues. This should include:
How to deal with money following payday. Is a percentage put into savings? Is that the day to splurge on dinner, drinks, and more?
The frequency and size of payments made to debts. Some people like to pay minimums, whereas others pay in full or make double payments.
What do you each consider money well spent? Is it a new 70" 4K television? Is it an investment? Is it paying as much debt off as possible?
How do you go about consulting each other before making purchases over a certain amount?
Establishing Financial Goals
After you evaluate the motivations behind your money and how it should be spent, you'll need to spend time together hashing out financial goals. As newlyweds, there are certain things on your list that you're going to want to save for. How do you go about that? How much of each paycheck will you dedicate to a particular fund?
Some things in the future worth making a financial plan for include savings and paying down debts. This is the time to be honest about your current financial standing. If you're looking to buy a home, you'll want to assemble a first-time homeowner financial checklist to begin to develop topics of conversation. Some of the things to consider setting goals for are:
Student loans
Car loans
Future children
A house
Medical bills
Delinquencies on credit reports
Vacation and rainy-day funds
Emergency funds
Budgeting Together
The more honest and open you can be with each other about the money you have and now the debts you share, the better. Implementing plans for the best ways to have the things that you both desire while still taking care of existing demands is important. These can be uncomfortable things to talk about; however, these conversations are necessary.
Following these tips to manage money together as newlyweds will allow you to have a starting point for conversations that can be tough to start. The sooner you and your partner get on the same page with finances and the responsibilities that come with them, the easier the transition will be and the sooner you'll find success.
It's the dream: money you can count on to keep rolling in, even while you sleep.
Passive income isn't entirely passive, of course. You'll put in work up-front to get the profits rolling, so don't relax in your recliner just yet. But with so many potential sources of passive income available to you, picking one or several will mean that the day you can finally kick back will draw steadily closer.
Rental Properties
Real estate is a tried-and-true wealth builder for a simple reason: people will always need somewhere to live. Research the market in a growing community until you know a good deal when you see it. You can maximize rent by fixing up a deteriorating property or upgrading a mediocre one. The key is to hire a property manager to do all the day-to-day landlord duties for you—and you'll need a good one. Smart investors put their profits in another property and repeat the process until they have a diverse portfolio.
A YouTube Channel
You can start a blog if you're more comfortable hiding behind a computer, but consumers are more likely to prefer video content. Post a series of "how-to" videos to answer questions about whatever you're an expert in.
You can put up any content you want, but if you don't want to commit to regularly updating it, focus on "evergreen" topics that will draw clicks for eternity. Ads will create your income, especially if your channel grows in popularity. Better yet, sign up for affiliate marketing. If you recommend a product and provide a link to buy it, you'll get a small percentage of those transactions.
Auto Advertising
If you don't mind vinyl-wrapping your car with an ad for a company, you can get cash just driving around and running your errands. Make sure you contact a reputable company that doesn't ask for any money from you; if they're the real deal, they'll evaluate your car, your driving habits, your area, and more. Bonus: the brighter the ad, the easier it'll be to find your vehicle in the parking lot.
Digital Products
What's something that people will pay for but doesn't require shipping on your part? Finding that item is what can supplement your income indefinitely. Write an e-book, charge for your cross-stitching patterns, design prints that people can digitally download, invent an app, record a "masterclass," or whatever else you want. Every time someone new discovers it, the cash register rings. With a little more effort, this is a potential source of passive income for you that can continue to grow. Once you build up a customer base, they might want more products. The good part is that it's up to you whether you wish to give it to them.
From Your Site Articles
Related Articles Around the Web