Maybe you're recently out-of-work. Maybe school has shut down and confined you to your apartment.
Maybe you're working from home for the second consecutive week. Whatever's happened, you're likely, for the first time, needing to plan, prepare, and consume all your weekly meals from the confines of your kitchen. It's a taxing prospect, especially since grocery stores are infected zones to be avoided whenever possible. There are other options on the table, but many of us are priced out of grocery delivery services through Amazon or Peapod, or otherwise can only make it worthwhile by buying in bulk.
For those reasons, it's vital to keep fridges and pantries stocked for as long as you can, for as little money as possible, without settling for pasta so often that it plumps you up like a Christmas goose by the time this is over. So, here are five easy ways not only to stretch your money as far as possible, but also keep your meals varied, relatively healthy, and long-lasting.
1. The Ol' Slow-Cook-and-Freeze
Physically cooking requires constant focus and multitasking. But there's no cheaper and healthier way to cook than when you prepare meals yourself, using ingredients you've decided on. But cooking, while cathartic to some can be a hassle. Enter slow-cooker.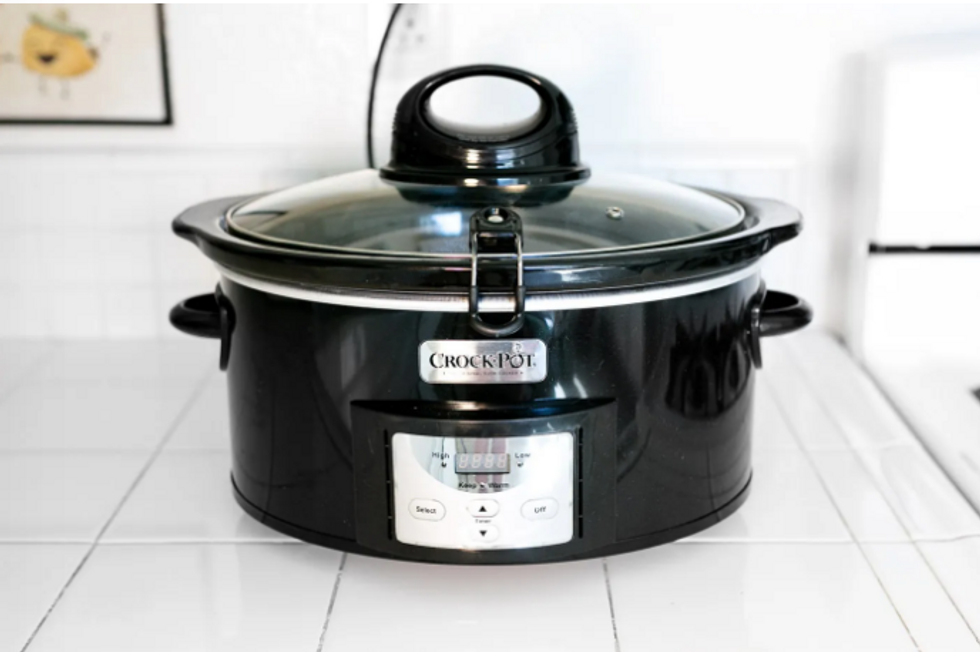 A slow-cooker, crockpot, or pressure cooker will suffice. As long as you can put food in it and then leave it alone to cook, the thing you're thinking of will be a perfect tool. Thats not just because it requires only preparatory steps—cut vegetables, thaw chicken breast, choose sauces, cover, wait—but because these things make a ton of food. Since the smallest size slow-cooker still allows six-quarts of ingredients, you're looking at a week's worth of meals (if you can make them last that long).

The freezer is your friend. Put stews in deli containers; tupperware meats indefinitely. Just as bulk-buying minimizes miscellaneous charges like delivery and service fees, bulk-cooking minimizes prep time, maximizes meal amount, and lets you cook cheap and simple ingredients like potatoes, turnips, or radishes in really interesting ways.
2. Rice (and Grains)
Let rice be your culinary staple because rice is cheap. You will find bagged rice in all sorts of uncooked varieties: brown, black, wild, forbidden, long-grain, basmati, jasmine, white. If you have a rice-cooker, you are likely already aware of the beauty freshly-cooked rice exudes. But even amateurs need no more than a pan, heat, and tap water, to cook huge amounts of rice in short amounts of time. Directions are on the bag and differ based on rice type, amount, and company, but heed them. Just two cups of rice, usually about half an average bag, will provide multiple-day's worth of sustenance.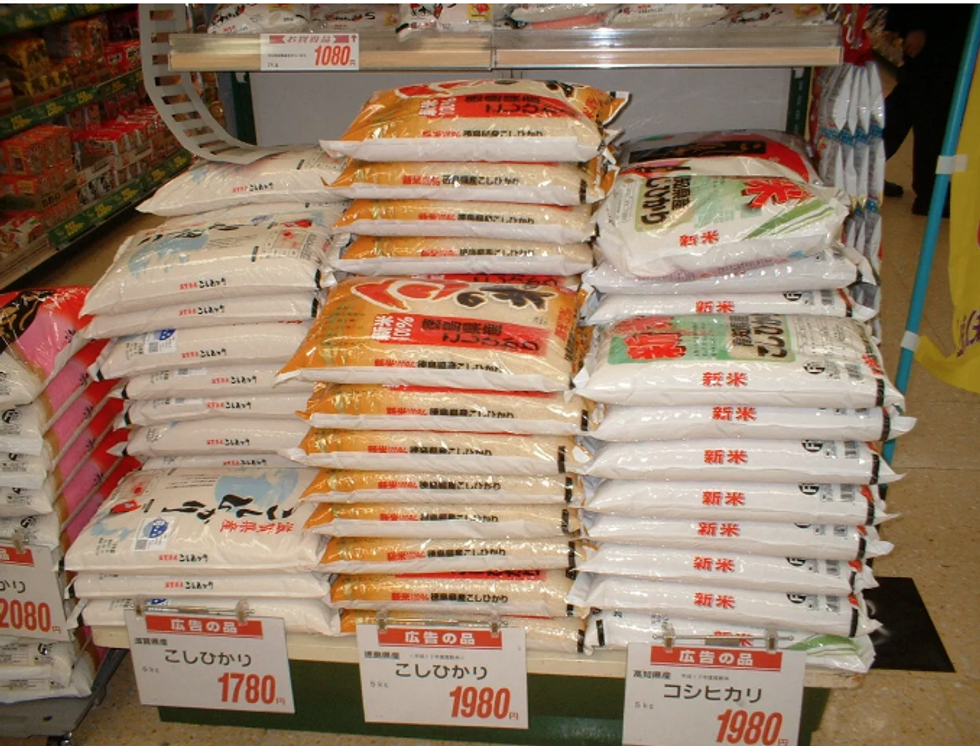 If you're health-conscious, quinoa can be prepared and stored similarly, although at a bit more premium price point.
3. Potatoes
"Boil 'em, mash 'em, stick 'em in a stew," says Samwise Gamgee in Lord of the Rings, describing his personal precious. Potatoes are the MVP of foods because they can take so many different forms, be prepared in so many different ways, and last forever. Small potatoes (fingerlings, butterballs, etc.) can be easily boiled in bulk and thereafter last for a week in the fridge, serving dutifully as sides or meal bases or as simple, salted snacks. Sacks of potatoes, while heavy, are low-cost, and because it's rather easy to cut them, dice them, boil them, smash them, microwave them, or bake them, you can conceivably have a different form of the world's greatest starch for every meal for a week or more.
4. Canned Foods
Buy canned vegetables. Buy canned beans. Buy canned anything. Canned foods get a bad rap because their containers are often dinged and un-lasciviously-colored, but the food inside is allowed to marinate in its own juices and keeps for years. A can of beans can be a meal all on its own, usually for somewhere close to 99 cents. Get a couple cans of beans and a bag of rice and find yourself understanding why rice and beans is a beloved culinary staple the world over.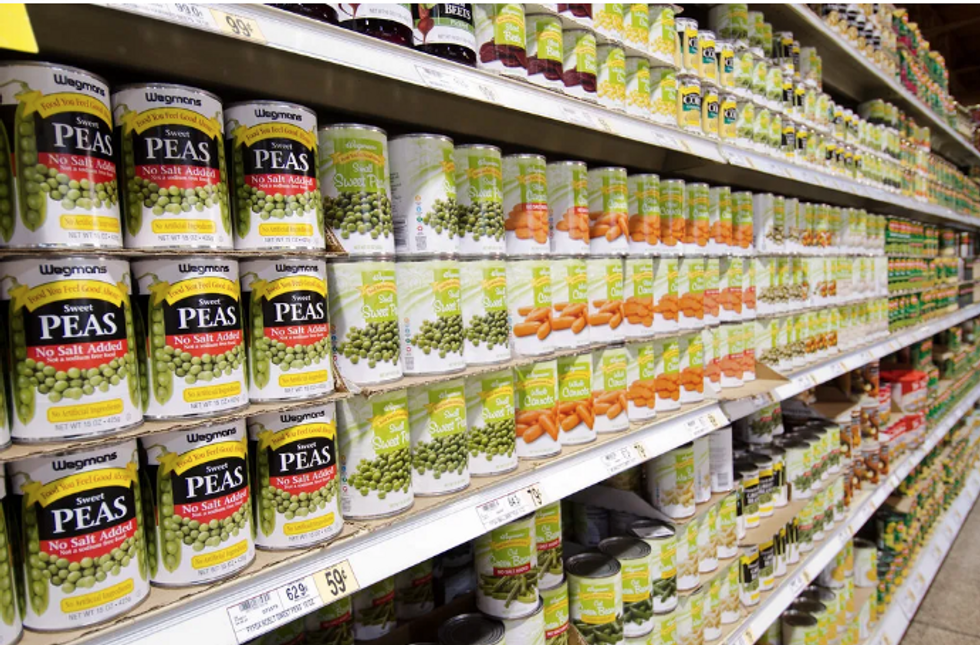 Be careful intaking too much sodium (many canned foods will have separate low-sodium versions), but with a little bit of extra time in the aisle, you can leave the store with pounds of delicious and nutritious foods to keep around for snacks (canned corn always hits the spot and goes shockingly well in guacamoles) or as meals unto themselves.
5. Vegetable-Based Proteins
Plant-based protein options are comparable in price to meat, keep longer, require far-less preparation, and are more versatile. Whether it's veggie-or-bean-based burgers, vegan sausage crumbles, faux chicken, or garden-variety tofu, the plant-based protein industry is coming up with new ways to pique our salivary glands daily. Vegetable-based options are easily thrown into any dish for extra protein and generally require no more than a quick pan saute to show their true flavors. Freezing meat is not a bad option, but that strategy requires large amounts of meat to be cooked at once, and it's generally inadvisable to re-freeze already cooked food. In contrast, vegan food can be kept for months or more.
via Tiffany & Co.
When the new Tiffany's campaign was unveiled, reactions were mixed.

Tiffany's, the iconic jewelry brand which does not (despite what some might be misled to believe) in fact serve breakfast, featured Jay Z, Beyoncé, and a rare Basquiat painting in their recent campaign.
The aesthetics were undeniably luxe and historic. The campaign showcased the rarely-seen Basquiat painting Equals Pi (1982), which the brand acquired for the background's proximity to its distinctive Tiffany blue. Also notably historic is that Beyoncé was the first Black woman to wear the 128.54 carat Tiffany Diamond.

Before Beyoncé, the only other stars to wear the yellow diamond were Mary Whitehouse, wife of American diplomat Edwin Sheldon Whitehouse, Hollywood icon Audrey Hepburn, and singer Lady Gaga.
"Beyoncé and Jay-Z are the epitome of the modern love story …. Love is the diamond that the jewelry and art decorate," said the press release accompanying the campaign.
The campaign, titled "About Love," is stunning and has both classic and contemporary references. The image of the couple posing in front of high art recalled the iconic stills from their "APESHIT" music video, for which they famously rented out the Louvre and posed in front of the Mona Lisa.
THE CARTERS - APESHIT (Official Video) www.youtube.com
Their "APESHIT" photo made a giant cultural impact for its juxtaposition of Western beauty and Blackness. Tiffany's campaign seemed to have similar goals — showcasing Beyoncé and Jay Z as the peak of luxury, this time juxtaposing the Basquiat and the Tiffany diamond.

As a Black couple, their appearance in such a luxury campaign was a big move for representation, but in a post 2020 landscape, there was an outcry of criticism.
Despite the aesthetic beauty of the image, the high capitalist undertones didn't sit right with some on the internet — largely younger demographics. Though this campaign was an effort by Tiffany's to appeal to younger audiences and make the brand feel more relevant, Twitter's verdict was clear: a blood diamond wasn't the way to go.
The diamond, which was mined in South Africa in 1877, comes from origins laden in the implications of colonialism. The practice of mining in South Africa at the time was exploitative and destructive, eschewing the livelihoods and safety of African miners and their communities for... what? Money? So Tiffany could try to sell us some dream of affluence using Black celebrities as to "Blackwash" the history behind their treasured piece?
The Washington Post also had some choice words, saying: "Its campaign does not celebrate Black liberation — it elevates a painful symbol of colonialism. It presents an ostentatious display of wealth as a sign of progress in an age when Black Americans possess just 4 percent of the United States's total household wealth. If Black success is defined by being paid to wear White people's large colonial diamonds, then we are truly still in the sunken place."
Alongside the campaign, Tiffany & Co have promised to donate $2 million to HBCUs to fund scholarships and internships. But this measly amount (considering the multi-billion dollar net worth behind LVMH) is not enough to cover up that, despite their performative efforts to promote "diversity," Tiffany's is entrenched in a colonial history that neither beauty nor Beyonce can make us ignore.
While Black representation has been increasing over the past few years, the question of how we are represented is starting to be considered with more nuance. And as we examine the structures of wealth and hierarchical values, many people are starting to ask whether these should be the standards we aspire to anymore.
Jay Z and Beyoncé have come under fire before for their promotion of Black Capitalist values — which the kids don't seem to want. Jay Z especially seems invested in the trappings of traditional (read: white) success and wealth. His cannabis line recently unveiled a campaign based on the work Slim Aarons — which was famously focused on "attractive people doing attractive things in attractive places" — and its unashamed opulence raised some eyebrows.
Images like this aren't as revolutionary as they once might have been since they reinforce the status quo and tell marginalized people to reach for the same luxuries and lifestyles deemed aspirational by the people who have oppressed them.
Anti-capitalist theory has been around as long as capitalism has, but younger generations are more likely to question the status quo — even when it comes packed with Basquiat and Beyoncé.
The conversation about the Tiffany campaign is indicative of how Gen Z thinks differently about money and what it means to them. They are less likely to be seduced by the luster of the aspirational, and more receptive to relatability.
This is why apps like Cleo have been on the rise. Cleo is a budgeting and personal finance app which makes money feel less inaccessible and makes engaging in personal finance relatable and easy.
No more does financial literacy seem restricted to the pretentious or the elite — we get it, finance bros; you love capitalism. With Cleo, understanding your money is something that can align users with their values.
And those values don't look like blood diamonds or corporate pandering.