Airbnb offers an affordable option for people looking to be more comfortable as they travel.
However, there are downsides to staying in a host's home rather than a hotel. Whereas hotels are designed for constant streams of visitors and often have furniture built to last, at an Airbnb, you may be staying on old or cheap furniture that a host is using in order to maximize their profits.
And while most reputable hotels will have regular room inspections from staff to check for any wear and tear, Airbnb damage disputes are oftentimes he said, she said situations. If you are in an Airbnb and something breaks, there are a few steps you should take in order to ensure that you are not on the hook for damages out of your control.
---
I have used Airbnb for years and have had a grand total of one dispute over damages with a host. But by following these steps, I was able to effectively work with Airbnb to come to a fair resolution.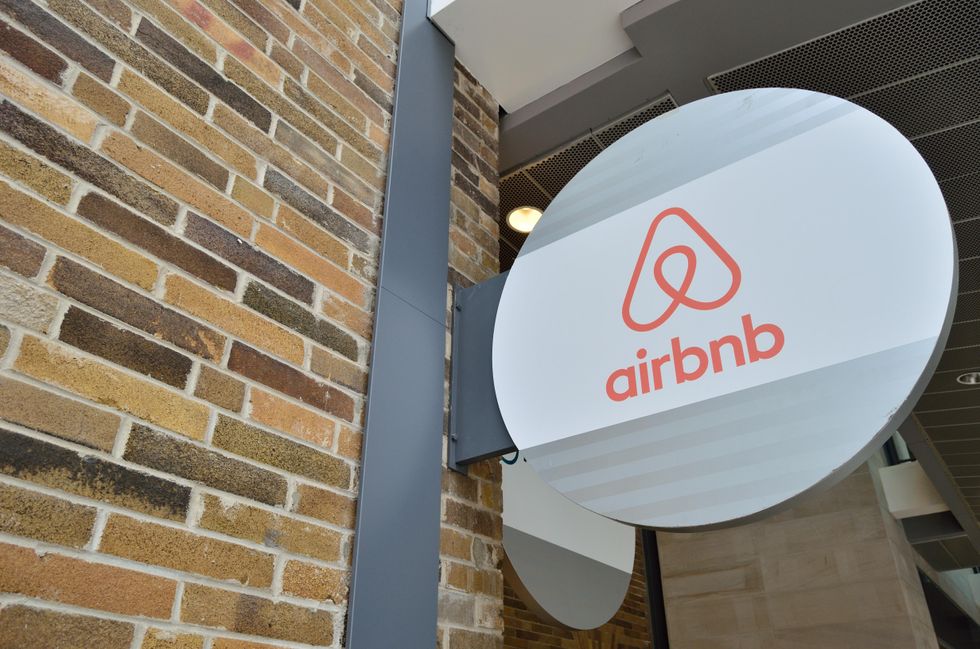 Handling disputes through Airbnb can be a strange process unlike damages in a hotel."Airbnb Office" by Open Grid Scheduler / Grid Engine is marked with
Step 1: Assess if you are actually at fault. If you are, pay for it.
We have all heard the stories of fat cat Airbnb management companies pulling in millions of dollars from hundreds of apartments, but the reality is that the average Airbnb host makes less than $1,000 a month. These are likely people just like you who are trying to supplement their incomes and stay in their home sasn rents in many major cities climb faster than wages.
If the damage is normal wear and tear, then the guest won't need to pay. But if you broke something through actions outside of regular wear and tear, even if it was unintentional, it is the right thing to do to pay for the damages you didino this person's home. The host will likely take the money out of your security deposit, but you may need to arrange for additional payments for larger damages to their property.
Step 2: Take pictures of the damage right away.
Pull out your phone and take pictures of the damage. Some people take pictures before they enter an Airbnb in case of any damages, but after a long day of travelling I rarely want to peek in every nook and cranny of an apartment. Still, it's always a good idea to take photos the moment damage occurs. You will want to have these photos in case of a dispute with the host.
Step 3: Contact the host through Airbnb immediately.
You should never communicate with a host through a medium other than Airbnb. Remember that communicating through the app is meant to ensure the safety of all parties. Airbnb will put less weight towards screenshots of text messages or your description of a phone call than communication within their app, which they know cannot be fabricated.
I always recommend communicating through written message rather than trying to call as that way there is a clear record of who said what and when. If there are damages to thAirbnb, you should want to contact the host immediately, first to show that you are not trying to hide the damages and second because you are entitled to accommodations that comply with the specifications listed in the ad. If the fridge in your Airbnb is not working, then the host has a responsibility to fix it to provide you with the amenities you paid for.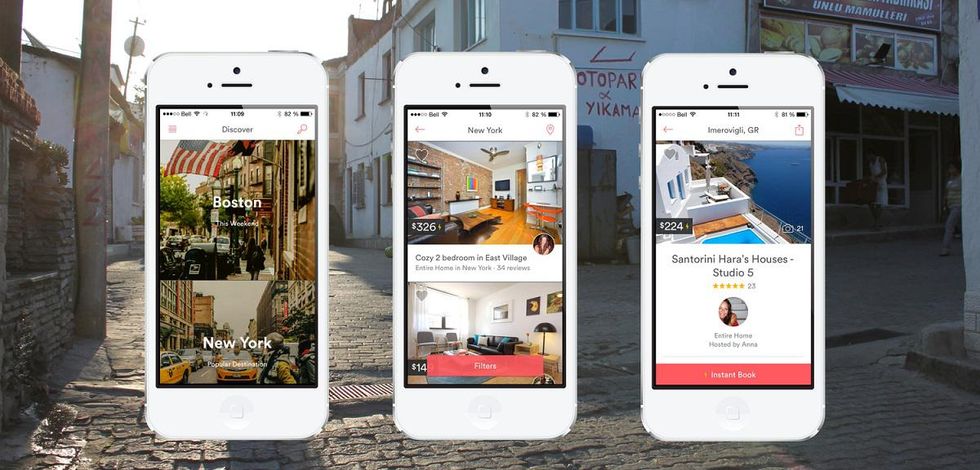 Keep your communication through Airbnb so there is a record in case of a dispute.
Step 4: If the host does not respond, contact Airbnb
In my own case, I had arrived at my Airbnb in a small beach town for a holiday weekend. When the wooden bed frame came apart as soon as we sat on it, we could not get a response from the host, who was likely enjoying their own festivities.
A host is supposed to be ready to respond to any issues during check-in and when they were not available, I decided to contact Airbnb. The Airbnb bot is available through the app (always go through the app whenever possible!) and I was advised to call Airbnb Community Support. I explained to the representative that the bed had come apart when we had sat on it (certainly normal usage) and was unusable. They advised us to wait while they tried to get ahold of the host, so we sat on the floor and put on a movie while we waited.
After about an hour, they reached out to us through the app and neither one of us had been able to reach the host. If you are still able to use the Airbnb, they will likely have you continue to stay in the accommodation if it is useable. In our case, because it was the only bed in the apartment and there was no room to put the mattress on the floor, they put us in a hotel and paid for half of the difference in price from needing to book a last-minute room.
Step 5: Wait for the host's claim in the Resolution Center
Hosts have up to 60 days to make a claim on a deposit, and you must respond within 72 hours. If you don't respond, then Airbnb will go ahead and process the claim.
Read through the host's claim several times before crafting your response. You will want to respond to any points they make in their claim that you disagree with. The host has to prove that you caused the damage in order to be awarded the money, so you will want to respond to any claims they are making. It doesn't feel good to be accused of doing something you did not do, but do not let emotion come into it. It is best to be professional and matter-of-fact as you go through this contentious situation.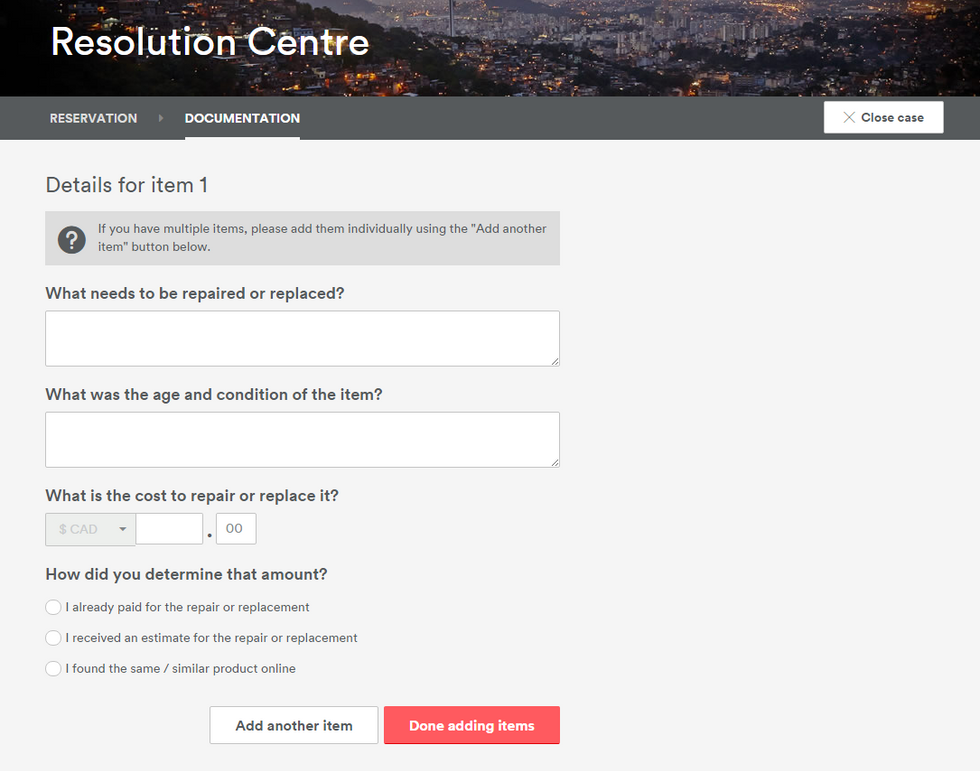 Never pay a host directly. All damage disputes should be handled through Airbnb's Resolution Center.
Step 6: If you hear from the mediator, prepare your response.
If you decide to dispute the claim, then the host can elect to involve a mediator through Airbnb. They will gather information from both sides of the dispute and make a decision. The mediator's judgement is final, and you cannot escalate the situation any further. You must respond to the mediator within 72 hours or they will automatically rule in favor of the host.
A good response will have the following elements:
- Highlights from your positive reviews. If you have dozens of positive reviews all saying you are very respectful of the property, it would certainly be wise to point out your positive prior experiences with Airbnb hosts as a testament to your character.
- A complete and truthful description of how the damage came about. You may be tired of explaining what happened at this point, but this will likely be the last time. Thoroughly explain what happened so that a mediator just coming into the case can be armed with the facts. If the host is making up damages completely, point that out and explain how the items in question worked while you were in the apartment. This is your chance to tell your side of the story.
- Pictures of the damage. This is important for establishing whether the damage could have been accidental and if anyone in the dispute is being less than truthful. In my own case, the host argued that the bed that had broken was brand new and was solid wood, but the pictures I had taken showed that it was made from particle board. I think that was a big part of why I won the dispute, as the host was clearly not telling the whole story.
- All of your communication with the host. This is why you want to only communicate through the Airbnb app. The Airbnb mediator can see that your communications are undoctored, and the host cannot make any claims that you admitted to causing the damage when you did not. Showing that you immediately contacted the host and did not try to cover up the damage at all goes a long way in these disputes.
- A response to any unreasonable charges or claims. If you broke a wine glass and the host starts demanding hundreds of dollars to replace it, you would certainly balk. For my damage dispute, the host asked for $900 to replace the bed, and I expressed that this sounded a bit high for a particle board bed frame. If there is damage to the Airbnb, the host cannot simply make up a number they would like to charge. They must produce receipts for replacements or estimates for repairs.
- The phrases "wear and tear" and "reasonable use". Hosts are providing you a place to stay, but they cannot expect furniture to be in the same condition after months or years of use. If the damages could have come from normal wear and tear, point that out to Airbnb. Normal wear and tear is to be expected; if it's something like small scratches where the dining room chairs meet the floor, then that is to be expected after a while. Also, point out if the damages occurred during reasonable us. A chair should be able to support the body weight of a regular-sized person, a closet door should not come off the tracks when it is slid open, and you should not need to pay for damage that results from using a piece of furniture for its intended purpose. Doing parkour in an Airbnb is likely to lead to some damages that you would be responsible for, but making reasonable use of a piece of furniture should not.
- A response to the host's claim of purposeful damages. In my case, I questioned how the damage to the bed could have occurred if it was not caused by us merely sitting on a cheap wooden frame. I pointed out the bed was close to the wall and questioned how we might have caused the damages outside of reasonable and regular use of the bed. If a host is saying that you damaged the Airbnb, the onus is on them to provide an explanation and proof.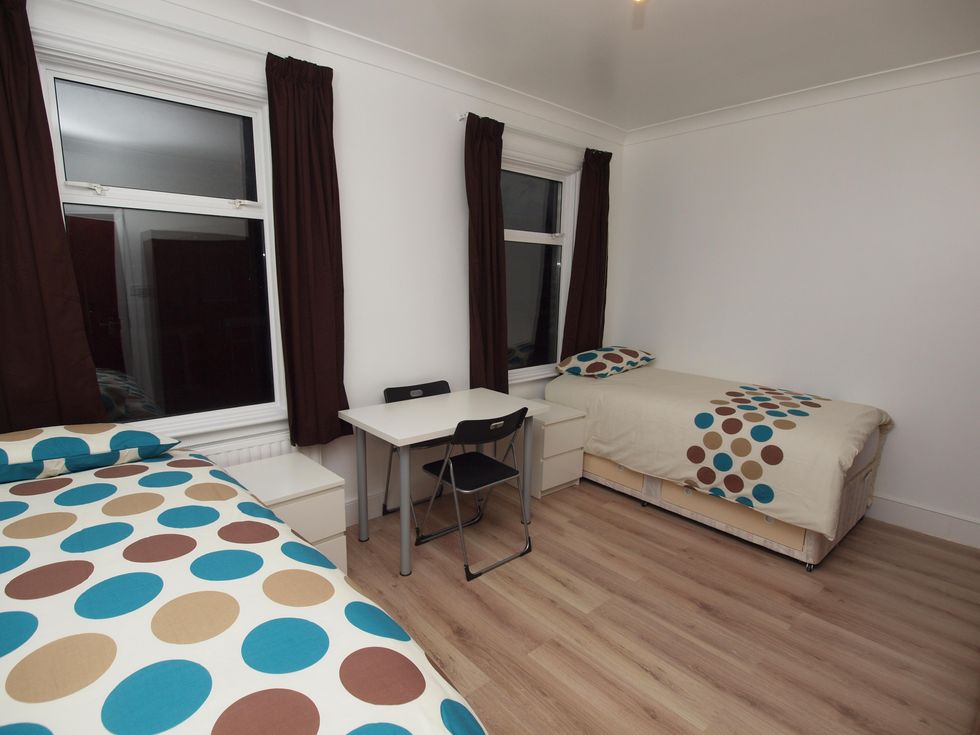 Airbnbs may contain lower-quality furniture that is easily damaged."House Share" by Shane Global Language Centres is licensed under
Step 7: Wait for a response
I waited anxiously for a final decision from the mediator but resisted the urge to reach out. The host must take time to draft their own response and the mediator must review all the pictures and evidence that is provided, as well as request any further documentation they need before making a decision.
In the end, because the damages had occurred from regular use of the apartment and I had maintained professional and prompt communication with Airbnb, they found in my favor. However, the whole ordeal did make me a bit more nervous about how I might be making myself vulnerable to spurious claims. In the future, I plan on taking a video of myself entering my vacation rentals and going through the apartment to show the state of the place when I arrive. Staying in a vacation rental may be an affordable alternative to a hotel, but you are certainly much more at risk of running across an unscrupulous host.
via Tiffany & Co.
When the new Tiffany's campaign was unveiled, reactions were mixed.

Tiffany's, the iconic jewelry brand which does not (despite what some might be misled to believe) in fact serve breakfast, featured Jay Z, Beyoncé, and a rare Basquiat painting in their recent campaign.
The aesthetics were undeniably luxe and historic. The campaign showcased the rarely-seen Basquiat painting Equals Pi (1982), which the brand acquired for the background's proximity to its distinctive Tiffany blue. Also notably historic is that Beyoncé was the first Black woman to wear the 128.54 carat Tiffany Diamond.

Before Beyoncé, the only other stars to wear the yellow diamond were Mary Whitehouse, wife of American diplomat Edwin Sheldon Whitehouse, Hollywood icon Audrey Hepburn, and singer Lady Gaga.
"Beyoncé and Jay-Z are the epitome of the modern love story …. Love is the diamond that the jewelry and art decorate," said the press release accompanying the campaign.
The campaign, titled "About Love," is stunning and has both classic and contemporary references. The image of the couple posing in front of high art recalled the iconic stills from their "APESHIT" music video, for which they famously rented out the Louvre and posed in front of the Mona Lisa.
THE CARTERS - APESHIT (Official Video) www.youtube.com
Their "APESHIT" photo made a giant cultural impact for its juxtaposition of Western beauty and Blackness. Tiffany's campaign seemed to have similar goals — showcasing Beyoncé and Jay Z as the peak of luxury, this time juxtaposing the Basquiat and the Tiffany diamond.

As a Black couple, their appearance in such a luxury campaign was a big move for representation, but in a post 2020 landscape, there was an outcry of criticism.
Despite the aesthetic beauty of the image, the high capitalist undertones didn't sit right with some on the internet — largely younger demographics. Though this campaign was an effort by Tiffany's to appeal to younger audiences and make the brand feel more relevant, Twitter's verdict was clear: a blood diamond wasn't the way to go.
The diamond, which was mined in South Africa in 1877, comes from origins laden in the implications of colonialism. The practice of mining in South Africa at the time was exploitative and destructive, eschewing the livelihoods and safety of African miners and their communities for... what? Money? So Tiffany could try to sell us some dream of affluence using Black celebrities as to "Blackwash" the history behind their treasured piece?
The Washington Post also had some choice words, saying: "Its campaign does not celebrate Black liberation — it elevates a painful symbol of colonialism. It presents an ostentatious display of wealth as a sign of progress in an age when Black Americans possess just 4 percent of the United States's total household wealth. If Black success is defined by being paid to wear White people's large colonial diamonds, then we are truly still in the sunken place."
Alongside the campaign, Tiffany & Co have promised to donate $2 million to HBCUs to fund scholarships and internships. But this measly amount (considering the multi-billion dollar net worth behind LVMH) is not enough to cover up that, despite their performative efforts to promote "diversity," Tiffany's is entrenched in a colonial history that neither beauty nor Beyonce can make us ignore.
While Black representation has been increasing over the past few years, the question of how we are represented is starting to be considered with more nuance. And as we examine the structures of wealth and hierarchical values, many people are starting to ask whether these should be the standards we aspire to anymore.
Jay Z and Beyoncé have come under fire before for their promotion of Black Capitalist values — which the kids don't seem to want. Jay Z especially seems invested in the trappings of traditional (read: white) success and wealth. His cannabis line recently unveiled a campaign based on the work Slim Aarons — which was famously focused on "attractive people doing attractive things in attractive places" — and its unashamed opulence raised some eyebrows.
Images like this aren't as revolutionary as they once might have been since they reinforce the status quo and tell marginalized people to reach for the same luxuries and lifestyles deemed aspirational by the people who have oppressed them.
Anti-capitalist theory has been around as long as capitalism has, but younger generations are more likely to question the status quo — even when it comes packed with Basquiat and Beyoncé.
The conversation about the Tiffany campaign is indicative of how Gen Z thinks differently about money and what it means to them. They are less likely to be seduced by the luster of the aspirational, and more receptive to relatability.
This is why apps like Cleo have been on the rise. Cleo is a budgeting and personal finance app which makes money feel less inaccessible and makes engaging in personal finance relatable and easy.
No more does financial literacy seem restricted to the pretentious or the elite — we get it, finance bros; you love capitalism. With Cleo, understanding your money is something that can align users with their values.
And those values don't look like blood diamonds or corporate pandering.