Stu Heinecke
No matter what their field, most entrepreneurs know what rejection feels like. You keep getting vexed by the executive assistants, your emails go unresponded to for weeks and months on end, and you've been transferred to everyone in the department but the person you need. Getting a foot in the door now requires much more effort and creativity. The gimmicks and tricks don't work anymore. So how's one supposed to get that meeting with the Mark Zuckerbergs and Warren Buffets of the world? Try Contact Marketing.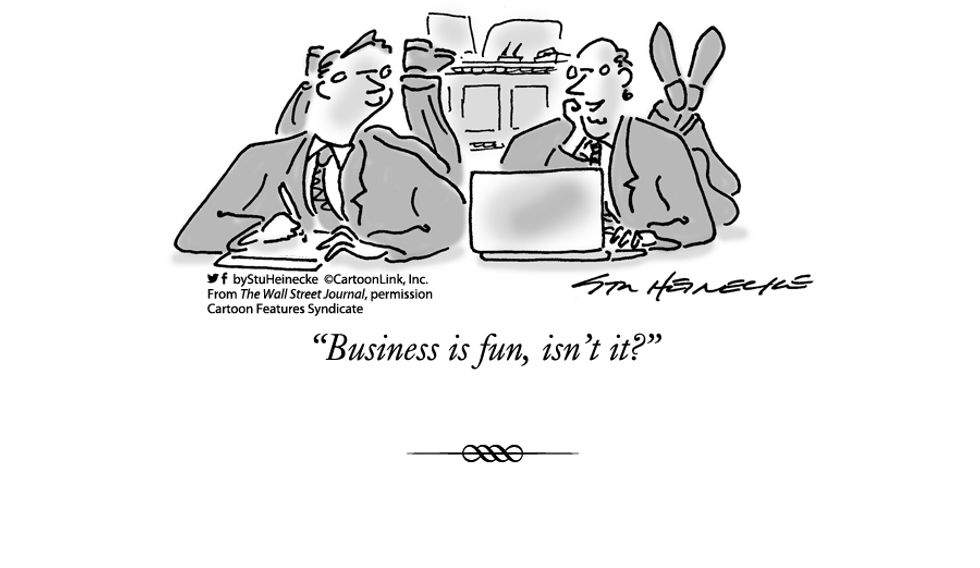 Stu Heinecke: How to Get a Meeting With Anyone
Contact Marketing is a methodology coined by Stu Heinecke, author of How to Get a Meeting With Anyone. The Wall Street Journal cartoonist and Hall of Fame-nominated marketer is turning traditional marketing techniques on their head. Contact Marketing is all about showing the human side of sales. Through highly personalized campaigns, Heinecke was able to achieve unheard of 100% response rates to high end clients. We caught up with Stu about his journey of turning his childhood passion into a lucrative lifestyle.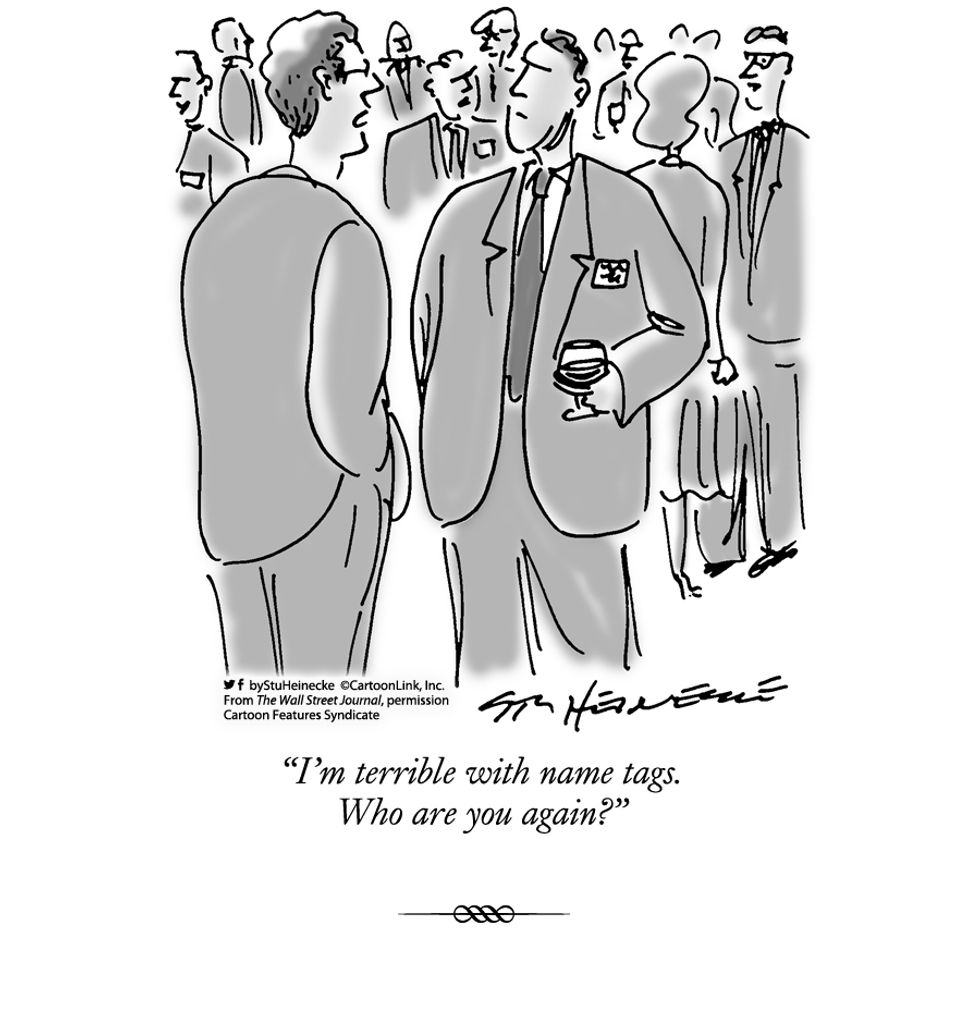 Stu Heinecke: How to Get a Meeting With Anyone
What was your introduction to cartooning?
As I kid, I remember writing a book of cartoons. Really, they were drawings and some captions, but there was nothing funny about them. I always loved cartooning, and—you're going to love this—my big introduction to cartooning was when my brothers and I used to sneak Playboys out of our father's dresser drawer. There were these beautiful cartoons done by Gahan Wilson, Michael Ffolkes and others. They were just incredible, so as a kid I was thinking, "How cool are these people? How do they do this?" That's probably the thing that lit the fuse for me.
Then, during my final year of college, a friend of mine who was also interested in cartooning told me about this extension course he was taking in cartooning at UCLA with Eric Teitelbaum, one of The New Yorker cartoonists. Lee Lorenz came as one of the guest speakers. Lee was the cartoon editor at The New Yorker at the time. And it just got me to think, "I can do this."
When did you make the connection between cartooning and marketing?
There was one really big moment for me. When I was coming out of college, personalization was just becoming a force in direct marketing. By then I was a member of the Cartoonists' Guild and the Cartoonists' Guild was sending us all this information about cartooning. Usually, it's about rejection slips. But one of the things they sent was a copy of an article from Folio, which said that cartoons are the best read and remembered part of anything they're in editorially. That certainly points to the fact that they have to be really powerful devices in marketing. So I wanted to mix cartooning with personalization and direct marketing. They all came together at just the right time.
For the first two assignments that I picked up, I wanted to create direct marketing campaigns for publishers, because at the time, they were the biggest, most sophisticated users of direct marketing. I reached out and I got two assignments pretty quickly, one from Rolling Stone and the other from Bon Appétit. Both of these test pieces went up against controls and beat them. It's like a rookie stepping on the field and hitting a home run twice.
Was it luck or was it science?
Well, some of it was luck. There's always luck. I was lucky to connect with them, and maybe fortunate is a better way to put it. David Ogilvy, one of the original thought leaders in marketing, used to say that humor doesn't work in marketing and advertising. All the pundits of direct marketing say the same thing: don't use humor. And I thought, these guys don't understand what's going on. They don't understand that cartoons are the best read and remembered parts of anything they're in editorially. Imagine what they'll do in a stack of mail in people's houses?
Now that those two campaigns beat controls, I wanted to spread this to the rest of the publishing world. What that meant was I needed to connect with about two dozen VPs and Directors of Circulation at these big Manhattan-based media outlets. You know, Time Inc., Condé Nast, The Wall Street Journal and Forbes—really tough kinds of companies to penetrate. In direct marketing, you used to hear, "if you can get a 1% response rate, you're doing well."
But if I got a 1% response rate to this campaign, that would be a disaster, because I'm only going to 24 people. 1% of 24 people doesn't even amount to 1! I needed to get through to all of them. Another thing that we're always told by the experts is that 100% response rates were impossible as well. But I didn't care. I was just going to mount this campaign, because I needed to break through to those VPs and Directors of Circulation. So I put together this campaign. It was an 8 x 10 print of a cartoon, each one personalized to each recipient, with a letter saying, "This is a device I just used to beat the controls for Rolling Stone and Bon Appétit. I think we should put this to the test for your titles." That little campaign for those 24 people cost me less than $100, and not only did it get me a 100% response rate, but a 100% conversion rate as well. It was worth millions of dollars, and it all came from this little, unusual campaign. I called it a contact campaign because I didn't know what else to call it. That's what started it all.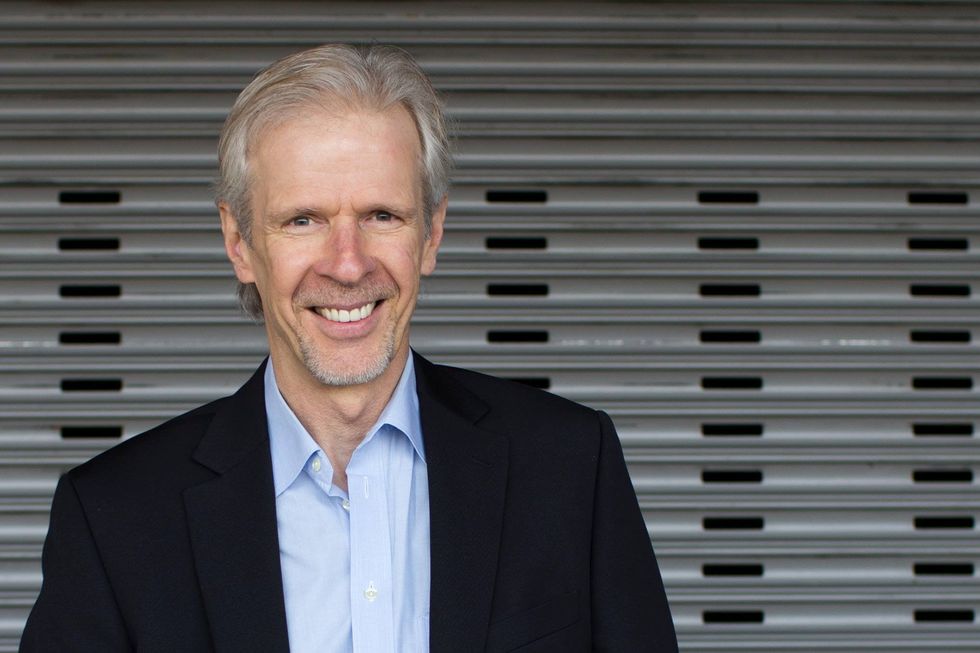 Stu Heinecke
What would you say is wrong with modern sales techniques?
If you listen to the experts, they're going to say, "You didn't do your homework. You need to know what I'm doing, what I'm feeling, what I'm thinking about." I think that's unrealistic. You can study my Twitter and Facebook feeds, but how would you know how I'm feeling? Or some would say, "At least find out what school these people went to and send them a t-shirt from their school or something." I don't need a t-shirt from USC. I got tired of those while I was there a long time ago. I think it's a little disingenuous.
I was just interviewing Mark Hunter, a very prominent keynote speaker and trainer on sales, on Contact Marketing Radio (my show) and [the topic was]: Is cold calling good in sales? Is the role of a salesperson dead, dying, extinct? Because a lot of people will tell you it is. And he said, "Absolutely not." If you have a solution that could help someone, why wouldn't you call? Where sales is mostly going wrong is in manipulation. A salesperson might call up and say, "Hey, Stu! How's it going, buddy? This is Jerry, remember me?" "No, I don't remember you." I think those kinds of approaches are not good.
What you really should be doing is listening, not talking. People have said, "You haven't earned the right to pitch me yet." I think you need to create some bridge of trust that's very hard to do quickly. That's actually the role of contact marketing. When I send a cartoon piece for my clients about the recipient, usually we're assuming that they'd like to see a cartoon that commemorates their success in business. If they see that it's funny and that one of the characters in the cartoon is the butt of the joke (and you can imagine that that butt of the joke is their competitors), that's something people are going to love. A lot of times the reaction is, "I really like the way you guys think." By the time you get on the phone, they say, "I don't know what you sell, but I need it. I need your thinking." I think then, you've just won a major battle. The bigger battle is making the sale.
What are some of the mistakes that people make when sending pitch emails to CEOs?
CEO is a euphemism. It's the Center of Enterprise Opportunity. As Anthony Iannarino likes to say, "reach the CEO of the problem you want to address." It's not always the Chief Executive Officer. C-level executives are busy. We know their time is tight and they're well-protected. We know that a lot of people are reaching out to them as well. How about trying it early Saturday morning or Sunday evening? That's a good time to reach out to someone directly. Their inboxes aren't as full as they are during the week and you don't have secretarial screening, so timing is a device to use.
Another is brevity. Keep it absolutely short; let's say a dozen words or less. Write it so it has the recipient scratching their head saying, "How would you do that?" Make sure you know it's of value to the person and respect their time.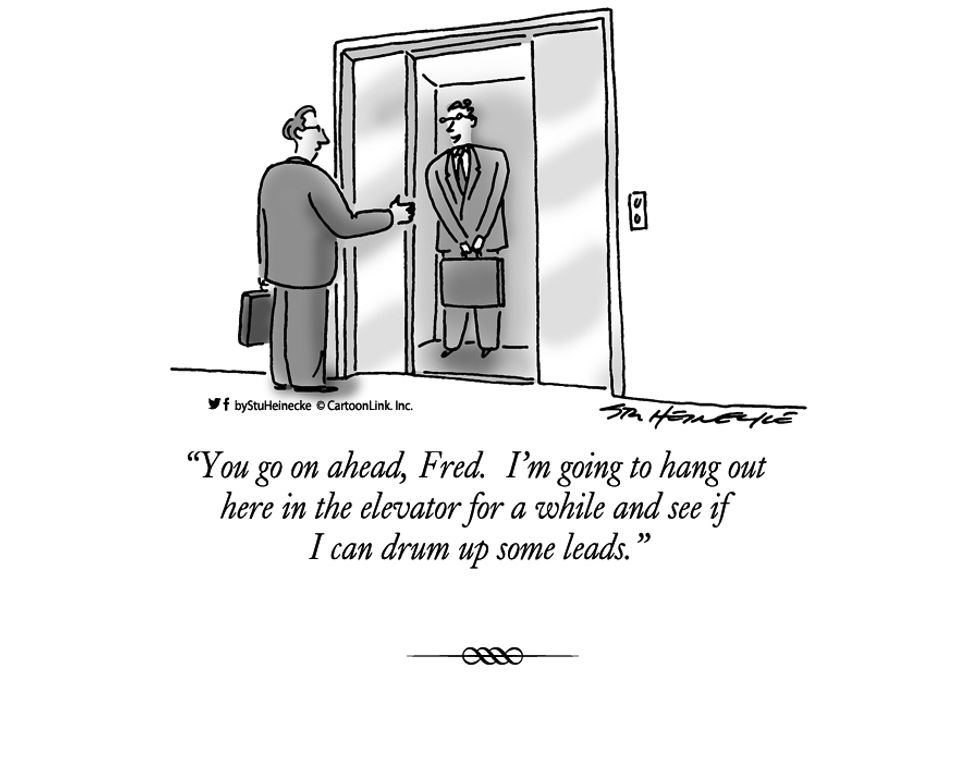 Stu Heinecke: How to Get a Meeting With Anyone
Can anyone do contact marketing?
I should make a distinction here that contact marketing isn't just about cartooning. That happened to be my introduction to it. There are a lot of ways to create these connections. To write the book, I interviewed the top 100 sales bloggers in the world and asked them, "When you absolutely have to reach someone who's of great importance, and someone who's nearly impossible to reach, how are you doing it?" They shared all these different stories and techniques, and I ended up with 20 categories of contact marketing campaigns in the book. These range in cost per contact from $0 (social media, email, and so on) all the way up to $10,000 per contact. That one was a contact letter that was produced as a full-page ad and run in the Wall Street Journal to reach Larry Ellison. And it worked!
There are all kinds of gift strategies. One that you commonly hear about is "half a gift," so you send half of a gift and promise the other half when you meet. Typically, let's say it's the left shoe of a nice pair of shoes, and you bring the other shoe when you meet. There's this kind of corny message of, "I just want to get my foot in the door."
Then there are interesting ways of using events and media exposure. If you're offering someone media exposure, you've got a pretty good chance of getting them on the phone and spending some time with them. Interviews are a great way to bond with someone pretty quickly that you otherwise didn't know.
In the book, you'd find all different kinds of strategies and tactics that you can use to break through. And you don't have to be a Wall Street Journal cartoonist to pull it off.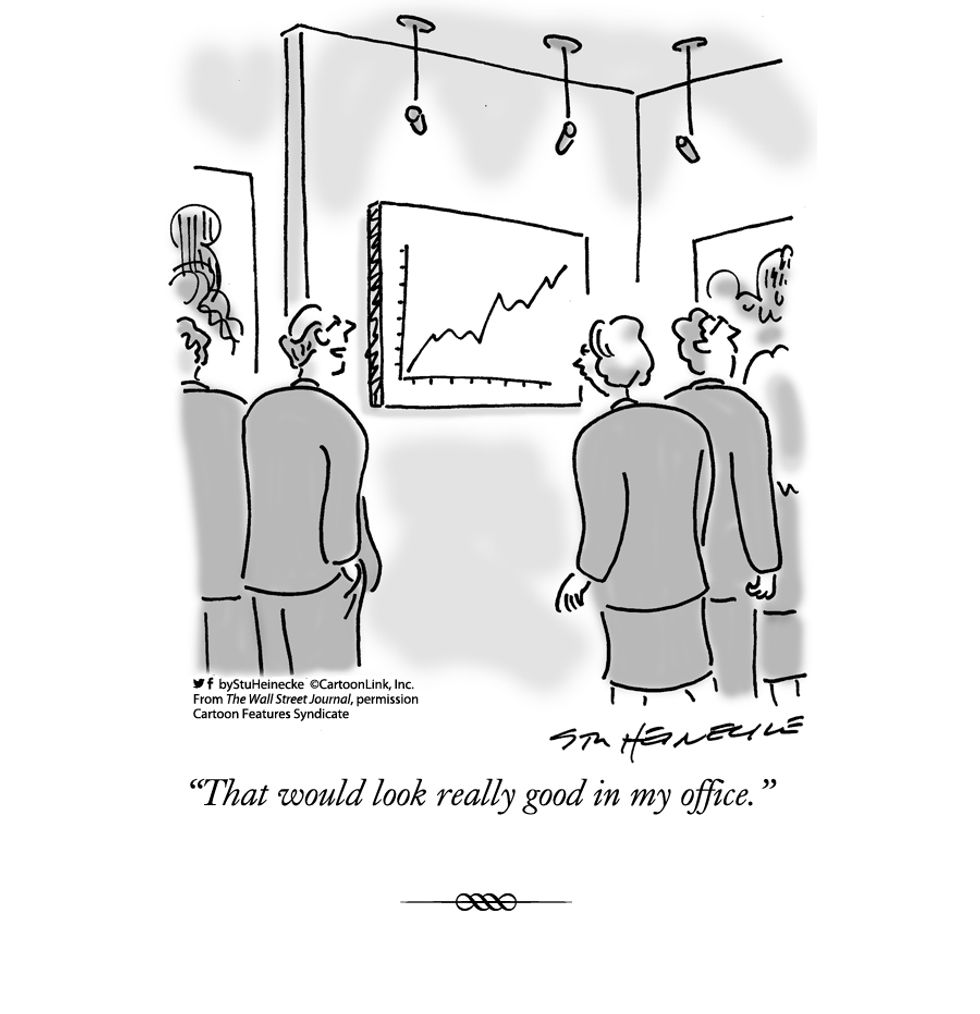 Stu Heinecke: How to Get a Meeting With Anyone
Want to find out more about Stu Heinecke's innovative contact marketing methodology? Check out his book, How to Get a Meeting With Anyone.
via Tiffany & Co.
When the new Tiffany's campaign was unveiled, reactions were mixed.

Tiffany's, the iconic jewelry brand which does not (despite what some might be misled to believe) in fact serve breakfast, featured Jay Z, Beyoncé, and a rare Basquiat painting in their recent campaign.
The aesthetics were undeniably luxe and historic. The campaign showcased the rarely-seen Basquiat painting Equals Pi (1982), which the brand acquired for the background's proximity to its distinctive Tiffany blue. Also notably historic is that Beyoncé was the first Black woman to wear the 128.54 carat Tiffany Diamond.

Before Beyoncé, the only other stars to wear the yellow diamond were Mary Whitehouse, wife of American diplomat Edwin Sheldon Whitehouse, Hollywood icon Audrey Hepburn, and singer Lady Gaga.
"Beyoncé and Jay-Z are the epitome of the modern love story …. Love is the diamond that the jewelry and art decorate," said the press release accompanying the campaign.
The campaign, titled "About Love," is stunning and has both classic and contemporary references. The image of the couple posing in front of high art recalled the iconic stills from their "APESHIT" music video, for which they famously rented out the Louvre and posed in front of the Mona Lisa.
THE CARTERS - APESHIT (Official Video) www.youtube.com
Their "APESHIT" photo made a giant cultural impact for its juxtaposition of Western beauty and Blackness. Tiffany's campaign seemed to have similar goals — showcasing Beyoncé and Jay Z as the peak of luxury, this time juxtaposing the Basquiat and the Tiffany diamond.

As a Black couple, their appearance in such a luxury campaign was a big move for representation, but in a post 2020 landscape, there was an outcry of criticism.
Despite the aesthetic beauty of the image, the high capitalist undertones didn't sit right with some on the internet — largely younger demographics. Though this campaign was an effort by Tiffany's to appeal to younger audiences and make the brand feel more relevant, Twitter's verdict was clear: a blood diamond wasn't the way to go.
The diamond, which was mined in South Africa in 1877, comes from origins laden in the implications of colonialism. The practice of mining in South Africa at the time was exploitative and destructive, eschewing the livelihoods and safety of African miners and their communities for... what? Money? So Tiffany could try to sell us some dream of affluence using Black celebrities as to "Blackwash" the history behind their treasured piece?
The Washington Post also had some choice words, saying: "Its campaign does not celebrate Black liberation — it elevates a painful symbol of colonialism. It presents an ostentatious display of wealth as a sign of progress in an age when Black Americans possess just 4 percent of the United States's total household wealth. If Black success is defined by being paid to wear White people's large colonial diamonds, then we are truly still in the sunken place."
Alongside the campaign, Tiffany & Co have promised to donate $2 million to HBCUs to fund scholarships and internships. But this measly amount (considering the multi-billion dollar net worth behind LVMH) is not enough to cover up that, despite their performative efforts to promote "diversity," Tiffany's is entrenched in a colonial history that neither beauty nor Beyonce can make us ignore.
While Black representation has been increasing over the past few years, the question of how we are represented is starting to be considered with more nuance. And as we examine the structures of wealth and hierarchical values, many people are starting to ask whether these should be the standards we aspire to anymore.
Jay Z and Beyoncé have come under fire before for their promotion of Black Capitalist values — which the kids don't seem to want. Jay Z especially seems invested in the trappings of traditional (read: white) success and wealth. His cannabis line recently unveiled a campaign based on the work Slim Aarons — which was famously focused on "attractive people doing attractive things in attractive places" — and its unashamed opulence raised some eyebrows.
Images like this aren't as revolutionary as they once might have been since they reinforce the status quo and tell marginalized people to reach for the same luxuries and lifestyles deemed aspirational by the people who have oppressed them.
Anti-capitalist theory has been around as long as capitalism has, but younger generations are more likely to question the status quo — even when it comes packed with Basquiat and Beyoncé.
The conversation about the Tiffany campaign is indicative of how Gen Z thinks differently about money and what it means to them. They are less likely to be seduced by the luster of the aspirational, and more receptive to relatability.
This is why apps like Cleo have been on the rise. Cleo is a budgeting and personal finance app which makes money feel less inaccessible and makes engaging in personal finance relatable and easy.
No more does financial literacy seem restricted to the pretentious or the elite — we get it, finance bros; you love capitalism. With Cleo, understanding your money is something that can align users with their values.
And those values don't look like blood diamonds or corporate pandering.