15 Ways to Save on Back to School Shopping
It's that time of the year again.
The middle of August—better known to parents as back to school shopping season. Back to school shopping is one of the busiest shopping seasons of the year—and even though there is still plenty of uncertainty surrounding the coming school year due to the coronavirus pandemic, one thing is sure—school must go on!
The National Retail Federation, which has been conducting back to school surveys since 2003, estimated that families with kids in grades K-12 will spend an average of nearly $800 this year in school supplies.
Back to school spending trends have been growing at a faster rate than inflation for many years now. As the number of underfunded schools across America continues to rise, parents are asked to supply more items themselves each school year.
If you're one of the many parents sitting at home with a long list (or maybe no list), confused about where to start and dreading the cost of back to school shopping, we've rounded up 15 tips to help you save more money this year on back to school supplies.
1. Check Your Home
Always shop your home first! You might be surprised at how many items on the school supply list you already have in your house. You might get lucky and find all the notebook paper you could ever need stashed away in a closet, long forgotten about until now! The point is—check your house for what you need before you even think about shopping.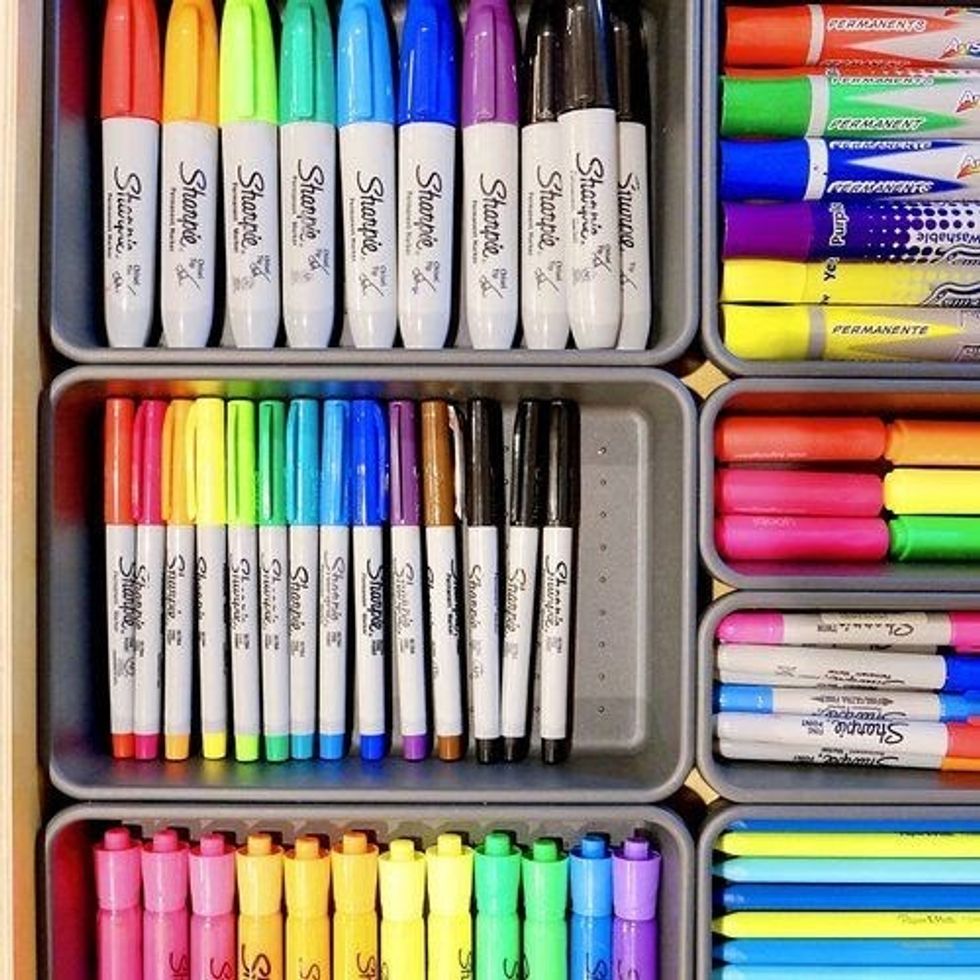 Image/ Pinterest
2. Know When to Shop
The best time to shop is early...or late. Retailers start putting back to school displays out with incentive sales as early as late June. However, prices also decrease as schools open and stores try to sell off the remaining inventory. Typically, kids won't need everything on the first day. Check with the teacher and see when things are required. Buying those supplies the day after your child's school starts could save you a surprising amount.
3. The Power of a Dollar
Shop the dollar store first. The Dollar Tree has basic supplies such as paper, binders, posters, and index cards that are priced significantly lower and yet are just as good quality as other retailers. After the dollar stores, Target Dollar Spots and the online bullseye playground have great back to school deals.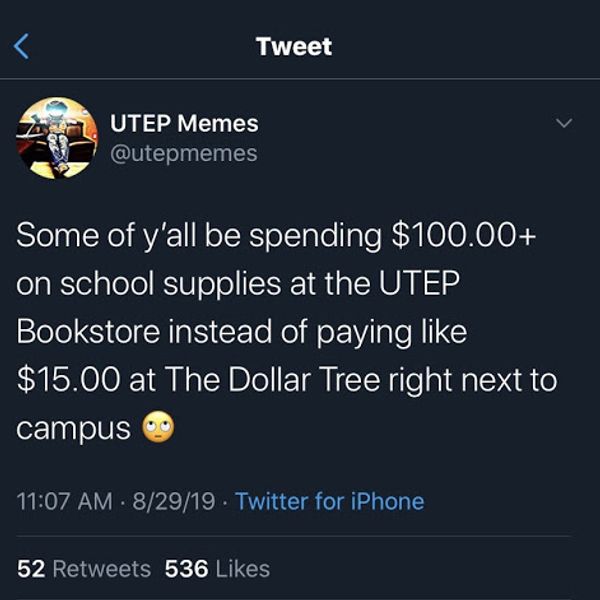 4. Check Store's Loss Leaders
These are the store's spotlight sale items that are sold at such low prices, they result in a loss for the retailer. If a store's loss leader item is something you need—you aren't likely to find a better deal than that!
5. Swap Supplies
Join or start a Facebook group in your community for school supply swaps. Lots of groups offer the option to buy and sell the items, or even to make trades or donations.
6. Pre-Owned Goods
If you're shopping for electronics, consider buying refurbished or second-hand items. Amazon Renewed offers pre-owned, professionally inspected, and tested electronics at a notably lower price than brand new products. Even better, they offer a 90-day full refund policy. Apple, Best Buy, and Overstock also have similar second-hand sites with discounted items.
7. Only Buy One "Back to School" Outfit...to Start
Don't buy a new wardrobe before school starts. If there is nothing your child(ren) needs right away, try just buying them one brand new outfit, so they still get to experience the sensation of the "first day of school outfit." Fall clothes coincidentally hit retailers' shelves in August and generally remain priced high for a while. Hold off on buying fall and winter wardrobes until late September through the beginning of October to see steep price cuts.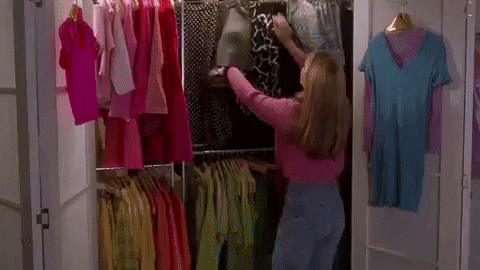 clueless movie GIFGiphy
8. Check Sales for Uniforms
If school uniforms are a requirement, check The Gap, Old Navy, and Target for some great sales on new uniforms. When shopping for pre-owned uniforms, some schools offer uniform exchanges and can provide free donated uniforms.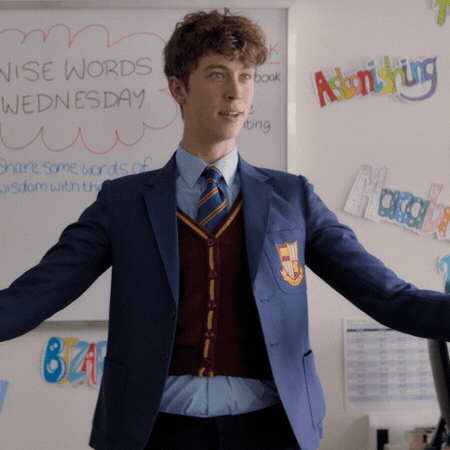 aqui estoy the kid who would be king GIF by 20th Century FoxGiphy
9. Check Donations
If you're struggling to afford items, check with charitable organizations. The Salvation Army has the "stuff the bus" donation system, which gives out school supplies to children in their communities. United Way, Red Cross, The Boy's and Girl's Club, and the YMCA all offer similar donations as well.
10. Check Price Trends
Shop camel camel camel before purchasing on Amazon. Their website allows you to search Amazon product price trends and see if you are getting a deal or not.
11. Check Apps
If you want to make sure you're getting the best prices when shopping, download ShopSavvy and scan the item's barcode to see if there's a better price.
12. Prioritize
Start with the big-ticket items. If you simply don't have the time to shop around for the best price on every little thing on the list, prioritize researching the most expensive items on the list to get a savings boost.
13. Reduced Sales Tax
Check to see if your state offers a sales tax holiday.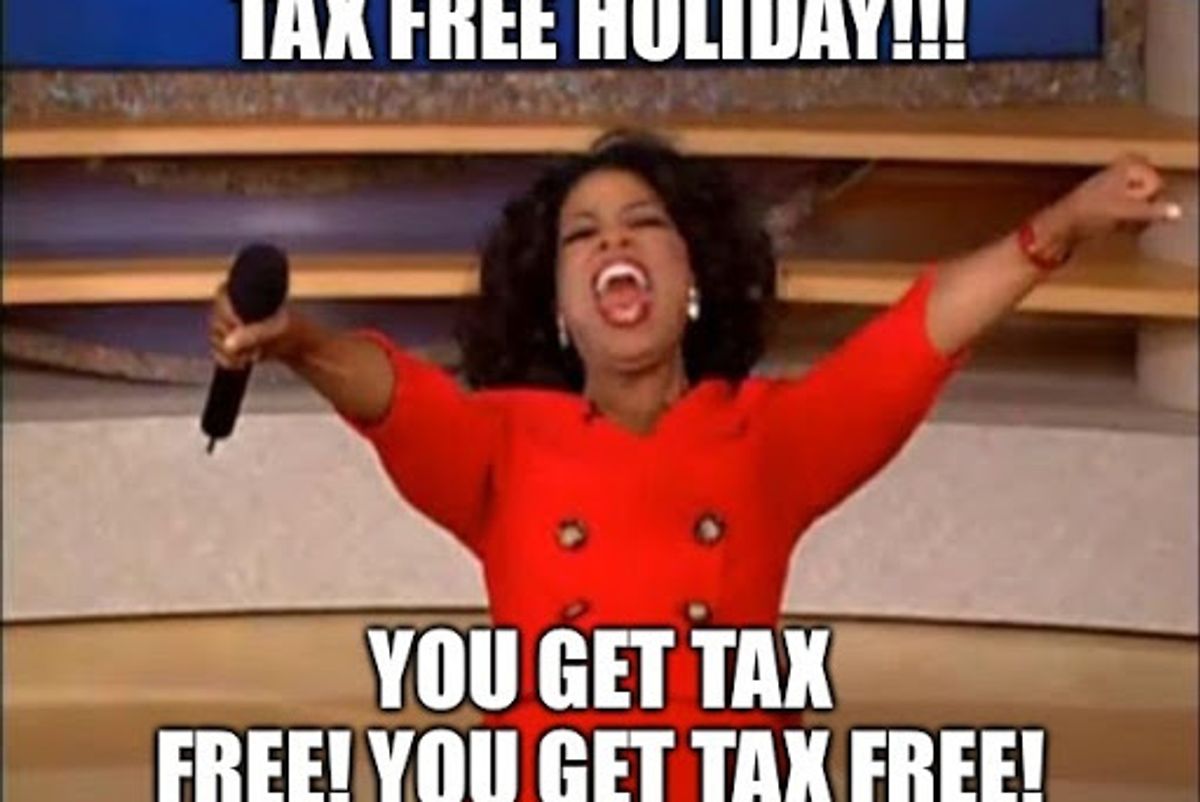 14. Contact the School
Contact your school if you can't afford something. Many schools offer electronics, internet service payment assistance, or free supplies to children in need.
15. Leave the Kids at Home
Leave the kids at home when shopping. Trust me on this one—you can save so much this way! And if your kid is really insistent on having an expensive name-brand backpack this year, there's nothing wrong with making them chip in for the cost.