Pexels
Gaming is one of the most expensive hobbies out there. Not only do you have to drop hundreds of dollars on a console or a quality PC, you also need to pay up to $60 for any top tier games. Even with membership discounts and sales, those numbers can add up quickly. But the sad truth is, economically, video games should cost way more than they already do.
Let's get some perspective here. In 1990, NES cartridges were selling for $50. And in 1998, N64 games went for $70. If we adjust these prices for inflation, you would pay about $100 for these games today. One-hundred dollars. This means that your current games are underpriced by at least $40. However, the shortage is probably much more than that.
In the '90s, video games had very basic graphics and simple gameplay. Producing one of those games today probably wouldn't cost quite as much. However, as our technology has advanced, the gaming industry has had to keep up. Gamers expect more content, HD (and even 4K) graphics, involved storylines, voice acting and high-quality animations. Not to mention support and updates after launch. That's not even touching marketing budgets. It costs more to produce a game now than it ever has in the past.
But if games should cost more, why are they still $60 a pop? The market is keeping the price artificially low. Customers aren't likely to pay more than $60 for a game, even if it actually costs more money to produce one. This situation is why pre-order bonuses, DLC, and micro-transactions have become so popular and widespread. It is becoming increasingly harder to make a profit in the gaming industry. Developers have had to supplement their base game purchases with add-on content just to scrape by.

Pre-order bonuses give gamers a little something extra in-game on day one when they buy ahead of time. This often boosts profits slightly ahead of launch. They also lock in a certain percentage of sales. It gives publishers an indication of how many copies to manufacture and how many people will be downloading a digital copy.
Nowadays, almost every AAA game features some kind of extra downloadable content. Sometimes this is new weapons or maps for a shooter. Other times, it's an extended story piece. Creating DLC takes much less investment and allows developers to earn more cash on an existing property.
However, what is relatively new and unsettled territory is micro-transactions in a full-priced retail game. In the mobile market, free-to-play games that feature some kind of in-game shop are a dime a dozen. But this kind of model in a $60 game is still pretty controversial.
One example of a successful AAA game with micro-transactions is Overwatch. Players can enjoy the full cast of vibrant characters and maps with no additional charge. But to support future updates and server loads, players can purchase loot crates full of goodies. These goodies ultimately have no real impact on gameplay. They are mostly aesthetic skins and items for bragging rights. You can also slowly earn enough in-game currency to open loot crates by playing normally.
The gaming industry is struggling to keep up with constantly evolving technology and consumer purchasing habits. Developers and publishers have to sell more and more of each new title just to make a profit. This situation might explain why so many publishers re-cycle franchises into sequels so often, rather than taking the time and effort to develop new titles.
Many people live together before getting married and have begun the process of combining accounts and sharing responsibilities. However, some people wait to do this only after marriage, and others wait until they're married to live together. Whichever path you've chosen, it's still crucial to know a few tips to manage money together as newlyweds to determine where you should begin and how you can remain on the same page.
Discussing Money Motivations
As we begin to share money with our significant other, we soon find out what one person may rank as a priority regarding money and the other may not. As such, sitting down and discussing money motivations is important. Two people who cannot agree on how to handle money may cause serious issues. This should include:
How to deal with money following payday. Is a percentage put into savings? Is that the day to splurge on dinner, drinks, and more?
The frequency and size of payments made to debts. Some people like to pay minimums, whereas others pay in full or make double payments.
What do you each consider money well spent? Is it a new 70" 4K television? Is it an investment? Is it paying as much debt off as possible?
How do you go about consulting each other before making purchases over a certain amount?
Establishing Financial Goals
After you evaluate the motivations behind your money and how it should be spent, you'll need to spend time together hashing out financial goals. As newlyweds, there are certain things on your list that you're going to want to save for. How do you go about that? How much of each paycheck will you dedicate to a particular fund?
Some things in the future worth making a financial plan for include savings and paying down debts. This is the time to be honest about your current financial standing. If you're looking to buy a home, you'll want to assemble a first-time homeowner financial checklist to begin to develop topics of conversation. Some of the things to consider setting goals for are:
Student loans
Car loans
Future children
A house
Medical bills
Delinquencies on credit reports
Vacation and rainy-day funds
Emergency funds
Budgeting Together
The more honest and open you can be with each other about the money you have and now the debts you share, the better. Implementing plans for the best ways to have the things that you both desire while still taking care of existing demands is important. These can be uncomfortable things to talk about; however, these conversations are necessary.
Following these tips to manage money together as newlyweds will allow you to have a starting point for conversations that can be tough to start. The sooner you and your partner get on the same page with finances and the responsibilities that come with them, the easier the transition will be and the sooner you'll find success.
It's the dream: money you can count on to keep rolling in, even while you sleep.
Passive income isn't entirely passive, of course. You'll put in work up-front to get the profits rolling, so don't relax in your recliner just yet. But with so many potential sources of passive income available to you, picking one or several will mean that the day you can finally kick back will draw steadily closer.
Rental Properties
Real estate is a tried-and-true wealth builder for a simple reason: people will always need somewhere to live. Research the market in a growing community until you know a good deal when you see it. You can maximize rent by fixing up a deteriorating property or upgrading a mediocre one. The key is to hire a property manager to do all the day-to-day landlord duties for you—and you'll need a good one. Smart investors put their profits in another property and repeat the process until they have a diverse portfolio.
A YouTube Channel
You can start a blog if you're more comfortable hiding behind a computer, but consumers are more likely to prefer video content. Post a series of "how-to" videos to answer questions about whatever you're an expert in.
You can put up any content you want, but if you don't want to commit to regularly updating it, focus on "evergreen" topics that will draw clicks for eternity. Ads will create your income, especially if your channel grows in popularity. Better yet, sign up for affiliate marketing. If you recommend a product and provide a link to buy it, you'll get a small percentage of those transactions.
Auto Advertising
If you don't mind vinyl-wrapping your car with an ad for a company, you can get cash just driving around and running your errands. Make sure you contact a reputable company that doesn't ask for any money from you; if they're the real deal, they'll evaluate your car, your driving habits, your area, and more. Bonus: the brighter the ad, the easier it'll be to find your vehicle in the parking lot.
Digital Products
What's something that people will pay for but doesn't require shipping on your part? Finding that item is what can supplement your income indefinitely. Write an e-book, charge for your cross-stitching patterns, design prints that people can digitally download, invent an app, record a "masterclass," or whatever else you want. Every time someone new discovers it, the cash register rings. With a little more effort, this is a potential source of passive income for you that can continue to grow. Once you build up a customer base, they might want more products. The good part is that it's up to you whether you wish to give it to them.
From Your Site Articles
Related Articles Around the Web
Airbnb offers an affordable option for people looking to be more comfortable as they travel.
However, there are downsides to staying in a host's home rather than a hotel. Whereas hotels are designed for constant streams of visitors and often have furniture built to last, at an Airbnb, you may be staying on old or cheap furniture that a host is using in order to maximize their profits.
And while most reputable hotels will have regular room inspections from staff to check for any wear and tear, Airbnb damage disputes are oftentimes he said, she said situations. If you are in an Airbnb and something breaks, there are a few steps you should take in order to ensure that you are not on the hook for damages out of your control.
I have used Airbnb for years and have had a grand total of one dispute over damages with a host. But by following these steps, I was able to effectively work with Airbnb to come to a fair resolution.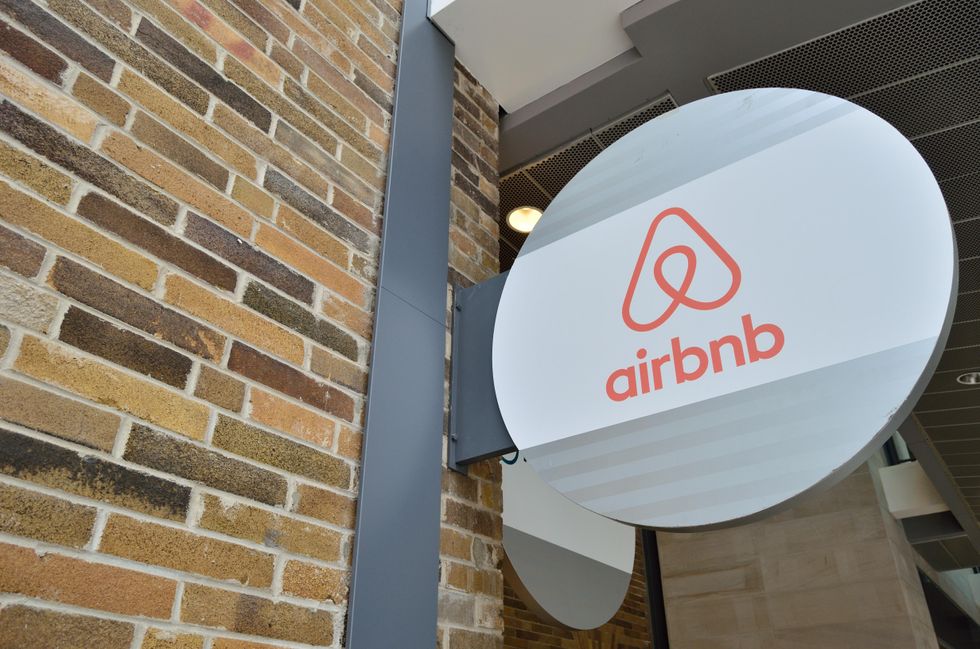 Handling disputes through Airbnb can be a strange process unlike damages in a hotel."Airbnb Office" by Open Grid Scheduler / Grid Engine is marked with
Step 1: Assess if you are actually at fault. If you are, pay for it.
We have all heard the stories of fat cat Airbnb management companies pulling in millions of dollars from hundreds of apartments, but the reality is that the average Airbnb host makes less than $1,000 a month. These are likely people just like you who are trying to supplement their incomes and stay in their home sasn rents in many major cities climb faster than wages.
If the damage is normal wear and tear, then the guest won't need to pay. But if you broke something through actions outside of regular wear and tear, even if it was unintentional, it is the right thing to do to pay for the damages you didino this person's home. The host will likely take the money out of your security deposit, but you may need to arrange for additional payments for larger damages to their property.
Step 2: Take pictures of the damage right away.
Pull out your phone and take pictures of the damage. Some people take pictures before they enter an Airbnb in case of any damages, but after a long day of travelling I rarely want to peek in every nook and cranny of an apartment. Still, it's always a good idea to take photos the moment damage occurs. You will want to have these photos in case of a dispute with the host.
Step 3: Contact the host through Airbnb immediately.
You should never communicate with a host through a medium other than Airbnb. Remember that communicating through the app is meant to ensure the safety of all parties. Airbnb will put less weight towards screenshots of text messages or your description of a phone call than communication within their app, which they know cannot be fabricated.
I always recommend communicating through written message rather than trying to call as that way there is a clear record of who said what and when. If there are damages to thAirbnb, you should want to contact the host immediately, first to show that you are not trying to hide the damages and second because you are entitled to accommodations that comply with the specifications listed in the ad. If the fridge in your Airbnb is not working, then the host has a responsibility to fix it to provide you with the amenities you paid for.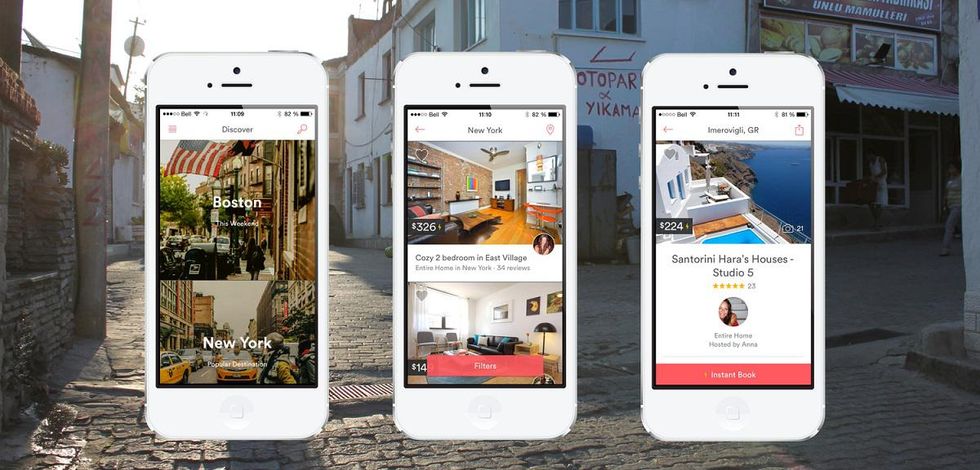 Keep your communication through Airbnb so there is a record in case of a dispute.
Step 4: If the host does not respond, contact Airbnb
In my own case, I had arrived at my Airbnb in a small beach town for a holiday weekend. When the wooden bed frame came apart as soon as we sat on it, we could not get a response from the host, who was likely enjoying their own festivities.
A host is supposed to be ready to respond to any issues during check-in and when they were not available, I decided to contact Airbnb. The Airbnb bot is available through the app (always go through the app whenever possible!) and I was advised to call Airbnb Community Support. I explained to the representative that the bed had come apart when we had sat on it (certainly normal usage) and was unusable. They advised us to wait while they tried to get ahold of the host, so we sat on the floor and put on a movie while we waited.
After about an hour, they reached out to us through the app and neither one of us had been able to reach the host. If you are still able to use the Airbnb, they will likely have you continue to stay in the accommodation if it is useable. In our case, because it was the only bed in the apartment and there was no room to put the mattress on the floor, they put us in a hotel and paid for half of the difference in price from needing to book a last-minute room.
Step 5: Wait for the host's claim in the Resolution Center
Hosts have up to 60 days to make a claim on a deposit, and you must respond within 72 hours. If you don't respond, then Airbnb will go ahead and process the claim.
Read through the host's claim several times before crafting your response. You will want to respond to any points they make in their claim that you disagree with. The host has to prove that you caused the damage in order to be awarded the money, so you will want to respond to any claims they are making. It doesn't feel good to be accused of doing something you did not do, but do not let emotion come into it. It is best to be professional and matter-of-fact as you go through this contentious situation.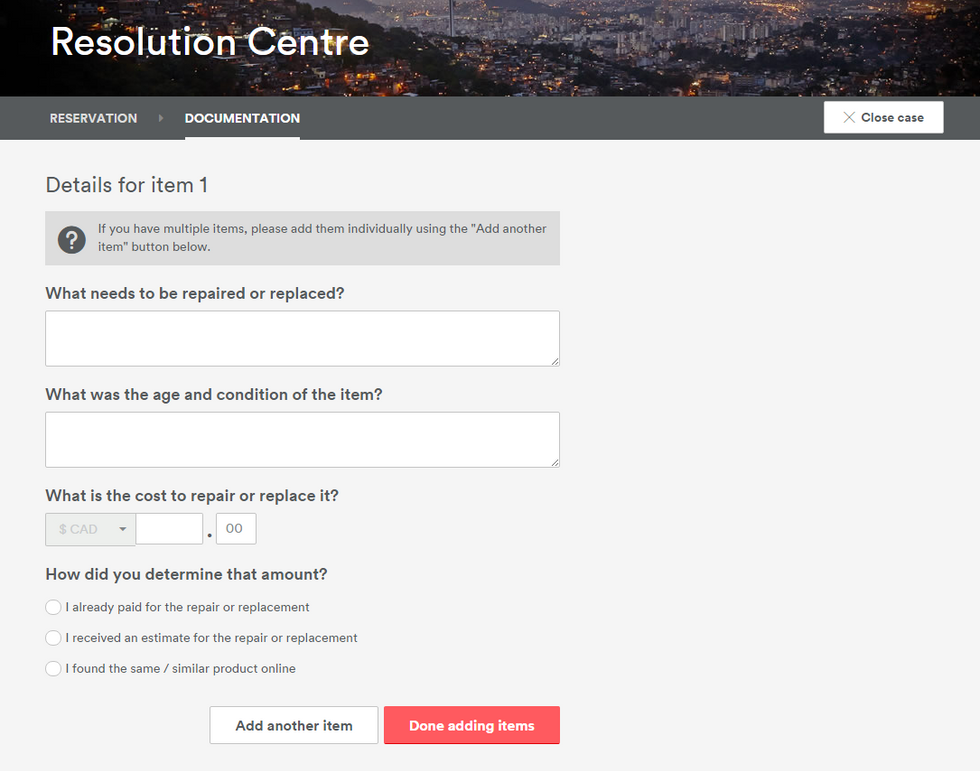 Never pay a host directly. All damage disputes should be handled through Airbnb's Resolution Center.
Step 6: If you hear from the mediator, prepare your response.
If you decide to dispute the claim, then the host can elect to involve a mediator through Airbnb. They will gather information from both sides of the dispute and make a decision. The mediator's judgement is final, and you cannot escalate the situation any further. You must respond to the mediator within 72 hours or they will automatically rule in favor of the host.
A good response will have the following elements:
- Highlights from your positive reviews. If you have dozens of positive reviews all saying you are very respectful of the property, it would certainly be wise to point out your positive prior experiences with Airbnb hosts as a testament to your character.
- A complete and truthful description of how the damage came about. You may be tired of explaining what happened at this point, but this will likely be the last time. Thoroughly explain what happened so that a mediator just coming into the case can be armed with the facts. If the host is making up damages completely, point that out and explain how the items in question worked while you were in the apartment. This is your chance to tell your side of the story.
- Pictures of the damage. This is important for establishing whether the damage could have been accidental and if anyone in the dispute is being less than truthful. In my own case, the host argued that the bed that had broken was brand new and was solid wood, but the pictures I had taken showed that it was made from particle board. I think that was a big part of why I won the dispute, as the host was clearly not telling the whole story.
- All of your communication with the host. This is why you want to only communicate through the Airbnb app. The Airbnb mediator can see that your communications are undoctored, and the host cannot make any claims that you admitted to causing the damage when you did not. Showing that you immediately contacted the host and did not try to cover up the damage at all goes a long way in these disputes.
- A response to any unreasonable charges or claims. If you broke a wine glass and the host starts demanding hundreds of dollars to replace it, you would certainly balk. For my damage dispute, the host asked for $900 to replace the bed, and I expressed that this sounded a bit high for a particle board bed frame. If there is damage to the Airbnb, the host cannot simply make up a number they would like to charge. They must produce receipts for replacements or estimates for repairs.
- The phrases "wear and tear" and "reasonable use". Hosts are providing you a place to stay, but they cannot expect furniture to be in the same condition after months or years of use. If the damages could have come from normal wear and tear, point that out to Airbnb. Normal wear and tear is to be expected; if it's something like small scratches where the dining room chairs meet the floor, then that is to be expected after a while. Also, point out if the damages occurred during reasonable us. A chair should be able to support the body weight of a regular-sized person, a closet door should not come off the tracks when it is slid open, and you should not need to pay for damage that results from using a piece of furniture for its intended purpose. Doing parkour in an Airbnb is likely to lead to some damages that you would be responsible for, but making reasonable use of a piece of furniture should not.
- A response to the host's claim of purposeful damages. In my case, I questioned how the damage to the bed could have occurred if it was not caused by us merely sitting on a cheap wooden frame. I pointed out the bed was close to the wall and questioned how we might have caused the damages outside of reasonable and regular use of the bed. If a host is saying that you damaged the Airbnb, the onus is on them to provide an explanation and proof.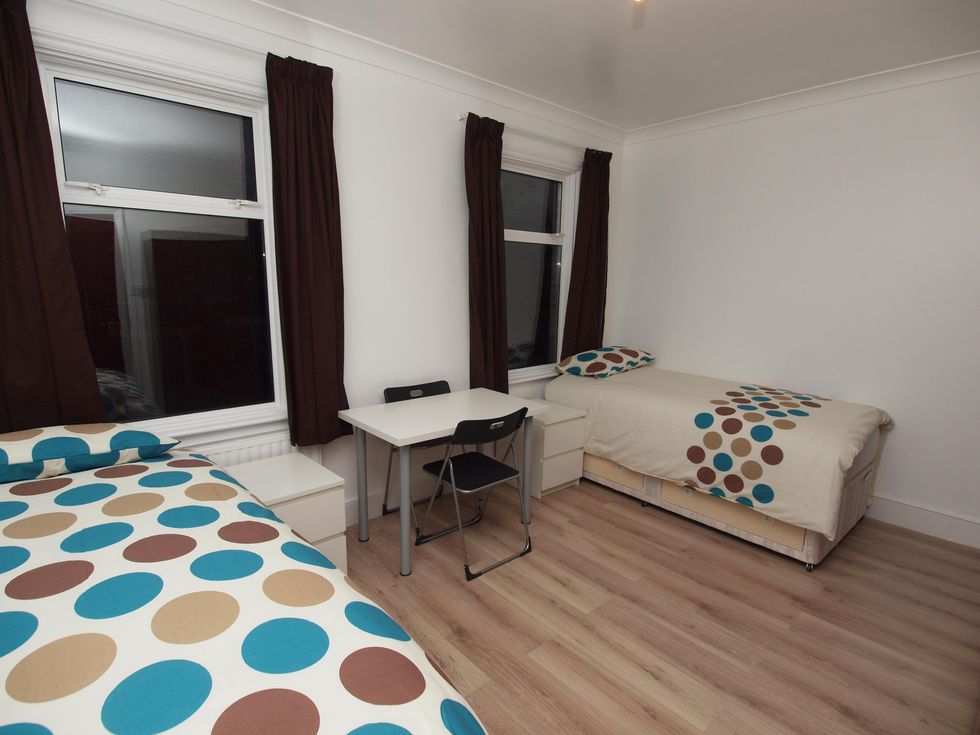 Airbnbs may contain lower-quality furniture that is easily damaged."House Share" by Shane Global Language Centres is licensed under
Step 7: Wait for a response
I waited anxiously for a final decision from the mediator but resisted the urge to reach out. The host must take time to draft their own response and the mediator must review all the pictures and evidence that is provided, as well as request any further documentation they need before making a decision.
In the end, because the damages had occurred from regular use of the apartment and I had maintained professional and prompt communication with Airbnb, they found in my favor. However, the whole ordeal did make me a bit more nervous about how I might be making myself vulnerable to spurious claims. In the future, I plan on taking a video of myself entering my vacation rentals and going through the apartment to show the state of the place when I arrive. Staying in a vacation rental may be an affordable alternative to a hotel, but you are certainly much more at risk of running across an unscrupulous host.